How to choose a solid fuel continuous burning
To purchase the appropriate heating unit for a private home, you need a sober assessment of the proposed options and characteristics to take into account all the features of housing, which is necessary to heat. To cope with this problem, you have to make accurate mathematical calculations and think over the time of delivery of fuel. The information that you get from this article will help you understand how to choose the long burning solid fuel boiler. Use the proposed material to avoid common mistakes and make the right decision.
Variations and principles of solid long burning boilers
If you have to choose a solid fuel continuous burning, first check with the classification of these units. Having an overview of the existing varieties, you will be able to orient in a wide range and to eliminate unsuitable options at once. Solid boilers are distinguished on several grounds, which will be described later in this article.
Prolonged heating boilers burning solid fuel divided into two categories:
Traditional. In boilers of this type is the simplest scheme implemented combustion. According to the principle of work, they resemble ordinary furnace with a special window for the fuel supply. The main element of the traditional boiler - a heat exchanger provides temperature directly transfer to the coolant. Such boilers are different unprecedented reliability and durability, but their efficiency leaves much to be desired.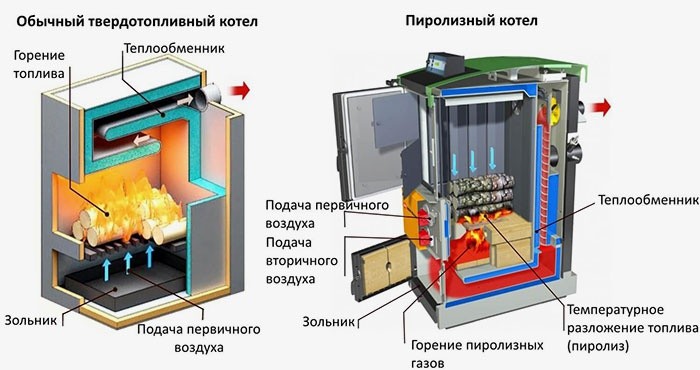 Pyrolysis (gas generating). This type boilers have higher efficiency. Such units generate heat energy by burning fuel special way. First unit dries the fuel. This is followed by degassing, during which about 85% of the substances by combustion is converted to a combustible gas. The remaining 15% remained in the form of coal. In the internal cavity of the combustion chamber temperature is increased to 600 °, whereby the combustible gas is ignited and oxidized. This process leaves the burning coal layer. Weights low-temperature gases are saturated with carbon, providing a temperature increase to 1000 °. Under such conditions, the coal decomposes, releasing a large amount of thermal energy. The air flow supplied to the upper combustion chamber wall, the flame directs vertically downwards. Due to this, the combustion process becomes controllable. Continuous air supply provides a constant oxidation of combustible gases.
The range of domestic solid fuel boilers are found units made of different materials. Manufacturers use two types of metals:
Cast iron. The boiler is made of iron and is a sectional structure wherein each division can be separated from the rest. Possibility of disassembly makes the unit more convenient during transport and installation. In the event of the need for repair work, this feature greatly simplifies the task master. During operation of the internal iron boiler combustion chamber wall are subjected to chemical corrosion. They appear dry rust (film consisting of iron oxide). As a rule, it does not progress, so the machine efficiency remains at a consistently high level. You do not have to clean it from fouling frequently. The only significant drawback is the solid iron boiler susceptibility to temperature changes. Thermal shock can lead to damage to the chamber walls. Such cases should be avoided.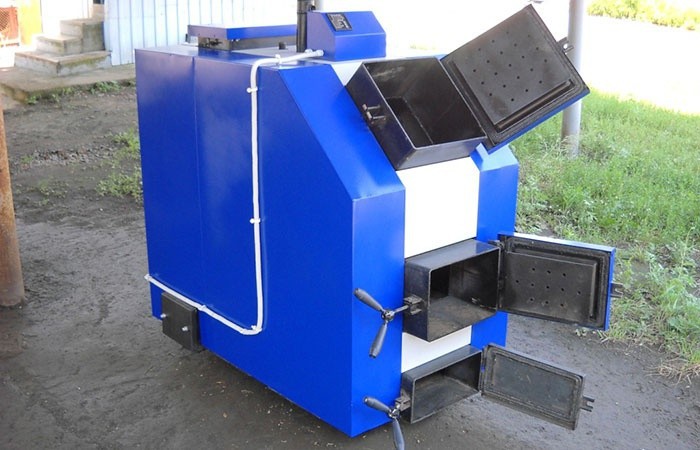 Steel. The boiler made of this metal, is a one-piece unit, which collects in the factory. Take it apart for easy transport fail. Steel solid long combustion boilers are not afraid of thermal shock, so they are more commonly used automatic electronic devices regimes. However, systematic changes in temperature lead to the formation of tired zones of the combustion chamber walls, which over time leads to burning-through of the metal. If this happens, the unit can not be repaired.
Heating boilers for solid prolonged combustion are divided into four categories according to the type of fuel burned:
On the wood. The most common type of solid fuel boilers. Its popularity is due to design simplicity and ruggedness to the fuel. Solid long burning boiler on the wood can work in almost any conditions, but it has one major drawback - the lack of automation. As combustion user must enclose the furnace cleaved.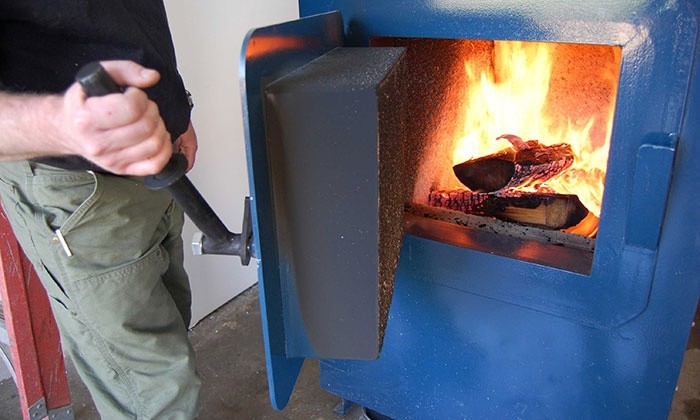 On carbon. This boiler is suitable for a large area of ​​the house much more than wood. Coal is low cost and easy to carry.
Pellet. As fuel for boilers of this species used fuel pellets, which are compressed waste wood industry. They are called pellets. A relatively small combustion chamber burns briquette pellet boiler, producing large amounts of heat.
On the sawdust. Separate kind of solid fuel boilers that burn sawdust, dry grass, leaves and other waste. Such units provide high-quality heating of housing, as well as solve the garbage disposal plant problem.
Solid combi boilers long burning are characterized in that not only is fired housing, but also to heat water for household use. By installing this unit, you will warm the house and at the same time decide to provide hot water problem for the bathroom and kitchen. Solid continuous burning boiler water circuit is more expensive, but since it eliminates the need to install a geyser or boiler.
Criteria for selection of solid fuel boilers long burning
With the general classification for solid fuel boilers, we have already seen. It's time to consider the criteria by which the owners of private houses determines the optimal aggregates that apply for the installation of heating systems. After reading the following sections, you will learn how to choose the right solid-long burning boiler for their homes.
The first thing you need to determine the order which the fuel is used for heating. Assume what kind of fuel is more convenient to buy and import. If you have harvested wood, it is wise to buy a wood-fired boiler. Owners of cottages, where there are no trees, we can recommend heating with pellets. Coal-fired boilers are suitable for those who have the opportunity on favorable terms to order high-quality fuel. heating system on the sawdust, as a rule, are used to heat facilities engaged in the processing of wood.
To determine the capacity of the heating system, you need to perform simple mathematical calculations. Calculate the total amount of facilities that are going to be heated. The resulting figure will help you find a wide range of solid fuel combustion boiler long model with the appropriate parameters. Keep in mind that you should always ensure that the power supply to the case of strong cold winter in the house was not cold.
When choosing a solid fuel boiler long combustion for heating private houses an array of parameters taken into consideration only if the owner intends to consolidate the purchased unit on the wall. According to national standards set Russian gas service, this method of installation is permitted for the boilers of less than 100 liters.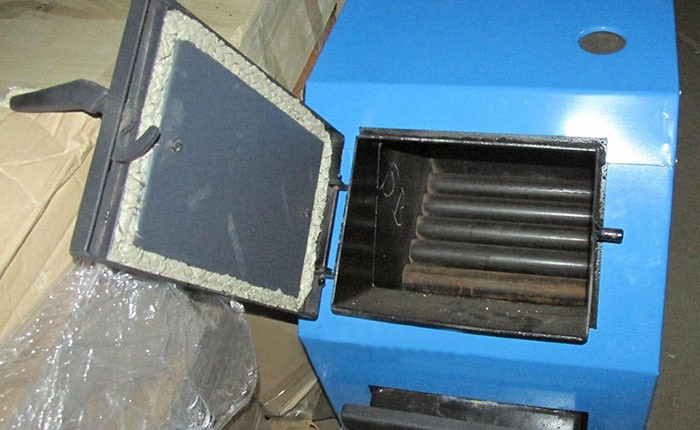 This parameter characterizes the ratio of the volume of the pledged fuel capacity of the heater. The more fuel fit into the loading chamber, the less you will have to replenish the supply of wood / coal / pellets. For steel boilers ratio of these values ​​is 1.6-2.6 l / kW. Cast heating units consumption in smaller amounts - 1.1-1.4 l / kW.
The total volume of the feed chamber will help you to estimate the possibility of the boiler. Fill it 100% you will not succeed in any case. Where greater importance is the useful volume of the load chamber. This value represents the actual amount of fuel that you can load into the combustion chamber. To determine this, it is necessary to know the fuel combustion principle of the boiler and the selected method of loading fuel (upper or front).
Boiler efficiency
One of the most important parameters for any prolonged heating of the solid combustion unit. Digital expressing the efficiency of the boiler, characterized by the part of the generated heat energy that actually consumed in the housing heating. Choosing a unit with high efficiency, you can reduce the power requirements. Low efficiency means excess of heat flow, so you have to add more fuel to maintain an acceptable temperature in the house.
Review of the best manufacturers of solid fuel heating boilers
The modern market of heating systems for private houses complete sentences from a variety of brands, but not all of these units boast reliability and durability. About how to choose a home solid fuel burning boiler long have you learned from the previous sections of the article. It's time to narrow down your search to a range of manufacturers who truly deserve respect: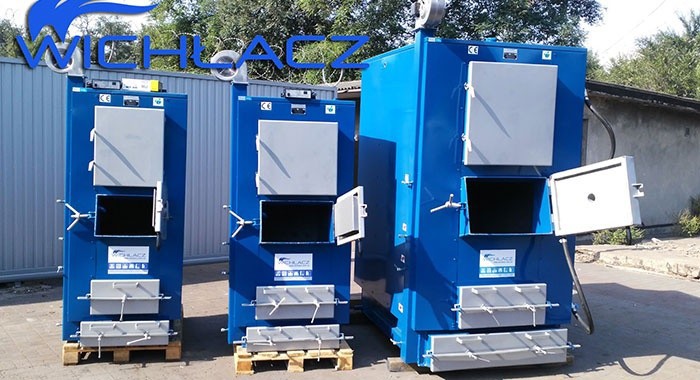 Stropuva. Brand "Stropuva" produces high-quality coal boilers with high efficiency and long burning period after each tab.
Hearth. The company "Hearth" produces solid fuel boilers, heat exchangers equipped with the most modern design. Units of this brand are durable and high performance.
Wichlacz. Reliable Polish brand, which produces excellent solid fuel boilers, operating on the principle stratified combustion of fuel.
Viadrus. Internationally respected manufacturer of coal, wood and coal-wood solid fuel boilers.
Don. Heating units of this brand are reliable and durable. When minimum consumption of fuel "Don 'boilers offer a high level of efficiency.
Teplodar. Heating units long combustion trademark "Teplodar" on their reliability and performance can be compared with the best brainchild of German manufacturers.
Acquisition of long-combustion coal-fired boiler for heating private houses - is a serious challenge. You need to approach it with the utmost responsibility. Such a unit is worth a lot of money, so the first step is to assess the reliability of the sell-side. In the table below, you will find contact details and some commercial offers proven Moscow suppliers of heating equipment.
Name of the proposed model
Factory highway, No. A; Website: teh-dom
Viardus Woodpell 7
Str. Aircraft Mile house №19; Website: termo-mir
Business Park Rumyantsevo, Kiev highway, the house №1, building A, office number&05; Website: garantcomfort
Teplodar Kupper OK15
Teplodar Kupper OK20
Teplodar Kupper OK20
Video: homemade solid fuel boiler own hands
For those who are unable to purchase an expensive boiler, suitable variant of the assembly unit at home. The following video will explain in detail how to do it. Listen to the advice of experts, and will be able to create an alternative version of a long combustion solid fuel boiler.
Oleg, 38 years old: Three years ago, bought on the Internet Wichlacz (Poland) solid fuel boiler. It works great. For all the time to clean the camera I had only twice. In winter, the house is always warm. minimum coal consumption. One bookmark enough for at least two days. Automatic functions flawlessly. I advise everyone who lives in the northern zones.
Fedor, 44 years old: In 2010, threw out the old boiler and bought a brand new "Viadrus" pellet. Granted, not cheap, but, but the heating problem was solved once and for all. Automatic feed pellets works flawlessly. The fuel consumption is minimal. The house is heated all day, but with the financial side of it is almost not felt. During the service (nearly 6 years), there were no complaints.
Eugene, 34 years old: As soon as bought a house, I immediately changed the boiler. Universal solid-set "Teplodar" Kupper OK20. For our housing capacity of this unit with the head missing. boiler itself is not expensive, and fuel is not very pretty penny for it. In this case, none of the family members do not complain about the poor heating. Drown everything that comes their way. It is very convenient: and recycle waste, and the house is heated.
The best models of solid fuel boilers. Overview rankings long burning heating equipment
The solid model of heating equipment are an excellent alternative to their counterparts running on liquid or liquefied fuel. Recently, a great demand for boilers designed for continuous burning. They are able to work offline for several tens of hours. When choosing the best device modifications should be guided by customer feedback. Rating of equipment included in the top 5 of the most sought after models in the 2016-2017 year will greatly simplify the task.
The boiler operating on solid fuel, is a good alternative to their counterparts running on natural gas, diesel fuel or electricity. Such equipment is particularly in demand in non-gasified areas or remote from regional centers, as well as where there are constant interruptions in the power lines. Solid fuel boilers are available for both industrial and domestic use.
Variety of solid fuel boilers
On heating equipment boilers market in a wide range of different manufacturers. In turn, companies have a few lines of their equipment, of which there are many models. This circumstance substantially complicates the selection of the optimal variant for specific operating conditions. Therefore, solid fuel boilers can be divided into several categories:
type fuels - coal, wood, peat, wood briquettes, pellets, etc .;.
number of circuits - one or two;
price - a budget option, medium or premium class;
material - steel or cast iron;
principle - the upper or lower combustion.
The higher the capacity of coal-fired boiler, the better
Council. Boilers with efficiency 83 - 90% have an optimum volume ratio of the fuel chamber / flame duration. At the same time they operate at maximum power, declared by the manufacturer.
Rating boilers by fuel type
Solid fuel boilers have high versatility. Models calculated for operation on wood or charcoal, may be used as fuel pellets or briquettes. Based on the technical specifications and a review of experts and ordinary consumers can make a rating of the best models.
long burning boiler working with wood, coal or wood briquettes, ranked first in the ranking. Equipment Lithuanian-Russian company STROPUVA has the highest efficiency to be 95%. An impressive amount of furnace 320 dm. cu. It accommodates 50 kg of fuel. Depending on the operating mode one loading device ensures uninterrupted operation of 31 to 130 hours. Maximum heated floor area of ​​400 sq. M. It is also designed to run on pellets or coke. Its design provides for a heating circuit, that causes its application only for the heating system. The power unit is 40 kW, the liquid temperature of 85 ° C, the operating pressure of 2 bar.
The boiler is designed to operate on wood pellets and ranks second in the rankings. Domestic products equipped with an LCD screen, which displays all necessary information: current status, mode setting error, etc. The automation system is able to monitor and control how the equipment itself, and secondary devices... For example, it is able to manage up to five circulating pumps of heating systems and floor heating. Pellet boiler has a high efficiency of 90%, of its capacity of 25 kW is able to efficiently heat a house to 250 sq. M. One full load ensures uninterrupted operation of the equipment up to 50 hours.
The third place is occupied by German boiler, with high reliability and stability in their work. It does not have an automatic fuel load and the maximum length of the logs should not exceed 68 cm. The high efficiency of 90% and a power of 10 to 20 kW compensate minor faults. Heat exchanger made of cast iron has a high coefficient of heat transfer, which ensures rapid heating of the carrier to the desired temperature. The device can work with wood, coal and coke.
Solid fuel boilers effectively cope with space heating
Cast iron boiler from the Slovak producer ranked fourth. It has a fairly high specification: Efficiency - 90%, capacity - from 35 to 40 kW, depending on the type of fuel, the liquid temperature - 90 ° C, the working pressure - 2 bar (maximum - 3 bar) and heated area - up to 260 sq. m. Low heat loss rate due to the application of inorganic wool as insulating material between the furnace body and equipment.
Domestic products ranked fifth. This is due to the relatively low efficiency of 84%. Due to the high power of 39 kW it is capable of heating the fluid to operating temperature for 20 minutes. It is able to effectively heat the house area of ​​300 sq. M. The boiler is designed for working with wood, pellets, coal and natural gas or electricity can be used as a fuel, if necessary. All the advantages are raising equipment at a sufficiently high place.
Council. The boiler is equipped with a cast iron heat exchanger, it has a high degree of heat transfer and service life, which is several times increases its efficiency and reliability.
The cost of heating equipment plays a key role in selecting the required model coal-fired boiler burning. At every price point there are better models, which are able to meet virtually all customer requirements:
Low cost of heating equipment does not mean low performance, reliability and lack of a stable job. In this class, there are models that are ideal for cottages and small private houses:
First place. Siberia-Gefest CWE TE 20 due to its high efficiency of 85% and a power of 20 kW it is able to heat an area of ​​200 sq. M. Electric heater 4 kW provides operation can compensate for the lack of delivery or interruptions of the solid fuel. Advantages: high reliability, low weight, low cost, stable performance. Disadvantages: not the best insulation material used.
Second place. model equipment "Mozyr FTC 12.5" of the Belarusian plant "Mozyrselmash" due to its high performance ranks fairly high. Efficiency is 80 - 90% depending on the fuel used. Power - 12,5 kW, pressure 0.1 MPa, the maximum water temperature of 95 ° C.
Third place. Boiler Russian manufacture EVAN WARMOS TT-25K, despite the lower efficiency of 75%, has a number of advantages. Sufficiently high power 25 kW allows to heat a house of up to 180 sq. M., The coolant temperature is 95 ° C. Equipment electric equipment TAN 2 kW compensates low efficiency.
Solid fuel boiler of the cast iron is sensitive to changes in temperature
The leader in this segment is 7. Lamborghini WBL boiler has a high efficiency of 90%, heat and sound insulation characteristics. Power 30 kW heat allows the area of ​​270 sq. M. Battery life for one full load - 12 hours and maximum water temperature - 90 ° C.
Second place goes to the Czech boiler Viadrus Hercules U22D-4. Due to its efficiency of 80% and a power of 20 kW effectively heats the house 180 - 200 m.. It has high heat insulating and sound insulating properties. Fuel consumption is 6.8 kg / h. The only negative - works exclusively with wood.
Alpine Air Solidplus 4 occupies the third position. Easy maintenance and operation, the boiler power - 26 kW, efficiency - 70%, water temperature: minimum - 30 ° C, max - 90 ° C, the working pressure - 3 bar. It works with wood or coal.
First place. Biomaster BM-15 equipped with autocleaning ash, the volume of the fuel chamber 200 to 400 l, 95% efficiency, power 16 kW. High performance allows to use the boiler in apartment buildings or hotels, industrial buildings and so on. D.
Second place. Viessmann Vitoligno Its capacity of 30 kW and an efficiency of 90% area allow heat to 399 sq. M. One download is enough for battery life to 40 hours. The automation system provides reliable and stable operation.
Third mesto.Candle S. distinctive Ososbenno is only the upper part of the combustion fuel. One loading provides up to 36 hours. Efficiency 85 - 90%, the power of 5 to 35 kW, depending on the model. Working pressure - 180 kPa, coolant temperature 90 ° C, the fuel consumption - 0.29 kg / h.
Solid fuel boilers fired with efficient one-story and multi-story homes, industrial premises: workshops, warehouses, etc., as well as various institutions:.. Schools, kindergartens and hospitals.
How to choose a solid fuel boiler: Video
How to choose without the help of professionals current transformer
Lenovo smartphone: what model is, and how to them.
Quadrocopter with a Camera: How To Choose
How to choose a quality amplifier to the speakers
Locks firm Guardian: beauty, durability and reliability
Choosing a company screwdriver Metabo
How to choose the thickness of coatings.
Router Zuxel Keenetic Ultra. Overview router and.
We in VK
Il to write How to choose and make a perfect eyebrow shape at home
Ian to write How to choose UPS for your home PC
Anastasia to write How to choose a stylish high-quality sheepskin: advice, recommendations, rules,
editor's choice

Popular Searches
Copyright © 2015. Copying of materials is permitted when placing direct links to ViborProst.ru site
The most interesting articles and reviews of the week
Receive our newsletter every Friday!
* You can Unsubscribe from this newsletter at any time
Selecting continuous burning coal-fired boiler
long burning solid fuel is the best option for those people who want to spend as little time to toss the wood into the furnace, and also want to save on home heating costs. Of course, such a furnace is represented by many species. Therefore, to make the right choice of solid fuel boilers long burning, you need to analyze a number of criteria.
What to look for:
View of the boiler, the pros and cons of each.
main fuel type.
Power.
The volume of the load chamber and the duration of combustion.
The material used for manufacturing a heat exchanger.
Energy consumption.
Autonomy and safety.
Types of solid long burning boilers are the same:
A feature of these devices is that they occur within such a process as the pyrolysis, ie the decomposition of the wood to more simple in terms of chemical substances. These agents are charcoal (formed when using wood) or coke (occurs loading coal) and gases lion's share of which is capable of burning and, hence, give off heat. Pyrolysis can occur only under conditions of high temperature and lack of oxygen.
The main difference between domestic pyrolysis furnace for the house lies in the fact that almost all the compounds formed during the pyrolysis burn (do not burn only carbon dioxide and nitrogen.) In other wood boilers lot of unburned gases, which could burn and give off heat escapes through the chimney. It is interesting that in fact 90% of the heat produced by the pyrolysis furnace gases formed by burning gives. The heat which arises during the combustion of charcoal (its amount is often in 2.5 times the amount of heat which is formed during the combustion of wood), is heavily used for supporting the pyrolysis.
The design of the pyrolysis furnace for the house has the following elements:
Two cameras. In one burning fuel in the other - carbon monoxide gases. The second chamber can be above or below the firebox. The second option is more prevalent. It is easier to produce.
Fan. There are those wood boilers in which afterburning chamber is under the firebox. It is necessary to supply unburned gases in the afterburning chamber. Of course, it runs on electricity. Therefore, its presence makes the furnace non-autonomous. The devices for the house with the camera located at the top of the fan burnt out there.
System which delivers the air in each chamber separately.
heat exchanger.
chimney. In models with the lower chamber afterburner it is very simple. In the second type furnace for the house he has a serpentine shape. This is because the heat is very close to the chimney, and if it is not time to collect, it will come out. The coil prevents this problem.
Pros and cons of pyrolysis boilers
A high percentage of combustion.
Automaticity work. What is required from the owner, so it set up a working mode from time to time to load the wood and to clean.
Ability to use any type of fuel. Except for some models are pellets - they can fall into the lower chamber.
It is possible to use only the fuel, the humidity is less than 20%.
The fan and other electrical components require electrical current. That is, domestic or foreign oven is not a stand-alone home.
The need for a valve or crossing EhLEVATORNAJa node when the heating system is strongly cooled by the coolant. Return water need be heated, diluting with hot in order not to affect the pyrolysis process.
Boilers with the principle of the upper combustion
Such devices may be mentioned hybridomas standard solid fuel boilers and pyrolysis. This is because as the coolant is heated by the combustion of firewood and from the partial combustion of the unburned gases.
Oven Housing represents a high vertical narrow tank, which lays in the middle of a large amount of wood or coal, and is located around the water jacket. Fuel burning downward and released gases burn out the top of the flame chamber. Because of this, put new wood inside is possible only after the complete combustion of the previously pledged portions.
Automatic adjustment of the intensity of combustion.
Many of the options do not require electrical power.
May operate in a system without a heating circulation pumps. However, do not count on high efficiency.
The relatively low price.
Chief among the disadvantages is the inability to give a good performance on bad fuel. It must have a moisture content of 13-20%. It can be used and the wood with a moisture content of 30%. However, the efficiency will be lower.
He is a typical representative of conventional solid fuel boilers. He is often referred to as devices, classified by fuel type. For long it has got combustion units because it has a special design that enables load pellets once a month.
The design of the heating element comprises a laterally disposed container into which is poured and pellets. Container volume is such that the pellet is enough for a whole month. Of course, this amount may be higher. Fuel from the hopper provides a special mechanism. is he It works by using electrical energy.
Many are choosing pellet boiler because of these advantages:
Efficiency reaches 90-95%.
Virtually complete combustion of the fuel. This means that cleaning can be carried out once a month.
Fuel can be downloaded once a month or several months (it depends on the volume of the hopper).
As for the cons, they are presented:
Dependence on availability of electric current.
High price.
The need for solid and low-ash pellets.
To select this criterion need to know how much heat it has to create for heating the whole room, as well as for heating water in the boiler indirect (It will be used for washing dishes and other needs). It is clear that too weak long burning boiler will not be able to provide adequate heating.
With regard to fuel, in furnaces installed under the roof of the house, you can burn:
The first fuel is selected, depending on the value of heat that each species can create. To do this, determine how much fuel a separate species need to allocate 1 kW of heat. Next, compare the value of a certain number of each species. So select the most economical type of fuel.
Also, such a choice is important because most manufacturers released boilers for a specific type of fuel, e.g., wood producing device. Of course, they can burn coal and t. D. However, heating efficiency may be reduced. If you plan to use several types of fuel, it is necessary to look for universal ovens. One of them is pyrolysis.
The volume of the load chamber and boiler output
The ratio of these indicators is very important to determine what kind of long burning boiler should choose for your home. It shows how often need to load the wood into the combustion chamber. The greater the final score, the better. That is, the less will have to lay the wood.
For example, there Jetstream furnace Viessmann Vitoligno 100-S 25. The volume of its loading chamber is 110 liters. The power was 25 kW. Ratio is 110/25 = 4.4 l / kW. This figure is quite good for this type of boiler, since it varies on the average from 3.44 to 4.9 l / kW.
"Stropuva" model this indicator better - 12,5-20 liters / kW (power models ranging from 10 to 40 kW). And thus the best one for this relation is long pellet burning boiler - 30 l / kW or more.
This boiler unit is cast iron and steel. Cast iron heat exchanger It represents a structure consisting of sections. This means that it is fully collapsible. This feature provides many advantages:
Ease of transportation.
Easy installation and maintenance.
Ability repair procedure (section replaces bad).
It needs to be cleaned less often. Even coated with coke or dry rust element produces proper efficiency. These factors are a little lower efficiency.
The main problem of domestic and foreign iron heat exchangers is rapid destruction by thermal shock. In other words, if it is still hot, and in the middle of the beginning of the incoming cold water, the iron can crack. Besides iron heat exchangers have a high thermal inertia.
Frequent and extreme temperatures can cause damage. The most painful of these changes are for welds. The problem is the corrosion of the heat exchanger and the inability to resist deposition of salts. If these two factors disrupt the wall, it is necessary either to change the heat exchanger completely (unless it is tubular), or buy a new long burning boiler.
This node may be a water jacket or consist of pipes. The first case is very economical in flameless combustion. As for the tubular heat exchanger, it is best to choose a solid-long burning boiler with a counter unit. It water and gases move forward, so that the efficiency becomes the maximum.