Choosing a design living room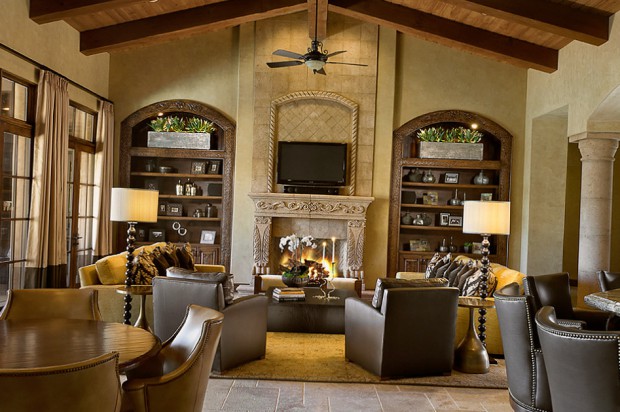 Once you have looked around and decided to make a difference not only in your own home, but in life, you need to think about the proper organization of their living space. It depends on you, how energy-field will be filled with it. to begin with living room design.
It is obvious that the design of a small living room will be significantly different from the decorated spacious rooms. If the place is small, every square centimeter has to be used efficiently as possible. For this purpose, suitable modular cabinet furniture for the living room. It can be placed so that there was a possibility of changing the place and location, it is easy to transform your home cozy corner in a room for receiving guests. Relevant in this case are such items frameless furniture as chair and armchair pear-sac. In this chair you can relax in the evening after work - the soft contours if envelop the whole body comfort. And when the guests appeared on the threshold, you can either slide away into a corner, or to use as a stool.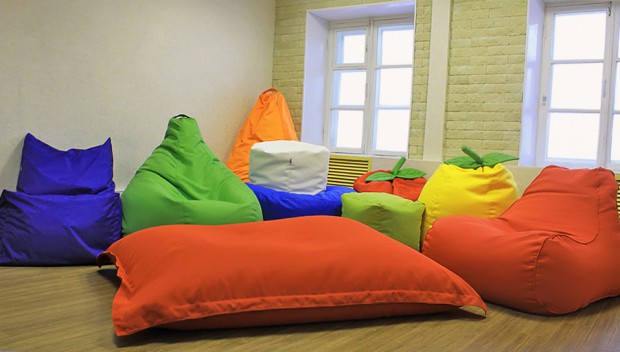 For a small room suitable for modern living room wall, not too marker, with plenty of open shelves. On these shelves designers recommend to place flowers, photos, souvenirs, in some cases - books and utensils. But clutter the small space furniture and too many objects are not worth it. Each piece should organically fit into the interior, and to be here appropriate. Minimum decor, simple, neutral colors help to create a harmonious space even in a small living room. Visually enlarge the space will allow:
bright ceilings, walls and floors,
transparent or delicate furniture,
big window,
transparent tulle,
mirror or mirror wall,
proper lighting.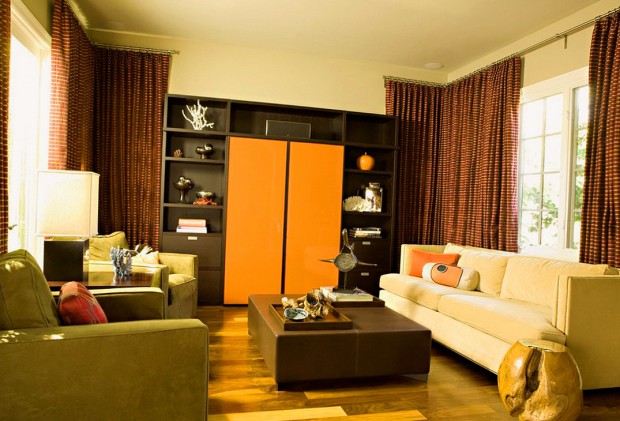 To visually expand space and sonirovaniya room and the living room to the bedroom, the decoration may be used (painting, painting, wallpaper sticking) of the two colors in harmony with each other. A very appropriate design method in the studio apartment. One of the walls crumble, for example, in white, and the rest - in beige, or vice versa. The wall, which is different in color, can be a background for placing paintings, interior, indoor plants.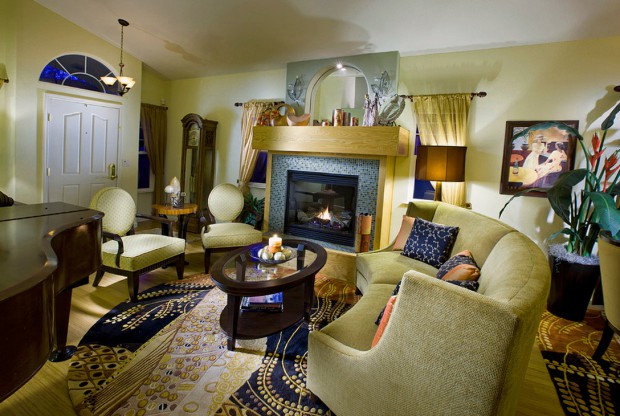 If enough space, then you can afford a living room interior in a classical style, baroque, art nouveau, and many others.
For classical living room suitable mirror with gold, gilded lamps, antiques, wooden furniture. Samu living room furniture (classic, retro, artsy Empire or any other style) is best positioned along the walls or in the corners. With this it will significantly expand the space, and you can make a living in such a big group of friends.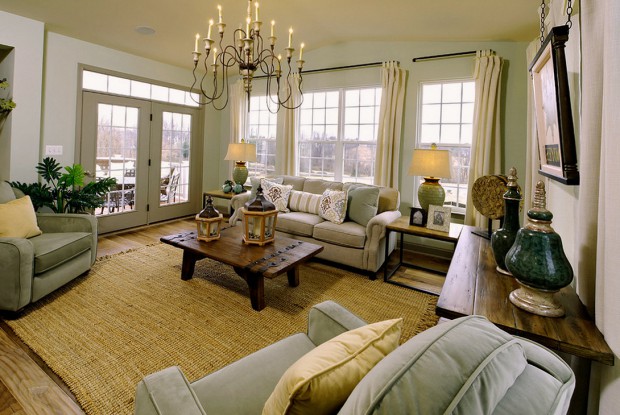 To make a living in the Baroque style, using murals, stucco ceiling, massive decorated furniture and sculptures. From fabrics suitable satin, brocade, velvet. Curtains made of these materials will look just gorgeous on the windows.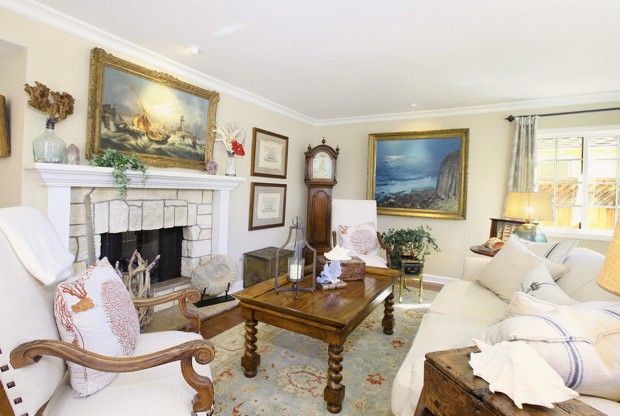 A wide flight of fancy design gives the living room in a modern style. You can use cloth or paper butterflies, waves, Craft, elegant cabinet and upholstered furniture.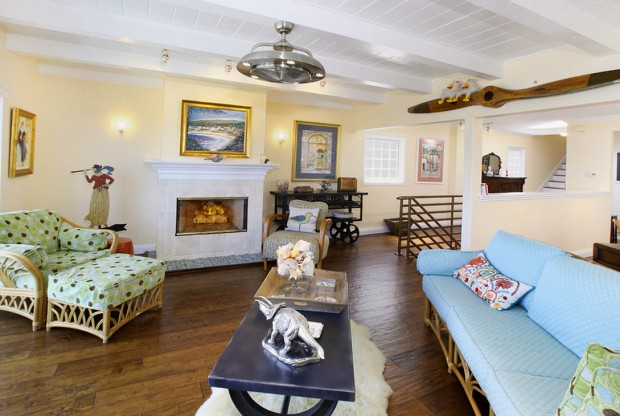 Design Noah guests room - photos for inspiration.
Whatever the style of the room decor is chosen based on the fact that every object should have its own place. Thus, the central issue in the interior will be a fireplace, sofa and coffee table, the original self-leveling floor. The combination of a large central lamp with local spotlights allow light up all the dark corners and make the play of light and shadow, which will positively affect the energy of all the premises. Do not forget to "neutralize" and sharp corners by placing them near the plants.
Design a small living room (60 photos)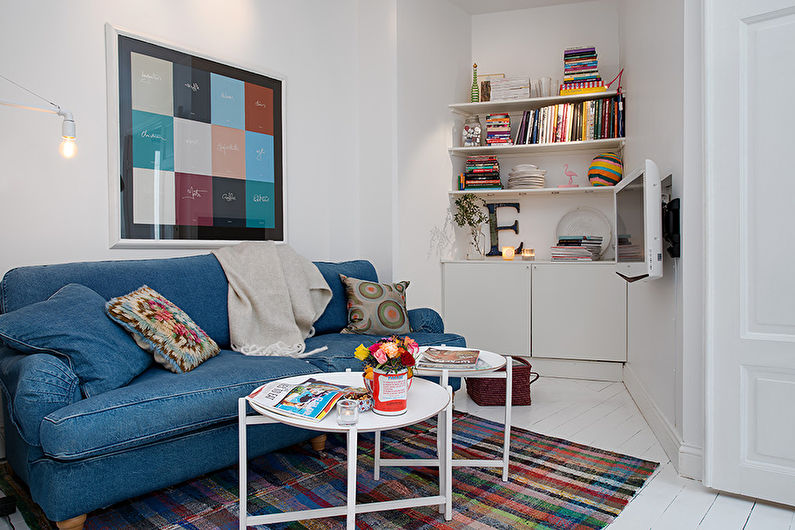 Small living room - not a problem. Even the closest, at first glance, the room can be easily converted into a cozy place to spend your evening watching TV, socializing with friends and family holidays. Provide comfort and create a relaxed atmosphere will help you our ideas and tips!
interior style for small living
Living room - this is the face of the house and its arrangement should be paid special attention. always nice to relax in the beautiful interior itself, and invite friends. To increase the visual space of the room it is desirable to stop the choice on one of the styles, as described below. They are united by the ease of the unloaded items and predominantly light colors in the decoration.
This style combines functionality and accuracy. Clear graphic lines, calm monochrome colors, ultramodern materials and the latest electronic trends - an ideal situation for busy people. Modern style reminiscent of an office, but it can always be supplemented sweet home décor, textiles, cushions or houseplants.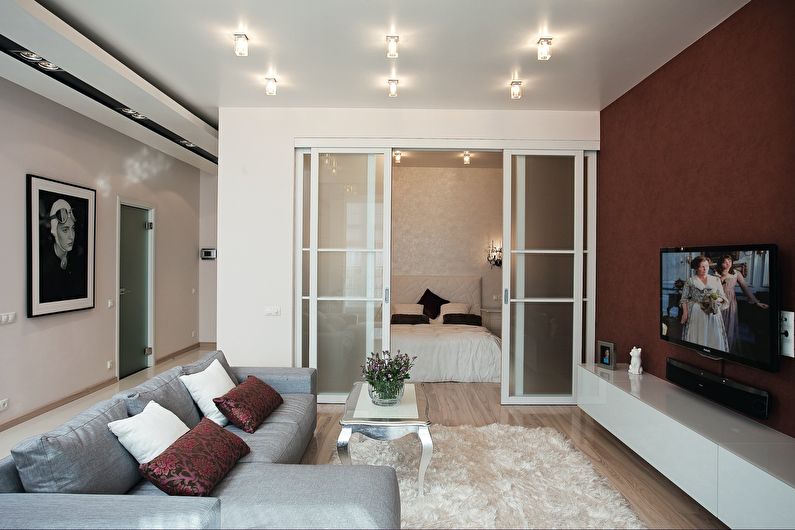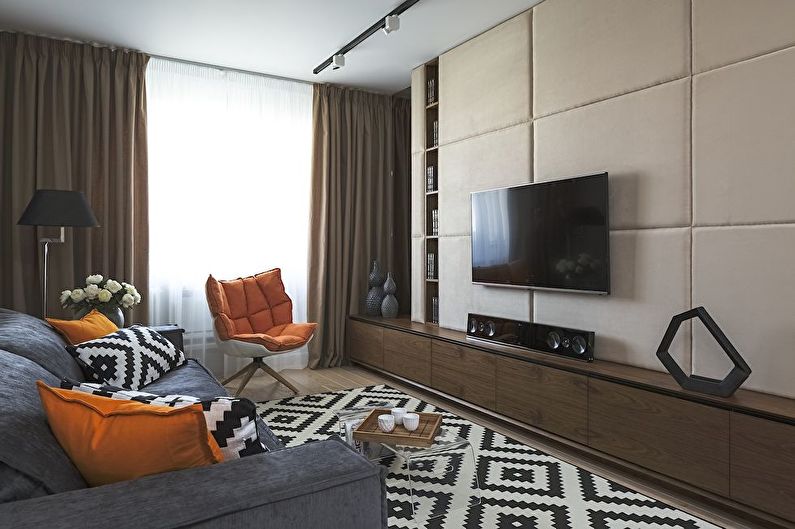 For a luxurious classic style is characterized by harmony and symmetry. The abundance of white, crystal chandeliers and sconces, mirrors in gilt frames fill the room a soft glow.
The main decoration of a small living room in classic style furniture is carved ivory or polished to a high gloss expensive wood.
Necessarily present moldings, raised rods, arches, columns. Windows close the heavy curtains with vertical drapery and jewelry made by the pick-up.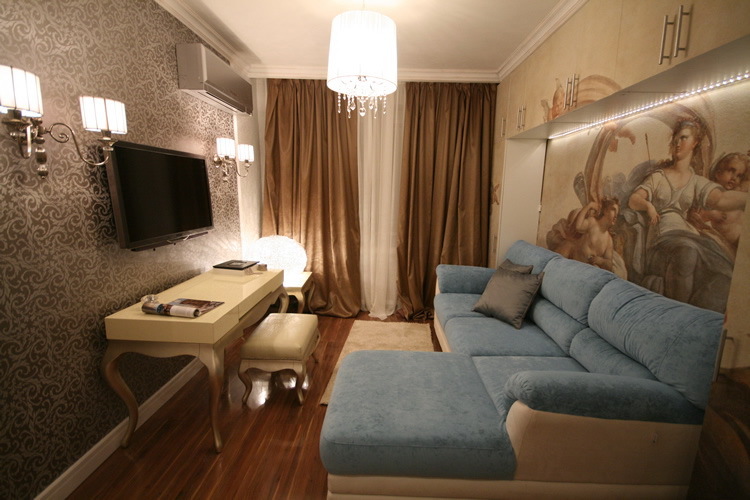 Charming simplicity southern France - the best solution for a small romantic living. Distinctive features of Provence - it's lace, floral prints on wallpaper and pastel beige, peach, blue and gray shades. It remains only to get a nice set, put a bowl of home-made jam and make a tea party!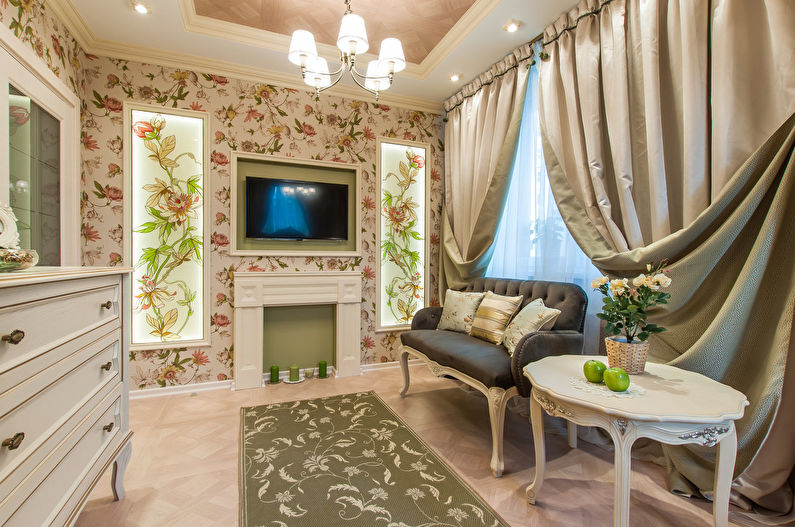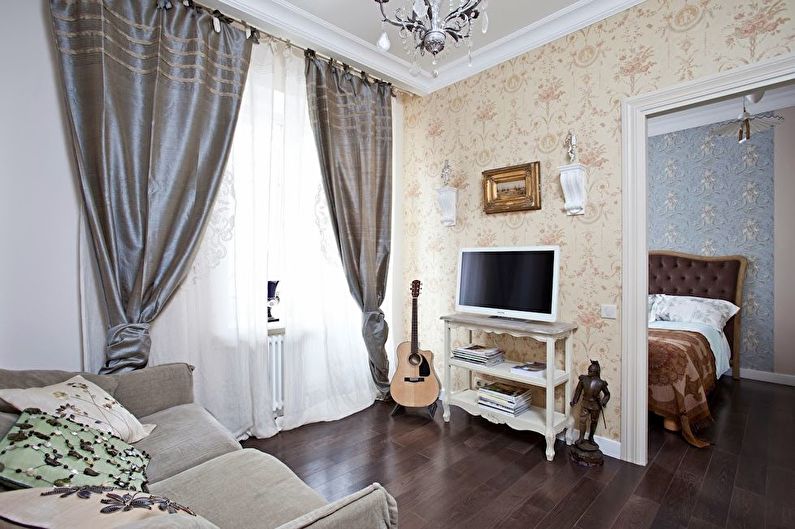 Design a small living room in the loft provides the bare walls, windows and a minimal amount of furniture. The décor may make abstract paintings, black and white pictures, metal lamps.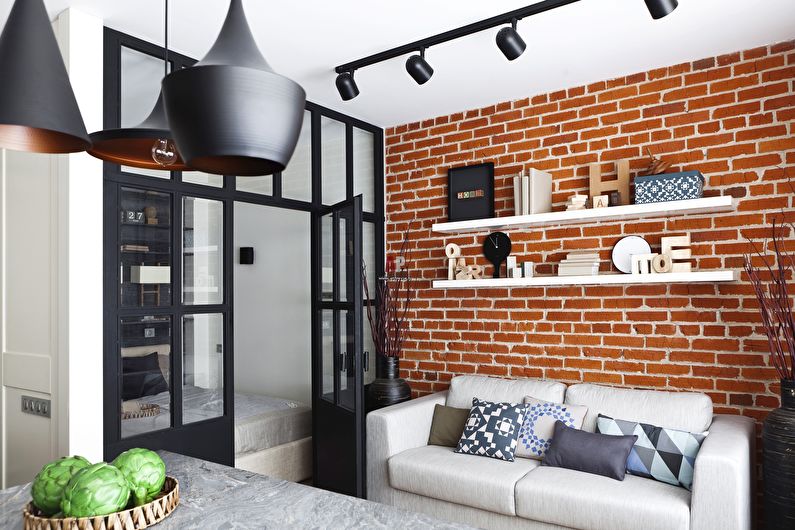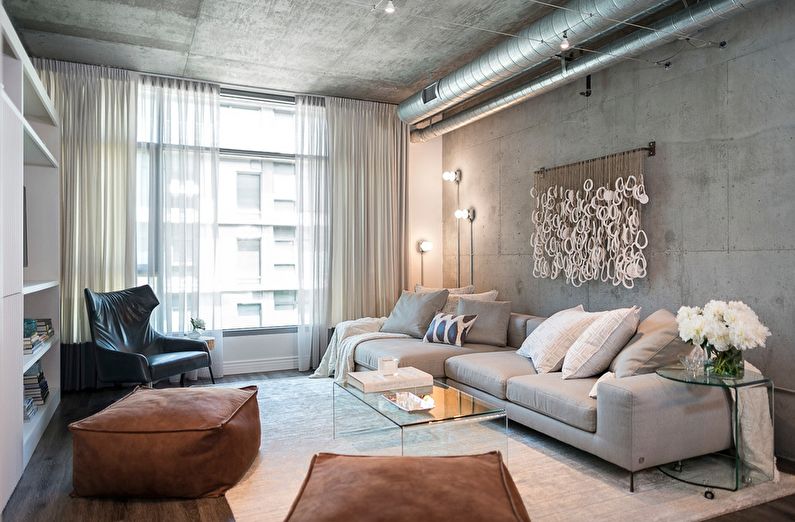 The name of this area speaks for itself - at least things, no jewelry, only needed a compact furniture and modern appliances.
Of flowers used alone, in extreme cases - two. Allowed registration in white, gray, beige, silver or blue. Accents can be saturated, but not necessarily in a calm tones.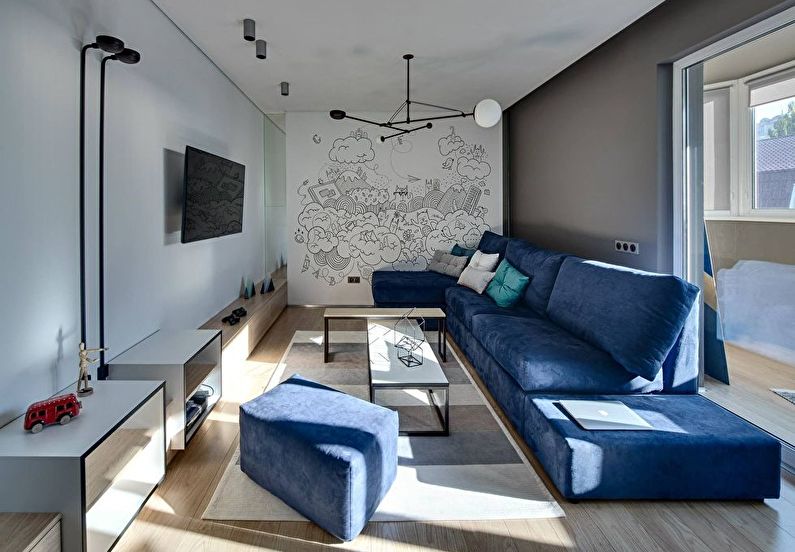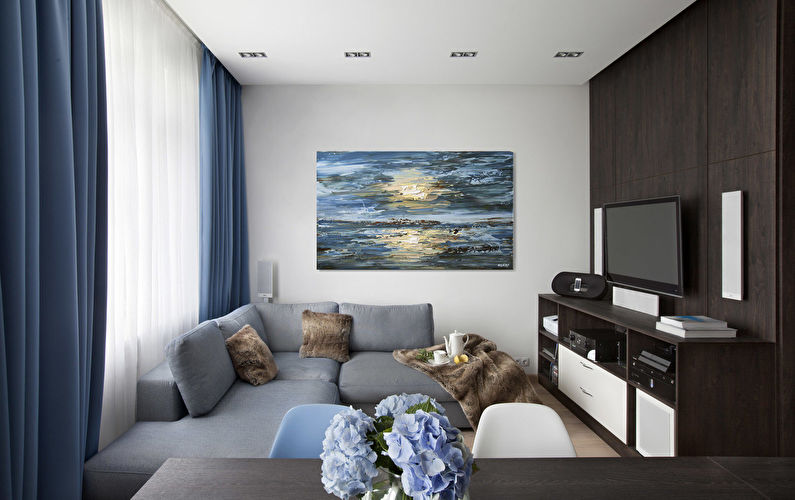 Scandinavian style interior - a snow-white background with a little touch of beige, bright accents, and plenty of natural light. This design creates a small living room a fresh feeling.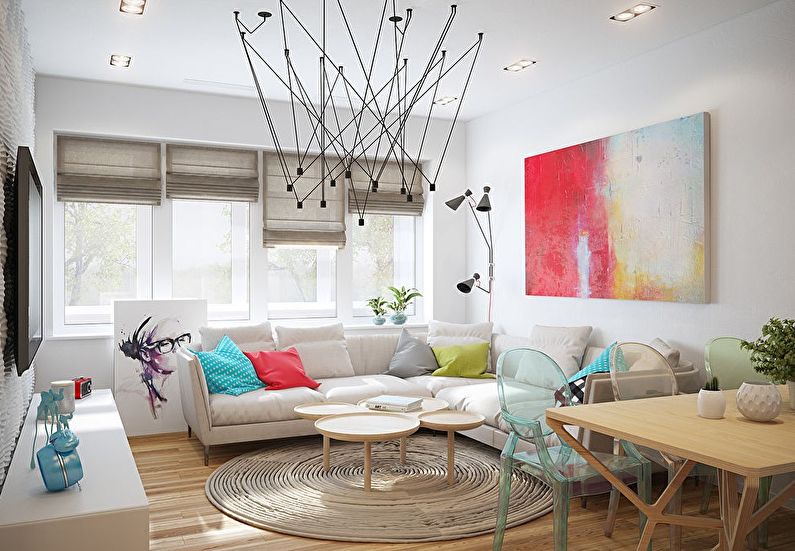 To visually enlarge a small parlor, you must stand design in two or three bright or neutral colors. Darker can be used in floor finishes, furniture, decor trim. The pattern should be on one thing - if the walls are decorated, the linens monotonous, and vice versa. Restrained palette, brevity, lack of screaming parts - that's the secret room in which nothing will distract or annoy.
The white color is perfect for the background (wall, ceiling), is well combined with other colors - gives them the contrast. It makes the living room more spacious and brighter.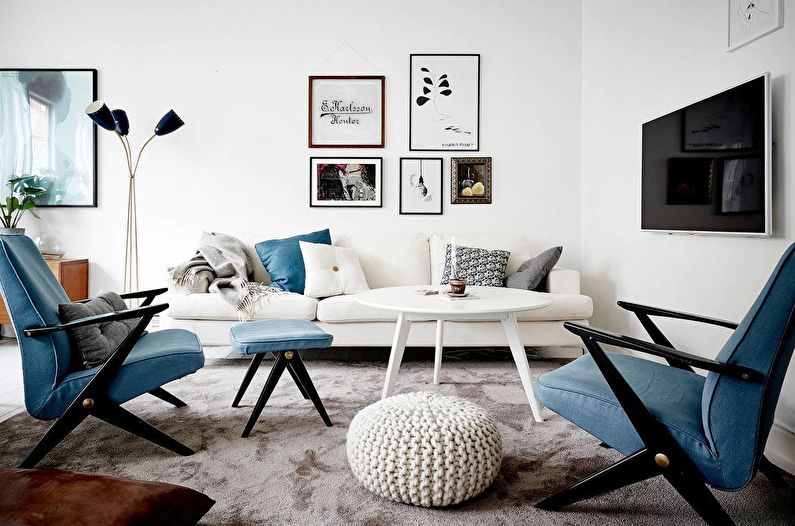 Neutral grays mute too bright objects. Suitable for vertical surfaces bleached tone dry asphalt, silver. Furniture and decor can be darker.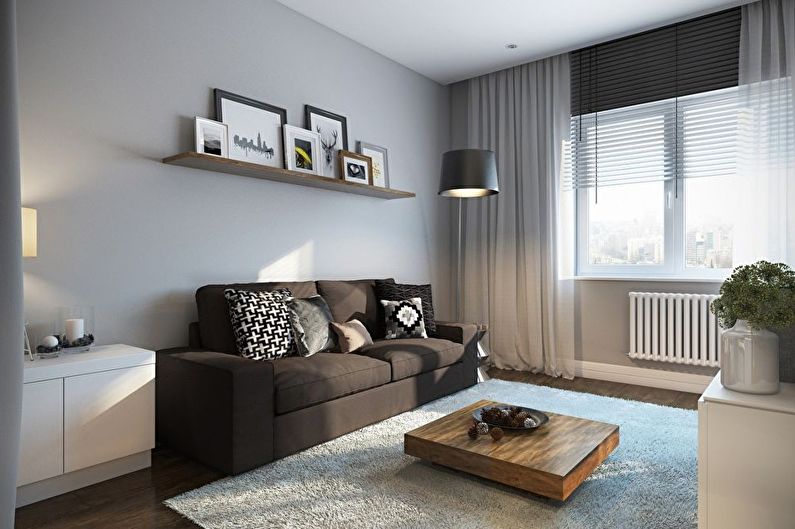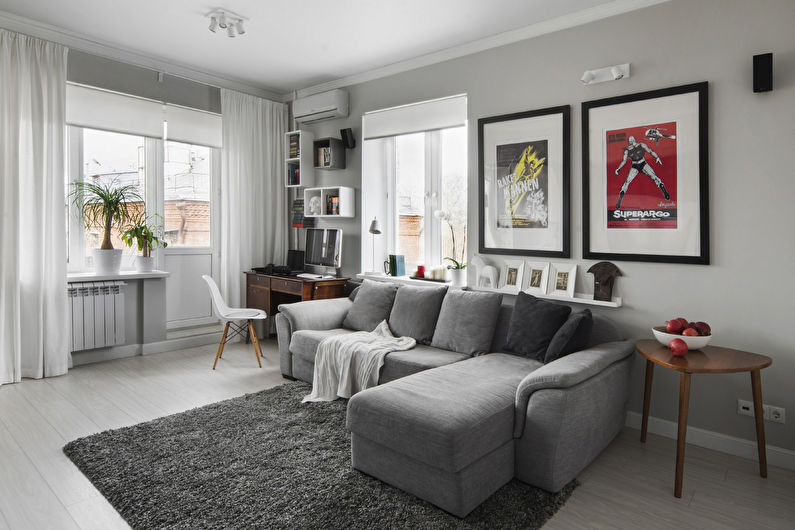 Brown looks great in autumn tones - from sand to chocolate. There are blotches of orange, red, burgundy or light green shades.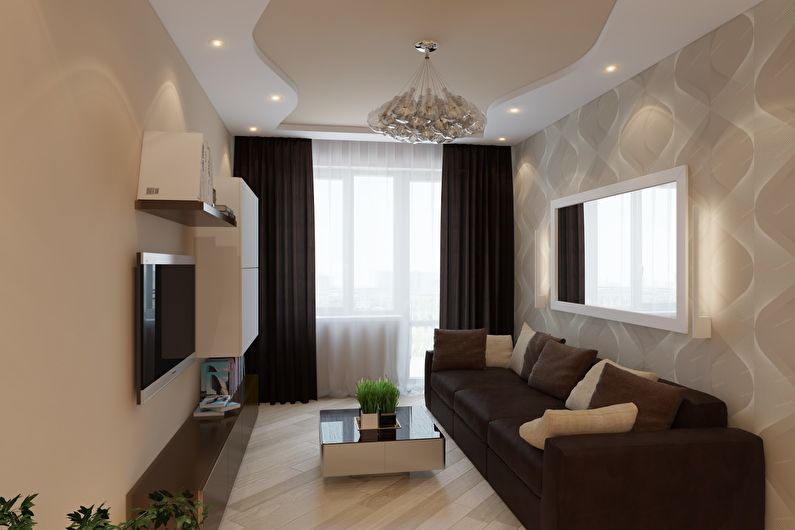 Blue color has a calming effect on the human psyche, cool. White ceiling, blue walls and bright furniture - a magical option for the interior design of a small living room.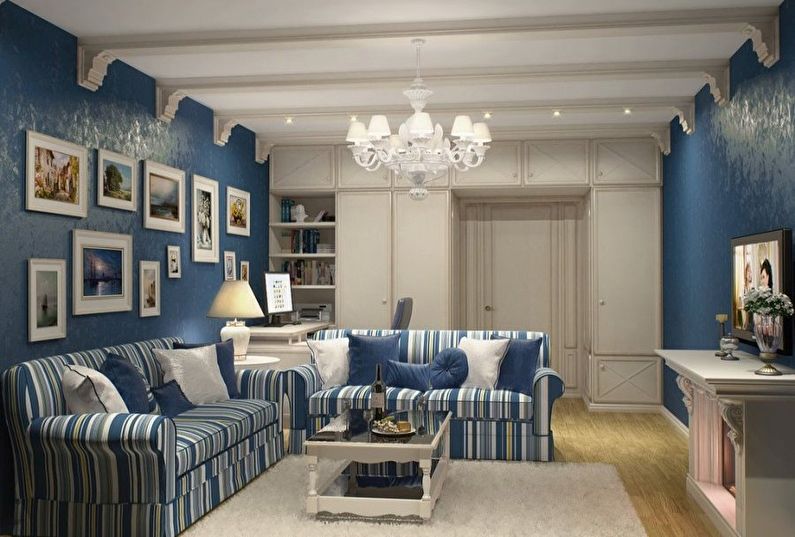 Green is good for the eyes and makes you feel good. It looks beautiful surrounded by the natural elements in shades of trees, rocks, water and flowers.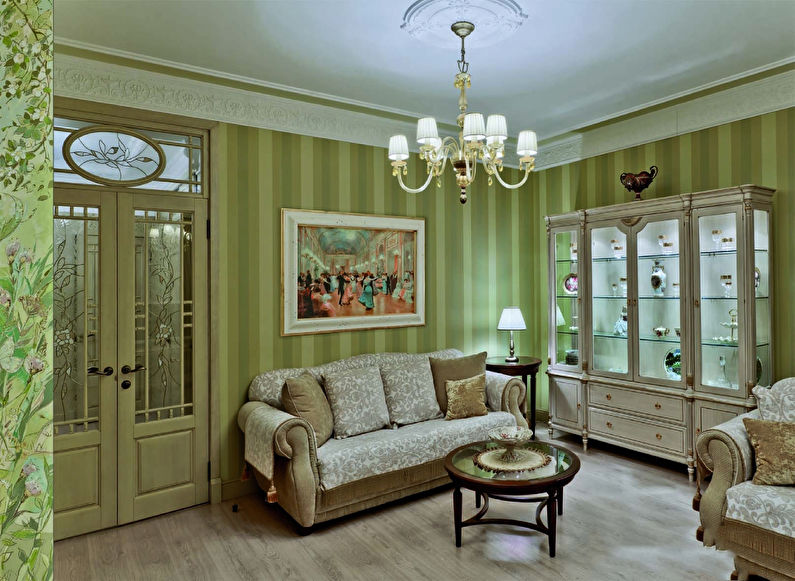 Shades of sunset and lavender fields. Small living room in a lavender color will set a romantic mood and is a favorite holiday destination for all the inhabitants of the apartment.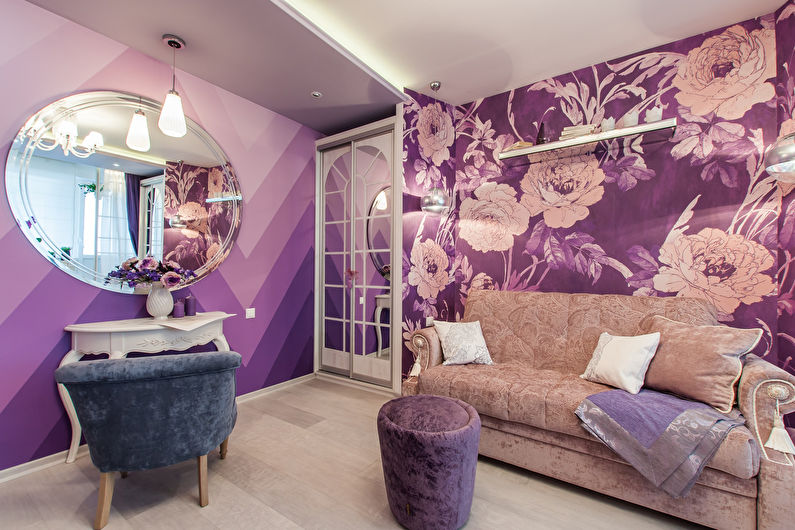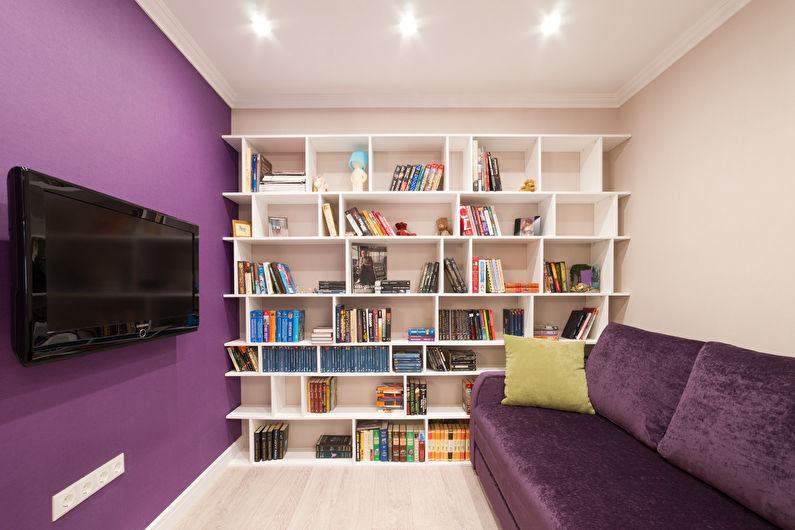 Living to look impressive, you should choose for its high-quality finish, but not necessarily expensive materials. The main criterion in this case - aesthetics.
To cover the floor in a small living room is most often used natural parquet, laminate and carpet.
Extravagant design can also be created with the help of self-leveling floor, artificial stone, tile or granite. Glossy or polished surface allows visually add height of the room.
If the home has small children, it is necessary to lay carpets - they soften the fall, and will warm the kids at play on the floor and expensive finish will protect against damage.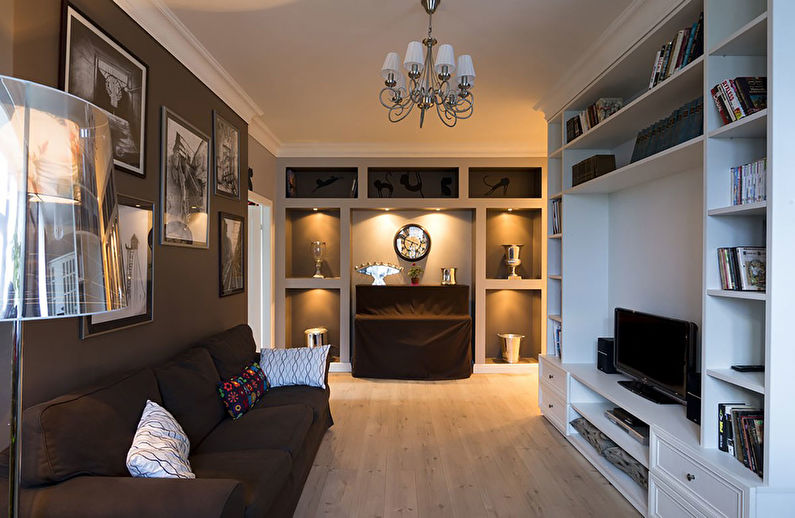 Side background of small-sized living room should be bright, with no noticeable color spots. Suitable monochromatic painting, seamless wallpaper (you can narrow vertical patterns), brick or stonework, polished stone, plastic panels.
An interesting addition can be a panoramic wallpaper with 3D-effects and mirror glass partitions, decorative painting.
In the walls of plasterboard can be illuminated interesting niches for placing equipment, aquarium, souvenirs or collection of books.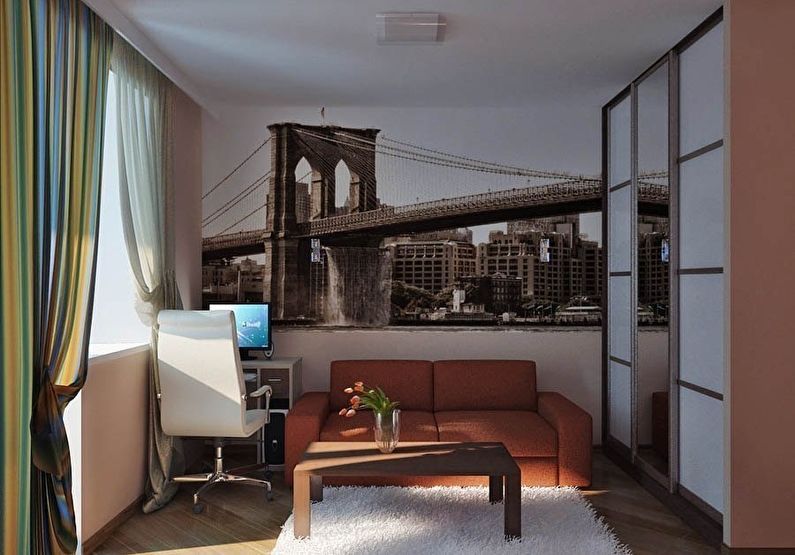 The best thing in the small living room will look a tension mirrored ceiling, two-level gypsum or a combination.
The Economy version simply align it and paint it white. From all kinds of plastic panels is to give - squares and stripes visually reduce the height of the room. The same goes for the massive chandelier hanging.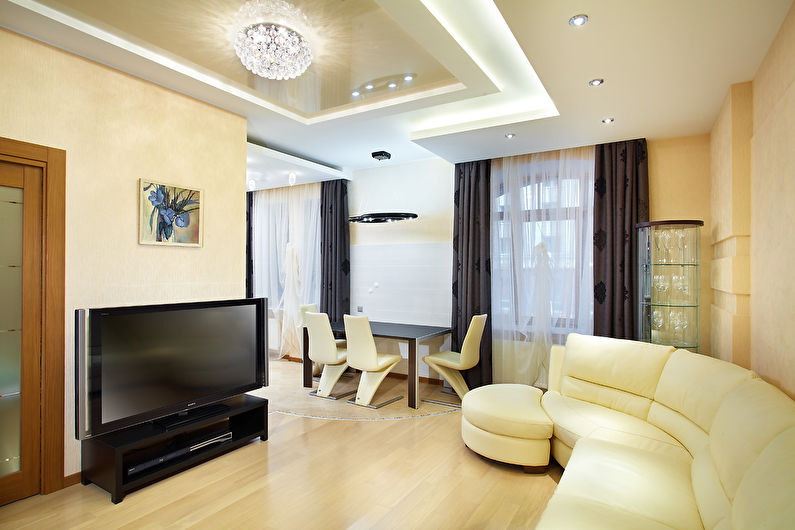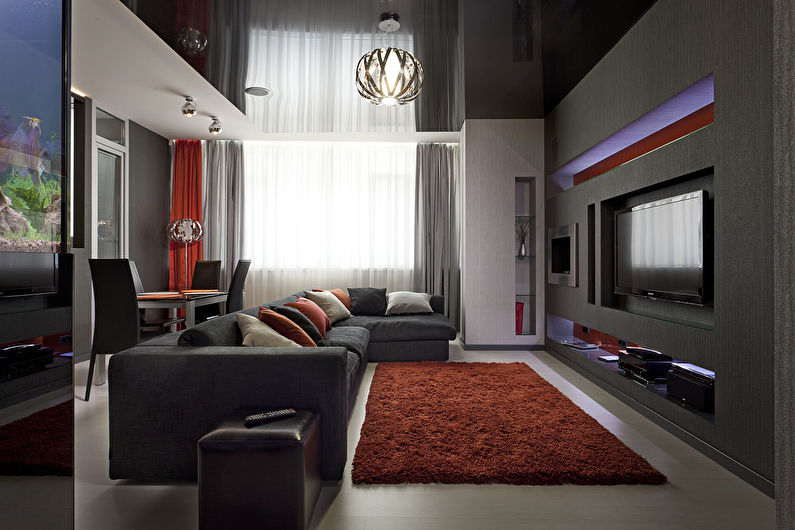 Choice of fabrics will largely depend on the overall style of the interior. Thus, for the classical ideal satin, silk, velvet texture; for loft - translucent white to Provence and the country - in a small flower.
To visually enlarge the space of a small living room, it is recommended to apply the bright and brilliant textiles. The curtains should be in harmony with the rest of the trim, partially repeating patterns on the wallpaper, to emphasize the color of the walls or merge with them.
If you attach the cornice to the ceiling, and the lower the curtains to the floor, the room will seem higher. A good solution for small-sized room - curtains in the wall, make sure the light and the vertical drapery.
To decorate fit great pictures with perspective views, mirrors, modular image, family photos and interesting panels. Appropriate in the living room will also be a vase of flowers or branches, plants.
On open shelves can be placed collectible books, figurines and interior candles. In order not to disturb the harmony of the small space, the decor, it is desirable to use very sparingly.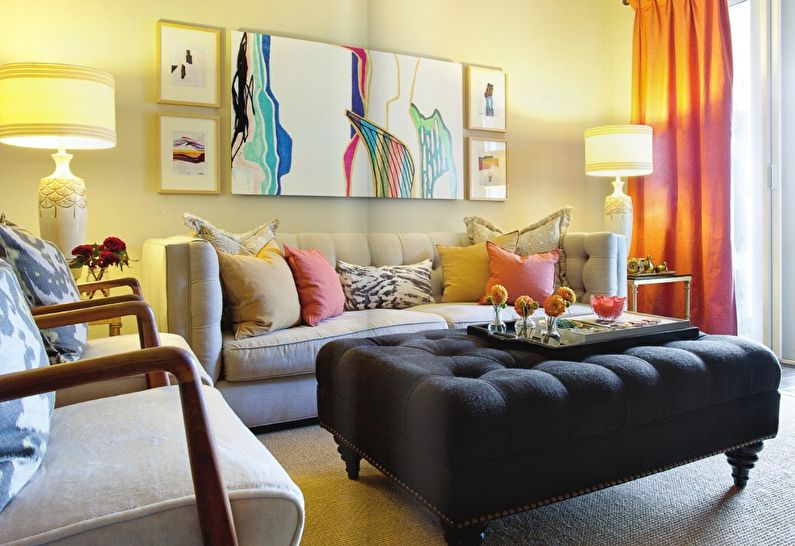 Place the sofa arrangement, TV, coffee table, shelves and other important things in a small living room is largely dependent on its plan. Thus, in a studio apartment will have to combine relaxation area with dining and possibly provide even a folding bed; checkpoint living room stands as a shield, to make more comfortable; rectangular room will need to be balanced with the help of geometric methods.
Symmetrical harmony of the square allows nicely to place any furniture near the wall or in the middle. Using the angular design, the situation can be made diamond.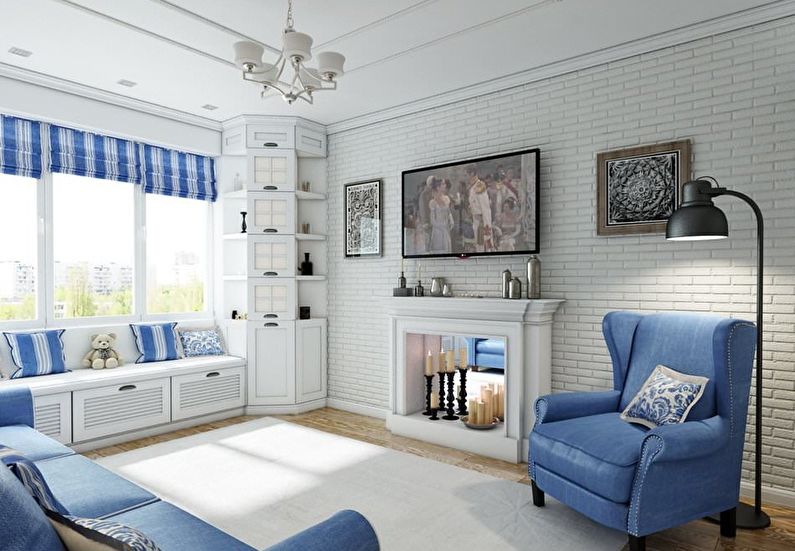 Narrow (rectangular), small living room
In these rooms are usually located in front of the door window and turns the effect of the corridor. To improve the situation as follows: Window curtain white curtains with smooth horizontal drape the front door to make large and bright - it will increase the narrow walls. Free sites need to decorate elements like masonry or to arrange racks with long shelves.
Wide sides should be specular, glossy, with prominent vertical lines of contrasting colors and clear shapes from floor to ceiling.
Wooden floor should be laid parallel to the narrow walls.
Furniture is desirable to choose a high-backed - squat will "smear" room.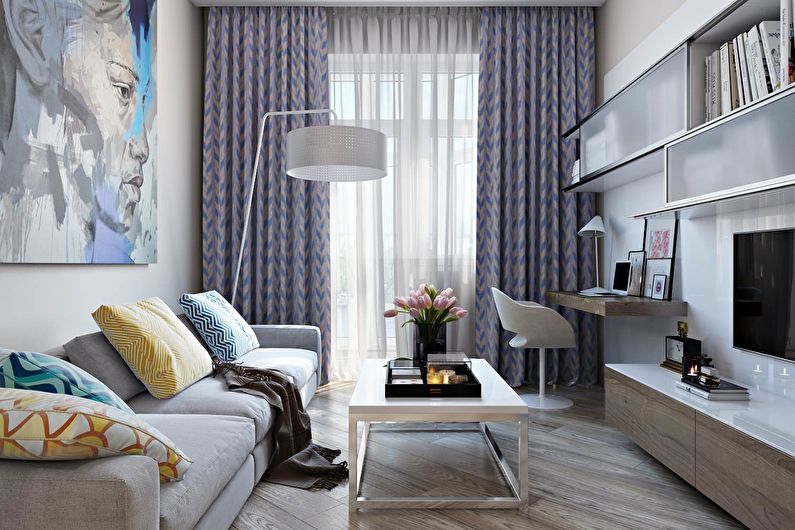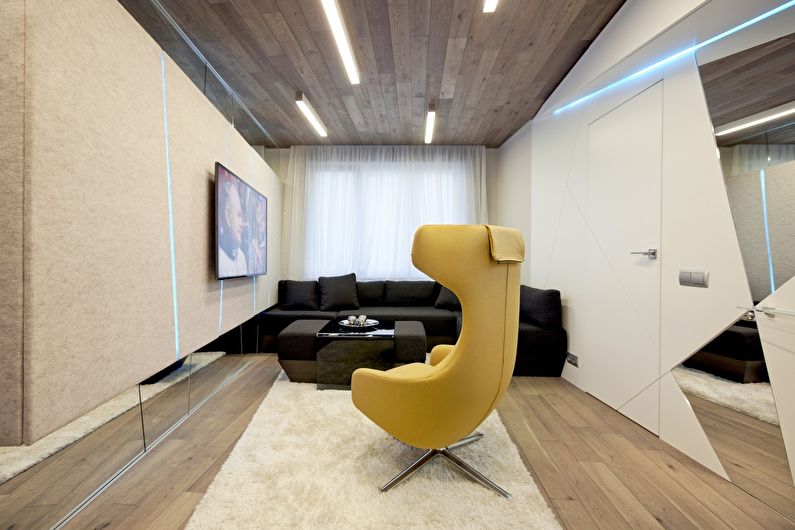 Small living room of irregular shape
If the room has turned out as a result of a complex zoning and the owners have decided to equip the attic for this purpose, there is a problem of non-standard layout.
In this case it is necessary to book a semi-circular or angular furniture, walls with bevelled edges, unusual tables and take care of the access of light to each portion of the space.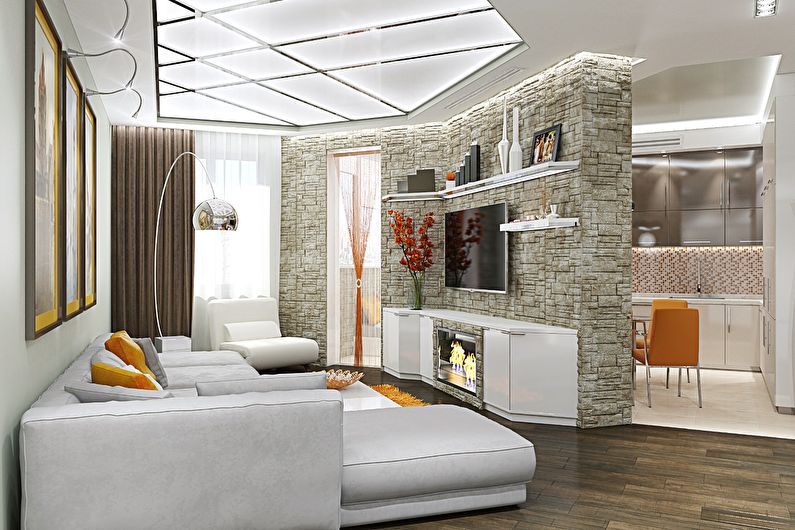 Lighting in a small living room
Proper positioning and aesthetic appearance of fixtures can greatly transform any small room. In the living room definitely need at least one powerful lamp on the ceiling, but it is not necessary to hang bulky chandelier, if the real height of the room is less than 4 meters.
On the perimeter can be built neat point diodes on the wall beside the couch attach lamps (for example, to be comfortable to read books), and the decor or the shelf with your favorite things highlight the flexible bands. In some embodiments, the design is very nice would look stylized lanterns, lights and fluorescent elements.
Shake the feeling hanging over his head the ceiling will light coming from the bottom vertically from the floor. Reflected in the glossy film, it will make the room higher.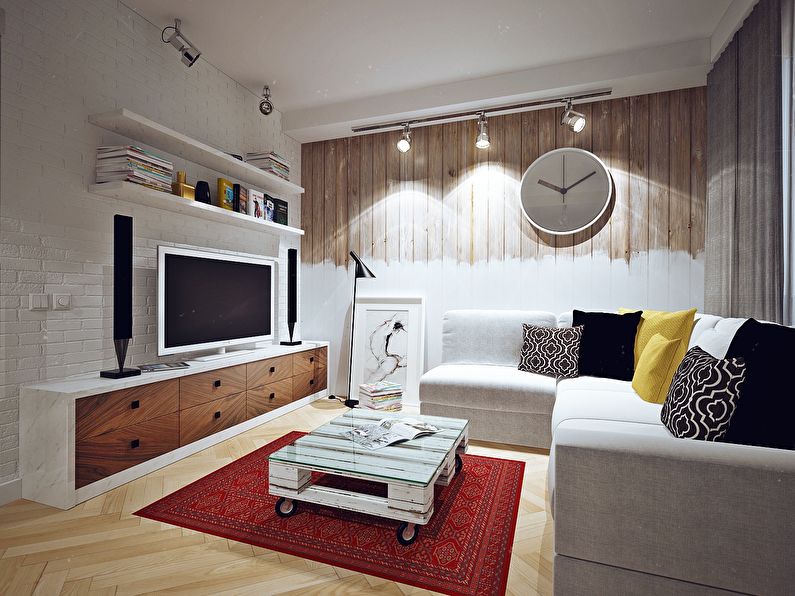 Design a small living room in a five-storey apartment
In Khrushchev, as a rule, can not do without redevelopment - living in such cases are often combined with a kitchen. This helps to increase the area and transform the familiar room in a modern studio.
To save space it is recommended to stick to minimalism: use compact narrow shelves, doors without handles, flat screen TV hanging on the wall, rather than placing it on a bulky cabinet.
Upholstered furniture is better to choose a folding - so in case of overnight guests is an extra bed.
Free angle a small living room in Khrushchev should be equipped with a working place to put there the computer, and attach the lamp hanging shelves for books.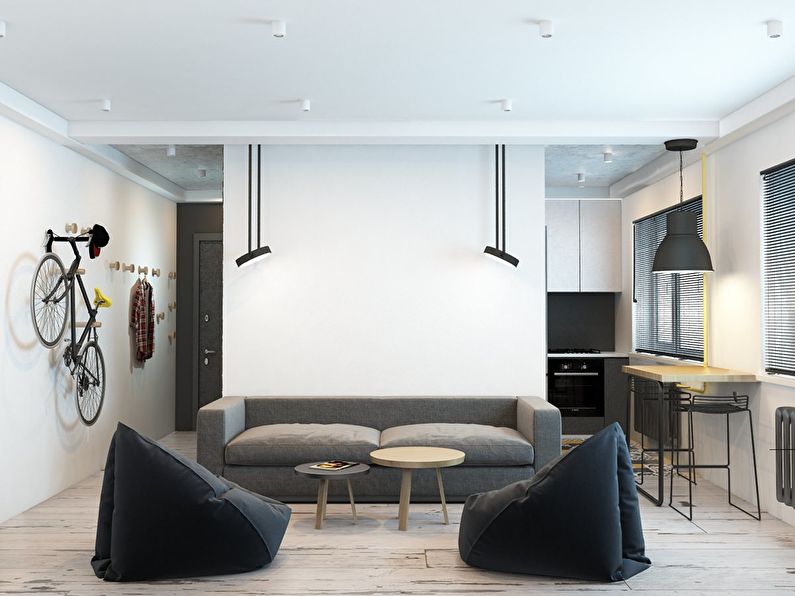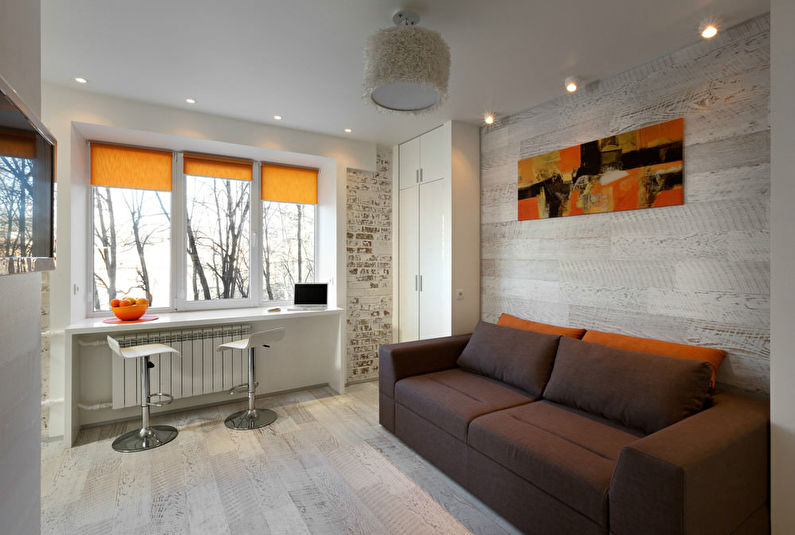 Combining with other rooms
In cramped conditions a good way of increasing the area is to combine with the adjacent living spaces.
The combination of a small living room and kitchen
This is a very logical option - in the living room welcomes friends, rest, can not do without tea or holiday feasts. Suffice it to visually separate the cooking area of ​​the bar, and on the other to put a sofa, TV, wall - and getting comfortable multipurpose studio.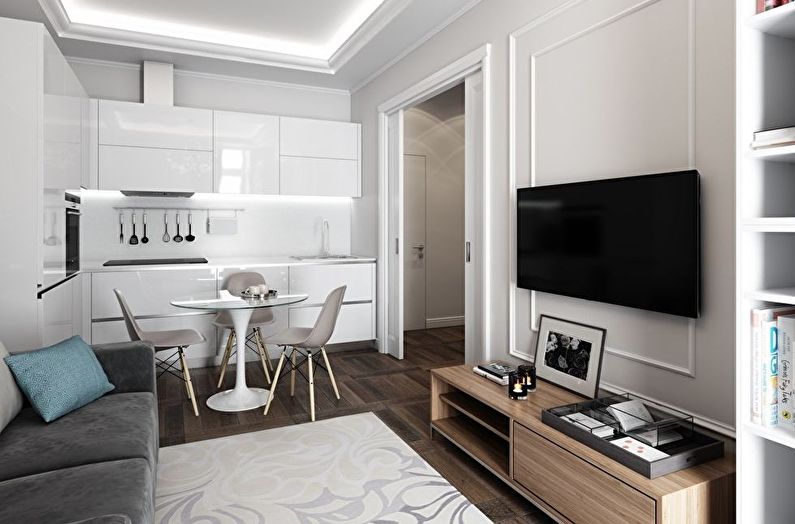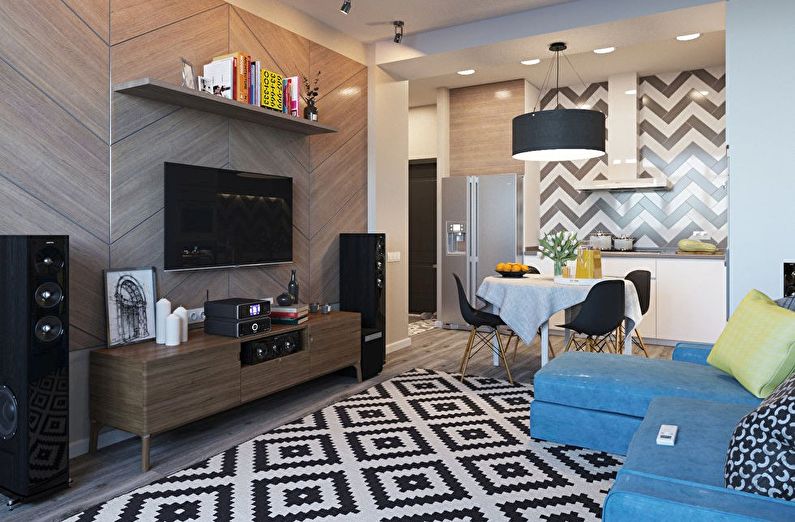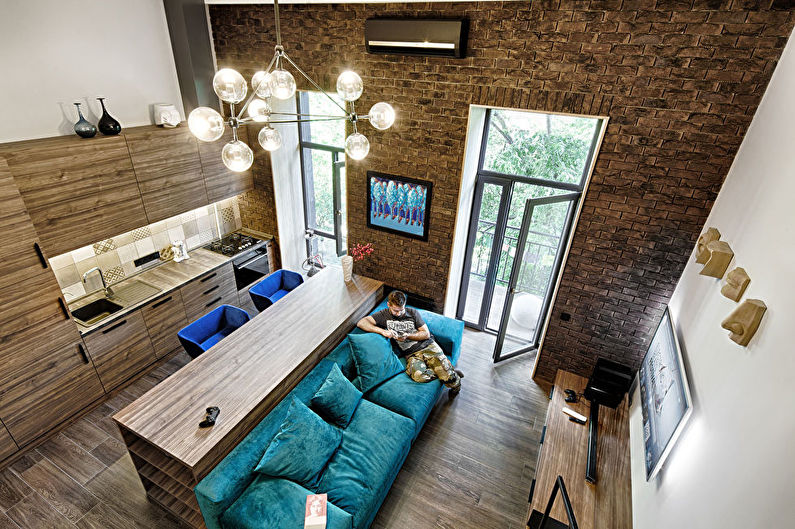 The combination living room with balcony or loggia
Removing the wall between the living room and a small balcony at the expense of the latter, you can expand the space considerably, as well as to arrange a greenhouse or a work area. To the apartment did not go away heat and balcony have to glaze, to close up the gap and insulate well.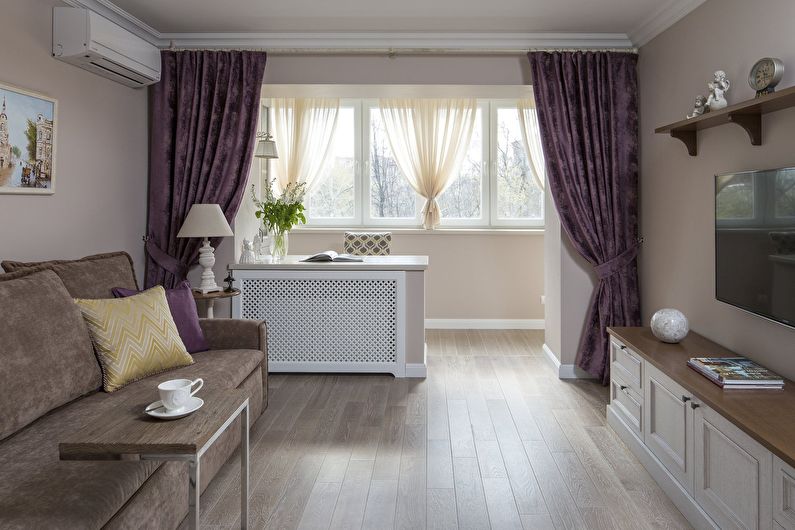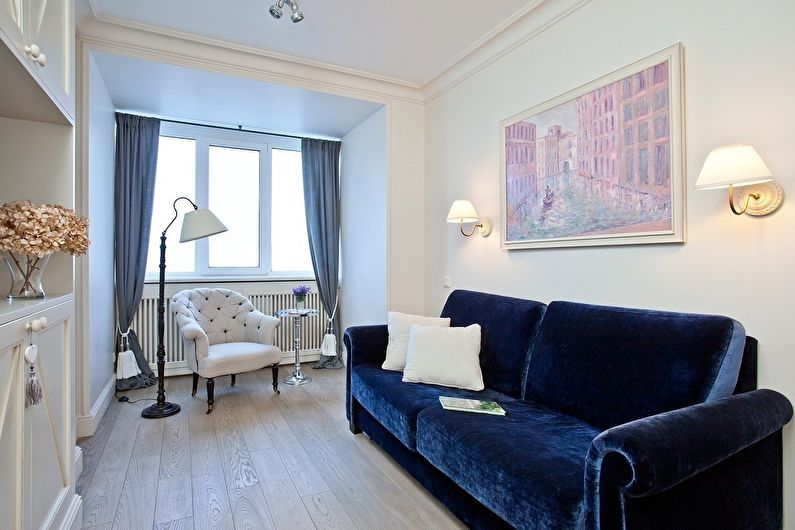 The combination living room with a hallway or corridor
Such an option of re-planning is often found in private homes, but it also fit perfectly for apartments. A few square meters at the entrance can be left for storage of clothing and footwear, separating this area, for example, ceramic floor tiles (to be carried out cleaning more convenient), and the remaining space is covered with carpet or parquet flooring and a living room use.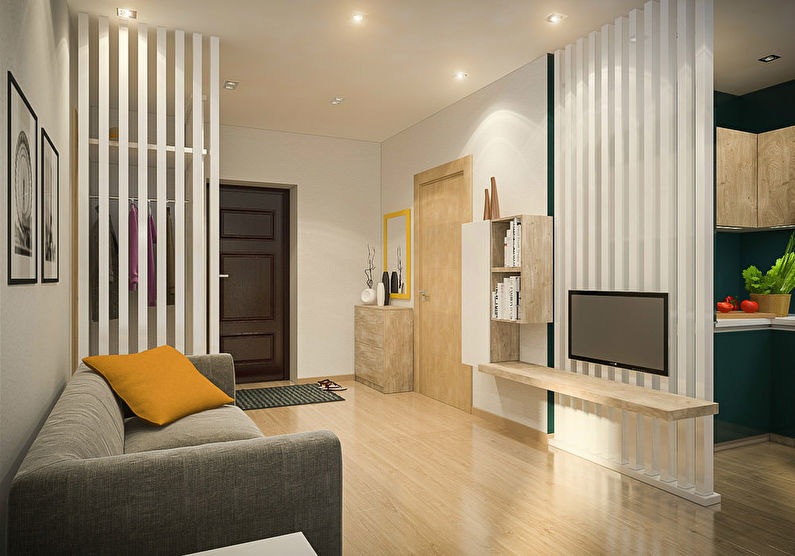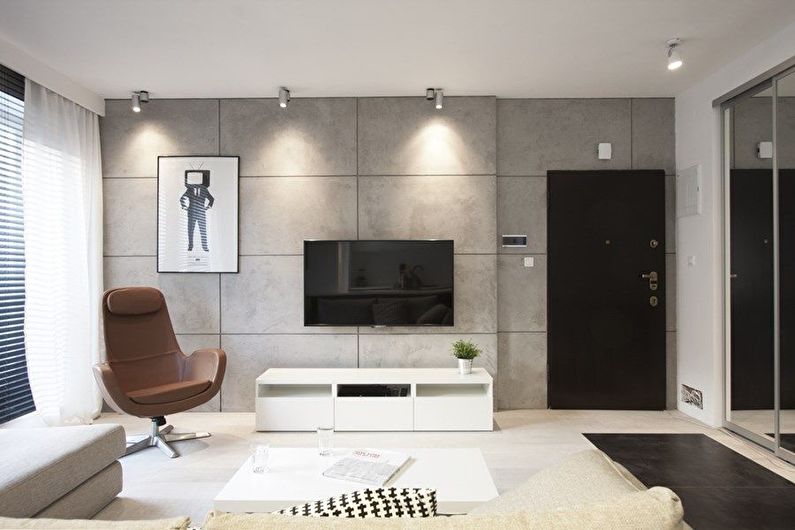 Design ideas small living room - Photo
Our gallery contains the most interesting solutions in design small living rooms. In the photo you can see what effect this or that finishes the look of different color combinations, where better to put the furniture and equipment. Get inspired!
Modern design living room: more than 200 photos of the interior living room ideas
The most important room in any house is the living room. Design living room - one of the most important moments of arrangement of the living space of an apartment or house, because it usually sets the rhythm of design living environment and design of other rooms.
Modern living room design can be very different. Select the design you are living in the style of high-tech or prefer a discreet design living room in a minimalist style, classic style, as long as the living room design personified your sense of comfort and relaxation, giving pleasant moments of relaxation and recreation.
In this article, we will not only tell you about the main key points of the apartment design, which may affect the design of the living room, but also to show you a bunch of very successful variants of the interior of this room, you can take note, creating his most trendy living room design.
Modern design living room: how to arrange the living room beautifully and correctly
living design, as the design of any room in the house has its functional purpose.
In this case, the functional purpose of the living room to be a place of rest, a place where you can invite guests, a place that can be used as a dining area, office, etc.
Multifunctionality of the main room in the house needs to create a living room design versatile, practical and at the same time non-stereotypical. He must combine all the things that make you feel comfortable, whether you're relaxing, working, or spend time in the company of guests, friends and relatives.
Creating a design room in your house, try to make the interior unique. This design will make your living room for guests memorable, and thanks to their extraordinary will please you for a long time.
living room design depends on the size of the room
Depending on how large or small your living room, and identifies opportunities for the interior of the living space.
Of course, it is good when a large living room, then you will be able to afford living design in a variety of styles.
In a large space will look great Baroque, provence, classic. No less chic design will look like the living room in a modern style, living in the style of high-tech loft neoclassical interior, etc.
In the case where a small living room, the living room will have to choose the design in the style of minimalism. If you want to try to design a small-sized living room in a different style, use the furniture-transformer, frameless furniture, which will be easy to hide or move as needed, comfortable and not bulky walls and shelves, on which you can arrange everything you need.
Design a small living room do not spoil excessive number of decorative elements that visually reduce your space.
To increase the space living, often combined living room and balcony (loggia), living room and kitchen, living room and office. This way you can not only increase the size of the living room, but also to make the living room design is very interesting and unusual.
Tips designers: How to choose a rug for the living room, children's and other rooms
The design of small size living room will be successful, if you choose the simplicity and conciseness in the selection of colors, prefer bright ceilings and lots of light, buy such decorative elements as mirrors, light curtains, furniture with transparent windows.
living room design will help zoned space
If your living room is multifunctional, it is advisable to zone the space correctly. This can be done with the help of furniture, drywall constructions, different decorating the walls, for example, use photo wallpaper, textured plaster, etc.
Zoned space can also use lighting. Modern living room design in different styles will look very advantageous if you use the room for several options for lighting, for example, a large chandelier, floor lamps, lamps, table lamps, lighting in drywall constructions, etc.
living room design should have the basic elements of an interior
Each design living room or any other room has the basic elements of the interior.
If you have chosen a design room in a classic style, this element can certainly be a fireplace.
A modern interpretation of the interior design of the living room will look very stylish, if a key element in the room is a large sitting area, a beautiful table or the same fire, but in the modern version.
Modern or classic design of the living room you have chosen, he suggests for each element of the interior place.
living room design should be harmonious
To living design in a particular style was harmonious, all elements of the interior must be combined with each other and used in moderation.
To experiment with the design, of course, it is not prohibited, but the current trends in interior design dictate the rules by choosing minimalism, simplicity and harmony of the composition of the interior components.
living room design: colors
living room design is determined by the project colors. Special rules on the choice of colors for the interior of the living room there is, as long as the colors that you like, combined with each other, they would not have too much color to match the style of the design.
What color is better to make a living design can determine only the owners of an apartment or house, because they will be carried out in the living room most of the time.
On what should be the design of the living room, you can still talk a lot. We advise you to choose a living room design ideas based on photos that we now assume for your consideration.