Photos of beautiful summer arbors
We picked here for photos of beautiful pavilions for questioning. These structures are different from each other. They are made of different materials. Some of them are on the cottage and garden plots. Others are located in the woods, in the fields, in the meadow or in other places. It combines all of these gazebos one. They look cute and suitable for almost any garden.
Let's start with the logs of the gazebo. Inside it you can see the original table made from a tree trunk sawed in half, and massive bench. Such a structure is very reliable. If the tree from which it is made, processed by special impregnation, such a structure may stand for many decades!
This structure is made of timber, varnished and stained, and the roof is made of a flexible slate. It perfectly protects from rain or hot summer sun.
The following construction is also made of timber. In addition to this beautiful gazebo You can also see a small home-made pond. Through it spanned two bridges. Such original solutions from the field of landscape design make the site more attractive and unusual. In addition, many people like to rest on the nature of water. And with such a cozy place in your garden, you will definitely want to go there more often.
Another gazebo from a log. This gazebo is located on the new plot at the fence. Its roof is covered with metal.
And in this photo posted an unusual gazebo. As the two supports used for its roof tree trunks with divergent, chopped off at the ends of branches. Pillow, located on one of its bench suggests that there may be a good time, After dozing after a hard day's work.
Next Photo will introduce you to a closed gazebo in a more modern style. It is located on a small wooden dais. Large windows and sliding glass doors provide excellent visibility and plenty of natural light inside the building.
This design - a cozy and small. Inside, there are plastic deckchairs. In hot and sunny weather here can be a good sunbathe in a small pond.
In this construction there are carved wooden elements and grating. These parts it resembles the traditional work of Russian craftsmen. This garden furniture decorate any country site.
Just a great carved gazebo! Beautiful patterns carved on a tree made by these masters of their craft. Inside is a fireplace made of white brick. This focus will allow enough admire the beautiful flames. Especially nice to do it in the dark.
A purpose of the following structure - it's only rest and relaxation. The roof, made of a thick straw roofed hide you from bright sunlight. If necessary, you can close the translucent curtains, and retire with an interesting conversationalist. Sitting cross legged with a cup of tea, you can spend hours talking heart to heart.
And this gazebo made of different materials. Perhaps its creator decided to experiment and unusual design decorated tree branches and wooden wheels.
we now turn to the bright Chinese arbor. It draws attention to the background color of dull overcast day. This building could become a highlight - the center of the decoration area.
By the way, did you know that once served as the Chinese pergola observation posts to watch and only then began to be used as a place to relax?
But miniature gazebo. It is made of bamboo and looks very unusual. This form of the roof gives it a resemblance to the wild mushroom.
The structure below is a custom design for Russia. Please note that it is mounted on a stone slab, which replaces her foundation. Table and bench made of tree trunks, which are sawed in half and sealed together. The rear wall and hearth made of stone, and the base of the design of the wooden logs.
Garden furniture, which you can see below resembles a small scene. It is perfect for children's performances or performances bearded bard.
This gazebo is equipped with hammocks. She would look great on a sandy beach near the sea.
In the next photo you can see the interior of this unusual futuristic gazebo. It has a spherical shape. The cozy atmosphere is perfect for relaxing and socializing and a small friendly company.
But this same structure, only this time from the outside. As you can see, in the garden area it occupies very little space.
Holiday gazebo. Its walls dekoorirovany balloons. It will decorate any wedding or other festive occasions.
This gazebo is beautiful wrought iron elements that entangle the metal poles. The inner part of the building is finished wood.
The structure of brick with massive antique lanterns. Inside is quite simple furniture and a brick hearth.
Following arbor different from other original roof. It is made of two parts and is similar in its construction of the house in chalet style.
And here's a picture with an interesting design option. The roof is made of transparent polycarbonate, and the base is painted in brownish-red color.
Finally structure. This garden pergola. It is very similar to a gazebo. But has some differences. Once these buildings were made to grow on their vines and hide from the heat in the shade. Now they are increasingly being used for the latter.
We hope you will enjoy these pictures. On our site you will find a lot of interesting and useful information about the gazebo. Thank you for attention!
I became indifferent to cigarettes! Just once wore. Read more
Crying for the light 2 times less! Just stuck in the socket normal.
I found a simple way to save water through.
Simply beautiful gazebo: 100 photos
Gazebo in the garden - it's not just an element of landscape design, but also often a summer kitchen, an extra room in the fresh air and simply place a joint dinner for the whole family. For whom practicality and beauty are practically synonymous, these simple and beautiful gazebo may prompt a gazebo structure to give.
Arbor can be placed not only in a beautiful corner of the garden, but also about the blank wall of the fence or the house.
Closed garden gazebo can be used as an additional lounge in the garden.
Gazebo with outdoor kitchen is well combined with a pergola for those who like to sit in the sun.
To gazebo canopy built to the blank wall at home seemed lighter, a pair of mirrors hung on her wall. So the space seem more open, bright and interesting.
Gazebo can be used not only as a recreational area. If you are accustomed to giving greater work than to rest and picnic, then this option is a simple arbor can become quite acceptable for you. Attached to the barn, gazebo, this can serve as a canopy under which you can master in bad weather.
Even if you have a very small suburban area, such a beautiful gazebo with a barbecue is not only not reduce it, but also painted in cool gray and white colors, visually push the boundaries of your site.
Another simple option gazebo near the garden shed.
What if a gazebo placed in the shade, and she turned gloomy? Painted white, she will have to appear lighter. Add a mirror on the wall, staring into the garden - we get a makeshift false windows. Plus contrast detail cool colors - so in the heat of summer gazebo will be perceived by us over the cool, while remaining light and comfortable.
Concreted four wooden poles and roof - simple summerhouses are no longer happen. But due to the mirrors and their simple lines look beautiful.
Simple and stylish gazebo in the garden shed.
Small patio and want to hide from prying eyes? This canopy will create a secure and comfortable corner in the tiny garden.
Summer kitchen under a canopy plus light curtain and you are almost not visible from the neighboring plot, even if you do not have a high fence.
No matter how simple was not your garden furniture, flowers next to it can make it almost a palace.
It seems this is a summer kitchen in the winter time is whether to store hay, or firewood. Very much like her design on the wood shed.
No, it's not a gazebo near the house. This gazebo with false window of the small square mirrors cheap gathered in the old frame.
Simple white gazebo at the expense of contrast colors visually divides the long outbuildings.
There are gazebos are open, there are closed. It is as if the "rules" of garden design, as you make your gazebo as you need it. For example here in one piece - rest room, then open area and a small garden shed.
Simple and beautiful gazebo - summer kitchen.
Simple arbor beautiful make not only the location, overall design and color scheme, but also the little pleasant things. Garden lantern, stylized refreshment on the table, decorative shelves and flowers in containers.
You'll be more likely to use the gazebo, if it has closed from the wind and the rain area, and open to the sun.
Simple gazebos its construction and interior decoration will be able to tell a lot about the character of the garden owners.
Of course, historically pergola is an element of luxury. But since they are not mere cottagers? Especially when there are so many practical options.
"I put the gazebo in the garden to your liking ... and not believe, is now hours sitting idly by," - wrote a famous poet K.Batyushkov. It seems simple garden gazebo can pull us out of the hustle and get to enjoy life itself.
Garden furniture: simple and beautiful, a photo of the original pavilions
Summer day, green garden, and in the bottom of the garden graceful gazebo: simple and beautiful, photo incomparable design makes sure that only one of their kind of a feeling of serenity, is conducive to rest and relaxation. Modern gazebos vary in design, use of materials for their construction and purpose. Some of them act as a summer kitchen, the other - tuned to the quiet solitude with a book, and others - are designed for special occasions. But whatever the function of pavilions, their unity in one thing - they are expressive ornament garden or backyard space.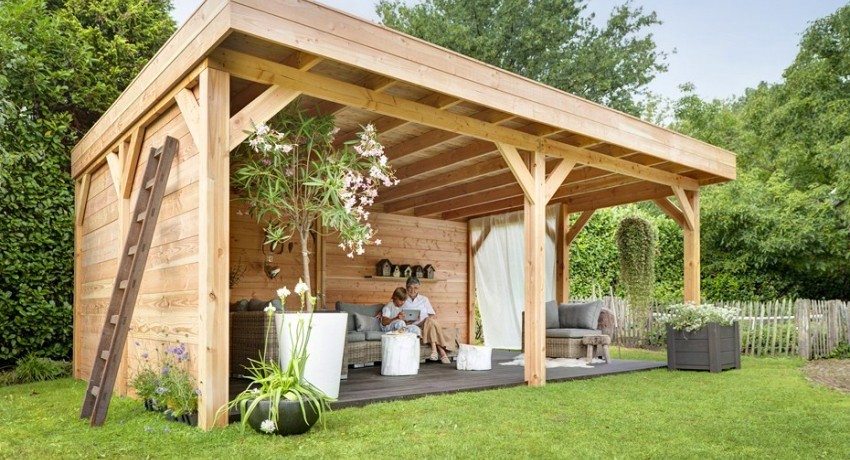 Partially closed on both sides of a wooden gazebo
Garden furniture: simple and beautiful, photo designs interesting design
Arrange a private place in the garden you can use the facilities of the gazebo: nice and simple. Photos contemporary designs show how diverse may be their form and function. Through the use of them in the construction of modern materials with unique properties, summer pavilions were not only artistic and decorative, but also multi-function universal structures.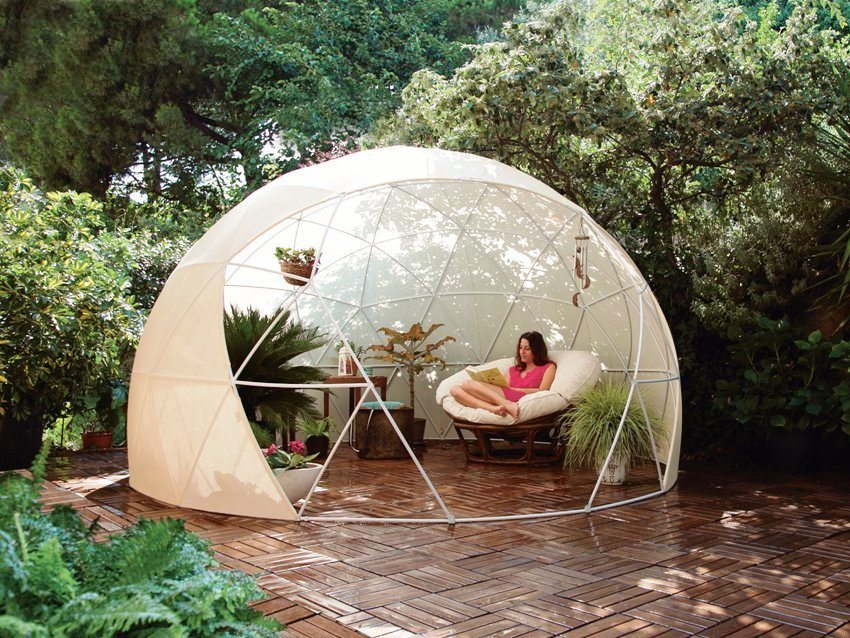 Creative gazebo spherical shape covered with cloth
Building materials used for gazebos, can be very diverse: from the usual affordable tree and ending with a massive natural stone. Their design can be built open or closed, equipped with various devices, they can be formed as light canopies of translucent plastic, and can be created from gentle living plants.
Simple wooden arbor photo. Simple, beautiful and original
Wooden buildings have always attracted attention for its natural energy and the perfect combination with the surrounding landscape. Thanks to the excellent compliance handling, wear resistance and durability, with the success of the tree is used for the construction of simple arbors. Photo beautiful, simple and tastefully decorated wooden pavilions demonstrate that each version is unique.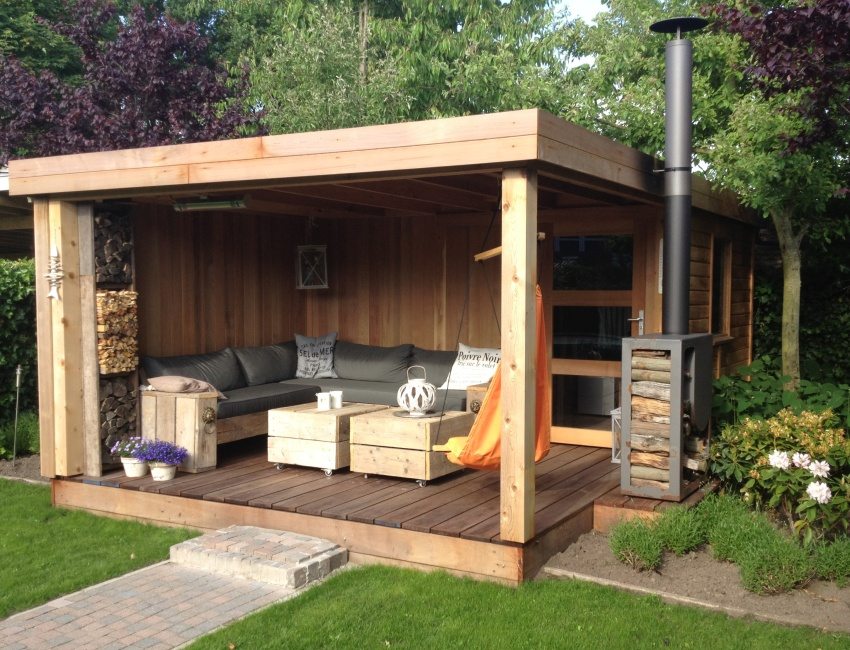 Wooden pergola with additional households. location
The popularity of using wood for construction is still in the fact that if you want you can build a simple arbor to give their own hands. Photos of wooden structures, performed independently, serve as an example to create your own individual project.
If your country or a country house made of log, is a logical complement clearance recreation area gazebo made of logs. Among garden trees will pictorial look arbor as towers or rural house. If your cottage is located in the forest area, the forest on the background of a log cabin design is reminiscent of a fairytale hut.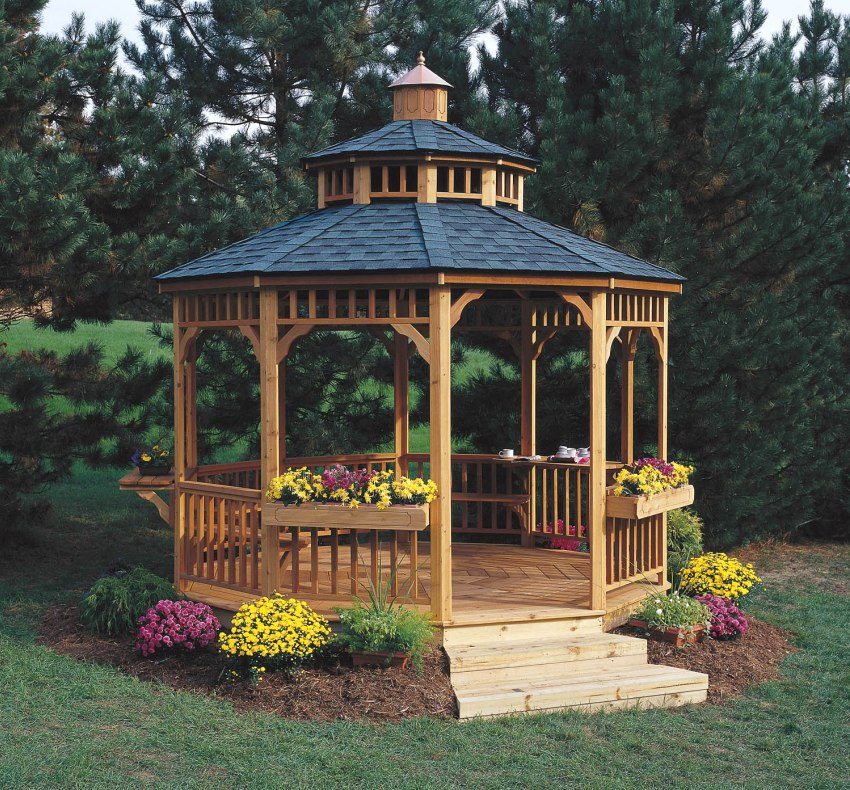 Octagonal gazebo with a roof of shingles
Such a construction can be formed into a square, a rectangle or a polyhedron, a gazebo can be made completely open or run in closed version, equipping windows and doors.
Helpful advice! If you plan to use a wooden gazebo in the cold season, it is better to make it a closed structure.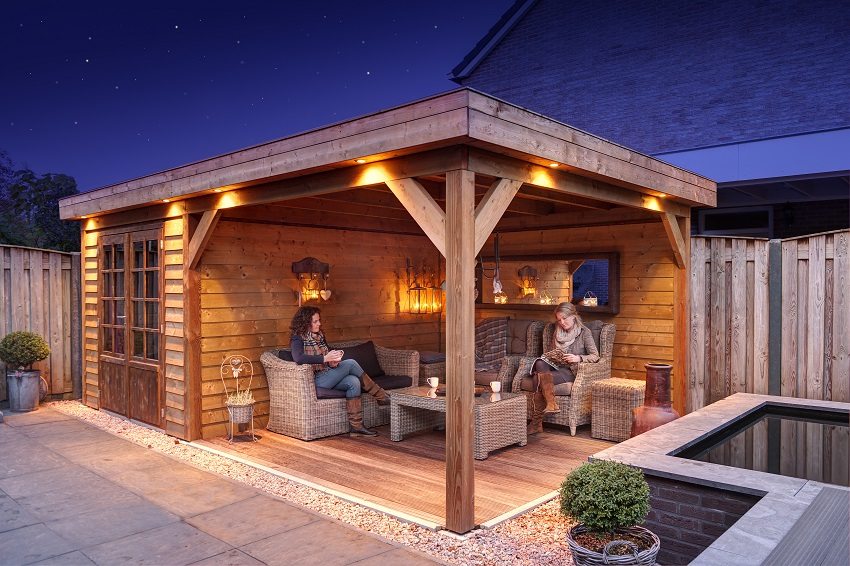 The wooden gazebo equip functional lighting
Gazebo made of lumber, visual look easier, but it's pretty durable design. An impressive variety of forms and architectural solutions of products of timber. If the plot size is small, the arbor of the timber can be quite tiny, which, however, does not affect its visual appeal.
Construction of pavilions timber does not require the massive base unit and contributes to a significant reduction in construction costs. In addition, the design can be made in any acceptable for you to style. Methods of execution such fences gazebos there are countless.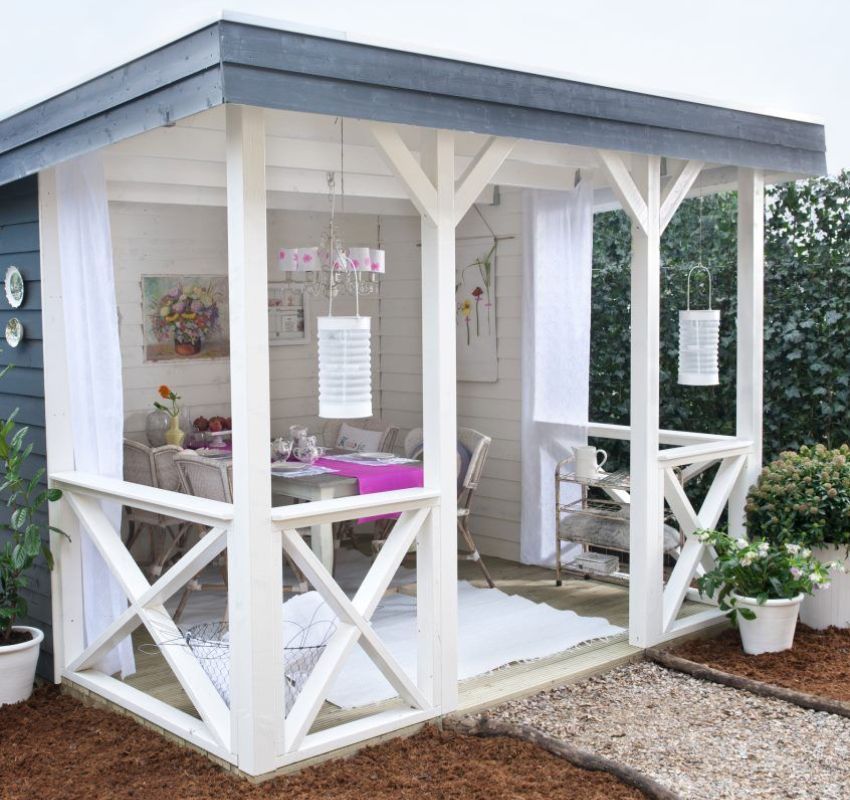 Pergolas painted in contrasting colors - white and dark gray
It can be carved with a railing balusters, wooden lattice, horizontal beams, branches, arranged at Týn type, as well as elements of other materials. Look built with his own hands the product is simple and beautiful. Photo simple arbors illustrates incomparable masterpieces of skilled craftsmen.
Give the wooden gazebo can airy, having painted it in bright colors: white color will make a note of clarity and transparency, pale pink adds warmth and tenderness, and blue make the design visually weightless.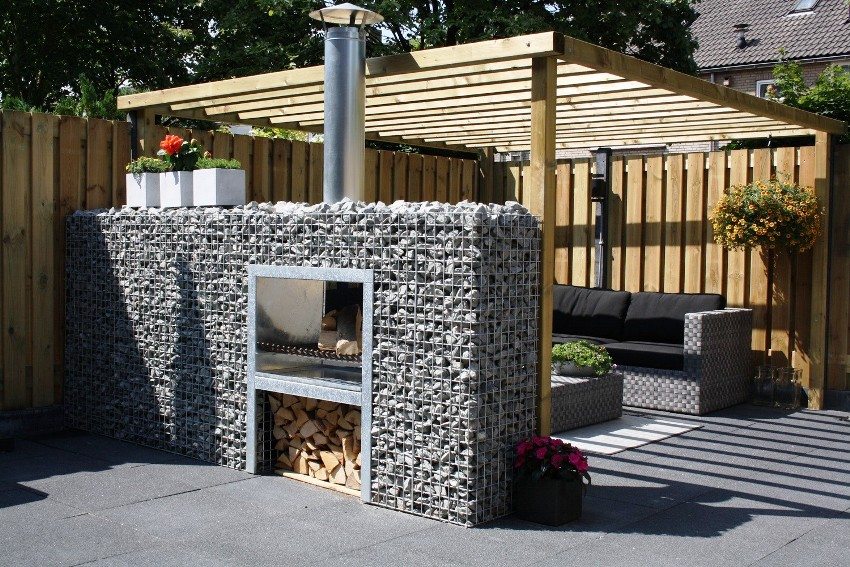 Near the wooden gazebo undeveloped stone oven
Photo pavilions made of metal: simple and beautiful
Elegant and refined metal structure arbors to give assure that heat can come from even metal. Gently mounted perfectly complementary metal pavilions architectural compositions and elegant look in the garden or on green clearing. You can see the gazebo of unusual metal, sometimes bizarre forms. And because of this they only win.
To produce such models have traditionally used metal corner pipes of different cross-sectional profile. Collect design of the metal by virtue of the one who has at least a minor skills to the welding apparatus. The most simple construction can be welded from a rectangular tube frame covered with slate or tile.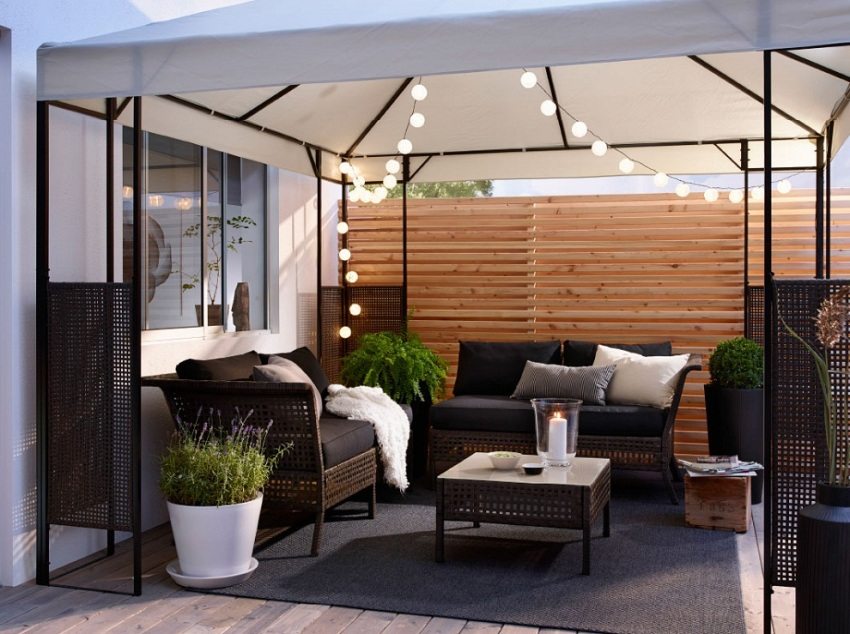 Metal garden furniture with fabric roof
Thanks to the skillful decoration, even a simple construction will acquire a charming look. Photo of metal arbors to give shows unusual forms of such structures. This may be similar to a spaceship, ET castle and even a flying saucer.
Helpful advice! For compounds of metal elements carcass arbor sometimes used instead of welding bolting.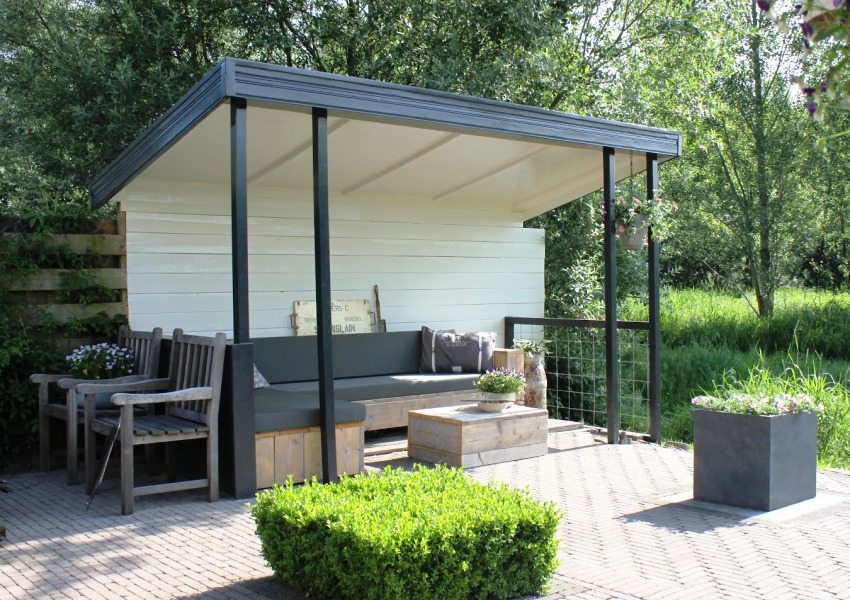 The design of the garden made of wood and metal gazebo
In an effort to equip the Inland gazebo, many prefer it to metal structures. Indeed, despite the visual lightness, such products are characterized by high durability, weatherability and can be used for decades. Not terrible for metal models and a variety of soil properties: they can be constructed even on the assumption that the soil on a clay site. A design of some embodiments involves folding design and the ability to transfer to a new gazebo.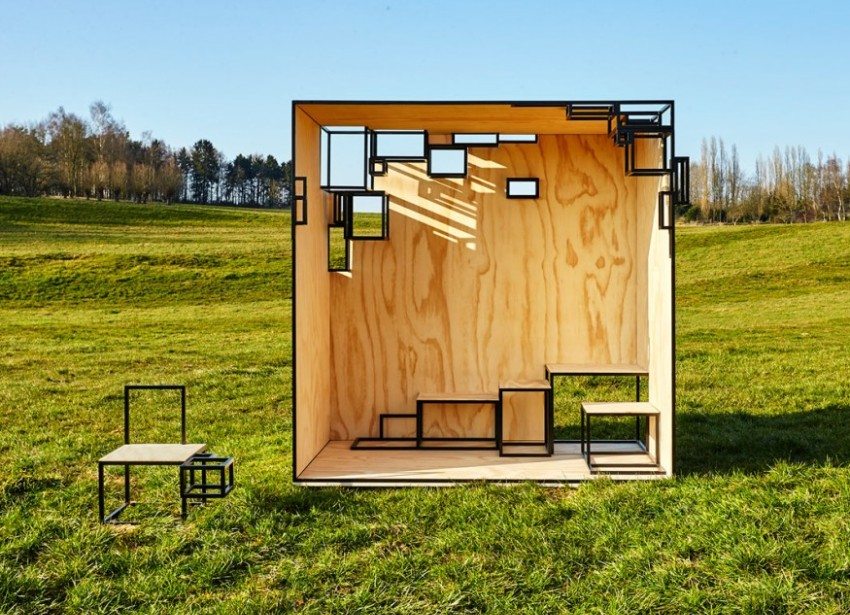 Frame metal arbor sheathed waterproof plywood
Special charm pavilions metal attaches the presence of elements of artistic forging. Forged products perfectly fit into many stylistic directions. It looks great as a hexagonal structure with impressive dimensions and delicate lines of a modest rectangular gazebo. These pavilions perfectly complement the exterior, if the design of the house and grounds include forged elements: canopy over the porch, gates or fencing throughout.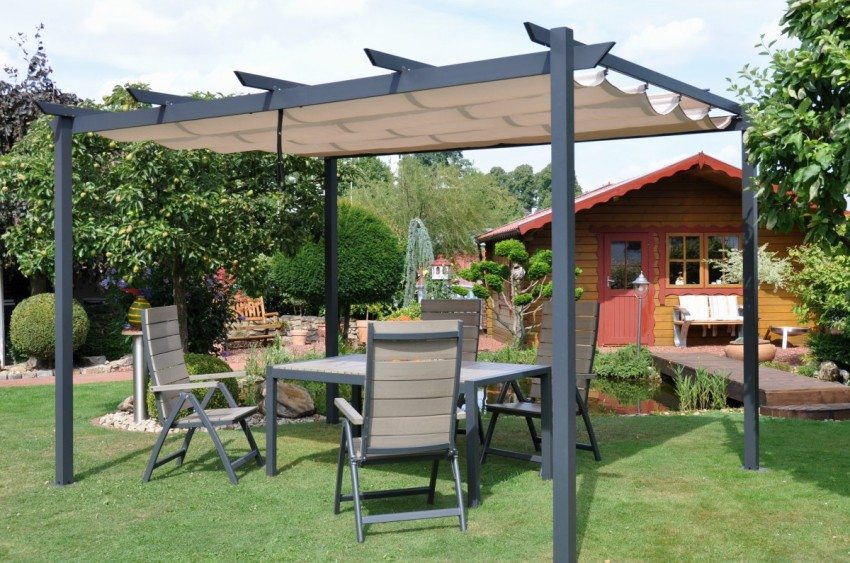 Simple pergola metal profile and awning
However, it is worth noting that the cost of forged products is quite high: the price of a small open model with dimensions 3x3 m without installation and roof covering will be from 5800 rubles. per square meter and above, depending on the complexity of the pattern.
The ability of the metal to combining opens applicable to the pavilion a lot of additional features. Metal perfectly with wood, plastic, glass and many other materials. In confirmation of this - numerous photos of metal arbors to give polycarbonate.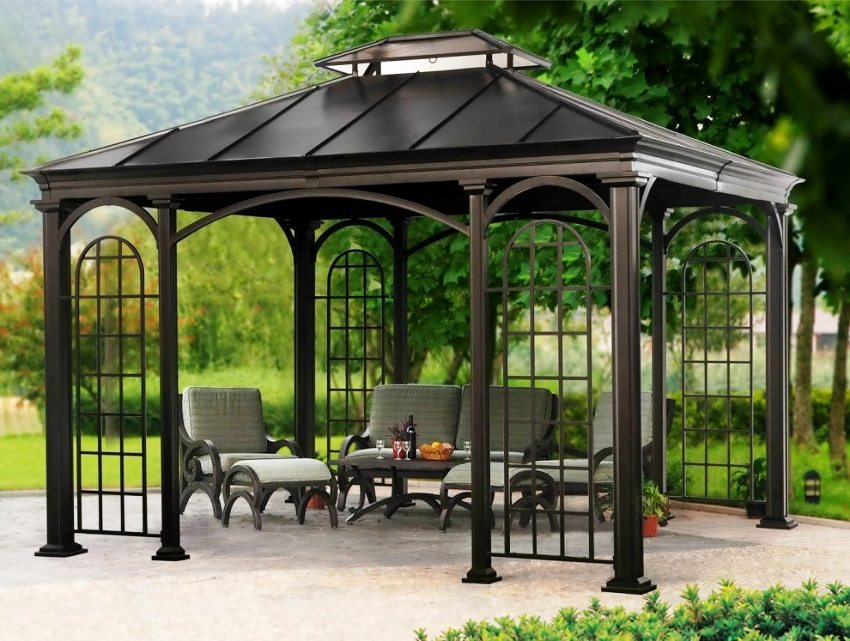 Solid metal arbor design
Brick gazebo erected in the country open or closed. Simple design consists of four supporting pillars and a canopy over them. Such structures are easy to install, but suitable only for those who spend time in the country only in the warm season.
For year-round use of suitable solid construction of the gated brick with large panoramic windows and thick doors. Pavilions are equipped with brick barbecue, barbeque, smokehouse and a fireplace. It is this structure can be used as a summer kitchen, and occasionally as a guest house.
Near the pool is a spacious stone gazebo
Some models have resorted to brick combining with other materials. It can be metal, wood, polycarbonate, glass, and other building materials. Depending on the preferences of the owners, constructing gazebo square, round, hexagonal, octagonal or give them more complex forms. Stone gazebo perfectly fit into the overall style of the suburban area.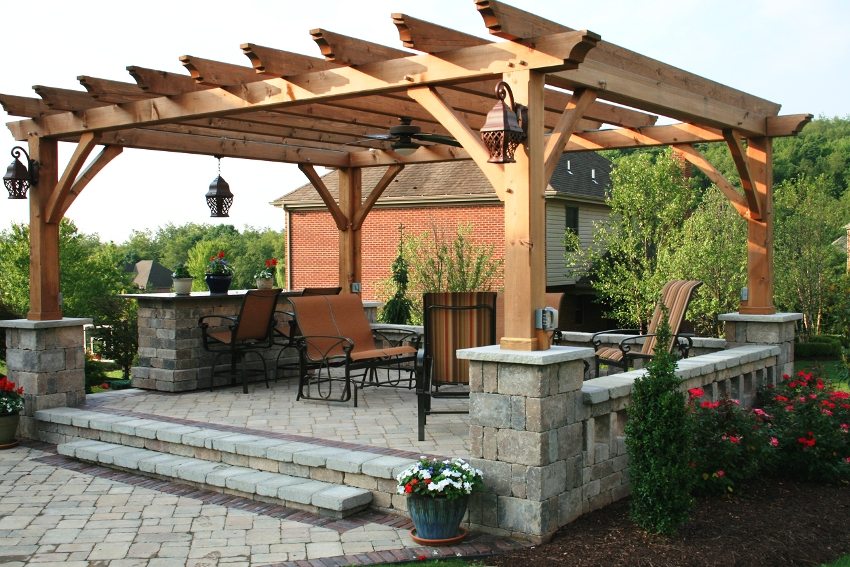 The base and fence gazebo built of brick and decorative stone
Impressive pavilions, for the construction of which use natural stone: granite, sandstone, bottles. Facilities are often decorated columns. Such buildings require massive foundation and construction there will be costly. However, the appearance and durability of these structures to justify the high cost.
Designs gazebos made of polycarbonate. Photo ideas for selection
Given the unique properties of polycarbonate, its application in the construction of pavilions is gaining popularity. This material was perfectly adjacent to the wood and metal that can be successfully used for manufacturing such combinations arbors.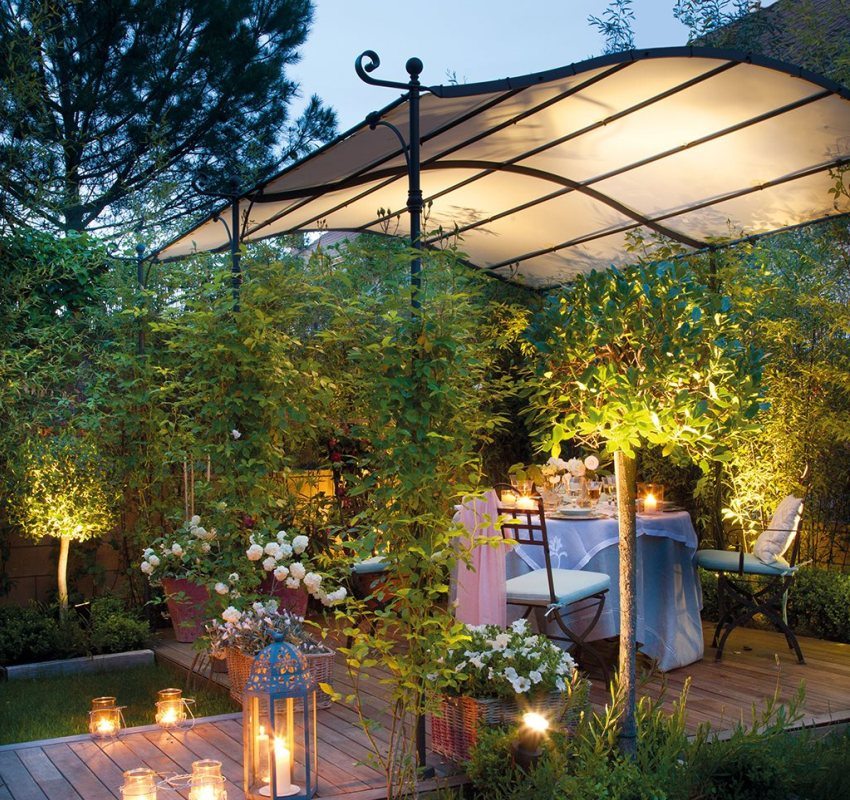 Polycarbonate - a popular material for arrangement of pavilions
The main advantages of polycarbonate
A number of qualitative characteristics make polycarbonate quite popular for the construction of a summer pavilion. The main ones are:
High strength - polycarbonate sheet has a honeycomb structure, partitions stiffness provide structural strength in relation to the weight of material;
impact resistance;
excellent sound insulation performance;
translucency - panel polycarbonate sample cell is passed to 92% of the light;
Protection from UV exposure;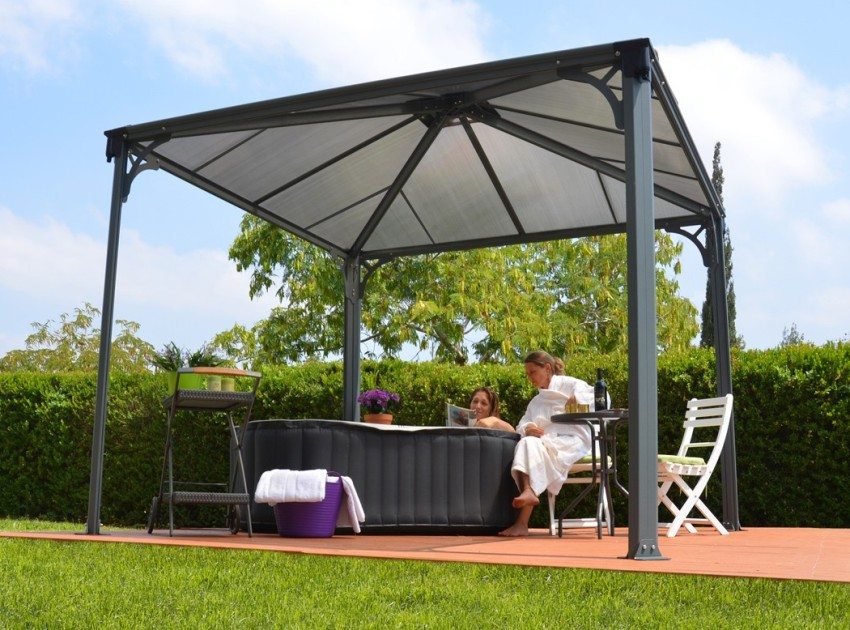 Square gazebo with a roof made of polycarbonate
resistance to large temperature variations - allows operation of this material gazebo at any time of the year;
flexibility, plasticity - can be given virtually any shape thanks to this design;
light weight - polycarbonate is 15 times lighter than glass, perfectly amenable to cutting work, easy to install;
impervious to weathering, durable (will last more than 10 years);
It has a wide color gamut;
It does not require additional treatment, easy to clean.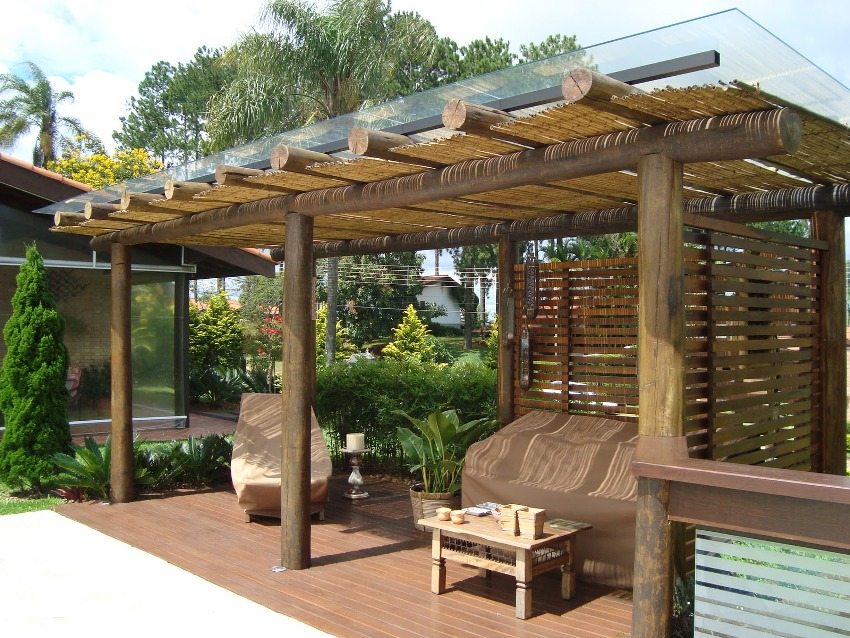 Polycarbonate well lets sunlight
Excellent ductility material processing allows you to build your own gazebo made of polycarbonate in the yard of a private house. Photo shows a non-trivial structures delightful form arbors made of this material.
There is also the opportunity to purchase a ready-made design, choose and order your favorite model in the catalog on the manufacturers' websites. The organization's services include delivery and assembly of structures in your area.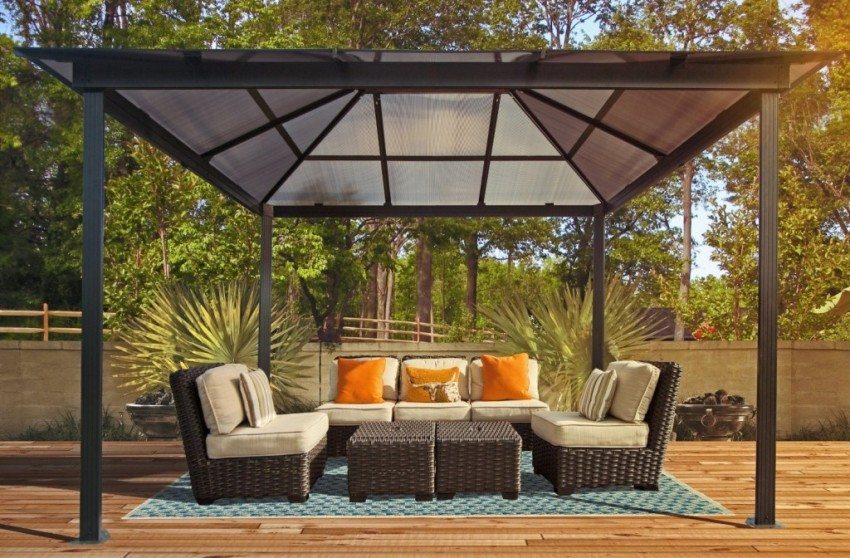 Polycarbonate sheets can be of any shape to sheathe surface
A variety of forms of designs from polycarbonate
The fact that the polycarbonate structures can be given a variety of configurations, allows to realize the reality of any idea. This can be a simple construction of two benches and a table in the middle, with a semicircular polycarbonate coating. This mini gazebo shaped tube of plastic and can be moved anywhere in the garden or yard.
For those who prefer the closed model, it offers a variety of options arbors, where walls, sheets of transparent polycarbonate. In such an arbor can shelter from wind and rain, and selecting for coating yellow or orange, it is possible to create the indoor sunlight illusion despite inclement weather.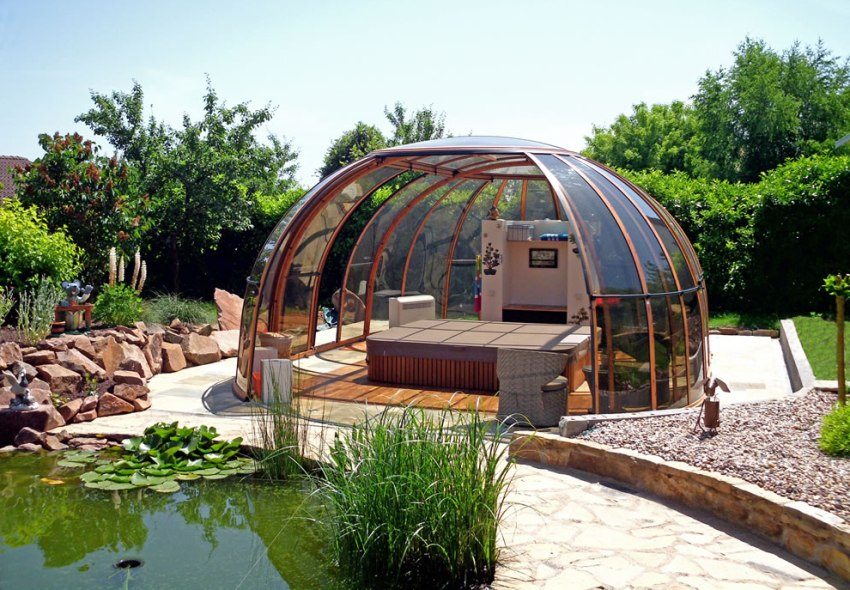 The original gazebo rounded shape made of polycarbonate
Helpful advice! Applying the construction of the gazebo polycarbonate cover, use to connect thermowashers in the color of the material. This will make the point fixing is almost invisible and will give the product aesthetics.
Very impressive look gazebo made of profiles and polycarbonate in a hemisphere with sliding doors on rails. Such a structure makes it possible to contemplate a holiday landscape on either side. While in seclusion, you are at the same time not deprived of the opportunity to watch the world go by.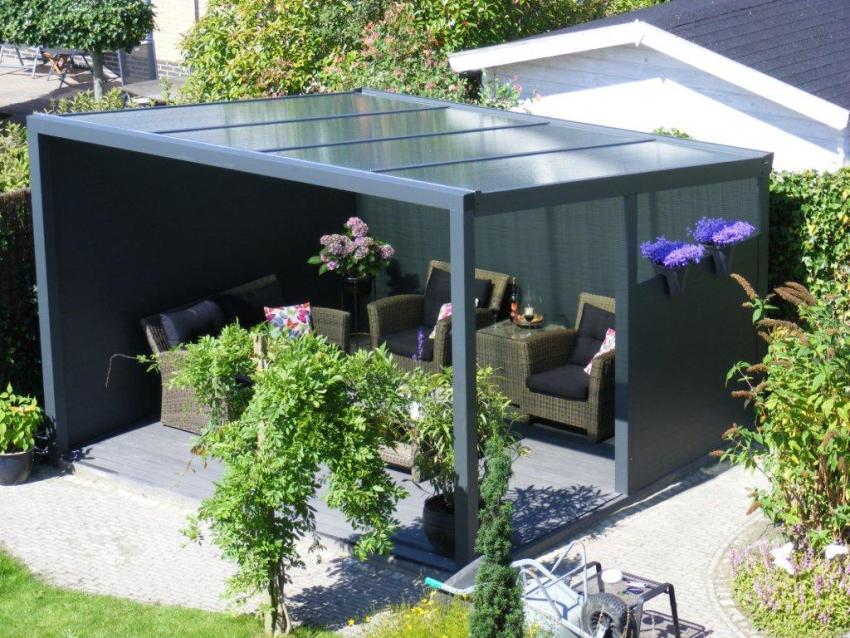 Gazebo constructed from metal profiles and polycarbonate
The ideal combination of different design with wrought polycarbonate coating. They may be hexagonal or octagonal shape, with an unrivaled festive appearance. These gazebos often performed when there is no need to save square meters of land for recreation.
Clear polycarbonate roof allows you to put in pots and planters pergola with your favorite colors. They will get enough sunlight for development and at the same time will be deprived of the damaging effects of ultraviolet radiation.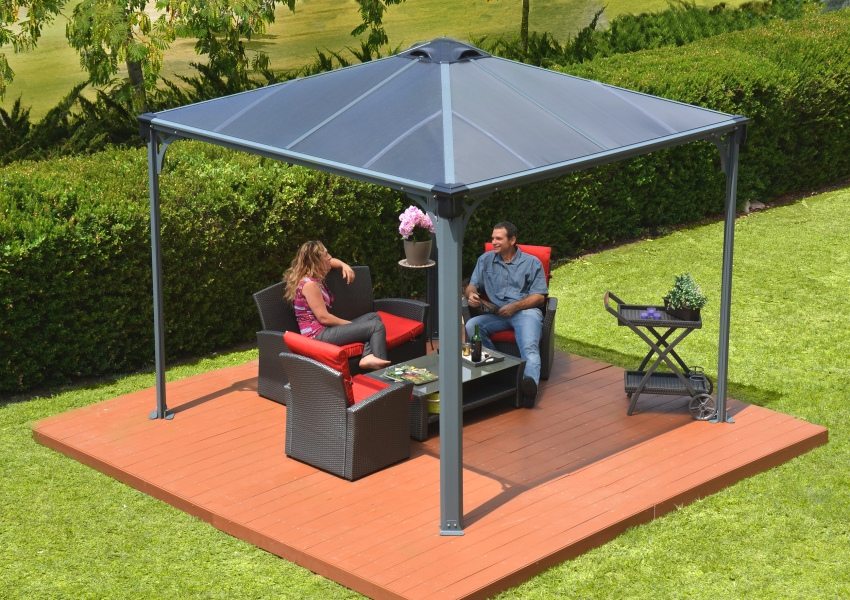 For gazebo equipped small wooden podium
If the prevailing emphasis exterior wooden elements can be freely combined with tree polycarbonate. Moreover, models of such structures can be themselves unpredictable and resemble the shape of a horse carriage or baby swing rocking under the roof.
In a separate group can be included gazebo made of polycarbonate with the shape of the roof in the form of an arch. Most often, these designs are used in the form of light shelters, and attached to the house. Polycarbonate in such structures can act immediately as the roof and walls. Very interesting design of pavilions with a roof constructed in several levels. It is more difficult to execute the design. And it is wise to order a ready-made gazebo made of polycarbonate for questioning. Photos and product prices can be seen in the price of manufacturers.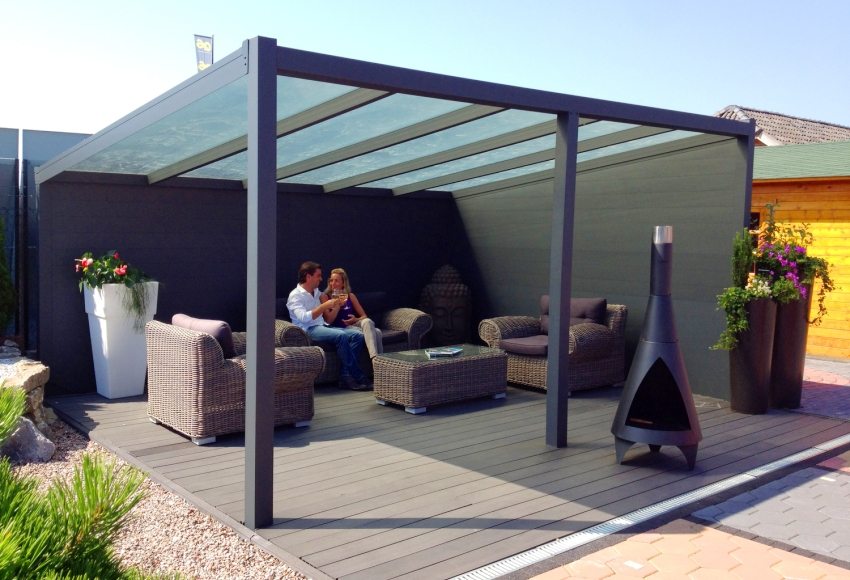 Polycarbonate protects holidaymakers in the gazebo by UV radiation
Select the location and decor for gazebo
On how well you place the gazebo, dependent conditions in it. If you install an open construction area is selected, be it summer will be almost impossible. Under the hot rays of the sun will remind the space inside the steam room.
Try to place the gazebo in the garden, where the crowns of the trees will create dense shade. Excellent choice would be the location of the gazebo next to the pond. Will an artificial swimming pool or natural stream is not so important, the main thing, the coolness and freshness, which will come from the water.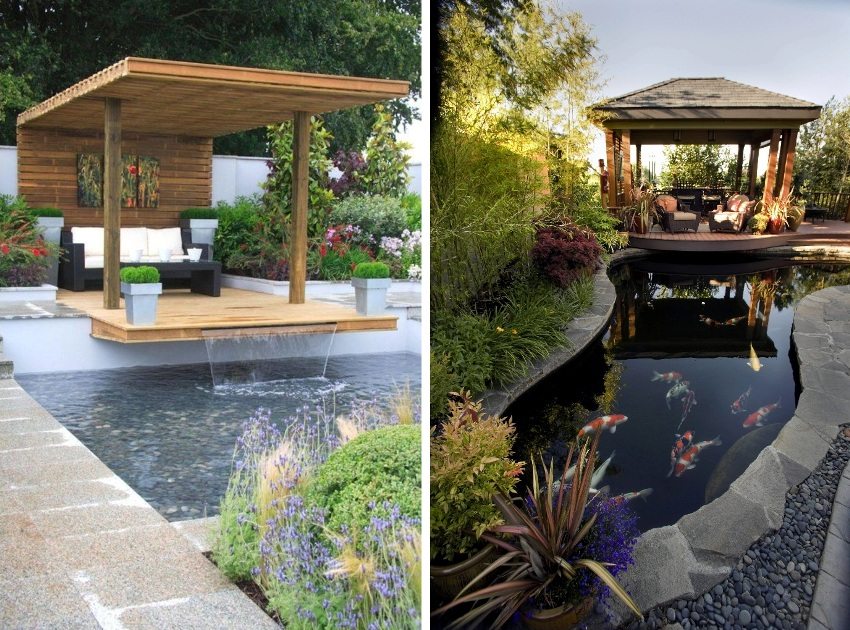 Examples arbor location near the reservoir
If you think a gazebo will serve as a summer kitchen and equipped with stove, barbecue or fireplace, it is recommended to install it is not too far from the main house. This avoids costly during to communications and electricity. It is also necessary to take into account the free approach to the gazebo and build quality of its path so that you can safely move on it when there are wet from rain the earth.
Helpful advice! Install the arbor so that the entrance to it was located with convenient side. If you expand the entry to 180 degrees from the house, it is not very convenient to complete the pavilion furniture and set the table for the arrival of guests.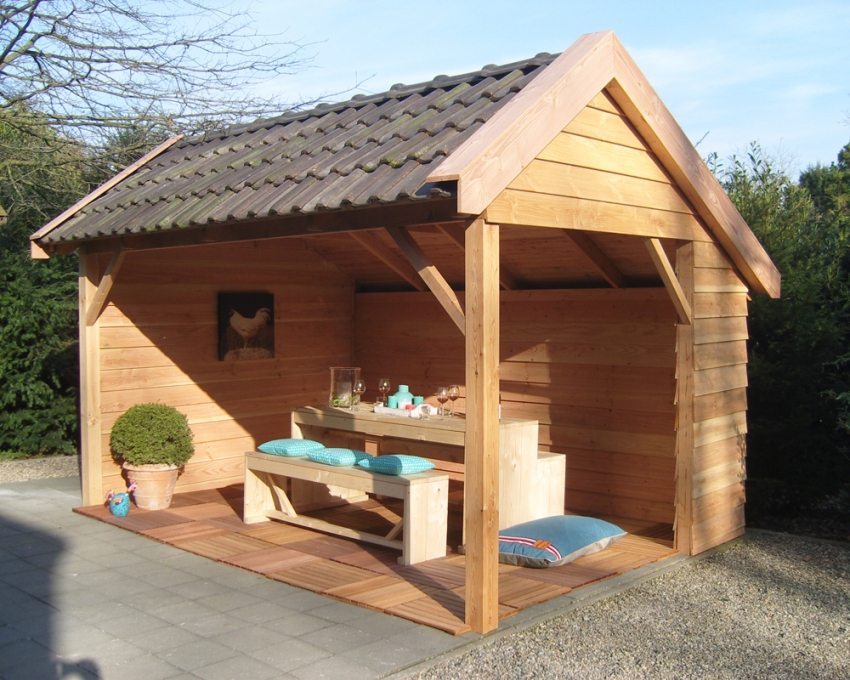 Garden furniture, stylized house in country style
Undesirable arbor mounted near the roadway where the rest would prevent noise and road dust, as well as near a fence or neighboring views farm buildings, and other compost pit. Massive structures of stone can be placed so that their design is common with a garden of stones or picturesque alpine slide.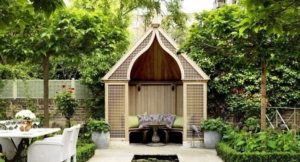 Pavilions with their hands out of scrap materials: a photo of the original solutions. Pavilions made of wood, metal and stone. Polycarbonate for arbors. Self-assembly of the pallet arbor.
An important role in the design of pavilions plays decoration. Even the most unpretentious pavilion can be given an exquisite and unique look, skillfully decorated with the construction. Techniques and methods to show imagination, there are many. Very touching and romantic looks outdoor gazebo, fencing which is buried in the curly colors. For these purposes fit girlish grapes, hops or Perfoliate. It can be positioned on the rail containers with blooming Petunia or hang on the perimeter planters with annual flowers.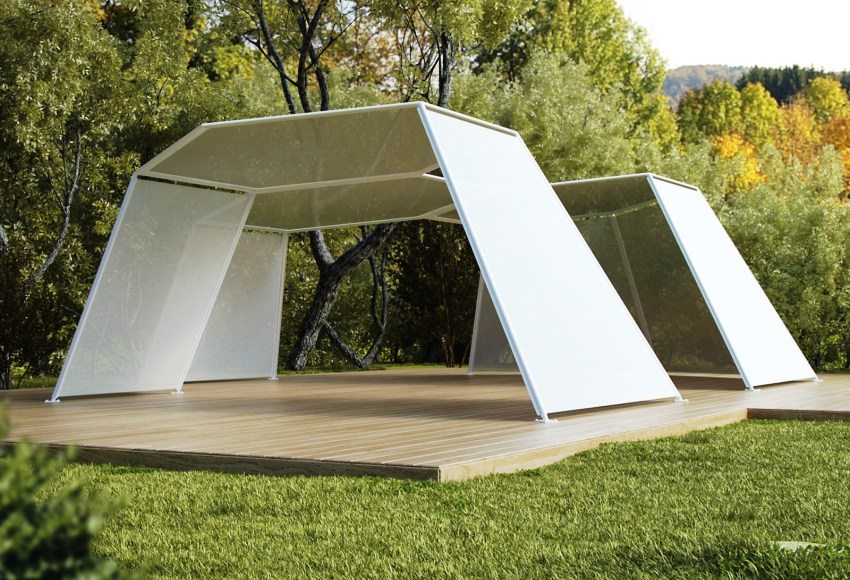 Design garden furniture in a modern style
Give a simple arbor cozy atmosphere will help textiles. Plain or floral curtains in each section of the fence will give special soulfulness pavilion. Using the decoration textiles, consider the prevailing wind direction in your area. Inside the gazebo to hang a hammock or hanging chair. If you choose the design has forged insert, try to place in the immediate vicinity fake bridge with handrails made of the same material.
Very often, in a suburban areas of small size, combined with the arbor workshop or farm building. This saves you and the area, and materials. Paint the walls of the buildings in white color, you can achieve the visual expansion space. For the decorations fit antique mirrors, lamps and comfortable furniture made of natural material.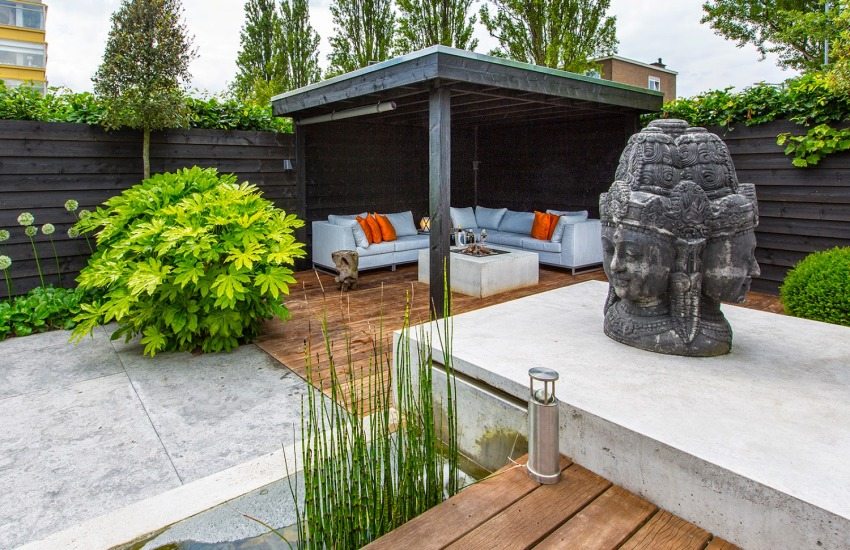 Inside the gazebo can be positioned comfortable furniture
Fantastic view pavilion give backlight LED in evenings tape. Using a garden or electrical fixtures, can be gently illuminate the perimeter of the building. If to be a romantic encounter, you can decorate one wall sconces made of ordinary glass containers. Use the photo for inspiration arbors in the courtyard of a private house with beautiful decorations.
Helpful advice! If your garden furniture is made in the closed version, suitable for lighting ordinary room light bulbs. If the outdoor pavilion - use fixtures designed for street lighting, which have some protection.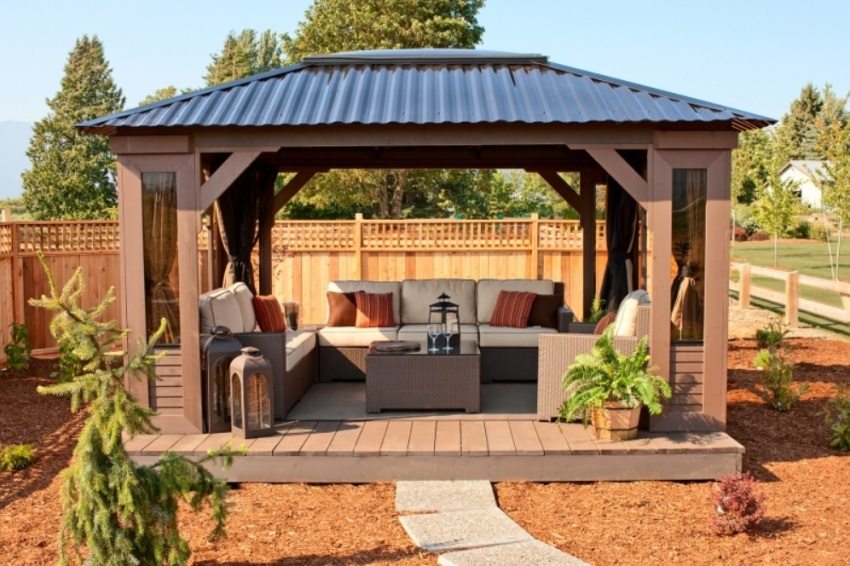 Roof arbor undeveloped using proflist
For those who enjoy in the evening relax with a book, can be hung from the ceiling lamp, with length adjustment function: the light can be directed to make a read, or diffused lighting for the entire space. An important condition in supplying electricity gazebo is the observance of the norms and rules of fire safety.
Photos and prices arbors to give turnkey
The construction of the arbor with their hands - an interesting and exciting process. However, many due to lack of time, expertise and the necessary tools, can not afford it. And so you want to have a beautiful garden gazebo. Do not worry, the network can find a lot of websites and online stores, where you can order and buy the finished design.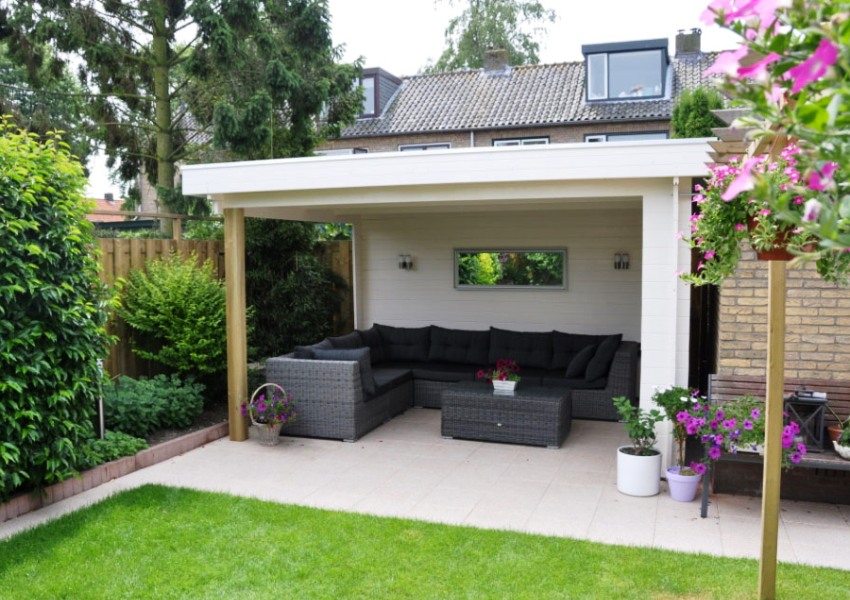 Modern garden furniture in the yard of a private house
Project development, manufacturing and installation of garden arbors are engaged by many manufacturers. They are offered as standard designs, and unique options designed according to your wishes. We offer for sale the construction of pavilions made of wood (prices listed in the catalog), metal, polycarbonate and other materials.
The cost of services includes the gazebo project, its production, delivery and installation itself. Call a specialist for measurement is charged separately. To make it easier to calculate the cost, you can use the online calculator for designer arbors.
A review of some prices pavilions made of wood (photo designs indicated in the catalog):
The prices shown in the table take into account the design of the assembly in your area. When ordering, you can select the pattern and color flexible roof. The company may offer to sell the foundation blocks under construction, but it is not included and must be paid separately.
Price of metal arbors to give (and photo confirms this graphically models) largely depends on the metal used, the complexity of installation and design sizes. If you stop your choice on a small simple design with dimensions of 3x3 meters consisting of metallic pillars and a canopy, you stay within the amount of 16990 rubles. But more complex design octagonal metal gazebo called "South Beach" has already cost at 88900 rubles.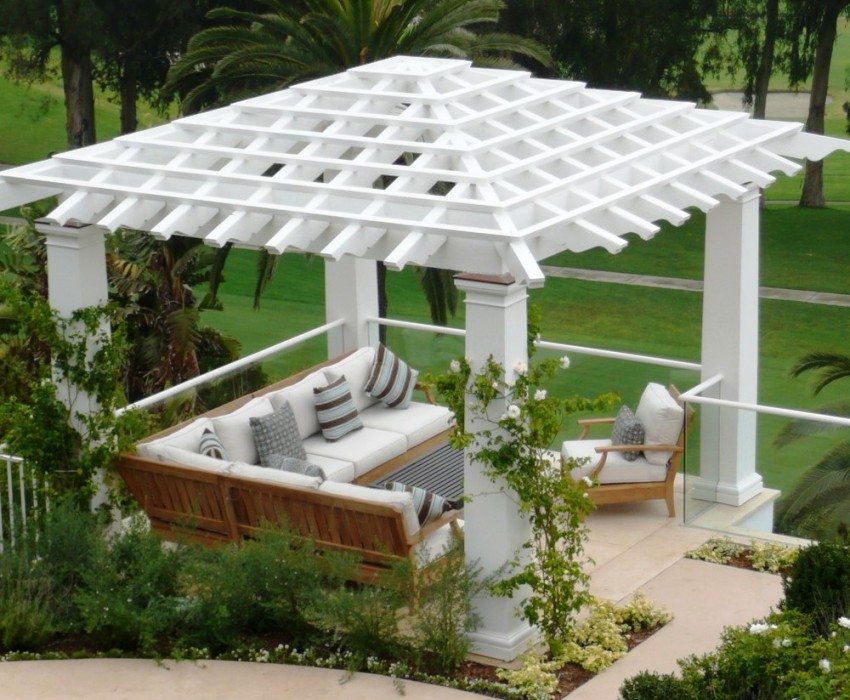 Garden furniture made of wood with a glass railing
Significantly affects the cost of the metal gazebos presence in the design of forged items, as well as barbecue equipment, barbecue and built-in furniture. The price of forged products is the most simple designs from 3990 rubles. per sq. m and above.
The range of models will allow everyone to choose like and can afford. And then size is not so important. Due to the decorative design, any, even the smallest and simple furniture, will be pleasing to the eye, and to be a favorite place to relax.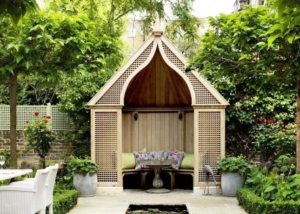 Pavilions with their hands out of scrap materials: a photo of original solutions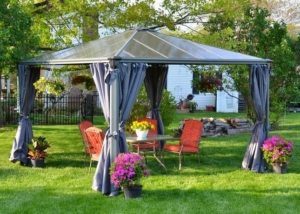 Sheds of polycarbonate in the yard of a private house: a photo of the original designs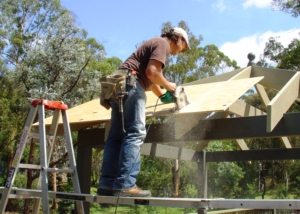 Garden furniture with his own hands made of wood: step by step erect lightweight design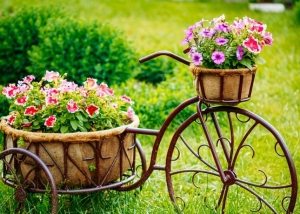 Flower bed in the yard of a private house: photos of original ideas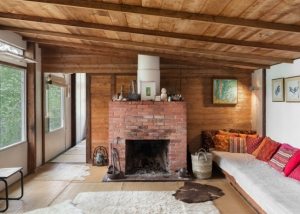 Finishing a wooden house inside. Photo original interiors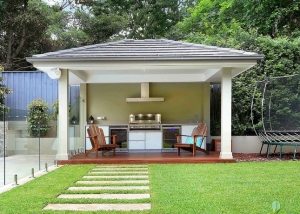 Summer kitchen in the country: projects, photos of interesting ideas