Keriya Japanese: nursing, breeding and use in landscape design
View the full image
General information about Keriya Japanese
Care keriey Japanese
Application in Landscape Design
Keriya Japanese belongs to the family Rosaceae. It is the birthplace of Japan and China, the place of growth - the highlands and forests.
General information about Keriya Japanese
Kheria - is a shrub that can reach a height of 2 meters.
Shoots straight, green, do not branch out. Shrub grows quickly under favorable conditions. The root system is developing rapidly and produces a lot of new shoots. In this way, the bush is growing very fast and has a thick thickness.
The leaves of this plant are very beautiful and, like flowers, are the decorative value of the bush. Form leaves elongated and toothed, at the bottom have a slight hairiness. In spring and summer the leaves have a light green color, and by the autumn become bright yellow.
Advantages over other Keriya Japanese shrubs that it blooms in spring first and blooming period can last 25 to 50 days.
Flowers have a bright yellow color and are arranged on the branches singly. Flower size can be up to 6 cm in diameter. Once bush bud profusely the first time, during the whole period there will be new flowers, but not so thick as the spring. It tolerates cold winters, and even if a little bush freezes, the spring after pruning is quickly restored.
Keriya Japanese Pleniflora:
This shrub stands out among the other beautiful flowers, like little roses.
Its branches may reach a height of 2 meters and a width of the bush expands by 1.5 meters.
Shoots of resemble twigs, have a greenish color.
The leaves are elongated, green in spring and summer and yellow in autumn.
In winter bush resets all the foliage.
Flowers bright yellow in diameter grow up to 5 cm.
Flowering begins in May and lasts until the beginning of summer.
In the autumn may be re-bloom.
It propagated by cuttings and new basal shoots.
Keriya Japanese Variegata:
This shrub less high than the other grades in all branches height reaches 60 cm.
It grows to 1.2 meters in width.
The leaves are oblong-shaped are green and covered with bright, milky spots.
The flowers are small, five-petal yellow.
intensity of growth - high.
It propagated by cuttings and new basal shoots.
Keriya Japanese Albomarginata:
It grows up to a height of 2 meters and a width of 1.5 meters.
It blooms with beautiful yellow flowers with five petals.
It differs from other varieties of variegated leaves.
Painted in green, they have pale edges on the edges, and this attracts gardeners and designers.
Growing quite moderately, and the leaves and flowers are arranged on the branches is not so thick as in other varieties of the plant species.
It propagated by cuttings and basal shoots.
Keriya Japanese Albiflora:
This shrub has small white flowers that are densely arranged on the branches.
Bushes high up to 2 meters in width grow to 1.5 meters.
The leaves are dark green, oblong, yellow in autumn and fall off later.
This variety combines well with zheltotsvetkovymi Keriya Japanese varieties.
It propagated by cuttings and basal shoots.
Keriya Japanese undemanding plant that tolerates the winter. Planted it mainly on solar and well clarified places, but it survives well in partial shade.
The main condition for good growth and flowering: It is good soil moisture and regular feeding of plants. But pour Keriya Japanese is not necessary, water is applied as needed. Feed plant must immediately after the main spring pruning.
Fertilizer can serve as compost and ash, which should pour around the plant with a thin layer.
An important role in the care of these bushes pruning takes:
After the winter it is necessary to remove the weak and damaged branches and shoots.
And cut those branches, which create an increased density of the bush, that is, to make room for new, young shoots.
Summary same trimming and forming of the bush after the first pass, abundant flowering.
With this pruning cut off a quarter of the flight, on which there were flowers.
It can serve as a reference point or a branching of good, strong kidney.
Young shoots are also shortened.
A few days after these shoots begin to grow lateral branches.
This gives an additional thickness crown bush.
If the bush is old enough for more than 5 years, it is necessary to hold the spring rejuvenation. To do this, cut out some old branches, pieces of 5-7. Thus, it makes room for the new, young shoots, and strengthened the other branches.
Very good Japanese Keriya brings change at any time. But it is advisable to carry out such an operation in the spring or fall.
For breeding Keriya not necessarily dig up news bush:
Deep enough undermine side shoots and replant them in a permanent place.
For new bushes is better to choose a place in semi-shade, with the expectation that the bush will grow quickly.
At the desired site excavated pit 50 to 50 cm and filled with a little good, sustained compost.
Atop embedded bush and dug up the old benchmark.
After the hole is well watered and mulched.
As well propagated by cuttings Keriya.
Early in the summer of strong shoots cuttings cut length of 6 cm. And in each such the handle must be at least 2 buds. For these cuttings are prepared greenhouses where they are planted in the prepared soil. By the fall in the majority of the cuttings have grown good roots and transplanted into open ground. The next year, it will be ready for planting seedlings plot.
Application in Landscape Design
Because of its early flowering and undemanding of care, Keriya Japanese is often used for single planting in gardens and parks. Also, these shrubs are often used for planting in front of thickets of shrubs, its bright blooms they create a nice contrast. Perfectly Keriya Japanese looks in partial shade, where the bushes are planted in a shady park.
In landscape design near private homes recommended Keriya planted near the high stone walls, it creates a beautiful backdrop for shrubs.
Also in the background you can use evergreen conifers or high bushes with red foliage. Keriya Japanese designers are often used for planting in shady areas where many other similar plants do not survive. Also, it is combined with spring onion flowers and ground cover plants.
More information can be found in the video.
Login or register to post comments
Interesting across the garden and the garden
The forum is a question unanswered, help the participants, and they will help you.
Live
(C) 2012 - 2018 MegaOgorod.kom - Journal of summer residents and gardeners.
Kerry Japanese - one of a kind
That's what would say about Kerry nerd, since a single view listed in this genus - Kerry Japanese (kerria japonica).
I wonder why Kerry is rare in our gardens. She is quite pretty thanks to a refined graphic quality of the shoots and leaves and poignant "chicken" yellowness flowers. Richly flowering about a month since the last days of May, and in the late summer bloom again, though this time not abundant. And despite its relatively southern origin, is quite hardy in the middle lane, at the ends of shoots in the winter often freeze slightly.
Kerry (Kerria) - genus of deciduous shrubs from the family Rosaceae. The genus name is given to the plant after William Kerr, the first gardener of the Royal Botanical Gardens in Ceylon and plant collector. The name "Easter Rose" is given for the flowering bushes and flower shape resembling small rosettes.
A Japanese homeland Kerry - China and Japan. There it grows up to nearly three meters high. We also never overcome the penalty mark. And shoots almost entirely green, only in the lower part they slightly turn brown, making very real impression of bushes herbaceous plants. Leaves Kerry with drawn tip, up to 8-10 cm, with a clear dent veining. Notched edge of the sheet.
In central Russia Kerry often frosted over before the snow level, but then it grows well and blooms profusely.
Thin bright green twigs shoots resemble straw cereals, and thanks to the abundant root seedlings form a sort of sparse turf. Kerry remarkably fit into the company of a large mixed flower bed. She is good at the edges shrub compositions, blend naturally with low, gazing up conifer - spruce, Tusi, junipers. Quite organically in the traditional front garden next to the roses, hosts letnetsvetuschimi spirea.
My acquaintance with Japanese Kerry held a decade ago. I have tried to grow it in a variety of settings: a fairly dry gentle slope on a flat open space, protected sunny cubbyhole. It turned out that the most suitable Kerry veiled from cold winds place with moist fertile loam, in full light. In winter there is a lot of snow accumulates, Kerry only benefit.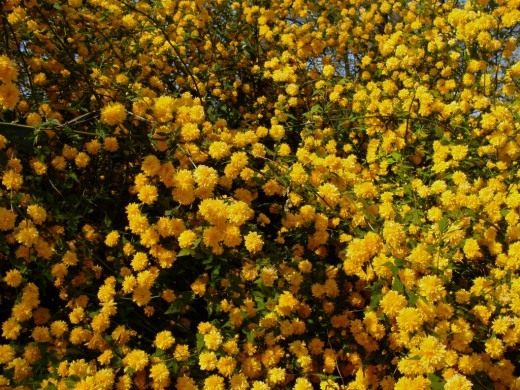 Kerry Japanese. © Jebulon
Kerry easiest to propagate by dividing the old bush. Bending down to the ground and prishpilivaya flexible shoots, it is easy to get horizontal layers. A bush may be separated from shoots and then subcultured in its shading place at frequent watering. But most effectively propagated by cuttings Kerry - woody and green (although the color they are green).
Kerry is the basic (natural) and the terry forms. At main flower corolla simple from 5 bright yellow petals diameter up to 4.5 cm. The flowers terry form (f. Plena) resemble miniature yellow rosettes. The flowers appear in the top of the old branches - at the ends of the lateral shoots and in the axils of the leaves, and in the current year shoots.
Cut into woody cuttings in April, green - in mid-June. Cuttings with one interstitial (ie two adjacent vertical leaves, cut bottom - skew) are planted in a cold frame in the penumbra of light. Okorenyayutsya they are pretty good, but not fast. Hibernate is left in place. It was only in May next year, sat on rearing. Most developed from cuttings can be divided into containers. And by April of next year, all the cuttings are transformed into small bushes, ready for landing a permanent place.
Under Kerr dig a hole size of 60 × 60 cm and a depth of about 40 cm was filled with its mixture of humus, compost and fertile of garden soil in a ratio of 3:. 3: 2 was added to the mixture of 60-80 g of complete fertilizer. The mixture is poured slide, taking into account the shrinkage after planting shrub watered thoroughly.
Kerry tolerates transplantation with a clod of earth, with a certain accuracy it can be done at any time, but it is best to repot in the spring and fall, when there are no leaves. Two weeks after moving the plant to a permanent place of residence regularly water them thoroughly soaking the root zone. Since this rather hygrophilous shrub watering useful in the future, if prolonged for more than a week drought.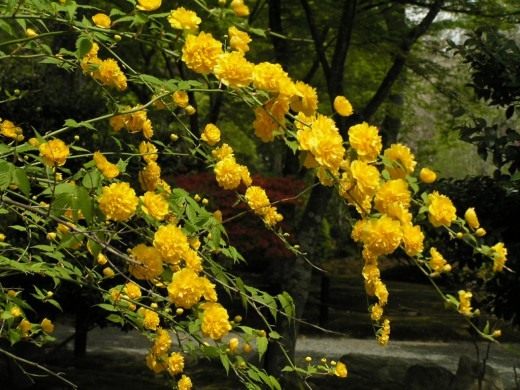 Kerry Japanese. © お ぉ た む す ね ィ く 探 検 隊
After the first flowering in July, Kerry trimmed and simultaneously fertilize mullein infusion. High branches pruned at the same height (about 1/3), and the young root growth only slightly pinch, to encourage branching. Usually limited to one feeding, but sometimes two weeks repeat it. Mowing along with feeding promotes active capacity of the crown, the formation of more young shoots. Convinced that if all let things slide, Kerry "will lose luster," and with good care is always attractive and blooms all summer without slumps.
There are a number of Kerry and variegated forms. The best known of them - variegates, Pictet or (Variegata, Picta), lower than the natural form, with nemahrovymi flowers and light green leaves covered with white spots.
Although their Kerry I winter not hide, because successfully chose a place for them on the site, I advise all the same in the open with the onset of sustained freezing nights and transition average daily temperature above 0 ° C (this usually happens in the first week of November) weigh down the branches of the bush hooks to the ground, and then to impose a plant spruce spruce branches.
Kerry used as hedges, with registration mixborders. It looks good as a solitaire with many spring primroses (witch hazel, rhododendron, azalea, Mahonia).
Even if your flower garden bursts with all curiosities, should find a place for Kerry. After all, she's one of a kind, like her there.
Author: Vladimir Smirnov
8 comments
Really liked the article. I have a small shrub Kerry. I want to grow big. Thank you. I liked the article.
I hope Kerry today is not as rare as in 2011. Smirnov is absolutely right, the beauty and ruggedness Carrey deserves attention growers. A paper deserves an excellent rating.
Can you please tell the difference between Kerry of Rudbeckia "Golden Ball"? Me how far from Botany man is hard to find the differences. Thank you.
"Golden ball" - is a perennial plant, which die off in the winter all ground stems. And in spring everything is repeated on the new, from the ground stems, and flowers on them. A Keriya - is a shrub that has the spring on the branches last year, the flowers bloom and leaves.
Thank you very much for the detailed informatsiyu.Ochen love these flowers, and now I know what they are called and, more importantly, how this beauty razmnozhit.Krasoty should be a lot!
Hello! Tell me where you can buy Kerry? Very fond of yellow flowers.
Hello. Tell me, please, what a cold frame? As in a city apartment to grow cuttings until planting a permanent place? Thank you.
Write your comment cancel reply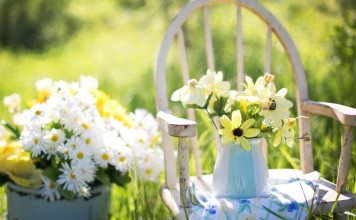 New in the "Flower Garden and landscape"

Fashionable palette of flower beds for the season 2018


Common Errors in the cultivation of seedlings

Growing from seed molyutselly

What should I do if the bulbs or tubers sprouted?

Choosing a good harvest cucumbers without diseases and barren flowers

Soot "Openwork", and will be all the "in-date"!

"Warlords" - the flagship in the ranks of sweet peppers

Delightful large-petunia "Imperial Family"

The most delicious tomatoes! Series tomatoes "Vkusnoteka" from the agricultural holding SEARCH
Elena recording
Helenium - golden curls beautiful Helen
Calendar crops ornamental plants seedlings
Violet scented "Dancing Geisha"
The most effective competitors algae
The most effective competitors algae

Ancient plaunok or Selaginella


Homemade sponge cake with cream semolina

Lunar calendar for April 2017

Plants from the woods published Xenia Kapustkina
Subscribe to our free weekly newsletter. In sending you expect:
The best new materials
Popular articles and discussions
Interesting forum topics
Kerry Japanese landscape design
Sleek and unique shrub with bright yellow flowers, reminiscent of medium-sized rosettes or cute pompons - Kerry Japanese, will be a wonderful complement the flower garden of a country house or villa. Its place of origin are considered to be forest and mountainous areas of Japan, as well as the south-western part of China.
Japanese CURE - deciduous shrub, vertikalnorastuschey shape, reaching a height and a width of 1.5 - 2 m. Belongs to the family Rosaceae. Flowering yellow single flowers with a diameter of 3.5 to 6 cm, ranging in the leaf axils. Image of the flower as old branches and young shoots. Time of flowering shrubs is the April-May, as well as possible during repeated, but not such abundant flowering in late summer. Delicate sweet fragrance of flowers similar to the smell of blooming dandelions.
Leaves Kerry green, ovoid, jagged edges of up to 10 cm in length. Actively growing, shrub let prutovidnye shoots, forming dense thickets, they look spectacular in the winter garden, especially on the white background of snow. The root system of the bush, actively growing, forms dense undergrowth.
Varieties of Japanese varieties Kerry
Rod bush contains only one species - Japanese Kerry, which has several varieties. The most common garden varieties are presented below, which are visible in the photo characteristics:
Pleniflora - shrub differs thick straight vegetation and flowers up to 3 cm in diameter;
Picta or Variegata - a height of 1.5 m, different gray-green leaves with a white border around the edge, and a simple five-petal flowers;
Golden Guinea - This variety has very large flowers that reach up to 6 cm in diameter, as well as graceful leaves;
The most widespread variety of got Kerry Japanese pleniflora for a special elegance and velvety terry flower petals, as well as the beauty of carved leaves.
Features of planting and caring for Kerry Japanese
Condition of successful cultivation of Kerry is the right fit, and compliance with the rules of care.
Kerr planted in a hole 60 * 60 cm wide and 45 - 50 cm deep. Favorable to the healing of the bush and its further growth is the mixing ratio for planting 3: 3: 2, which includes humus, turf ground Ogorodnaya and fertile soil. The resulting mixture was also added about 80 g of mineral fertilizers. It is best to transplant in spring or autumn, when there are no leaves.
Landing site chosen windless sufficiently illuminated by the sun. It grows well in partial shade and Kerry, but then bloom it less intense. Shrub prefers adequate watering, and therefore requires a weekly abundant moisture, and after transplant watered more frequently and requires soaking the root zone water and mulching.
Hygrophilous shrub although sufficient, but, nevertheless, it does not carry excessive moisture. It must be watered regularly during the flowering period, and in the intense heat, while avoiding stagnation of water in the soil. The water for irrigation once a week is necessary to include mineral supplements in the form of special preparations for ornamental and flowering plants.
One of the important components of care is regular pruning. It is held in the spring, after frost. Podmerzshie are cut, broken and dead branches, and for greater stimulation to branch a third shorter good shoots. After the flowering period is also made trim - remove shoots, which did not bloom, but leave those that did not have flowers on them, they will fall. At the same time should be spent pruning of branches over 4-5 years. Too overgrown Kerry periodically decimated.
Since the bush can suffer from frost, it is recommended to cover for the winter, with the onset of cold weather (mid-October). Procedure for winterization is performed in dry conditions: scrubs bend to the ground, stacked substrate on a dry foam or other material and fixed frame made of stakes. It provides reliable protection against damage branches. Then poured dry leaves or chips and placed on top of two layers lutrasila. The resulting protective structure must be well ventilated and dry, giving the plant rot. Spring cover is opened gradually after cessation of frost, it is best when it is cloudy, so that young roots do not get a sunburn.
Propagated plants by cuttings, root suckers, or taps, which quickly take root. Offspring recommended transplanted in early autumn, and cuttings and slips - in April.
Kerry Japanese landscape design
Due to similar rules of care, Kerry goes well in the garden with Mago, Weigel, Forsythia and Deutz, which bloom in the spring. For fear of the winds and drafts, better to plant shrubs to protect them, along with other flowering shrubs such as spirea or physocarpus. Beautifully and elegantly surrounded by Kerr looks late flowering irises and tulips, as well as close to the autumn Ligularia.
Bushes planted along fences and facades of buildings, along paths and on the Alpine hills attract the admiring glances. The perfect combination of Kerry with conifers in various compositions of landscape design. It can be performed as a single planting, and as a group.
Kerry Japanese - the one and only of its kind, it is easy to clean and is not subject to disease, not afraid of pests. Planted in the area, it is an organic complement any design and make it its own flavor.
Str. Most Dorogomilovskaya 10
Dmitrov Shosse. 163 and, building 1, floor -1