Wood stoves for questioning: traditional and modern versions of the factory model
City dwellers who prefer outdoor recreation, and in the winter enjoy spending time at their dachas. Some move to country cottages and houses on a regular basis to all day and night to enjoy the tranquility and fresh air. In both cases, the question arises of heating homes. Despite the efficiency of modern heating systems with independent boiler houses, cottages oven with wood is still popular and loved. On the Diversity of heating installations and appliances - in more detail in this article.
The purpose and design of the furnace villa
The basic function of any heater - to make room suitable for housing, heating the air to an optimum temperature, which is usually called room (18-20ºS). To increase the heating effect, choose the place of installation so that the heat is distributed in all directions and has captured as much as possible in-house space. Frugal owners prefer the safest model with careful fuel consumption (in our case - wood).
Contemporary wood-burning stove for a large cottage with a permanent residence
Aesthetes pay much attention to their appearance, so rather choose the structure "antique" with tiles and wrought-iron elements, rather than the unsightly steel "stove" on four legs. Interior decoration - another feature of this amazing subject.
The third purpose is useful in everyday life, because it allows you to cook food. Even with a temporary power outage red-hot iron surface will provide an opportunity to the table and hot soup, and fried chicken and pancakes. Cooking stove equipped, not all products, so when you purchase must be mentioned their wish to have a pleasant addition.
Boiler-heating the sample for country use
Typical brick and iron wood burning oven for heating cottages or cottage have similar constructions which are composed of the following elements:
furnace - the main chamber in which the process of combustion of wood or other fuels (coal, briquettes);
grate - the base of the furnace, which is put on the wood;
ash tray - small camera under the insert, which accumulates ash;
chimney - pipe leading out the gaseous products of combustion (carbon monoxide);
smoke flap overlapping the chimney to keep warm.
Depending on the purpose of design or constructional differences may occur, for example, the presence of additional iron plate or the firebox.
Scheme heating-cooking oven device
Types of furnaces for manufacturing material
The material depends on the appearance and the cost and functional features of the models. For example, the metal options - compact, while the brick buildings take up much more space. Its structure differs semi-open fireplaces, beautiful, but give less heat. All of these types are designed for heating with wood.
Brick wood burning oven - a tribute to tradition
Brick, made of natural material - clay, perfect for space heating. He quickly heated by an open flame, it accumulates the heat and long cool down, maintaining a comfortable temperature in the room. This version of the device stone taken root centuries ago and still did not disappoint his fans.
More categories woodburning stoves for the cottages from a brick can be divided into 3 types:
The first option is ideal for small houses, whose owners sometimes go out of town. Compact design, installed in the corner of the room, can quickly heat the room up to medium heat and keep warm during the day. It is economical on fuel consumption and refers to those structures that are easiest to build with their own hands.
Brick stove for heating large rooms
Exclusively the heating function is performed and a fireplace, but it is not able to for a long time to maintain a certain temperature in the room. The room will be warm, but as long as the fire burns, and when he goes out, the air begins to cool. Fireplace is most often used as an additional heat source, at the same time playing the role of a stylish interior decor.
If you need to be able to cook, should stay on the oven hob. It has a different structure, like a large plate and set, respectively, in the kitchen. Cooking possible until there is a process of burning and smoldering wood. Option is good for tiny bungalows, small in size, its internal layout reminiscent of a room-studio.
The simplest version of the brick heating and cooking ovens
The best solution found to the combined structure, with powerful heating point of view and allows you to cook, if necessary. Besides the usual cooking, they make it possible to dry the fruits and vegetables grown in the garden, bake the meat and potatoes and bake pies.
A fine example of the combined solution is a Russian stove, which is preserved in the old village houses. She, unlike analog, is an extra bed.
Pig-iron furnace chalet - style and comfort
Fine iron conducts heat for heating a small house or a single room, when it comes to the cottage. Stylish iron wood ovens are original decoration cottages and have long service life under one condition - the thermal regime compliance. Severe iron is remarkably brittle metal if a heated surface accidentally splash cold water, it will crack.
Compact models can be installed in any part of the room. The only condition for the choice of a place - a solid foundation (cast iron is heavy) and finishing the floor material is not susceptible to combustion. The product is made of heavy metal can not be made independently, so you need to choose from the varieties on the market. Some of them are equipped with a small hob, others have a great look and feel, others resemble fireplace.
Cast iron stove - a useful interior decoration
The most powerful versions are equipped with an automatic system and can efficiently heat the room up to 100 square meters. Temperature sensors Control monitor the intensity of combustion and saves firewood. In addition, automation admirably with a "night watchman" - controls the process of burning logs until everyone is asleep.
The best solution among iron models - continuous burning furnace having the highest possible heat emission, capable of retaining optimum temperature and differing efficiency. Selection will fall made between convection and gasification furnaces continuous burning, which differ in construction and method of supplying heat.
Steel products - a budget option
Many easy on the embodiment of the steel, while inexpensive and practical devices have a number of advantages:
have sufficiently high efficiency, suitable for heating a small house or a utility room;
safe when properly finish the floor and the surrounding area;
reliable, since it made of durable heat-resistant metal;
mobile, easy to transport and install in any place;
does not require special preparation after prolonged shutdown.
The disadvantages include the rapid cooling process - the device cools and ceases to heat for 2 hr. The second drawback - the risk of burns because the metal surface is strongly heated and does not have any obstacles. Disappointing and a small service life - up to 15 years, but due to the low cost, you can find a replacement quickly.
The simplest execution of a standard "stoves"
Modern steel products - is not only primitive "stove." Among them we can find the device with the original design, decorated with stamping or carving.
Original solutions for country use
Swedish women have become popular since the 18th century. At the time, they were like a fireplace with a large housing, heat and store heat to 20-24 hours. Modern analogs differ little from old samples to the same performances have a plurality of different material. You can stay on a metal circular model of a simple design or select a rectangular structure, decorated with fine tiles. Especially good are the author's masterpieces, decorated with hand-painted.
Swede in the interior of a country house
Dutch brick reminds Swede vertical form layout. It has a multi-chamber design that allows for a long time to keep warm. The surface temperature reaches 60C, it is enough for heating the off-season. Dutch cooking surface is not used exclusively for heating.
Truckers, inquire of the city from time to time, interested in the mini-machines - original versions of "day off", do not require any special care, easy to use. Brick furnace little suited since in an idle mode is able to dampen the clay and lose its quality. Better to stay on the metal models in large numbers offered by domestic and foreign producers.
Compact oven brand Termofor
Note the following brands:
"Termofor" - battery fire, Professor Butakov Tunguska;
"Vesuvius" - Comfort, mini stove;
Harvia - Harvia 20 ES Pro S (dlyadachi);
"Teplodar" - The Matrix, Vertical, Top Model;
"King of the oven" - Gold, Matryoshka, sister in law.
These devices are compact, fast heating rate, low cost.
How to make a stove made of bricks with their hands
Masonry brick heating furnace to give their hands on forces far not for everyone. To put yourself safe construction with efficient heat transfer, requires experience and knowledge of the many nuances, so focus only on the general provisions of the construction process.
Driving in a brick masonry
It is better to choose the material that withstands high temperatures:
chamotte bricks (SH8) for heating;
red bricks (refractory) to the main structure;
ready to use mixtures and compositions (e.g., "Garant +");
elements of iron (door grate, latches, hotplate).
manufacturing a solid foundation capable of withstanding high weight (smooth, with protection against fire - galvanized);
construction of the base - the lower part;
brickwork on the selected scheme casing (a plurality of them);
chimney unit;
installing an outer part of the - pipe.
laying scheme can be easily found on the Internet, but even the most accurate drawing is not enough for the installation of a truly useful facilities.
One of the options for laying the heating and cooking Swede
To create an effective device must take into account the mass of detail - the arrangement of valves to the ash device with quick purification. If you decide to build your own stove, try to enlist the support of an experienced stove-maker and learn not only the basics, but all the tricks and skills.
Themed movies will help you choose the right model for your problem.
Variants of design of cast iron stoves
Brick oven with his own hands - a master class in the masonry
Stove Keddy K1000 - the sample villa model
Large selection of wood-burning stoves for holiday use allows you to purchase a model with optimal performance and decorative design for specific operating conditions.

All questions and suggestions you can send to our contacts
Basic models of the brick ovens to the house with wood, their features and manufacturing techniques
Despite the development of modern heating technologies, brick furnace It is often used to heat your home, and this is understandable - they are not only effectively heat the home, but and give a sense of comfort and a home.
Stove heating has several advantages due to which the brick wood-fired ovens for centuries do not lose their popularity. The main advantage - the ability of ceramic bricks, from which put the stove, store and release heat for a long time.
In this case, space is allocated useful for the human body radiation energy, giving a feeling of warmth and comfort. With regular furnace in the cold season is always warm and dry in the house, but at the expense of thrust furnace of a natural ventilation. In a heat oven, by contrast, it cools the room due to diversion of excess heat in the soil and air through the foundation and the chimney.
In addition to creating a comfortable microclimate brick oven can carry additional functions, the existence of which depends on the design:
cooking - steaming, frying, stewing and baking;
drying of clothes, shoes, food products;
heating stove benches for sleeping;
an opportunity to enjoy an open flame.
Stoves, provides several functions, called combined. These types of furnaces are boiler-heating, fireplace stoves, as well as several popular basic models, including the Russian oven.
In stove heating there limitations, these include the inability to effectively heat the premises deleted. Therefore, in the homes of a large area usually put several ovens with separate or combined flues or combined stove heating with other types of heating.
The most popular and proven reference designs are widely used stove-makers: they bring to their minor adjustments, adjusting the size and functionality of a desire of the customer. Nevertheless, the principle of their work is stored, so all the brick oven can be divided into several groups.
Video: Master Class laying his hands
Is massive, large size and broad functionality. It consists of open fires, which in some cases, close the flap, as well as extensive smoke channels running along the walls of the oven and heat it well. Sometimes Russian oven fitted with one another furnace with a hob.
cook a variety of food - boiled, fried, stewed, baked;
drying clothes and shoes;
warm couch or bunk used for sleep and rest.
Russian furnace efficiency is not very high - up to 60%, in addition, it requires a certain skill firebox. And drown Russian stove in the winter, you should regularly, avoiding breaks and cool the stove body. In batch furnace cooled in the oven condensation, soaks it brick and the next cooling and freezing burst.
Summer Russian stove stoked regularly or periodically, for cooking, this time with "summer" mode, directing the smoke via the damper directly into the pipe. The body of the stove is not heated.
versatile, solves a range of problems;
with regular furnace during cold seasons creates a microclimate in the house even without temperature jumps;
It decorates the house and gives it a unique national flavor.
a lot of weight and dimensions - require massive base construction;
a large amount of materials for masonry construction of the high price;
complex service, the need for regular cleaning and chimney channels with their own hands;
not too high efficiency.
Dutch oven, - a fairly popular design heating stoves, sometimes they are equipped with the hob. This channel type heater - for efficient heating it is equipped with flue walls with vertical channels. Passing through it, the smoke is completely burns and gives off heat brick.
Feature furnace Hollandka constructions - small footprint, which makes it popular with summer residents and owners of small houses. In this case, the furnace can be any height, so it can be successfully heat two floors. Form furnace also varies from a square to rectangular and circular, but in any case its height is significantly greater than the width, so a stove-Dutchwoman often compared with the column.
saving on space and materials - bricks at her need two to three times lower than in the Russian stove, and its construction cost is much lower it can be easily folded with their hands;
Dutch has a rather thin walls and warms up quickly;
it is possible to heat after long breaks, immediately bringing to full capacity;
with modest dimensions "Dutch" can heat their house with an area up to 70 square meters.
However, it has some drawbacks:
Its efficiency is low - about 40%;
optimum mode - corruption due to which "Dutchwoman" sometimes called brick oven prolonged combustion;
to ensure good traction of the cleaning furnace ash and soot must be regularly;
If the furnace is not close the damper, the stove cools down instantly, so it requires attention and skill of the furnace.
Oven-Swede has a universal design compared to the "Dutch", thus its efficiency is much higher in a compact size. Standard Swedish is multifunctional, and it has a hob and oven, and two niches for drying clothes and shoes, and some masters complement the "Swede" fireplace or stove bench.
This stove is a channel type, which implemented the principle bell stove - afterburning flue gases under the arch of the furnace. The furnace heats effectively two adjacent rooms, usually the kitchen and bathroom, with a big house, "Swede" can not cope with heating.
rapid heating;
efficient combustion of fuel;
special channel design allows you to warm up the lower part of the furnace, so that the floors are warm;
the opportunity to cook a variety of dishes;
located in the top of niches is convenient to dry the vegetables, fruits and berries, as well as to warm up the food;
in them it is possible to dry clothes, shoes;
You can be integrated if desired into the furnace heat exchanger, and heating water for domestic use.
masonry intensely heated elements it is necessary to use fireclay bricks, which increases the cost of its construction;
to avoid heat loss through the bottom of the stove, you need to make a good thermal insulation;
oven is not recommended to cool completely in the cold season, as the ignition of the cold wet stove leads to a gradual destruction of the masonry.
Photo: bell-type furnace
One of the most modern developments - bell-type furnace. Their difference - the ability to warm up evenly on all sides, and retain heat for a long time. Unlike channel stoves, a bell or dome no winding narrow channels, so they are less prone to sedimentation of solid particles and flue narrowing.
Their operating principle is that the smoke from the furnace rises under the hood, wherein the cooling is delayed until after which descends along the walls, heating them. The stove may have a cascade of caps in which the smoke gradually cools down, so the efficiency of such ovens is very high.
Advantages bell furnaces:
simple construction and a small amount of material required for laying, low price;
stove can be drown from a cold state, while it rapidly heats all adjacent rooms;
if you forget to close the valve, the oven cools down as "Dutch", due to the so-called gas damper preventing reverse thrust;
if desired, it is possible to equip the cooking surface and the heat exchanger;
this oven can lay down their arms even beginners setter.
Shortcomings this furnace is practically deprived, so it is very popular with summer residents and owners of country houses.
Furnace continuous burning of bricks - is it possible?
Any homeowner faced with stove heating, is trying to reduce labor costs, including the time spent on the firebox stove. Therefore, many are interested in the possibility of folded from a brick oven with continuous burning mode.
However, this impossible for several reasons. long burning mode implemented in industrial ovens of metal assumes slow smoldering wood in which a large amount of smoke containing carbon monoxide. Industrial oven equipped with a long combustion mode are sealed furnace, whereby the waste can not enter the room.
Furthermore, to provide slow smoldering fire wood, it is necessary to restrict air flow into the furnace. The brick stoves it can be made, covering the ash pit, but to regulate the air flow so uncomfortable.
Partially extended combustion mode can be implemented in "a Dutch" and Russian stove. But to rely on the efficiency of this method is not necessary, it is better to choose the design of a brick oven, which allows retain heat for a long time, or purchase a metal oven with a long burning time - their price is lower than that of the brick patterns, and the efficiency is almost not inferior to them.
Having made the decision to lay down its arms oven made of brick, the first step is to choose the design that meets the needs, find a diagram and description of poryadovkoy-laying, then you are ready to purchase materials and purchased components. Brick masonry stove requires a knowledge of the basic methods of work.
A brick furnace needs a foundation whose dimensions exceed the dimensions of the furnace hearth at 100-150 mm on each side. It can be made of reinforced concrete and is composed of concrete blocks or rubble. The basic requirement which must be observed - the foundation under the stove should not have a rigid connection with the foundation of the house, otherwise the seasonal shifts of the ground can damage the furnace or tube.
Masonry oven with his own hands, two types of brick red corpulent ceramic and refractory fireclay, yellow hue. Because most refractory bricks laid heated surface - the furnace, the smoke channels, the use of refractory mortar based on clay chamotte. The price of these materials is higher than that of conventional brick, fireclay used therefore only where it is needed. Ceramic bricks laid all the other elements of the furnace and a chimney, the required solution through a furnace or purchase red clay composition comprising a refractory cement.
Purchased elements - grate, doors, dampers and hobs - put in accordance with the scheme. Door secured by a steel annealed wire length of at least 30-40 cm. Its one end is inserted in the hole intended for this purpose in the door frame and the other end is fixed between the bricks in mortar. Plate and put the grate on the previous row of masonry in the selected slots in brick. To compensate for the different thermal expansion of brick and cast iron used asbestos cloth or cord.
Chimney brick oven usually operate also in brick, but can also be used ceramic block chimney in industrial production. It is characterized by long life, high resistance to carbonic acid containing condensate, creates a stable draft is not clogged.
For imparting the aesthetic appearance of the oven can be oblitsevat finishing stones, clinker tiles. Finish gives the furnace not only beautiful appearance, but also protects it from the harmful effects of water and dust, and, although the price of such a furnace is somewhat higher, the service life is significantly increased.
Video: masonry oven with his own hands
Choosing the correct design of the furnace and high-quality masonry - the key to its long and safe operation. Brick wood-burning stove, folded his hands, will decorate any house, moreover, this method of heating is reliable and allows you to create comfort and favorable temperature conditions.
Add a comment cancel reply
By using this site, you agree to the use of the cookie in accordance with the notification in respect of that type of file. If you do not agree with the fact that we use this type of file, you must properly set the settings of your web browser or use the site.
Small brick oven garden with his own hands
Small oven made of brick cottages can be made in a short time and with their own hands, without the help of a professional. We will tell you about the preparation of the foundation, on which materials are best to choose for masonry oven, and how to prepare bricks and clay oven that served long and well warms your home.
By oven to give of bricks with their hands put forward a very modest demands. Big breaks between visits, a relatively small amount of heated space, maximum efficiency and the use of local fuel - all of these criteria speak in favor of choosing a wood stove. Contrary to popular belief - it is quite possible to do without the services of master stove-maker. Let us consider how to be designed and built a small brick oven to give their own hands.
Make a complex and highly stone oven to give of bricks with their hands is unlikely to succeed without building experience. Too many nuances and secrets conceals the work of professional master stove-maker. But the small size and simple in design, the vertical stone oven to give - it may well be built even untrained person. The main thing in this process - to do everything very carefully, accurately and in accordance with our recommendations.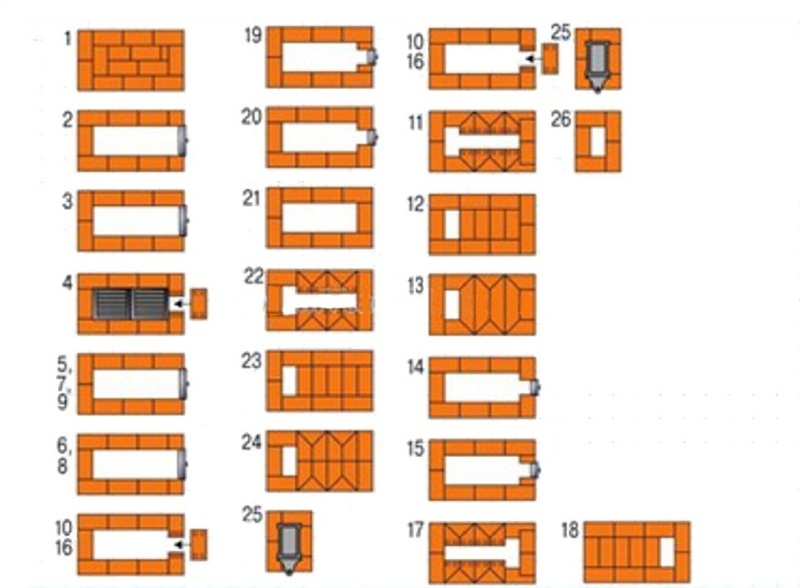 Scheme poryadovkoy brick oven
As described a little of brick furnace fired to give wood, it is not designed for intensive and prolonged heating - it can be folded from a conventional, but not refractory bricks. Although, to the combustion chamber is still better to use a heat-resistant material.
The list and the required amount of materials:
red ceramic brick - 700 pcs .;
grate grille - 1 pc .;
firebox door - 1 pc .;
blower door - 1 pc .;
door cleaning soot channels - 2 units .;
valve - 1 pc.
For a furnace to give on the wood with their hands should be selected corpulent ceramic brick, which does not crumble from the average fall of the hammer, and publishes without ringing (it perekalenny brick), and the hollow sound. Desirably, the lateral faces of the bricks were smooth.
Clay will be needed for the solution. Potters prefer to choose the "fat", from which the solution is soft as butter, and plastic as soft clay. Such clay for the construction of the furnace to give their hands can be found in home improvement stores or talking to the locals, just dig around.
With a good tool for the oven country house built quickly and easily. To prepare the work to be level, plumb, trowel, bushhammer and utensils for the preparation of a clay solution. Cutting bricks need Bulgarian.
We are preparing the foundation for a brick oven to give
Whatever little brick oven to give their own hands - it weighs several hundred kilograms. Therefore, to put it on the wooden floor of the room is impossible, and will need a foundation.
In order to properly choose a place of foundation, it is necessary to project the ground plan of the stove so that it accounted for the pipe between the floor beams and the beams of the roof. If the wall of the house provided the chimney - the oven country house should be placed near it. When building a new home oven to the country can be built into the wall between the rooms. This option is very convenient: two rooms are heated equally fast, but in one of the rooms, even under the most adverse conditions, will never smoke.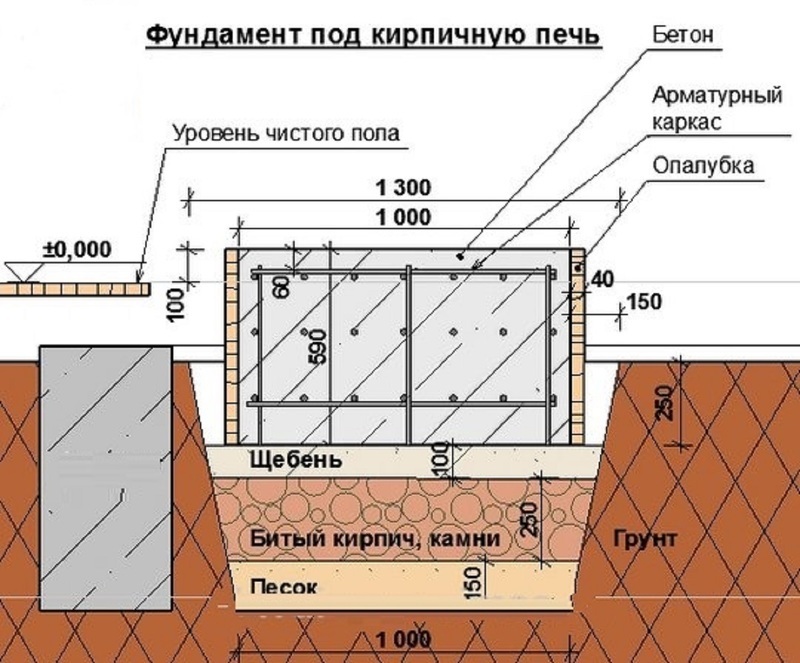 Scheme stove foundation of bricks to give
The depth should exceed the foundation depth of the frost line. However, if the holiday house has its own deep foundations, the stove can be made to give a combined basis. For this purpose, vertically in soil digged four light concrete column, such as those used for fences. The bars should protrude out of the ground just below the floor level.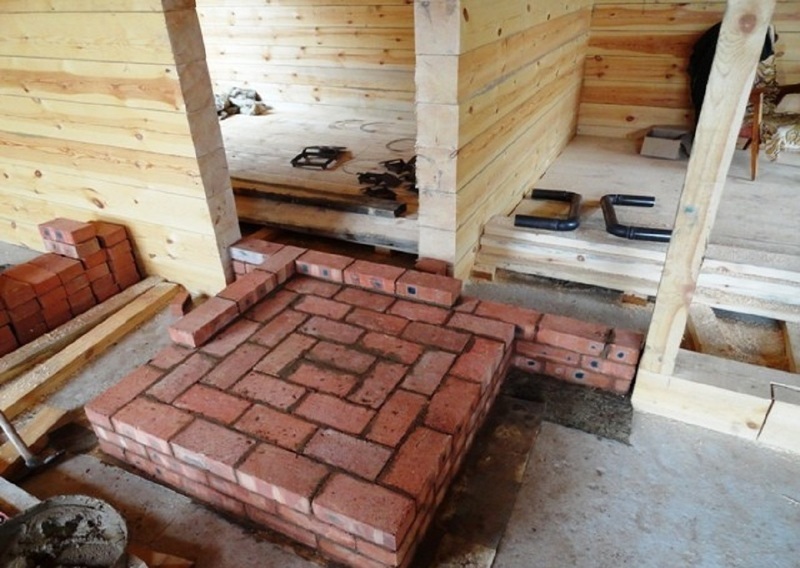 Prepare the oven foundation to give their own hands
Between them, directly to the surface of the ground in a half-brick is poured gravel or sand cushion. Then stacked layer of roofing felt or other sheet waterproofing. Top falls reinforcing wire mesh, and already on top of it - poured concrete foundation with reinforcement. The upper part of the foundation must match the floor level and be perfectly horizontal!
On top of the foundation to be stacked one waterproofing layer, and on it - the metal sheet. Sheet size should be greater than the projection of the oven for 10-15 cm. Moreover, by loading the wood is better to make the issue a little more. Then the random sparks from ash fall not on the wooden floor and metal.
During operation, the stove is heated to give a fairly strong. If a nearby wall is made of wood or other combustible material - it should be protected with thermal insulation. The simplest protection sheet of asbestos can be colored heat resistant paint or covered with a thin metal plate. Open asbestos can not keep, because its dust is considered to be very dangerous to inhale. Instead of asbestos furnace to give their own hands can be isolated from solid wood slab of mineral wool. The material should be heat-resistant. Facade construction wool for this will not work because it has too low a temperature limit.
Cottage built on the clay oven, rather than cement. Clay solution is prepared from clay and a good clean river or sea sand. If the clay is not the purchase and digging somewhere in the neighborhood, you should first check its quality. To do this, we make a few test batches with different proportions of clay and sand. The finished clay dough is rolled into small balls, rolls, cakes, and allowed to dry two weeks at room temperature.
Dried products must be subjected to the test: to throw them to the height of human growth, to try to crush the plaque under the weight of weights, etc. Composition most durable clay sample is taken as a reference. The figure corresponds to the best batch samples "b".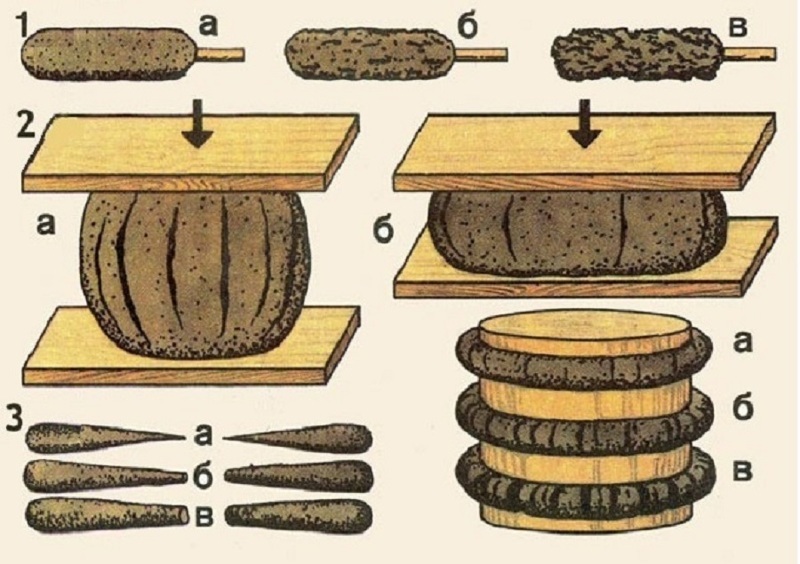 Building a furnace in the country: a photo of a clay solution testing
Oven garden with his own hands is constructed from pre-soaked brick! For this purpose it is kept in water for at least 8 hours. During this time, all of the air out, and clay will be good to take on brick masonry. Clay is necessary to prepare quite a bit to be enough for the laying of approximately 20-25 pieces. bricks. Without the necessary experience more and more at a time and you will not put. Thickness of clay solution in a laying should not exceed 5 mm.
To the furnace in the country, with their hands laid out, served for a long time, each row should be checked at right angles, and horizontal surface. Stacking sequence poryadovkoy visible in the drawing.
Cast iron door of the combustion chamber and the blower are fixed by means of steel wire which is walled up in the clutch. Gashes made grinder. In extreme cases, it can be done the old fashioned way - with a hammer-kirochka bricklayer, but probably a lot of waste in the marriage. Playground under the grate should be slightly larger than the dimensions of the lattice itself. Then, by heating the metal will not move a brick.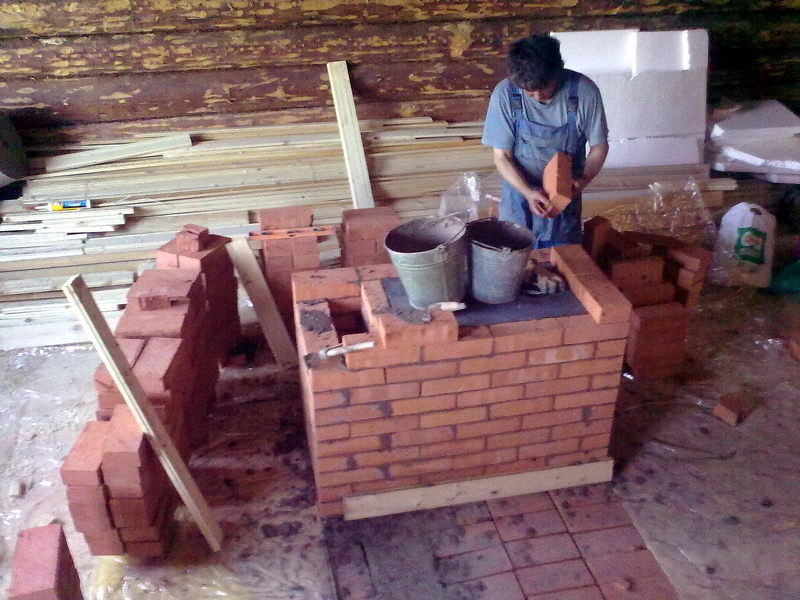 Put the oven country house with their hands
The solution was applied to the wet bricks. Experienced potters do not do it with a trowel, and a hand. A good solution is applied so easily as soft butter spread on bread.
If you are laying brick dipped lower than is necessary - it is necessary to remove and clean the solution and put fresh. Otherwise, a new furnace in the country will be much smoke and soot to pass. Unlike cement, bricks of clay solution absolutely can not move!
Code build an oven to the country, try to make the inner walls as smooth as possible. Then they will not be trapped soot, and it is easier and less need to clean. Cottage outside of the oven should also be neat and beautiful. Exterior seams should be carefully embroider jointing or finger. Places forming arches and horizontal partitions slots also should not be. Such series are best laid slowly, one at a time in the day to have time to grab the lower ranks, and the top at the same time - do not crawl.
Despite its small size and simple structure, small houses of brick cottages ovens are very popular, as they show very good results. They heat up quickly and the heat is enough for a whole day. Small brick oven to give different low cost and affordability for the independent production, but permanent residence in the winter to heat it is necessary twice a day - morning and evening.
See the section
In the early years of the October Revolution, when, in the dead of winter in St. Petersburg and in Moscow, coal has become almost its weight in gold, workers and soldiers near the street bonfires envious glances at the window of the intelligentsia, where each apartment was a small iron stove. That's when these heaters, wherein ruggedness and excellent quality became enviously called "stove".
September 19 "Leroy Merlin" will offer users of social networks on the air to melt by means of heaters, heaters and heat guns word "price". Resist ice sculpture weighing almost 1.5 tons will be more than 20 products for heating, presented in the company hypermarkets at affordable prices.
Small BBQ oven to give very popular. As they give the opportunity to cook the most delicious ways - on the coals in the fire, smoking in the smoke. In our article you will find information on how to build a simple outdoor stove with his hands and make her as comfortable as possible.
Furnaces for home on long burning wood - a modern solution for heating small premises as temporary or permanent residence. Such heating option not only gives complete autonomy from the pipeline supply of coolant, but is one of the most economical thanks to the pyrolysis combustion.
Cooking outdoors is ideal for a barbecue made of bricks. To make barbecues in the country will need a little time and there is no need for a construction skills. We will talk about how to work the oven for a barbecue which to choose for her materials, and share drawings and diagrams necessary for the construction.
Russian bath with his hands raised to the country will be proud to present a good host. Thanks to her, you can relax after a hard day, relax and harden the body. We will tell you where to begin planning and design of buildings, how to choose the materials, as well as share a secret arrangement baths for a perfect holiday and health promotion.
Build a fireplace with his hands in the country or in a private home, you not only create an additional source of heating homes, but also the most comfortable place for the whole family. Understand the masonry is not complicated, but you need to understand how it works. Consider how to make a fire in the house with his own hands using drawings and diagrams, to choose the right design based on squaring the room and calculated construction parameters.
High-quality heating and cooking stove - the perfect home for heating and cooking. Masonry stoves with their own hands will not cause difficulties have experienced gardeners. We describe how to prepare the foundation and a solution select construction materials and pipes, and incrementally analyze poryadovkoy circuitry and construction drawings.
Gardener Calendar - January
Question / Answer 1132
News & Events
Garden
Flowers and flower beds
Trees and shrubs
Houseplants
House and cottage
Gardening equipment
their own hands
Landscaping
Health
Food and Recipes
Buy Sell
catalog of plants
Diseases and pests
Contacts
Advertising
Partners
Vsadu.ru - educational online magazine about the cottage, garden and vegetable garden, gardener gardener calendar for each day, tips on caring for a garden and a vegetable garden.

Free advice on the construction of townhouses, country houses, cottages. Selection of equipment for garden, Landscape design, selection of trees and shrubs, taking care of flowers and plants. Answers to questions, news, events, announcements of exhibitions and events. Recipes tasty and healthy dishes and drinks from vegetables, fruits and berries.

Copyright © «Vsadu.ru" 2010-2018 Copying and modification of materials is possible only with the written consent of the copyright holders.

Articles are protected by copyright and related rights, with the citation "Vsadu.ru" project materials a direct link to open vsadu.ru required.

All rights reserved.

so you are always aware of the most interesting.