How to choose the right adhesive for porcelain tiles?
When laying the tiles on the wall or floor has a large value, any adhesives used. For granite - is one kind of wall tiles in white or red clay - other. The difference lies in the constituent components. The dry adhesives for porcelain are sand-cement mixture with water soluble polymers in certain proportions. Due to these constituents is provided ductility and toughness mass and adhesion material.
Modern quality adhesives for porcelain tiles have high technical and performance characteristics, such as resistance to low temperature, moisture resistance, frost resistance, plasticity, cohesive strength and good adhesion. Unlike the adhesive of choice for mass tiles from the wall lies in the fact that the porcelain has a low water absorption threshold, hence the so-called cement milk is absorbed into the pores of the tiles, and eventually will be formed between the surfaces of the voids. This, in turn, lead to cracking and falling behind the tiles on the floor. Therefore, the issue should be approached seriously.
Successful laying tile flooring and a long service life largely depend on the substrate as well as what kind of adhesives for ceramic granite you are using. Even the packaging is always a mixture of prescribed that only work correctly with a smooth, primed surface. An important tip: before buying consult with the seller of tiles, specify the technical characteristics of the chosen material, as well as consider the peculiarities of the area in which you will produce stacking (indoors or outdoors). Glue for ceramic granite, the price of which varies depending on the constituents, it plays a big role in how long will be able to serve the selected lining for the floor. Therefore, buying an expensive tile with high technical performance without stint appropriate adhesive material.
Consumption of glue for ceramic granite count difficult. Because the floor tiles is subject to constant stress, there is an unwritten rule: the thickness of the adhesive layer equal to the thickness of the tiles to be laid. Also, consumption is written on the packaging with the mixture.
Adhesives for porcelain tiles that will be installed on the warm floor, should have the following properties:
Elasticity.
Increased adhesion to the substrate.
The ability to align the voltage which arises due to temperature differences.
Tip: Before you turn on the floor heating, wait for the complete drying of the adhesive.
When the installation is done in sophisticated environments (outdoors, in a technical room, etc.), it is better to use two-component adhesives for porcelain stoneware. They are more resistant to temperature and humidity. This contributes durability and long service life of the selected coating.
For laying tiles on wood, metal, plastic and the like using adhesives surface for porcelain tiles on polyurethane or epoxy.
The correct choice of adhesive for laying stoneware: popular brands, comparison, characteristics
Porcelain tiles - tiling resistant to atmospheric and chemical influences. It is characterized by mechanical strength, density structure, its water repellency. These characteristics of porcelain stoneware make it ideal for outdoor and indoor applications. However, these advantages can be achieved only through proper placement. An important role to play adhesives for porcelain stoneware.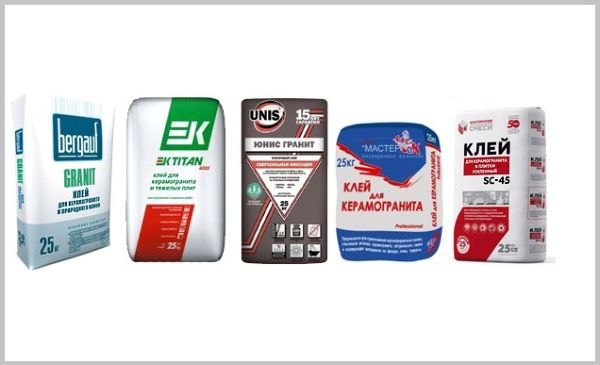 Tile adhesives are: for floor or wall tiling
These mixtures must have special properties that depend on the characteristics of the tile itself. Ceramic granite - an artificial product that incorporates the best:
resistance to acid;
abrasion resistance;
surface hardness;
resistance to sliding;
frost;
resistance to temperature outside;
resistance to bending.
Adhesion - the most important characteristics of the adhesive, allowing this material to glue. Adhesion means the ability to strongly rigidly adhere to any material. The more friable surface structure is, the better it absorbs other substances. It depends on this bonding strength. The structure of the ceramic granite different density, which makes it difficult to "impregnation" and, hence, bonding. The compositions of cement and sand are not able to solve such problems. Accordingly, the correct choice of adhesive should focus on the more complex mixtures.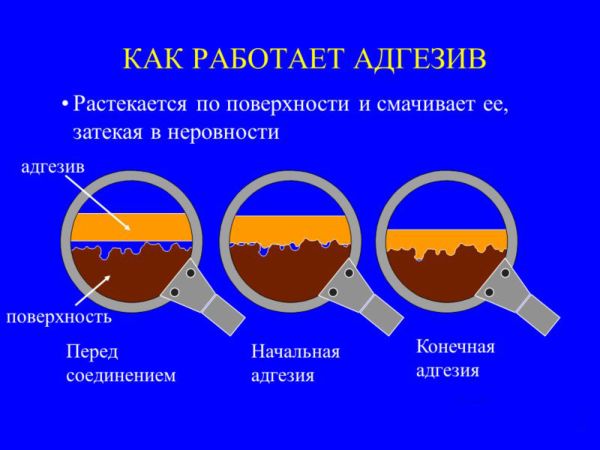 Adhesion due to intermolecular interactions of various substances
Adhesives for porcelain tiles must withstand a heavy load, as this type of tile is a fairly heavy stuff. This is determined by its single structure without pores and, accordingly, the highest density. In the production process starting mass obtained during the preparation, it is subjected to molding at very high pressure. Frost-resistant formulation provides effective use of adhesive under extreme conditions on the street.
Formulations of adhesive joints for ceramics
Adhesives for granite are made by adding the synthetic additive to the basis of cement and sand. These mixtures provide a better grip in the desired defined position, in different climatic conditions.
Technical characteristics of the adhesive:
Temperature of work: + 5 ... + 30 degrees Celsius;
frost-resistant composition has a range of application: -50 ... +50 degrees Celsius;
the time until the pedestrian walking - 24 hours;
the lifetime of the solution - 180 minutes;
Open time - 10 minutes.
Which adhesive to choose depends on whether it will be used on the street, mounted on a wall or used for laying on the floor. Technical characteristics of the mixtures are determined modifiers polymeric origin. In commercial networks adhesives for porcelain are mostly in the form of dry mixes.
Ready tiled solution obtained by mixing and dissolving adhesive powder in water. The choice of the correct composition of the adhesive mix for interior and exterior use, and to ensure the continued safe operation of ceramic granite.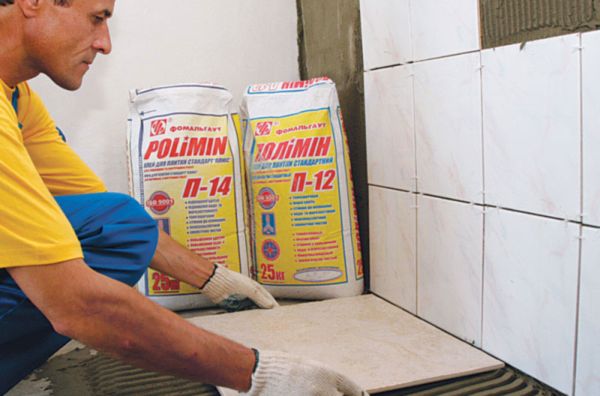 Adhesive porcelain must provide reliable grip
The properties and quality of adhesive mixtures
The properties of the adhesive for ceramic granite are determined:
Mechanical strength.
Resistance to moisture, frost.
Tiling large size and a large area of ​​strength adhesive base is particularly important because it is a significant mechanical pressure on the part of the ceramic coating. Best Mode adhesive laying defined specific conditions can be selected, based on data specified on the packaging of such mixtures.
Due to the versatility of ceramic granite covering it is widely used on the street in different climatic conditions. Frost-resistant, water-resistant adhesive is most suitable such cladding. For outdoor and indoor works it is important to take into account certain properties of the final solution and the base view which made tile installation.
Types of adhesive for ceramic tiles
Selection of a suitable adhesive mixture should be based on various factors. In the commercial networks can be found adhesive mixtures for different operating conditions:
outdoor works;
indoor operations when installing underfloor heating;
cold-resistant and moisture-resistant glue is fast curing;
universal adhesive with high elasticity. This option is suitable for laying on the wall and on the floor.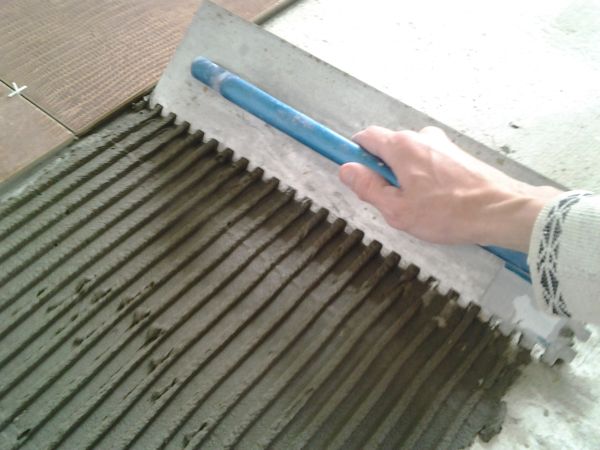 Choosing adhesives for ceramic tiles it is necessary to understand what is the size of a tile, you will be glued
The criteria for a reasonable acquisition glue for tiles
For laying porcelain tiles used several varieties of all kinds of adhesive, which is produced by different firms. Which one to choose and which one is better - it is difficult to answer unequivocally, since the choice can be made according to different criteria.
Appointment. Adhesive Ceresit CM 11. This type of mixture is intended for laying tile in humid, it has a high adhesion to various substrates and tile. Such an adhesive layer can be up to 10 mm thickness. This tile adhesive suitable for exterior and interior conditions. To lay the slabs of large size is recommended to use a mixture of popular Hercules brand. Yunis Granite for bonding heavy plate when the interior and exterior and the composition is a frost. Technical parameters Glue LITOKOL X11 make it suitable for laying tiles in swimming pools. In general, when choosing the necessary glue mixture is useful to consider the opinions of experienced tilers who constantly work in the specialty.
Frost. Frost adhesive composition is determined by the amount of frost, and defrosts cycles. In this regard, all kinds of adhesive mixtures exceeds LITOKOL X11 (50 cycles). UNIS Adhesives Plus, Henkel Ceresit CM11, LITOKOL X11 BERGAUF Ceramic Pro; - withstand up to 35 cycles.
The surface coating base. Knauf mixture FLIZENKLEBER LITOKOL X11 and recommended for use on smooth surfaces for bathrooms and swimming pools. Other adhesives suitable for more complex surfaces.
Tile adhesives - Eunice Plus, Knauf Flizenklebkr, LIitokol X11 and Ceresit CM 11
Popular brands and trademarks tile blends
In today's market for porcelain tile adhesives includes: a) a single component, and b) a two-component version.
The finished solution as a paste. Work with such pastes is easy and convenient, as long they do not dry out, keep elasticity and well applied to any surface: wall and floor.
Two-component adhesive for tiles - dry mixture, which must be dissolved in water before use. It consists of various components that enhance the beneficial properties of the adhesive.
How compositions give preference?
The most popular products from manufacturers such as: Ceresit, Index, Mapei. You can also select brands Knauf, basis, Eunice, Litokol. Most builders with experience choose Ceresit brand, because this company offers a wide range of choice that solves all problems.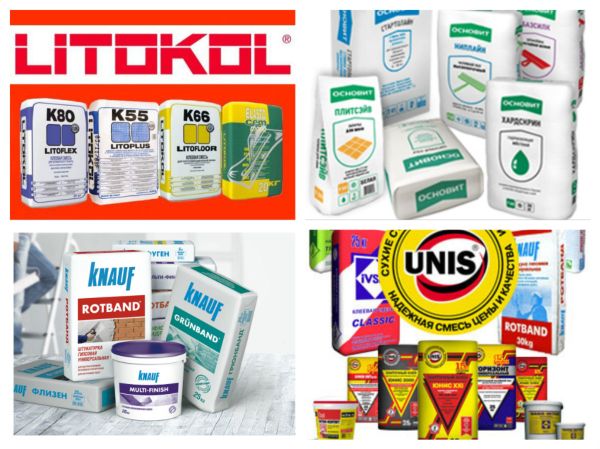 Correctly chosen glue - a guarantee of durability of the coating
Popular types of the brand:
SM 11 - for interior and exterior use;
SM 12 - is designed to work indoors;
SM 14 - cold-resistant and water-resistant variant. These mixtures are quickly "seize".
SM 17 - universal glue that fits all types of grounds.
The brand itself has proven its reliability, practicality and efficiency, as adhesives for ceramic granite eventually improved their quality. Modern technologies allow to solve any problems, based on the experience of more than a hundred years. It is better to choose tile adhesive known manufacturers.
Copying of material is permitted only on condition that the active and indexed links to our website.
Best tile adhesive on customer reviews
Typically, a 25-pound pack of tile adhesive is quite inexpensive. If you make a mistake with the choice, the more frustration should not happen - much such a purchase on your budget will not be affected. But if you kleite tiles on a regular basis? What then? Indeed, in this case you should stock up on large adhesive Party. If you suddenly find that he has poor traction, it will be a real financial disaster. And time for plywood tiles will take a lot. Not to mention the fact that the delivery of heavy dry mixture - this is not the easiest thing. That is why it is better to buy a perfect product, even if it will cost a bit more expensive. Let us find out what is the best tile adhesive.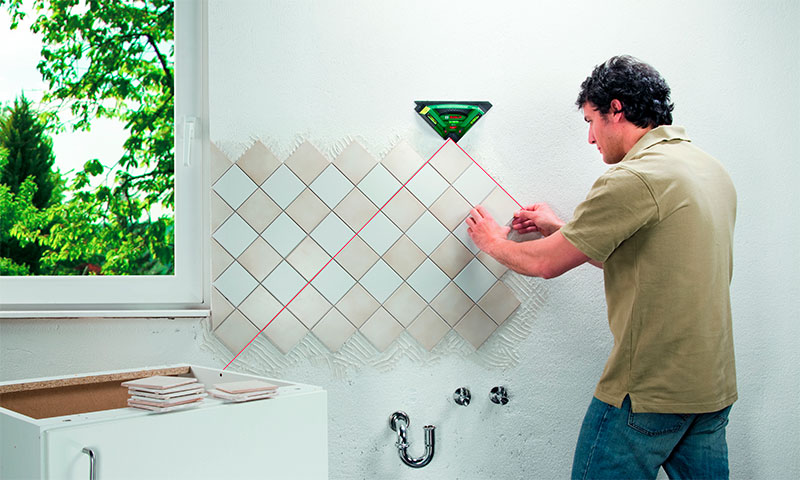 Tile adhesive which company to choose
Now a good tile adhesive learned to do in many countries around the world. In particular, there are good instances of domestic producers. If you want to count the total number of companies that manufacture tile glue, then do it can not. The fact that some of them supply products only to the nearest city. Few companies operate throughout the country. And abroad tile adhesive supply only the elect, whose production has already won many awards and positive reviews.
In Russia, the most popular tile adhesive under the following brands:
But in stores you can easily find the products and some other companies. And it does not necessarily it will be of poor quality - the competition is very high in this market.
Eunice 2000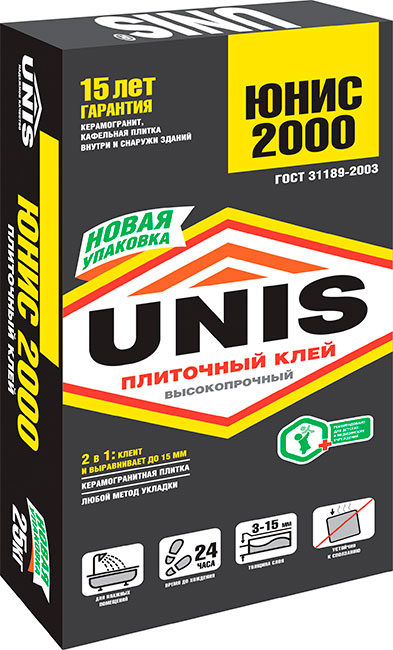 The manufacturer of the tile adhesive so confident in their product that it even provides a 15 year warranty! In recent years, this is indicated on the box of glue, right near the manufacturer's logo. This product is intended for gluing mosaic and tile and granite and natural stone. The works can be carried out not only indoors, but also outside. Dried adhesive can easily tolerate even severe frosts. Consumption of from 3.75 to 5 kg per 1 square meter, depending on the severity of the tiles and climatic conditions.
Viable solution for three hours;
Suitable for absolutely any tile;
Is not afraid of no water, no freezing temperatures;
Bond strength reaches 1 Mpa;
It is possible to equalize fluctuations of up to 15 mm;
Fast drying.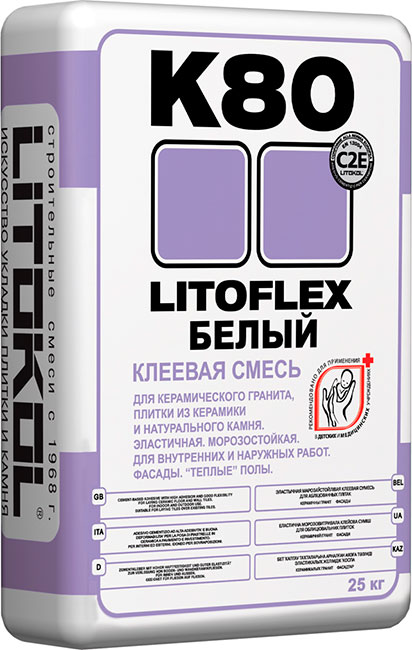 First of all, this adhesive mixture was designed to work with granite. But it regularly buy and for gluing wall tiles. The product is considered to be a professional, as it has high adhesion. Affect the adhesive can neither high nor low temperatures. This allows us to recommend the adhesive mixture of everything for underfloor heating, it is possible to use it and when laying tiles on the tiles. Buyers note the high elasticity of the product, whereby the solution can be applied in a thin layer, achieving a low flow rate.
The minimum adhesive consumption;
Not afraid of high or too low temperatures;
Successfully holds even heavy ceramic granite;
Available packages of different sizes.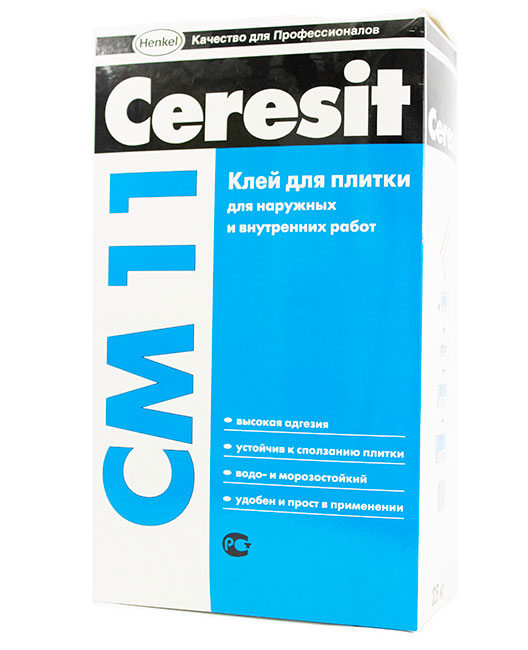 Packaging with the tile adhesive is not striking beauty. But a product manufactured by Henkel, has excellent traction. That is why they are not just ordinary people who have decided to make repairs in the apartment, but also professionals engaged in finishing work for many years. The creators have tried to make a universal glue. In this regard, it can not withstand very heavy tiles - it must be considered. But if the tile weight does not exceed the threshold value, then it will stay forever, because the adhesion of the product is equal to 1.0 MPa. In this case, the tiles can be glued on even the smoothest surface.
Optimal price tag;
fairly quickly grasped;
The high level of adhesion;
It can be used on uneven ground;
Ideal for interior decoration.
Not the best option for heavy granite;
For outdoor decorating is not suitable in the best way.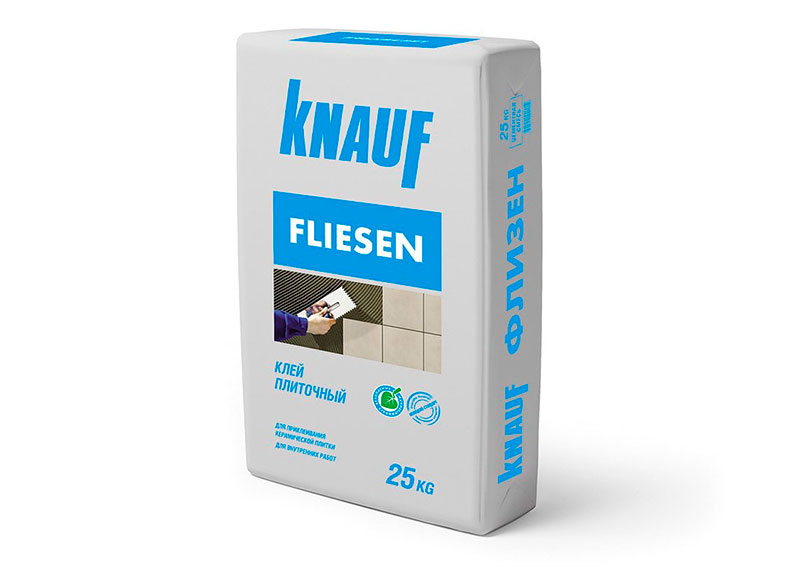 If you read the reviews of people engaged in finishing work on a professional basis, the impression that KNAUF Fliesen is the ideal glue. The dry mixture from the German manufacturer is easily induced, with the quality of work is very difficult to find fault. This adhesive is equally good job of laying tile on the floor and on the walls. Also great is not important is how smooth a surface.
Glue dries slowly. But this is it even a plus, as you can manage to clean the joints, wipe them and trim the tiles, if necessary. Creators recommend to apply them to a product layer of 0.7 mm. Even a small amount of mass will securely hold the tile, how heavy she was not. It turns out that 25-kg package is enough for facing a very large room!
Consumption of adhesive can be called the minimum;
It is possible to carry out the work "under the brush";
Slow drying allows to clean and wipe the seams;
Relatively low cost;
Ideal cope with the floor and wall tiles;
Not afraid of severe temperature changes.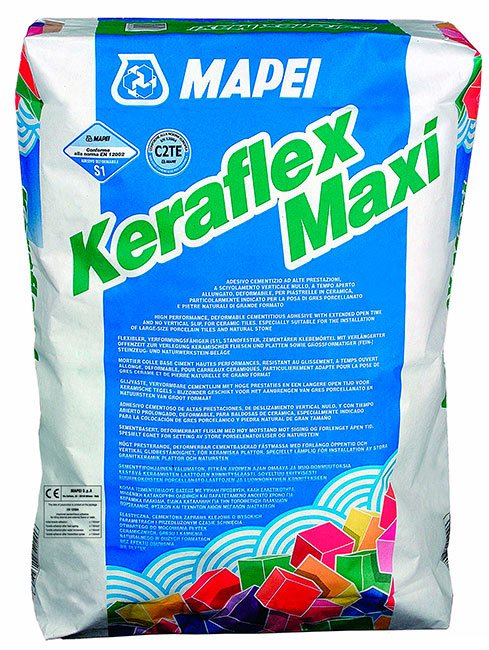 If you are going to produce large-format tile cladding, you need something special. Regular glue will not sustain such a large gravity. But this tile can keep Keraflex Maxi of the company MAPEI. This glue is expensive, but it is flexible and easy to use, and it can hold absolutely any building materials. Slide in the process of laying almost completely excluded. How to say the creators, their creation does not have any restrictions in the areas of application.
Ideal holds a very large tiles on vertical surfaces;
Easy dilution;
Clay is plastic, making it easy to use;
Not require prior alignment of the walls.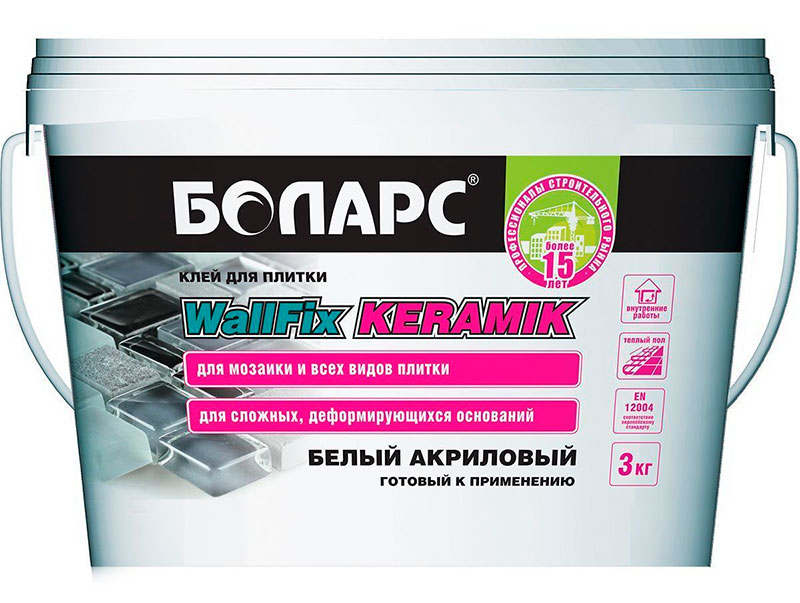 This glue is different from many of its competitors in that it comes in a plastic bucket. Its volume can be quite different - you can pick up a quantity of adhesive, which is necessary for facing a particular room. The product is acrylic, it is suitable for use with any tile and mosaics, whose water absorption is higher than 3%. The surface can also be of virtually any - the creators mentioned cement plaster, concrete, screed, plasterboard and gypsum plaster. Clay is not afraid of a strong temperature changes, so it can be used for the installation of "warm floor" system. But operating temperature should not go into the minus, so the product is intended for interior use only.
It holds almost any tile;
Convenient packaging;
Easy application;
Environmentally friendly;
adjusting the time reaches a half-hour.
Can not withstand freezing temperatures;
A very high price tag;
Increased consumption;
Complete drying only after a week.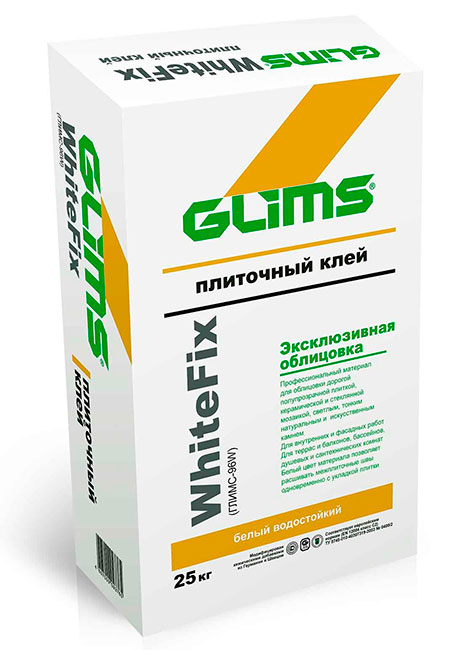 If you are a rich finish the room, then it is possible that you will use natural stone. For gluing it is impossible to apply the ordinary tile adhesive, as its coupling properties are simply not enough. Instead, it will have to buy more expensive glue Glims WhiteFix. He is primarily designed specifically for working with natural stone. This product is supplied in the usual paper packaging, which intervenes 25 kg of dry mix.
The product is produced in Russia. If the solution is an ordinary tile adhesive is in working condition for 2-3 hours, then Glims WhiteFix can interact to four hours. And this is important, because work with a thin stone can be time consuming. Also, this adhesive can be used for the installation of ceramic and glass mosaic tiles translucent luxury and some other materials. Apply the product is allowed to not only indoors, but also outside. This opens up possibilities for finishing pools, balconies, terraces and other facilities. As you can guess, the glue is not afraid of water, so it can be used for tiling a shower room.
It holds even natural and artificial stone;
Not afraid of frost, no water;
The optimum time correction;
The drying time does not exceed 24 hours;
Consumption can not be called great.
Many people seem too expensive.
1. If you are willing to work at a high rate, then you should think about buying Eunice 2000. In fact, this is the perfect tile adhesive. He dries quickly, then hold down even the hardest tiles. But it is also a disadvantage - if you wait, it is nothing to do with seams fail.
2. For the facade is ideal glue mixture Litoflex K80. When using it you will be sure that the granite or tile does not fall off even in the event that will happen terrible frost in your area. The lack of fear of the strong change in temperature makes this a good choice more weight and for laying underfloor.
3. Cesesit CM-11 is necessary to purchase two conditions. Firstly, you are going to glue the tiles for the first time. Secondly, the case will take place indoors, not outdoors. Also, this adhesive will cope with the task in the event that the surface is not very smooth.
4. If you have the opportunity to purchase KNAUF Fliesen, be sure to use it. This tile adhesive is not any serious flaws. It has a low consumption, the dried mass is not afraid of high or low temperatures, and the work can be carried out even in the room with uneven walls. It is surprising that with the adhesive packaging is not worth any money space!
5. It is best to hold very heavy tiles Keraflex Maxi. This dry mixture was diluted easily, after which it can be applied even to an uneven surface. The only drawback is its cost - 25 kg cost four times more expensive than the same amount of adhesive, having less traction.
6. If you need acrylic tile adhesive, you can purchase Bolars WallFix Keramik. As expected, this product comes in a plastic bucket. It has high adhesion, but the adhesive properties are significantly reduced at temperatures below zero. Therefore, this product is not intended for outdoor use.
7. In the case of works with natural or artificial stone will have to buy Glims WhiteFix. This adhesive is more expensive than most other options, but it provides a perfect grip. Dry the solution and is able to withstand freezing temperatures, and all kinds of splashing and other troubles.