Simple and beautiful. Mats Crochet for Beginners
Good afternoon! And again on the floor mats.
Assign a rug hook for beginners needlewomen possible and regimens of Japanese masters, which differ special beauty, and it is very simple in design.
There are, of course, more complicated variants of knitted rugs, although they seem to be such only at first glance.
Today we will deal with you, how to knit crochet mats for beginners, the most simple: round, oval, square, rectangular, and even multi-faceted.
How to tie a rug hook for beginners
Before you knit a rug hook for beginners to choose the yarn.
The most important beauty secret of Japanese mats, it seems to me, lies in the choice of colors.
For this combination of different yarns can be set, it all depends on your taste and creative imagination. I really like the products made in one color with a smooth transition from light to dark shades.
Good classic contrasting colors, but also beautiful bright rug can tie of the seven colors of the rainbow.
In addition to choosing the color of course you need to decide the texture and yarn, from which we knit mat.
Knitting small rugs suit thick semi-woolen yarn, acrylic, cotton, and large floor mats for the bathroom and for other purposes is well connected by rope, cord, old knitted T-shirts, plastic bags and other similar materials.
Hook choose accordingly the biggest that fits the yarn thickness.
Simple knitted mats performed crocheting sc without columns and columns with sc.
Knitting is often used only for the rear or front wall of the loop, so it turns a beautiful effect hem.
How to tie a rectangular rug hook
Rectangular mat can be linked as follows:
1st row: sc columns with a chain length required for a rug; rotate the product wrong side;
2nd row: columns, without sc under the front wall of the loop; turn the product;
3rd row: slolbiki without sc into both hinge wall;
4th row: as a 2 nd;
5th row: columns with sc at the rear wall of the loop.
And then repeat the pattern from the 2nd to 5th rows.
How to tie a round rug hook
Round rug will also look good from a series of columns at the rear wall of the loop.
Scheme for knitting circle attached.
The principle of knitting circle, I think, is known to all.
In the second row knit on two columns of each loop of the previous row. In the third row increments do in every second column (i.e. through the loop), the fourth - in every third column, the fifth - in every four, and so on.
And, you can see detailed video tutorials from Olga Papsuevoy how to tie a round rug hook.
How to link the oval rug hook
Oval rug hook tie is also not difficult. Selection of the beautiful colors of the yarn - is half the battle! And you do not need to invent anything difficult.
Let's look at knitting scheme oval rug hook.
First, we collect a chain of air loops desired length to us. The length of the chain is determined as follows: the length of the next mat minusuem its width.
For example, if pad 80 cm in length and width -50, then 80-50 = 30 - approximately the length (and even slightly less, as when knitting this size increase) need to dial string.
A description along the columns knit chain length sc (sc or without), at the end of the chain knit several columns from one loop to form a semicircle and continuing to fasten the chain to the other.
And knit oval rug in a circle.

How to tie a square mat hook
Square mats can be connected and on the principle of reverse rectangular rows. But more interesting look square mats, knitted from the center of the circle. They can be executed
columns, without sc under the front wall of the loop or columns with sc - how do you like the most.
For square in each row needs to be done to gain the four corners as follows: two bars, two air loops, two columns.
In every row in the corners of the hook should be administered under air loop.
In the same way and can be associated pentagon and hexagon: Divide the loops on the right and an equal number of knitting, making allowances in the corners.
I am offering for example schema octagonal mat, bound by the principle of "grandmother's square".
Assign a rug hook for beginners very easy, is not it?
If you have any questions, please contact. We are pleased to help any way I can.
Want to learn about new and original ideas crocheted rugs? And about Japanese napkins and plaids? Then you are here.
And here's another interesting mats:
And in this video, I have collected photos of almost all the rugs, the stories of which are on the blog.
27 Comments to the post "Simple and beautiful. crochet mats for beginners "
Olga, as always, everything is beautiful and raznoobrasno! Thank you for the detailed scheme !!
And you, Kristinochka, thanks for the first comments to my articles!
Cool, perhaps, knit rope. Interestingly, a number of the hook the biggest?
I met the hook with the number 10. Are there any more, I do not even know.
A thin rope of I've spun the pots in macrame technique. The product obtained dense durable. Mat rope should get more relief pattern, dumayu.Ya met on the internet woven mats of rope, very beautiful.
cute mats are receiving many different types can be connected.
At the sight of such knitted rugs immediately think of his grandmother the good word - with the arrival of its old bed sheets in the house disappeared, and there were new woven mats on color and size.
My grandmother was also a wonderful needlewoman. From rags she was weaving beautiful rugs on this loom. Incidentally, rag rugs out of old things handmade became popular.
Olga, what fun rugs. You simply mistress, and when all the time?
No, of course I do not have time, Tatiana! These mats - Japanese magazines. From my recent works - pillows "Exotic Flower". By the way, make friends recommend page My works. Here I think, whether to do it?
Olga certainly do! Many of your works will like and they will come to you for advice.
Thank you Tatiana! Put in their immediate plans, has accumulated a bit, there is something to show.
please attach a diagram for a square pad:
"Square mats, knitted from the center of the circle, you can do without nakida columns under the front wall of the loop. For knitting square from the center of each row needs to be done to gain the four corners: two bars, two air loops, two columns. In every row in the corners of the hook injected under air loop. "
Me without the scheme very difficult to understand. and knitting - confused constantly.
I will be very grateful to you!
Agatha, the scheme added. To increase it, click on it with the mouse.
Once I did not do that, because the scheme is a bit ugly.
Thanks, I'll try to understand. scheme a little bit fuzzy, if it does not bind up the first time))
Agatha, will succeed. Very easy - on each bar knit a column (with or without sc depending on what you choose), and only at the four corners - they will be seen as knitting - do gain (as described in the article).
Spasibo.Nostalgiya of cozy warm house as a child.
Interestingly, the old things from our childhood is now back in a new version.
Mats is very charming. It's time to remember how to use a hook and explore! My experience so far is minimal, but the result is attractive, so try and itching.
It seems to me, it is worth to take a hook in hand, and do not tear!
Olga, please tell me when knitting octagonal beauty))) for which the wall of the loop need provyazyvat?
Natasha, exactly as in the photo mat and scheme fit as grandma's square, ie hook bars knitting injected under air loop between the posts (for both walls).
But if you want, you can knit and some columns (instead of air - column), then it is possible to knit by introducing the hook just under one out of the loop of the walls (any, even the front, though the rear of your choice).
Olga, thank you very much for such a detailed and prompt response
You are welcome! Please, if that.
Good afternoon. Please indicate which thread to use. Name at least one example.
Hello Maria! From the cheapest suit Karachai yarn, because of this I was knitting a rug. But in principle you can use any fat in 100g skein - 100-130 meters, composition: wool + acrylic. This may be, for example, or Arctic Pehorka Nako.
Hello. The first time I decided to try to link the mat knitting yarn. Knitting scheme oval rug. But it turns out I did not even, like a cup. It seems everything I do on the circuit. Maybe he razlezhitsya or need to dress?
Good evening! I'm afraid that does not improve, it is better to tie up. Maybe you are very tightly knit? Try to relax on the scheme, all right, you should get very smoothly.
By clicking "to send", You consent to the processing of personal data in accordance with the terms of this privacy policy.
The scheme and description how to knit mat hook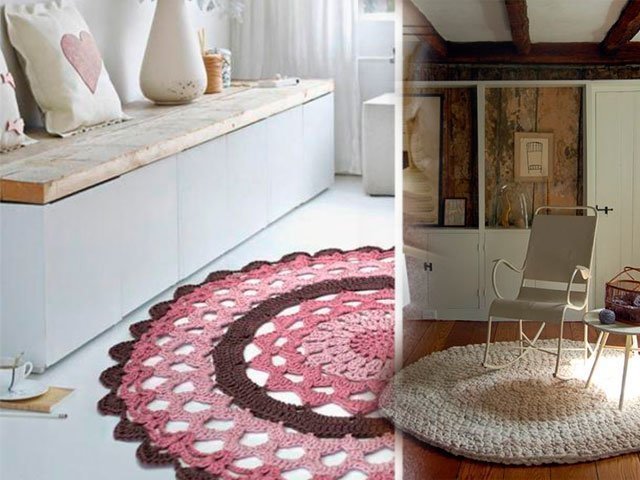 Crocheted rugs recently become very popular: square (as pictured below), a rectangular carpet, round, oval, with threads (yarn), twine or rags residues on a chair or on the floor in the bathroom. All options are good. Most importantly - a magnificent carpet can crochet itself, using diagrams and descriptions, step by step directions, or on the basis of a video tutorial on YouTube or MK (Master Class: How to tie a rug hook diagram and description).
In addition, you can decorate your home, create a cozy atmosphere in it - it is also a good way for any needlewoman to practice and develop their creative abilities. Everyone remembers his grandmother knits around the house, I would very much like to make these the most: on the bedside tables, a stool in the hallway, kitchen. Lace motives very airy and immediately attracted a lot of attention.
Knitted crochet rug: the scheme and description
As we have mentioned above, the carpet can be linked absolutely of any material, whether it is a model of the old things (T-shirt) of plastic bags (of cellophane and garbage) or from conventional yarn. Any option will look beautiful in your home on the floor or on a chair. Often, in addition to the mats for the interior decor of the room and create a beautiful rugs from scraps of fabric, cushion on the stool, multicolored cushions of knitted or crocheted squares, original cloths on furniture or under a vase of crocheted circles for comfort. Big excitement around products of knitting yarn - model obtained very "home" and unusual.
In order to get connected you beautiful carpet with his own hands - you can use any material, any binding (Semicircle viscous loin) and pattern (Star, cat, owl, tiger, sun, bug,). Execute it, you can also in many ways, then decorate as desired. Look at the photo - selection below and choose for yourself and your home.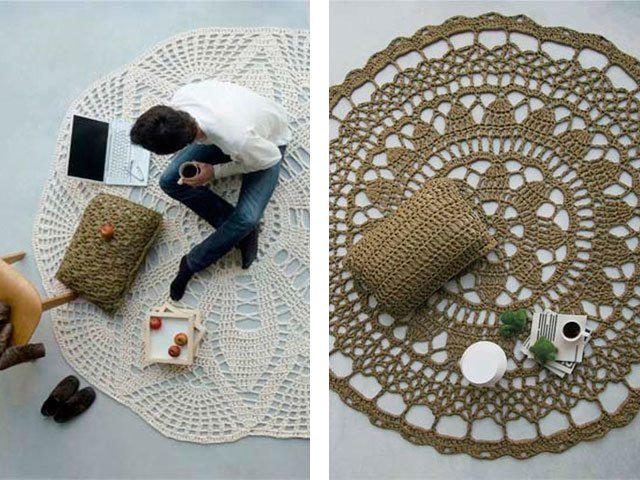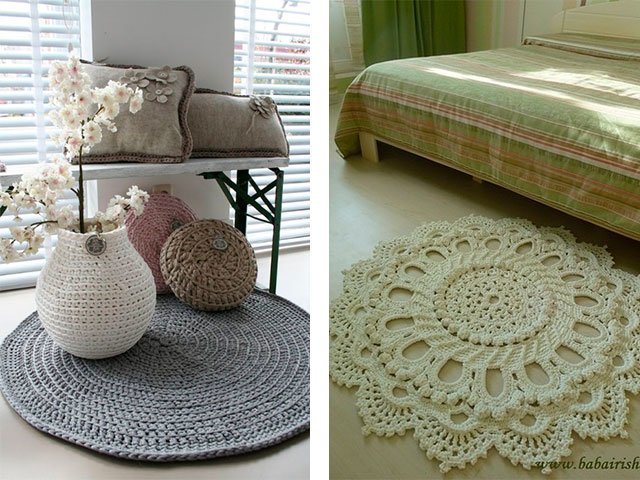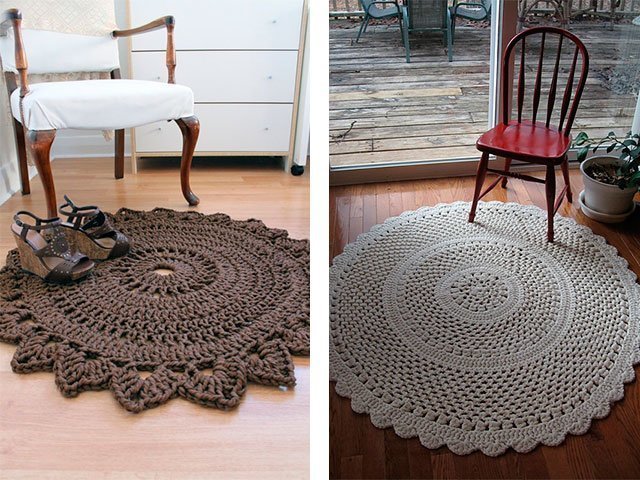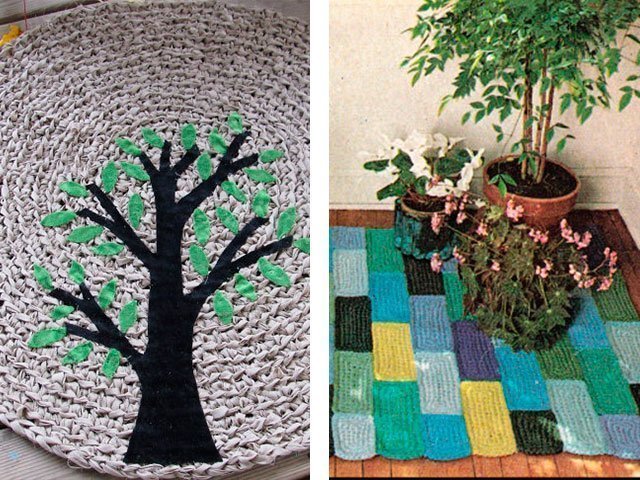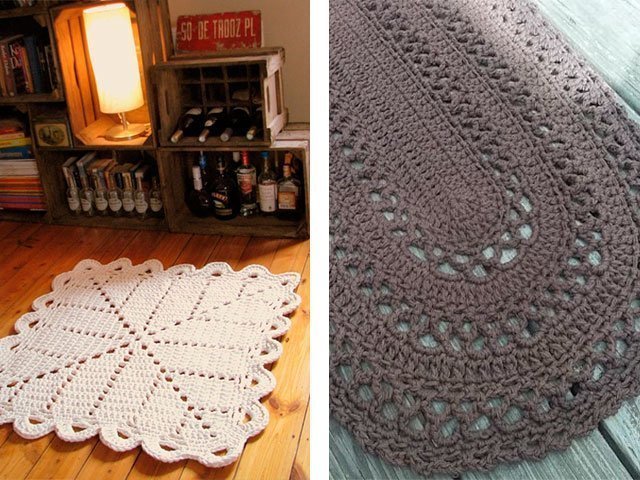 How to tie a hook rug yarn?
First you need to pick up the desired and right materials. If you knit the first time, you may need help from the experienced handy (such as a mother or grandmother). You can knit products, guided step by step instructions for beginners from a master - class, for example.
Everybody knows, that the most beautiful mats, crocheted - Japanese. Here the secret is choosing the right color of the future product. Whether the carpet is big or small - it should be beautifully bound and in harmony with the pieces of furniture in the room. Same, it is not necessary to use a light color - beige (Avoid dairy shades) he will quickly get dirty. And also - fine threads to make your creation last longer.
So now we will provide a detailed diagram and description of how to tie a hook rug with their hands steps. Openwork version of the "sun" - for it is better to choose yellow thread. Do not use acrylic and wool - only cotton! As well, you may need one №7 hook, and an amount of yarn, which would be enough for the whole carpet. We advise to knit yarn in two additions.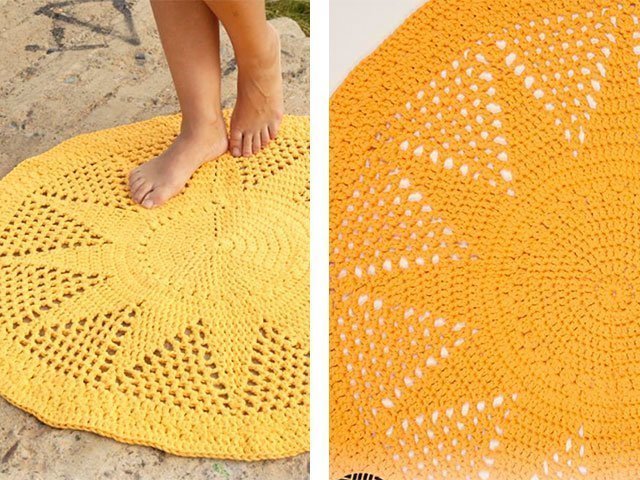 Dial 4 VP. (air loop) connect using SS (Connecting bars) in the ring.
Knit scheme A1 (Bottom of the first picture) 6 times.
Further, after completion of step 2 scheme A2 provyazat.
Further -repeat scheme A3. Close 264 ST (column).
Knit circle S.B.N.(Column without sc). The product is close - it's ready!
crochet rugs with diagrams and description
How to make mat hook - scheme is shown below. Knit pattern "popcorn" colored threads. Products of this form is very popular with young children: them convenient and comfortable to sit, play. A small child will be thrilled with the tactile sensations. Animals, too, are excited about the new "inhabitants" of the house - about it you can sharpen claws or sleep.
Take a few colors of thread, hook and follow the diagram below: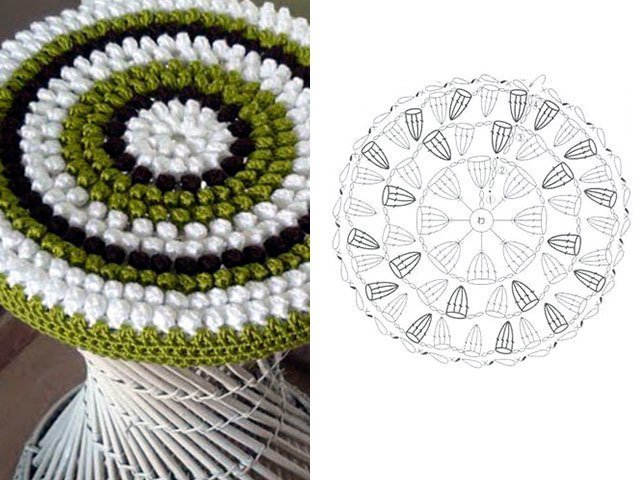 Make a beautiful oval masterpiece is simple. His simple loops knit scheme. This children's rug will fit well in any room.
We collect a chain of VP that length, which we want.
To choose the right it is necessary to take the width of the future carpet of its length.
If the width 40 cm, length 100 cm and 100 That -.. = 40 60 cm approximately the need to dial a chain. But do not forget that it will stretch knitting!
His knit circle / Spiral on the chart below, alternating columns. We hope that this step by step guide for beginners very helpful!
How to tie a round rug hook for beginners: video
There are many video lessons about the, how to learn to knit crochet free him. This can be done from a thick thread weave elongated loops sewn from several motifs, stripes make it hairy, double and three-dimensional. Such crafts can sell or give for a birthday or a housewarming.
How to tie a square and rectangular pads?
In order to get beautiful flat square - in each row make allowances in the 4 corners: 2 ST, VP .. 2 2 ST The following P. The hook is inserted under the VP This is a more rustic version, but suitable for the city, if you change the style of knitting.
The easiest option to crochet a square mat:
Likewise similarly rectangular knitted mat.
Knitted mats with their hands to the floor
look interesting collection with ideas for inspiration. There are carpets and modern style, consisting of roses and flowers, patchwork, rags, two or more colors - all of them are good in the interior.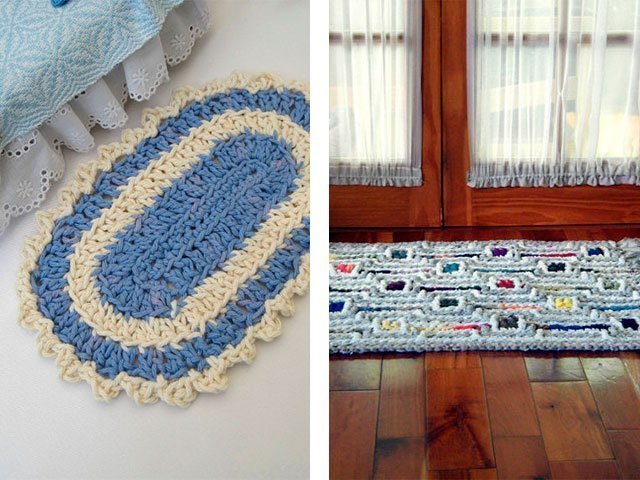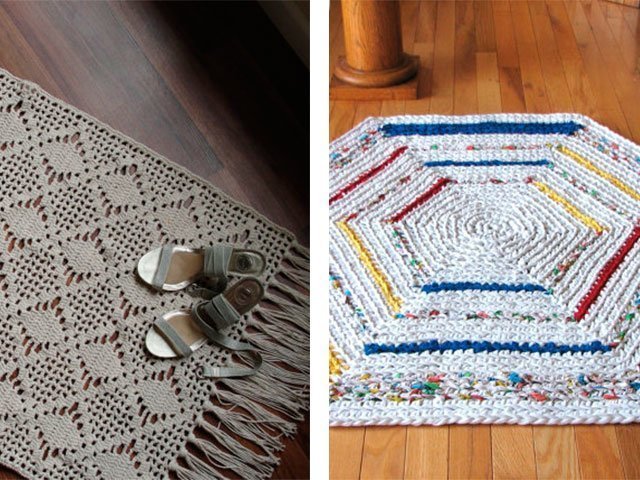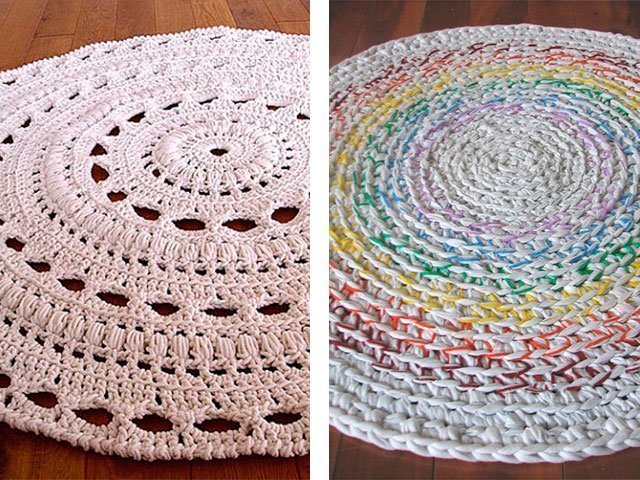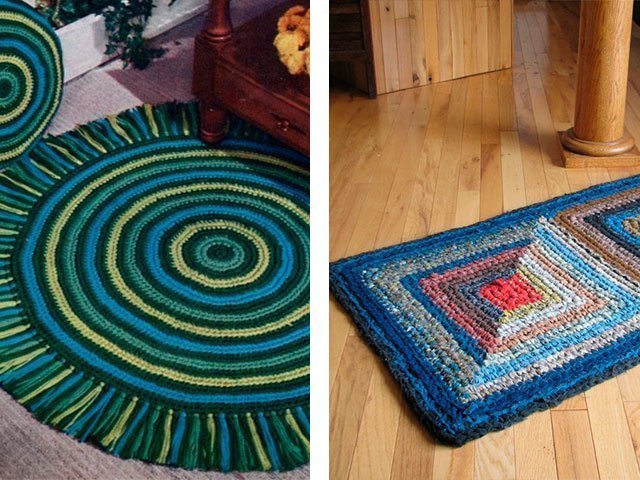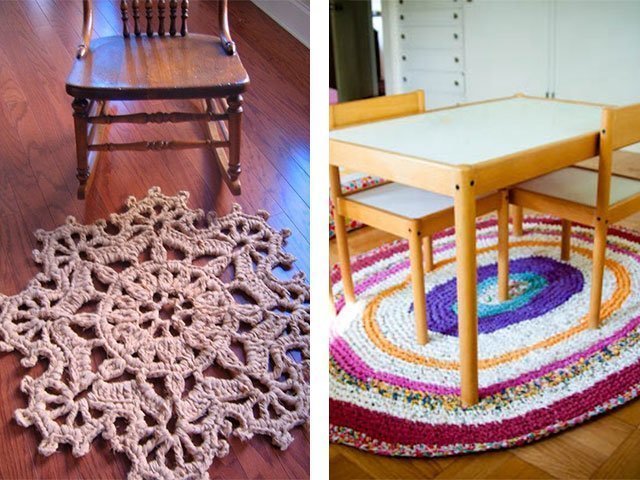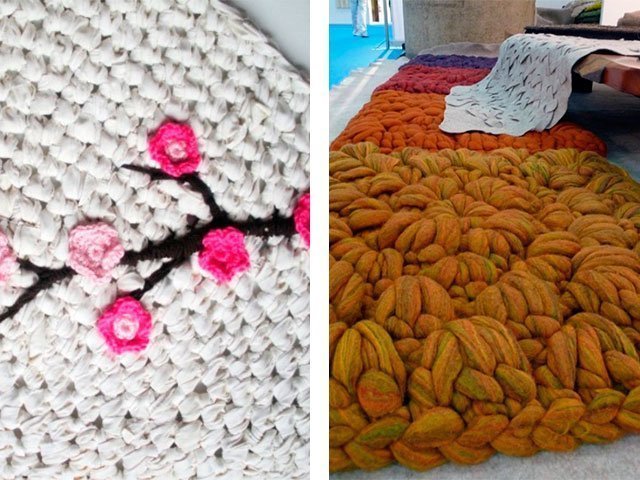 How to tie a rug hook of thread for beginners: video
Rug crocheted of old things: step by step guide
Very often we are left with a large number of knitted clothing, we We are going to throw. But, what if we tell you that it is not necessary to do? You can make out of it a beautiful knitting yarn and weave many design unique gizmos. Before proceeding to the weaving, let's learn how to create a yarn itself. To do this you need to cloth, T-shirt and so on. Of a material can be make a variety of patterns.
We will do below Video for BeginnersHow to crochet rugs from rags. In the meantime, for more experienced handy our master - class.
To start cut into an old t-shirts on string. It is better to do one continuous spiral that had less to tie knots. Then you have to take a big and thick hook and loop start typing. As if you typed them using a conventional thread. VP close in the chain and is sewn to the junction strength. knitting scheme is attached below. With its simple and can tie the yarn round rug.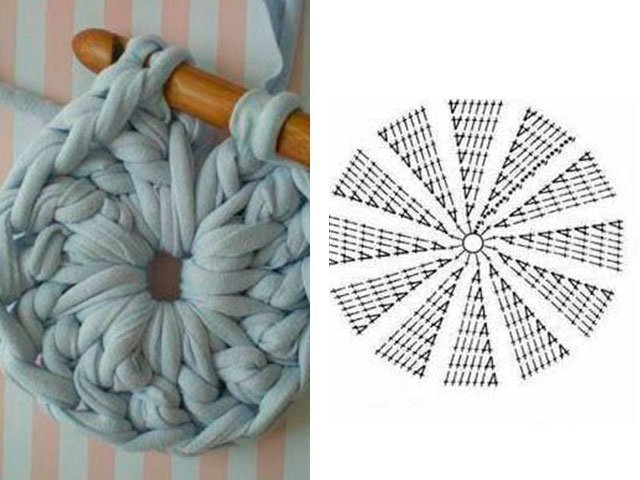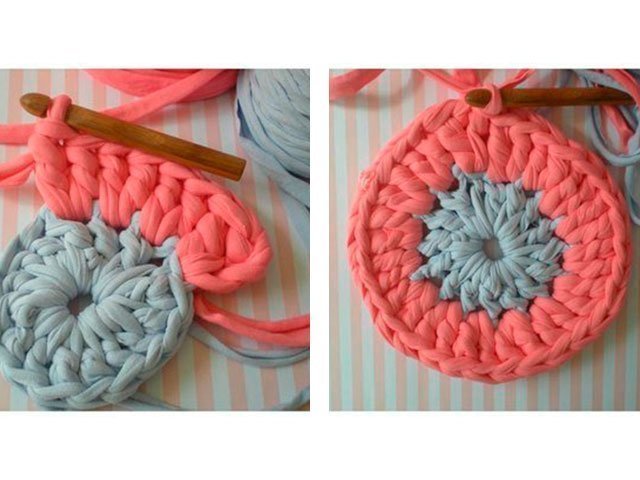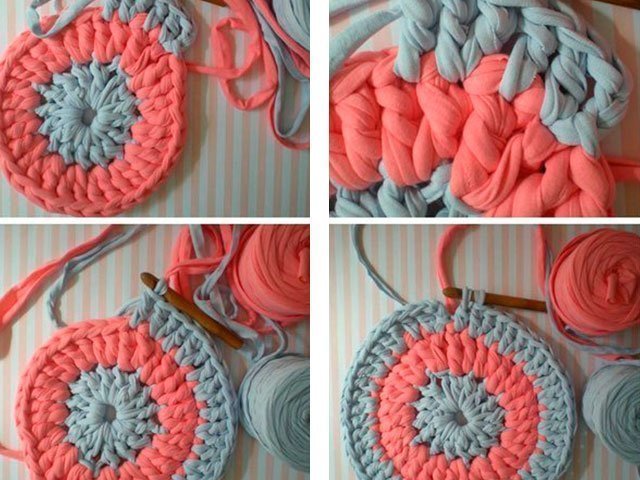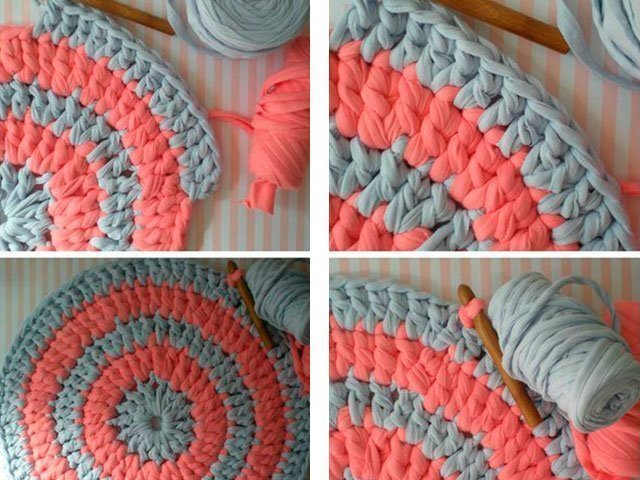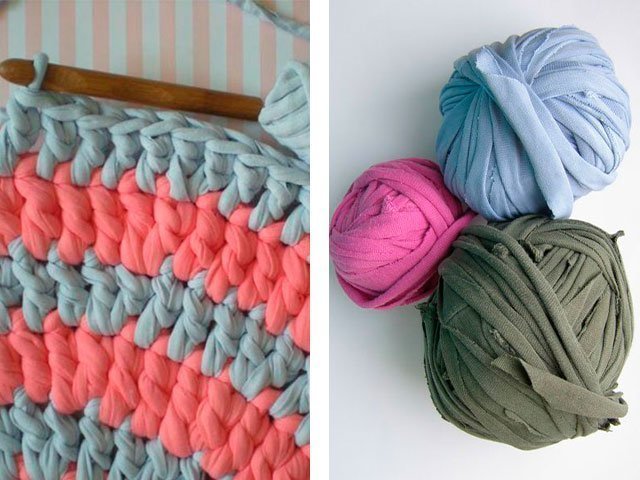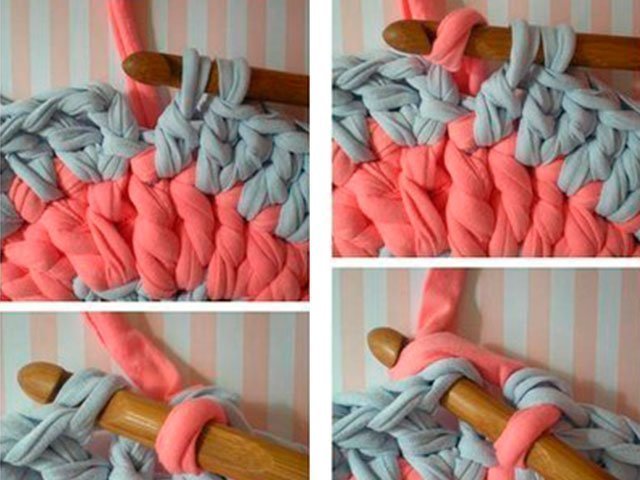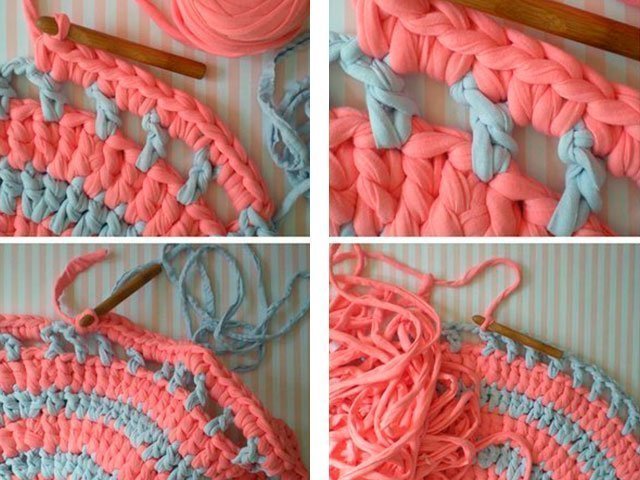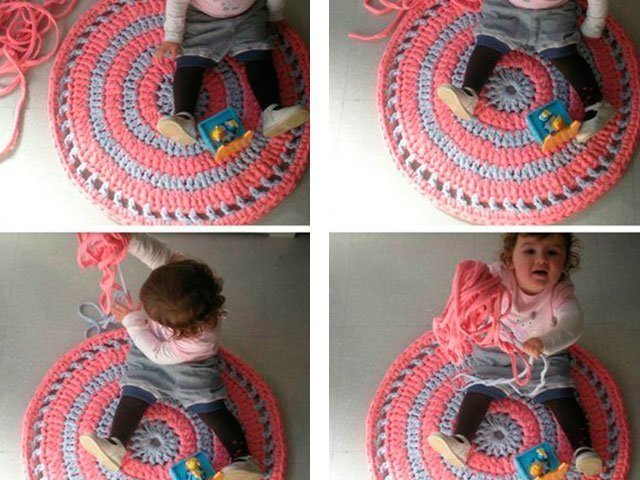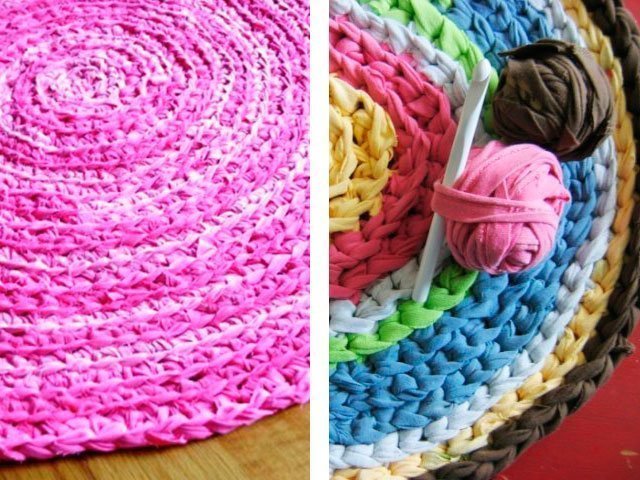 materials: knitting yarn lilac and purple flowers, hook number 15, scissors, needle and thread.
yarn segment, folded in half, tie 10 S.S.N. and closing the ring.
2 S.S.N. in each of the previous P. R.
From each according to P. 2 S.S.N.
S.S.N., VP 2, S.S.N. 1 through P. Such a pattern repeated until the end of R.
S.S.N. around the circle.
Lilac thread should be attached after the previous row. Now knit purple. Makes 1 P. hooked. S.S.N around the circle.
S.S.N., VP 2, VP 1 through S.S.N
1 ST in P. 2 ST hole in the bottom, then back to P.
Change the thread. The entire series S.S.N.
Repeat the above scheme with the holes in the series.
S.S.N. around the circle.
Change the color. Openwork holes around the circle.
S.S.N.
Lilac thread: ST - 1 R, mesh pattern - 1 SR, ST - 1 row.
At the end of pattern "teeth." From 1 P. 6 S.B.N. = Repeat every 6 P. Ready! The same embodiment can be made of a cord.
Of plastic bags with their hands
knitting rugs of garbage bags own hands it is very difficult. After all, it should also be to start making yarn. How it is done correctly?
Sliced ​​packages strips (Cm 3 for polyethylene, 1 - 1.5 cm for garbage bags), cut along the package, rather than across, connect.
they can be connect so: relate them to the node, or one is passed through the second ring and through its ring.
Yet such an option: the use of hoop / hula - hoop:
mats Crochet the description of operation of various materials and in various techniques
Every housewife wants her house radiated warmth and comfort to native people after a hard day like as soon as you can get at home. In many ways, "weather house" depends on the total interior of your home. It so happens that the furniture and bought an expensive and beautiful, and the windows hang curtains trendy chic, and the floor carpeted with a thick fluffy carpet, but the atmosphere of comfort and warmth in the house is not felt. Correct this situation by virtue of each hostess.
Everyone knows that things made with love and care by the hands, always radiate positive energy. Add in the interior of your home stuff, made by you, and you'll notice how in a positive way will change the aura of your home.
Mats, crocheting - these are the things that will fill your home with warmth and comfort. In addition, they fit harmoniously into the overall modern interior of an apartment or a country house.
variegated
squares
Mat on the floor, made of interconnected flowers
Masters-knitters learn to knit rugs for the house, not only from the yarn, but also because of such unusual materials such as rags, plastic bags of old clothes, cut into strips. And believe me, goods made from these materials look very original and interesting, and in everyday practical and durable.
Master classes are proposed in this article will tell you how to tie a hook rug made of different materials. Really something you definitely put himself in the "izbrannoe9raquo ;, and perhaps be inspired and immediately take up knitting these products for their homes.
Even the most inexperienced knitters will be able to easily cope with the manufacture of the mat due to the master class for beginners. Recommended to start with a square mat on the floor. In the photo you can see an example of such a product.
For knitting of such a model will need thick cotton yarn that knitters called "spagetti9raquo ;. yarn color choose to your taste.
Step by Step Master Class description
Dial a chain of ce the desired length.
1 row. All loops knit item. s / n. Knitting turn on the wrong side.
2 series. All loops knit item. b / n. under the front wall of the loop. Knitting turn over to the right side.
3 series. Knit Art. b / n. under both loop wall.
4 series. Knit the same as the 2nd.
5 series. Columns s / n. knit at the back wall of the loop.
6 row and all subsequent rows of knitting pattern, repeating from the 2nd to the 5th row.
An example of this function, see the video.
As a child, most of you in the room must have been the so-called "old wives mats". This multi-colored circular pads on the floor, connected strips of crocheted fabrics.
So did our grandmothers
In order to link "babushkin9raquo; mat flaps need a hook number 10, cutting tissue. Patches need to cut into strips and sew (or link) between them, in the rewind coil.
Knitting circle columns without sc. To do this, you need to know knitters developed the "rule of the circle": dial 3 ce and connect them in a ring. Further, the ring 3 of ce knit 6 st. b / n. Now divide the circle into 6 wedges and uniformly in each row is added 6 tablespoons. b / n. in a circular row. In other words, it should be obtained as follows: 1st row - 6 tablespoons. b / n, number 2 -. 12 Art. w / n, a series of 3 -. 24 v. b / n. etc.
Driving round rug crochet as follows:
Driving round rug
If you associate a product under this scheme, but only columns without nakida provyazyvat the rear wall of the loop, the pad will be more relief. The photo below shows how to knit item. b / n. the rear wall of the loop.
Column without sc
This accessory can be prostelit and on the floor, and cover them to a chair or armchair.
More work process, see the video tutorial.
That's the interesting thing is obtained if to knit it from the fabric strips, which are cut from old clothes. So you kill "two birds with one stone": get rid of unnecessary things and create a practical right thing for the house.
Knitted rug from rags
To make a rug out of rags, crochet, primarily zagotovte material for knitting. To do this, reassemble your wardrobe selected unnecessary things thrust at the seams and cut the spiral at 1.5-2 cm wide strips. Strips sew together and wound into coils. Hook for knitting of thick bands will need - № 10 or more.
Knitting start of 8 ce, which must be closed in the ring. Next knit item. b / n. for "circle rule" knitting technique which is described in the article above. Uniform addition need to circle turns flat or convex, as a cap. If in the course of knitting circle turns wavy, then you can correct this problem by subsequent stripping and ironed articles.
Everything is simple and clear. For a couple of the evening you can easily tie a warm home accessory.
Original and interesting look into the interior of housing here is a pentagonal knitted accessory. Job Description below.
Knit a mat in the form of sprockets possible from any desired material: yarn packages flaps.
Knitting starts from the center. You need to score 5 CP and lock them in the ring.
1 row. 3 CP lift, 2 tbsp. s / n. on 1st VP previous row, 2 ce * 3 tbsp. s / n., 2 ce Knit from * to * 5 times to form a pentagon.
2 series. 3 CP lift, 2 tbsp. s / n. on 1st VP the previous row, CP 2, 3 st.s / n., 1 ce and then continue knitting in the pattern shown in the photo below.
Pentagon fit in circular rows to the size you want, and then each "luchik9raquo; dovyazyvaetsya separately.
Scheme knitting Asterisks
If you connect this accessory is made of soft thick yarn, then it may well be used as a blanket or rug.
A great discovery of our housewives was the use of plastic bags for knitting household goods. Mats of the packages, crochet, are good because they can be easily washed and dried, they are pleasant to the touch. Bathroom, toilet and kitchen - this is simply irreplaceable thing. Plastic products are not afraid of water, it will be enough leeway and dry.
Option of packages
First we need to prepare, in fact, the packages themselves. For this purpose, any plastic bags are cut into 2-3 cm strips, sewn with thread or glued with warm iron over the cloth, and wound into a ball. Knitting perform hook number 4. On the above photo shows the carpet of colorful garbage bags. On one such instance it takes about 40 packets.
Two types of loops are normally used: air loop, columns with 1 sc. This pattern rug oval.
Dial the desired number of loops. In this sample, scored 12 ce 3 + ce recovery = 15 ce
1 row. Introduce the hook in the 4th loop of edge chains and link 5, Art. s / n. Further, in each century. p. knit 1 tbsp. s / n. 10 times. In the last ce chain knit 6 st. s / n. Knitting turn. Likewise knit the other side, forming an oval. Several close the connecting column.
The process of making accessory oval green
continue
2 row and all subsequent rows of knit scheme. Thus, the blade middle will remain straight and the edges are rounded and expanded, thanks to an increase in a semicircle. Thus obtained web is oval.
oval canvas
Scheme knitting oval mat of garbage bags:
Scheme oval carpet knitting
To decorate the products can be associated decorative elements: flowers, leaves, ribbons.
Decorated oval Handmade
The product obtained brilliant and bright. But the main advantage of this product in its cheapness and practicality. Examples of work looking at the video:
If you are very new to knitting, learn what a sirloin knitting - this is one of the most famous techniques!
Knitting sirloin grid mats on - is another innovation, invented by handy people. Such products look rich and lush. At first glance, it seems that to tie something very difficult in this technique. In fact, the work actually carried out easily and quickly. Even novice mistress will cope with this task, if you already know how to knit aerial loops and bars with sc.
example products
The yarns can take any desired and appropriate for the hook number. It begins the process of knitting with the implementation sirloin grid size you want. The photo shows a knitting diagram below.
Scheme knitting loin mesh
When the grid is connected, start knitting the outer part of the product. Recommended to start knitting fabric from the middle, then the pattern will be smooth and "volny9raquo; will go in one direction. Each side of the cage should tie art. s / n. There may be from 1 to 3 on each side. The thinner you string, the more columns you need to knit.
Thus, focusing on pattern-circuit binds all "kletochki9raquo; sirloin grid.
This is how should look wrong side of the work.
Wrong part
Driving ruffle trim basics:
Driving ruffle trim bases
Scheme knitting pattern:
Scheme knitting pattern
These products have an attractive appearance, and look very elegant and rich due to its structure.
Crocheted Japanese mats on the floor - it is a special technique of knitting. Products associated with this technique are unique and unrepeatable. Interlacing rings, bands, an interesting combination of colors to conquer at first sight. Look at the next photo. I agree that this is a masterpiece!
Japanese beauty
About knitting of the rings tell us the next master class with a description of the work steps.
The basis of the mat - the circle. For a start type of chain 6 ce somknite in its ring.
1 row. The ring 3 tie ce recovery, Article 7. c / 2n.
2 series. 5 of lush art. c / 2N., between 3 ce
3-4 series. 2 tablespoons. of 4 lush art. c / 2n., knit together under the ce the previous row.
5 series. Assign a chain of ce, attaching it to the previous row polustolbikami.
Rings. Dial chain of ce, connect a ring. chain length depends on the diameter of the ring you desired. Tie ring art. c / 2n.
The second ring is knitted as follows: dial a chain of ce, stretch it through the first ring and connect the first and last loop via polustolbika. Since two rings connected to each other. The second ring tie art. c / 2n.
Thus knitting and joining all the rings. The first and last ring to connect with each other.
Then sew the rings to the circular base mat. A possible immediately during the knitting of each ring, to attach it to the base.
The scheme of knitting Japanese mat:
Work with this technique - it is a very exciting experience. Here, the focus needs to be done on the correct selection of colors of yarn. And then the stylish and colorful things in the Japanese style will update and complement the interior of your room.
All of the above models presented rugs can serve as a veil for chairs or stools. But I want to show you another very nice model - a knitted mat on the chair that will appeal especially to your children. Look at the picture below. Beauty - do not look away, right?
Crocheted rugs on chairs
We need bright yarn (wool or wool mixture) and the remains of red, black and pink thread.
Basis-fit circle of light color yarn. The knitting circle using air loop and a column, without sc. Circle knit respectively "rule circle" is described in this article and above scheme. To receive a warm rug, it is recommended to link the two circles and sew them together. For children who are freezing strongly, between the circles can be inserted also syntepon layer.
Then, focusing on the scheme, which are presented at the next photo, perform the eyes, mouth and ears and sew them to the base and all - the product is ready.
Scheme for children
This crocheted cover for the stool will appeal to your child. He would be happy to sit on it and play, and maybe even sleep.
To associate a cover on a stool in another interesting technique, rather open the selected article.
Children's mat on the chair
A continuation of this idea, rugs, toys can be a coating on the chairs in the form of mordashek other animals. And bright, and beautiful, and fun!
All models of home mat presented in this collection are distinguished by simplicity of design (suitable for beginners), and attractive views. Do not be afraid that the self-made home mat does not fit into your modern interior. Walk with creativity and inspiration to the selection of models and colors of future products and the result will delight you. Experiment and succeed. Enjoy your pastime in the company of the hook and the coil!