Concrete rings sewer sizes and prices
Sale and delivery throughout the Moscow region.
Durable and reliable
Simple and easy
Dimensions of concrete rings for sewage
The volume of concrete rings for the septic tank is in direct proportion to the size of concrete products. RC rings have two basic characteristics, which sets the size of concrete rings for the septic tank:
For the construction of manholes are used different in terms of height, wherein the active parameter in different models may vary from 10 to 90 centimeters. The marking, indicating the size of concrete rings for sewage, the height specified in the second decimeters.
Concrete ring for sewerage, the price of which largely depends on the dimensions, performed with indicators inner diameter of 70 to 200 centimeters. This feature is also provided in the labeling - is placed on the first place (before the height), as indicated in decimetres.
The price of plastic rings for sewage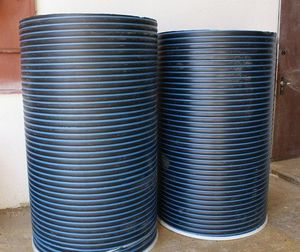 If you can not connect the sewer system to the backbone network, there is always the possibility of arrangement of the autonomous system. In this case it is possible to use plastic containers, which are equipped with septic tanks and sewage treatment systems. You can buy ready-made system or make their own.
Sewer plastic rings characterized by the following advantages:
Environmental friendliness. After all, they are made of HDPE sheet. This material is used for containers that hold drinking water supplies and food.
Tightness. This design has no conditions for the formation of sludge in the joints and its alluvium through them. How, for example, in concrete septic tanks.
It does not need to be cleaned.
To install no need for large equipment.
Rings dock on the site that allows you to build a deep septic tank.
Compared to other options, sewage from the plastic rings in a higher position:
wooden rings. The operational period destroyed blockhouse, the consequences - the collapse of the soil. Moreover, water rot, which leads to the cessation of use. In this case, necessary repairs using plastic. Independently of its best not to carry out, as this is dangerous.
Reinforced concrete. The main disadvantage of concrete construction is a lot of weight. Mass rings with a diameter of 100 cm and a standard thickness of 8 cm, equal to 600 kg. So do not do without a construction crane. It is also difficult to implement the sealing of well construction, as is necessary to remove all the gaps between the individual sections and seal the joints. Moreover, so as to supply the drain pipes need to make a hole in a thick concrete wall, and then conduct a thorough job of sealing. However, the rings of a material often moves. Therefore, the yield of such a situation would be the use of plastic rings. The design is inserted directly into a concrete septic tank.
Parched. Sometimes the well is dry. In this case, you can enhance it with concrete rings. The work is a time-consuming process, as you need to use a special technique. Moreover, the water volume will decrease. If we resort to a plastic ring, it works significantly diminish, it will become easier, and the volume of water will disappear only slightly.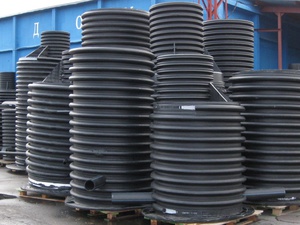 Today, construction companies offer consumers a wide range of different septic tanks made of modern polymers. This product has become a great alternative to traditional concrete septic tanks. Such models have been used not only for drainage device in the country, but also in a house with a permanent residence. To do this, you need to choose the right amount of the well, given the number of occupants.
The polymers used and their advantages
Modern materials used for the organization of the following sewage systems:
Polyethylene. Advantages are as follows:
Rings of this material is intended for use in difficult conditions.
They can withstand appreciable temperature changes from -50 to +70 degrees. Are resistant to aggressive media.
Modern production technology is to provide a model without joints, thus reduced to zero deposit formation.
Sewer rings have different shapes.
Thanks to the multilayer structure is achieved excellent toughness.
Septic material allows to operate over a large amount of time and over a wide range of climatic conditions.
Polypropylene also has a number of positive qualities:
The material has high hardness.
Resistant to abrasion.
Because the withstand 140 degrees, it can be used at high temperatures.
Not subject to corrosion and cracking.
Sewer rings of this material shown to be reliable in the purification of industrial waste water when exposed to aggressive environments.
fiberglass It consists of various kinds of resins and has the following advantages:
Due to the composition of the existing fiberglass to achieve high strength values.
Endures a variety of corrosive media.
Not subject to corrosion.
There is a separation chamber.
Plastic rings for sewage have sizes ranging from 30 to 100 cm average thickness is -. 10 mm. The most popular models in our country are samples with a diameter of 80 cm and 90 cm. Height - 1.5 meters.
Also, the size of the plastic rings for sewage vary according to their shape. Plastic --Material easily consumable, so there are many forms. Hence taken and sizes.
Price manhole or sewer Rings
Plastic rings for sewage and wells are as follows price range:
POLEX PLAST-PK970 - 100 cm in height, 2.5 cm thick with the bottom sold at a price of 11,700 rubles bottomless - 9500 rubles. The same model with the same height, but with a thickness of 3.9 cm from the bottom will cost 13,000 rubles, without a bottom price will be 10,500 rubles.
Plastic ring POLEX PLAST-PK1400 height 100 cm, thickness 2.5 cm from the bottom will be 19400 rubles bottomless - 17000 rubles. At the same height as the thickness of 3.9 cm, the model with the bottom will cost 21,500 rubles, without a bottom - 19,000 rubles.
Pit ring firm Rodlex a series of UN differ a pricing policy:
Model B500 size, a volume of 250 liters worth 4350 rubles.
The volume of 500 liters at a rate of B1000 will result in the price of 8650 rubles.
The size of the next V1500 products, the volume of 750 liters, the cost of 13,000 rubles.
№4 sample has a volume of 1000 liters, and B2000 size so its price is 17,300 rubles.
With the volume of 1250 liters and the amount of the plastic ring V2500 will cost 21,610 rubles.
For the price of 25930 rubles Kolodeznaya model sold in volume of 1,500 liters, the size of V3000.
Equipping a country house or cottage, great importance is attached to sewerage company. In this case, it is important to choose high quality and durable material. Such is plastic. In its production using different ingredients that you can extend sewer service, the design retains its lightness and strength. These qualities should be inherent in the material which is used for the production of high-quality plastic rings for drainage. Various forms of the product without the need to resort to special equipment for installation, allow to produce their own work.
Concrete rings for wells and sewage
Concrete rings for wells and sewage
Shipping cost on request by phone - +7 (904) 595-72-32
Products made of reinforced concrete - articles of iron and concrete. These two materials are perfectly combined, do not enter into chemical reactions and complement each other.
Recording Plan (rapid transition in the article):
Metal structures keep their shape, and the concrete can handle the heavy loads to which these products are designed. During the construction of bridges, residential buildings, factories, stadiums - are widely used products from concrete.
A great find application in the construction of reinforced concrete rings:
1 - tunnels for heat, electricity, telephone networks;
2 - Wastewater Treatment Plant;
3 - Communications system - drainage. water, sewage;
4 - wells in the private sector;
They are characterized by:
durability
high strength
waterproof
low cost
fast installation
multifunctionality
Environmentally friendly material
Reinforced concrete structures are placed and held under the motorway, rail and road bridge, to withstand high soil pressure. concrete rings main element of such structures. They are made in special forms. The metal fittings are lowered (0.6 - 10 mm) and filled with concrete (M - 200) with an improved characteristic. It differs frost is not afraid of moisture (water and sewer systems), high temperatures, as well as their difference. A mixture of cement, sand, gravel and water - is the foundation of concrete. For uniform distribution of the material is its compaction. For this form is in vibrate mode.
Concrete rings divided into three types by the method of the compound:
standard - even front edge;
a lock ring- a recess on one ring on the other side;
final assembly - non-standard, different sizes.
Dimensions rings characterized in height, width, diameter and weight:
thickness of from 8 to 10 cm
height from 3 to 120 cm
diameter of 70 to 250 cm
mass from 44 to 1470 kg.
rings for drainage marking COP - 15 - 9
Marking of KC - 15 - - ring diameter closer to the middle and outer number indicates the height. These rings form the shaft. Top caps are covered by overlapping PCC and PP apertured solid:
height 15 cm
diameter of from 58 to 200 cm
weight of 200 to 1300 kg
The wells are equipped with bottoms CDC:

In the private sector, where there is no water build wells. For this purpose, Concrete rings for wells. Allocate the most basic three sizes: COP - 10 - 9; KS - 15 - 9; KS - 20 - 9. The kit includes rings with lids and bases. During the construction of a well used method of standpipe. On the base ring is lowered to the bottom, and then build the shaft barrel, and the top ring is covered with a well with a lid. If the edges of the product with the locks, then put the notch in the rim, at the expense of good water resistance is maintained and there is no horizontal displacement of structures. If a flat edge, then the rings are fixed a metal bracket (50 - 80 cm width).

concrete wells perform many different functions and use. KO - supporting, CPK and KVG- working chambers in water and sewerage systems, CLA - for cameras in the system and stormwater drainage wells. There wells unified in their rings have holes for the passage of the cable. JBI serve man for many years and do not lose their relevance in today's world.

The cost of concrete rings for wells, sewage and septic tank

Bottom of Sewage from 1100 rubles

Pit bottoms PN-ring 12-1 on the meter, weight: 420 kg. Buy

the bottom of the PN-15-1 for sewerage

Bottoms sewer Mo-15-1 on sesquicarbonates ring, weight: 830 kg. Buy

excellent quality meter lock rings

Pay attention to the quality of the lock meter rings. Buy

Pit ring meter, CS-10-9 with lock

Rings for the well-KS 10-9 with a lock, Weight: 600 kg. Buy

1.5 lock ring

Excellent quality lock 1.5 meter ring. Buy

CS-15-9, rings for sewage and well

Rings for wells and sewage KS-15-9 with a lock, the weight of 1000 kg. Buy

Concrete cover for septic and well PPL-10-1, weight: 300 kg. Buy

IPT-10-1 plastic (polymeric hatch).

Luc plastic, monolith - a polymer, a diameter of 1 meter and a height of 15 centimeters. To close the well or septic tank. Buy

Concrete cover with a hatch for a septic tank and a well-IPT 15-1, weight: 730 kg. Buy

Buy the rings on our website excavation-work.ru two ways.

Call us at 8-904-595-72-32 or order online via the form below.

[Contact-form-7 id = »1122" title = »buy ring"]

Add a comment cancel reply

Our work (not a complete list)

We work across the Vladimir region: including