Combined ceilings and all their features
Want to know what constitutes the combined stretch ceilings? Our article will answer this question. You will learn about their varieties, production characteristics. You do not know how to successfully choose a combination of colors on a ceiling, then we'll help you. Besides information about the design of the combined ceiling joints, about caring for them, and mounting prices for such ceiling coverings will be useful.
Stretch ceilings in the modern world
Today everything can be heard more and more frequently from others that they have set themselves the combined ceilings. This is done in residential apartments, clubs, restaurants and even in offices. What is this newfangled trend?
Original design solution for a combination of suspended ceilings
In fact, in the stretch ceilings is nothing mysterious. This is a common PVC film, specially treated. This treatment gives it a beautiful color, elasticity, durability and eliminates unpleasant odors.
Why ceilings so quickly captured the public attention? People always tend to a better and reliable product. And today it is the ceilings - the best in many aspects covering for a ceiling. It is cheap, durable, beautiful and has a few significant advantages that elevate it above all other types of ceilings. These benefits will be discussed at the end of the article, not to lay all the cards on the table immediately.
What is the combined ceilings?
Conventional ceilings look very dignified. If they gloss (PVC) - then we have a very modern look, and if the mat (tissue) - Looks very chic and expensive. They are absolutely perfect for any room, whether it's a bedroom, kitchen or bathroom. But the designers have thought and have decided that simply monotonous ceiling - it's boring and uninteresting. And we decided to put it on the drawing. When the pattern on the stretch ceilings also became outlive itself, it was decided to resort to the next solution, and so were combined ceilings.
A rigorous design for a combination of suspended ceilings
And it was a real breakthrough in the ceiling design around the world. They seemed to have got a second wind, and the popularity of this material surged up again. Now ceilings were able to reach a healthy competition drywall and suspended ceilings.
Good selection of colors for the combined stretch ceilings
Inlaid ceilings are divided into two types according to the system of drawing up different fabrics:
Composite. The most striking example - a multi-level ceilings, when each of the individual layers used fabric of a different color or texture. In fact, their combination and can not be named, because here the course is the usual compilation;
Suture. There is already everything is much more interesting. Different fabrics are welded or stitched to each other directly in the workplace. Thus, in one final web will more other combined. It is worth noting that the joints in PVC stretch ceiling - is - the strongest place in the area of ​​the entire web.
Multilevel ceilings combined
Materials for combined tension ceilings
In the previous section we have already slightly touched upon the material, but let's delve a little bit into it. Combined ceilings are no different from the usual and produced, as well as usual, or a PVC film or fabric. It differs only way of bonding of hotel plots: PVC soldered on a special machine, and the fabric is sewn into the joints. It is worth noting that in places of fastening webs no seams are not visible. Just one color into another sharply so would like, on canvas simply coated in different colors.
Combining suspended ceilings fabric (breathable) and PVC-based
When ordering combined stretch ceiling is necessary to always keep in mind that different materials (PVC and fabric) can not be combined!
The choice of colors combined stretch ceilings
When you select a combination of callers do not have to try to show their originality and ordered compilation of red, black and green colors. It will look not just bad but terrible.
Combined ceilings in the shower
It is better to approach the matter responsibly and browse the Internet ready design works. If you find the right combination is not possible, then in this case would be an excellent tool palette color combinations. It identifies the combination that best fit the color range.
Monochrome range for combined tension ceilings
The joint combination of suspended ceilings
As it has been said before, and combined fabric and PVC ceilings. But the question is: what looks like a joint of two paintings? Whether it spoils the whole picture? Reassure our readers at once: do not spoil.
Two pieces of fabric suspended ceilings sewn together on a special machine, which makes a very fine stitches, which prevents sagging and puffs on the fabric. Also worth noting is that the seam is applied on the back side of the web, in order not to spoil their appearance perfectly smooth and flat surface of the ceiling. Under the influence of the tension suture is smoothed and becomes almost imperceptible (joint width - less than 1 mm), which gives the impression that two different color just meet in the middle of the ceiling.
PVC film combined with completely different technology: the two parts are welded to each other on a special machine. The machine consists of a two plates set on edge and heated to a predetermined temperature. In the place of a meeting is not possible to push the hair, so their exact layout. This is done in order to soldering on the seam does not appear weak points, which after years suddenly tear or disperse. After the plate will be heated to the desired temperature, stretch ceiling embedded film between them and they are compressed. The temperature and pressure in the literal sense of the word, these two material are mixed and they turn not into the joint, and in continuation of each other. When combined ceilings PVC mounted, the film is stretched and the seam formed almost perfectly flat surface, does not distinguishable from the rest of the blade except for the transition from one color to another. But you should always keep in mind that the residual effects are still being felt, and at the junction formed by a small pit with a hump on the edges, but its width is less than 1 mm, which makes it almost imperceptible.
Suture combination of suspended ceilings
Installation of suspended ceilings combined
Installation of these paintings is no different from the normal procedure. The price of the installation is also absolutely no effect, mounted conventional cloth or combined. If the builders are beginning to ask for more money than when setting conventional paintings, arguing that now they will have to tinker longer make additional efforts and use special tools, you can be sure that they are simply trying to "shake out" a lot of money.
Combined ceilings in the hall
Care of the combined tension ceilings
When cleaning this kind of stretch ceilings, too, do not need to resort to any special measures. PVC film, you can just wipe with a damp cloth, without fear that water will penetrate into the spikes in place. This blade portion is sealed in the same way as everything else the web. Fabric combined ceilings just do not require any special measures when caring for them.
Welded composite ceilings PVC
The price of the combination of suspended ceilings
Unfortunately, the composition of the various fabrics not free. The average price for this kind of work for today is:
PVC: from 400 to 800 rubles per meter;
For fabric canvases: price ranges 500-1000 rubles per meter.
At prices more
Combined curved ceilings
Prices are given in ranges as in different regions of the country and different artists, they can vary quite significantly.
Combined ceiling: an overview of types, especially assembly and reviews
Finishing the ceiling plays an important role in the overall interior. Use of whitewash or wallpaper now looks quite corny. And even the ceiling tile from polystyrene is no longer looks original. However, designers always have fresh ideas. One of these is the combined ceiling. Plasterboard and tension - the most common combination, but not the only one. Having a good sense of taste and creative thinking, you can harmoniously combine many building materials. For example, glass, mirror, mosaic, plastic and others.
In most rooms the ceiling acts as a concrete slab. Many people are faced with irregularities and drops on it. And in order to give the surface a beautiful view, you will need to carry out plastering and putty work. Those who are faced with them, know what to equalize in this way will take a few days (depending on the differences in elevation). It may also need to use additional materials, such as metal mesh for the strength.
But now it is possible to completely abandon labor-intensive processes. To this end, it has a plasterboard. Its advantages are obvious. Firstly, it is attached in different ways (directly on the plate or frame of the profile). Secondly, the original ceilings are combined in just one or two days. And thirdly, using the drywall can implement the most unusual ideas.
Nowadays, most people prefer multi-level ceilings. They are also made using drywall. Due to the special profile of the edge of such structures can be rectangular, oval, wavy, stepped. Suspended ceilings adorn the LED is combined with other materials. In all cases the best basis for acts drywall.
How to make insertion into the drywall?
Combined ceilings are a number of ways. The first - the easiest. Using aligned drywall surface. After its consolidation to cut a hole of desired shape. Formed a niche decorated with other finishing materials.
You can also use other means, constructing gypsum box. For it is the ceiling layout. Around the perimeter of the fixed profile. It is important to understand that the term "korob9raquo; refers to any shape. If combined with plasterboard web tension, their surfaces may be at different levels.
In order to create a beautiful combination ceilings, you can use different technologies. For example, professionals are beginning to decorate the surface of the central figure. After that complement its inlays of drywall. It is worth noting that, unlike the first method, this technology is quite complicated, because it is not recommended to experiment with it yourself.
combining method - a smooth transition
This method can be used in smaller rooms, where it is impossible to construct a bulky structure, as a smooth flow of one material to another. First constructed box of drywall planned figures near one of the walls. Then she continued for another material. It is important to pay special attention to the line interfacing. It was from her will depend on the appearance of finishing. Such a combined ceiling with lighting will look great in the nursery or bedroom. Bulbs usually placed along the boundary line of the two materials. Method smooth transition can be used for zoning space.
Drywall and suspended ceiling
To date, the most popular combo, ceiling - plaster and tension with backlight. This demand provides easy installation and long service life. Also, we should mention that using these materials, you can create different shapes.
It is marking the ceiling.
Constructed frame profile.
Sheathe plasterboard.
Seams and the connecting space shpaklyuyut (special mesh is used for strength and reliability).
Along the perimeter of the insert mounted profile for ceilings.
Construction of plasterboard is primed, then paint or hang wallpaper.
After that, proceed to the installation of stretch ceiling. The edges of the fabric are filled for the profile. For uniform distribution, it is heated using a heat gun.
The last stage - the connection of luminaires.
Stretch ceilings are of two kinds: PVC film and fabric. The former, in turn, divided into glossy and matte. Alternatively, you can use several different canvases simultaneously. Look combined ceilings and beautifully refined. Unique is that with the help of glossy fabrics, you can create different visual effects, such as increasing the visual space. Also pay attention to the large variety of colors and images. There are prints made by 3D technology.
Examples of combined stretch ceiling
A large variety of stretch ceilings opens wide possibilities for decorating the premises. Very often, designers create compositions monochrome and colored fabrics. Excellent this option will look, if you use two-level design. For example, on the perimeter of one-color painting, and in the center - a color. Popular following prints: starry or cloudy sky, metropolis image, space and others.
The small rooms can also be used combined ceilings. The room and the bedroom will look great fabric options. This will give the grandeur and charm. Combine these fabrics can be with glossy PVC film. Avoiding bright color differences. The optimum would be the difference between the webs in several colors. For example, blue and light blue, green and light green, light brown and beige, and so on. D. Also, professionals recommend to small areas not to use clear geometric shapes. This will lead to a decrease in the visual space. For such rooms is perfect abstraction with smooth and sinuous edges.
At present, many people have established a combined tension ceiling in the kitchen, in the bedroom, living room and other rooms. According to their reviews can make a certain picture. Let's start with the positives. The first thing that deserves attention is the design. Ceilings are obtained simply magnificent. The surface is smooth, easy to clean, does not deform and wide range of colors and prints allowing harmoniously fit into any stylistic direction and create a unique, unique in its kind interior. It is also worth noting that at the time of installation is completely absent the dust and dirt. Work on the installation takes only a few hours.
Now let's talk about the unpleasant sides. Installation of suspended ceilings better to trust only the professionals, because there is a possibility of serious consequences. For example, improper operation of the heat gun can even lead to an explosion. Naturally, any work you need to pay, and the organization, in the state where there are qualified employees, their work evaluates expensive, but offer a guarantee.
Also, people have comments on the quality of the paintings. All ceilings are afraid of sharp objects, so it is recommended to be extremely careful. For example, in order to install the lamp, first glue to the web need special ring and only then cut hole.
Combined ceiling with glass inserts looks original. The most commonly used bright stained-glass windows. Underneath mounted LED backlighting, which gives elegance and a certain mystique. Immediately it should be noted that these ceilings are not harmoniously integrated into every interior. For example, for a room in a minimalist style or high-tech bright stained-glass windows in any case should not be used.
the original design;
easy maintenance;
long service life;
easy installation;
It does not get wet, not covered with fungus and mold.
work with glass material should be very carefully;
significant limitations on the form.
stained glass is often replaced by mirrors. These ceilings are ideal for bedroom, kitchen or bathroom. Can be secured to the carcass as a frame, and glue on liquid nails directly to the ceiling substrate.
What else are combined ceilings? Plasterboard and mosaic - great composition. It allowed the installation of multi-level structures. Most often finish mosaic claimed in humid rooms. She is not afraid of sudden changes in temperature. Easy to clean, the coating is resistant to mechanical stress.
Installation is carried out by a special glue. To issue such a ceiling, you must first build a box of drywall. The color range is huge mosaic, you can easily create original compositions. It is surprising that such a finish in harmony even with suspended ceilings. The only constraint that may face customers, so it's rectangular lines. Abstract forms and smooth winding verge available as a mosaic made square canvases.
Various embodiments of the combined ceiling
It has long been no surprise multilevel construction, assembled on flat ceiling. But if earlier, such compositions are intended mainly plasterboard, it is now much more popularity gained a combined ceiling, about such as in the photo below.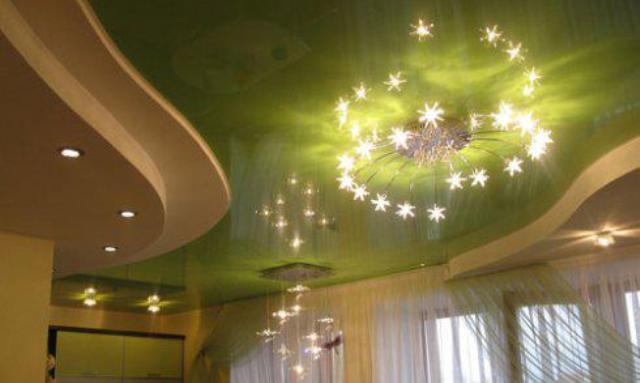 Much depends on the budget that is allocated for repairs. The cost of different materials is significantly different. Installation also require certain costs and all these factors together, can be critical in the selection of starting material.
Among the low-cost type of this design, there may be mentioned rack design. You can combine them in a large number of options. Quite simply assemble rack and pinions composition that will surround the finishing drywall, and wooden surfaces can be used. There are options, in which only the rack used. Combination carried installing strips of varying widths and with different coatings.
Of course, not lost relevance and drywall. From it still collect a very beautiful ceiling solutions. But they have certain disadvantages, taking into account that the popularity of this method of decoration is still falling.
Therefore, a lot of kinds of finish, which complements the plasterboard ceiling tension combined. This opens a huge space for the most daring tricks or ideas in the design.
The most popular today are combined ceilings. They allow you to create a flat surface, which will have several colors and textures. Various films or textile fabric can be positioned at several levels, creating a very interesting combination.
In principle, it is possible to combine absolutely any kind of design and finish. The main thing is that they complement each other and combined with other interior details.
You can collect a wide variety of designs, using several materials. But, not all of them will be well combined with each other externally. The most successful combinations discussed below.
Several types of fabric tension
Perfect solution. You can arrange the surface, using multiple colors or textures. Mix well frosted edge webs with the central part of the glossy. Such a solution has an additional advantage - the room will seem higher.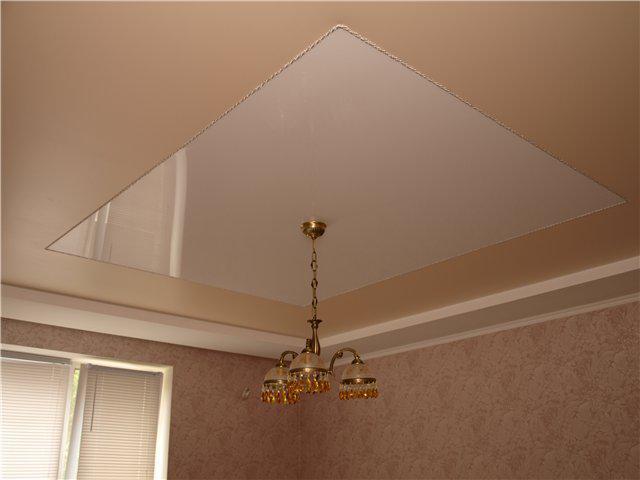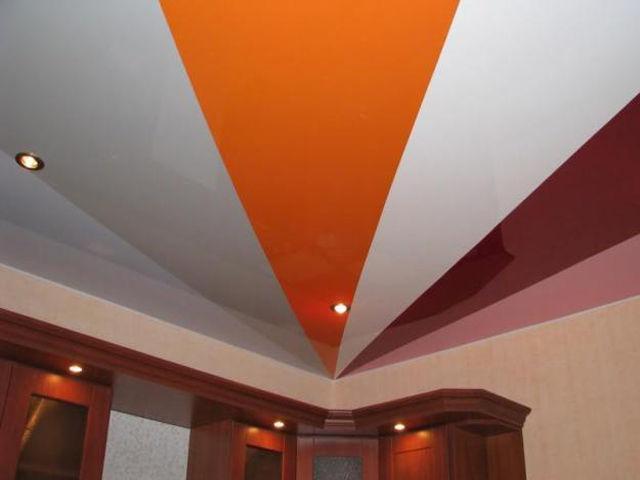 A very popular combination. Typically, one layer is made entirely of gypsum sheet, the second is a stretched film. The solution is optimally suited for small spaces that want to do a little bit higher visually.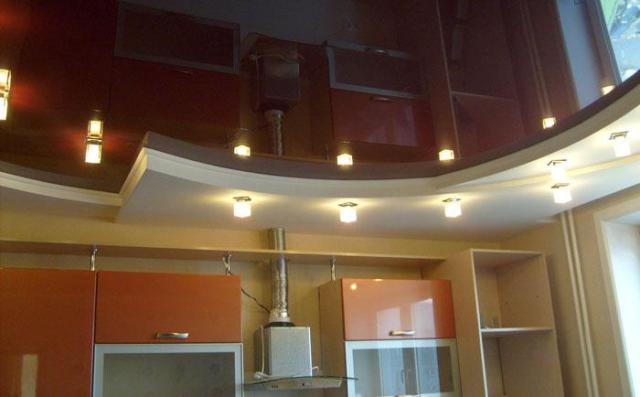 If you add a fancy, you can take a film of black color and make of it a kind of dark mirror, framed in the frame of the FCL. Often, there are also more prosaic options in which GCR is used to hide all the communication and set the backlight on the perimeter of the room.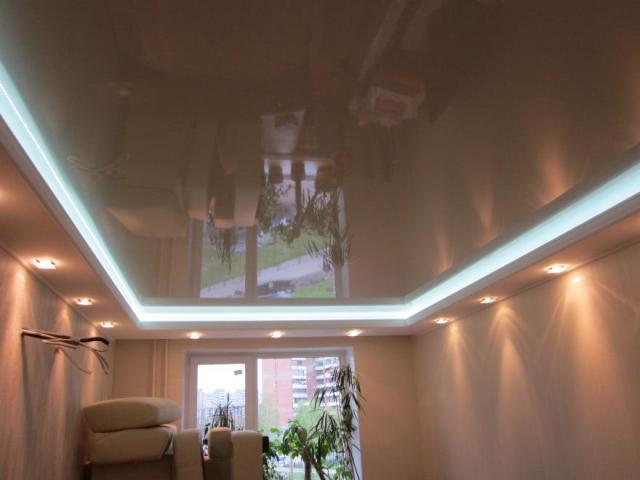 In such a composition, you can combine several materials. There are combinations of GCR and textile coverings, ceilings and sometimes occur in which the several levels of the PVC film. Due to the versatility of the material and its ease of installation, these options are very easy to assemble and they are inexpensive.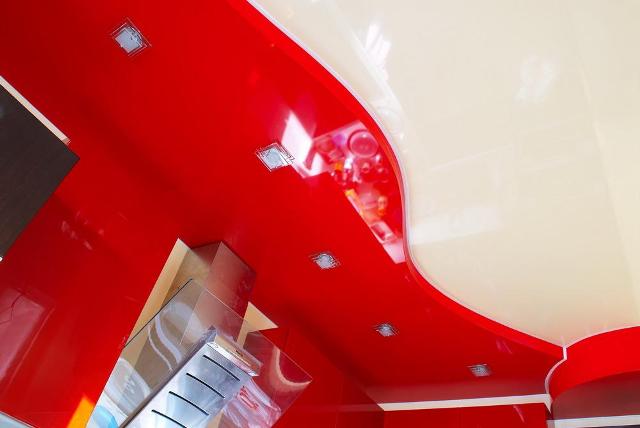 Curved design options
Here, the lead will again be at the PVC films and textile coatings. They allow you to get the desired curvature of the line and getting the most unusual combinations of colors and textures. No other material will not give as much freedom in the assembly structure.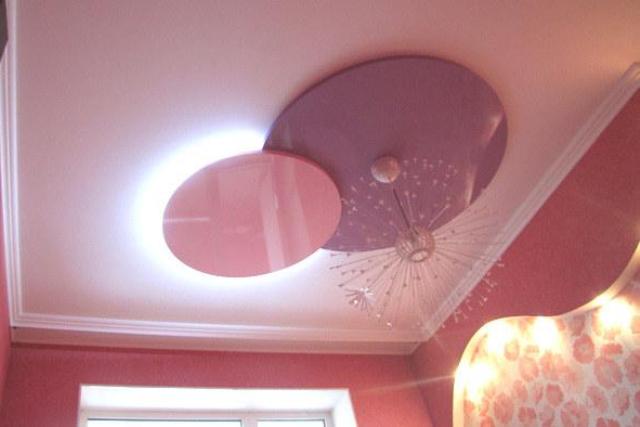 It is worth considering only the most popular solutions in the design, as more exotic options are going normally, either on request or under the supervision of an experienced designer who knows what he wants to receive.
Since most in demand are combined ceilings, you should start with a review of the photos is of such of finishes.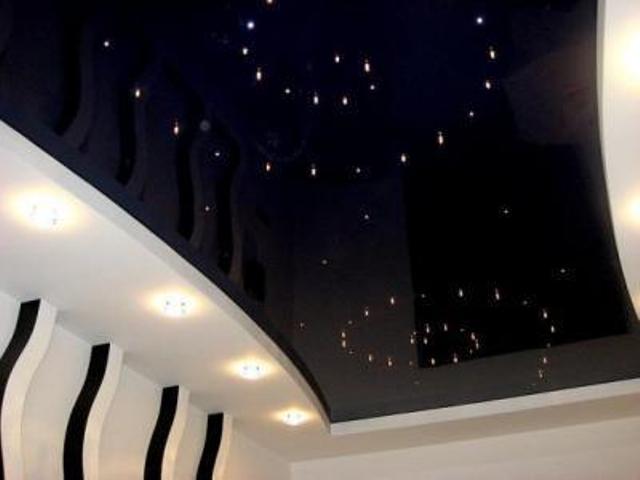 Such designs are very quick to install and are fairly inexpensive. All added advantages and the ability to raise the ceiling with multiple tiers. Everyone can have their own color and texture.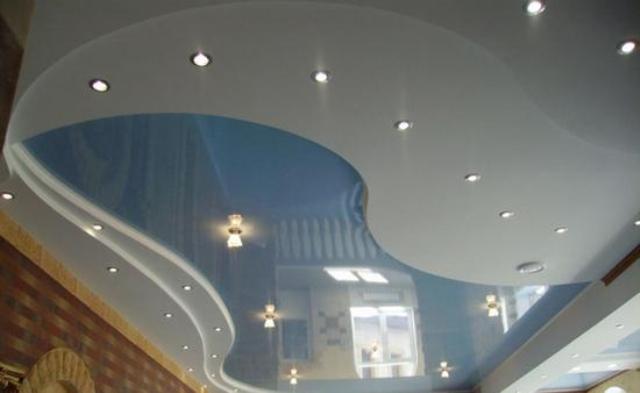 Small height of the room can visually enlarge, using glossy PVC film. If the supplement is painting another level, it is possible to significantly enhance the effect obtained. Even the combination of matt finish on the edges of the room with a glossy film in the center, add the height of the room.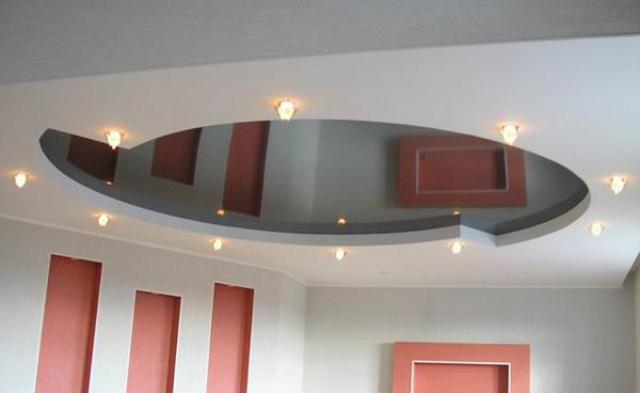 In the next photo - combined suspended ceiling, which complements the plasterboard used for the construction of the lower level. Such a solution allowed to place the elements in the backlight tier of plasterboard, giving the total composition greater functionality and greatly improving the perception of the room in general.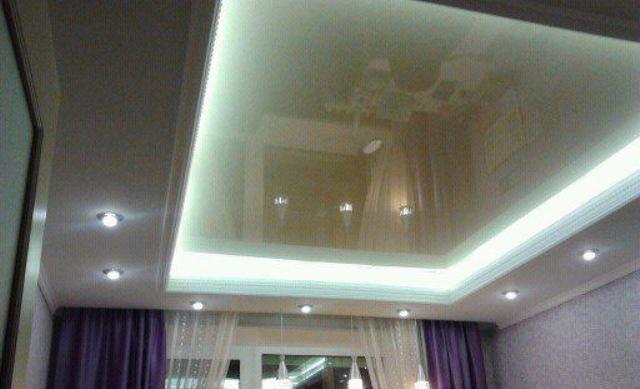 Not everyone can afford to install the tensioning coating. For such cases, there are options combined designs that use the drywall and suspended some of the other material. For example, you can perfectly combine the GCR and glass or acrylic inserts.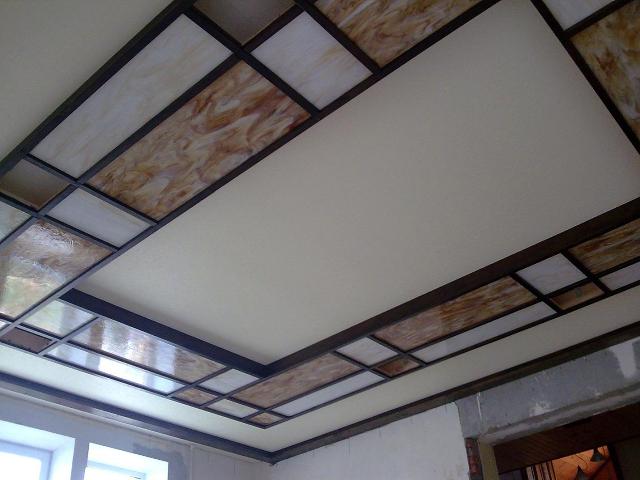 Curved lines can be obtained even from the drywall, but why make yourself more complexity, processing likewise unyielding material? You can simply collect the suspended ceiling is the desired shape. To make such a power is not even the most experienced master, and a professional will spend a minimum of time.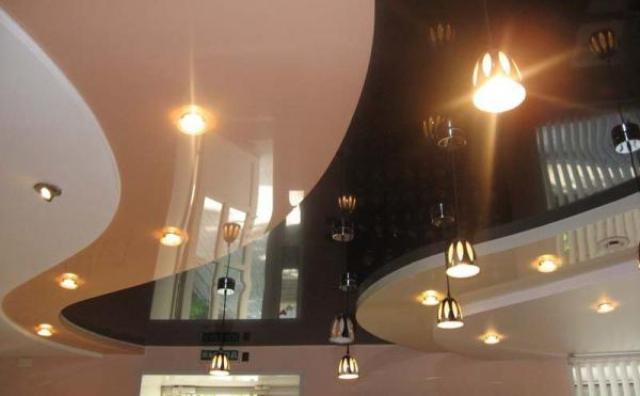 appearance can be isolated from the positive qualities of such decisions. See all just fine. The remaining positive side may vary depending on the materials used in combination.
Film and textile coatings have a number of advantages, uncharacteristic other types of finishes. For example, they do not pass water, and in case of flooding from the top, room furnishings and the rest of the finish will not be affected. In addition, the installation is very fast and at the same time, there is practically no waste.
Drywall can be attributed to the most inexpensive materials to collect the suspension structure. By combining it with the other finishing materials, we can get a nice flow, which also will be acceptable.
Pinion coating can be distinguished as the most inexpensive version of the finish, allowing to obtain a combined surface. Enough to buy a few different types of panels. The main thing - to have the same fastening system.
There are disadvantages in such compositions. The basic installation is very time-consuming and, in some cases, the inability to independently mount the desired structure. Basically, it refers to the tension coating types.