Curtains for kitchen, species diversity (130 real photo)
It turns out to create a cosiness in the kitchen help was curtains for the kitchen. But the question is - which one to choose?
Below we give you some recommendations on choosing curtains for the kitchen.
Curtains for the kitchen should not annoy, harass and distract from the meal. Bright light curtains can significantly expand the space, as well as to create a feeling of comfort and tranquility. That is why the ideal - warm soft colors: turquoise, peach, cream, blue, etc.
Pure white color, it is desirable to mitigate a variety of add-ons, such as pink, coffee, pleasant beige or combined with any other colors. By the way, the curtains should approach a kitchen design style, a style or drawing.
Fit and single-colored fabric with a large ornament (striped, cell or large-flowered). But the small picture will give a feeling of a kind of untidiness.
Important! If the wallpaper in the kitchen bright and patterned, it is worth paying attention to plain curtains. If on the turnover in the room wallpaper plain, choose curtains with a pattern. Naturally the appropriate kitchen interior.
If you live on the first floor, and the kitchen window faces south, where the busy street and the scorching sun. In this case, suitable curtains, blinds or conventional horizontal / vertical blinds.
As auxiliary protection kitchen can be used from the sun curtains of translucent fabrics such as organza, tulle, veil. Dispersing the light of the sun, they give soft lighting, and kitchen, in turn, always cozy look.
Roman curtains look exquisitely combined with curtains or curtains. In addition, they provide a minimal amount of tissue, and easy maintenance.
Japanese panels practical and modern, they look great in minimalist interiors and folk. You can hang a couple of these panels, which differ in color and texture. Thus, you get an interesting game with the light - and the room visually increase.
Curtains in a cafe style in the upper part of the window starts 20-30 cm of lambrequins, and is set in the middle crossbar, which hung two short curtains.
These curtains are very popular in the cities, because the upper part of the window is open, and through it fairly easily passes light, and the bottom - closed.
Curtains on the grommet characterized by brevity and simplicity, and also very easy to move. To hang these curtains, require round the cornice. It is believed that the diameter of the eyelets can choose. The main thing - to match the diameter of the curtain rod.
FRENCH curtains certainly suitable for kitchen combined with living room. This version of the interior give the kitchen a great view. FRENCH curtains should not be lowered below the sill, this option will emphasize the beauty of the furniture.
Austrian blinds certainly very beautiful. They combine "FRENCH splendor" and "Roman rigor" more is better suited for the kitchen Austrian curtains are made of cotton.
Very impressive Austrian blinds look in the expanded form. If the curtains are raised slightly with the help of special cords with tassels original, the bottom forms a very beautiful pleats that add elegance to the interior of the kitchen.
Finally, the last kind of curtains - a curtains with lambrequins. Basically pelmet is used for decoration of windows in other rooms than in the kitchen. But even there, it will look very nice and original.
Curtains lambrequins consist of lush folds in the middle, which are fixed on both sides. Also on the curtains being established cascades of fabric decorated with fringe. Pelmet well with curtain made of light fabric, such as silk.
Tip! Attention should be paid to the cornice of plastic or iron. They are very convenient, easy and happy to get accustomed to your kitchen. Do not take the wooden eaves, as they are afraid of moisture and heat. Over time, these cornices lose their quality.
Each kitchen has its own peculiarities and subtleties. On that create, invent and make your kitchen even more not recognizable.
furniture portal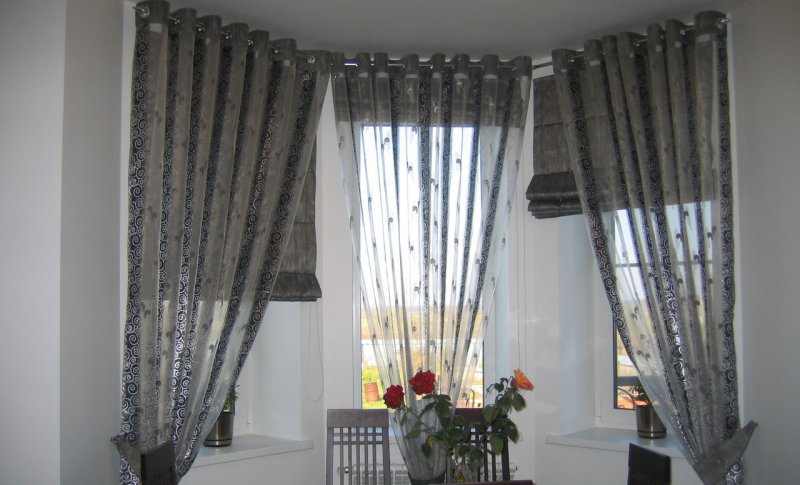 the kitchen curtains - 100 photos of new products and design ideas in the kitchen curtains
What part of the house is the most important? That's right - the kitchen. Because that is where people spend most of the time, and so it should please the eye, every time you enter it. But beyond the beauty, the space should be properly divided and organized to make it all the functional and user-friendly as possible.
Bright wallpaper, awaken the appetite, soft chairs richly upholstered, round table with carvings - all components of comfort. But one element in the kitchen, you need to pay more careful attention - it is curtains. Whether it is an ordinary tulle, light cotton curtains, or the elegant curtains, they create a special charm and comfort in the kitchen.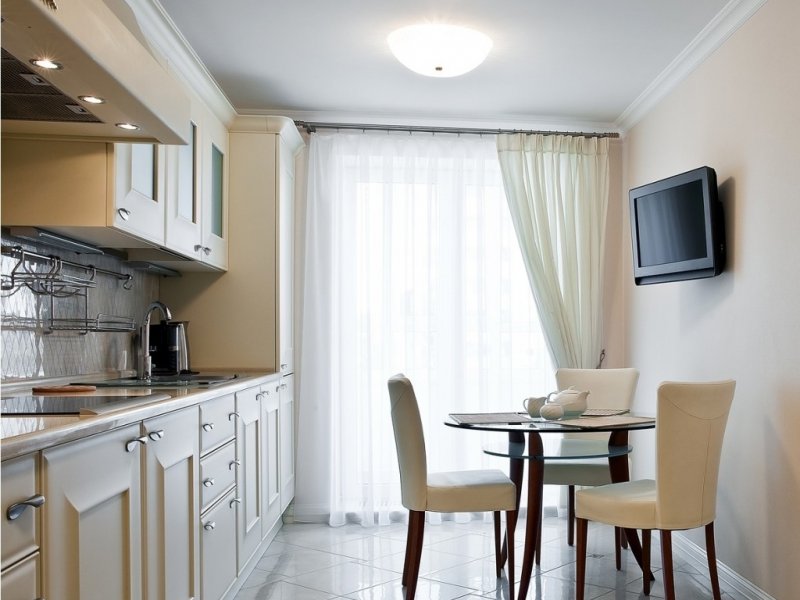 What are the curtains suitable for the kitchen?
1. The most important requirement, perhaps, that they perfectly complement the image of the design is the premise. Do not weigh down already, a small space, or vice versa, is not expanded already, a spacious kitchen.
2. Curtains should be convenient and pragmatic. After cooking a meal, it is a daily ritual in every family, and it means that the blinds will absorb odors and particles of food. They need to be washed, and they do not lose their perfect look.
3. As mentioned above, they should properly complement the kitchen space. In a small kitchen - light curtains, a large - heavier curtains. We offer a look at the curtains on the small kitchen photos.
4. It is necessary to assess the dimensions of the window if you have a balcony, access to it should be easy. In this case, you can see photos of curtains in the kitchen with a balcony.
5. correctly and objectively evaluate, what colors we need curtains. Warm colors - will make a calm and warm kitchen, curtains colder colors - give space rigor and elegance. You can appreciate the design of curtains in the kitchen photo.
6. Well, the curtains must have functionality. In order to avoid the difficulties to get to the window and opened it. Also, if desired, they should be able to completely hide behind him, what is happening in the kitchen.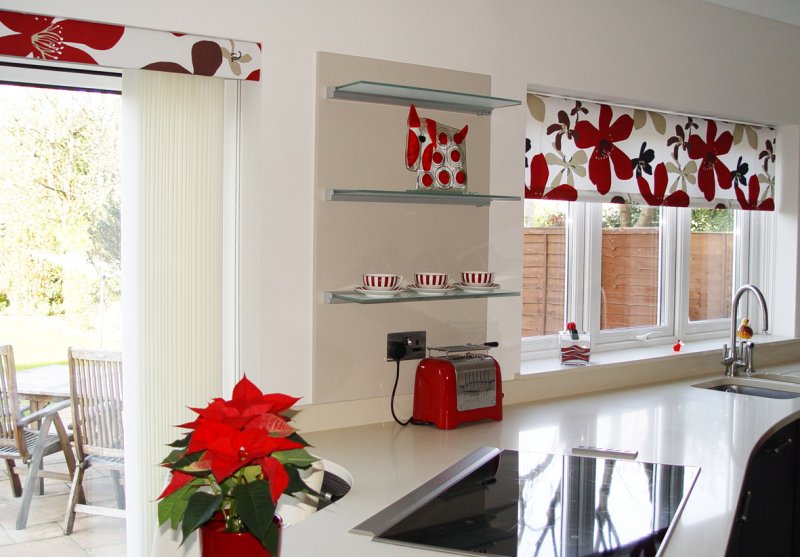 Consider some types of curtains used in the kitchen
To date, this is the most popular option in the apartments. They have won the hearts of women, their functionality, simplicity and elegance. Easy to care for themselves, they fit into any interior, and relatively not expensive for the price, because their production takes a minimum of materials.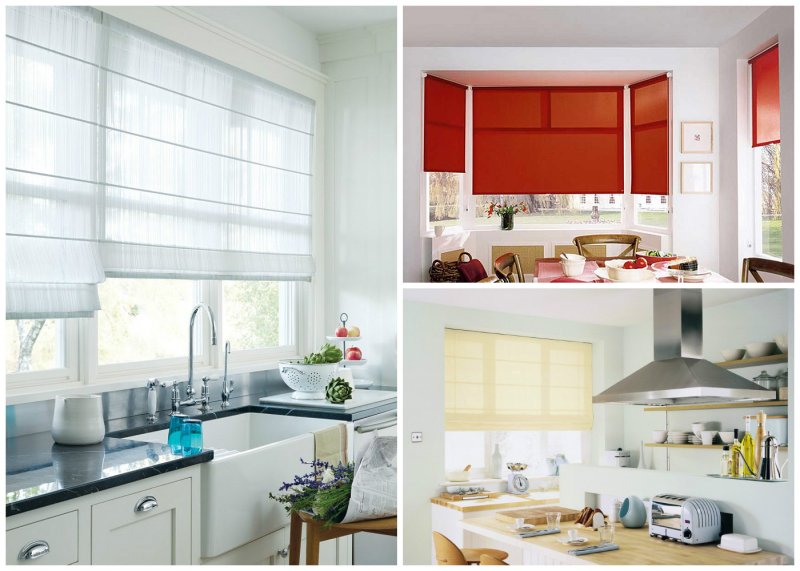 They stay in special moldings mounted in the window opening. When open, they look like a whole leaf, when closed, like a gently gathered fabric.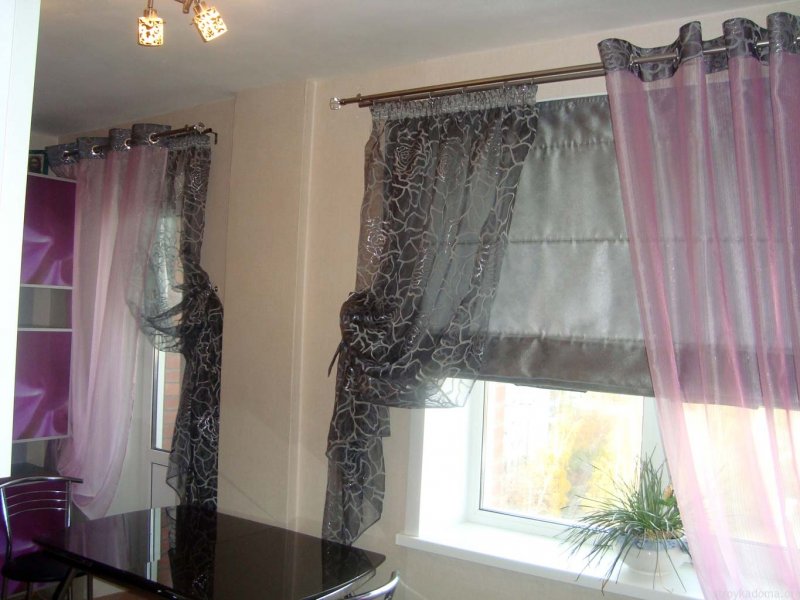 The main advantages of curtains:
- Practical operation;
- Have broad functionality;
- They do not require special care.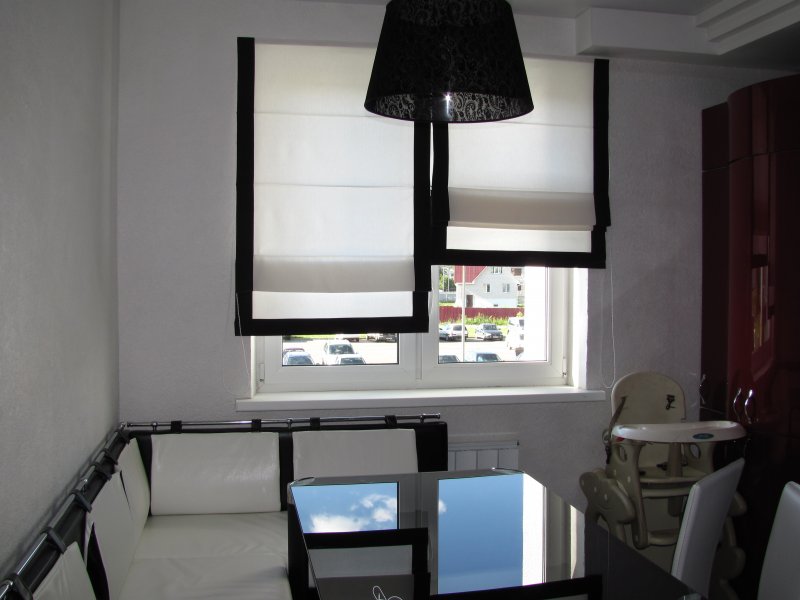 Japanese motifs or panels on windows
Japanese curtains a little bit inferior to the popularity of the Roman. Light weightless fabric, pure cotton, bamboo noble - this is something of which made the panel. In appearance similar to vertical blinds, wide enough and long, almost to the floor. Are mounted on an aluminum profile. Perfectly suited to the kitchen with large windows. space into multiple sectors can be divided as them.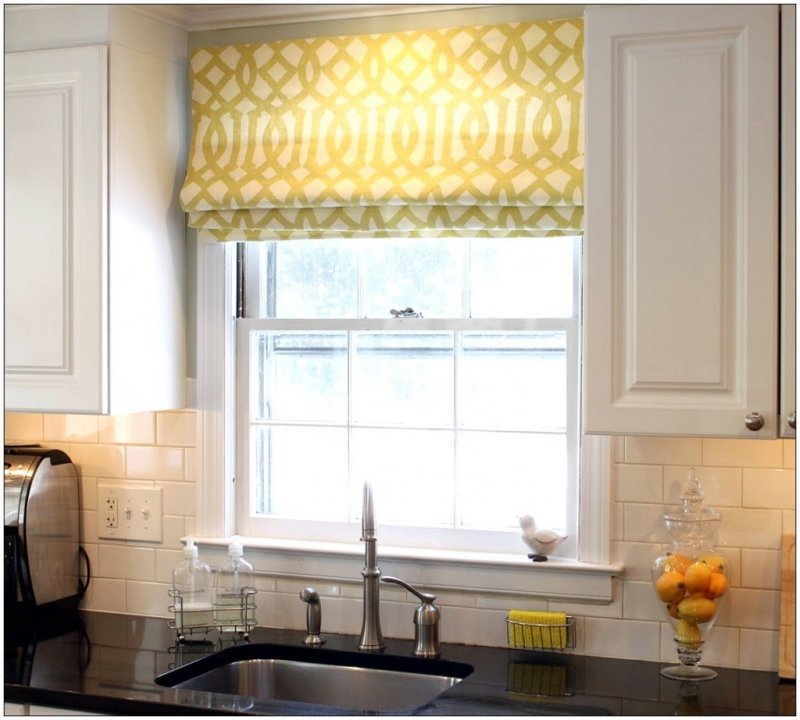 Pros Japanese panels:
- Not picky in care;
- Economical consumption during production.
Such curtains resemble a roll of wallpaper. Not only of paper and cloth. The functionality is clear immediately. Close window - to unwind roller, open - on the contrary.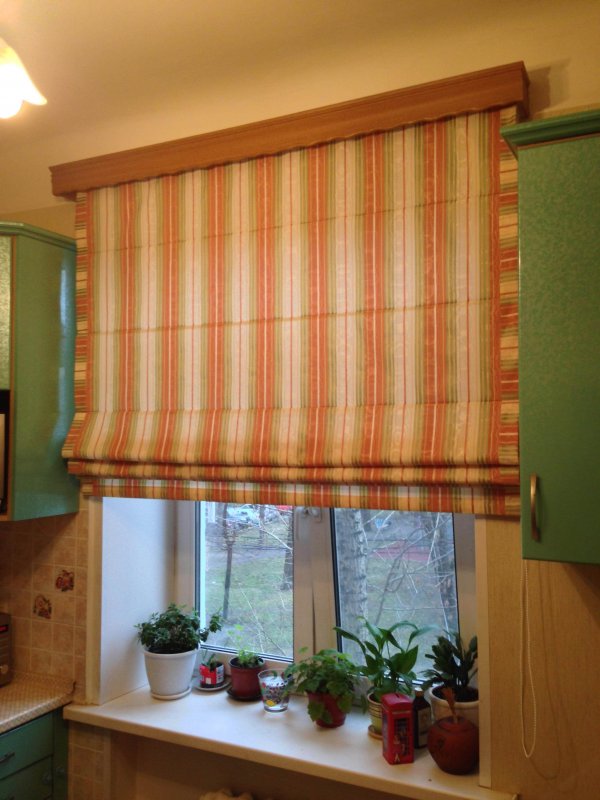 Suitable for windows, even the most extensive. Can be hung on one window curtains a few rolls of playing with colors and textures.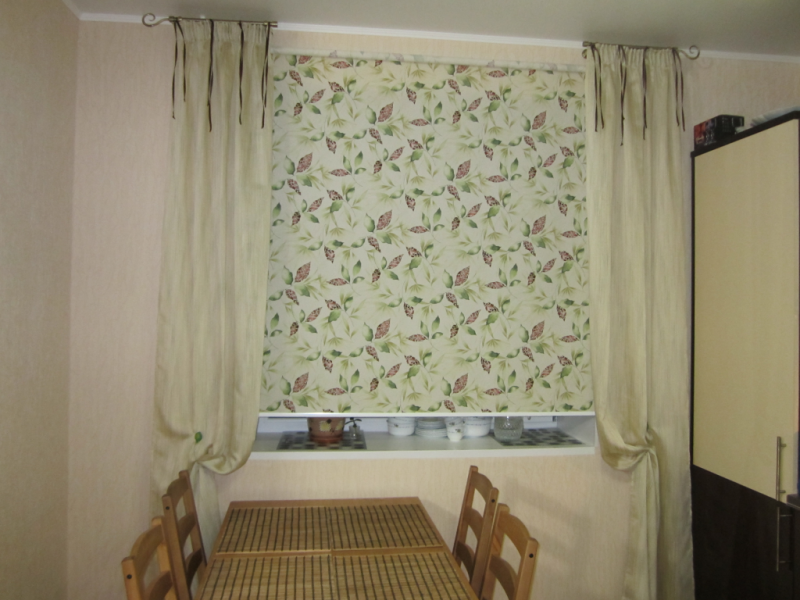 Advantages of roller blinds:
- Easy to clean and use;
- Their production does not leave a lot of material;
- Quite a long time with proper care will last;
- Excellent inhibit sunlight.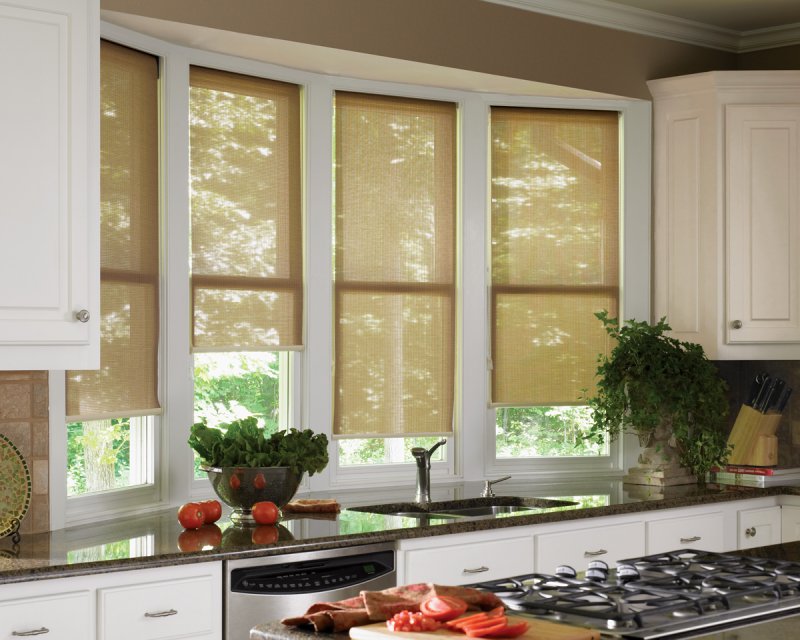 Once popular, they have given way to a new species. Still a classic never gets old, and people still hang them in the apartment. Best of all, they fit, it is in the interior of the kitchen, because there must be a maximum of sunlight. You should choose lightweight fabrics. With curtains successful tandem, make blinds.
This is something noble and luxurious. Will look spectacular with the tissues of plain colors. After all, they are so many variations of fine draperies and prints.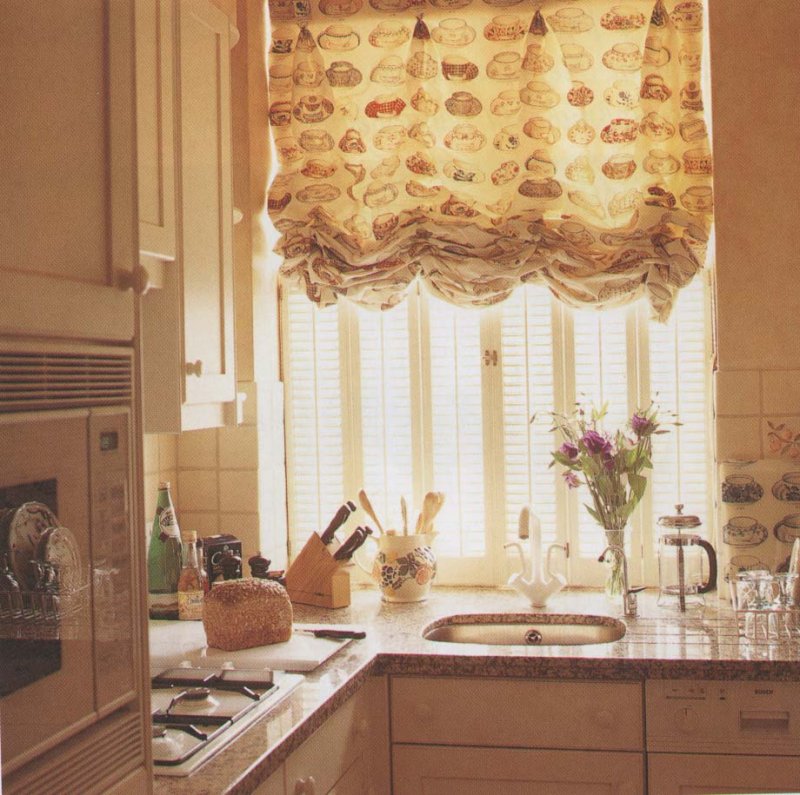 Austrian curtains - a kind of mixture of French and Roman blinds. Reveals exactly how and Roman. But below are light waves, then, and come to mind French motifs. Fit on the window of any size, as well as on the balcony door.
Timeless classics. Ideal for decoration of long windows. Material - light tulle or drape fabric. In length, usually just above the sill level.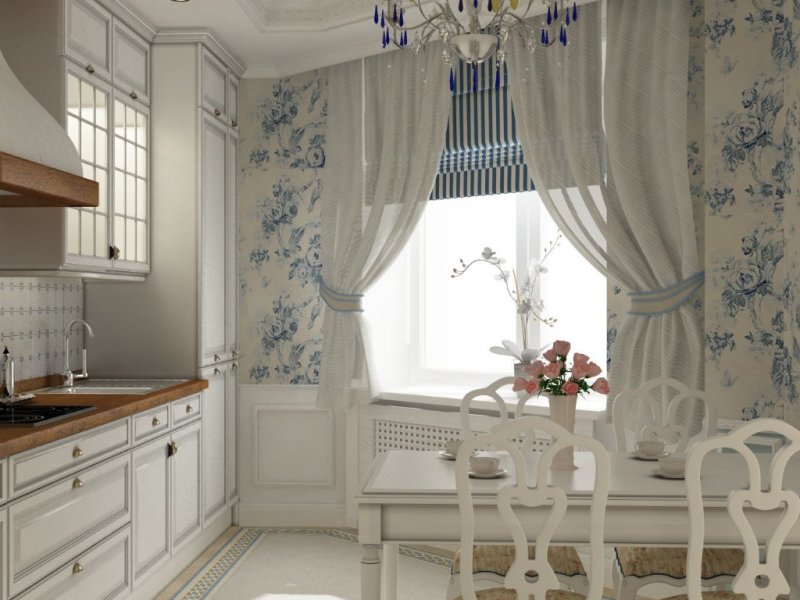 The modern version of the window decoration. Quite easily, move if desired. Mounted on a circular ledge. Effectively looks fabric looks airy and not weighted.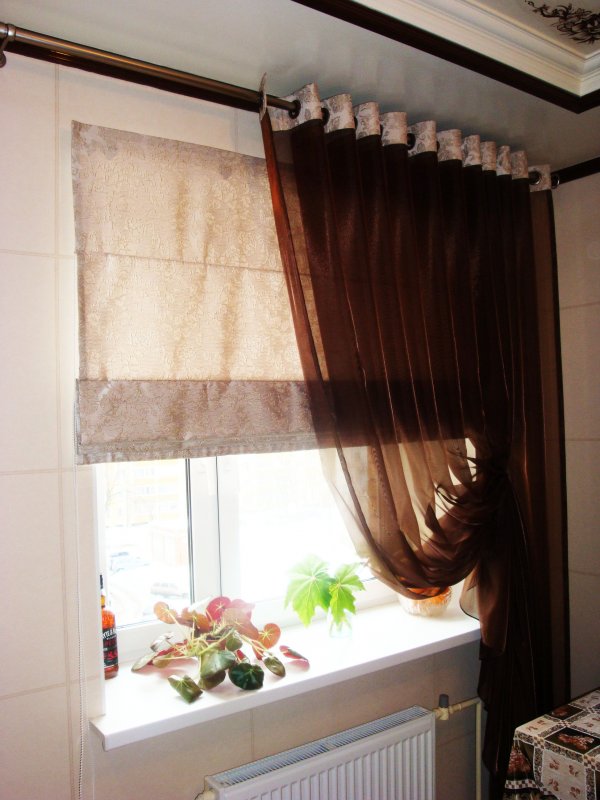 Curtains with lambrequins and classic curtains
Classic lightweight tulle and sliding heavy drapes, it is not an option for the kitchen. But almost weightless tulle and a short bright pelmet, exactly what you need. A sort of greeting from Cafe 70's.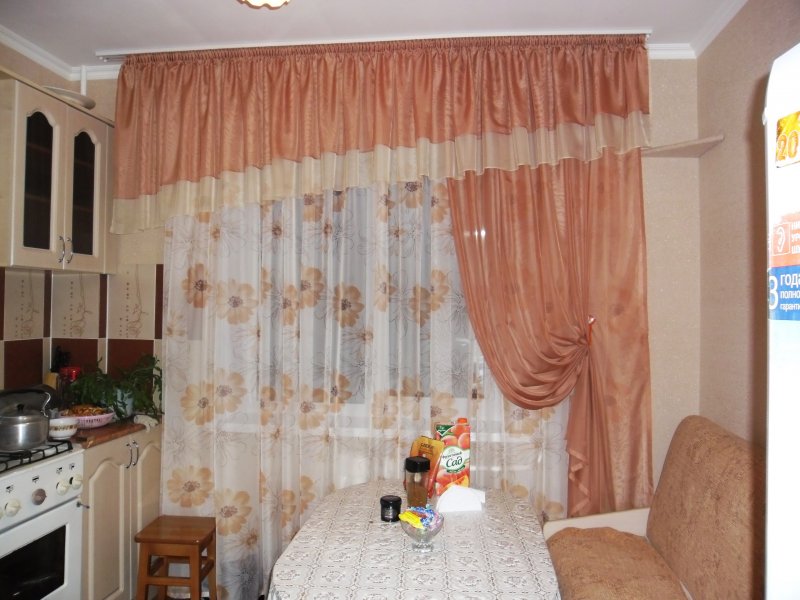 One of their appearance, are able to blow warm and landscapes of Africa. A smell which emanates from bamboo reeds, relaxing and calming. Perfectly fit into any design.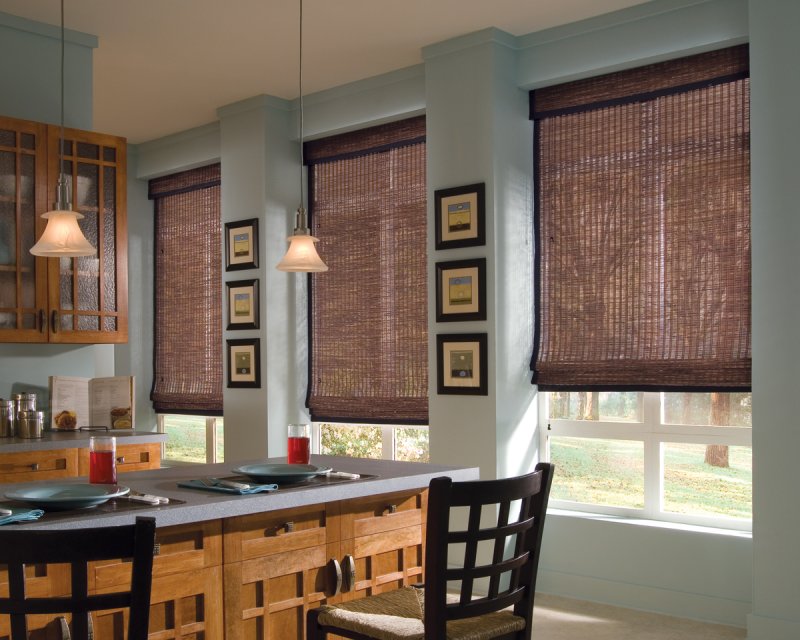 Here it is possible to give flight to your imagination and assemble several types of curtains. The result is an unusual, individual interior decoration.
Combined curtains: a simple and at the same time the original version
Fabrics of different textures and colors allow you to create original, contemporary decor for any room if you think that it is time to change the window to your outfit and suitable options has not yet been found, look at the combined curtains. They consist of different in texture and / or color of the fabric. They can be hung in any room and literally transform the room. By the way, do not necessarily run to the store in order to choose the fabrics, which then become friends on the window, you can make something out of the remnants of the old curtains.
Combined curtains: how to find the best combination
The most important way - is to combine two colors. With textures, everything is a bit more difficult, sometimes impossible to immediately determine whether they will be combined at the window. But the color - it's a good tool of interior transformation.
Curtains can be combined in two ways:
Harmoniously. When taken adjacent colors, most likely, from one color gamut. Take the main color, and the next one that will play along with him. Or those - colors because there may be more than two.
Contrastly. In this case, the individual colors will contrast the rest, and at the same time will create a variety of interesting bright color effects.
If you wish to make a unique design of your room, the combined blinds - a great option for you, including all of their design skills and imagination
According to which, by what criterion to choose the color? Well, for example, if you change the wallpaper press coverage, and behind them, and the curtains, the answer is simple. Your curtains and your wallpapers are connected close ties. Take a look at a combination thereof. However, this option requires that furniture plays a role of second fiddle, and you have it always is rather conservative.
If you know that the wallpaper will be always about the same, background, neutral, calm, it has curtains can be combined, to build color stories in the ensemble with furniture.
How to combine different shades (video)
How to combine two colors curtains Tips
Two-color combination curtains - this is a classic welcome. By the way, designers are advised to exploit it in the low rooms, achieving the desired visual effects.
This is easily explained - the two colors you do bandpass design, and vertical bars slightly to visually lift the ceiling.
Curtains can do by combining any person walking in step with the times: the temptation to experiment and get a result, modern and fashionable detail of the interior will not leave anyone indifferent
Now specifically about how to combine colors:
Red and burgundy. Together, these colors combine - a dangerous thing, so very aggressive duo. Dilute these shades can gray, gray with metallic. But these colors while at the minimum must be in the remaining details of the interior. And the standard version - red (burgundy) + white or slightly smoky.
beige gamut. It is a quiet color that creates a home atmosphere of appeasement. Beige color is combined with gold and pale blue or green.
Brown color. And it is almost the perfect color, because it manages to make friends with almost all colors, not just its color scheme.
Purple colour. A good option for the bedroom, with what to combine it - with shades of green, red, yellow. We get quite a mysterious atmosphere, even fantastic, which is so nice to plunge into after a hard day's work.
Blue. Better duo than Blue + White did not find a good, by the way, a variant of the kitchen, which lacks freshness.
Orange, yellow. It is very joyful and energetic colors. Make good use of them in a room devoid of natural heat. And orange, and yellow can be combined with green, blue, red and white.
By combining different fabrics and colors, experimenting and fantasizing, you can create a wonderful element of the interior, which will make your room a refined and luxurious
In general, two-color curtains - it's always a little experiment. After the warm lilac purple and cold can be so close in appearance as you think, and in fact in combination with other colors give different effects. Because should try, try on, to search for a response, and to trust the intuitive choice.
Combined curtains for the kitchen: what will look perfect
Particularly relevant choice in favor of two-color curtains, kitchen if you have a large and rather big box on it. Or, for example, with the balcony door window.
Consider can be one particular option. You have a large window in the spacious kitchen, which looks pretty bleak, perhaps not yet fully furnished. To effect this emptiness somehow to level, you need to take two fabrics - one thick, for example, the color of coffee with milk. Take the second darker fabric, such as burgundy. But not tight, and translucent. Curtains will be on the floor, they hang you and pickup of the same color, better coffee with milk, combine with the other sisters. So such couples united in the box should have three - two on each side, one in the middle.
Combined blinds will help you create the kitchen a sense of calm and relaxation, besides it is one of the main premises, where you and your family spend time
Such two-color curtains and a good option for the living room.
Combined curtains: the idea of ​​residues
Among the many ideas curtain combinations specifically highlighted the idea of ​​creating curtains of cotton cloth, cute, beautiful and unpretentious.
You can make a combined curtains with his hands, if you still have pieces of cloth, which are ideally suited for this purpose, but the window of their width or length is not enough
What you need: the remnants of calico, very different, but very small. And then you make intelligent design, where we will see how many species you use calico.
The main color of one and the bottom you arrange the stripes of a different color. For example, the primary color beige fine whitish picture, and at the bottom and pink stripe maroon. The pink band can be yet higher up. These curtains can be decorated with lace or braid, make them very nice, home. country or provence style will welcome such curtains of residues, as they are just made to its rules.
Different colors combined blinds (video)
Combine curtains not only effectively in terms of design, but also interesting. Every experiment may result in unexpected finding, which will completely change the look of the room. Try and find your perfect option that will help your home become more warm and cozy.