How to create a kitchen interior in minimalist style - tips from the pros
How to create a kitchen interior in minimalist style and make it cozy - designer tips and 86 photos of real kitchens and 3d projects in this article.
Kitchen set in a minimalist style and is suitable for a small kitchen in the Khrushchev, and for a small studio apartment, and for the combined kitchen-living room.
Laconic furniture visually dissolves into space, and the kitchen made by thoughtful design, will always be in order.
Minimalist style in the interior - it is:
a lot of air, light and competent zoning area
laconic and functional furniture in the same style
a minimum of decoration, colors and textures
pure forms and clean lines
built-in appliances
Neutral basic colors - white, gray, black, beige, brown.
The interior in the style of minimalism can be monotonous or contrast. Often they use no more than 2-3 shades.
As an accent in the kitchen, you can use bright colors (red, orange, yellow, blue, green) and beautiful texture (dark and light wood, stone, brick, concrete and other textured materials).
How to make a cozy kitchen and living
Minimalism does not necessarily make your kitchen a strict, austere and impersonal. Clean style in modern interiors is rare. Take the minimalism of the foundation, add colorful touches of other styles and favorite things - get stylish and comfortable kitchen that reflects your personality.
Minimalism in a city apartment with eco-friendly style, elements of modern classical, Art Deco, loft and ethnic style.
The basis of the kitchen in the style of minimalism - a well-designed layout. In developing the design project, think carefully about ergonomics headset and find a place to store every thing. Otherwise, from the minimalist in your kitchen will not soon be over.
Choosing a kitchen in the style of minimalism
Kitchen furniture simple and functional. Strict kitchen design and minimalist facades compensate smart accessories, hidden storage cabinets and intelligent organization.
Headsets are often built. Built-in "sunk" into the wall and merge them into a single plane.
Block high-canisters cabinets with built-in appliances and capacious storage modules - an element for such kitchens almost mandatory.
Facades are usually smooth and even, matte or glossy. Completely without handles (door opened by pressing by means of "press - to open" system) or with hidden handles (or milled from an aluminum profile). The exception may be the most simple pen-boxes on the lower facades.
If smooth door you seem too impersonal, order the kitchen with embossed facades MDF with 3d milling. The main thing - shape, color and finish headset must not be contrary to the canons of minimalism.
The interior in the style of minimalism look great kitchen without upper cabinets.
Kitchen in the style of minimalism, with its straight lines and smooth doors is good that the headset can be quite budget. The most inexpensive food - with facades from chipboard, lined with plastic or acrylic. Headsets MDF environmentally friendly and durable, but also more expensive. The PVC film can serve as a decorative coating MDF facades (inexpensive models), plastic, acrylic, enamel or veneer (the latter two options are more expensive in total).
Color facades of the headset, you can choose the exact color of the walls - let it visually merges with them.
The most popular option for apartments in bright colors - white glossy or matte kitchen.
If you want to select the kitchen area in the combined kitchen-living room, choose the facades contrasting with the color of the walls.
Black countertop and apron often acts as an accent.
In the gallery below - good examples of cuisine in the style of minimalism in a small studio apartment:
Minimalism can also be bright! Kitchen set apron with red glass good dilutes the monochrome design of this small studio:
Popular combination - a combination of white matte or glossy facades with wood. Especially good nut. It looks spectacular facades decorated with exotic species of wood - Wenge Macassar, Zebrano, Rosewood. The inexpensive kitchen set is plastic HPL, more expensive - natural veneer.
Minimalism in the interior of the kitchen does not tolerate open shelves. All the storage space hidden behind cabinet doors, small kitchen utensils - in drawers with dividers.
Small kitchen in the style of minimalism in Khrushchev looks easy, light and airy:
White, gray, black. Best in kitchen design in the style of minimalism fits artificial stone. Ideally, monophonic, but it is permissible to use the stone with small patches of neyarkimi and light flicker effect.
In color it may be exactly the tone of the facades or contrast with them.
It looks fine kitchen with an apron and a top made of the same artificial stone. Stylish, strictly, concisely. Kitchen with design best support the aesthetics of minimalism.
Glass Apron can be transparent or solid color painted without pictures. Good choice - white tile hog under a brick without a chamfer.
Tile or granite - plain or with the invoice under the stone, concrete and wood.
Excellent fit rectified tile or granite: it can be installed with a minimum of seams. With the grout in the tiles tone this apron looks like a monolithic surface.
Ideally - just built, including a microwave and coffee maker. For small appliances (blender and food processor Multivarki) provides a special compartment or keep it in the drawer kitchen units.
Extractor fan usually also built. But a model with a minimalist futuristic design can be an exception. Examples - in the photo:
Dining table - massive or light, always with a minimalist design.
Table top can be made of different materials. Fit round, square or rectangular kitchen table made of tempered glass (clear, frosted or tinted), solid wood, MDF or chipboard with veneer.
For a small kitchen or a small studio apartments are the best choice - a table-transformer with a sliding or folding top. Tables-books in minimalist interior fit poorly.
Excellent combination kitchen-living room in a minimalist style - white / black top with light chrome legs.
The combination of white plastic and natural wood table and chairs design soften the rigor of minimalism and make the interior more comfortable.
In a small kitchen area of ​​5-7 square meters will replace the dining table, windowsill or table-top narrow bar with a minimalist design.
In the combined kitchen-living room table is often a wide bar or a projecting portion countertop kitchen island.
The interior of the kitchen-dining room in the style of minimalism perfectly fit the transparent furniture. Colorless chairs visually disappear in the space and the room seemed spacious and color - will become a bright accent.
minimalism interior lighting design enlivens well.
Very popular LED-lamps. The illumination color can be changed as desired. See how the color LED backlight apron transforms one and the same kitchen:
The kitchens in the style of minimalism often use LED lighting cap - set like floating in the air:
3 popular lighting options:
1. Spot lights on the ceiling chandelier or suspension of a dining table, concealed lighting the working area headset
2. LED-ceiling lights (zakarniznaya, light panels and strips) and extra lighting of the working zones and dining
3. Tire lamps or spotlights coupled with illumination countertops and dining group
The design of the lamp over the table can be simple (the most popular option - in the shape of a ball, a metal or glass) or unusual. Examples of lamps in the style of minimalism in the photo gallery below:
Kitchen design in minimalist style - select the right finish
simple materials, but high-quality. Modern technological materials (plastic, metal, glass) are combined with the natural (wood and stone).
Almost always white matte, glossy but also appropriate. ceiling surface is perfectly aligned. Alternatives - plasterboard ceiling and smooth white stretch ceiling without relief, and photo printing.
Perfectly aligned, single-color, sometimes dark, but more bright - white, beige, gray. Usually cold midtone - they are visually expand the space.
The best choice for the walls - paint, smooth wallpaper for painting, decorative plaster for concrete, with silk effect, or without a pronounced texture.
The kitchen in the style of minimalism revive accent wall in the dining area. You can choose contrasting wallpaper, wallpapers with laconic pattern, 3d panel. Decorate the kitchen interior wooden wall (it can be finished floorboard or laminate) or brickwork.
Smooth, sleek, is perceived as a single monolithic plane. Light (in the tone of the interior) or dark (in contrast to light-colored walls and furniture).
Black and white floor - impractical: require constant care, any dirt on them is evident. Much less of a hassle, if the floor is gray, beige or brown.
Good for the flooring granite - solid, without patterns or with a nice texture under the concrete, stone, wood, metal.
You can lay engineering or floorboard or laminate suitable color - light or dark, cold or warm.
Curtains choose laconic, terse, neat. Roman or roller blinds, metal or wood blinds, curtains - with a simple design, plain, dull. Color textiles - neutral in tone interior or bright, contrasting.
Use a minimum of accessories. Baby original chandelier or lamp. Wall decorate unusual hours, a spectacular picture, poster, photography. On the table, put a stylish vase, fruit stand or container for salt / pepper. Minimalism kitchen is very revive notes of eco-style - simple greens in pots and boxes.
Like this? Save yourself the link and share with friends!
! (Rate this article have already voted: 5)
Kitchen in the style of minimalism: the rules of registration
Nothing extra - so you can briefly describe the minimalism. This style or, if you will, worldview manifests itself in various spheres of our life. It can be seen in the latest technological developments in the visual arts, music, fashion, architecture and, of course, in the interior.
like simplicity, elegance and functionality in an apartment;
interesting basic rules and characteristics of minimalism;
will repair or upgrade the interior;
I want to perform a design of the kitchen or a kitchen studio in the style of minimalism;
We need interesting and fresh ideas;
just like the photos of interiors, executed in modern style
then - read and watch on, it will be interesting!
As you know, each new direction in art is always contrary to the old. In addition, it receives its popularity or because more in line with modern times and its realities, or vice versa - because of its contrast. And in our case, there are two reasons.
Minimalist interiors replaced the abundance of beautiful, but functional decor and excessive, overflowing with accessories comfort characteristic of classic cuisine in a rustic style.
With what is connected minimalism popular, come to us at the beginning of the last century and is increasingly gaining momentum in 2017?
Ascetic design makes our own apartment overloaded brain to relax and brings a totally different world. So, minimalism - is not only a product of modern life, but the reaction to it, are particularly relevant for the inhabitants of megacities.
And it does not matter whether you are prone to perfectionism or simply do not have a weakness for bourgeois luxury and decorative elements characteristic of the cuisine in the style of Provence.
Everyone wants to create at home is different from the work or the atmosphere of the street, which is not burdened perception, he did not press the flashing colored lights, overcrowding and diversity.
Popularization of minimalism in interior design and has contributed to the culture of the east (for example, Feng Shui), assuming only the minimum necessary functionality and utmost objective content.
If you are familiar with it, and you are impressed by the kitchen design in the style of minimalism, then you will certainly be interested in its basic principles. But do not worry - also not without exceptions here.
The main features of minimalism in the interior of the kitchen are:
only the necessary furniture simple configuration with clear lines and regular geometric shape;
strict proportionality in regulation;
copious (multi-level) artificial lighting;
large windows, made on the principle of "minimum frame - a maximum of glass";
horizontal and vertical blinds, sheer curtains or roman blinds;
maximum hiding (embedding) batteries, tubing, wires and column counters;
no (or low) decorative "pylesobirateley".
Here are the modern kitchen, decorated in a minimalist style. But is there any exceptions to this "set of rules"?
Violates the rights or - permissible errors
And here's some not-critical requirements with denials, we have provided a true picture of the interiors:
use no more than 3 colors, mostly - combinations of white, gray, black, brown or shades. Judging by these photos, you can easily combine and 4-5 colors, including saturated;
extremely cold colors diluted "warm" wood - as you can see, this is not always the case; after all this ice composition can tune in using bright chairs, apron or small and a few items of decor;
using only natural materials - wood, glass, stone and metal; because of "biting" prices for eco-materials are often used them almost indistinguishable substitutes;
decorative sloping hood - it looks very nice, but it definitely enhanced cooking can not cope with its main function;
no cooking utensils in sight or the maximum free kitchen apron - it is not always possible in the tiny kitchen, and for those who like everything to have on hand;
layered interior trim, layered over each other invoice - it will be quite difficult with a limited amount of space;
Built-in appliances. Mini format does not answer the needs of each family, which makes this technique less functional and, therefore, contrary to the basic principle of this trend. If necessary refrigerator standard sizes can be incorporated into a large pencil without violating the integrity and the color gamut of the composition;
The absence of handles on the furniture fronts. Firstly, allowed reylingovye handle, and secondly, the push-up and other new mechanisms may not only unusual, but also uncomfortable, which is again very nonfunctional.
Minimalism is friends with other contemporary trends. Hi-tech can be called one of his incarnations. Minimalist furniture looks great on the background of brick walls in the loft.
Broken, but often still used rule 3 colors have been borrowed from the designers minimalist interiors, decorated in a classic style. But here on the colorful and intimate fusion of country, this austere style, you see, is very different.
The smaller items and decor in the kitchen, the more it seems, is not it? Therefore, a small kitchen in the style of minimalism - a very good solution that will visually increase the amount of any room. Create additional space will help you:
the predominance of white color and its various shades;
color floor in one color with a suite;
the same colors of the walls and ceiling;
gloss, glass, polished marble or other reflective materials;
no cumbersome chandeliers and curtains;
sliding partition instead of the door;
good and uniform illumination (e.g., LED lights - it can be installed on the ceiling perimeter and at the junction between the wall and half kitchen unit).
If you are lucky with a window or a bay window - make them a natural extension of the kitchen. The window can be placed additional work surface or built a good replacement for the usual table - bar.
And why not, if you are in the house, only two? And the more pleasant to eat while enjoying the beautiful view.
The kitchen-studio bar divides two different functional zones - the dining room and living room. Plan kitchen with peninsula - also a good way to separation, suitable for medium-sized kitchens. In the photo - examples of what it looks like a kitchen-living room, decorated in minimalist style.
Pursuing design kitchen in the style of minimalism, do not forget: a minimum of furniture, and it should be as practical and light, with a smooth silhouette.
Create a feeling of lightness translucent chairs invisible or most usual stools, characterized by simplicity and subtlety of lines. Folding chairs can always get out of the closet or foam, thereby increasing the number of seats.
The table top can be made of artificial or natural stone or solid wood. Sliding table-transformer is very useful in small spaces. Use it for daily routine, and guests.
In a private house, you can safely use plan kitchen with "island", which will distribute the most ergonomic kitchen space. So you will provide and the passage between the modules, and easy access to the desired surface.
It is an island consisting of several components - washing or cooking surface can be easily opened and closed, transformed into a spacious dining table.
The same plan is also possible in a private house, where there is an opportunity to take to the kitchen located in the center of the module the necessary communications. Hood, you see, can be in the form of a dome - so either in the living room or kitchen smells just do not seep into other rooms.
Hanging lockers should be replaced by niches - of course, if space allows. When without them can not do, to issue them in white - it makes the interior less cumbersome. However, you can achieve this by embedding an LED ribbon under the hinged headset, just above the work surface.
Besides ubiquitous LEDs used in minimal interior neon or halogen lamp, LED-panel, spots, and the bus right hanging lamps - round, oval, rectangular or square shapes.
In diffused light, ie, the absence of a single light source, it seems that objects are merged with the situation. Lighting will cope with the zoning of your kitchen studio.
Set in the living room chandelier, for example, of steel and in the kitchen - spotlights and LED backlight zakarniznuyu. Remember - one decorative element on the 9 sq m But it can be a chandelier.!
White - King minimalist interiors. But, you see, only white kitchen looks a bit boring, though it seems more.
It should be noted that the black glossy or polished surfaces have the same effect. Most often, minimalism involves restraint in color design.
In addition to the monochrome design, or a combination of classic white, black, gray and brown, organically fit into such an interior, and more emotional color. In this case, the walls and ceiling are usually the same light coloring and brightness of the flash let kitchen apron, furniture - suite or its individual parts, chairs or appliances.
However, the eye-catching element can act, and a chandelier, and a designer vase. Just do not forget search with brightness as with the decor, do not say - saturated color should certainly be in the minority.
Kitchen apron, as well as a "free" wall may have a small and low-key pattern or a fine ornament. But in this case the floor needs to be done monotonous. His colors are traditionally either much lighter or much darker overall color gamut.
If you find it difficult to find the best pair for your chosen dominant color - give preference to wood. It blends perfectly with any color, has many different shades and really add to your kitchen comfort and warmth.
Here are some examples of traditional (and not) interiors in the style of minimalism:
How to achieve a minimalist in his kitchen
And in the end - simple tips for minimalist fans who do not intend to make repairs or to update the interior. Here's how you can simply bring your kitchen to this style:
Get rid of all the excess in the kitchen - designed for seasonal cooking appliances (jars for pickles, baking dishes, juicer), or all of what you rarely use, you can be placed on the upper shelves or even move to the pantry (balcony);
Get rid of things that perform the same function - it really you really use all sets of pots and pans?
purchase multi-functional equipment;
leave on hand only what you need for the day;
you are at home, not in the restaurant, and for each type of drink does not have to have special glasses;
besides giving up unnecessary things, it is also important not to buy anything new.
By the way, even more useful information about the organization of the order in the kitchen can be found in this review.
Well, now you know how to characterize the interior of the kitchen in the style of minimalism, and how easy it is to do it in his apartment. We wish you to find the ideal beauty of the composition and functionality!
Kitchen design in the style of minimalism: 60 photos of interiors
Austere interior, in which each thing is in its place - the perfect solution for small spaces. Especially relevant is the design will be in the cooking area. To learn how to build a modern kitchen in the style of minimalism, will be discussed in this article.
Key features minimalist
Laconically, intelligent functionality and minimalism distinguish from other popular areas of design. Closest to it are modern, hi-tech, as well as the Japanese style. But even in this comparison minimalism it looks more carefully and steadfastly.
Straight lines, smooth texture and plain achromatic colors combine to create a very relaxed environment. And due to the lack of decor, and protruding elements left on the mind little things, the kitchen in this style is easy to clean - that's why it will always prevail order.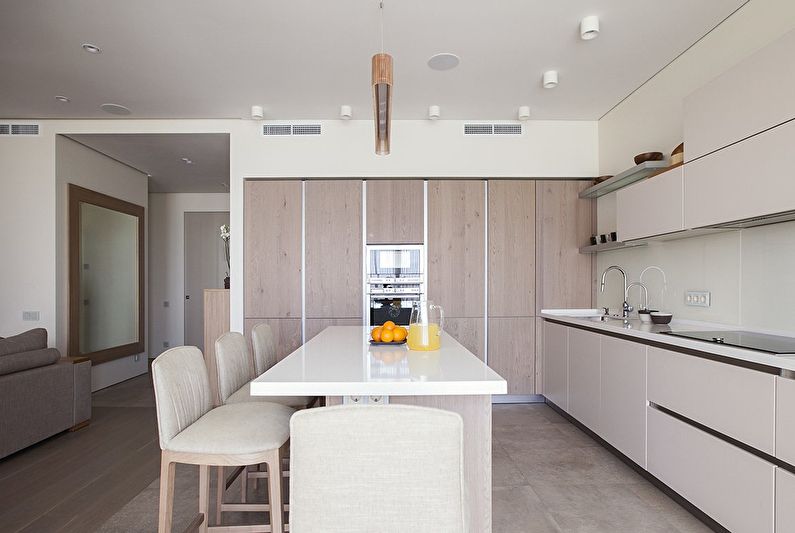 Number of colors used simultaneously in a minimalist style, almost never exceeds 2, in extreme cases - 3. Usually it is a classic combination: white + gray, gray + black, beige + cream. Bright greater inherent Nouveau insertion direction than moderate minimalist.
White kitchen in the style of minimalism
The purity of the white is the best suited for the premises in which food is cooked. Besides the hygienic benefits, this color is visually expands the space and goes well with all other colors.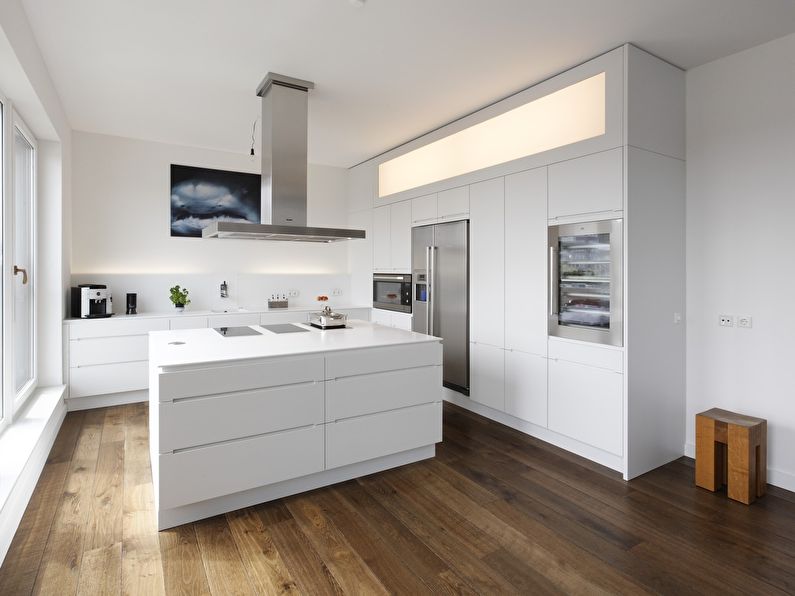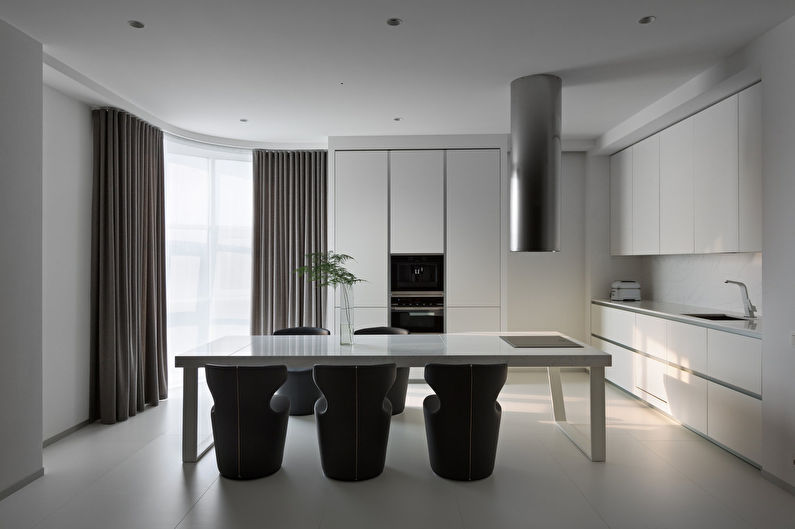 Gray kitchen in the style of minimalism
The neutral palette of rich silver-graphite up - always advantageous to look into the interior kitchen.
Playing with shades of gray, you can create elegant effects of dark and bleached areas. In addition, it is easy to mute the colors are too bright, and in the vicinity of the black and white looks very noble.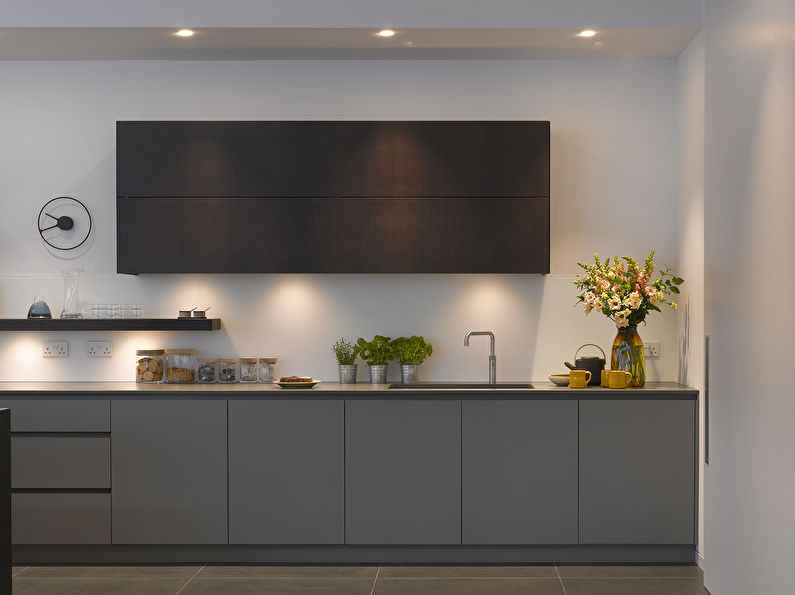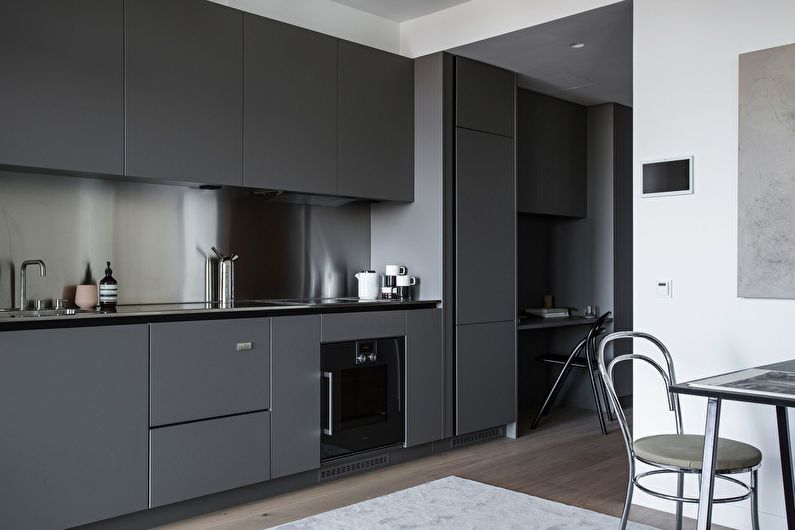 A black kitchen in the style of minimalism
The spacious kitchen in the style of minimalism will look mod if arrange it in the contrast of black and white or steel. In a small room, small black accents on a light background - patterned interior.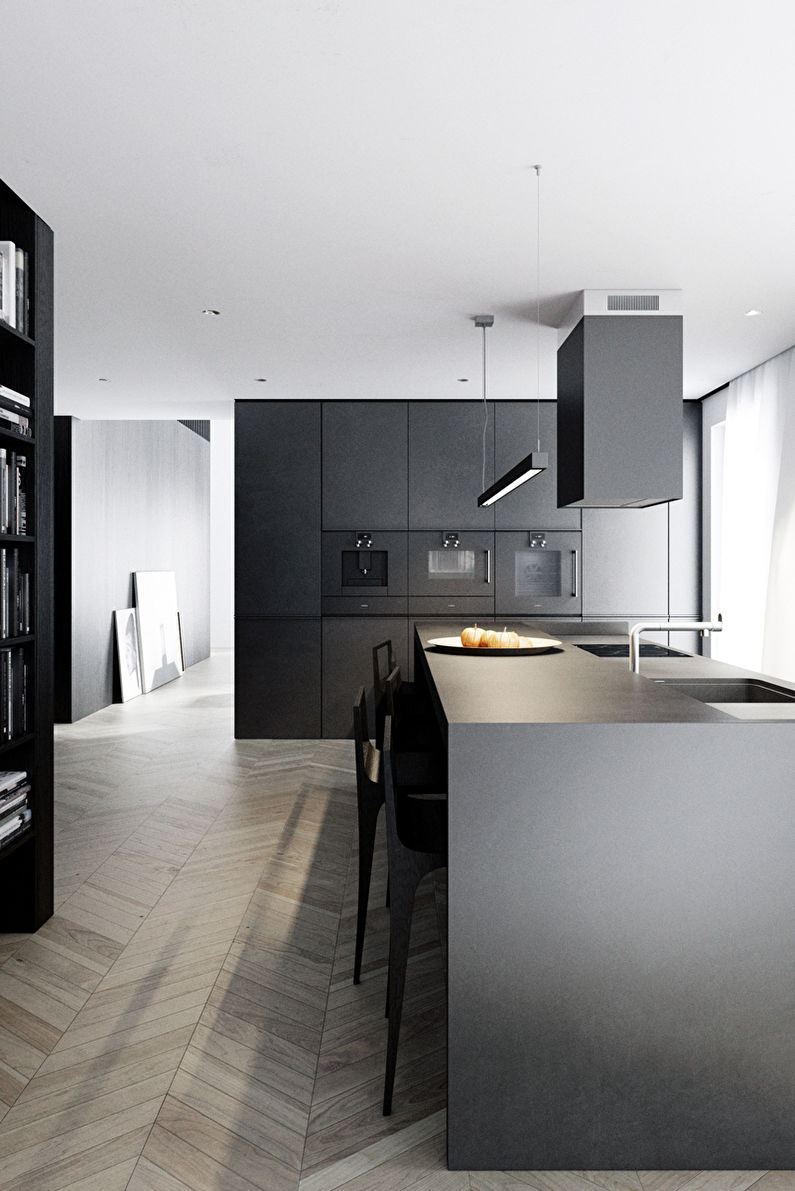 Beige kitchen in the style of minimalism
Cappuccino shade draws its softness, warmth and versatility. Best complement thereto can be wood texture, milky white or dark chocolate color.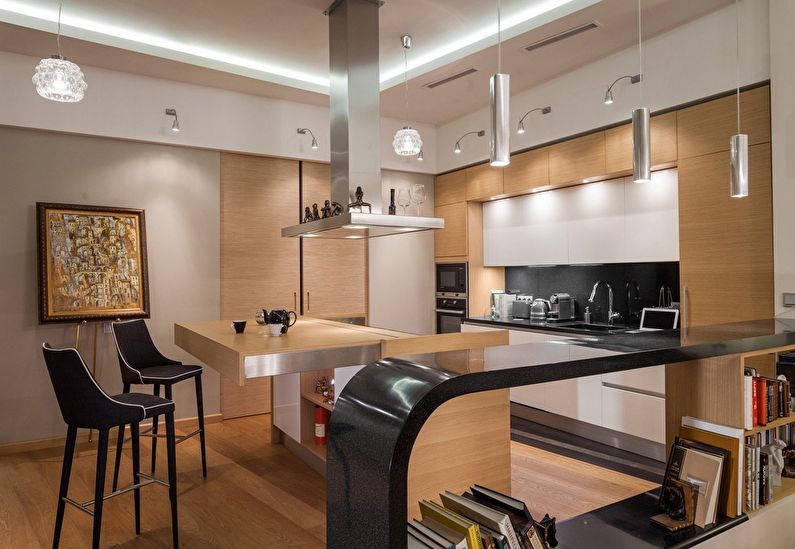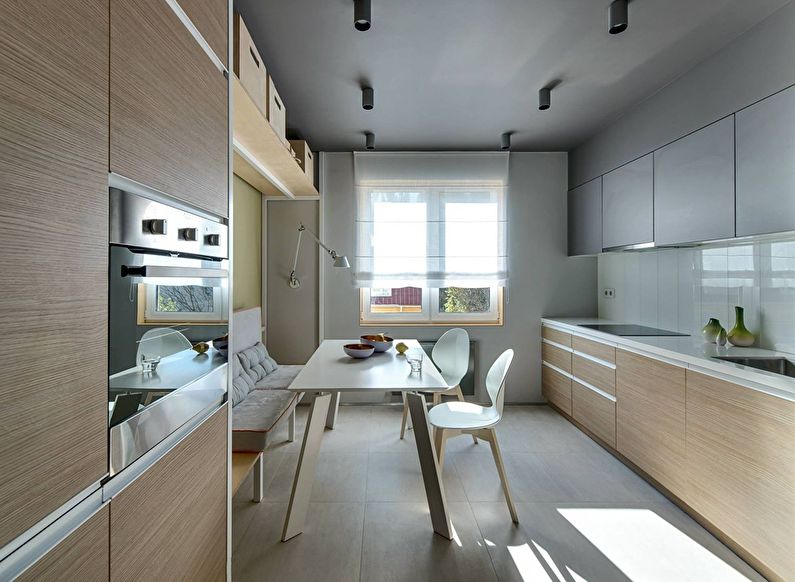 Brown kitchen in the style of minimalism
In contrast to the gray and black, brown is not achromatic and not every neighborhood can come to him. So, the boil-and-white in this case it is replaced by a little yellowish or creamy shade technique choose "a retro" and tinted the color of coffee glass, and metals are best suited with a warm tint (like copper or gold).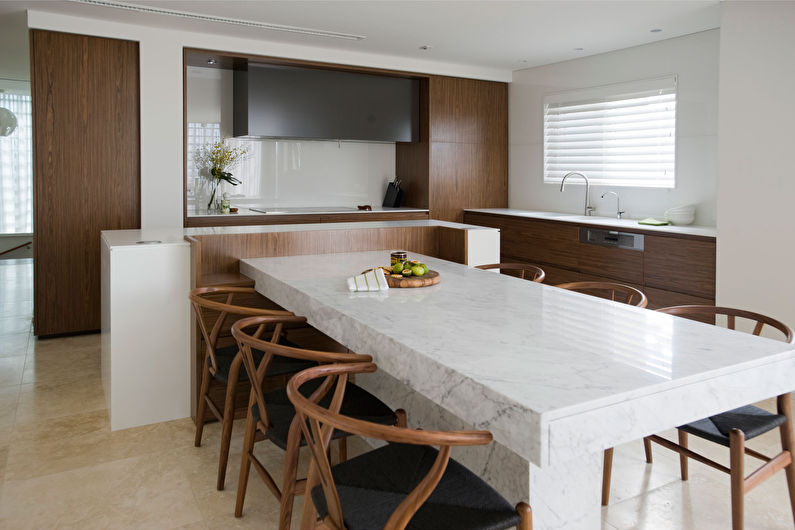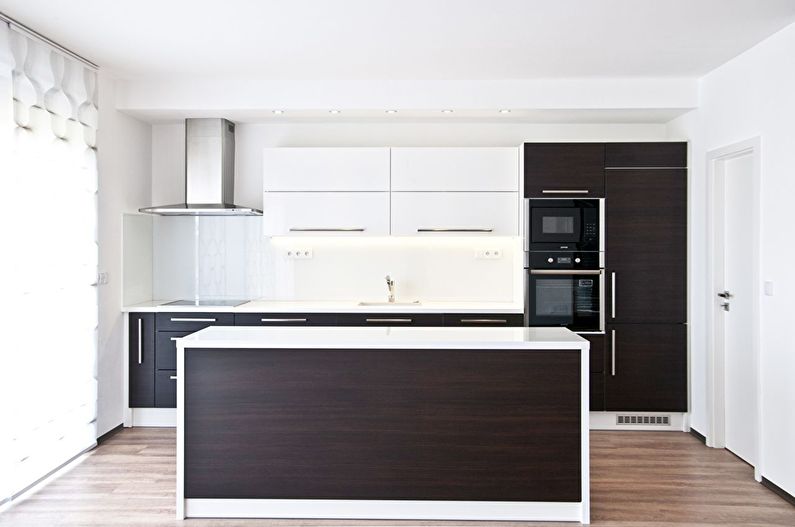 Materials and finishing dishes in the style of minimalism
The main feature of minimalism - practical - should be reflected in the choice of materials. To repair for many years has served in its original form, it is necessary to use the most durable, easy to clean and resistant to moisture coating.
For the flooring in the kitchen fit traditional tile, ceramic, linoleum, cork, self-hardening polymer mixture and covered vlagootalkivayuschim varnished parquet of solid wood.
In any case, the finished ground should look solid cloth, not fragments. The combination of texture, pattern, decorative inserts and other creative minimalism is not allowed.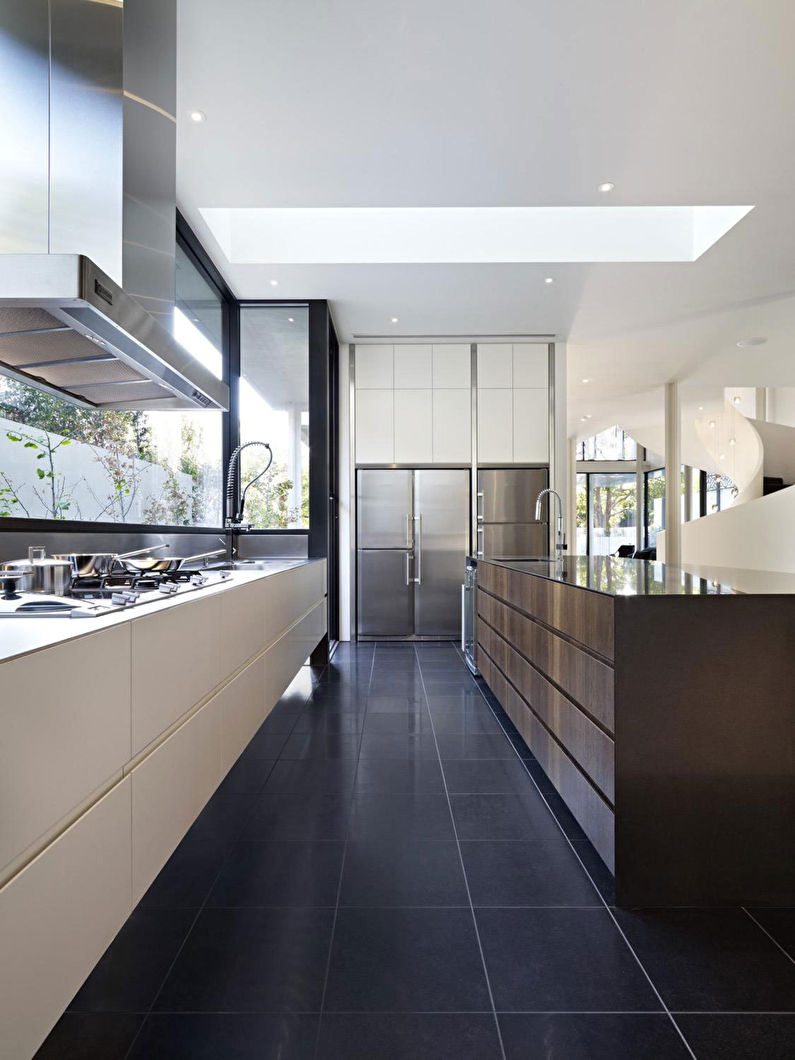 Adhering to the cool design, the walls in the kitchen in the first place need to be leveled. For this fit stucco, moisture-resistant gypsum board, while small cracks - fiberglass.
Further, they can be uniformly paint with latex or acrylic latex paint, tile oblitsevat or plastic panels, place washable vinyl wallpaper. The last should be placed away from heating appliances - stove, oven, so that vinyl is not melted.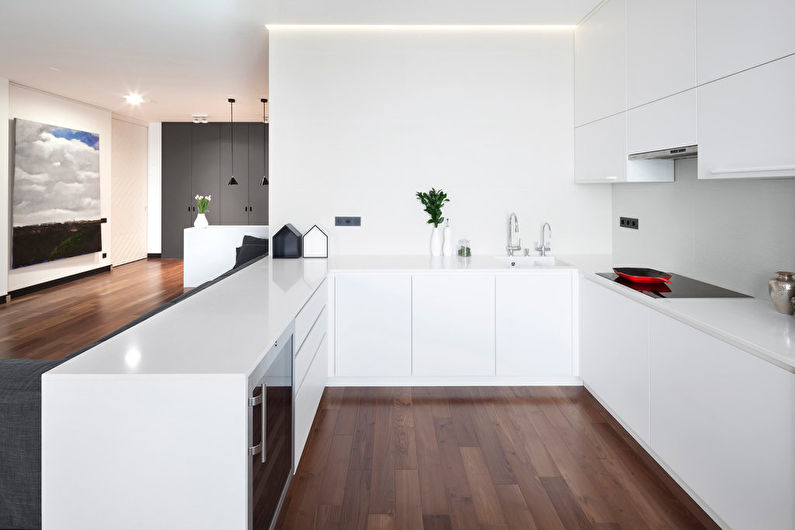 The best alternative to painting, which will have to be updated every few years, can be tensioned PVC film in the kitchen. In a small room it should be white and desirable gloss. As the contamination film can be cleaned with a damp sponge, but using powerful drawing such a procedure would be sufficient to carry out once a year.
If the kitchen is large, in a minimalist style allowed arrangement of the two-level ceiling of plasterboard, with a clearly defined structure geometry. It is also possible pinion plastic coating, with alternating bands of white and mirrored.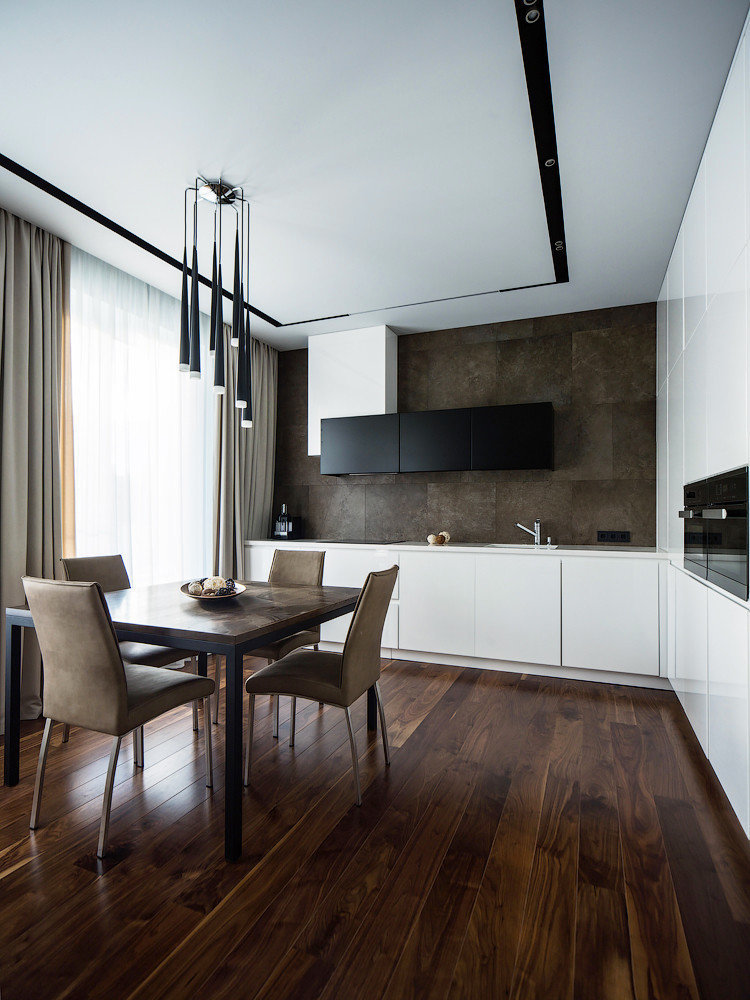 In the kitchen, especially the small-size, tissue should be used very sparingly. For windows best suited monochrome and color blending with the rest of the interior blinds, roman, roller blinds or Japanese.
Synthetic materials preferably selected from vlagootalkivayuschey impregnation. These include - polyester, polyester and nylon. From the flowing curtains and curtain volume recommended to refuse for reasons of fire safety.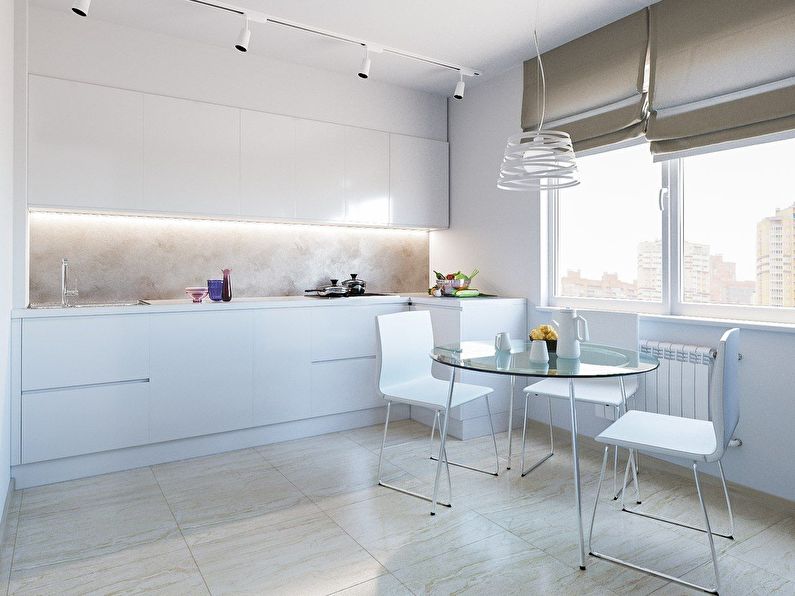 Furniture and appliances for the kitchen in the style of minimalism
Location Pantry, refrigerator and dining area is largely dependent on the architectural features of the room. If the area is small, it is necessary to consider the use of each area in detail.
For example, the window sill can be placed instead of a sink, countertop or similarity of the bar; large plate is replaced by an embedded hob and oven, which, in turn, raised to a convenient height; cooling chamber to buy a small and hide it in the wall, etc.
Kitchen sets in a minimalist style characterized by elegant and discreet design. Any projection, frames, decor, often lacking even the handles (doors open while lightly pressing). The colors are always neutral, completely monotonous, without ornament. Built-in tightly closed, clear glass facades or open shelves in the minimalist models are almost never happens.
The shape of parallelepipeds dominated with sharp edges. Common kitchen wall layout types in a concise style are linear (straight), T- and U-shaped.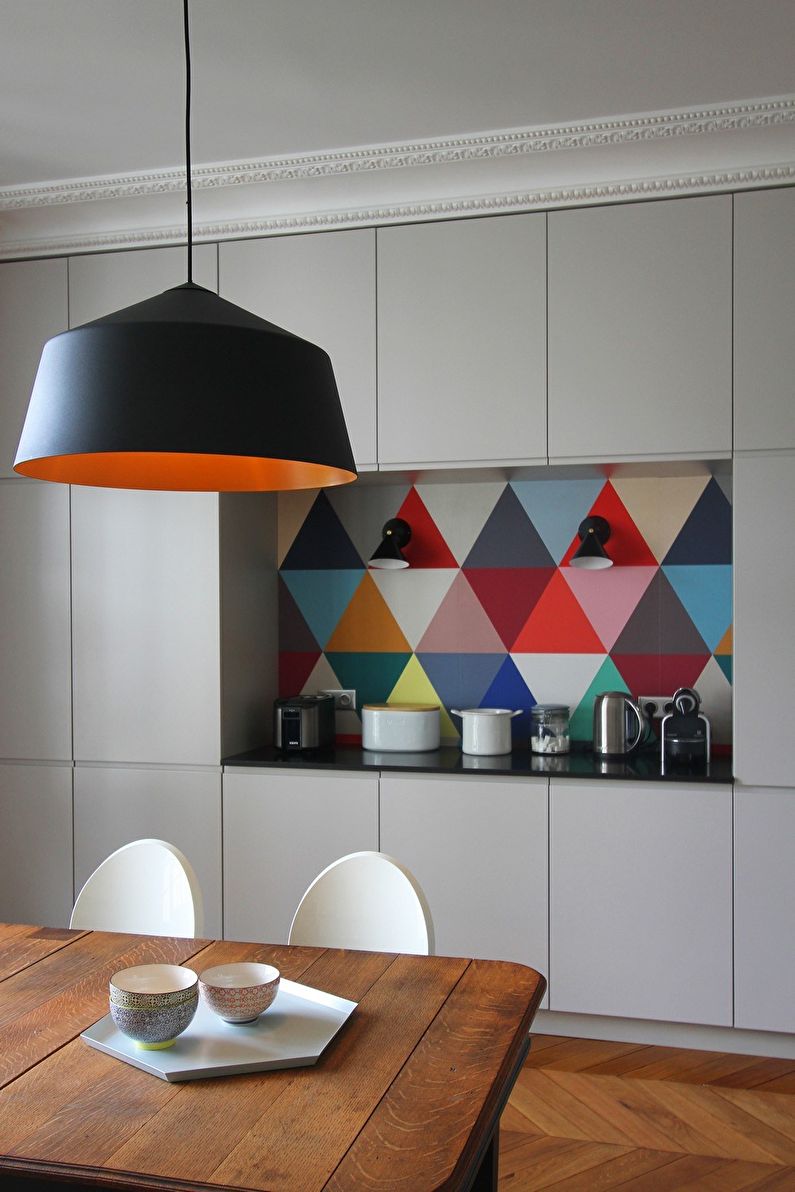 The furniture in the dining area, a simple but stable. She, too, almost all rectangular, without thread and other decorations. The table can be of finely polished solid wood, MDF, plastic, as well as impact-resistant glass. Chairs and stools are almost always of wood, sometimes with metal parts. If they are covered with something, it is usually smooth skin (substitute) in black, gray or white.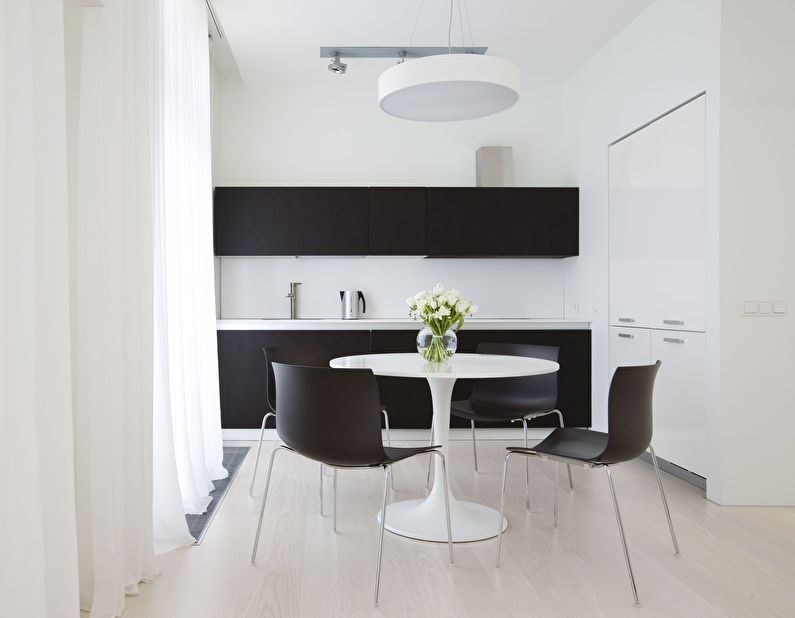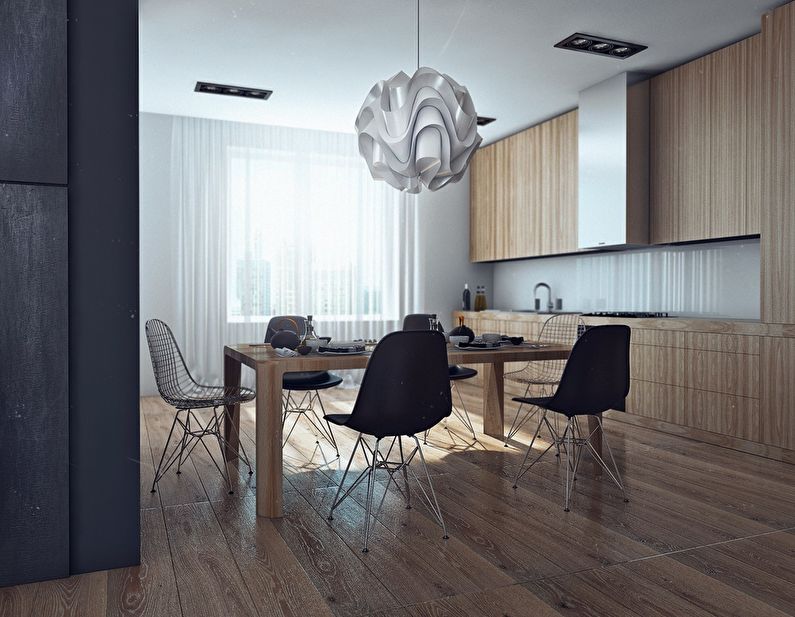 If the exposed surfaces are made to things, it is anything but minimalist.
To the interior was comfortable, kitchen utensils and products should be stored for the facades of cabinets. The headset should be, at the stage of the sketch design or the time of purchase, pay attention to the availability of a sufficient number of storage compartments.
Comfortably accommodate all the necessary things to help drawers, folding design, angle spinning shelves, special hooks and magnets on the inside of the door. Additional space can be arranged in the pantry, in the loggia or balcony.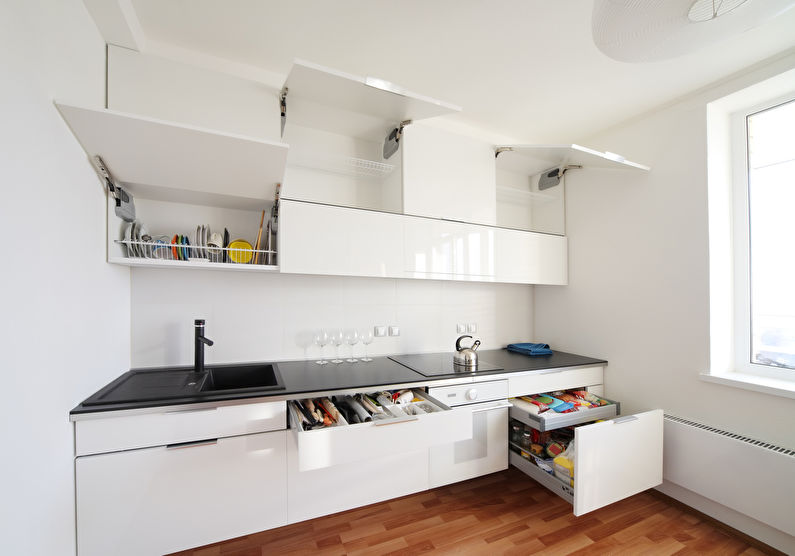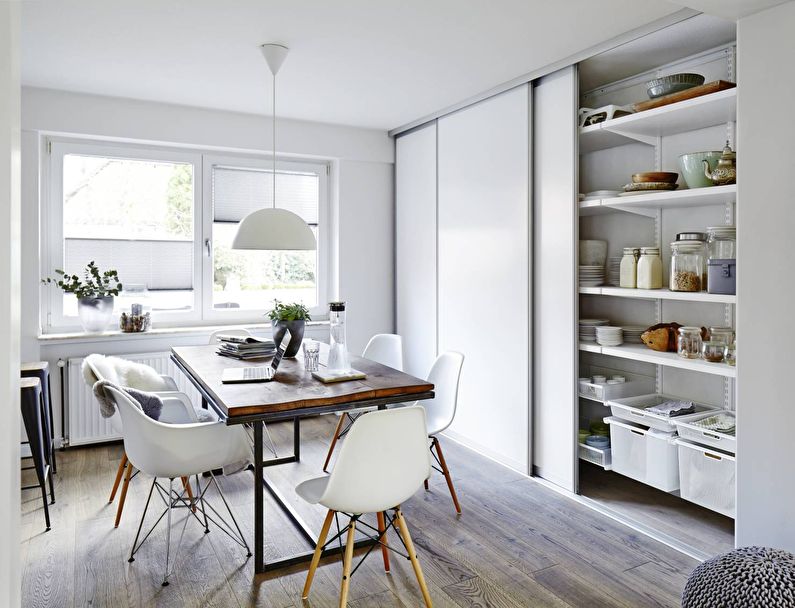 The minimalist interior should give preference to models with a flat door - rounded is distracting from the overall design fuzziness lines. If the refrigerator is not planned to hide behind the facade of the headset, it is better to buy a product with a chrome finish.
In a small kitchen refrigerating chamber can be placed under a window sill or counter top, and still more convenient - at a height of 1-1.5 m from the floor in one of the wall sections.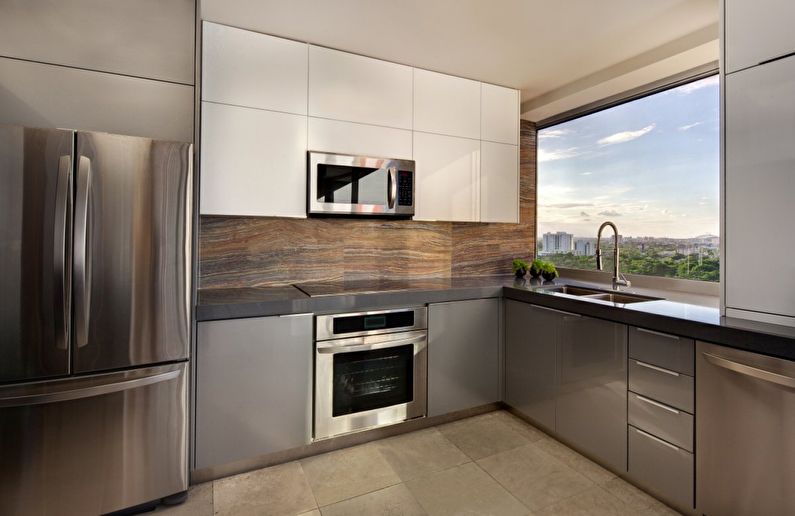 kitchen decor in the style of minimalism
An integral feature of the style of minimalism - a complete lack of decor. No paintings, figurines, lace napkins, vases and other such trifles in the foreseeable space kitchen should not be.
However, rigorous design to add flavor and are quite capable of utilitarian items, such as a mixer, narrow rectangular clocks, lamps.
The spacious kitchen is allowed a moderate presence of houseplants. Especially beautiful green accents will appear next to the dark gray and brown decor.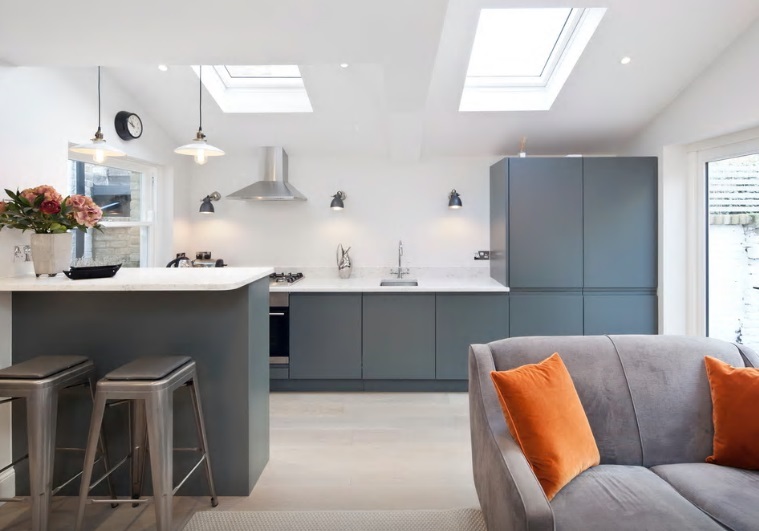 Kitchen in the style of minimalism better use of modern multi-level system: point diodes in the ceiling (on the perimeter or in groups); pripotolochnaya central chandelier; Mortise lamps in the headset over the top; Suspended - over work and dining areas separately.
Some of the furniture or finish can be further illuminated flexible neon ribbons.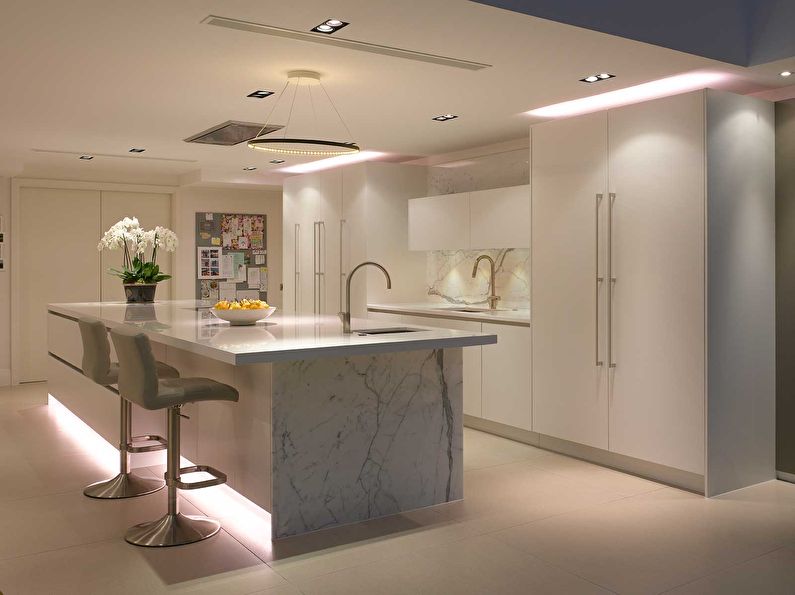 Kitchen in the style of minimalism - photo
This gallery presents the most interesting options for kitchen design in a minimalist style. Ready solutions will help you to determine the choice of materials, furniture and decoration. Get inspired!