New ideas for the kitchen in the studio - plan + photos
Today, more and more young people prefer a studio apartment, spacious and bright room with no dividers. The kitchen in the studio apartment is a single space with a living room, a study and a bedroom that requires a responsible approach to its design and equipment.
Kitchen in a studio apartment - Functionality and comfort
Experts in the field of design and architecture of the premises offer a huge variety of styles design studio apartments. The most common solution is a logical extension of the living room or kitchen. In this case, it is assumed to use the same color and style. Kitchen equipment necessary appliances depends on your desires and capabilities. The most rational is equipment kitchen built-in appliances, so you save the style, functionality and comfort of the room. An important detail kitchen in the apartment without walls - a hood, so that you are not prepared, this device must be enabled, so you can help protect furniture, curtains, bedspreads and pillows from the smell of prepared food.
Thanks to modern materials and technologies furniture production, and easily implement the most daring and creative design solutions, but in this case it is necessary to remember the harmonious combination of styles.
It plays an important role, who lives in an apartment. It's one thing when it is a lonely young man or a young girl, and quite another when a young family. In the latter case, designers are advised to use the premises zoning method.
The best option - is the creation of different levels of floor and ceiling as well as the use of different in texture and color of wall and floor coverings. A well-chosen materials will create an elegant and comfortable atmosphere, where it will be nice to spend a romantic evening or organize a party with friends.
Zoned space as possible and with the help of furniture. So, the perfect solution would be the installation of the bar in the kitchen and living room border, besides such a rack can be used as a dining table, which makes it possible to save necessary for culinary creativity space.
Kitchen in a studio apartment - Comfort and convenience
Create a comfortable environment will help intelligently thought-out lighting, with the help of which you can also enhances the environment and hide possible defects. In most cases, these apartments have 1-2 window that does not allow full coverage, even in the daytime.
When deciding on lighting studios and kitchens including, it should be remembered that visually enlarge the room will help diffuse soft light, while the sharp twilight and shadows will make your room even smaller.
As for lighting the immediate work area, in this case, designers recommend to use the built-in LED lights and strips, which are placed under the overhead lockers. Thus, you provide the necessary lighting for the preparation of food, and if necessary can create a semidarkness for a romantic evening with a loved one.
It plays an important role and position of the kitchen. Thus, if the kitchen area is located in front of a wall with a window, select the lamp as close to daylight (white spectrum).
For a comfortable location in the kitchen and in the living room, experts recommend to equip a studio apartment quiet appliances. This is particularly the case for large home appliances (refrigerators, washing machines and kitchen hood). The best option - a technique with a noise level less than 40 dB.
Every centimeter of space must be thoroughly thought through. It is necessary to provide storage space for small household appliances, food and utensils. For these apartments a good solution is to install furniture to the ceiling. If you plan to use a standard kitchen units, the top of the wall cabinets you can place the original baskets and containers for food storage or little-used equipment. You can also make his own extra shelves, which are located above the wall cabinets, the main condition - is the observance of the color gamut.
Previously proposed bar may also serve as a place for storing utensils, alcoholic beverages or products. To do this, choose models with niches or cupboards, which can also be placed cosmetics, toiletries and other workers.
Kitchen in a studio apartment - an apartment zoning options
Create different levels of ceiling and floor require extra financial costs, which will help to avoid zoning space using different colors. Harmoniously matched colors not only share space on the seating area and cooking, but also help to visually enlarge the area. The main condition is that you need to remember - this proportion, they must be different. Avoid dark colors because they visually reduce the room so no big studios.
Also separating the kitchen area from the living room or bedroom furniture partitions are used. Such designs have not only a decorative function, but also serve as a bookcase, where you can put your favorite bestsellers, lovely heart trinkets, frames with photos, souvenirs from a holiday and so on. This solution is for those who want to at least partially isolate the kitchen from dwelling. For these purposes, you can also use the drywall or sliding systems.
Zoning is less practical using textile curtains or screens. This technique is important for the insulation bedrooms, but for fencing off the kitchen is not well suited, because the fabric is very well absorb odors from cooking.
Kitchen design studio: photo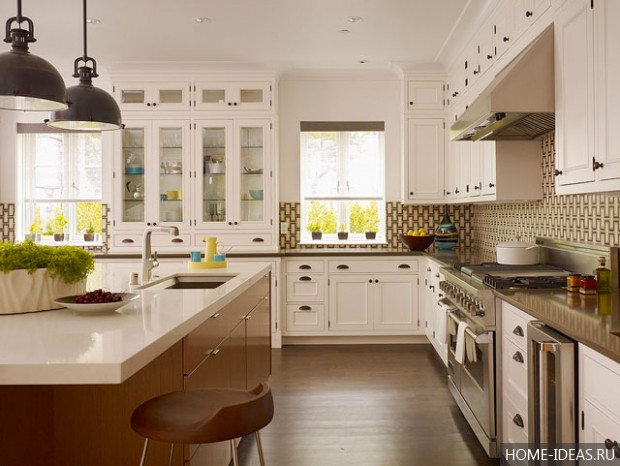 To get more arrangement possibilities of furniture, interior design, more space in a small apartment adjoining rooms combined. The one-bedroom apartments are often removed the wall between the kitchen and living area. The result is a comfortable open plan. If it is to issue correctly, you get a beautiful modern apartment, convenient and non-trivial. How it is possible to equip the space of the kitchen-studio, a stylistic decision to pick up for it, and how to zone the entire joint area - about this later in the examples and photographs.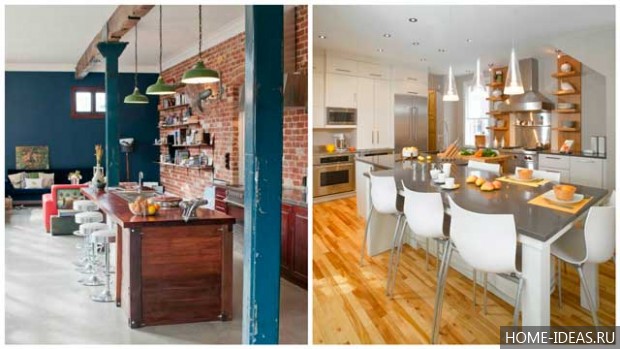 Styling kitchen-design studio
Before proceeding to repair, throw rough draft of the future interior. What style will it be? It's up to you. And there are plenty to choose.
For example, the interior of the small room is very organic look in the style of minimalism. To make a reality of it, followed by several principles: maximum functionality, a minimum of unnecessary furniture and decor, a large number of diverse light and the presence of glossy reflective surfaces. As a result, the kitchen looks modern, it maximum comfort and functionality, the interior is based on a combination of only two colors, with an emphasis on striking a third color.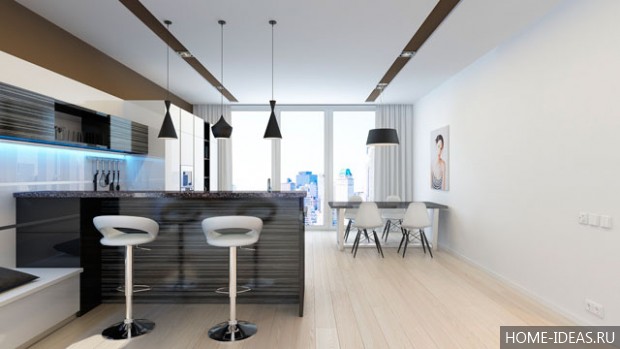 Country - is one of the most suitable style decisions. It dictates the use of natural materials for decoration, furniture and decor. The country kitchen all at home: low-key to the middle of the curtains of the window are selected to match with the tablecloth, mats and napkins, copper and ceramic tableware is located on the most prominent areas, soft lighting. The whole atmosphere breathes tranquility and comfort.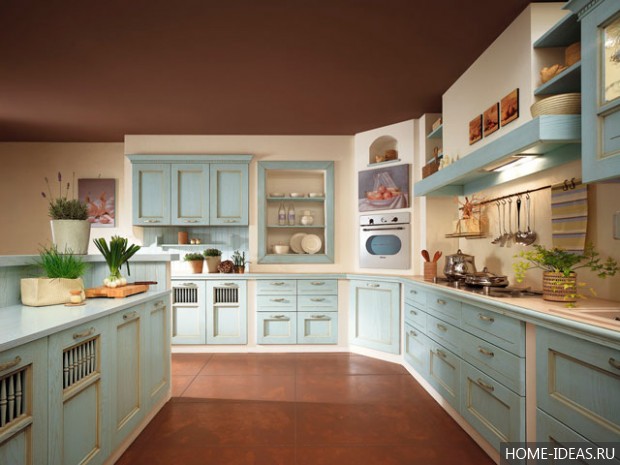 Antipode country - ultra high-tech. He does not accept the ordinariness and simplicity. The kitchen in this style is full of appliances and multi-functional household appliances. Shiny chromed surfaces complemented clear glass, and advantageously in the cold light flashing halogen and neon lamps.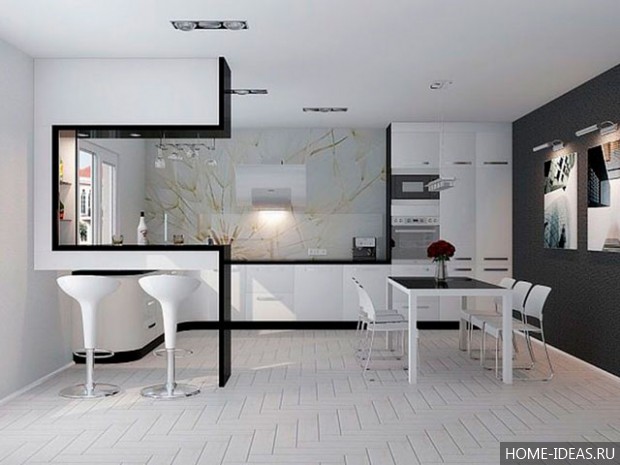 Classic interior - is an option at all times. Classical canons of the interior for years did not go out of fashion, harmoniously look in any home look elegant, but not pretentious. To underline style, choose high-quality furniture made of natural materials, solid technique. Finishing the interior based on a combination of harmonious colors without harsh patches of color and contrasts.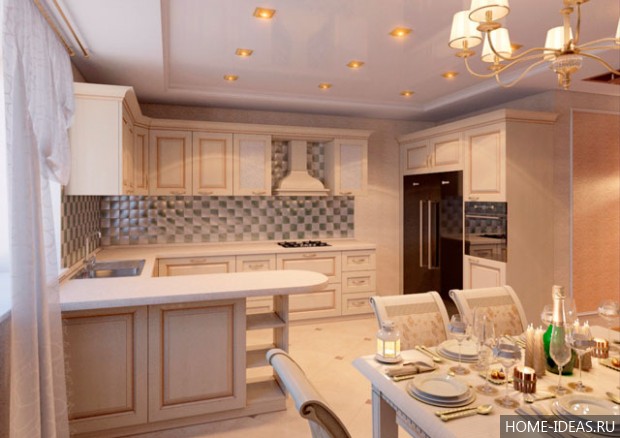 Another contemporary style - trendy and colorful Art Nouveau. Kitchen Studio combines a plain surface with crawling floral motifs. Furniture pick up a curved contour. The whole atmosphere breathes comfort and modernity. But at the same time it clearly heard the echo of oriental motifs.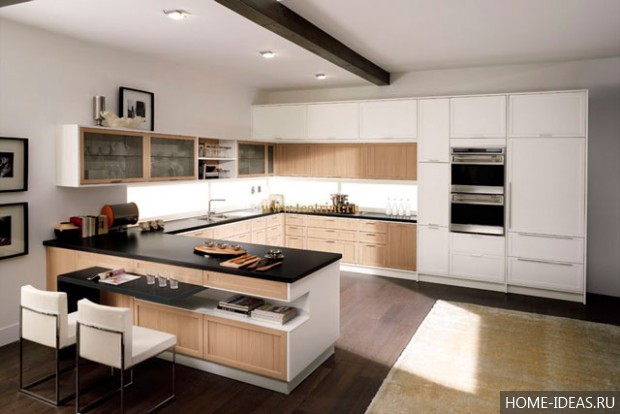 Mediterranean comfort, simplicity and elegance epitomizes Provencal cuisine. Its interior is difficult with something confused. It is filled with beautiful pastel aged furniture like sun-bleached shades, beautiful textiles discreet colors with small floral patterns, battery antique dishes and utensils of brass, aluminum, ceramics and copper. Atmosphere fills an enormous amount of decoration - dried bunches of herbs, beautiful painted plates, decorative bottles and wicker baskets.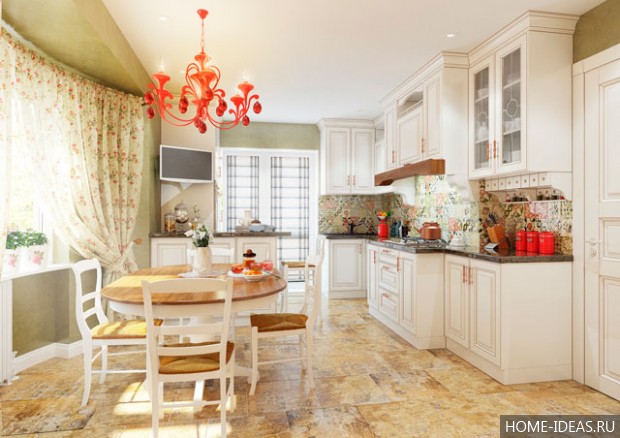 Methods kitchen studio zoning
Removing walls in the apartment during the redevelopment, the owners are surprised to find a spacious room, which now combines the functions of several rooms. For example, the kitchen, hallway and living room or kitchen and dining area. Small square studio involves the location in the space with the kitchen, bedroom, living room, office, hallway and dining room at the same time. Such a combination is rather difficult to imagine. But it can be implemented by using methods of zoning studio.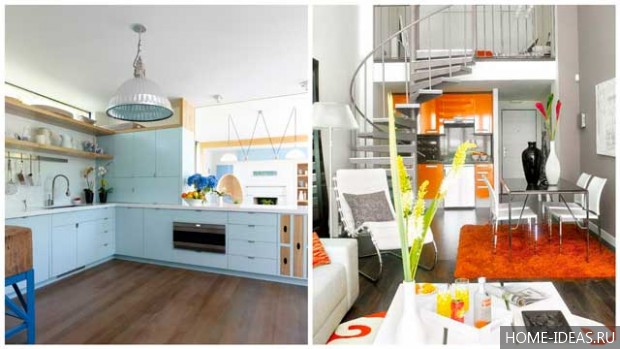 The most popular option designation cooking zone in open loft space - the allocation portion of its borders by means of decorative walls. It is made of gypsum board, transparent plastic, forged lattice. Even between the living room and a kitchen equipped with a bar counter, which is not only a stylish element in modern interior, but also a great substitute for a conventional kitchen and a dining table.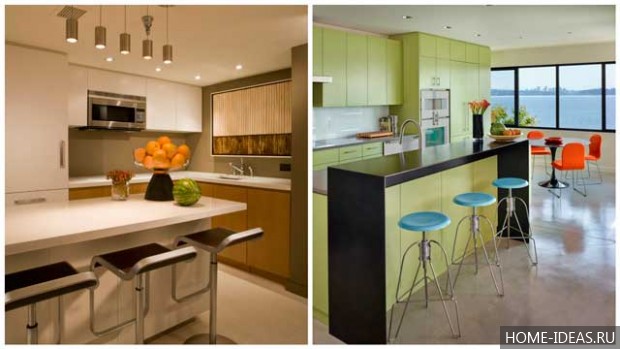 You can use several methods of dividing the area into zones in the studio apartment:
Equipment catwalk. Kitchen area is raised to 20 above the main room - 30 cm, mounting the podium. It can serve as a focus of the entire space or discreetly blend in with the surroundings. But at the same time, it will always denote the kitchen area;
Installing a fireplace is suitable only for large-sized spacious rooms that combine the kitchen, living room, dining room;
Equipment Ceiling different lighting types creates a visible, but enough to effect a conditional zoning. With directional and scattered light of varying strength and brightness is isolated and dining working surface;
Construction tiered ceiling can not only identify functional kitchen, but also decorate the room;
The use of diverse materials. Kitchen border highlight, for example, a patterned decorative tiles, and represent the living room wallpaper and flooring of a different color.
If you can not determine the type of zoning, try several options proposed. For example, the combination of diverse ceiling and decorating materials will be a good ensemble as well as a bar, standing at the kitchen podium.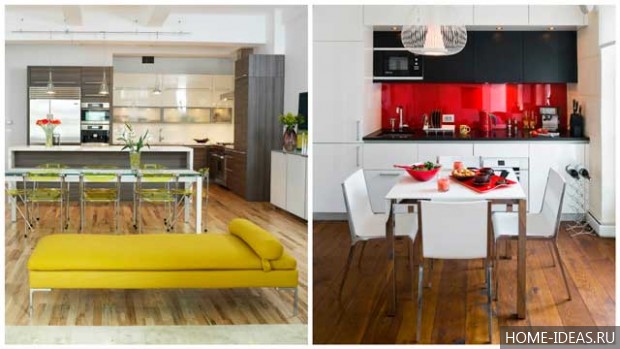 If an open plan gives you a feeling of comfort, and it does not want to break the partitions, podiums or fireplace, you can play with a variety of lighting scenarios, the different parts of the room. That is, for each conditional zone need to choose the right lighting.
Emit bright light working area. It needs a lot of light that cut, cook or wash products. The dining area on the contrary would be appropriate to warm ambient lighting. It will emphasize privacy and creates a romantic mood.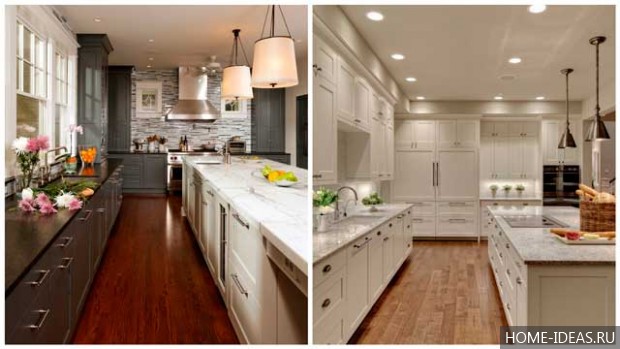 When choosing lighting for the kitchen, you need to plan for the purchase of central chandelier and hanging lamp, which is the main source of light. It hung over the dining table, emphasizing its importance in the interior. Small aimed lamps are suitable for lighting work surfaces. They are easy to turn in the right direction by adjusting the degree of illumination. Table light in the kitchen will only hinder, but the lamp will indicate living area.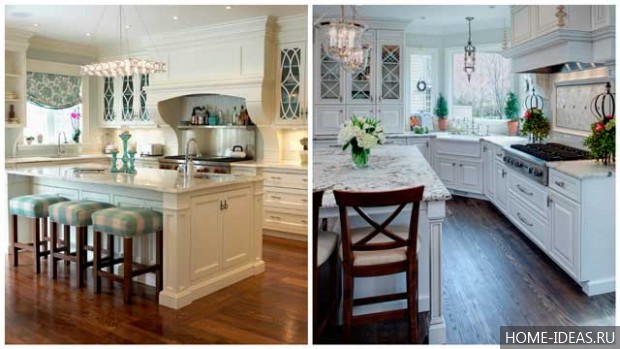 Today, the web presents a rather original and well implemented design options for the kitchen-studio. Photos may inspire you to repair and prompt an interesting idea for the design.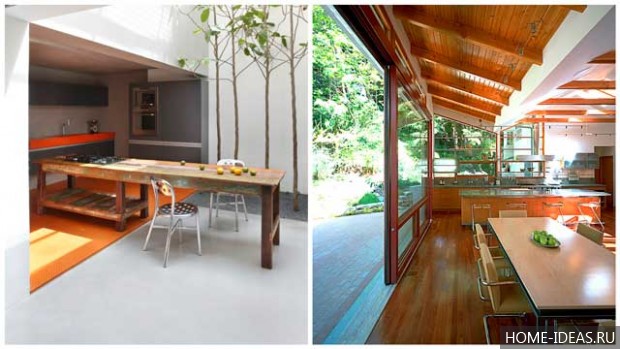 So, the kitchen-studio can be decorated in a classic and modern style. From the options, you can choose the one you like. To mark the joint space is used a variety of methods of zoning from the podium and especially straddling the furniture, to the selection of finishes and installation of interesting lighting options. Kitchen, tasteful goes out of fashion and create a cozy atmosphere for breakfast and dinner with the family.
Kitchen Studio: design and interior layout
We offer you a selection of photos from the ideas of the kitchen-studio interior design, as well as practical advice on redevelopment.
It is tempting, and at first glance, easily workable idea. But there is in addition to the positive aspects and a few difficulties. Let's look at everything in order.
Pros and cons of "living together"
The undoubted advantages of the kitchen-studio may include:
a large area, allows you to move freely;
you will never feel lonely, doing household chores;
you can always arrange a reality show "Master Chef" with the participation of all households.
The disadvantage of such interior solutions do not have much, but they are still there:
distribution of kitchen odors (cooking, alas, is not always accompanied by mouth-watering flavors, you must provide a powerful extract);
the visibility of the workflow and unharvested dishes (we should always remember that the used utensils should be washed immediately and get out - to relax and leave for later will not work).
Lucky for those who have residential square footage in the new building, or in your own home. Free room layout allows you to "have fun" with design kitchen-dining-living room is not limiting itself to nothing.
Talk about this later. Now we discuss the unenviable fate of holders of "chorus" in the Khrushchev.
Incomplete 4 square meters of kitchen space - a nightmare designer, brought up on the floor spaces of modern living.
But even these meager amounts is realistic to turn into quite a decent studio.
Before embarking on clearing space should carefully review the floor plan. And it is not out of idle curiosity.
The fact that the "Khrushchev" has one, but a very significant architectural oddity: as a rule, the wall between the living room and kitchen is a carrier (not available in all projects, but will not be superfluous to clarify).
Therefore, its total elimination can lead to catastrophic consequences. Generally, when redevelopment of premises, including at the kitchen combined with living room or balcony, it is necessary to take into account the position of bearing walls and floors of the building.
After all, these parameters will be decisive in interior solutions your kitchen studio.
Nothing is impossible. And even when there are serious design constraints, you can get a more spacious kitchen combined with living room and / or balcony.
Closely acquainted with the plan of the premises, we find out - burdened anamnesis bearing wall. Therefore, to completely eliminate an annoying barrier between the kitchen and the bathroom will not work. We'll have to get out.
There may bail supporting columns and arched doorway. The main condition - the column can not be purely decorative, they should bear the main burden. Therefore, to the question of the choice of material for future support should be approached responsibly and it is best to contact the experts to continue to not get a nasty surprise.
The important point to create an interior kitchen-studio is the organization of space. Zoning can be done in several ways:
1 Miscellaneous tier room
2 Zoning by color
Zoning furniture 3
4 Sliding partitions.
Each of these methods can be used either individually or combine them. Consider the various options.
1 If the ceiling height is insufficient, change the space level is not quite appropriate. And in terms of security movement in a small room is very problematic. Although there may be exceptions.

Traditionally, zoning in kitchen-studio raise the floor level is in the "workplace". This is due to the ergonomics of the workspace: to carry the finished product lighter down. Yes, and the visual loss of height in the kitchen will not be as noticeable, if you use the vertical cabinets with glossy facades.
2 This division of space may be combined with the color demarcation. Then the floor in the work area should be made lighter, which visually increase the volume. recreation area should be separated darker floor covering.

Also, this may further help the choice of material: floor tiles in the kitchen, select (one-color or pattern, depending on the selected design style of the room), and for the rest of the space is best suited or laminate, parquet or solid wood.
3 Some interior design styles suggest the color solution space. Such zoning is conveniently combined with the separation of the room and with the help of furniture.

Loft, eclectic fusion of techno and just provide for the organization of the border zone bar or island. Then I think of the work highlighted in the general solution, and a sitting area and dining room are more structured.

Color solution can be both a contrast and close shades. For small areas it is recommended to do one of the walls a more saturated color, and the rest should be calm tone. It is also necessary to consider the color of the furniture and accessories, and textiles.
4 As mentioned above, cooking is accompanied by specific aromas. And by the way, not all come to the delight of their spread throughout the apartment.

This problem is not difficult to solve by applying the sliding partitions. Recently, relevant steel panels of tempered glass with themed designs. Partitions are comfortable not only because it protects from noise and odors, but also help create the necessary privacy and comfort.
The most appropriate choice of stylistic solutions space can be loft, techno, fusion. Of course, no one can tell you that the Biedermeier, Baroque and Art Nouveau will not fit.
Kitchen-studio may issue general in any style, but to cope with this task will be difficult - need the services of a professional designer.
If you are determined to deal with everything without assistance, you should pay attention to more functional and less "pompous" styles that do not require careful study of small details.
Loft - studio perfect choice. But it is not suitable for every apartment. In small apartments to create a true bohemian loft will not work.
After all, the main feature of this area - high ceilings that allow to make the second level, large windows and a maximum of open space. If your room is to meet these requirements, then you can safely proceed to the alteration of the object.
Presence is not camouflaged pipes, ventilation shafts, rough brick walls are welcome. But, it is important to remember that the finish must be of high quality and impeccable to the room looked really stylish and not look like a garage ransacked.
Techno something like a loft. But this is only apparent similarity. In both cases, the technical elements used as additional decoration. But techno great attention is paid to lighting the room.
The use of professional lighting on tripods and brackets, a plurality of metal parts in the decoration of furniture, and often metal furniture is the hallmark of this particular style.
And if the loft is characterized by basic natural colors with bright color accents, the techno dominant masculinity are cool colors, no bright contrast spots.
Fusion - a good choice for a family couple. This is truly a design style that offers mix everything with everything. And the reason is not functional, and emotional component.
Release your imagination, good cheer, and safely proceed. As a result, you get an excellent kitchen-studio in a fusion style. Multi-colored walls, a combination of different textures, plenty of lamps, textiles and furniture made of wood, metal and plastic will help to create the necessary atmosphere.
But it is important to bear in mind that the room should look as a harmonious whole, and not resemble furniture store, weighed antique department.
You have decided on style, and even longer "see" how it will look your updated kitchen studio? Do not hurry.
First, decide what is more important - a free space for cooking and a comfortable living-dining room. It is from this ultimately will depend on the appearance of your kitchen studio.
1 A paradise for gourmets
If cooking - it's your everything, and most of the life you happy to spend in the kitchen, the preference is still necessary to give a simple, functional interior solutions.
In this case, nothing will distract you from an exciting pastime, and living-dining area is just an auditorium, where your household will be able to enjoy exclusive culinary show in your performance.
Then, most likely, will approach the calm, even a little bit muffled tone for the work area. Living room of the studio can be decorated in brighter colors.
Zoning space is preferable to arrange not only by color, but also due to the device bar.
This element of the interior is at the same time and share the premises of functional features, and allows it to merge, creating a buffer zone between the "industrial area" and the comfort zone.
If the room size allows, and the guest of the "department" of the studio well be further divided into a dining room and the living room itself.
Not all food is the main room in the house. Sometimes it is just the place for fast food, but most of the time is spent in the living room. But being alone with stove and fridge did not want to.
Then a priority in the design of the kitchen studio to become a living-dining area. It dictates the basic conditions of the interior arrangement. There is possible a wide range of styles - from avant-garde to the Baroque.
Zoning is best done using a sliding partition, and the share of self-catering take a minimum of space, retaining only its main functions.
kitchens are often combined with a living room is the best option of interior solutions in the presence of a large family, in which the members of a variety of tastes and needs.
Thus organized and the room will allow to gather all together and allow everyone to get a "piece" of personal space.
The best solution would be a stylistic choice of modern design trends or the more traditional solutions, such as Provence, or country.
All modern styles are perfect for organizing multi-functional space.
Perfect solution will also opt for a Scandinavian. Characteristic for the interior of the white walls and simple lines are ideal for small spaces.
Now the style of Provence is experiencing a rebirth. Its popularity is increasing. The simplicity of village life and closeness to nature - that is its foundation.
In the design of pastel considered basic, like "burnt" colors: beige, milky, ash gray, lavender, pale blue.
But not all so sad and pale. The interior is welcome bright spots accent: light curtains, abundance of motley textile, furniture facades intense blue or green tones, but with a patina.
Furniture should be wood, solid and simple forms.
Country style as simple and close to nature. The same spirit of rural life, only brighter, a little more colorful. Furniture should be simple, functional and robust. Perhaps the use of wicker furniture.
A significant difference between these two styles - the use of natural or painted wood.
Country style involves the use of natural colors of wood, while the Provence - a painted surface. Country is as different on the organization of space.
Workplace in the kitchen is organized in the form of the island, and not against the wall, as is common in other styles.
Avant-garde - the most radical and unpredictable style. There are no minor details. Color, shape, layout objects - all aimed at creating a single, harmonious and unique ensemble.
If you are determined to make your kitchen studio avant-garde, then forget about wallpaper classic colors, typefaces, vinetochkah and pilasters with stucco - all too commonplace for the avant-garde.
Unity of contrast, harmony of textures to be combined - the choice of creative, free spirit, endowed with artistic taste.
Kitchen Studio - one of the most expensive types of redevelopment of existing facilities. Nevertheless, the number of advantages resulting outweighs the disadvantages.
And the emotional component is not worth discounted. Comfort, more space and opportunity to create - what could be better.
Any ideas you can put into play to your kitchen. The main thing is not to forget about the measure and the sense of taste, as well as to take into account all the engineering and tehnichesk5ie characteristics of the premises.