Kitchenette for a small kitchen - a photo and the price. How to choose a mini kitchen corner or couch
In the small kitchen should be only the necessary furniture. Kitchen sofa has to be functional and comfortable for all family members. To date, there is a huge selection of parts models. If your kitchen is already framed in an appropriate style interior and furnished, it is important to choose the best color and size.
Each furniture company produces furniture for secondary standard sizes. You can buy furniture made to order. Individual dimensions depend on the place of assembly, ie you can order from the catalog of the sofa, and sizes of pick up based on the area of ​​free space in the room. Be sure to ask to see a list of the technical characteristics of the model selected corner, maybe you fit a standard size. What are the dimensions of the kitchen corner are considered standard:
total height - 80-100 cm;
Seat height - 40-50 cm;
seat width - 45-70 cm.
Mini kitchen for a small kitchen
The kitchen is in the planning stage? Should not forget the design in a suitable place small dining area kitchen. The main advantage of the furniture attribute - to save space, which is crucial in the kitchen of a small size. Most minimum size of the final corner in the shops of Moscow - 1010h1010 mm. By purchasing a compact little corner of the kitchen, you will no longer need to purchase a separate table and chairs.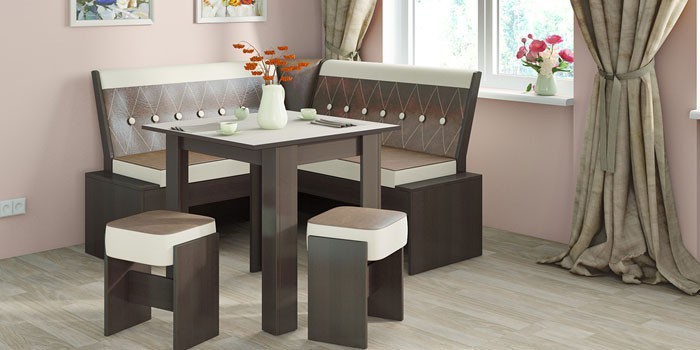 Kitchen area with sleeping space for a small kitchen
Not all people have a spacious dining room. In the small kitchen you need to choose small-sized version of the "all and pokompaktnee". For such purposes, manufacturers and designers have come up with a small kitchen area with a sleeper shown in the photo. Buying transformer facilitate owners deciding where to put the guest or removes the need to buy another bed. Thus, each precious centimeter will be spent for the benefit of the public convenience.
To pick up a versatile option, should be based on your needs, what you want to use the sofa. You can choose from an assortment cheapest option - a simple model with soft seats, upholstered inexpensive. If you use the kitchen as another room, it will look great ergonomic and versatile corner of the little kitchen with leather seats, nice, with a robust mechanism design (photo).
A kitchen corner with a box for a small kitchen
If the room is small, it does not mean you have to have a minimum household appliances. But where to store it all? To do this, designers have invented a kitchenette with a box for a small kitchen, under the seat where you can put all the little things, and even conservation. seat cover is easily lifted, and design a mechanism is long. Ikea furniture boasts a stylish design and affordable price. Favorite photo of model kitchen corner of this brand can be ordered online or purchased in stores.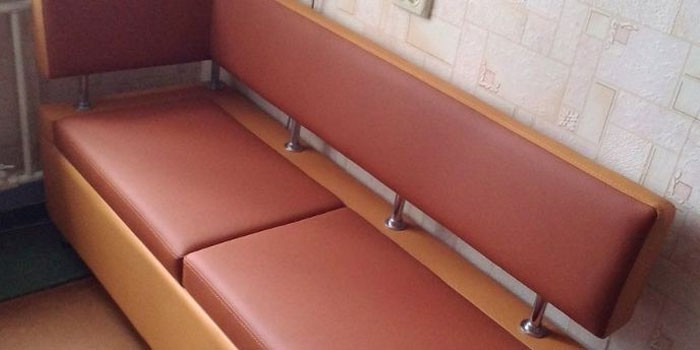 How to choose the kitchen for a small kitchen
Many furniture stores have such a free service as a challenge-zamerschika designer. Specially trained people will help you find the right furniture in color and size. Popularity has become a combination of red color with wood. If you set yourself to equip your home, keep in mind that the main selection criteria are:
Size of the room. In the small kitchen you need to give preference to compact kitchen area.
The number of expected guests. If you do not like to receive guests or live alone - a waste of money could buy kitchen sofa for 6 people.
Desirable location must not interfere with cooking does not be disposed near the cleaning of the refrigerator.
Kit Only with kitchenette or with an additional set of furniture. You can put a sofa with table, padded stools and 2-3 to create harmony in the interior.
upholstery material (fabric, natural or artificial skin, drawing).
Color spectrum. Brown - the most common variant. Modern accents can bring colors: green, blue, orange.
The depth of the soft seat should be about 50 cm, the most comfortable for the individual.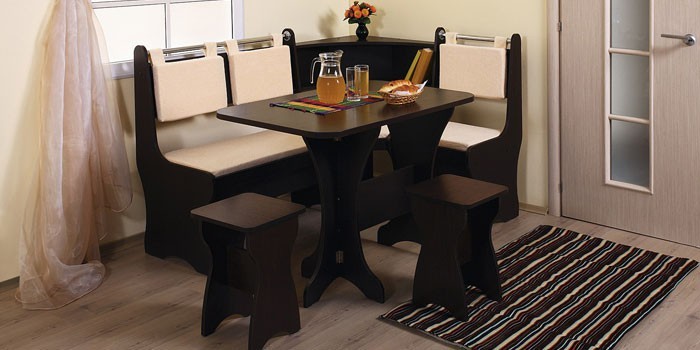 The price of a kitchenette for a small kitchen
You need to pay attention to the price of the kitchen corner. If it is written that the seat material - leather, and cost about 5 thousand rubles -. Should be wary. Give preference should get noticed corner, with fabric upholstery. Sofas tend to strongly discolor, and the fabric is easier to clean. The boxes will be easy to store kitchen utensils, and corner with bunk - profitable ennoble the atmosphere and add comfort. Small sofa in the kitchen, you can buy from an online store or at a furniture factory.
Video: kitchen corners for a small kitchen
Ekaterina, 29 years old
We have a 3 bedroom apartment. Kitchen normal size, but a lot of things, which is why she turned to the pantry. Crowded and appliances, and pots and pans. It fits even a washing machine. We decided to buy a sofa from imitation leather and put in a free angle. We decided to 2 problems: a place preserved (furniture a little taken place), and half the things hidden in drawers.
Anatoly, 35 years old
The wife asked for a long time to buy a sofa, and I do not understand why you need it. I'm concerned about the ease and convenience. But when I began to get involved in conservation, it was nowhere to put all these banks. We bought a sofa with storage compartment. I was there all fit. I just chose a solid furniture, nice, expensive, leather. Price 25 thousand. Rubles.
My husband engaged recently. Parents gave us a studio apartment, but the kitchen is not just a little, and step into nowhere. The old bulky furniture we decided to throw a table would not put. It is yet to be top boxes to hang, so choose a soft sofa 1010h1010 mm. Very pleased we and friends!
Kitchen corners for small kitchens + 20 photos
Kitchen corner - is the salvation for many housewives, because it allows a small area to organize in the same place a serious storage system along with a dining area.
Kitchen area has a number of advantages, so that still has not lost its popularity.
It allows the use of a limited area of ​​a large number of seats.
It helps to organize the dining area in uncomfortable alcoves and bay windows.
It can be used for zoning of space in the kitchen or studio.
Many models have spacious compartments or drawers for storage of dry products, kitchen accessories.
Some manufacturers offer models that can accommodate a full bed for guests.
With built-in shelves and bars are expanding their functionality.
Obbivat are a wide variety of materials, which allows you to enter a particular model in any interior.
you can pick up your model with the necessary functionality for each particular case. Kitchen corners can be classified according to several criteria.
In most cases, people are looking for models made in the form of the letter "G". This optimizes the kitchen space and allows you to sit at the table 3-4 on upholstered corner. If we add to this a couple of stools, it is already possible to feed at one time a large family.
When space is limited, you can resort to the direct construction which are carried out in a broad bench. In some cases, these benches are placed opposite each other and separated by a table. This option is good for niches and bays.
If you want to arrange a dining area in the bay window, kitchen kit is ordered on the individual sizes, taking into account the configuration of the room. In this case, a dining area can be turned into a romantic corner, which at the same time will take into its bowels the lion's share of prosaic things. The main thing in this process - think easy access system.
Kitchen corners, which are not supposed to move, carried out in a single design. Such models can be fitted with drawers with bunks. However, a situation may arise when more preferable to have a handy kit that can quickly disband and place according to the circumstances arose. In this case it is possible to order a set of separate modules that are installed independently of each other.
compartments. Standard and familiar area has a box under the seat, which can be folded up the necessary items. The advantage of this storage is that such furniture can hide large objects or to use the available space as a small warehouse of vegetables or cereals. Disadvantage - poor organization of the storage system. It requires additional accessories (boxes, crates, spacers, etc.) to impose order.
boxes. When fully extended conveniently to find the necessary items. Lead and the products are stored in order. It is easy to organize storage. The drawback - you need a place for the nomination of the box.
shelves. In the corner between the sofas can accommodate shelves that will be a nice little things, drinks, cutlery and so on. If the ends of the bracket come into the room, they can make a niche with shelves.
drawers. When making a space with curvilinear designs may be a situation when you need something to fill the space between the kitchen area and the wall. In this case, the void can be positioned by sliding the cargo structure type.
On most kitchens bed is simply nowhere to place. However, if desired, be 9 square meters kitchen supply which can provide a place to sleep. Designers offer several solutions to this problem.
Drawer with rising mattress
Modular corner solution in which the bed can be assembled by sliding together the individual parts or corner having put him ample soft poufs
Traditional models are made of laminated chipboard. In this case the furniture can remain in a housing and can obbivat any materials on request.
Forged corners look good, stable, can be packaged with the soft cushions or together with wooden seats covering.
The tree - an elegant solution to any interior. It fits in almost any style. The kit can be configured without upholstery and lacquered exhibiting natural beauty of wood. Some models are covered by the upholstery material, leaving open the arms and legs.
As upholstery, you can use any modern fabrics, leather and natural leather. It should be borne in mind that the kitchen and dining area require frequent cleaning and have a greater tendency to contamination. Therefore, it is desirable to select materials that can resist long time frequent cleaning, successfully repel grease, dust and odors.
With such a large selection of the main thing - that the selected model meets the customer requirements and can easily fit into the existing interior.
How to choose the kitchen for a small kitchen - the most important
How to choose the kitchen for a small kitchen, a review of the popular models, especially the kitchen corner, depending on the price and materials - in this review.
In the photo: KU-50C model with retractable beds, oak wenge color (Grand Factory)
Ready corners for small kitchens
Select the size and packaging
By choosing bracket should start after being ready to at least approximate the design project of your kitchen and accurately know the dimensions of the future dining area.
The minimum dimensions of the finished kitchen corners for small-sized kitchen, which can be found in Moscow's online furniture store, start 1010h1010 mm. These models are often completed with a round or square dining table and stools.
For more information about the mini-corners you can read in this review.
If the size of your kitchen allows you to choose the couch more, pay attention to the model L-shaped (popular sizes 850h1500 mm 1100h1600 mm, etc.). To him well suited rectangular dining table.
Pay attention to the depth of the seat. It can be different: 420, 430, 450 or 460 mm.
Corner settee is often a full seat with a rounded back. Such models are more spacious, they can be safely used even in the smallest of kitchens, for example, in the Khrushchev and small families.
Some corners are open shelves. They can store useful things, put things kitchen decor or flowers. Sometimes they serve as a mini-bar.
Often, a kitchenette equipped with built-in drawers and niches for storage. In most models, providing access to them folding seats. Less common storage boxes are retractable.
A popular option - a small corner convertible with a retractable bed (more about them, we told here).
Most inexpensive over economy class, designed for a small kitchen, not collapsible. But you can buy a handy kitchen sofa, consisting of two or three modules. They can be used either together or separately.
Whether to make an order on the corner?
If you have the opportunity to order a sofa on the individual sizes, for a small kitchen that option will be the best choice. size line is much wider than that of the finished furniture. There is such area is more expensive, but you can use every centimeter of the most effective dining area.
Many manufacturers offer to produce the sofa in standard sizes, but you can choose the material and color of the body, appearance and decor of upholstery that perfectly fit into the interior of your kitchen. This option is much more affordable.
Many Moscow companies offer free call specialist gager that will not only help to calculate the size and choose the configuration of the future corner, but also bring with them a catalog with samples of upholstery and materials for housing.
Examples of colors for artificial leather upholstery
The range of finished furniture stores prevail over the model with a laminated chipboard or solid pine enclosure (some manufacturers write "from the array softwood"). Most popular colors - cherry, walnut, beech, alder, oak, wenge, marble or ashes.
Sometimes you can find more expensive and high-quality models of MDF. Corners to the body of an array of noble wood (birch, beech or oak), tend to make only on order.
With regard to upholstery, the most popular options - special furniture fabric (best flock, chenille or microfiber) or leatherette (sometimes called the bioleather or ekokozha). Leather is more common, which is logical - to care for it much easier than in any tissue. More information about the materials of the body, the types of fillers and upholstery of kitchen corners encourage you to check out the other articles in this series. There we were told in detail about that, what materials offer domestic and foreign manufacturers and what features have each of them.
Choosing a sofa corner for the kitchen, it is important from the beginning right to decide how it will be - right or left hand.
Even the smallest area may appear more cumbersome than a table with chairs or stools, but to sit on it comfortably. Choose a sofa without armrests and volume of pillows - dining group visually will seem easier.
If the kitchen is very small, buy a small straight sofa or couch without back with mounted cushions, which are fastened to the wall with railing or Velcro tape.
If you often have guests in the kit to purchase seating area by a sliding or folding dining table-transformer.
Models with filling with polyurethane foam are more expensive than their counterparts with foam. However, the difference in price is justified: polyurethane foam retains its shape better and lasts longer.
The most popular Russian manufacturers of finished parts for small kitchens - "Borovichi-furniture", "Shatura", "Furniture Volgodonsk", "Caprice" factory (Moore), "Gros" (Vladimir), a furniture company "Grand" and others.
In the catalog "Borovichi-furniture" is, as usual corners (with storage box and without it), and the model comfortable corner sofas kitchen with pull-out beds.
Factory "Shatura" offers the traditional low-cost options with a corner bench, table and stools of chipboard with leatherette upholstery.
The range "Volgodonsk Furniture" is a popular series of small parts of the leader. It presents both the most simple and unassuming ready models, and the more stylish options such as decorative panels MDF carved elements, which are available on request.
The best choice - or upholstery flock chenille
Prices of compact sofas ready for economy class cuisine at the online stores of Moscow start at 2500 rubles. Table and stools have to buy separately. A small table can be found from 1500 rubles, stools - from 1 thousand rubles per 2 pieces. Thus, the most modest in size and finish area will cost 5000 rubles and more.
Most models are made of chipboard is from 5 to 9000 rubles. Corner sofas upholstered and body of solid pine will start from 10 thousand rubles. If you prefer birch, beech or oak, then be prepared to pay another 2.5 to 8.5 thousand rubles.
* All prices are correct at time of publication of the article.
Like this? Save yourself the link and share with friends!
! (Rate this article have already voted: 3)