Rose home: care at home. How to grow roses in pots room, so they bloom
Home queen of flowers rightfully occupies a leading position in indoor horticulture: a unique aroma, bright flowers of different colors on the background of lacy foliage give authentic charm to this plant.
Miniature roses are considered to be capricious plants: inexperienced florist may seem that the room rose a truly royal impose requirements at their cultivation in the home.
However, not all so sad - just caring for them is slightly different from the farming practices of garden roses.
Subject to certain rules roses in pots will please its flowering and fragrance.
Room rose: species and varieties suitable for growing in the home
• In residential areas as a potting plant roses miniature (Cv Hi - Ho, Lavender Jewel, Amulett, Apricot, Sunblaze, Green Ice, Mandarin, Stars'n'Stripes, Spice Drop);
• Hybrid Tea (Apricot Silk, Gloria Dei, Peer Gynt, Prima Ballerina, Pascali, Nostalgie, Monika, Deep Secret);
• Ground cover (The Fairy, Alba, Meillandecor, Magic).
For kadochnogo growing can be used polyanthus roses (Angel wings, Gloria Mundi, Betty Prior) and floribunda (Tchaikovski, Edelweiss, Pomponella, Happy Child, Cream Abundance).
If you plan to cultivate indoors dwarf varieties of garden roses, then it is necessary to take the own-rooted bushes: grafted on wild rose plants to grow will not be at home.
Rose room: Care at home - reproduction, transplantation
Potted roses are propagated vegetatively. You can use the left after pruning twigs. They are cut into pieces of length of about 15 cm with 3-4 buds. Rooting the cuttings in water or peat-sand mixture. The water was added activated charcoal tablet. Cuttings can be soaked in a solution or Kornevina IAA. As a natural stimulator of rooting, you can use an infusion of willow branches. To this yellow or green shoots are cut into small pieces of 5-6 cm long and is filled with hot water. The infusion will be ready in a day. Roots appear after 2-3 weeks. Thereafter, the seedlings are planted in separate pots.
Rooted cuttings potted roses in water
When rooting cuttings in the substrate covered with their banks or put in teplichku. The emergence of new leaves is a signal the emergence of roots. Teach the young plants to indoor conditions should gradually.
Transplanted room roses in early spring or in late August. Store-bought potting rose preliminarily before transplantation should be given time to adapt to new conditions "prozhivaniya9raquo ;. Two or three weeks will be sufficient. After the end of the adaptation period the plant can be transplanted into new pot. Its size should be not much more than the previous parameters crockery: 5 cm in height and 2-3 cm in diameter. Too much capacity will contribute to the acidification of soil and rotting of the root system. If in this boat, alone before growing another plant, then it should definitely be disinfected. Rose bush in the transport pot watered to make it easier to remove it without damaging the roots.
At the bottom of the pot is poured drainage layer on top of it a small layer of fresh soil.
After handling the plants are kept in partial shade, the soil is moistened sparingly. After a couple of days, you can rearrange the plant to a permanent place.
Root or foliar feeding roses begin one month after transplantation.
Roses in pots: Care at home - soil, light, temperature and humidity
Temperature and humidity
In the living room air is usually dry, so the room rose in the growing season should be sprayed twice a day with water defended. To increase the humidity in the zone rose crowns, it is put in a pan with the wet fractional filler (the bottom of the pot must not come into contact with water). If the weather is cloudy, you can not spray. With the beginning of the growing season (February), the temperature in the room where the home is growing rose gradually increased from + 25C to + 14ºS. Summer can be set pot rose into the open air. The rest period (October-February) rose at + 5-8ºS contain.
For a home rose requires loose fertile soil. It can be done independently, mix equal parts of compost, garden or turf soil, sand and peat. In stores you can buy a ready substrate for roses (line soil Garden of Wonders, Gera, Agricola, Biop, Ponon).
Potted roses are light-requiring. Best for their location will be south-eastern and south-western window sills. On southern windows in the summer when intense sunlight flowering will take place at an accelerated rate, and the plant quickly loses its decorative effect. Therefore, if you can not rearrange the pot with a rose in the right place, it is better to pritenyat. With a short photoperiod (in northern regions), not superfluous will and additional lighting. For supplementary lighting use LED and lyuminestsetnye fitolampy with red and blue spectrum (such household lamps give less suitable spectral components of the light, so they are less suitable for this purpose).
Additional lights fitolampy plants with red and blue spectrum
For the uniform development of the crown of rose bush pot should be gradually rotated daily.
Rose: Care at home - feeding and watering
Potted roses are very sensitive to the irrigation mode. Number and volume of watering depends on the form and onto the growing phase. Abundantly watered in summer rose, gradually reducing the amount of irrigation in autumn and winter. Excess water was removed from the pan.
Important! At any time during the life of the rose room is not recommended pereuvlazhnyat or overdry earthen room in the pot. Do not water rose cold water.
In the spring and summer room rose fed every 2 weeks immediately after watering. The best effect is obtained for the copious bloom of the interleave specially created for roses organic and mineral fertilizers that are commercially available have a large number (e.g., Joy series, Pokon, Bona forte, Agricola, Realsil, Noblegarden, Fertikov et al.). Since late summer reduces the number of feedings because Rose is preparing for a period of rest.
Cut room roses in September, when they begin to prepare them for the "otdyhu9raquo ;. On shoots left kidney to 5, and the rest is cut. The leaves are left. On the bush cut weak, dried and thin branches. If pruning is not carried out, the shoots are stretched, the duration and quality of flowering is reduced.
To lay the flower buds for next season room rose needs a period of rest. To do this, after flowering plants in late summer stop fertilizing and reduce the number of irrigations. Pot with a rose placed in a cool room (+ 4-6ºS). If this is not possible, the plant kept on the windowsill at + 10-14ºS. In February, for "probuzhdeniya9raquo; rose gradually begin to increase plant watering and rearranged in a warm place (+ 15-18ºS).
The main problems in the care of household roses
The most common problem is when grown potted roses spider mites. "Flurry of activity" they are bred to improper care of weakened plants. Rose leaves fade, bites by ticks in places they appear characteristic yellowish points. Control of these pests should be systematic, otherwise the new generation of insects become resistant to drugs used (Fitoverm, aktellik, Vermitek), lime they become even more difficult. Mites reproduce rapidly at elevated temperature and low humidity. Therefore, for the prevention of rose bushes need to be sprayed frequently defended water, they arrange a warm shower.
Another part of the "gostyami9raquo; roses are whitefly and aphid. To destroy them apply insecticides (Fitoverm, Akhtar).
If improperly irrigated roses mode affected by fungal diseases. powdery mildew It progresses in cold and humid stagnant air. On leaves appear whitish powdery coating, they wither and fall off. In this case the plant to be treated with a solution of a fungicide, colloidal sulfur or copper sulfate, and its affected parts removed.
Signs of another fungal diseases of roses - rust - is the appearance on the leaves of rose red-brown spots. Patients bushes poorly developed. These treated copper oxychloride, iron sulfate or Bordeaux mixture yl other fungicides.
If pieces of room roses formed brown, almost black, merging spots, this indicates the defeat of Roses blackspot (marsoninoy).
Affected leaves room blackspot roses
This disease occurs when a lack of nutrients in the soil and its wetting. Leaves rose while wither and fall off, the plant is weakened, it ceases to grow and bloom. To combat spotting the damaged parts of the bush is removed, the plant was sprayed with copper-containing drugs, reduce watering.
growers are often faced with the fact that at room roses and yellow fall leaves. This may be for the following reasons:
• Nutritional deficiencies, particularly at flowering, which depletes the plant. Thus, potassium deficiency causes appearance of yellow spots on the leaf blade. Yellowness between green veins (chlorosis) happens when a lack of iron. In this case, a rose "back to life" sprinkling iron chelate. Unless Hatano nitrogen leaves the first fade and then yellow and fall;
• A sharp change in the indoor environment (for example, when bought the plant was carried home from the store or the room moving). In the period of adaptation to the new place of residence roses need to organize optimal living conditions for her;
• Low humidity;
• Overdrying or waterlogging of the soil;
• Too bright sunlight.
Another common undesirable behavior is potted roses scant or no flowering buds and skidyvanie. This occurs for the following reasons:
• No time spent pruning or complete lack thereof;
• Dry air in the room;
• errors in irrigated mode: use of cold water, overdrying substrate or excessive moisture;
• Premature change: during budding or flowering of a rose can not be transplanted, it is better to do it after flowering;
• No fertilizing or wrong dosage;
• Insufficient humidity and air temperature in the room;
• The absence of a dormant period.
© 2012-2018 "Women's opinion." When copying materials - a reference to the source is obligatory!
Editor in chief of the portal Ekaterina Danilova
E-mail: [email protected]
Contact us at: +7 (965) 405 64 18
How to care for a home rose?
Home or room rose - a miniature (up to 50 cm high), flowering, potted plants, of which there are about 250 species, varieties also much more. In the photo home roses can see a variety of color and form buds, which makes it a very attractive indoor plant to grow at home.
Among the varieties of home rose, the most suitable for growing as houseplants, it is necessary to allocate such as "Miss Rowena Tom ',' Gruss an Teplitz" or "La France" of varieties of hybrid tea roses, "Madame Falco", "Marshal Niel" or "Nifetos" varieties of tea roses, "Oranda Triumph" of species polyanthas roses, Bourbon 'souvenir de la Malmaison' or the most varieties of Bengal roses.
Recommendations on the conditions of the home growing roses
Whimsical and demanding home Rose is well known and may scare novice gardeners, but it's still worth trying to grow domestic roses in pots, because they are very decorative and can bloom for a long time.
And to questions about how to care for a home rose, arose as little as possible, you need to remember certain guidelines:
for the location of pots of these plants should be selected southern and south-eastern window openings and balconies;
planted roses need at home fresh nutritious soil;
in the warmer months, they need to provide fresh air in sufficient quantities;
during the growing season room roses need plenty of water, but to take into account the ambient temperature and the degree of drying of the upper layer of soil;
in the care of a home rose it is necessary to hold weekly fertilizing, especially carefully - during flowering and strong growth;
handling plant in a larger container, but only when necessary.
Negative factors for growing potted roses also need to be considered. These include:
dry air and direct sunlight due to overheating which may occur;
cold water used for irrigating;
leaving dry on the plant foliage and stems, buds and sprouts wilted;
root injury;
Wintering in the room is too hot;
delayed treatment and control of diseases and pests.
Roses require a constant home care, and quite active, but on the condition of creating and maintaining an enabling environment for the growth it will be reduced only to regular watering and fertilizing.
Domestic roses care should start from the date of purchase. The whole process can be divided according to the procedures that must be followed:
Adaptation - until the flower gets used to the new room, you need as much as possible to repeat the conditions in which the plant is up to the date of purchase in the store, including watering and feeding regime. At this time it is necessary to isolate the drafts and direct sunlight, watering use clean water to settle, to spray the leaves. Transplanted home rose only need once she adapts.
Transplantation - carried out after the plant gets used to a new place. Transplant new rose necessary together with a clod of earth, only slightly loosening the outermost layer and removing a small amount of the old lot. Conduct transplant very carefully, so that the roots remain intact. It is best to use a mixture of turf and humus soil with sand (in a ratio of 4: 4: 1) and a small amount of complex fertilizers. Pot for transplantation must be greater than a diameter of a few centimeters and up to 5-7 cm than the capacity in which Rose was purchased. The availability of the drain hole. The bottom of the pot must cover layer is expanded clay drainage. After the transplant, the rose stands for a day leave in a cool place in the shade, and then be moved to a well-lit windowsill, but not under the direct rays, with fresh air.
Watering - room rose very demanding to watering and due to lack of moisture can even begin to dry. Therefore, you need to be watered regularly during the cooler hours, at the root, often on hot days, as the top layer of soil dries. Water for Irrigation should be clean, to settle, room temperature.
Feeding - also should be regular, at least 2 times per month. It is possible to use complex fertilizer according to the instructions, or mullein. In addition to the application of fertilizers in the soil, you can use a special soluble complexes for feeding in the form of spray. Patients and only transplanted roses are not fed.
Preparing for winter - is also an important stage of care, as the home rose garden hibernate like their "relatives", and some varieties even shed their leaves. To room rose well endured this period, it is necessary to move it in a cool room (15-17 ° C) with sufficiently moist air and without appliances. Also, before wintering roses are cut, leaving each branch to 5 living kidney.
Wintering - in autumn and winter roses need at least careful care - namely, watering and spraying, maintenance of normal humidity.
Homemade roses - very beautiful house plants, and despite the demanding care, they are still very popular among gardeners.
How to care for a home rose (video)
If you have a question, you can ask it in the comments to this article below!
Our experts will answer your question in the near future (1-2 days), sign up for comment in time to get notified about the answer!
Very useful information! Thanks to her, I learned that the Home Roses, which are sold in hypermarkets closer to women holidays, can be grown at home, and not to keep as cut - three or four days! Many thanks to the author for this interesting article! I will begin to grow Home Roses tomorrow! Print these recommendations and give away all their friends and girlfriends! We will raise the beauty!
Whimsical, but very beautiful flowers. Long I learned to care for them, could not understand why they dry. Only now I understand that the roses did not have enough water, I water them twice a week and is not sprinkled. From my own I want to add that they can not tolerate the dry hot air, so the space above the battery (on the window sill) - not the best! It is better to put them on a bright sunny places.
Roses in a pot: the rules of care in the home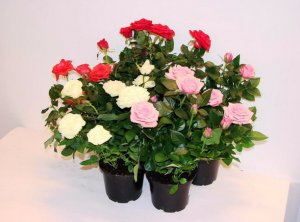 Homemade roses in a pot no less attractive than the garden. Recently, miniature rose bushes are the perfect alternative to the plants in the open field.
However, the room rose to require greater attention: you have to create the optimal conditions for their active growth and flowering.
Since the plant is not the rain, it needs moderate conditions of detention. So, let's look at how to take care of a home rose to this beautiful flower has become a real decoration of your interior.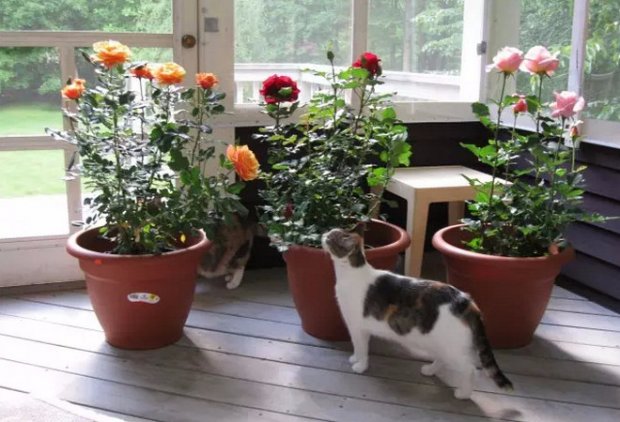 Temperature and humidity
During summer, the temperature should be moderate, and in the winter season - cool. At home, miniature roses are suffering not only from increased air temperature, as overheating or drying of the soil in the container. The optimum temperature of content in summer - + 20-25 ° C. However minor daily fluctuations in the temperature of the plant will only benefit.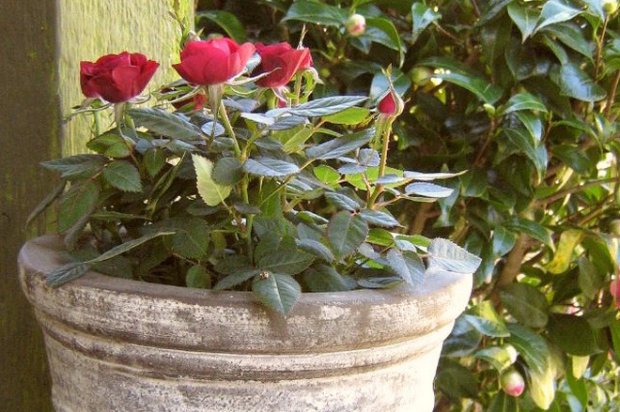 In winter, rose to a rest, it is transferred to a cool place at a temperature + 10-15 ° C.
Regarding humidity, then rose to ambient humid air is preferred. The environment is too dry bushes can become infected with parasites. Therefore, to carry out regular spraying (every two days). If the bushes are in a cool place, they do not require frequent spraying. And in order to remove the dust from the leaves, you can make a short warm shower.
Home rose, as most ornamental plants is light-loving culture. However, you can not avoid overheating the bushes, so they are usually placed in the south-east or west window. To the summer season to protect the flower from direct sunlight, it is better to make the open air (balcony or terrace).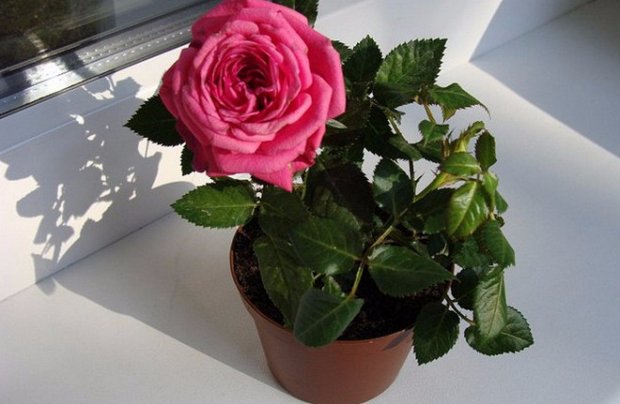 If this is not possible, then the pot is desirable to move to another window or darken.
Roses can be planted in containers of all shapes and sizes. The only condition - the container should be enough space to bush can grow, and the air can circulate freely. All you need to find a compromise between beauty and functionality.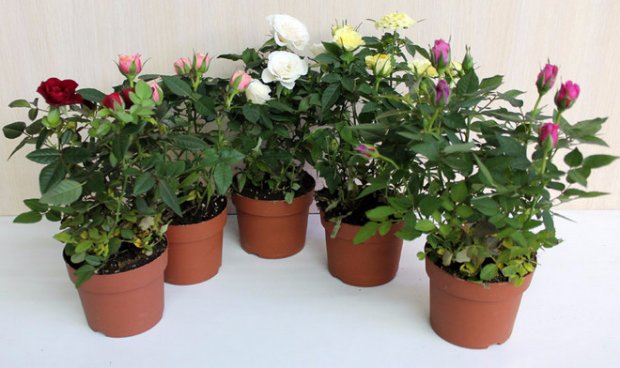 Too overgrown bushes desirable to transplant into a larger container size. When choosing a pot should be considered as color of flowers and style of the surrounding interior. As best one type of container are wood or ceramic pots.
You can use plastic pots, but they are less reliable. The soil in them dries up quickly in the summer, leading to a rapid wilting of buds. From pots and should be abandoned - they quickly lose water.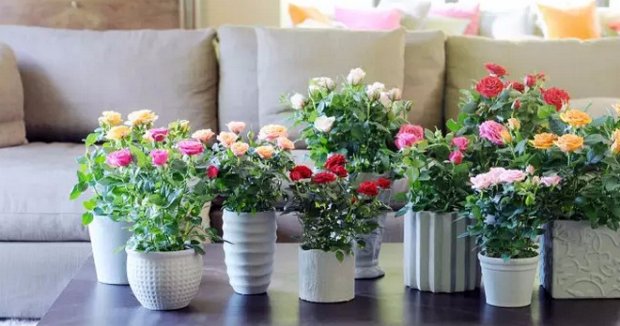 The soil should be airtight and moisture-permeable.
Use the following nutrient substrate:
turf ground (part 4);
humus (part 4);
sand (1 part).
You can also buy ready-made specialized substrate.
The pot should have a good drainage system to excess moisture to pass freely through the soil. However, the size of the drainage openings should be such that the water does not leak from the container too quickly.
Next, take a closer look, how to care for roses at home. These flowers love a good watering as the soil drying, feeding into a phase of vegetation and timely pruning.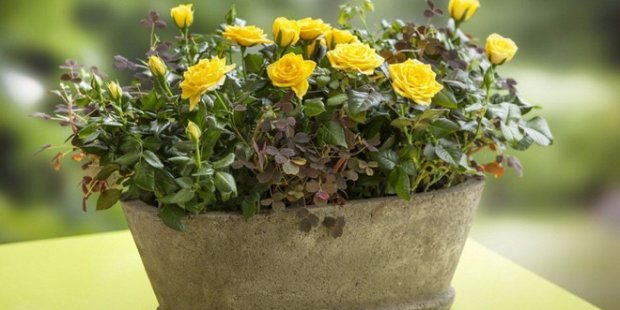 Regular watering pink plant is especially important in the summer during the flowering and growth. land drying them dangerous. Therefore, pour the flower barely soil is dry (especially in small vessels). However, do not overdo the watering, the soil in the pot should not be sour.
Miniature roses are also very sensitive to overflow, especially in autumn and winter. Therefore, with a stop budding reduce watering. Thus, the question of how to water the rose in a pot, it all depends on climate conditions.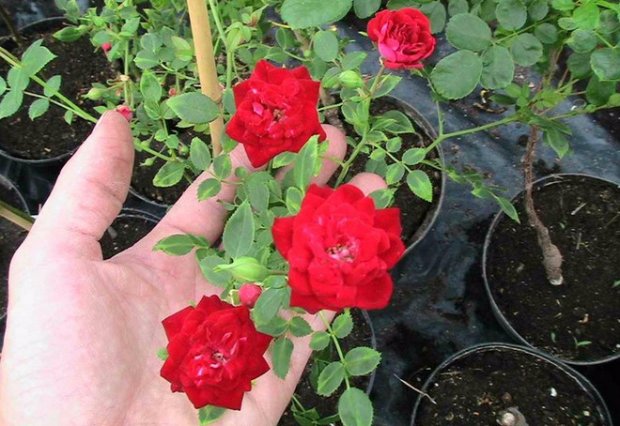 For irrigation use to defend well, filtered warm water.
Since the pots, water evaporates faster than in the open ground, you need to feed more often ground. Fertilize the bushes in the spring and summer season, once every two weeks, alternating between organic and mineral nutrients. Use standard fertilizers designated for floral crops. Before using fertilizers dissolve in water.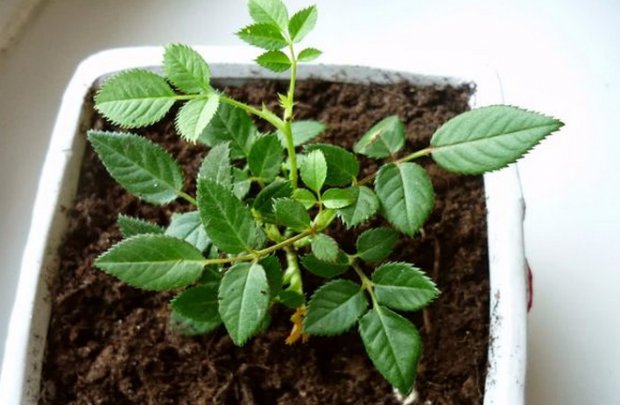 Pruning roses home is to remove the yellowed, withered leaves and flowers zavyanuvshih during the growing season. Thanks to timely pruning the plant will look like shaped and is budding early and lush. Flowers to cut the first leaf, removing weak stems.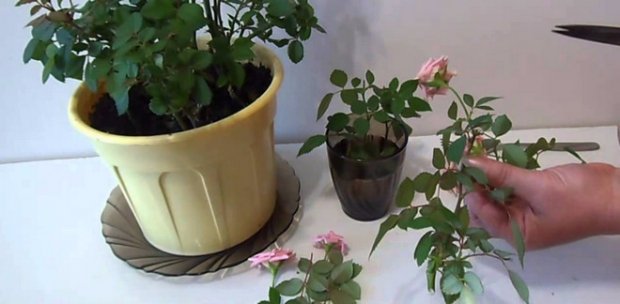 Also spend pruning before hibernation, shortening the stalks to a height of 10 cm. At each branch leave 4-5 buds. Cropped shoots can be used for the purpose of reproduction.
Roses in the home are propagated by grafting. The best time for grafting - from May to September.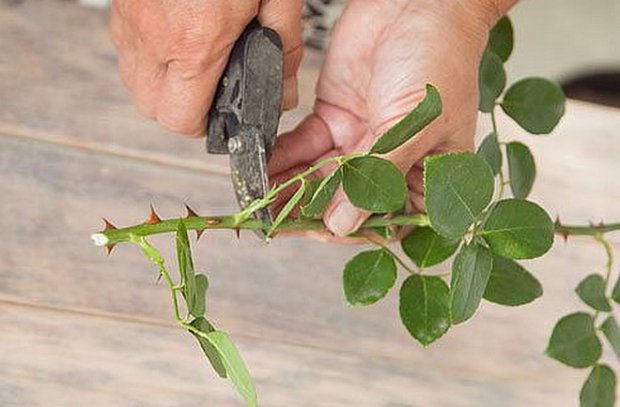 Almost lignified cuttings (about 10-15 cm long) were cut off from deflorate escape via pruner. Place the cuttings into a clean warm water. On cutting the body must contain about 3-5 kidneys and a few leaves. The first roots appear in three weeks. Well developed cuttings are planted in the prepared fertile substrate. For planting young plants, use small capacity (about 200-300 ml).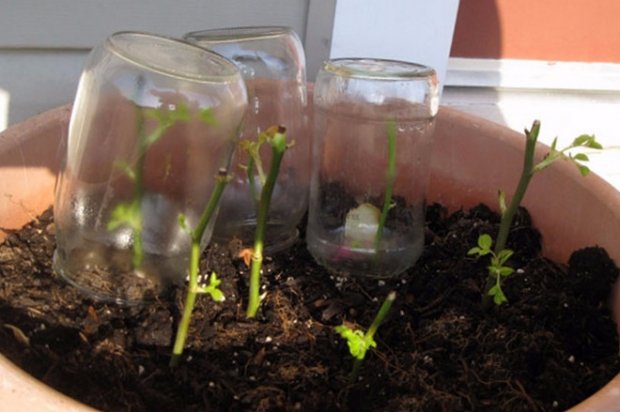 "Geteroauksin" add to the soil stimulator of growth for successful rooting. The first buds are desirable to remove. If the landing process was carried out before leaving in hibernation, the following year is possible the rapid growth and flowering.
The nuances of caring for flowers in different seasons
Any amateur grower must understand that the cultivation of roses home and care for her at home at different times of the year is very different from taking care of the garden flowers. Therefore, to use their knowledge about growing plants in open ground should carefully.
In the spring, at the Rose showing new leaves and twigs. Plants begin to water profusely, and are fed with chemical fertilizers, liquid from poultry manure or mullein.
Spring plant should not feel a lack of moisture or light. Sometimes in the evening plant sprayed with cool boiled water from the sprinkler. Once the bush grows pot, it definitely rolled over into a larger container, taking care not to disturb the roots.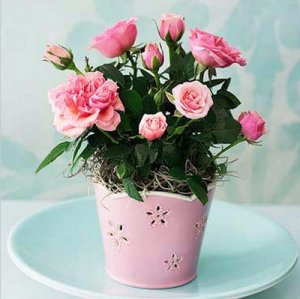 After spring frosts and establishing warm night temperatures occurs during transfer from the flower pot into the open air (in the garden or loggia). House plant accustomed to the bright sun slowly. For this purpose, first, a flower in a shady corner, and only after 10-14 days transferred to the solar station.
Summer room for rose care is regular watering, spraying, fertilizing, as well as removing wilted plant parts. So that the flower does not overheat in the summer heat, make sure the plants condition. It is important to notice the signs of emerging diseases and pests.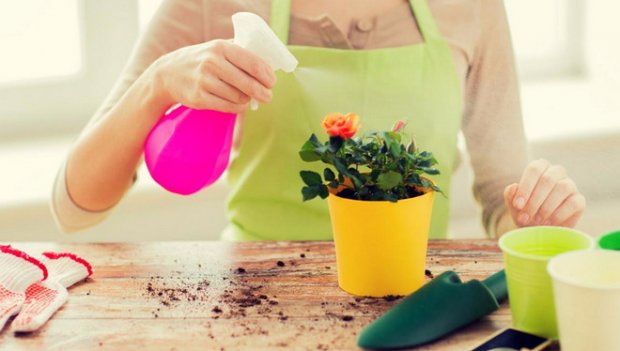 If you notice that the bush is growing rapidly, and the capacity is too tight, wait for the evening and handled rose to a new spacious container. If located in the flower box is illuminated from one side only, it naturally extends to sunlight.
To ensure uniform illumination of the flower is necessary from time to time to turn the pot. Thanks to this procedure, you will avoid the problem of one-sided development of the plant.
Autumn under low night temperatures (up to 15-12 ° C) rose insert from a balcony in the room and position it on the southern window sill. After flowering phase start to prepare the plant for winter: less watering (leave the soil dry for 1-2 days before watering) and gradually stop feeding.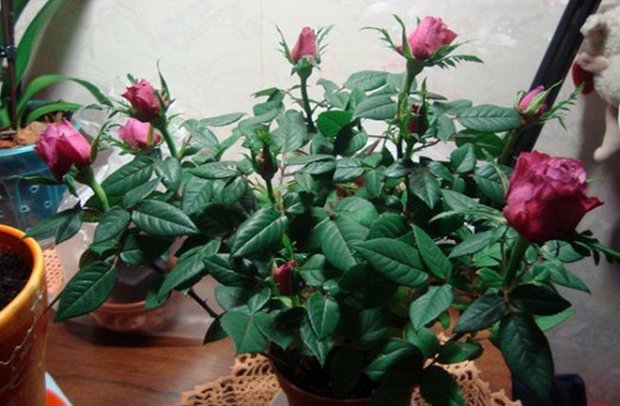 Before hibernation make a standard pruning a bush. On each shoot leave 5 kidney not remove leaves. Carry out pruning preferably in the evening. If you miss the autumn crop, the next summer, the plant will bloom much later and less abundant, the bush will have a sloppy appearance.
If you are still not obstrigli flower before hibernation, the exercise can be done in the spring.
Winter rose ceases to grow and blossom, it only resets the remaining leaves and looks pretty sad. Winter maintenance of roses in a pot and leaving behind a bush in the home are in a rare watering and spraying. After drying the ground need to be watered flower only after 2-3 days.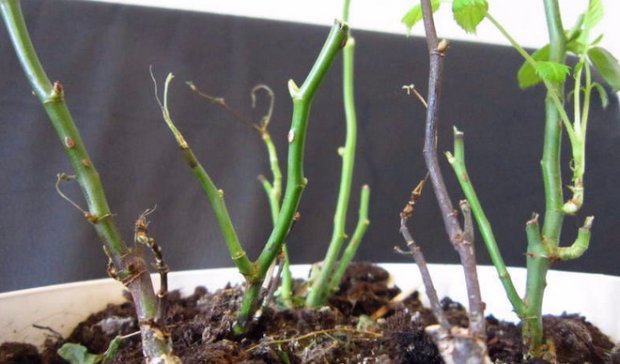 The air temperature in the room where winters rose bush should not exceed + 15-17 ° C. If possible, move the pot on the windowsill.
The apartment has central heating, use the following options for the protection of plants:
place the flower on the winter between the frames;
tape the window in the autumn, which will spend the winter rose;
part of the window with a flower block off polyethylene;
put the container on a stand with a wet pebbles or gravel and make sure that the stones were always wet.
Possible illness indoor roses
The cause of possible diseases decorative roses is wrong care: too high temperature, high humidity, poor ventilation in the room.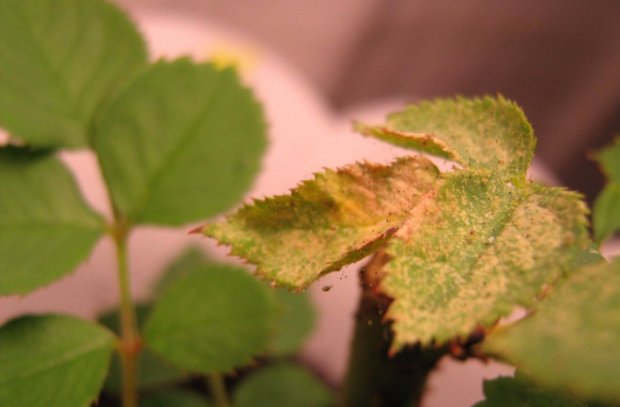 In miniature roses indoors can develop the following diseases:
leaf Blight - a fungal disease, which manifests itself in the form of small dark structures on the leaves. Over time, the affected leaves turn yellow and fall off. This disease are particularly susceptible roses yellow color. Spotting occurs in conditions of high humidity. When watering the plants, try not to get water on the leaves. Remove all infected leaves. In the struggle with the disease, use an anti-fungal soap or fungicides ( "Topsin", "Fundazo").
Thus, for decorative roses care will not cause you much trouble. Cultivation of plants in pots - a great way to organize your own mini-flower garden.



I like to grow at a carnation. Buy seeds of this flower can be in a good store, here:.
Why Corn-crusher Niva is not listed? They're the best!
a lot of biological and geological mistakes: for example wrote that the clay is typically acidification, however.
Excellent article, a lot of great tips! I am now in Thailand and broke his head if it makes sense.
Hello! My name is Andrew. I want to learn how to grow melons for sale at a hectare norms. .
© 2018 Agronomu.com
Confidentiality
The use of any materials contained on this site is permitted for reference to agronomu.com
The editors of the portal can not share the opinion of the author and is not responsible for any copyrighted material for the accuracy and content of advertising