Make a lounger for a cat with his own hands (+ photos)
Best friend cats - is not a person, and certainly not another cat. Best friend sissy humming - Morpheus, in the arms of which any cat spends most of his life. It's a shame? Yes did: who will be jealous of mythological characters? And make lager for cats with their own hands, we even posposobstvuem close friendship between two creatures, similar to love the incredible inventions and blissful comfort.
The beauty is that everything is very simple. Long does it take more than an hour, the materials - at least, and even this minimum is not always necessary to buy. Cat is sure to be comfortable on the couch warm sewn from old coats or coats, quilts, blankets, sweaters - all quite strong and comfortable fabric. Before you make the cat lounger, measure the length of the calf fluffy sleepers and appreciate its dimensions - that's the whole preparation.
The first option is the most simple, but interesting in that it is possible to beat a number of ways. As a basis we take here is a lager with a side and a removable pillow:
The bottom can be solid, but it is better to spend an extra half hour to sew a pillow with a pillowcase with a zipper - clean and wash "gnezdyshko9raquo; it will be much easier. Materials: foam, padding polyester, any suitable fabric, durable material for the bottom, strong thread.
Pattern loungers for cats consists of two parts:
Detail "A9raquo; - a side, make "B9raquo; - bottom. For a side need two parts: sew wrenching on the front side, cut sticks for foam patterns, sew up the opening. It remains to sew to the bottom rim of thick durable fabric, and sew the edges to form a circle (oval, square, at your discretion, it all depends on the bottom of the form). Adding a couple of centimeters, cut two more details "B9raquo; fabric intended for pillowcases. Sew wrenching on the front side, synthetic padding stuffing, sew the zipper. Done!
This option is more time-consuming. But it's great for those who ponders how to sew cat lounger most comfortable, warm and cozy:
materials: the segment piece suitable to mark the fabric, padding polyester, strong thread, elastic. The bottom of the can to fill with synthetic padding, foam sandwiched between details or to make a "pustym9raquo ;, adding lounger removable pillow. Pattern loungers - the only detail:
Inner Circle - a sleeper, "baranka9raquo; - the future of rail. The line AB is equal to the length of the bed (Form loungers can be any, not necessarily circular), the segment CD - the height of the flanges. Cut out two pieces of fabric, mark up "dolki9raquo ;, chalk marks the boundary of a berth. Now the fun part: how to make a sunbed for the cat from the resulting pieces?
Quite simply, we act incrementally:
We sew the two pieces of the inner circle, not forgetting to put inside sintepon;
to stitch the two parts of the markup "dolkam9raquo ;. At this stage, you will have the bottom and around the edges of the cloth dangling divided seams to "karmashki9raquo ;;
neatly fills pockets with synthetic padding. The more padding polyester, the more volume will our "oblachko9raquo ;. That the filler is not dropped, the crimping edge basting seam pockets;
pockets separated by a transverse seam, which is necessary to pass under the gum. Stretch elastic band under the fastening seams, but on top of padding polyester. Lounger for a cat is almost ready! It remains only to pull the gum to bumpers took a vertical position relative to the bottom, and sew up the pockets, hiding filler.
Quickly and easily you can make a lounger for a cat with his own hands from unnecessary sweaters. It turns out that's a beauty about the past which only guess loved one:
Of course, the sweater to be of suitable size and dilapidated. Procedure:
put a sweater on a flat surface, we decorate a cutout (you can simply sew up the cut tightly, do a patch of beautiful fabrics, etc.);
sew sleeves to "tulovischu9raquo; along the entire length. Sweater is sewn by a line extending from the armpit to the armpit (see pictures).
We fill our sleeves and "tulovische9raquo; synthetic padding crosslinkable bottom sweater;
sew sleeve interconnected to a circle or turned oval. Cuffs can be cut or decorate cloth. Done!
Show imagination, it is easy to make a sunbed for a cat with his own hands, giving a second life to have served his things. How? And, for example, like this:
Broken bags (paint, screw legs, put a pillow)
The old tables, stools (color, flip, put a pillow)
Broken monitors (remove "nachinku9raquo ;, paint, put a pillow)
Leaky barrels (saw off the excess, sand, put a pillow)
Do cats winter freeze?
The whole truth about the electronic collar dog training
Kennel for the dog with his own hands - quickly and easily
Please leave a comment on the article. We really appreciate your opinion.
Leukemia Cats: Symptoms and Treatment
Depression in dogs - a mental disorder or Fiction
Do I need to wash your cat?
Rhinitis in cats: symptoms and effects
All materials published on the site are the intellectual property administration.
Any copying of materials is possible only with the installation of an active link to the page-source!
If you have any questions interesting you can contact us through
Lounger for cats
When a family has a favorite animal, you really want to create all the necessary facilities for him: a place to relax, play, feeding, etc. Currently in pet stores you can buy a lot of different devices for virtually all types of animals, including cats. But much nicer to do with their hands toys, sun beds for relaxation and other attributes. It's so fun and easy, moreover, greatly save your finances. Today we will discuss with you how to make a couch for the cat at home alone.
Firstly, I want to say that this activity does not take much of your time, just a couple of hours, at most.
The raw materials do not have to buy new ones. It can be used for the production of sun beds and old, unnecessary things. For this purpose, ideal coat that was too long stale in your closet, and has long been out of fashion, or a warm sweater, corduroy trousers, and can dress from jersey or fur boots before last season. Oh, and do not forget about all kinds of rugs, blankets, etc. that is, the material for the manufacture of sunbeds beloved pet in the house enough.
A place where there will be a vacation favorite pet, to be perfectly clean. In addition, it is necessary to make sure that there was always dry, warm and comfortable.
It is best to select a small corner in the room, where you can arrange for the house and the cat and kittens, as well as feeders and drinkers with, of course, a sunbed. Thus, you will create a pet for his own space where he can and relax and walk.
Couches in the construction necessary to provide many points. One very important aspect of this is its softness and space. Cats do not like to rest very little space or the surface too hard.
Lezhanok varieties for cats at home
Sunbed with roof. This option is ideal for hermit cats that are not very playful and loves silence. Also closed the eyes like a sunbed and nursing babies cat where she can hide her offspring.
Bench of sweaters. This embodiment can be called a village. Appearance he will succeed is not particularly elegant, so it is more appropriate to create a place for recreation in a barn or in a country house. Although, if you have the ability to sew, you can first make a base of foam and plywood, and after the sheathe her sweater, and eventually obtain at least a spectacular lager than fur or plaid.
Bench-stand near the battery. A place to relax for those animals who like to rest near the warm heater. To build such a device a bit more complicated than ordinary lager, but it's worth it. As a result, you get a beautiful place to relax, which will be very happy pet.
Lounger-mattress. This is perhaps the easiest option. It is ideally suited to the windowsill. This lounger like cats who like to look out the window.
All these options and more can be purchased in a special shop, or choose a model and build your own.
This is one of the simplest in the manufacture of recreational seals.
It has several advantages:
The material can be chosen any tissue;
Very quickly build its own;
Beautiful appearance;
This lounger can be placed anywhere in the apartment: the sill, bed, etc. Even you can take on nature.
So, let's see how to build a simple lager with boards with their own hands at home.
We need the following materials and tools:

Instructions for the manufacture of sunbeds for the cat
the first step is to remove the measurements with a pet to understand, what size do you need a sunbed;
then you need to choose the fabric, the appropriate size of the animal. Better, a little more;
when you are ready to clothes patterns;
initially it is necessary to draw the bottom of the cardboard future lounger and board, as shown below;
then cut from the fabric by two segments of equal size in the cardboard templates;
for the manufacture of the bottom take the cardboard, with one side put the foam;
two identical pieces of fabric for the base it is necessary to sew in a circle, forming a pocket for cardboard with foam;
in cloth pocket must be careful to insert the cardboard base with foam and sew the edges. In this way, you've got the future of the bottom beds, with soft cushion on the one hand;
now we have to take sides couches;
Adds two tissue segment, and sew the bottom part of the edge;
when in a pocket of fabric inserted cardboard base board;
then sew the upper rim portion of the fabric lounger;
when a side is ready, then you need to sew it to the bottom of the lounger in a circle base.
All bench for a cat is ready! As you can see, there is nothing difficult.
Form lounger for the cat, you can change yourself, initially cutting desired option on the cardboard. So you can build a couch in a heart-shaped, square, circle, etc.
According to the above proposed instructions to make your own hands, and a house with a roof. Just need to add the pattern to the top of the cardboard. After sheathe it with a cloth and attach to the sides of the couches.
How to build a lounger on the battery
In cold weather, pets love to bask in the hot batteries. So, why not make a nice seal, and this place does not put the convenient and comfortable lounger to relax? If you think that this is very difficult, but now we have to convince you.
Your attention is the instructions for the manufacture of couches battery.
wood or plywood frame. Basis lounger should be durable and strong to withstand the weight of the animal could;
fasteners for battery. Their appearance depends on battery design;
the cloth;
foam;
scissors;
needle and thread.
How to make a sunbed for the battery:
Initially, you need wood to make a solid foundation for the couches, with fasteners for the battery.
Of tissue necessary to sew a pocket on the form the basis for the beds, and then insert the wooden frame into it.
Foam must be inserted into a lounger on the one hand, where the cat will relax.
After it is necessary to securely attach the battery to the couch.
If there is a wooden framework, it is possible to use a PVC pipe of the largest size, as a basis. However, in this case, will have to work more closely with the needle, a sheathing of the base fabric. To do this will take two tissue segment: one a little more than a second. After each section of fabric to sew, forming a sleeve. Smaller portion inserted into the pipe. And in a big hand - put all the lounger. After the fabric edge sleeves need to sew together. You get soft tube. One remaining question, and how to attach the battery to the lager. To do this, special fasteners to sew the edge of the material, and attached to the heating device. Be sure to check whether the design is securely attached.
This option is to do the most simple.
Initially, you need to measure the width and length of the sill, as well as take your measurements with a cat.
After choose the fabric for the future of sunbeds.
Then it is necessary to cut the cardboard base couches. You can do it any shape: round, square, rectangular or another what you want.
After the fabric is cut out two equal parts equal to the cardboard backing. On one segment of tissue put plywood (cardboard), from top to foam and cover with a second piece of fabric. All we sew along the edge. If you want a sunbed more fun or beautiful, you can sew a frill on the rim or edge.
plain sweater can be used for such an option. Further detailed instructions.
This option is also very easy to do with their hands.
Initially, you need to choose the appropriate sweater, preferably made of natural fabrics and warm.
Then you turn the product inside out. If the collar is high, then it must be cut off, and then sew. In both sleeves have to put padding polyester. In the main part you want to insert the cardboard bottom, and on top of it to fix the foam. After the sleeves sewn together and connect them to the bottom of the lounger. The photo below shows all the details.
As you can see, make your own couch for the cat is not so difficult. You just need to use imagination and spend a little time, and your pet will have a new wonderful place to relax.
Making the Beds for cats with their hands out of scrap materials: how to sew couch of sweaters, patterns and step by step guide

Cats are very fond of the house to sleep on all soft. Favorite place to sleep pet - a sofa bed and a master. But your pet should own a cozy place, where the cat can escape from all the hustle and sleep peacefully. Pet stores offer a wide range of houses and litter for cats, but it is still required finance. You can not spend the extra money on the couch for the animal and make it yourself. And the saved money is better spent on goodies for your pet.
How to sew a couch from scrap materials
To match the couch for your cat do not need to go to the fabric store and buy special fabric. Cubby for your pet fit improvised dense tissue, which is in every house. Everyone has old things that have long lie in the closet, and does not reach the hands to throw them away.
To go lezhanok residues from the sofa upholstery, old jeans or sweaters, dresses made of thick fabric and other unnecessary wear.
It is worth remembering that lezhanok better suited for durable fabrics, because the cat will scratch of her claw or bite. Therefore, the beds of these materials hold out as long as possible.
Video on how to sew the couch for the cat
In order to make the bench for the pet with your hands need a little more time and your imagination. Even if you do not have a sewing machine, do not be sad. You've probably at least once in life darning socks or sewed clothes, these skills are enough to create a cozy lounger for the animal.
Beds for cats can be made of the usual boxes, baskets, pillows or mattress. On the Internet there are many instructions or videos on manufacturing lezhanok own hands. Therefore, even if you do not shine fantasy, you can always find for themselves the option that is most convenient to do it yourself.
Before the production, loungers for cats, it is worth considering some of the features:
Beds for cats should always be comfortable . If your pet loves all soft, it is suitable as a base cushion. If the animal prefers to rest on hard surfaces, the bottom of the couches can do soft and airy.
Bench should be easy to clean and wear down . Preferably once a week to wash the bed of your pet in order to avoid accumulation of dust, which will breathe your pet.
How to make a sweater out couch for the cat
As an example, for pet soshom lounger of sweaters. To do this we need to:
Old sweater, preferably without high collar.
Little cushion padding polyester.
Sintepon for stuffing. It can be taken from an old pillow or jacket.
Resilient piece of cloth, size 20 to 40 cm.
Large needle and thick thread and scissors.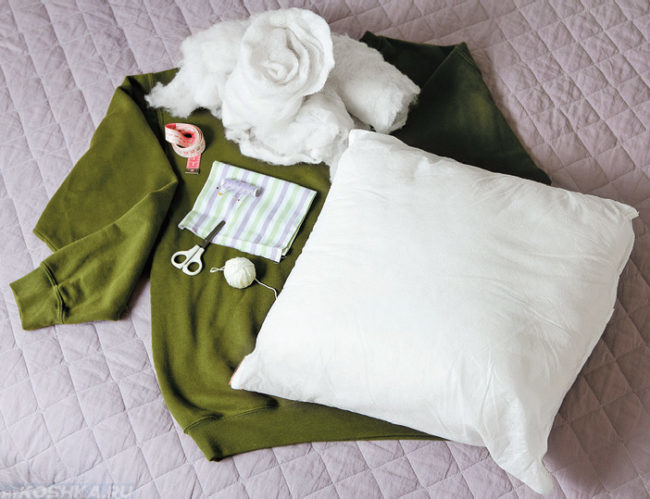 Old suite and padding polyester.
Now we proceed directly to the manufacture of couches cat:
If high collar sweater, it must be cut off. It is possible to use a wool or nylon thread, stitches for maximum strength.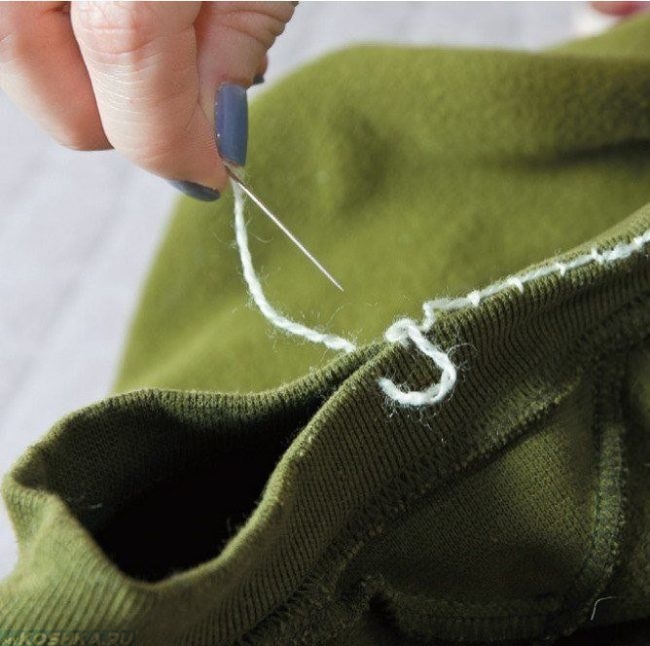 Sutured neck sweater.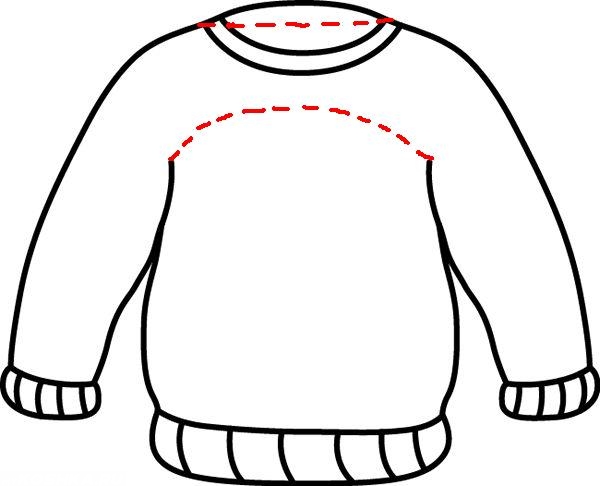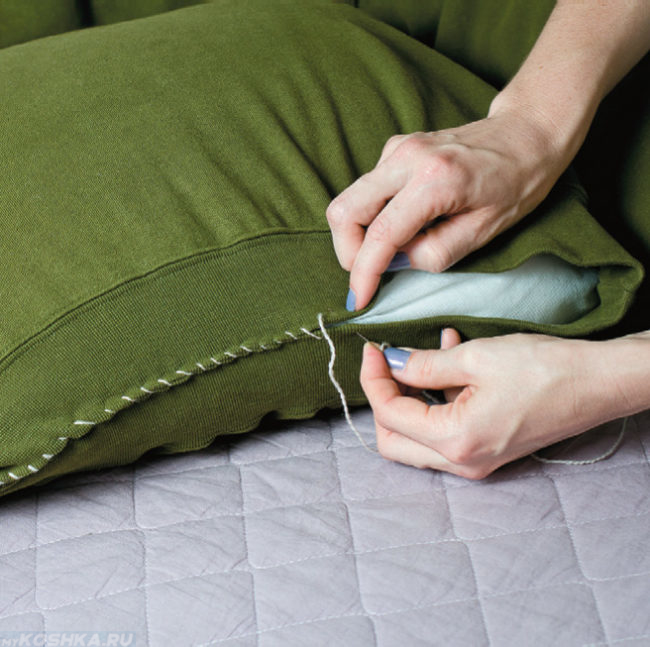 Sew up the pillow in a sweater.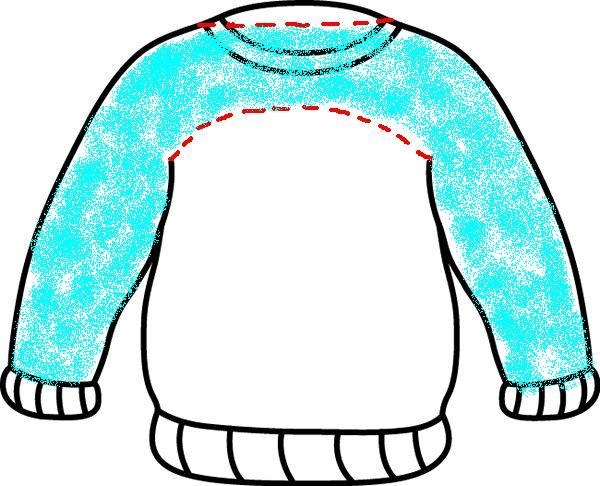 Sintepon sewed up in the sleeve.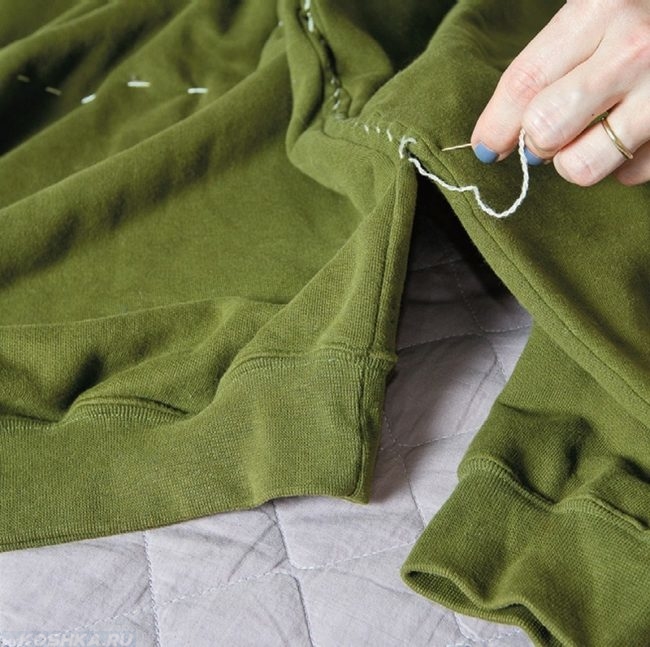 We sew the sleeves to the body.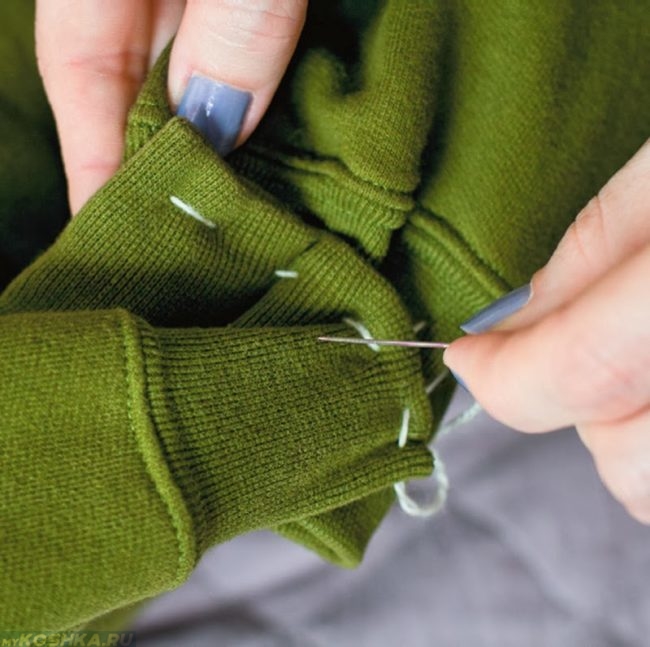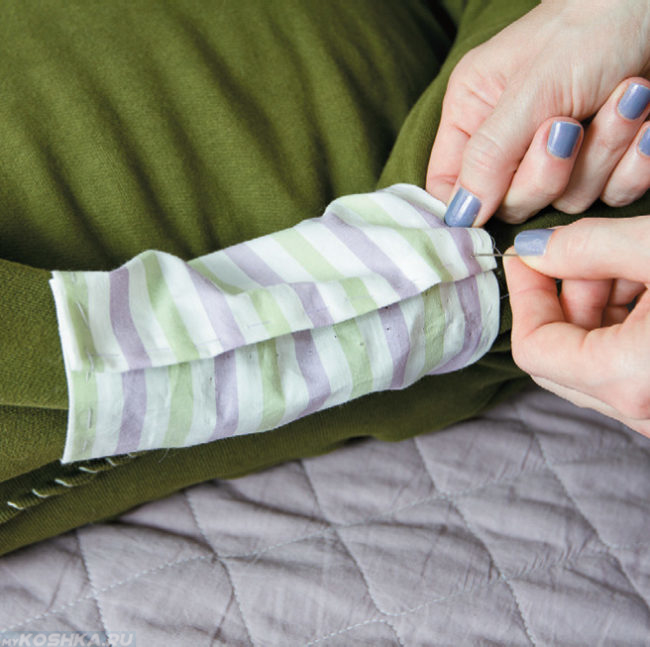 Sewn cloth sleeves
All is ready. You can handle a little catnip in order to attract the cat.
Beds for cats from scrap materials
For the following couches, we need:
two kinds of size 105 × 90 cm thick fabric,
a filler, e.g., sintepon.
If whole tissue you do not, you can make a few scraps of fabric to get the right size.
Before placing the pattern for couches, Measure your pet and decide where you put it. This will allow you to do everything the right size couch, which is suitable and a cat and interior.
We transfer the pattern on the fabric and cut.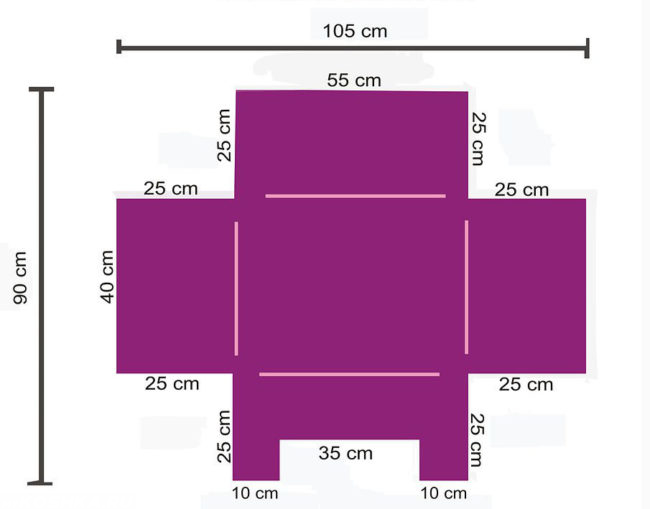 Plans for the couches. Measurements for our cat.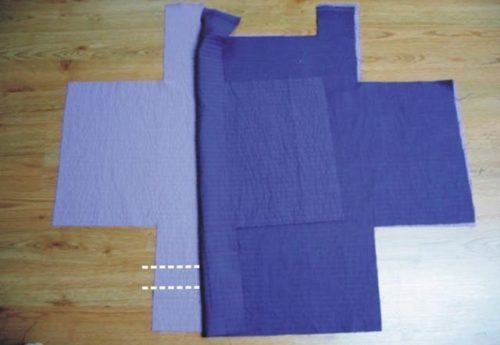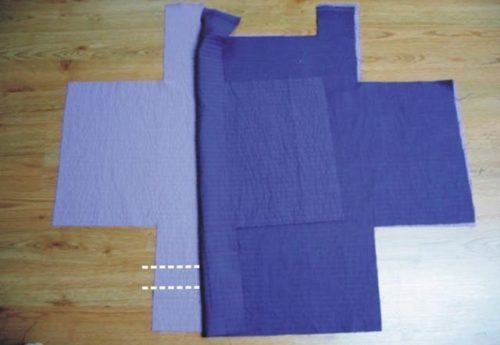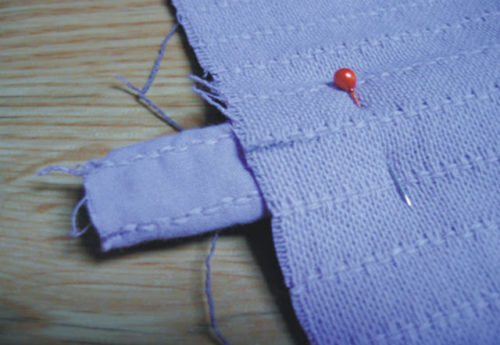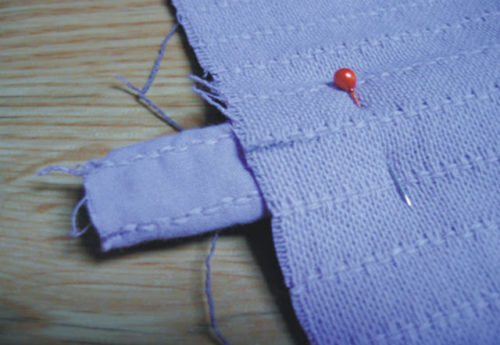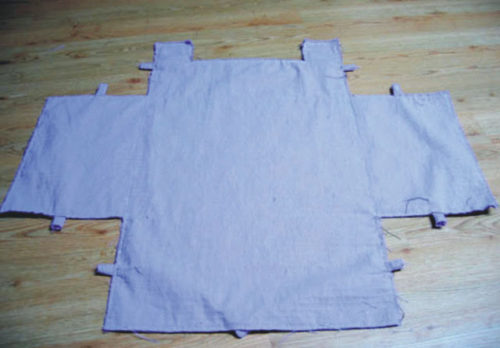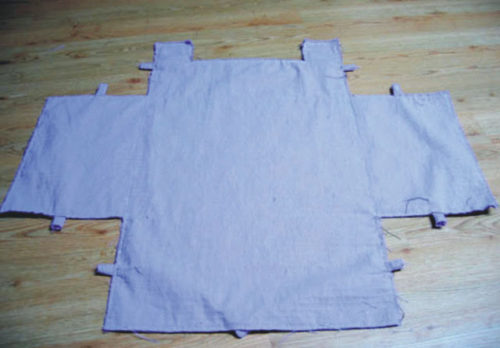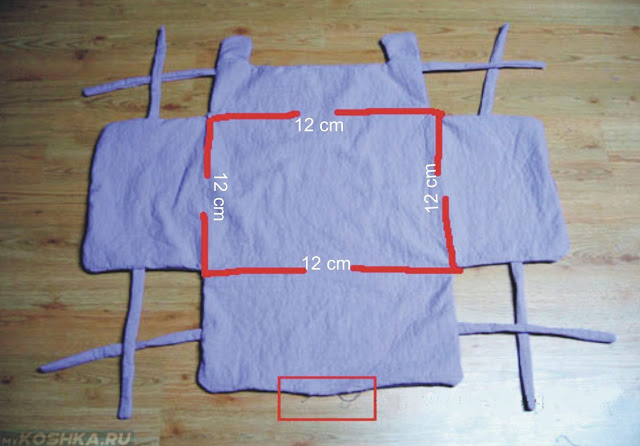 Sewn around the perimeter.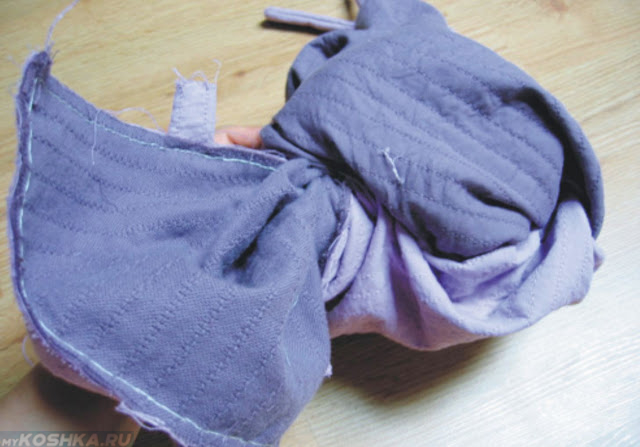 Twisted and filled with synthetic padding.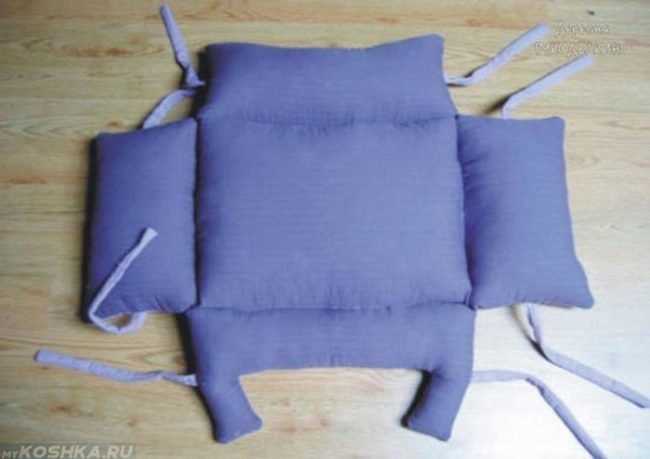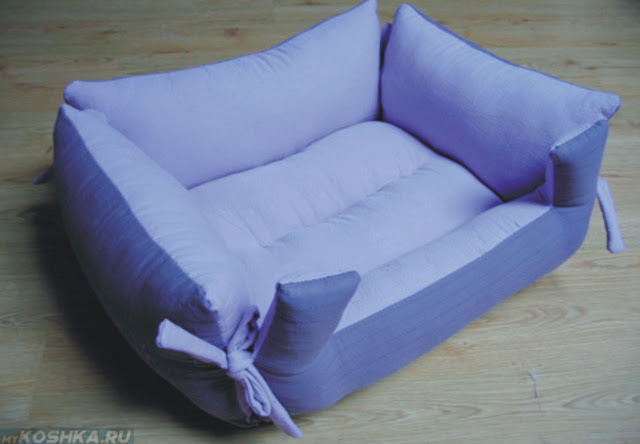 Bench ready! Call a cat.
Note that if your pet is fluffy, the bumpers can be made lower, so that the cat was not hot. If you Shorthair animal that loves to sleep with you under the covers, the bumpers do better at higher and denser bottom score filler.
All couches made with their own hands is very practical. They can be cleaned from the wool, and then washed in a washing machine. Once the bed is dry, it is easy to shake up his hands, and bed for your pet - like new!
If you appreciate design and style of your interior, for the couches for a cat can buy fabric in the color of your furniture. This bench will look stylish and attractive.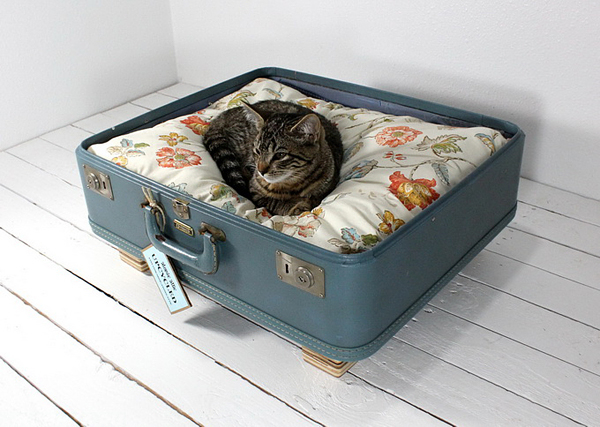 Stylish, inexpensive and vintage style.
If the apartment is decorated in vintage style, the couch for a cat can be done from an old suitcase. Simply put there a soft pillow, and the cat will appreciate her new bed.
Since the cat is in the house - this is a full member of your family, even a place to rest it needs suitable. Searching the internet, through magazines, you will find for themselves a lot of new ideas for your pet couches. for human imagination is unlimited, so you can easily come up with something unusual and decorative. Or you can modify existing options and make the perfect cozy nest for your animal. That you choose, your pet is sure to appreciate it and you will be very grateful.
Cat likes a clean, soft bed is not less than the hosts. Therefore, we must do it couch - both for myself! ))
Very good ideas for sunbeds. Need his so to do, we did it ourselves gaming complex, and it does not sit on it. Can sometimes only sharpen claws. Maybe he likes the bench.
Sorry I have not seen before such as the version with a sweater and a pillow, fun and easy way. And I suffered stitching foam and obtyagivaya it unnecessary blanket cover. By the way, too, turned out a good bench, with a peak of her case, the cat likes to sleep so it was not visible.
But my cat once on the street cold, begins to "nest" of blankets on our bed)) I do not know how he manages to do everything so symmetrically, but bench looks neat, a round, so even with a canopy) Visually very similar to the ones that are sold in pet stores. I do not know where he spied on this form, it does not go to the supermarket. In general, I feel that it is time to sew ..
Thank you for the idea.
The main place to sleep and rest, we were selected for their dolggo Alberta so it was warm and draft-free, sized, not too soft and heated in the winter), This couch we found samizoo. But for the kitchen to find the next try to do it yourself on your instructions.
Add a comment cancel reply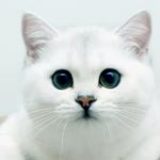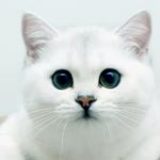 Brush your teeth in the cat at home: tips what and how to clean properly - 03/20/2017
Tartar removal in cats at home: prevention and cleaning - 20/03/2017
Learning how to use the measured glass Royal Canin for cats - 03/07/2017
Cats and dogs COX
Portal about the cats - all photos with a copyright mark (watermark) are protected by a notary! When copying materials from the site necessarily indicate a link to the source! © 2016-2017