The shell of the cast marble: especially the use of
Plumbing artificial marble has recently caused a lot of surprise and disbelief, today such sinks, bathtubs and others considered to be one of the best and reliable solutions.
What are those sanitary products? In fact, they are made of concrete, polymer concrete or rather, to which is added natural marble chips. Externally, these products look like made of stone. Today we propose to consider the advantages and disadvantages of the plumbing and in the first place, we are interested in the shell of cast marble. Use of such shells can be for bathrooms and kitchens for: they differ attractive appearance, behind them is fairly easy to care for, they are easy to install.
Manufacturing process and characteristics of the shells cast marble
Furthermore, it can be made and other mixture, and called artificial stone. It comprises polyester (as well as the possibility to use acrylic) resin, and marble chips. The ratio of components in a mixture of 15% (resin) to 85% (crumbs).
Its name cast marble was not just like that, every product made of polymer concrete or artificial stone cast in special forms, which are made of glass, plastic or rubber. Different materials for forms allow you to create different products. Thanks to these features the production of sanitary ware and shell including, of cast marble are smooth, straight shape, while natural stone products usually look rough.
shell production technology allows to make products absolutely all shapes and sizes for different needs and design solutions. Such a variety of choice of shells and other items made of cast marble sanitary ware one of the most popular on the market today.
Technical features of the shells cast marble
Popular products of cast marble ensured not only its aesthetic qualities. During operation and testing this material showed superior performance. Thus, different from polymer concrete sanfarfor sanfajansa and greater strength (can withstand some mechanical impact, less fragile), resistance to abrasion, and resistance to various chemical agents.
Most of these sinks of cast marble are made integrally with the top, it provides no seams, which could flow into the water and collect the dirt. Because of this the product of this marble are considered quite hygienic.
Outset that standalone shell of cast marble (sold separately from the tops) require additional horizontal fixing: for example, if such a shell is put in the bathroom, it is embedded in a special locker, and so on.
It is noteworthy that these sinks and countertops can be adjusted to specific needs: that is, if in the course of operation there is a need to shorten the product of cast marble, you can do it yourself using a special tool for working with stone. Make a hole in the material is not a problem.
Another advantage of the material - in full recoverability surface. If you are in any way damaged the surface of the shell: it remained scratches, chips and so on, all of this is easily remedied. The surface of a special tool is overwritten.
And one more important advantage: in the use of such shells are not changed: they do not exfoliate, does not make any splitting and so on.
Interestingly, the manufacturers offer a guarantee on such shells up to 5 years. In this case, the real average lifetime, if properly exploited, can be 10 years.
Smooth surface casting marble has pores, which would remain dirty and for this reason to wash such sink much easier than, e.g., sanfayansovuyu. The surface does not fade with time, it is also important if you are installing a sink than a year.
All these advantages of cast marble sinks make them an ideal solution for any kitchen and beyond. The more that the popularity of the molding material made glassware also available.
Manufacture of articles of cast marble is today one of the very popular types of businesses. This production does not require large investments, and most importantly, in order to fulfill all customer needs - is to have at hand the necessary forms for cast marble, which is quite possible to make their own.
Production of cast marble is a process of creating casting using molded articles of various configurations of the composite material coated technology to mimic marble, granite, malachite or another natural stone.
The method of treatment, grinding and artificial marble from point does not differ from the natural mineral processing methods. The tool in this case is the same for both types of treatment. The method of treatment has not changed over the years.
Baths of cast marble: advantages and disadvantages, and the variety of manufacturing technology
What is cast marble? In some ways, this material can be compared to concrete, wherein the binder material are the modern polymers, and as a filler - small marble chips. Pouring a solution into the mold, it is possible to obtain a product of any shape and size - it is this property of casting marble and are manufacturers, making from it modern bath quality. On them will be discussed in this article, which, together with the site vannaja.net we will deal with the question of what constitutes a bath of cast marble - take a look at their manufacturing technology, strengths and weaknesses, as well as deal with varieties of plumbing fixtures data.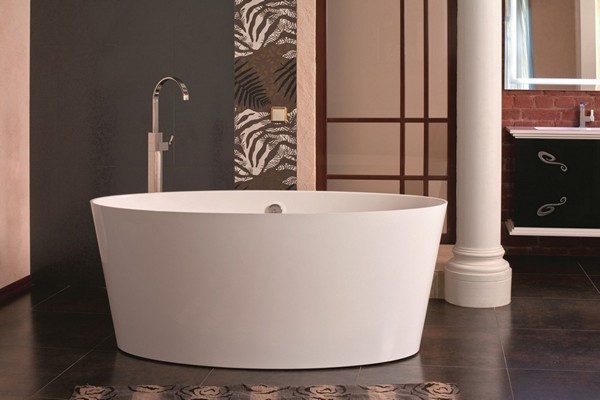 Bath of cast marble photo
Baths of cast marble: manufacturing techniques
By and large, the bath manufacturing technology of artificial marble is not very complicated, and if not for a couple of moments, its manufacturer could do almost every home craftsman. It is through these nuances in the form of a simple technology actually is quite complex. The first and most important nuance, which will have to cope with in learning this science, is the color of the primary structure - to get a divorce is difficult. Here every detail is important - from the added amount of dye and ending with stirring. Also, the technology is further complicated by the knowledge of the correct proportions of all the ingredients - even possessing information on the percentage of a substance in solution, to achieve high-quality casting will not immediately. We must be prepared to waste a certain number of funds - say, this is the tuition fee. The fact that the majority of enterprises producing similar products, keep your secrets secret.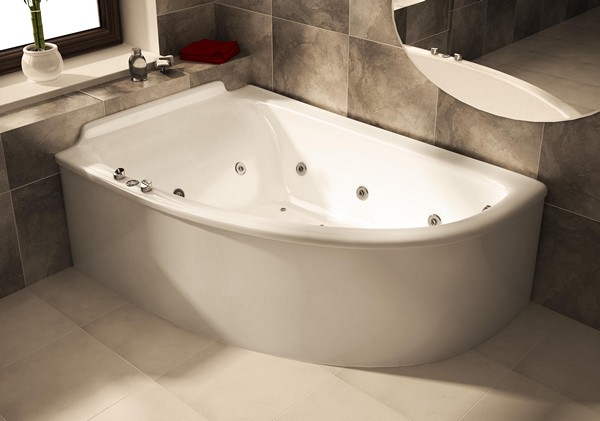 Bath of cast marble corner photo
If we talk about the manufacture of baths made of marble technology casting process in general terms, it can be reduced to just a few steps.
Preparation of the formwork. Perhaps this point can be called one more obstacle to the self-production of casting marble baths. Produce a form for her - not an easy task, the only thing that first comes to mind, so it is ready to take advantage of acrylic bathtubs. But you know, this will cost the shuttering is quite expensive, because have to buy not just one but two baths, and one of them will need to finalize the overhaul. In general, this form of production technology is not necessary, and the shape is almost the most important element, without which it is impossible to produce high-quality, and most importantly a beautiful bath of cast marble.
Preparation of the mixture. This is what we have already said a little earlier. Here only add that at this stage the work is carried out not only kneading the respective solution, but also its coloring to the desired color.
Fill the formwork. This process is also quite complex - in the factory, he made a special vibrating table. The vibrations help to qualitatively form fill and seat solution having a given density.
Drying the mixture. Here without comment despite the fact that this process has its own nuances - requires a certain temperature, humidity and the like "stuff".
After drying bath removed from the mold and machined - in most cases is the elimination of molding defects, recessing the drain and overflow and polishing.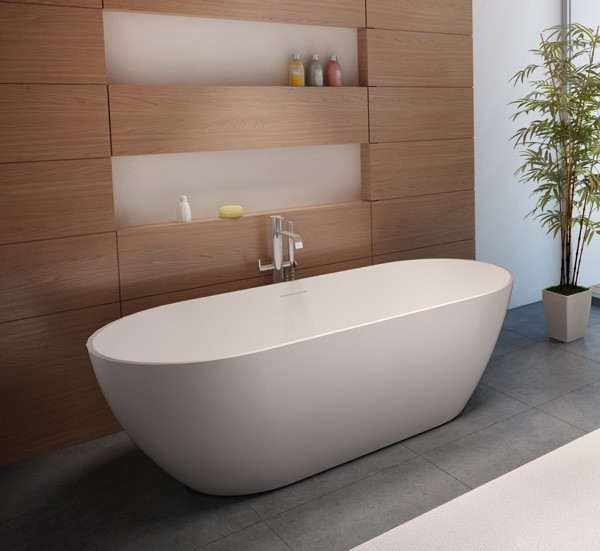 Bath made of imitation marble photo
After completion of the finishing operations of the cast marble bath settles some time, during which it acquires its strength.
Learn about the characteristics of the baths of cast marble, you can of this video.
Advantages and disadvantages of the bath injection marble
Casting bath can be attributed precisely to the products of today, which are equally possess both advantages and disadvantages. Let's start with the advantages - them a little more.
Baths of cast marble are very durable and resistant to the effects of external factors. They are left scratching, unless, of course, does not make them special nails.
Depending on the filler used and decorating additives such bath may be almost any color and mimic not just any natural stone, but many other materials.
In our market, such baths are presented in a wide variety of forms - can be found or ordered as a regular freestanding bath classic shape and a corner bath of cast marble, round or even polygonal.
Bath of molten artificial marble, do not vibrate - they all are silent. Even sloping water stream hardly made a sound.
Almost all of the composite materials, including cast marble, well retain heat - such a bath of hot water for a long time remain.
Bath made of cast marble, perfectly amenable to restoration work - simply eliminated even large potholes.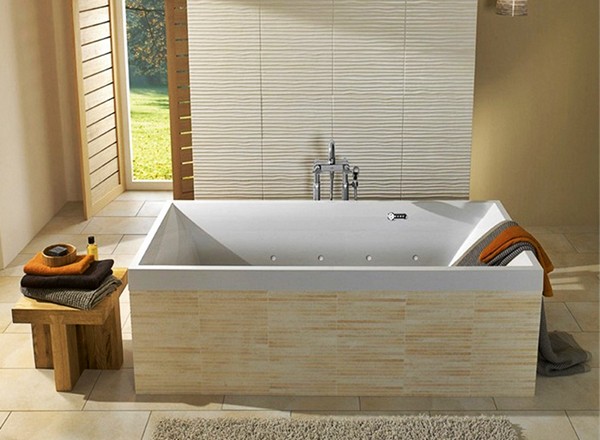 Bath photos of marble
In principle, the advantages of these baths speak for themselves. Now let's see what will tell us the product of its shortcomings. No significant shortcomings can be identified only three.
Care composite bath is a fairly big problem - these materials are afraid abrasive detergents and certain household products.
Baths of cast marble are afraid to even prolonged contact with water, as it may sound strange. If after receiving water treatments forget drain, the salts contained in the water can leave the bottom no stains.
Absolutely contraindicated injection baths impact of heavy objects - even if it drop a bottle of toilet water from the bath can split off a pretty big chunk. In principle, this problem can be solved, but still these are superfluous and useless expenditure of time, money, and most importantly - the nerves.
Based on the above advantages and disadvantages, which gives these products manufacturers, we can draw only one conclusion - these products stand both literally and figuratively. baths price of composite materials just can be attributed to the lack of a fourth - it is very high.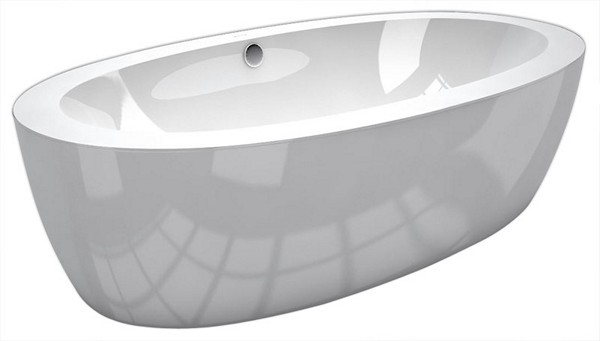 Manufacturers baths of cast marble
In conclusion, a few words about the manufacturers of baths of cast marble - a lot of them, but not all are worthy of attention. These products are quite expensive, and if we buy them, you need to know what to pay money. Fairly well proven baths of cast marble, made by the Polish company Marmite, fared well in service Italian bath and Kerasan Marmorin, good quality have baths Riho Czech company and we can say, unsurpassed quality differ German baths Kaldewei. There are other, lesser-known companies that manufacture of cast marble bath, but buying an expensive product, you need to understand what you pay - to buy, as the saying goes, the cat in the bag, it is not necessary.
And remember, to date baths of cast marble are the most durable, stylish and expensive products of this type. By purchasing them, you create comfort in your bathroom for years to come!
How to choose a bath of cast marble and installed correctly?
More recently, the choice of the bath had to consider only two options - cast iron or steel. Today there are many models of acrylic baths and plumbing of unusual materials, such as baths of cast marble. This is a relatively new kind of plumbing, so before you decide to buy, it is worth to get acquainted with the advantages of these baths, assess their weaknesses and read the reviews that leave consumers.
Selection of such an important element plumbing bathtub, is rather complicated. Today, commercially available models of all shapes and sizes, in addition, the store offers a bath, made of different materials. Besides all known cast-iron models and rapidly gained popularity acrylic bathtubs made of unusual materials, such as from cast marble.
If you are going to buy this model plumbing costs in advance to check consumer reviews to find out about the advantages of cast marble baths and their shortcomings.
Manufacturing techniques and materials
In ancient times, in the homes of the aristocracy established baths carved from natural marble. Today, hardly anyone uses this option as plumbing turns virtually unaffordable, which creates huge difficulties in transportation and installation.
But now there is quite a worthy alternative - a bath, made from cast marble. In this case, for the manufacture of plumbing used marbled cat and polyester resin. Through a combination of these materials, obtained original and attractive appearance model plumbing.
Advantages and disadvantages of baths of cast marble
Before making a purchase, it is necessary to get acquainted with the advantages and disadvantages of the models. It should be based on feedback from customers who have already purchased these baths
Advantages of using bath of cast marble
Strength. If the bathroom is equipped with sanitary ware of cast marble, the owners can count on its durability. When the strength of cast marble is not inferior to natural stone.
Tip! It must be said that the strength inherent in a quality product only. If the production technology is broken, then the strength of the bath will not be able to vouch. It is these, made with violation of the technology, baths prone to cracking and chipping. In most cases, the negative reviews about the baths of cast marble due to the fact that the plumbing was substandard. Therefore, deciding on the purchase of not cheap, it is necessary to use only reliable shops and choose a bath brands.
Models of plumbing cast marble perfectly restrain the vibration, so the hot tubs of this material better than acrylic, which vibration can be felt quite strongly during the whirlpool treatments.
Baths are pleasant to touch surface, they are not cold, in contrast to the analogues made of natural marble.
The undeniable advantage is the visual appeal. Of cast marble bathtubs are made of diverse design. They may be different colors, shapes and sizes.
Tip! In that case, if the bathroom is equipped with sanitary ware of cast marble, decorate a bathroom can be in almost any style, because the bath models are diverse. For classical trends to choose the model of oval or rectangular shape. If you plan to design the interior in a modern style, it is necessary to give preference to an asymmetric angular or model. If desired, you can order the production of baths made of marble customized by selecting the most appropriate form for your bathrooms.
Using cast marble, baths can create various colors, wherein, a coloring pigment is introduced into the composition, i.e., the material to stain the entire depth. This ensures color retention for life.
Tip! Today popular models of cast marble tubs with simulated natural stone any surface - malachite, jade, onyx and so forth.
Excellent thermal insulation. For this indicator, the model of cast marble win even bathtubs made of acrylic, which is great, "holding temperature".
The material has a high density, its surface has no pores, so to maintain the necessary level of hygiene to be easy. The important role played by the properties of the material prevent the penetration of bacteria and inhibit their growth.
A significant drawback is the high price of the product. will not be able to buy a limited budget for the repair of cast marble bath.
If the bath has no special protective coating, there is a risk of staining when contacted with various colorants (colored salt bathing, hair dye, and so on.). Very often there are such spots, if the bath has a pure white color, but the color baths are more resistant to such staining.
Not too high resistance to mechanical stress. If a strong impact with a heavy object (e.g., if accidentally dropped into a bath of a metal with an impressive predmer weight) can be formed on the cleavage surface. However, such damage is reversible, as the bath surface amenable restoration.
Features care baths of cast marble
As well as any other bath, a model of cast marble require care. To maintain the attractive appearance bath surface it should be washed periodically, however, it should be used only mild detergent. plating bath is sensitive to abrasion, so use scouring powder with abrasive particles can not be used.
When appears on the surface of the bath of small scratches and loss of gloss, the bath surface will need to be polished. To do this, we use special polishing paste. A more significant injuries - chips, deep scratches, the surface of the restoration is possible. For this, the surface is cleaned and degreased.
After such processing is done applying a layer of gelcoat mixed with hardener. Ingredients should freeze, it will take about 12 hours. Thereafter, the treated surface is cleaned again sandpaper fine grain and then polished.
I must say that if the surface of the bath there is significant damage, then perform the restoration at the site is not always possible. To eliminate such damage may require dismantling of the bath, which because of the substantial weight of the bath is a difficult task. To avoid such troubles, it is necessary to use the bathroom carefully, avoiding significant mechanical effects.
If there is a desire to establish a beautiful and unusual bath, you should pay attention to the model, made of cast marble. These baths are durable, attractive appearance, long retain water temperature, practical do not vibrate when the whirlpool systems. In addition, a bathroom, equipped with plumbing of cast marble, looks incredibly elegant and luxurious.
Comments are closed.
© I Vannoy.ru, 2014-2017 - All about repairs in the bathroom.