Patchwork quilt with his hands - the best design solutions. How to make a quilt with your hands at home
Ordinary and everyday things can be turned into masterpieces of design ideas. Even an ordinary blanket after some modifications, can give much more aesthetically pleasing. Add to the interior comfort and warmth of the room, which is often lacking.
Quilt own hands: Features
There are plenty of options for quilt. Cut from different materials, pieces of tissue are selected in advance, and then sewn together in whole web. Do not use old material that can put all the work for nothing.
For single duvets (1.5-2 meters) standard form will need a lot of patches. It is worth a lot of patience, because even when sewing quilt with their hands out large pieces need one or two days of hard work.
Quilt own hands: Materials and Methods
Prepare a work surface. Sew quilt need:
- a large table, because it is necessary to lay the cut pieces;
- tools: sewing machine, iron, scissors, thread, pins and needles, tape measure, a cardboard template;
- fabric in different colors for the top sheet and the whole piece of fabric to the lower fabric;
- filler (sintepon or batting).
To determine in advance what size and shape will scraps. First, the front surface is made quilts. Choose fabric in color and texture. Those who still do not have experience in tailoring this blanket, you should choose the same materials in texture, it is better if they are cotton (linen, calico, satin or cotton).
Choose a fabric that pre-wash and proutyuzhte. Next, prepare the template on which you will cut scraps. A template cut out from a dense material such as cardboard. In this case it is a square measuring 10 × 10 or more. Decide for yourself what size is your patch, and add one centimeter on each side. This supply, which is required for cross-linking between the components.
Cut the fabric pattern. Pencil or a piece of soap circle pattern on the fabric, and then cut out. It is not necessary to cut the canopy or more tissues simultaneously. Take your time and make a good piece.
Spread before cut portions are in strict sequence.
Sew flaps to each other manually complicated stitch, and then prostrochite seams on a sewing machine.
Squares stapled vertically. You have to get strips. Further, they are sewn horizontally. That's how it looks.
The seam processed oblique scissors. This special sewing scissors. If you are none available, you can make a few cuts in the fabric simple pair of scissors from the edge to the seam, before reaching the seam of 1-2 mm.
Received facial web connect with filler and backsheet. To do this, cut the desired size of the filler piece and immediately cut off a piece of the lower fabric. Put the first lower fabric, her heater and upper fabric blankets. You will get three layers, which are sewn together along the edge of a simple hand-stitch.
Backsheet and edging chosen their cotton. Normally, a material of the same color, coupled with the front part of the blanket.
Stitch blanket strips diagonally. Cut fabric for edging, should have four lanes, the length of which is the same as the length of the blanket and the width of 5 cm. Wrap the edge and stitched edging on its edge. Blanket ready.
This big band. As a rule, such a blanket they were horizontal, but they can be made, and vertical if desired.
Just have options quilts sewn from small bands. Sewed it in the same way as the covers of the boxes, only the top of the quilt patches do not cut squares and stripes. Added together, stapled, and then combined with the filler and the bottom of the blanket.
Complex is considered here such a scheme to cross-link patterns of bands. It requires skill and precise calculation.
But there are also options here are blankets of bands such as:
Staple the principle is exactly the same as in the manufacture of quilt squares. Patches are sewn first strips in one line, and then the lines are sewn together.
A breathtaking view of the blanket will not leave anyone indifferent. It is made of small squares-pads. First pads made themselves, and then they are sewn together.
For the manufacture of a pad require two squares, sewn together. The dimensions you have to choose yourself. For small squares of suitable size of 10-10 cm and for large blankets pillows square size can reach 25-25 cm. Blanket of large pads as effectively looks.
Number of cushions blankets you just pick and choose based on the desired final size of the finished product. We will pad the front side and the bottom. Lower hidden from the eyes and will remain inside the blankets, so choose a nice colored cloth on the front part and the lower homely.
Sew three sides of a square, and through the resulting pocket insert padding polyester. Next, the remaining side need just sew. You will get lots of small pads.
Now sew the pads with each other in one line. Podgibayutsya edge inwards. Next, the resulting line and stapled to each other in one line. When the large canvas of the pads will be ready, you can proceed to the next step.
In this step, we select and cut backsheet for blankets. Cut out a piece of tissue about the size of the resulting blanket, plus one centimeter on each side. Now you have a choice between two options. First - you can sew a backsheet with the top and you have a single-layer blanket, and the second option - when the upper and lower blade is placed a layer of padding polyester. In a second embodiment, the blanket will unusually warm and almost weightless due to the ease syntepon.
If you decide to use the second option, a filler between the layers must be secured, so that when washing it is not lost. Suffice it to quilt padding polyester backsheet several cross-ties. It must be done before you start to collect all the pieces together.
Adding all layers on each other, sew the edging around the edge of the blanket. Patchwork pillows with their hands out ready.
Patchwork quilt with his own hands: Tips professionals
• Think carefully about what colors would you like to combine with each other.
• Draw on paper or make a rough picture of the pattern on the computer that you want to see on the finished product.
• If you are new and did not have experience in creating a quilt with their hands, they do not grasp just outside the complex patterns or textures. Start small, for example, take a cotton cloth and a simple pattern.
• Work with utyuzhennoy cloth, it will make a neat smooth seams without creases. When sewing blankets flaps slightest error in the seam direction may violate the appearance of the finished product.
© 2012-2018 "Women's opinion." When copying materials - a reference to the source is obligatory!
Editor in chief of the portal Ekaterina Danilova
E-mail: [email protected]
Contact us at: +7 (965) 405 64 18
Patchwork hands - scheme. Step by step instructions for beginners sewing quilts from scraps
Bright, beautiful, eye-catching items, collected from different pieces of fabric create a warm and homelike. Patchwork technique, known since the time of our grandmothers, opens a wide scope for the imagination, it allows to improve creative skills. Patchwork things will decorate the house, will appeal to friends, especially children.
Manufacture of pieces of fabric things - an exciting experience. Sewing the quilt does not require significant expenditures. Tissue pieces can be bought in special kits for patchwork. The second option - the use of tissue debris or unnecessary items stored in the cabinet without cause. So disused clothes will gain a new life, will serve as a pleasant reminder of the events of the past.
For quilts from scraps need material at least 6 different colors. Using different colors, designs and patterns, you can create different things design - soft, gentle and warm, or, conversely, a bright and crazy. Elements prisborennye in a particular order, look impressive, given the volume texture. Ideas and master classes make available patchwork type of needlework
What kind of fabric to choose the patchwork quilt with their own hands
Patchwork quilt with his own hands made from pieces of material, the same thickness and texture. The choice of color depends on the style of the interior, shades of the walls and furniture. The contrasting combination of different fabrics look better if the base web has a neutral, low-key tone. Moderate diversity by combining materials pleasing to the eye. Before patchwork blanket stitch, the preform must be expanded to the underlying tissue, move away and evaluate combination. A realistic view from the side in good light makes it clear how well the combination of color and pattern.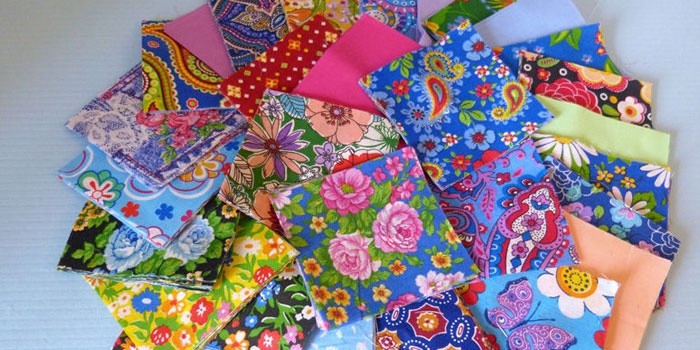 What is the best filler for blankets
The product consists of three layers - the top of the trim, heater and the bottom of the pad. Removing the filler, it is possible to get cover. As the warm layer is typically used, sintepon. One of the advantages of the material - no shrinkage after contact with water. This means that the filler does not require soaking before work, while retaining the original size and good looks. Less material is that it is synthetic. This property is desirable, if a thing is a child. Baby blanket patchwork should be to the maximum natural.
Alternative sintepon comprise fillers made of natural materials:
Cotton insulation is similar to a light batting, not bonded thread. The filler has a milky white color, thickness 3.2 mm, not fray. It is important to bear in mind that cotton can sit after washing by 5%. Before the work material to soak, gently wring out a towel and dry.
The second alternative synthetics - wool filler consisting of 100% natural fibers. Light heater has excellent thermal insulation, has been successfully used in the needlework.
Element connecting with their hands in the total patchwork composition can have different shapes: rectangles, stripes, diamonds, triangles. Parts are cut out of cardboard or paper. Patchwork quilt with their own hands the easiest way to make a major squares. Such a simple graphic appreciate novice masters. More complex schemes for patchwork is not necessary to invent himself. They can be purchased together with a set for needlework in a specialized department to see in a magazine or on Web sites.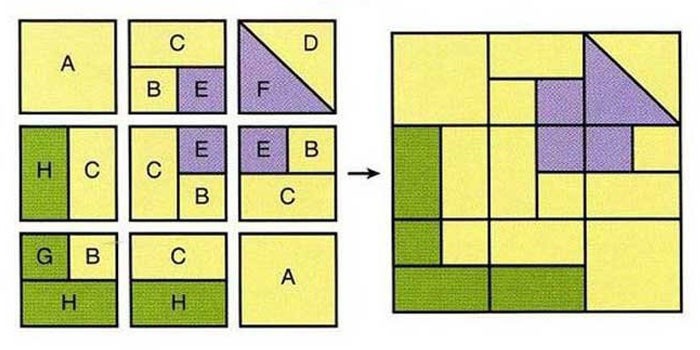 As quilt patchwork on a typewriter
Compound blanket layers prevents distortion products during use, washing and cleaning. Neat stitch serves as a decoration, helping to hide defects, formed by sewing. There are two types of connection layers - machine and manual. The first way to save time. In addition, modern cars have good opportunities to perform the desired stitch. Quilt, quilted with his own hands, it turns milder.
Stitch quilt is performed after sewing fringe. First, it required to fix the layers. Blanket is wrong side up and baste hands from the center to the edges. Preparation of the product to stitch - crucial stage. Performing machine stitching on the bad prometannom blanket can reserve the "bubbles" and assembly that can not be corrected. Pre Basting stitch and run from the center to the edge in order to avoid crowding the tissues.
To product manufacturing process was orderly manner requires a working space, such as a table, which can be expanded shreds. To assemble the quilt with your hands need the following tools and materials:
thread in tone or contrast;
template;
cloth or old clothes;
insulation;
lining;
inlay, suitable for color;
needle;
pins;
chalk or soap;
scissors;
tape measure;
sewing machine;
iron.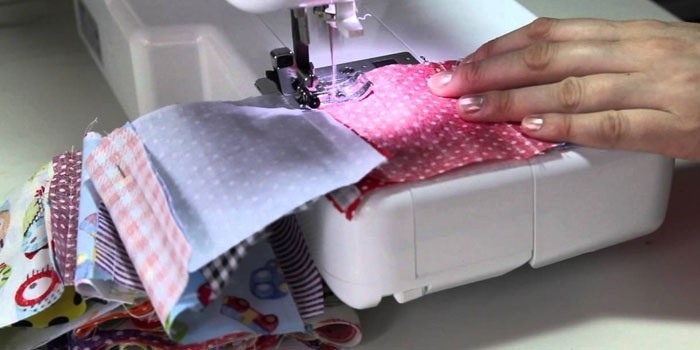 Of flaps cut from end denim things easily create an original thing. As the lining can be used strong cotton sheet. Top fabric must be prepared to work - wash, pat, removing thick seams and dilapidated areas. Denim quilt patchwork done as follows:
Cut out the pattern pieces on the subject of allowances.
Crosslinking scraps: first - by 2, then - strips.
Connect elements.
Carve insulation.
Cut the lining.
Baste layers.
Follow quilting products.
Treat border region.
Decorate thing to your liking, using beads, sequins or braid.
Quilt for a newborn with his own hands
Thing, designed for children, is made from natural materials. Baby quilt is assembled from squares with pictures of flowers, animals, favorite characters of fairy tales and cartoons. It looks nice picture story, designed in the form of application. The product for infant cribs should create an atmosphere of warmth and comfort.
Baby blankets in patchwork with his hands to do so:
Cut out the details of application, which will be located in the middle.
Prepare desired number of rectangles for registration perimeter blankets 82h103 see.
Fold the warm lining and mid - size 60h75 cm fabric.
Lock layers, run parallel lines.
4 sew strips of rectangles perimeter.
Proutyuzhte assembled sections.
Sew strips to the central part.
Carve liner slightly larger to form the upper rim due to the hem.
Cut a small diamond.
Attach the appliqué pins to cut the part.
Sew a zigzag elements on the machine.
Stitched diamond applique in the middle of the product.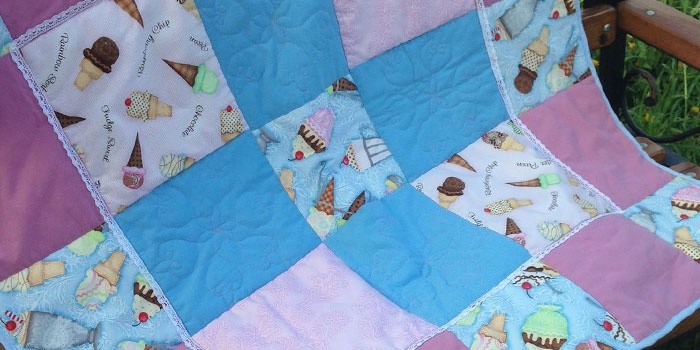 How to sew a quilt from scraps with his own hands with photos
To make a nice thing squares of tissue required to consider the pre-circuit pattern. Quilts with their own hands to do so:
Cut out the pattern desired number of pieces.
Lay the parts on a flat surface.
Sew squares strips of blanket width proutyuzhte seams.
Connect the resulting tape long sides.
Fold the top of the cross-linked, heat insulation and lining.
Baste layers or lock pins.
Run the machine a line along the length of tapes.
Check the evenness of the edges.
Sew Bakey face to the lining.
Remove the border on top of the blanket.
Fold inlay edge inwards.
Fix the hem stitching.
Patchwork bedspread patchwork - the beauty of their own hands!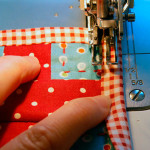 It has long been admired in the beautiful patterns on the curtains stores made shreds of cloth of different color and pattern, but the price bite?
Do you love to sew, and houses have a lot of remnants of fabrics in different colors?
Then your dream of a beautiful quilt, you can implement your own hands. And to help you with this patchwork.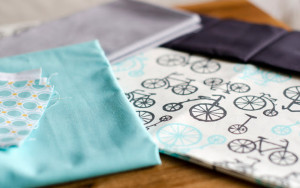 Word patchwork translated to English language means the product of multi-colored patches.
Initially things were made of tissue residues for economic reasons. Then it turned into a process of creating a unique and unusual items.
Patchwork - this is a very difficult and painstaking work, worthy of respect and admiration.
Sometimes masters create a work of art consisting of many small pieces.
To work you will need:
Sewing machine.
scraps tissue.
The fabric for the back (about 1.5 meters 2.20).
Needles and pins.
threads in the color of the fabric.
well sharpened scissors.
You can also choose the color according to your taste, but no more than 6-7 different colors.
Also experienced handy in the master classes are advised to take the same color as the principal, and the remaining pieces must be harmoniously combined with it.
Stages and stitching techniques
Patchwork consists of 3 basic steps:
Look at the house the remains of fabrics, sort them by material and color.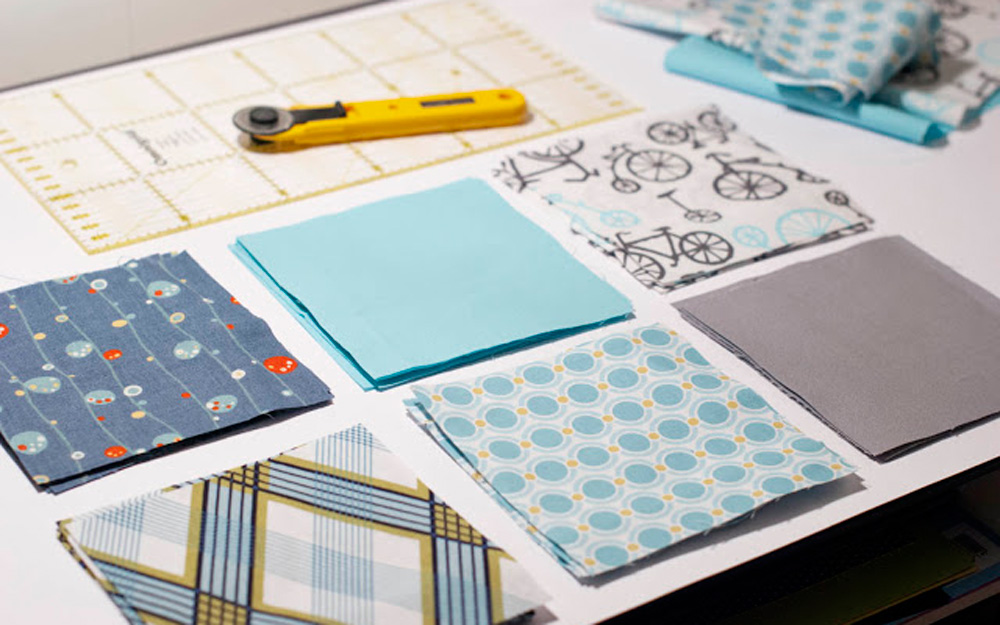 Preparing for the future covers rags
Or to buy at the store are fabrics from which you would like to make a blanket.
In the second stage needlewoman come up with a picture that eventually want to get to the finished product, or pick up ready-made schemes.
The last stage - a direct picking up the pieces together for whole leaf.
Also, products for the reverse side It needs a solid piece of fabric, and sandwiched between the upper and lower side syntepon layer to give a pillow or blanket form and volume.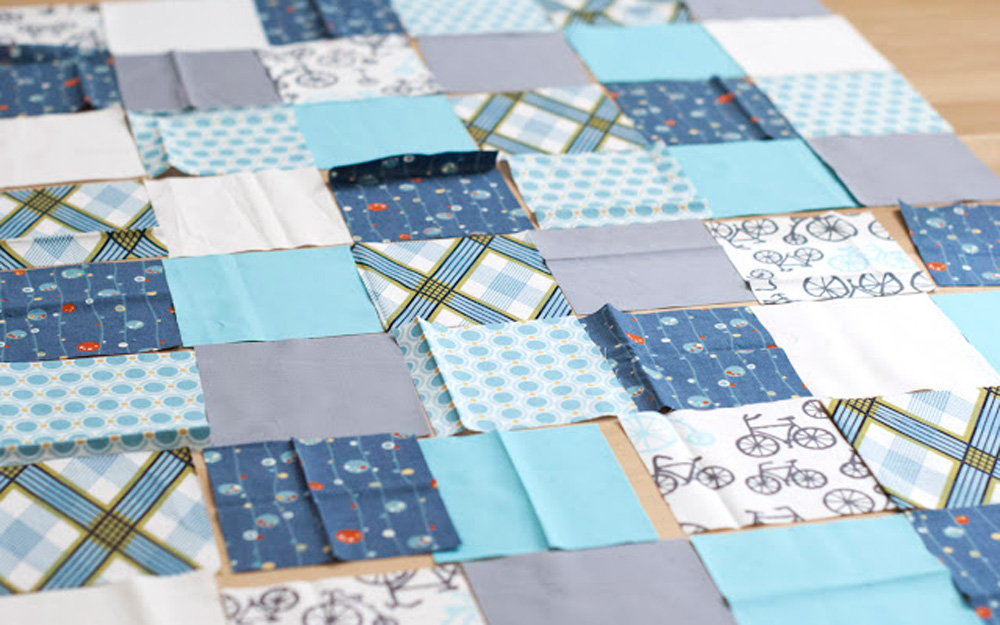 Selection of slices (scraps)
There are various techniques of stitching pieces squares from compound, identical in size, to vykladyvaniya complicated pattern of geometric shapes of different sizes and shapes (triangles, squares, and others)
The result is a unique work, it all depends on your skills, the available fabric and fantasy.
types patchwork by the method of crosslinking elements:
"Quick squares" - it is based uses national teams square blocks of different colors.
"Watercolor" based on the selection of appropriate colors.
"Strip to the strip" - Compound colored fabric strips of different lengths at different angles.
"Log cabin" - strips go around the square in a spiral.
"Magic triangle" - machinery drawing complex shapes from the original triangular patches.
"Checkerboard" - scraps are staggered.
"Russian Square" - a multi-tiered pattern of the square in the center of the triangles and stripes.
"Honeycomb" - basic fabric pieces have the shape of a hexagon.
To create a patchwork bedspreads for beginners masters are advised to take simple scheme drawings and scraps in the form of squares of equal size, such as 23 to 23 centimeters.
STEP 1 Arrange the pieces on the floor in the correct order as in the diagram.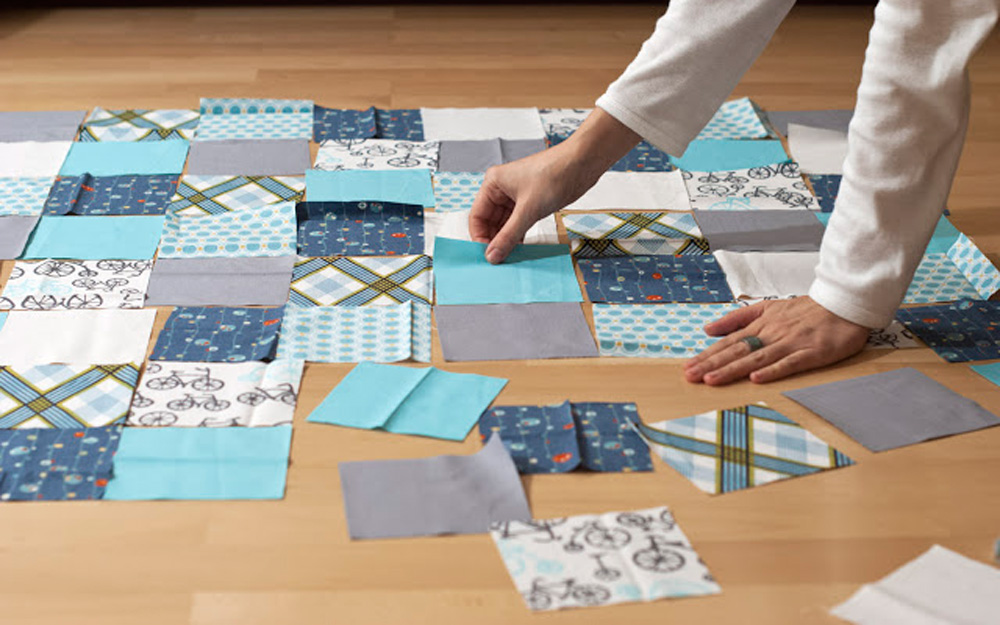 Spread according scraps conceived scheme. STEP 2 Take the first two rag, fold right sides together and cross-linking with a small allowance in half a centimeter.
STEP 3 then sew to type 2 more pairs of pieces. Then connect them in a tape of 6 squares, length 160 cm.
Staple patches
Similarly, do 11 tapes carefully razutyuzhivaya allowances.
STEP 4 Then take two band pattern to each other, however their pins with an allowance of 1.5 centimeters and crosslinking.
In the same manner were combined and the remaining strips, as a result turns the web 160 by 220 centimeters.
STEP 5 The next step - podshivanie syntepon.
He takes a little larger than the resulting web of patches.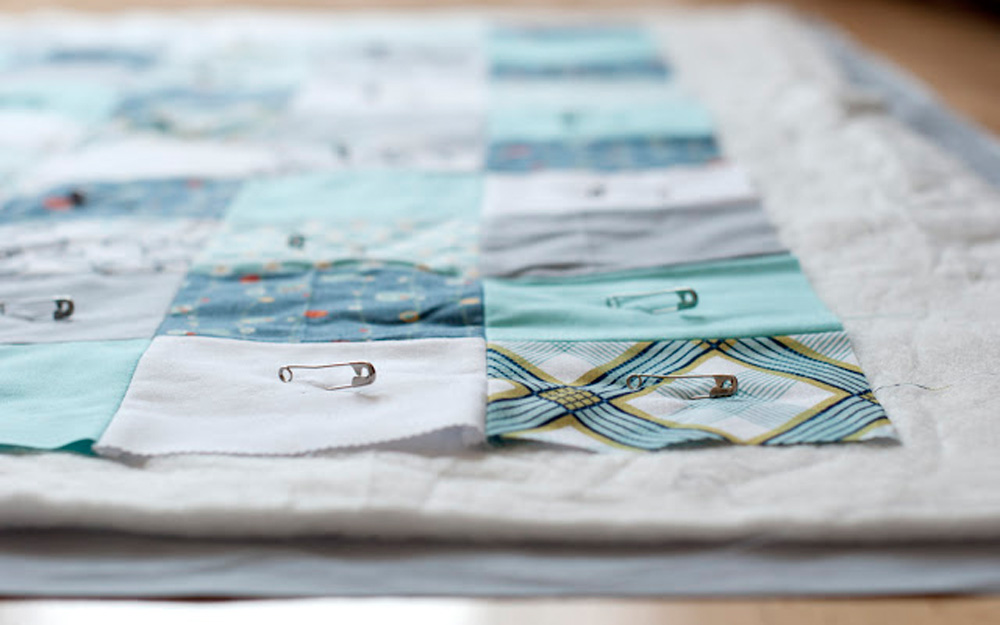 podshivanie syntepon
Sintepon spread on the underside of the leaf and sewn on the same machine at the seams joining the squares and strips.
Step 6 The final step is a compound with the upper part and lower part synthetic padding covered.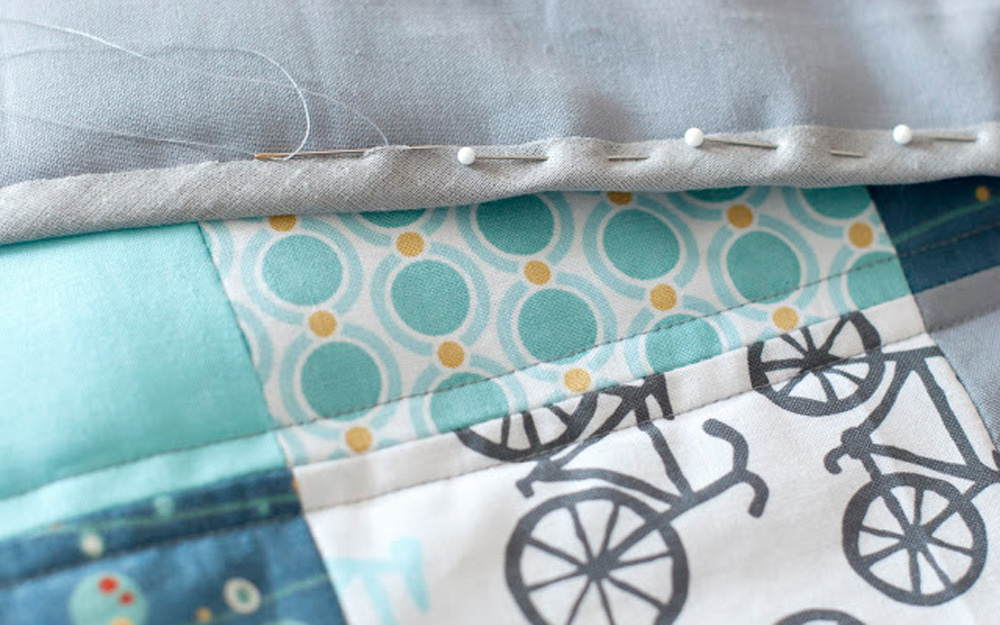 Bonding all layers
Patchwork bedspreads part folded the down 1-1.5 cm, and sew on the machine with the bottom.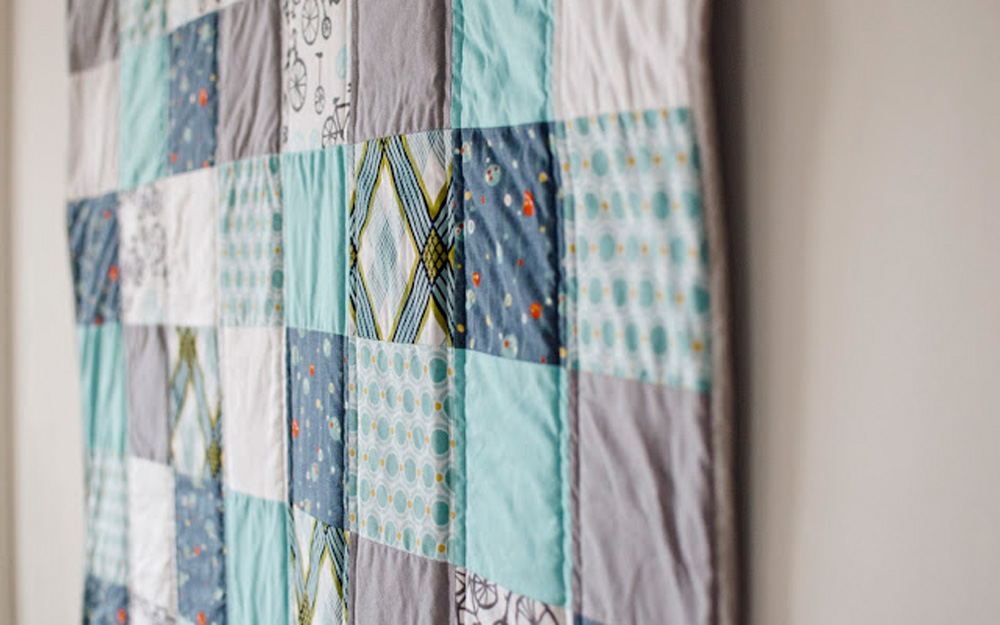 Ready product
The result is a beautiful, handmade bedspread, unique in its copy.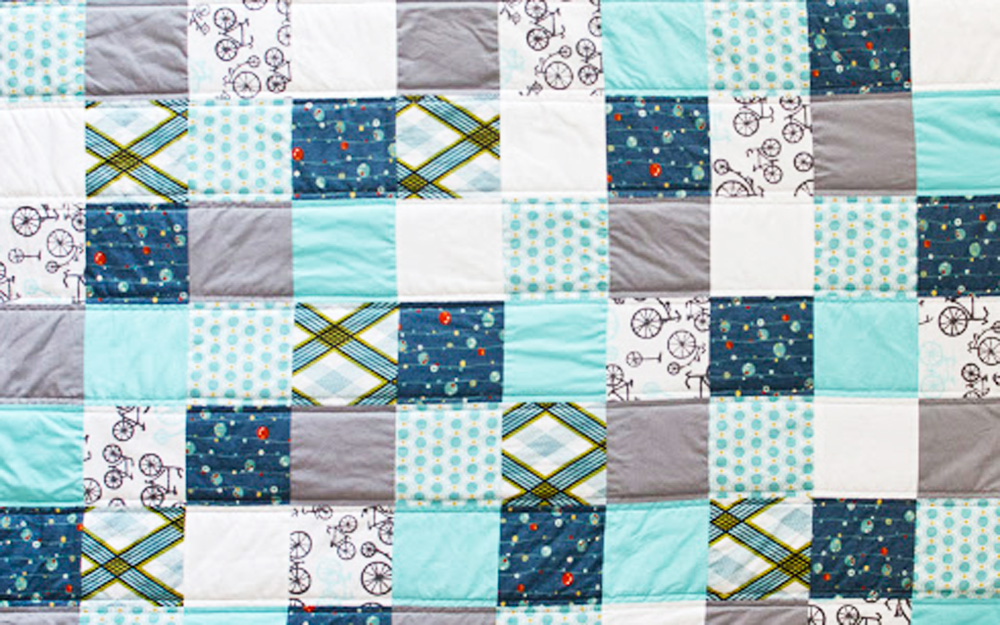 Cloth finished blankets
And if your house is in a large number of idle lie old pair of jeans and a shirt, they can be an excellent starting material for the blankets and pillows, even for him.
Ka also sew blanket of old jeans?
STEP 1 First thrust clothes, leave only the pieces of cloth that has no stain, wear strong, lightning or other accessories. Then wash and iron them.
Step 2 The next step is cut squares, triangles or other shapes according to the selected search pattern or scheme.
STEP 3 further scraps sewn 2, then strips and then the strips are connected together.
STEP 4 sewn sintepon and the lower part covered.
STEP 5 can sheathe a patchwork blanket on the perimeter of satin ribbon, if desired, decorate it with beads, sequins or braid.
Received the product will be dense and durable thanks to the properties of denim and one of a kind.
In conclusion we can say that the patchwork sewing - It's a fun, but very time-consuming process picking shreds each other, and then joining them to produce a total image.
Experience of working with fabrics, machine, as well as perseverance and patience will help you to master this unique style quickly. Piece by piece, it will be one of your favorite things!
Sew bright, colorful patchwork
quilting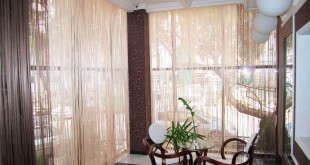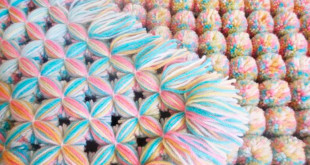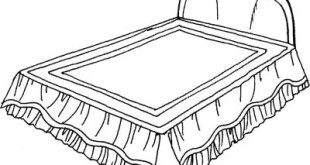 3 comments
Earlier in the Soviet period, such patchwork bedspreads and even blankets were in fashion, and today they are on sale there at all, and I'm sorry they liked, because there were such cheerful and colorful.
Blankets and quilts from scraps are on sale. For example, the store "patchwork". They even have a website: izloskutov.ru. If you live in Moscow, you can call the store, drive, watch and buy what you like, or order. Ordering can be done through the website.
Wow. Everything is clear ... Thank you!