Ranking of the best humidifier for home
Humidifier required for cleaning dust from the room, and also to adjust the humidity to normal. Which option is the best of all the existing diversity? To find out, it had a rating in which we looked at the top 10 humidifiers for 2017.
On the tenth place humidifier located for flats and houses on Winia producer. At first glance, this is classical solution in a compact and convenient form factor. The device differs from competitors reduced capacity (only 15 W) and a comfortable adjustable speed. Otherwise, a set of its characteristics is a standard: purification and humidification, the electronic control unit, low-noise (36 dB).
The apparatus is equipped with a water prefilter. The advanced control system allows you to adjust not only the speed of the fan, but also control the evaporation intensity. Instrument weight - 6 kg, which is not the best result in this category. The price tag of the humidifier - from 13200 to 19500 p.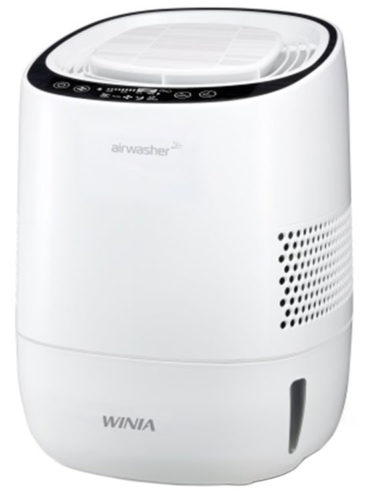 Perfect cleansing of the room space. low-level filtration system absorbs even the finest dust, which will be very helpful for people suffering from allergies and respiratory diseases.
Simple and easy to use, has all the necessary functions.
Large fluid reservoir, enough for a long time.
Ionizer may be used independently, it includes an additional button.
High productivity (confirmed by additional measurements).
Simple and discreet design.
Correct operation of the hygrometer (some reviews).
No wireless connection modules to control the device remotely.
Not the richest package (considering the price).
Present vibration at high load.
The best cleaners tend to cost a lot of money. Known manufacturer Vallu refutes this assertion. Model AR-155 has an attractive price tag and no less eye-catching design. The body is made in the "high-tech" style. This model is able to moisturize 20 sq.m room. The device has high power (37W), and a high degree of air purification (up to 170 cubic meters / hour). For convenience, there is the control of air cleanliness, all the indicators are displayed. Is controlled by the sensor module, the buttons are pressed easily, without re-touching and other complaints.
A feature of this model is advanced filtering system is checked carbon HEPA filter that precleaning.
Also there is timer, allowing you to set off a step up to 8 hours, which is much easier to work with the device, increasing its autonomous function. The average cost of the humidifier - from 7552 to 12890 p.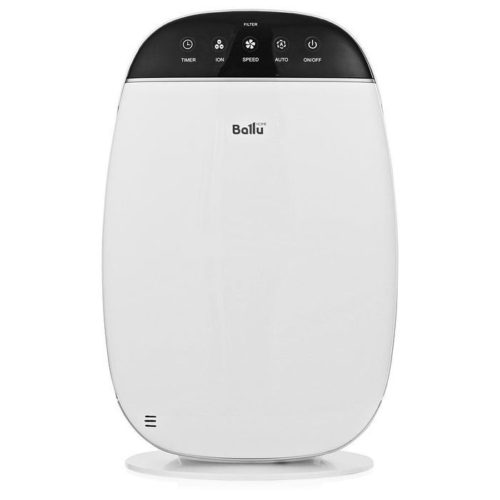 Operational reliability (developed network of service centers for repair, maintenance and replacement of proprietary technology).
Eye-catching design.
Low noise operation.
The "night mode", in which the illumination device is significantly reduced.
Low power consumption.
Acceptable price.
Timer not always work correctly.
There is an error of clean air in the room rates.
At high speed there is a slight vibration, attracts attention.
The power cord is short, you must use an extension cord.
Stylish and efficient air humidifier for the house from the company Voneco. A sufficiently high value of (. From 15990 to 18990 r) is compensated by the presence of all the required characteristics: ultrasonic cleaning, the presence humidistat, demineralization function, heating water prior to spraying. The device consumes 180 W and is able to humidify 80 square meter.
An air purifier is capable of filling a room scents, thanks to bay for flavor oils.
an electronic control unit, there is a full-featured display and timer, allows you to specify the desired shutdown step. Low noise (of 25 dB) is another important advantage of the apparatus. The disadvantage is the constant need to change the filter, which is not always possible to find in stores. The device has a small weight (only 4.6 kg), and is perfectly fit into any interior, thanks to the thoughtful, ergonomic design. The liquid reservoir is able to accommodate to 9 liters, which will last for a long time.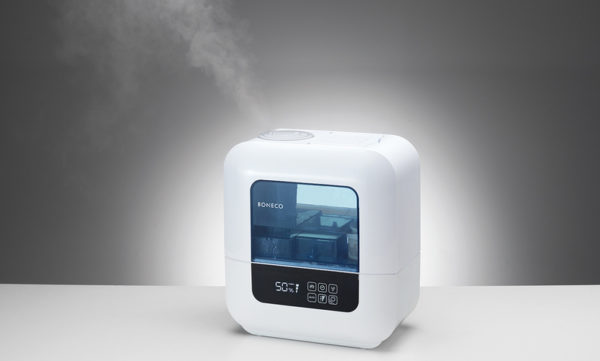 Copes with its major functions.
High reliability.
The strength and durability (quality parts hull).
Sufficiently large service area.
Simple and easy operation control unit.
Low noise level.
Consumables (filters) are expensive.
There is a vibration in continuous operation at high power.
Inside the container for liquid forms plaque, which is very difficult to clean.
No cord storage function for power.
If you are looking for a humidifier for children, it is worth paying attention to this device. In addition to an exclusive design, the device has all the necessary functions and is inexpensive (from 4990 to 5790 r.). An ultrasonic humidifier is able to influence To the square to 30 sq.m. when power consumption to 30 watts. The liquid container is small, only 3 liters, but considering the size of the device itself, this is quite enough for continuous operation. The average water consumption per hour is 200 g (approximately, depending on the operating mode). There is also a humidistat and function demineralization.
In addition to the outdoor installation, the device also can be placed on a table, where it will look quite appropriate (by virtue of its design). Built-in timer allows you to set off a step up to 12 hours, and it is very convenient. its weight is very small - 1.35 kg (without fluids). The electronic control unit is working correctly, the display is easy to read in the dark and under illumination.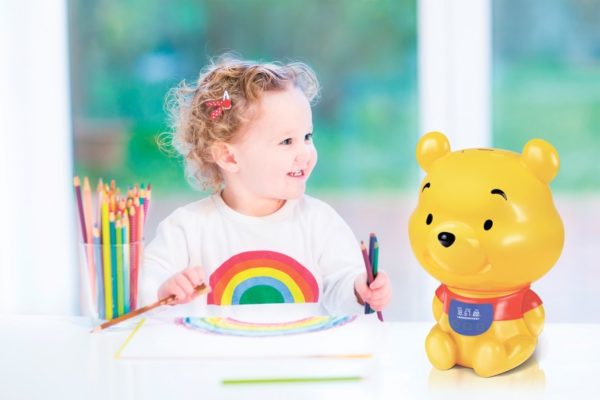 If you need a humidifier for a child's room, this version is one of the best.
Low cost.
Bright and interesting design that will love your child, as well as a variety of children's appearance.
Ease of use.
Substantial margin of autonomy (due to the 12 hour timer).
Touch control is not difficult (even for children).
The ability to switch the fan speed and intensity of humidification.
The quality of plastic, eventually fades and wipe.
There are complaints about the system for leaks.
A short power cord.
High noise levels, sleep when the device is not very comfortable.
Top 10 would be incomplete without the Sharp company. Of course, better to buy a humidifier, which will last a long time, and during the entire lifetime will enjoy a clear and well-functioning work. Despite the relatively high cost (from 16200 to 20490 on p.), The device has all necessary to ensure air quality in the building. Two modes of operation here - is cleaning and moisturizing. At this peak power consumption is 27 W, and the maximum exposure area - up to 21 sq.m. Fluid reservoir is small - 1.8 liters, it should be enough for a few hours of uninterrupted operation. The average device consumes 350 ml / h with an average humidity dissipation. At the maximum setting can increase the flow rate. Purification CADR air capacity of 180 cc / hr, a HEPA filtration system.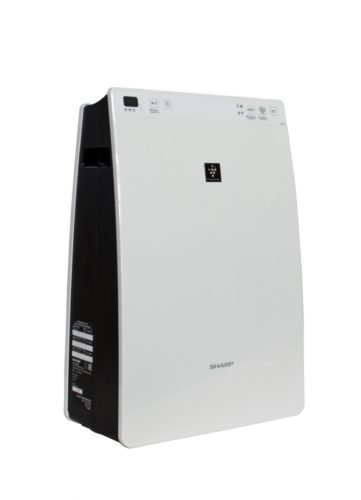 Compact.
Stylish appearance.
Low power consumption.
2 1 (cleaning and wetting).
High reliability, confirmed by a variety of reviews.
Qualitative material housing.
Increased noise level (48 dB).
There is a vibration.
Incorrect operation of the control unit (in some cases).
Weight 7.2 kg sufficiently high for this class, competition device weighs much less.
"The beginning of the heating season and the flowers began to wilt. A neighbor recommended to buy a purifier with humidifying function. I opted for this device and do not regret.
Dignity. Flowers no longer wither, sleep improved their responsibilities to cope with a bang.
Disadvantages. I not yet discovered. "
If you purchased a humidifier of the brand "Atmos", you do not need a lot of time to assess its quality. The main purpose of the device - it is moisturizing. Declared service area - 30 sq.m. In this case, the peak power consumption is less than 38W, which is a good result in this price category. Price tag device is quite acceptable - from 4100 to 4750 p.
One of the main advantages of this humidifier can be considered design. The body is made in the form of a stylized cactus that alludes to its environmental friendliness and the corresponding functional.
The liquid reservoir is 3.4 liters, the average water flow rate of 350 ml / hr. Control block mechanical, but this can be attributed to the pluses, because it is easier and more durable in operation. Weighing machine quite a bit - only 1.3 kg (without fluids). There is a color display if the water level drops to a minimum.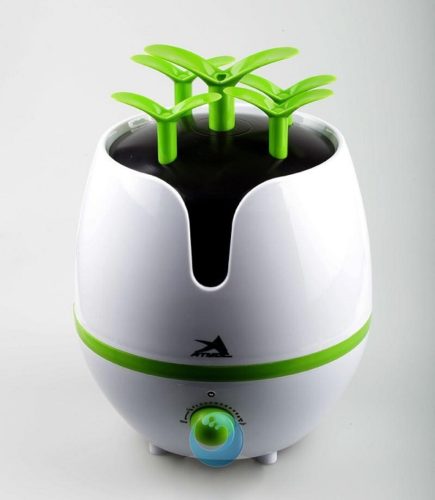 Low power consumption.
Reliability.
An unusual design that will be appropriate in almost any interior.
Comfortable noise.
Convenient to carry from room to room (because of the small weight).
The optimum ratio of price and quality.
Housing is quite fragile.
There is a slight vibration under heavy load.
Enclosure material is prone to scratches.
Low tightness.
Standard air purifiers are very expensive. Scarlett produces perhaps the best ultrasonic humidifiers at an affordable price. The average unit cost in retail - from 2090 to 3490 p. Bright and eye-catching design of the housing (in the form of a small house with painted windows) more likely to be appropriate somewhere in the nursery, however, as practice shows, not less than the device looks good in any living room. Electricity consumption - up to 30 W, the maximum service area - 35 sq.m. The maximum work period of the full tank fluid - 15 hours. The average water consumption per hour is 300 ml. The control unit here is mechanical, it is convenient to use. The device weighs a bit, so that it can be easily moved from room to room.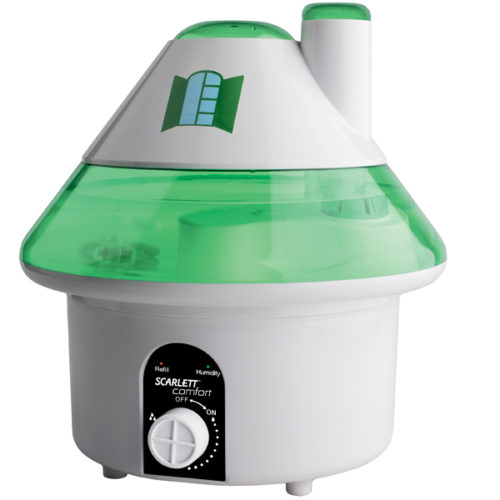 Low cost.
High reliability from a reputable manufacturer.
Easy and intuitive controls.
Low power consumption.
Strong, non-staining body.
Easy to carry size.
There are complaints that the device gives electric shocks.
Also, in some cases, there is a low tightness.
Fragile material housing (Falling crack can be formed with a low height).
The room is humidified for a long time.
"Advantages. Complaints about the work there, well humidifies the room.
Disadvantages. Sometimes the noise a bit distracting, but you can get used to this.
This is the second instance. First served for 2.5 years until it crashed in the fall. It is recommended for areas with artificial ventilation, stop watering and dry eye. "
Third place ranking is the best steam humidifier from De'Longhi. The power of this device is 260 watts. Hydration takes place due to the heating and evaporation of water. The volume of the reservoir for liquid is 6.1 liters. The device consumes about 300 ml of liquid per hour at an average load. an electronic control unit here has a display and a timer deferred shutdown with comfortable settings. With a weight of 1.7 kg (without liquid), the apparatus has a very compact dimensions. The average market price is equal to 9800 p. It should also be noted the good work of the hygrometer, which is quite rare even in the higher class models. Also the biggest advantage is the low noise level at low and medium settings.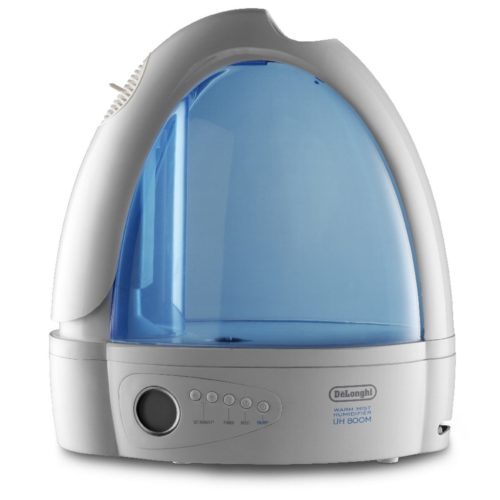 High productivity.
The results of the work become visible quickly enough.
Pleasant appearance.
It consumes little electricity.
It is convenient to visually monitor the liquid level in the tank (transparent).
Acceptable price.
Poor quality material housing (crack and fade).
Failure of the heater.
Teflon coating may peel.
Inconvenient liquid reservoir.
Incorrect flavoring function.
Ranking of the best moisturizers in 2017 would be incomplete without a model from Fanline producer. This machine is classified as natural.
Besides the basic functions it is possible to ozonation facilities and antibacterial lamp, working on the principle similar to Kvartsevanie.
Peak power is less than 20W, which is a very good indicator. Containers for liquids has a higher volume (8 L). Water flow rate averages 410 ml per hour with an average load. Per hour is capable to purify 160 cu.m / hr. cleaning system works on the principle of pre-filtering. The UV lamp turns on a separate button as ozonation. The noise level does not exceed the average for the class 29-45 dB, depending on the load. Unit Weight - 4 kg, which greatly facilitates the carrying of from room to room. Price tag starts from the 10200 and 14400 reaches p.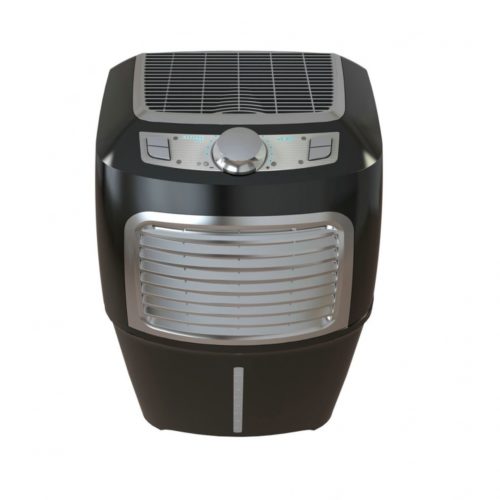 The low level of power consumption.
The rich functionality.
Robust housing.
Function further purification using UV rays.
Increased reliability.
Large fluid reservoir, significantly increasing autonomy.
If prolonged and high load device makes noise.
You can not clean the wheels.
The water in the "blooming" capacity.
Preset ionizer is unipolar.
"Advantages. Very smooth speed control, it is convenient to control the power. Night is not audible clicks from the switch. I liked the price and ease of maintenance.
Disadvantages. Water blooms, it is necessary to use supplements.
It was purchased six months ago and is currently working practically shuts down. Like family, it became easier to breathe, her husband said that the air in the room became clearer. In short, we are satisfied. A very useful gadget. "
Best humidifier in our ranking. The optimum ratio of price and quality. At a cost from 3990 to 7290 p. the device has a fairly rich feature set, which advantageously makes it stand out among its competitors. Low power consumption - only 14 watts and a small liquid reservoir allows it to run on one tank filling up to 8 hours. The average flow rate is 150 mL per hour. Removable filter in the device, with the index HU4136, and it should be changed every 3 months (In fact it can be a little less, but better not be stingy). Noise - 40 dB. The light weight and compact dimensions make it easy to carry the appliance as required.
Stylish appearance.
Small size.
Low noise level.
Low power consumption.
High reliability.
Convenient operation.
There is no indication.
There are problems with the electrician (circuit, etc.).
The more space, the slower hydration.
Fan may not operate properly.
What humidifier is better - it is, of course, the user. On the market there is a wide choice of models to suit every taste and budget. The final selection is determined not by the price, no loud brand name, and a set of characteristics necessary for you. It is from this is a start in the first place.
12 best humidifiers on customers reviews
Clean, fresh and moderately moist air in the house - the main component of a healthy microclimate. Doctors and scientists have long been substantiated and confirmed the fact that the dry air is harmful to humans, especially should carefully monitor the humidity level where small children are growing up. Today we tell you how to choose a humidifier and present ranking of the best in 2017 for you, with the help of our recommendations could choose for their homes truly effective device for continuous and serviceable life. Our traditional rating of the best models is based on reviews of users who tested on their own experience according to the manufacturer the features and capabilities of different humidifiers. But first, let's look at the device and type of the device itself.
Varieties Humidification
According to the principle of the three types of humidifiers:
Extremely economical, require no special electricity costs, high capacity or a large number of supplies, in particular - filters. Such devices are also called humectants cold action. Air flows are run through the membrane, which is constantly wetted with ordinary water. To care quite simple for such a device:
Keep an eye on the water level;
Once a week, rinse the pan;
Once a month, flush the whirling wheels under running water.
See also - How to select air purifiers for the apartment - the rating 2017
However, if you want to quickly increase the degree of humidity, it is best to choose a steam humidifiers, rather than the traditional. That type of Steam devices can not only humidify the air, but it sterile and disinfected by steam. The principle of operation - as in the kettle - water is heated to boiling temperature and is transformed into steam, which is dispersed in the room increasing the humidity. Some models can be used as inhalants.
For the steam humidifier does not require any consumables - you need only to monitor the level of liquid, because such a device is characterized by high performance and is able to evaporate up to 700 grams of water per hour. If your house is small children live, you should be closely monitored so that no one scalded by hot steam and hot water oblilsya.
Especially popular among buyers enjoy ultrasonic humidifiers. They disperse water often using a vibrating membrane in the thick cloud of mist. Often, these models combine with air purifiers using various filters.
The only drawback, which often pay attention to users - it is a whitish coating on the furniture. However, this trouble can be avoided by pouring into the humidifier for apartments distilled water. Generally, ultrasonic humidifiers are productive, compact and safe for the environment.
If you have a need to buy a humidifier for the house, then certainly about the best manufacturers of these devices you will be extremely useful and relevant.
See also - 12 best ultrasonic humidifiers
Rating of the most reliable manufacturers of humidifiers
Our ranking of the best manufacturers of devices for humidifying the air in the house opens a Swiss company Boneco. They have many years specialize in the development of devices for the cleaning, washing and humidification. Company logo on the humidifier - a sign of quality and efficiency of the device.
Just below are some advertised brands as Philips and Electrolux, as well as less well-known firm Stadler Form. All companies rely on their multifunction devices, and proper attention to build quality. In addition, Stadler Form surprise buyers interesting shapes and unusual, the original design of its humidifiers.
In the shops of home appliances and for sites to have a huge amount of budget humidifiers. Among all this diversity obscure and unremarkable brands is to provide the company Ballu, which has recently become output to the domestic markets are better and more productive HVAC equipment for the home, including a good moisturizer.
Not to be unfounded, we have prepared for you a list of the best humidifier for the house - the rating in 2017. Let's look at all 12 models in order.
Ranking of the best humidifier for the house for 2017
Since it is difficult to compare different types of humidifiers, we shared the best models in three categories. Let's start with the traditional humidifiers cold action.
The best models of traditional moisturizers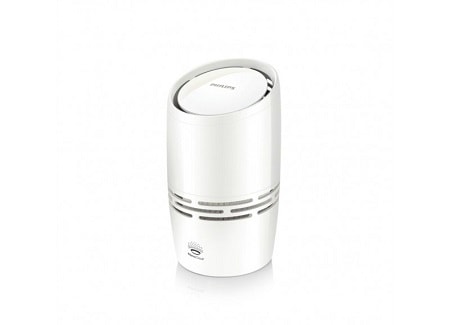 Philips HU 4706. Suffice budget option that is on the leading position in the popularity of various online selling sites. The device - a compact, quiet and economical. Tank capacity - 1.3 liters. Flow rate - 150 g / h. The functional - adjusts fan speed and water level indicator. Effectively moisturizes the air in the room 10-15 sq.m.
Stadler Form Oskar O-026 - this model is a bit more expensive and whistles in it - a little more. Power - 18 watts, volume - 3 liters, the flow rate - 300 ml per hour. The arsenal - humidistat water level indicator, the evaporation intensity regulator, flavoring, bactericidal filter.
PHILIPS AC 4080 - floor model humidifier. Power - 60 watts, the water tank - 3 liters, the flow rate - 300 ml / hr. It has a humidistat, filters, control of air cleanliness, adjust the intensity of work, water level indicators, timer.
Boneco W2055DR - this model is not only moisturizes the air, but cleans it. Power - 20 watts, the area served by the room - up to 50 sq.m. Tank - 7 L, consumption - 300 ml / hr. Please note that this floor moisturizer - it is quite heavy - 5.5 kg and volume. The model is equipped with LCD display, function of ionization and fragrance. There is also a water level indicator and clogging of filters.
Continue our list of the best steam humidifiers model.
The most popular steam humidifiers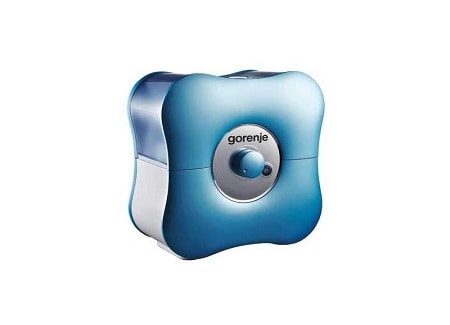 Gorenje H17B - compact, lightweight and stylish steam humidifier. Power - 30 watts capacity - 1.7 l, mechanical control. Designed for premises with an area of ​​25 sq.m. Model - durable, easy to operate and very mobile - it is easy to move around the room or around the house.
Philips HU4707 / 13. Model on e-governance has 20 square meters, consumes 14 watts. Water Tank Capacity - 1.3 liters per hour flow rate - 150 ml. Two modes of operation, auto-shutdown when tank is empty.
Stadler Form Fred F-005EH / F-008EH / F-014H / F-015RH - rounded, interesting and effective steam humidifier. Capacity for water - 3.7 liters, the flow rate - 340 ml per hour. Model equipped humidistat, evaporation intensity regulator, ceramic TAN, LEDs work and low water. Noise during operation - to 26 dB, wetting area - up to 40 sq.m.
Boneco Air-O-Swiss S450 - Feature-rich and high-quality model for the rapid increase in the humidity in the room. Sterile vapor, flavor, use as an inhaler. The device is equipped with a timer, display, touch-control type. Capacity - 7 L, flow rate - 550 ml / hr. Two automatic operating mode, the noise level - 36 dB.
It's time to go to the ultrasonic humidifier
Ranking of the best ultrasonic humidifiers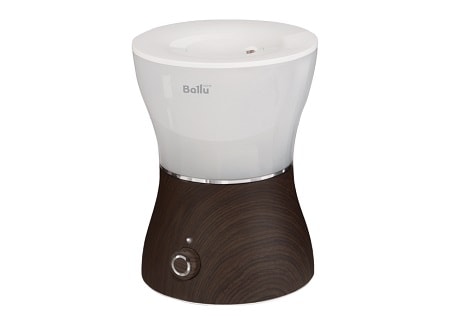 BALLU UHB-400 - a convenient, compact, efficient moisturizer. Designed for the room and 40 sq.m. Equipped demineralization cartridges, aromakapsuloy, backlit regular operation, an indicator of water level in the tank. It is possible to pour directly to 2.8 liters, the flow rate - 300 ml per hour.
Electrolux EHU-5515D - a capacious and productive unit. Conveniently placed on the floor, it is easy to add water, has an interesting design. Reservoir volume - 6.7 l, two modes of operation - on the cold and hot steam, electronic control, auto display.
Stadler Form Jack J-020/021 - 5 liter ultrasonic humidifier for quick and quality improving moisture in the building. 450 ml / h, the electronic control and display for convenience. A water purification system - demineralized cartridges, as well as - flavor intensity operation knob indication.
Boneco U700 - stylish, modern, efficient floor humidifier. It has a capacious reservoir for water - 9 l evaporation and high productivity - to 600 ml per hour. The pouring device can be tap water, since water is supplied from the filter salts and silver rod for obbezarazhivaniya. This model can generate both cold and hot steam. When water pasteurization also perish all pathogenic bacteria and harmful microorganisms. In addition, the humidifier is equipped with an informative display, illumination, indicator of water level, operation of the regulator, for aromamasel capsule. Weight of the device - 4,5 kg, the noise level during operation - only 25 dB. U700 provides a stable and rapid moistening space, an area of ​​80 sq.m.
Of course, the ranking of the best moisturizers could go on and on. You can find a good low-end models, or vice versa, humidifiers premium. Also, constantly updated equipment out and new items. However, in this review we have tried to collect the most optimal price and quality moisturizers that have already been in use and able to express themselves in normal conditions. We hope that this experience will be useful for you and help you buy a really appropriate instrument to maintain the desired humidity level in your home.
What to look for when buying a humidifier?
Finally, let me give you a few simple guidelines that will distinguish between a good moisturizer from a huge variety simply moisturizers.
Capacity water tank. The more fluid tank - the less often it needs refueling. But in this case the dimensions of the device are also increased. Plus, all the manufacturers recommend from time to time to wash the tank under running water. A small tank is emptied frequently, respectively, and wash it more often.
Recommended floor area. Buy the best instrument with a small margin. And remember, humidified air only in the room where the appliance is installed. Even open the doors do not give the desired effect - the humidity in the next room will not increase as long as you do not install a humidifier there.
Power. The more powerful device, the more water it evaporates per unit time. However, at the same time will increase slightly and the electricity bill, because at first the unit can operate non-stop for several days before the humidity level in the room will begin to rise. This is due to the fact that the furniture, walls and flooring at first intensively saturate with moisture. This applies to buildings with overdried dusty air.
Functional. The presence or absence of certain features - directly affect the price of the device. Therefore carefully weigh the need for a timer, backlight display, flavorings and other options.
For correct and truthful testimony - Get a separate, independent of the humidifier hygrometer.
This is perhaps all that is necessary to know before going to the store. That came to an end of our review on how to choose a humidifier, and what models were rated in the top 2017 customers reviews. Take these tips into service - and boldly go shopping - a good, effective and durable device, you will learn easy!
Independent rating humidifiers for home - buy the best equipment!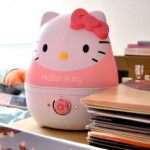 On humidifiers and their existence in general, I'm not, so as not to hear, but somehow missed the information on deaf ears. But just before the birth of their first child. By studying the literature on the creation of crumbs for the appropriate environment, I immediately met the requirements for temperature (20-23 degrees) and humidity (50-70% for small children). A hygrometer was built into our wall clocks, his performance, especially in winter, is 20-30%, there is a need for additional moisture. Technological advances make it possible not to use proven methods of our mothers and grandmothers: wet towels on batteries and other pieces of furniture, bowls, aquariums and other water containers. There are moisturizers. Their choices are going to do.
humidifier - good or harm?
For me, after reading a certain amount of literature, the use of humidifiers, especially in an apartment with small children, is undeniable. By the way, humidity 40-60% specified in SanPiN to the DOW, and our kindergarten teacher once told me that before the arrival of the test run of the SES group with spray paint guns, trying to create the required conditions.
In a humidified atmosphere does not dry mucosal surfaces of the nasopharynx. Besides easier breathing (without crusts in the nose and parched throat), it is also reducing the risk of contamination by droplets, since, firstly, viruses difficult to spread (also smaller dust flies), and secondly, running local immunity Ever mucous. Dry air is fraught with drying delicate baby skin, blood clots and other "charms".
Moisturizing the air unit will not only help the kids. If the house is sick with a cold, and (or) cough, proper environmental conditions reduce the probability of mucus congestion, and, consequently, bacterial complications. Allergy and Asthma will be happy to inhale less dust, which causes seizures.
"Lucky" in the case of the maintenance of an optimal level of moisture and your wood furniture, parquet, plants finally.
Is there any harm from moisturizers? If there is, there he is, in most cases, non-compliance with the recommendations of the instruction manual.
For example, it recommended for ultrasonic humidifiers Distilled water. This is due to the fact that the water tap is saturated with salts which settle as a white plaque on surrounding objects. Buy distillate can be in the automobile, but for some it is expensive, the price is about 10 rubles per liter. My girlfriend use boiled, no plaque. Especially since most producers have already taken care of our furniture and are provided with ion-exchange filter model, which purify water from salt. Your task - to change the filter on time (not cheap).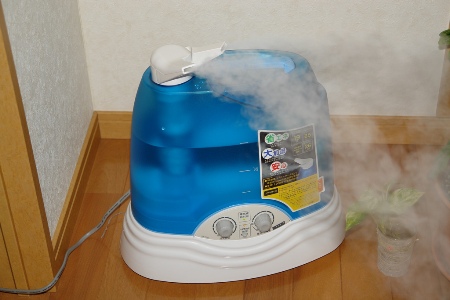 It is strongly recommended regularly change (Not topped up, namely to change) water in the appliance tank, and wash it from lime, mucus on the walls, to disinfect. Otherwise, there is a possibility of infection by the bacterium Legionella inhabiting and congestive breeding in warm water. In humans the infection penetrates through inhalation of water vapor, so no need to wait until your humidifier settle deadly germs, it is better to perform simple care requirements.
The relative humidity should not exceed recommended, excessive "mokrost" creates favorable conditions for the existence of dust mites and promotes the appearance of mold. It is clear that it is adversely not only for asthmatics and allergy sufferers, but for all people, and things.
The device must operated at a temperature no higher than 23 degrees, otherwise, instead of healthy humid and cool air hosts at risk of suffocating the tropics.
Careless handling of steam models may result in burns or example, dampness of wallpaper on the walls.
Little buzz, can prevent the baby to sleep. From my own experience I would say that, even if the baby is not heard such a sound from birth, addictive proshodit quickly.
Conclusion: to get solid benefit without harm, you must carefully read the instructions and follow the few rules of its.
What are humidifiers?
Considered by us equipment can be: steam, ultrasonic and cold vapor.
steam. The operating principle is clear - the water is boiling, steaming, air is humidified. When boiling occurs disinfection, so do not have to worry about a pair of safety. On the other hand it is heating, hot water - you should be very careful and cautious when using this type of equipment, do not install them in accessible places, near the valuable furniture, walls.
ultrasound. The most common type evaporators. Water falling on a special membrane, crushed into tiny particles so that they can hang in the air in the form of a slurry. These models are available in different sizes, shapes and colors, emit little noise and can perfectly fit into the interior.
cold vapor. The water does not heat up on purpose, and getting on the evaporating elements, "disappears" due to additional cooling fan.
A separate line are the so-called air cleaning. By evaporation type they are cold, but the paper filter role from a plurality of drum plates, rotating in the container. Devices of this type are passed through the room air and water except humidification collected dust, lint and other flying particles, hence the name. The design of very simple, that's why the people are washing are called "bucket with a motor." Quite Overall, it will take some space to accommodate.
Opt for a moisturizer for a child's room - my selection criteria
The main selection criterion is, of course, the type of humidifier, about them I said above. It may be added that there are moisturizers with an additional air purification function with a HEPA filter or coal. There are models with ionization or flavoring. The first charge the room air with negative ions, and secondly there is a "nest" for essential oils.
Decide on the type, calculate the area served by the premises, it is for this parameter there is a further selection. From my own experience I would say that buying a device to 60sq.m, it is not necessary to hope that the air in the entire area of ​​this apartment is sufficiently moist. As a rule, a tangible result is noticeable only in the room where the humidifier is installed, so effective to buy two small.
Noise level. It is clear that would like to be quiet. The quietest - ultrasonic models.
The volume of the tank. Associated with the serving area, the smaller the capacity, the more will have to add water.
Power Requirements. The most expensive - steam, most economical - air cleaning and cold vapor. The costs increase if the instrument with an electronic control type.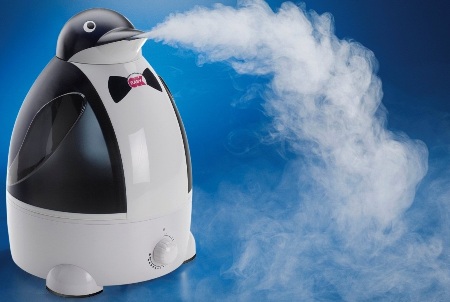 Built-in hygrometer. Is not needed, since his testimony, in close proximity to a source of moisture, are not true. It is better to buy a separate and hang over the bed of the child.
Timer - switches on and off the device.
light filter - indicates to replace.
operation indicator- shows that the humidifier works, displays mode (there is more than one).
Water Level Regulator - it shows how much water is left in the tank, and turns off the device if it ended.
Top-10 non-humidifiers at an affordable price
Since ultrasonic humidifiers best security, performance and noiseless, in the review were generally they are.
Ballu UHB-255 E Hello Kitty
In the form of Kitty, that very approve daughter. At least 20 sq.m. room, with a timer, the maximum time of 8 hours. There cartridge water softener.
Price approx. 4000rub.
Designed to 60sq.m. area It has a lot of different electronic bells and whistles and special modes: warm steam, Beby, SPA, night, automatic. 10-12 hours without watering. Stylish appearance.
Price approx. 10,000 rubles.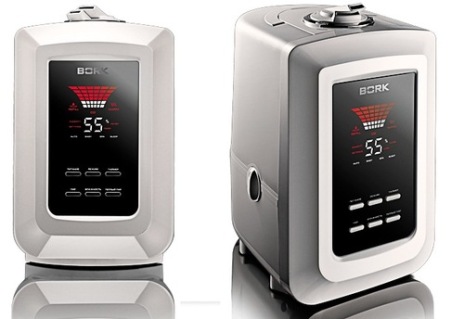 At 40 square meters, with integrated ionizer and antibacterial filter.
The instrument of the Swiss company - a recognized professional in the market of cleaners and humidifiers. Ultrasonic, area to 47kv.m, with flavor, ionizing silver rod, a cartridge water softener. Really liked the look: blue body of water and light.
Ultrasonic on 24kv.m. With lovely flowers "on the facade", can run up to 12 hours regulated power humidification.
Price approx. 3000 rubles.
At 30sqm Beautiful multicolored lights (replacing a lamp), takes up little space, quiet, and very small 2000rub.
The same ultrasound, at 40 sq.m. Color white gold, up to 13 hours of operation, self-humidification ionizer.
Humidifier with mechanical control. A beautiful black and white body with a pattern. It is designed for small room.
Price approx. 2500rub.
Air cleaning VENTA LW 15
Another type looks quite position (size 26h28h31sm) and not too attractive, but "washes" the air in the room, which is very noticeable when you change the water in the tank, there is floating dust, hair and other troubles. On 20 sq.m.
Price approx. 14000rub.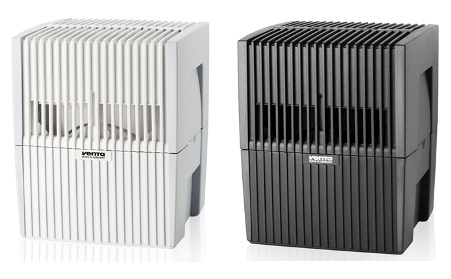 LG Steamer SAHSBP30GA0.AWPERU
Steam for 20 sq.m. Softens, disinfects and heats the water. Korean assembly.
Price approx. 10000rub.
We are, after much thought and hesitation, after a battle with the soul of amphibians (colloquially toad), opted for the air wash. While not disappointed, it performs its tasks, but a little expensive, of course. Most people I know who use ultrasonic humidifier, too, do not complain. So the choice is yours. Easy breathing!