How to paint the drywall - the right to paint the walls at home
Plasterboard has gained immense popularity in recent years, so now it is very difficult to imagine the performance of any maintenance activities without this building material. Plasterboard is used to equalize the walls, ceilings, it can be used to create a variety of original design, including the arch, or multi-level ceilings. All work related to the installation of the FCL, are quite simple. However, finishing may cause some issues. In today's article we will deal than paint the surface of the material, and also features staining drywall.
Paint for gypsum plasterboard - choose correctly
There are a variety of drywall finishing. The most popular is still considered to be painting the walls of plasterboard. Before starting the painting of walls and ceilings, need to prepare the surface for carrying out these procedures. So, it is imperative to putty sheets, carefully primed them, and polish. Only then can proceed directly to the dyeing process.
Before painting drywall need to prepare
To start help decide which paint for drywall fits best. Immediately discard embodiments with paints made in oil-based, since such compositions plasterboard practically does not interact. To the surface of the GCR looked very nice and stylish, but also not lose its attractiveness for a very long time, it is recommended to use water-based paint or the conventional aqueous dispersion.
Dispersion formulations can boast remarkable performance durability and moisture resistance, besides mechanical damage, such as scratches are less noticeable to the eye of a wall. The only drawback, but the lack of a very serious - it's the most limited color palette. The problem is that the dispersion paint for plasterboard available only in bright colors.
What can be said about the water-emulsion solution. The choice of colors is very large, you can find the paint bright saturated colors, as well as a bright and quiet. Naturally, such compositions are much more popular, because with their help, you can arrange the room in any style, constraint serves only your imagination and the imagination. Negative point here is only durability - vodoemulsionku requires periodic updates on the walls or ceilings.
Experts advise to pay attention to the following compositions, which are variations of the above colors:
Latex paint - an excellent choice, because this paint was created almost exclusively for cardboard-gypsum surfaces. The use of such a composition will provide superior protection from the effects of moisture and pollution resistance. However, latex cost is very high, leading some customers to pay their attention to other options
Acrylic paint - for example, possible to use such an embodiment. Acrylic compositions possess qualities such as durability and reliability, and ease of care. Thus, the surfaces painted with acrylics, easy to clean, just enough to hold a damp cloth to get rid of any dirt or any other deposits. Paint made based on acrylic, virtually no harmful and toxic substances.
Silicate paint - paint too expensive, which is ideal for use in environments with high humidity. Choosing what to paint the drywall in the bathroom or kitchen, it is recommended to cast their vote is in favor of the silicate compounds, as with them you will forget all about the appearance of mold, fungi and other microorganisms on the treated surface.
It is recommended to use water-based or water-dispersion paint
Another type of paint, which is relatively recent - it is universal silicone mixture. Manufacturers have managed to combine all the main positive qualities of silicate and acrylic materials. As a result, silicone paints are suitable for use in bathrooms and under normal smokers, protecting from external factors, providing maximum durability, reliability and maintaining aesthetic appearance. An important advantage of silicone materials is that they allow you to embed relatively large cracks in the drywall, reaching 5 mm in thickness.
Preparing the surface of the drywall to painting - notes
Plasterboard is an artificially fabricated material, based on the compacted gypsum. If a piece of the products actively to rub, then just a few seconds it will turn to dust. Therefore plasterboard sheets must always prepare compositions to treat different soils before dyeing one of the above inks.
After mounting drywall sheets on the wall are the seams, the dimensions of which depend on the skill of the master. However, the seams will remain in any case, this is nothing serious. But they need to be repaired using shpaklyuyuschimi compositions. Otherwise, after a while, after staining the surface is covered with numerous cracks.
To plaster have had the greatest effect, it is recommended to seal the seams of special reinforcing tape, which is called serpyanka. If you apply the putty in two layers, then glued serpyanka after the first layer - ground coat in any case should go last layer. When sticking tape should comply with certain requirements:
1. serpyanku attached exactly in the middle of the seam
2. It must be strong enough to pin down at the junction of two sheets of drywall
3. Ideally, you need to use a continuous tape. If there are only individual pieces, then glued them overlapping each other.
Seams necessarily need to putty
Processed seams can now putty GCR. No special requirements are all satisfied by the standard procedure. At the end of plasterboard walls of the process should be thoroughly sanded to the surface the result is a smooth to the touch.
Staining of the walls - the final stage of finishing the GCR
Now finally we explain how to paint the drywall to the result to please you for a very long time. For these purposes, you can use either a roller or spray. The latter option is less popular, due, primarily, the lack of such an instrument for a normal person, and secondly, the spray requires certain skills and abilities in their work. Although professionals are trying to choose exactly this product, because the quality of plasterboard painting in this case will be very high.
Most ordinary people have traditionally enjoyed a roller. pile length in this case, plays a huge role. For brighter and more saturated structure, you should buy a long nap roller. Before working with this tool, it should be rinsed in clean water and dry thoroughly. However, the roller is not the only device that will be needed when painting. So, very often there is a need for a small brush, for example, in the corners and hard to reach places. Brush movement should be abrupt and harsh to bear a colorant beautiful on the surface, without creating overlaps and create promiscuity effect.
You need to paint the walls in stages, ie in several layers. Moreover, a new layer is applied only when the previous one is completely dry.
Determine what paint you painted drywall, pouring the composition into a special tray with a smooth surface, dipped into her roller and apply the paint on the wall. The first stroke must be performed parallel to the window, all the other movements are performed similarly to the first, overlapping the preceding spade smear approximately 15 cm.
After drying the first layer of the second layer is applied in the same way. The number of layers depends on the paint quality and GCR directly, but it is recommended to apply at least three layers of paint. Then the wall will look really beautiful, and the result of your labors will continue for a very long time.
Full or partial copying of information from the site without an active link to it is prohibited.
Paints for plasterboard - advice on choosing and coloring
Not surprisingly, that today the most versatile and therefore most demanded material - it's drywall. After all, it can be used to implement both simple and sophisticated design ideas from the alignment of the walls to create unusual designs neskolkourovnevyh! However, little is to collect something from drywall, you also need to give it a complete look.
In addressing this issue, you can use a variety of ways, but the most convenient option looks painting. Therefore, in this article we will talk about what kind of paint is best to paint the drywall, and how to do it with his own hands.
The walls are lined with plasterboard and painted in a beautiful beige color
Complicated constructions plasterboard, covered with paint harmoniously
Despite the seeming simplicity of the painting, this process requires perseverance, attention and strict adherence to certain rules. Only in this way in the end, you can get high quality results, without errors, which will please many, many years. Let's get started!
Cooking drywall for painting
Before proceeding to the question, "what kind of paint to paint the drywall?", You must carefully prepare the surface to be painted. Of course, it's pretty broad topic, which should be considered separately.
But we will try to make it short and clear:
Bonding joints between sheets of reinforcing ribbon. For this it is necessary to dissolve a quantity of gypsum plaster (depending on surface area).
Tightly filled into gaps between the gypsum boards. Then over plaster reinforcing tape is attached (for better coupler can be a mixture of fluff finishing putty plasterboard).
Joints filled with gypsum plaster
Attaching reinforcing tape
If you buy ready-made putty composition, then immediately prior to application should be thoroughly mixed. It is also important that it does not fall foreign matter (e.g., sand, spoil which pinch the entire filler).
Application filler metal spatula (30-50 cm). In principle, sufficient for a putty layer of drywall. But if you doubt that the surface does get a perfectly flat, you can apply the putty in two layers - the start and finish.
The upper layer of plasterboard (cardboard) absorbs moisture. And if you do not make a luting, then the painting will appear spots on the fact that in some places the paint is absorbed more or less dried up before.
Even qualitatively otshpaklevannuyu surface must be polished. This will give the texture desired uniformity.
Polishing should be carried out to the smallest abrasive cloth. Otherwise, you can erase the layer of putty to the drywall!
The final stage - even priming. Here you will quality primer and roll.
Preparing the drywall for painting can be considered as over!
And now we turn to the question, what kind of paint to paint the drywall. The most commonly used and accepted today - latex paint.
Here are some of its features:
Sold it, as a rule, completely white. But with the help of special callers (dyes) that are optionally added to the paint can acquire any desired hue.
Paints, already diluted Kohler
Color still liquid paint, is already mixing with the color scheme may differ from the color of the same colors, but in the dry state on the surface.
Therefore it is better to entrust the process of obtaining the necessary shade in the art.
The building has typically stores installation for paint preparation predetermined hue which will select the number of color schemes (in this case will be considered exactly in the dried form hue).
If you do decide to do it yourself, it is best perestrahuytes and check the result first on a prearranged cutting drywall, coated with a layer of putty. Somewhere 2 hours you will see what color turned out after drying.
Water-resistant emulsion paint for rooms with high humidity
Emulsion Paint Drywall is suitable for any room, and can provide both matte and glossy surface. Therefore it is necessary before purchase to decide exactly what you want.
For example, matte paint will hide possible defects in the surface of the drywall. But the gloss paint, in contrast, will show all the errors that were made at the preparatory stage.
But the most important difference vodoemulsionku - a unique opportunity to quickly and easily provide it with the desired texture. For example, the roughness obtained during application roller with long pile, or some special pattern using textured rollers.
Painting with the effect of decorative plaster
Exemplary such ink flow: 1 kg 5m². Instructions on the package will give a more accurate answer.
What other suitable paint Drywall? A good option could be an acrylic water-based paint. It is highly resistant to the direct effects of moisture, so rational to use them in a high humidity (saunas, bathrooms, kitchens).
With acrylic paint may also be obtained as matte and glossy surface. On receipt of the billing here is much more complicated than in the first embodiment. The estimated consumption is the same as that of latex. However, the price on the acrylic paint slightly higher.
But enamel and oil paints for plasterboard should not be used because they are highly toxic and have a strong odor.
To paint on drywall need roller and brush. From a foam roller should be abandoned (even if you will be very carefully applied paint them all divorces will remain the same). Therefore, choose a roller with natural bristle (as pictured) - in this case, the paint will fall flat.
pile length depends on the type of paint and the desired result: the short bristles for applying the gloss paint (4mm); average nap length for matt paints (4-8 mm); a high pile for obtaining the billing (of 8 mm and above).
Nap roller replacement
Brush also need to paint the places where the roller does not get (the corners and tabs). Brush suitable flat width of 60-80 mm.
That came the most important stage - painting drywall surface.
Hopefully, the instructions below will help you in this important matter:
First, the paint will have to be applied in several layers. Since through the first layer will still be visible coating and those portions which differ from each other by color and texture. After two subsequent layers formed finished uniform appearance.
First, brush painted perimeter of the portion that is to be the first dye. In addition to the perimeter of the brush need to walk on the edges of any obstructions (such as projections, the basis for chandeliers, or the transition from one level to another).
Loop through brush for hard to reach places for roller
Then, in a bucket with a paint roller dipped, so that it is completely covered by it. This will allow the paint to lay down evenly over its entire surface. Now you are ready to paint the main square.
When applying paint on drywall bead rolled always in the same direction. For uniform distribution of paint will be enough to hold 3-4 times one lane.
uniform application of paint
Once the paint with a roller vykataetsya you have to walk by it on the newly painted areas, finally to distribute the paint.
But do not do it in those places where after painting has been more than 5 minutes.
When the roll is no longer paints, immerse it in a bucket of one part or a special molar bath and then rolled on an incline for the distribution of paint across its surface.
Omit the roller in the paint tray with a molar
Each new layer starts with a painting brush and perimeter barriers.
Two subsequent layer is applied perpendicular to the previous layer, using the same technology.
So we covered the basic issues relating to the staining of drywall constructions. If you have something there are not clear, or if you want more information on this topic, we recommend you to view videos on our site. Enjoy your repair!
drywall
niches
boxes
Shelves, racks
Furniture
Fireplace
Preparation before installation
Crate, skeleton, profile
tool selection
Mounts
cabinet
Chandeliers
cornice
Other operations
Sealing of seams and joints
slopes
Installation of wiring, sockets
flexion
cutting
Working with glue
Painting
types of drywall
The combination of the materials
indoor installation Features
Bathroom, toilet
Balcony
Living room
Bedroom
Paints for plasterboard. Latex, oil. Water-resistant enamel
Hello again. This time I will talk about what characteristics different acrylic paint for drywall and what else can be painted drywall surface. After leaving them unpainted silly, but recklessly applied first caught the eye of the paint is also not worth it.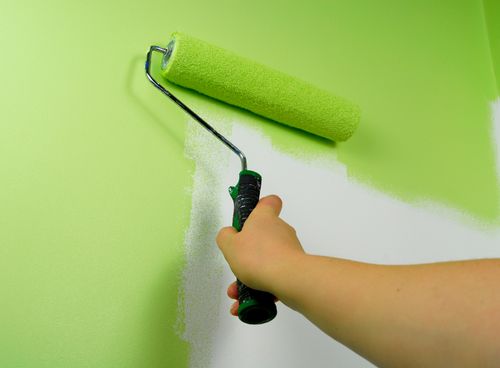 The correct choice of colors - the success of painting works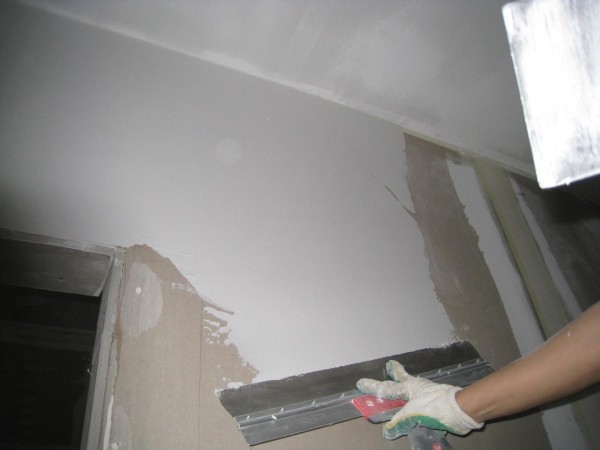 Be sure shpaklyuem, the more it is easy to
Do not forget that for high color strength, surface pre puttied, leveled and primed.
Many friends, and subscribers to the forums are asking whether it is possible to paint the drywall without fillings? Of course you can, but:
the result of finishing works will be durable enough;
surface is dyed unevenly;
paint consumption due to the hygroscopic material is high.
By the way, if you properly prepare a plaster surface using shpaklovok and primers, the list of paints suitable for decoration, is expanding significantly.
Preparation GCR own hands to subsequent painting is done according to the following scheme.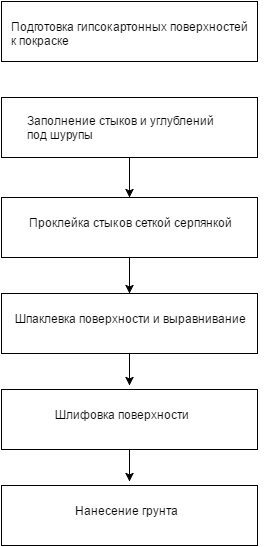 Manual surface preparation for subsequent staining
Thus, the preparatory work in accordance with the proposed scheme are made, it remains to determine the order, what paint Drywall may be applied.
BELINKA LATEX B1 - with the addition of an acrylic latex composition
Most often, for work with plasterboard used water dispersion, or as they are commonly called, water-based formulations.
These coatings represent a bond matrix and pigments diluted with an aqueous medium. Coloring drywall water-based paint is characterized by ecological safety, affordability and ease of use.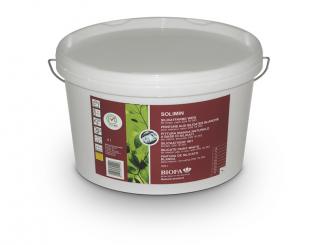 In the photo Silicate Interior Paint 3051 SOLIMIN
Among the water-soluble compounds are the following categories of colors:
acrylic - are based on acrylic resins (polyacrylates);
latex - in fact, the same acrylic paint, but with latex additives for greater strength and hydrophobicity;
silicate - water soluble formulations the content of waterglass, are highly resistant to excessive moisture;
Silicone - an aqueous dispersion of a silicone resin combines water repellency and vapor permeability.
What can recommend?
(White for interior)
Important: We do not recommend painting GCR chalk and lime mortar, as the divorce remain on the surface.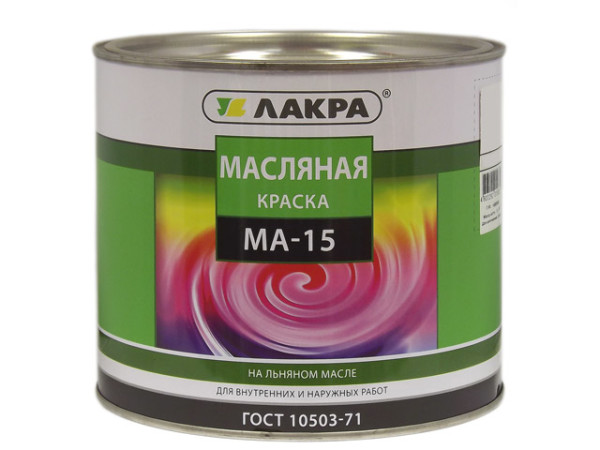 Cheap oil paint from domestic producers
People often ask whether it is possible to use oil paint for GCR processing? Why not?
Plasterboard - a unique material structure which consists of solid gypsum board, pasted with a cardboard. Cardboard is not unusable by using fire retardant paint on metal Polysteel and oil coatings break down and even more so.
Another thing is that the surface of the drywall is necessary to properly prepare. For example, for water-soluble formulations puttied gypsum plasterboard surface over which the mixture is applied to acrylic primer. For surface preparation prior to paint oil and advise proshpaklovannuyu planarized surface cover layer PVA glue.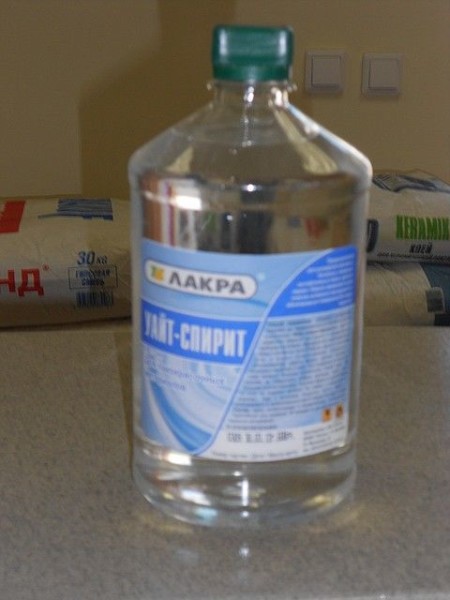 Universal thinner for oil paints
Important: Applying oil-based paint, remember that apply to it any other coverage will be very difficult, because nothing really does not hold oil paints except for similar compounds.
Among oil paints recommend the following.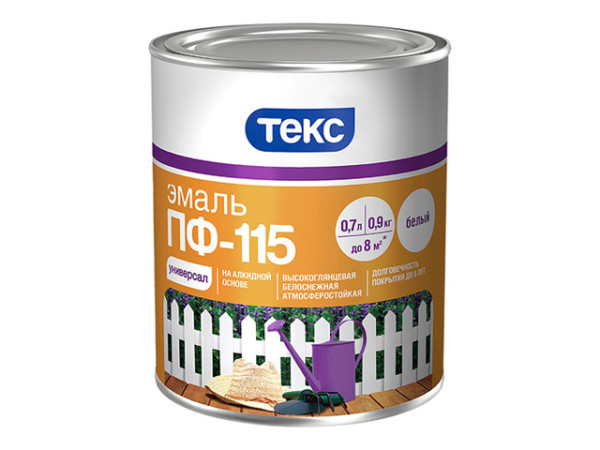 The most common enamel PF-115
Another category of coatings that can be applied to work with GCR is the enamel. The distinguishing feature of enamels is that as it dries on the surface, they form a weatherproof thin dense film with a glossy or matt surface.
The enamel composition, besides the binder and the pigments, the solvent is included. As solvent evaporation deposited enamel layer hardens and dries.
On sale enamels following categories:
alkyd - Universal compositions suitable for use indoors and outdoors;
pentaftal compositions, manufactured alkyd varnishes, phthalic acid polyesters and pentaerythritol.
Important: Enamels designation PF - is the most common paints, but because they are most often counterfeited. Several times encountered inexpensive paints which were drying at room temperature for weeks and even thereafter remained tacky. Moral - purchase paint in proven stores and keep a check to on occasion to prove that you acquired counterfeit paint.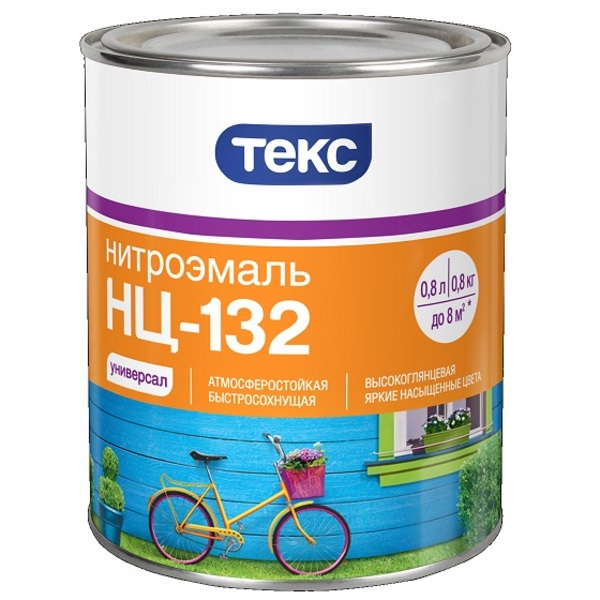 Nitroenamels SC-132 for use in humid
Among the enamel I can recommend the following paint.
So, we found that the surface of the drywall are universal and can be painted by most paint except for formulations containing lime. If necessary, to finish construction of the GCR will suit even the electrically conductive paint Zinga, but it makes no sense to use specialized formulations for other purposes, if you can do something easier.
In this article, I talked about what kind of paint can cover the construction, collected from the GCR. The details can be found by watching the video in this article.
I have personal experience in the use of paints on a plaster? Leave comments describing the outcome, it will be interesting.