Bedroom design 9 sq.m. (70 photos)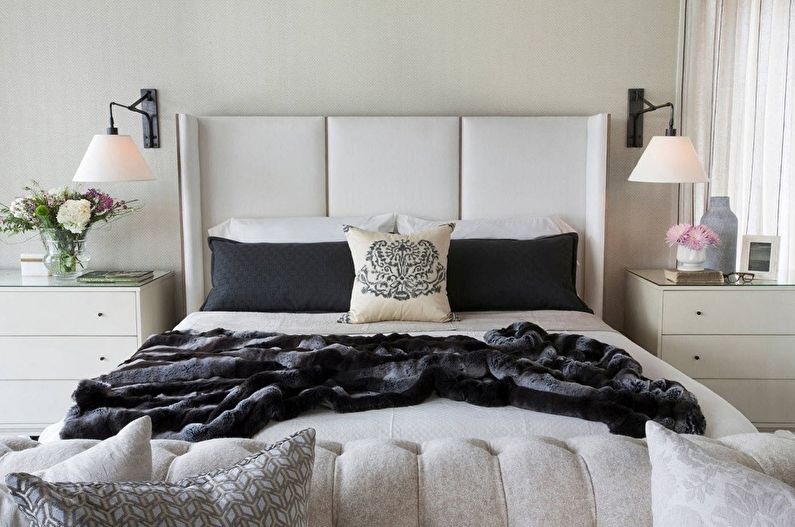 Proper design of bedrooms 9 sq.m. It will help you create a comfort zone for relaxing even on such a small area. The main thing that is required - a bed, wardrobe and bedside tables, or analogues thereof, that is the most functional pieces of furniture. From the rest can be safely discarded. In this article we look at how you can arrange the room so that it was comfortable, nice, rustic and at the same time, it can fit everything you need for life.
The design is becoming increasingly popular trend to use one interior elements of different styles. This means that you can create a real mix of favorite devices. The main thing that they blend together. Because of this you will get your own unique, unique design.
Here we describe some of the most popular styles that are suitable for small bedroom 9 sqm You can do it is to decide which of them you want to implement in your home. Just keep in mind that the style you would not stop at what, choose furniture without unnecessary details.
Bedroom design 9 sq.m. in a modern style
Modern style - a high-quality materials, the simplicity and convenience of furniture, as well as its original form. As decor often use paintings or photographs. Especially popular style of pop art.
This design is perfect for a small bedroom. To beat the room, choose an unusual headboard for beds or pick up images that reflect your tastes.
The main plus of modern style is that it is easy to modify. Add a neutral room bright cushions, change the blanket, a couple of other details and it will look completely new.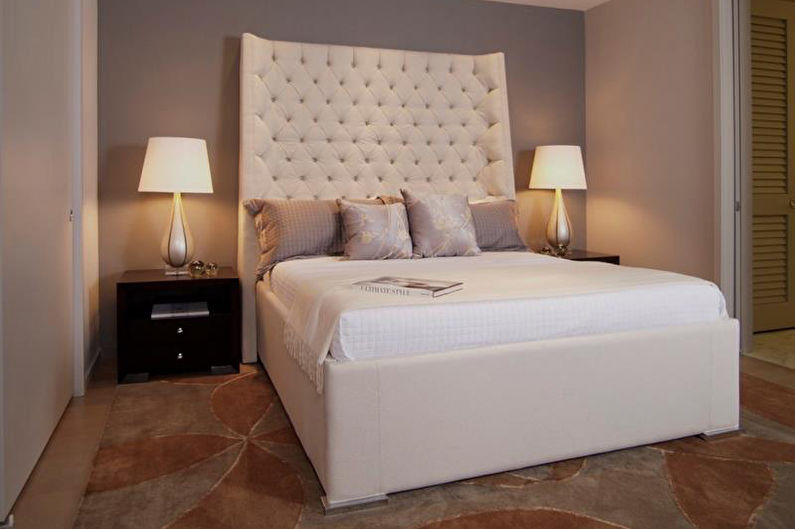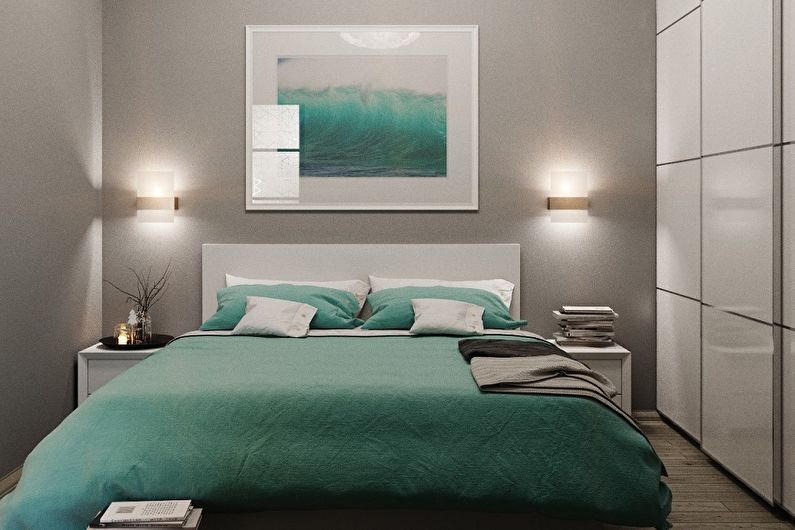 Bedroom design 9 sq.m. in the style of minimalism
This style, as the name implies, implies a minimum of furniture and decor. Every item must have a specific function, or he just does not need the room. All forms of rigorous and concise, simple and discreet product. More comfortable atmosphere can be created through the use of textiles: rugs, cushions and the like. But the amount should be moderate. Instead of curtains often use blinds or curtains.
In the design of bedrooms 9 sq.m. often choose a plain wall, combined with a few bright patches in the interior. Also popular game of contrasts, such as black and white.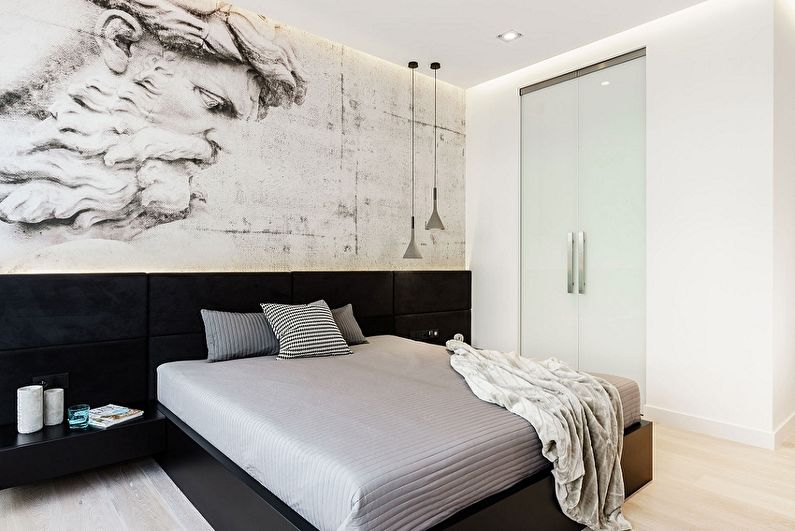 Bedroom design 9 sq.m. in classic style
Classic style seeks to create a cozy atmosphere due to the soft and harmonious combination of the whole situation in the bedroom. Furniture often choose bright or brown colors. To finish use a neutral color - not white, but not too rich. Also, the walls can be decorated with decorative baseboards, moldings.
The classics always use the best materials. Furniture is usually made of wood. Textiles are selected from standard tissue classics - jacquard, boucle, plush. The décor looked good graceful chandeliers and lamp, paintings on the walls and a mirror in beautiful frames.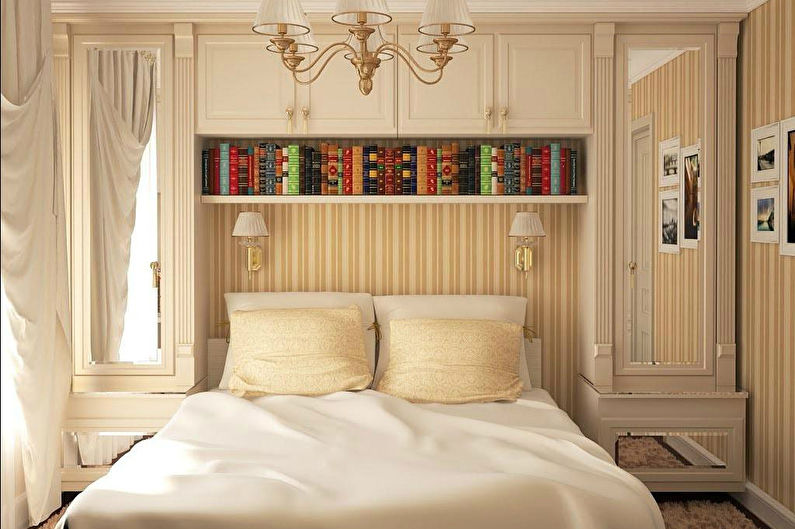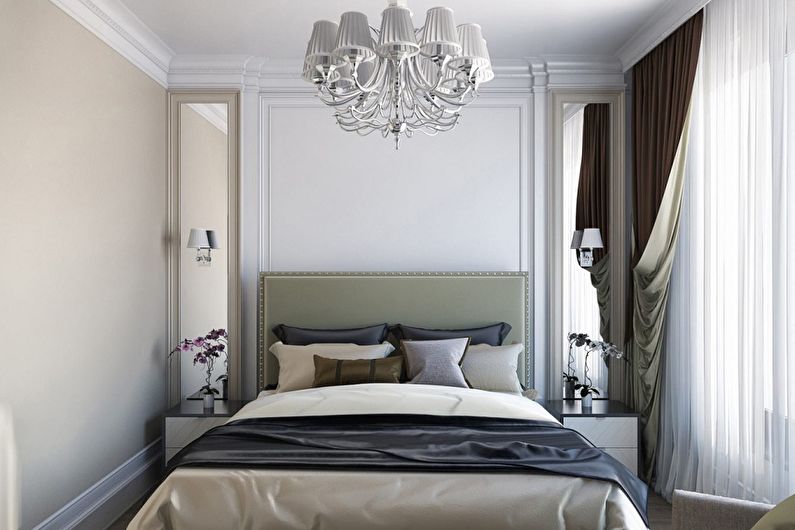 Bedroom design 9 sq.m. in eco-style
Eco-style involves the use of natural materials in the interior. This applies to finishing, furniture, textiles and decor. To achieve the desired effect, you can use wood and stone in the decoration of the walls or the floor, choose furniture with the stored texture, to give preference to natural fabrics.
For example, the original solution for a bedroom 9 sqm It will headboard made of wood or bamboo. It immediately becomes a central element of the room and ask the necessary room mood.
Bedroom in the Nordic style - it's one of the most optimal solutions for the arrangement of a 9-meter room. All the furniture, as a rule, very functional. Style does not impose a rigid framework, so the bed, and the surrounding area, you can arrange a variety of subjects. For example, choose a dressing table, and it is possible for the same purpose to take a wooden box or a stool.
Finishes are usually light. Also in this style often use the combined version, one wall covered with colorful wallpaper, and others do self-colored. Wrapping choose a wall with a window or the one that relies on the headboard.
In large quantities, you can use ottomans, pillows, blankets. In short, any textiles, which makes the room more warm and cozy.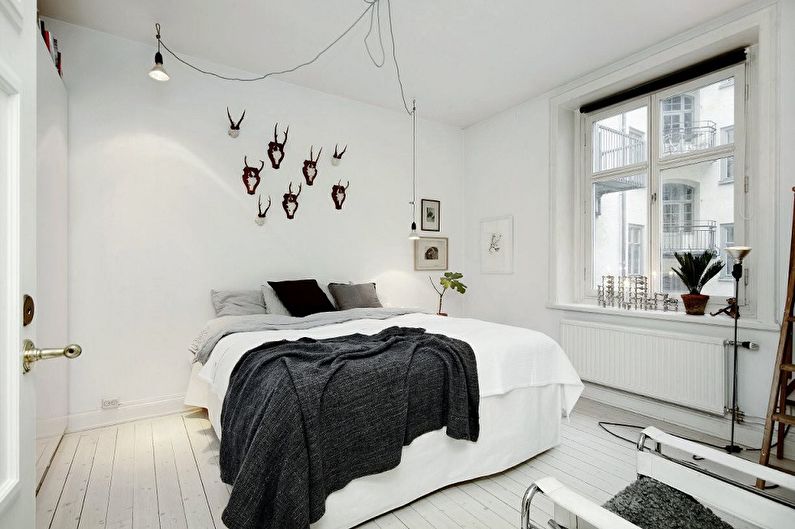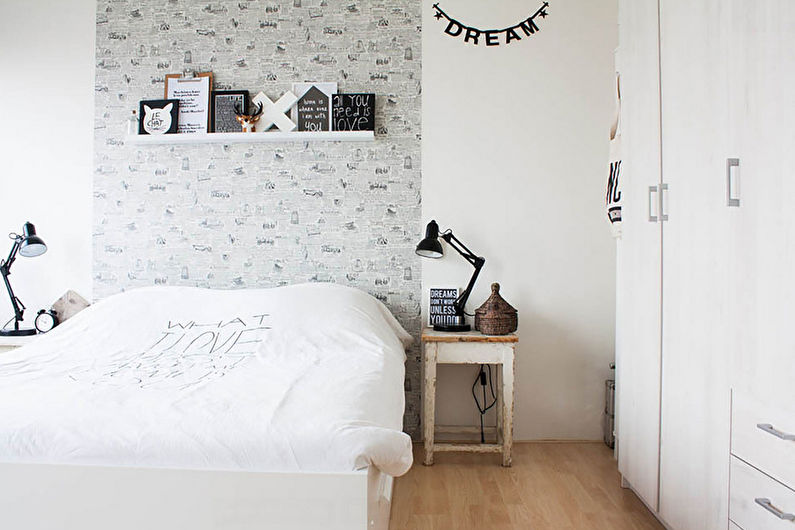 The color palette for a bedroom 9 sqm
The color scheme in a small bedroom 9 sqm It plays a major role. Be sure to note which side of the room out of the window. If they go south, stick to neutral white or cool colors (blue, light green). If the north, it is better to fit the warm shades and pastel colors. In this case, use no more than 2 primary colors in the design.
White - the best color for the trim a small bedroom, as it expands the space perfectly. Its additional advantage is that you can choose any you liked the furniture color.
Some like little white room. Someone dilutes white wood tones and makes the room warmer. And some prefer to add bright colors and create a real holiday mood in it.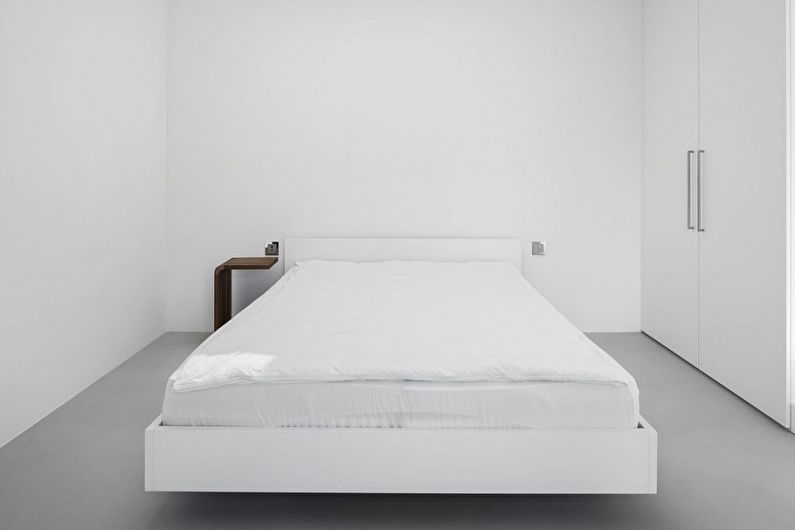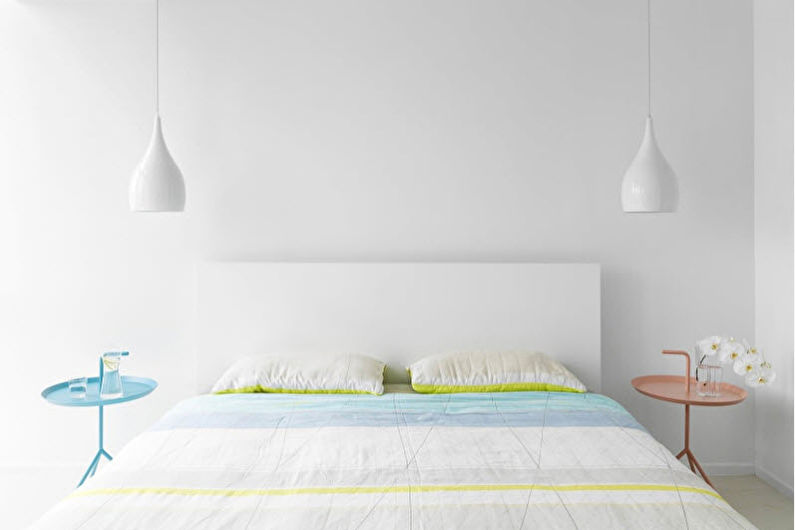 Dark walls do not expand the space, but they have another great advantage - they conceal the corners of the room, so you no longer feel its boundaries. You are in the chamber room, which calms and relaxes no worse than the usual pastel shades.
To design a bedroom 9 sqm well suited brown, dark blue and dark gray tones. To keep the balance of saturation, use bright linens and decor.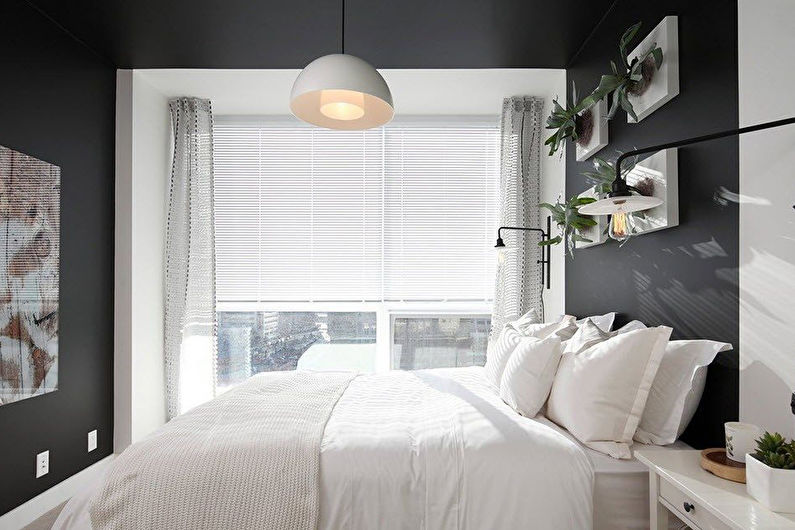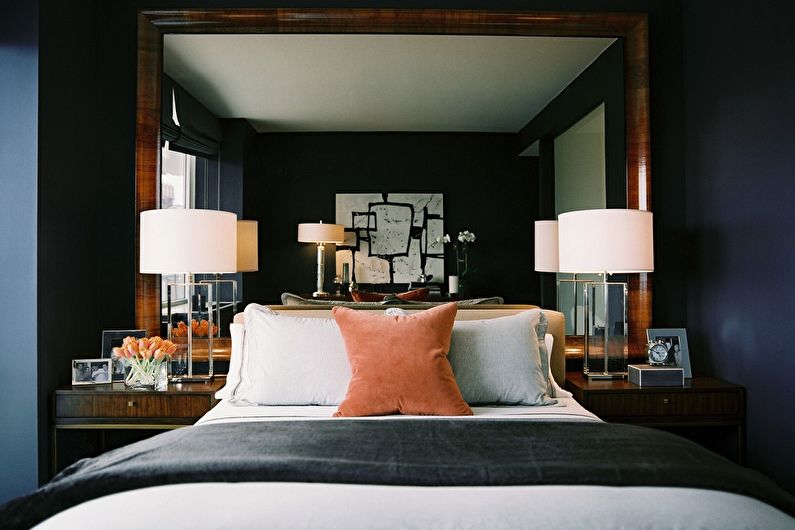 Bedroom 9 sq.m. in contrast colors
Create a contrast in his bedroom wall! This technique looks stylish and helps to visually change the space. For example, an excellent solution for elongated rooms will paint the far wall a dark color. Because of this it is, in general, neutral background, will appear closer.
Also interesting effect can be achieved with the help of photo wallpapers. They will become the center of a contrasting 9-meter bedrooms and will ask her in the mood. If you select an image of the city, nature or any other that has the prospect of the distance, it is visually erase the boundaries of the room in this direction.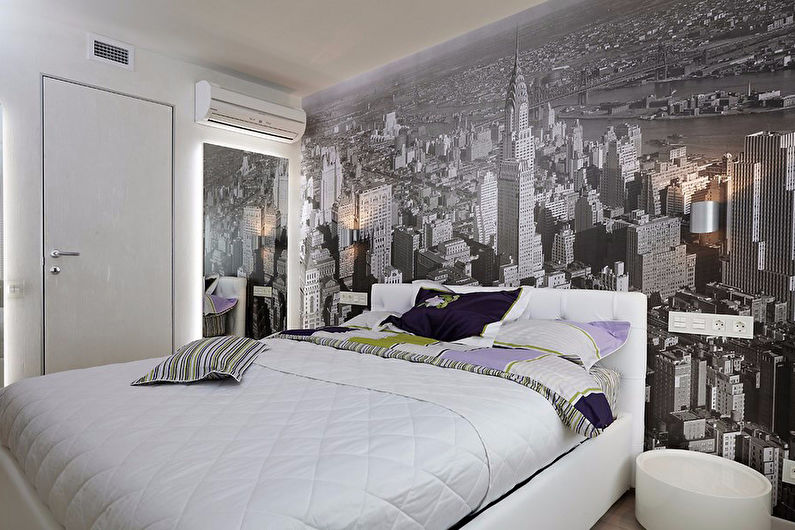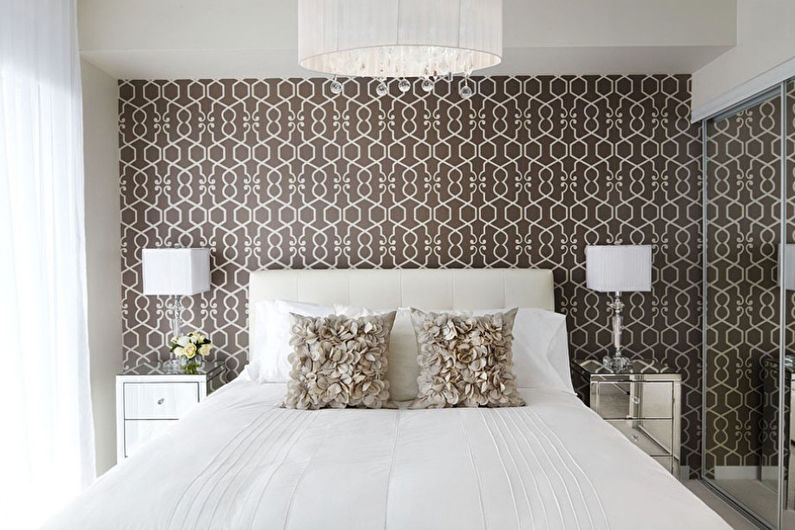 Neutral gray color is perfect for the bedroom area of ​​9 square meters, so it is very quiet and noble tone. The interior can be used as one of its shade and play due to the difference in saturation or use other techniques.
Often gray clearance diluted popular today, yellow or turquoise. Usually bright make pillows, paintings and other items, which, if desired, can easily be exchanged for others in a different color scheme.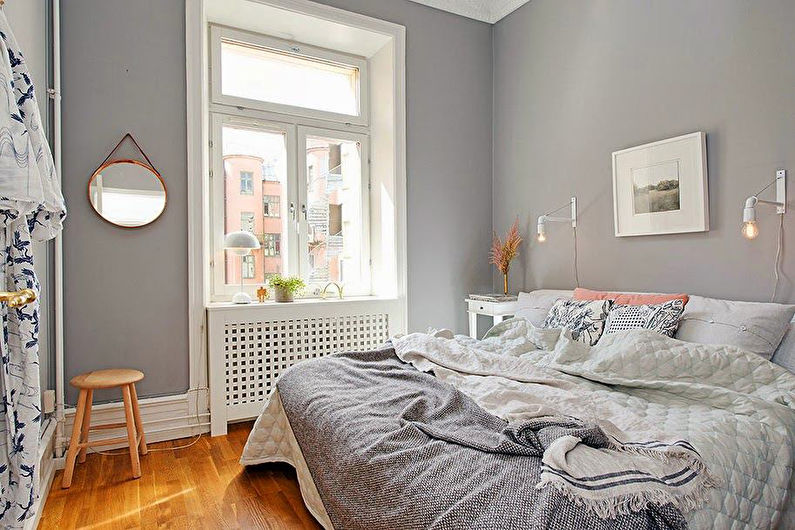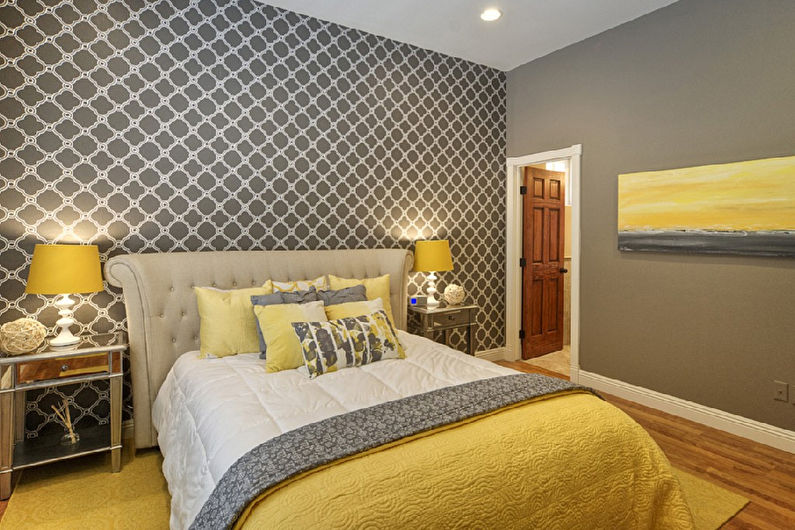 Bedroom 9 sq.m. Pastel
Pastel colors - is the most popular colors for interior design bedrooms 9 sq.m. These shades are much easier to combine with each other than bright and saturated. In addition, they are really good comfort, is very important for recreation. Most often they are used in the design of the classic style.
Pastel colors, and may be warm or cold. It is worth bearing in mind if you choose a color scheme according to that, to the south or to the north of the windows open.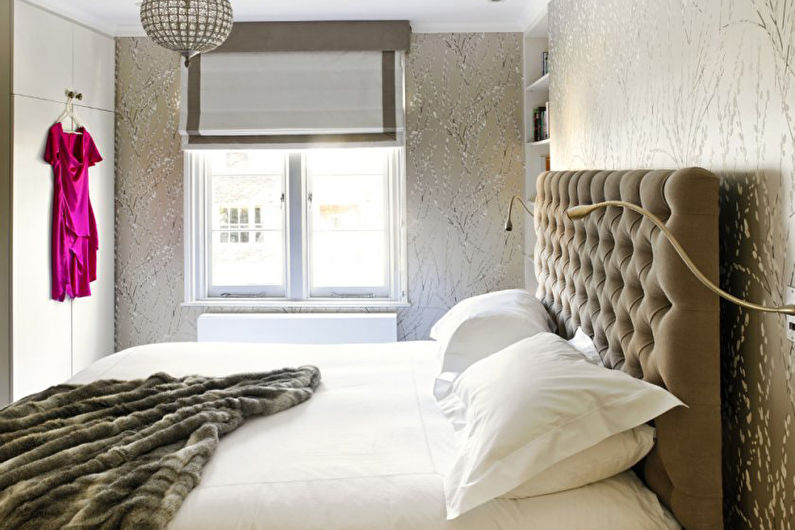 Depending on the style is best to choose a laminate, parquet or wooden board. The coating can be laid on the diagonal - this will expand the space. This technique is particularly relevant in elongated rooms. For a small bedroom 9 sqm it is also important to consider that the floor should be a few shades darker than the ceiling, otherwise the room becomes like a closed box.
Alternatively, the floor covering can be chosen from the plug. The popularity of this material is associated with the tendency to use natural materials in the home. Due to its structure tube takes the load off tired legs, do not miss the cold, and of itself is quite warm to the touch. An additional advantage - it's soundproof. If someone held the room, you do not hear anything, and you will sleep on. In other words, it is an ideal material for the floor, which really helps you to relax.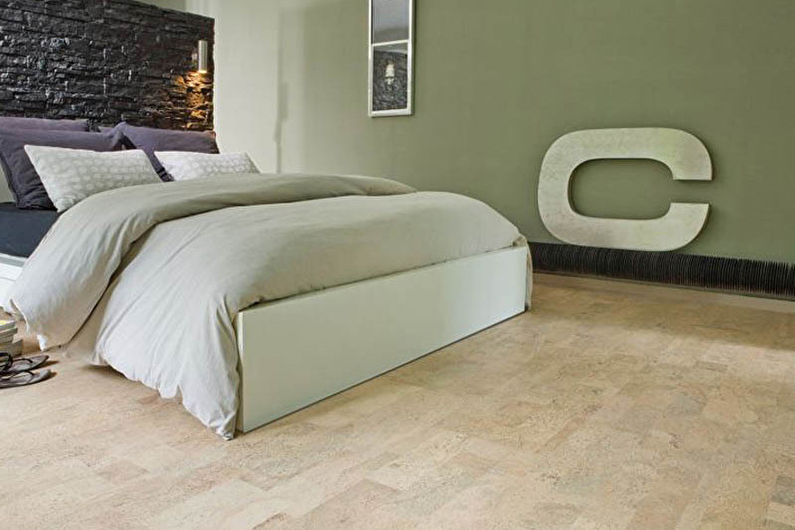 The most common way to finish walls in the bedroom 9 sqm - a painting. Most often, they make out in one color, and the ceiling is covered with white paint. It also happens that the walls with the ceiling painted in a single color. Thanks to such a reception blurs the boundaries between these surfaces.
Also in the 9-meter bedrooms often use wallpaper. Many such surface seem particularly comfortable. When choosing a pattern, consider the style of the room! So for minimalist design geometric prints fit better, and for the classics - flowers. In addition, for small bedroom should not choose cover with a large figure, because it eats up much space.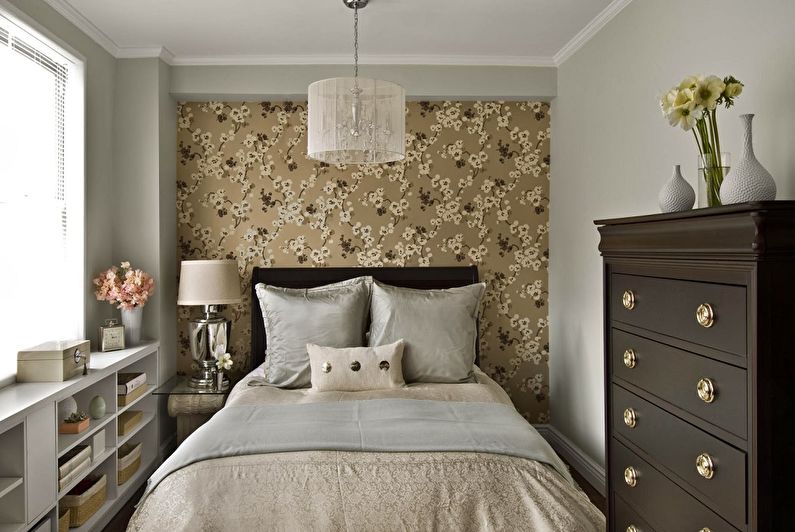 The best option for a 9-meter bedrooms - classic white ceiling. In some cases, you can choose not snow-white coating, and for example, ivory or other color that is better suited to the design.
As for the designs, the small rooms definitely do not use complex multi-level ceilings - they look too low and heavy. The only solution for which you can create a small indentation - a lighting arrangement in the niche. This technique is on the contrary give the room lightness.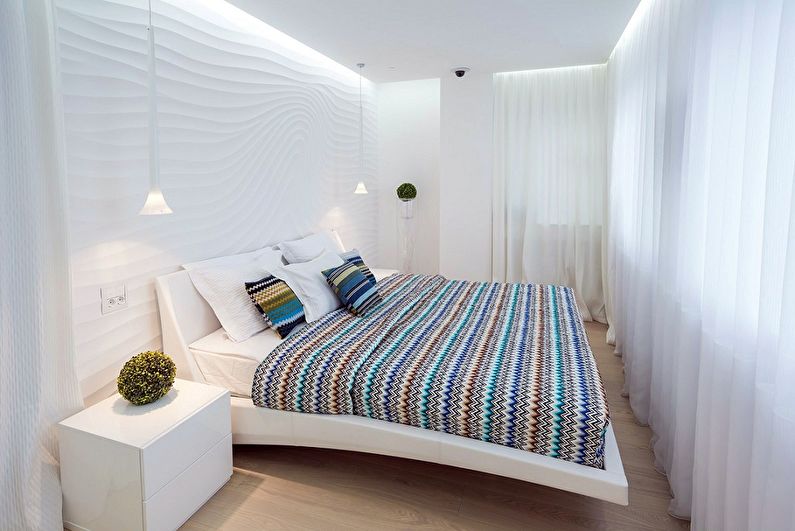 The decor and linens for the bedroom 9 sqm
The bedroom 9 sq.m. better to give preference only to those items that will be both functional and decorative role. This can be a stylish bed cover or cushions to match the overall design. The most fashionable fabrics recently - it is velvet, suede and plush.
Textiles can be used as an element that defines room main stylistic direction. So an interesting solution would be a four-poster bed. In a 9-meter main bedroom it will be style-forming element.
Curtains should not hang, only if this is dictated by the style. In another case - from them should be abandoned or replaced by blinds or curtains reserved.
The Scandinavian style windows are often left entirely without textile decoration. Instead, they are decorated, having put on the windowsill beautiful flowers. Also popular reception when a wall in which there is a window, decorate with traditional wallpaper.
On the area of ​​9 sq.m. excellent decor will be paintings or photographs. They do not take up space and at the same time set the desired mood of the room. If you want the picture has become the center of attention, choose a bright picture and hang it on the headboard.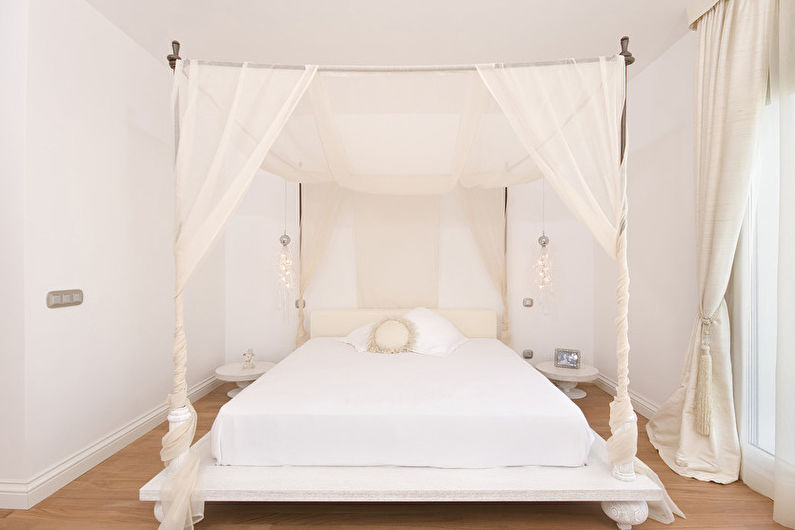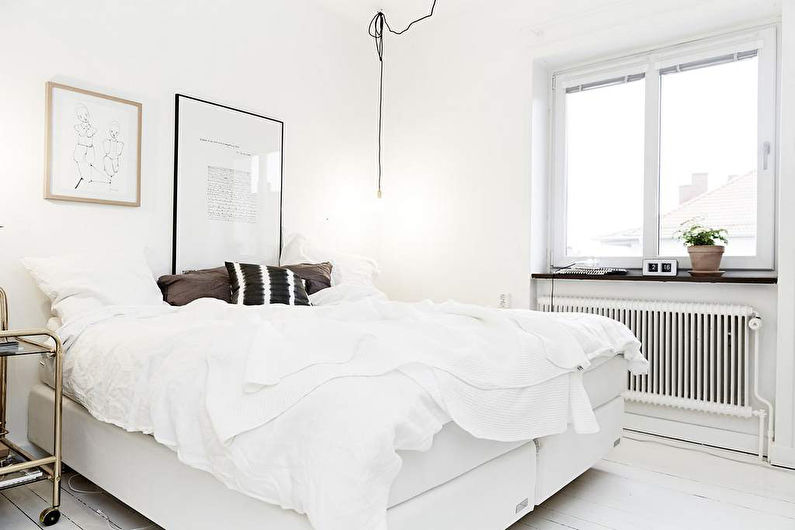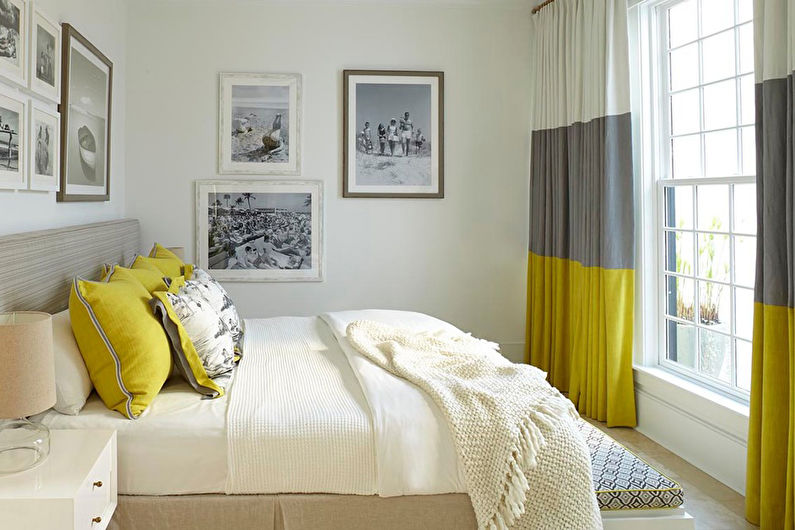 How to arrange the furniture?
When the arrangement of furniture in the bedroom 9 sqm proceed from the room architecture. If it has a rectangular shape, it is desirable to bring it closer to a square. In addition to the visual methods that we have discussed the topic of finishing, it can be done with the help of furniture.
For competent planning bedroom it is very important to consider the storage area. Particular attention should be paid to built-in wardrobes. Inside they can be divided section for storing a variety of items: clothing, shoes or whatever you want. Whatever you end up with a wardrobe choose, it is desirable to have a mirrored door.
If you want to put in a 9-meter separate bedroom mirror, it must be correctly positioned. The best option - to reflect the falls in his light. For example, the front of the window. It is not necessary to send it to the side of the bed, as not everyone likes to constantly see your reflection.
The center of any bedroom - a bed. In order not to load the small room, avoid large furniture. Thus, the high bed will look too bulky, and more than 2 meters wide, "eat" too much space.
The bed is advisable not to move up the wall. It is better to make the approach to it from both sides. If you do not have enough space to accommodate the tables there, make them to order.
Sometimes it is possible to arrange a bed angle. This decision will take a lot of space, especially in rectangular rooms, but the interior of the bedroom will look quite unusual.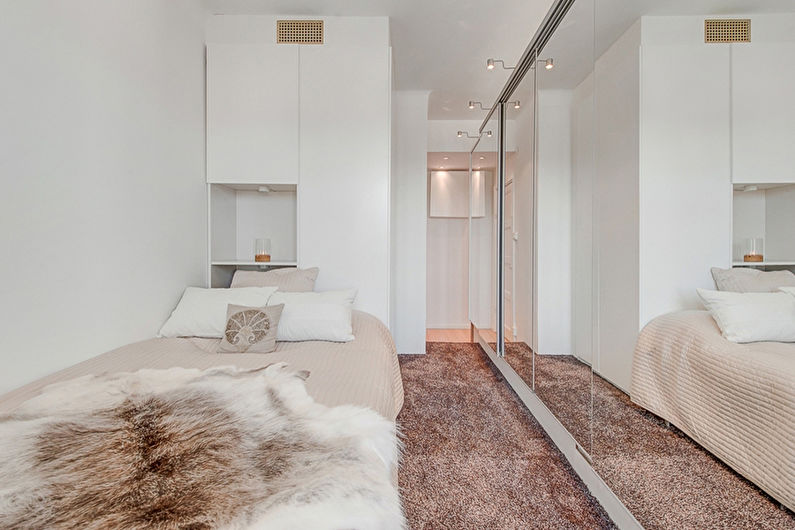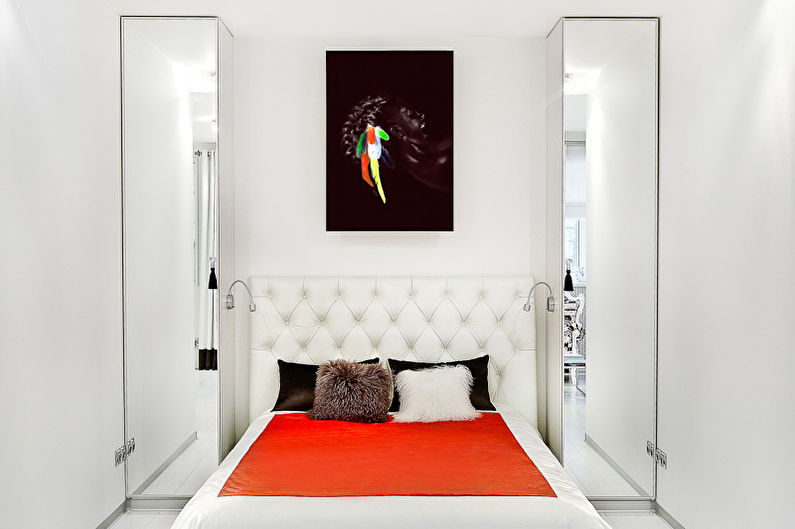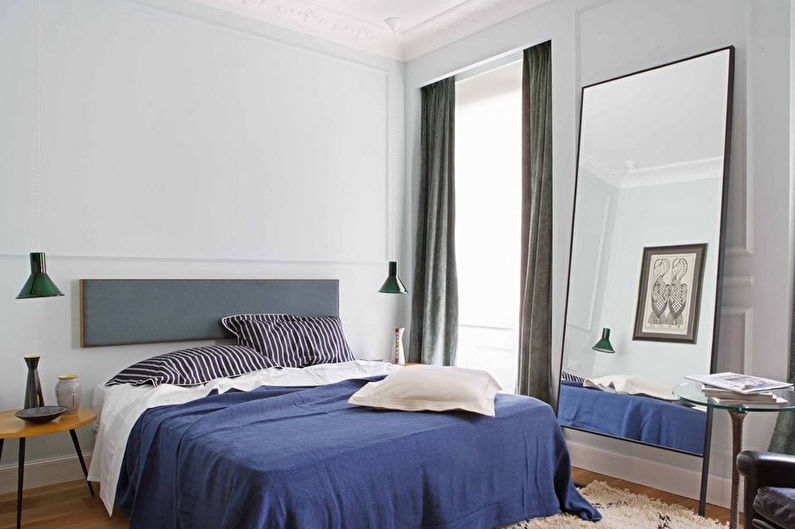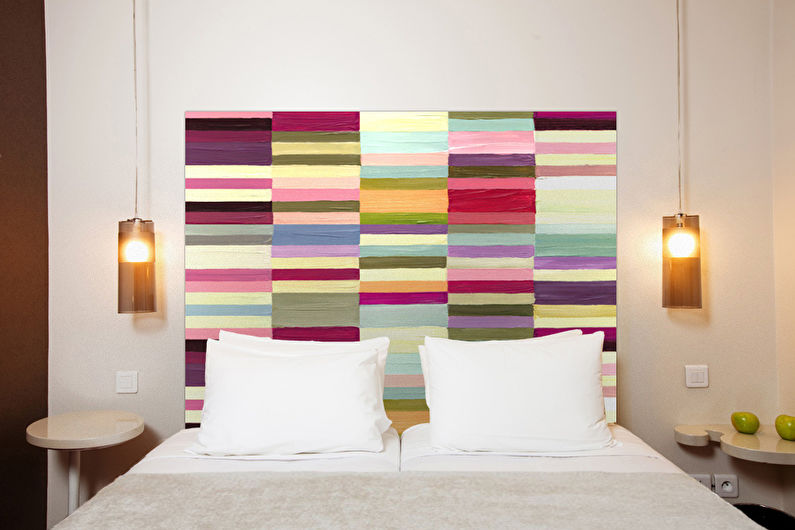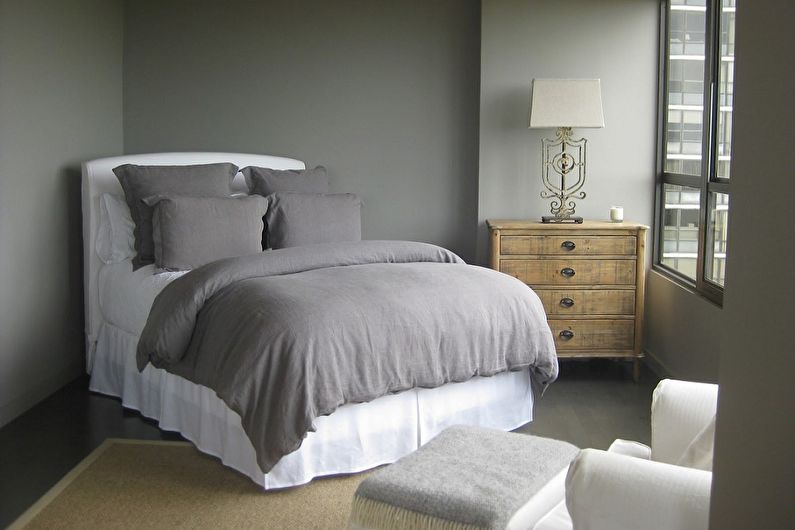 Lighting in the bedroom 9 sqm It should be soft, but it should be enough for any task. This effect gives lighting with shades or special bulb. In a small room can be used as a point and a central light distribution. The beauty of the latter is that due to the unusual chandelier, it can also be an interesting stylistic way.
Since the space in the bedroom is small and would not want to take a bedside lamp or a floor, it is better to make additional overhead lamps.
Lighting at different levels makes 9-meter bedroom more volume. If the shape of the room is extended, it should be sent rays of light in the shorter wall. They are highlighted in comparison with longer. In this case, the latter would seem more than they really are and the room will tend to form a square.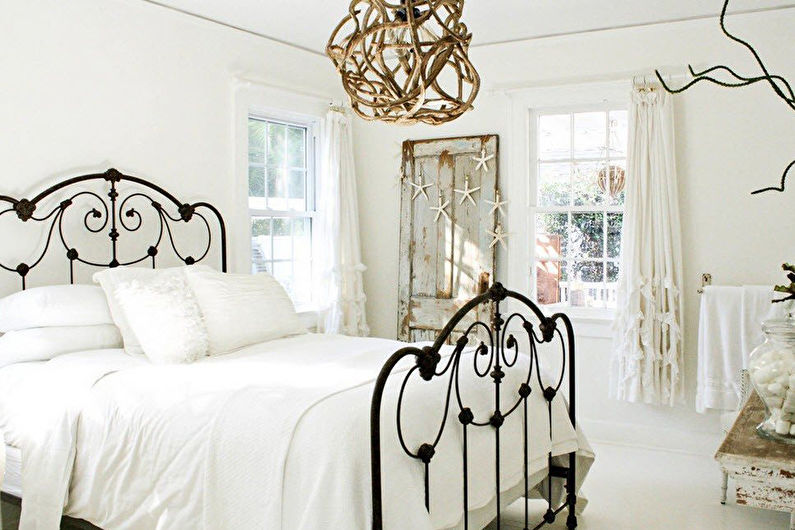 Repair in a small bedroom 9 sqm It does require a more careful approach. The whole situation must be planned so that it does not occupy too much space and was the most functional. We have collected for you the photo gallery, so you can see as much as possible of the original techniques and apply them in your design. We hope that this collection is useful to you!
Interior design small bedroom 9m photo
Most people live in cramped apartments standard which can hardly be called mansions. We are accustomed to the tiny room of 12, 10, 9 square meters, but the tightness does not interfere much to aesthetics, convenience and comfort in their home. Numerous design photo bedroom 9 sq. meters in a modern style proves that this is possible.
Restricted area could seriously complicate the task of creating an interior in a modern style. What if there are at the disposal of only 9 square meters? in Khrushchev will have to take into account the specific nuances for the transformation of a small room.
Interior design bedroom area of ​​9 square meters. m shall be executed in a certain style. Unity of direction must be clearly sustained. Motley divided into separate pieces spoil any room environment.
For cramped conditions suitable bedroom 9 sq repair. m in minimalism. Unnecessary items will overload the space. It is better to choose a strict simplicity. Should pay attention to the country style of Provence and modern. The simple design and the elements of the tender light shades visually increase the size and create a comfortable cozy atmosphere. If desired, something unusual more suitable Ecostyle. Good fit elements of high-tech. Machinery can be placed on the wall with brackets, it can save you much valuable square footage. Advantageous to look photo small space design using Japanese motif setting, this emphasis create a feeling of elegance and brevity. For a 9 sq. m is perfect folding door design in the Japanese style.
Directions involving splendor environment, intricate shapes and solidity should be excluded (Baroque, Empire). Not fit some of the styles that require space (classicism, loft).
Efficient use of space
Habitually think small bedrooms for 9 sq. m include the use of only one person, and then to spend the night. But you'd be surprised how much functionality can make use of a small area of ​​some techniques. Example - real photo bedroom design, occupying only 9 meters in a typical Khrushchev.
These are the principles which should be followed:
If the three-dimensional objects can be placed in another room (exercise bike and so on), then, with a total of 9 square meters. m, they do not clutter the interior of the close space.
A set of furniture should be minimal, so each item, choose the maximum benefit. So some design beds require storage compartments. A good option can be a well-made furniture.
The bed headboard is better to place the wall of greatest length. Disposition bedroom size 9 kV. m Khrushchev often involves placing the short wall of windows, and opposite it the front door. Then this is the only possible option.
Double bed, choose the width of 140-160 mm, it is enough for comfort.
If the room is used by one person, you can choose a two-tier structure, combining, for example, a table and a bed.
Pay attention to the presence of sufficient passages (preferably not less than 70 cm). Not one piece of furniture must not interfere with the function of the other (for example, table, block the door of the cabinet). Therefore, you must carefully consider how to place them.
The door opening is better to design the hall or sliding.
The simplest rule: light colors visually expand the space, and vice versa narrow dark. Therefore, for the interior design of a small bedroom area of ​​9 square meters. m advantageous adhere light of shades. Perfectly suited white, light gray, pale pink, beige tone. But do not choose to repair the cold light scheme for the room with windows on the north. In combination with the lack of sunlight, these shades can give the atmosphere of gloom and sadness.
To revive the situation, you can add 1-2 bright, but not flashy accent in the form of furniture, wall element of a different color or a photo of the picture. It is better to choose a one-color wall light shade, on a background which can accommodate 1-2 contrasting bright shade of items interior. This will allow easy replacing a couple of accessories to upgrade the situation.
Lack of light gamma - soiled, so the individual elements (door casings, window) can select a material darker shade.
For walls are well suited plain wallpaper or with a small figure. A large bright pattern visually reduce the space. Transform the room in close Khrushchev can wallpaper with stripes. Vertical lines will raise the ceiling, but it will narrow the room, and the horizontal on the contrary - will expand the wall. In the photo you can see the effect.
Create a sense of spaciousness to help the principle of symmetry. Strict order and harmonious shapes style more suitable than a tiny Khrushchev chaotic screaming creativity. Pick paired objects (tables, lamps), classic symmetrical curtains. Do not use the wrong niche or carpets florid form. Apply abstract patterns is permitted only as a small accent. Mirrored surfaces and glossy materials create symmetry and "prolong" the space, increase its visually. The same spreading effect have a photo wallpaper, especially with promising panoramic images (long alley, spacious fields, etc.).
When choosing the form of furniture and elements of the situation beware of sharp edges. The narrow aisles can bump into them and be injured.
In this room is the most important element - a wide comfortable bed, but not redundant are also tables, wardrobe, dressing table and a lot more, but the 9 sq. m Khrushchev did not allow for a full swing set. How to arrange it so that fit everything you need, but do not clutter the area?
Define a set of environment elements that may be included in it:
Bed;
Cupboard or chest;
Dressing table or nightstand;
Hanging shelves;
Floor lamps, lighting fixtures;
curtains;
Carpet.
It turned out quite a few basic pieces of furniture, and, sadly, put more unlikely to happen. But this minimum elements subject to simple rules will be quite comfortable:
Furniture should not be cumbersome;
Desirable light shades that do not coincide, but combined with the colors of the walls;
Choose multi-functional and compact models: folding tables, corner cabinets, transformable structures, beds with storage compartments for clothes;
Do not skimp on the size of the bed;
In a small room, especially important is the quality of material and workmanship, furniture design, because you will constantly see it up close, touch;
The alignment begins with a bed, do not place it too close to the radiator;
Textiles is better to choose light, without too much density and texture.
Good factor at the design will add cute accessories: family photos, a table lamp or flower room.
Light can play a big role in the visual perception of the interior design area of ​​9 square meters. m, besides themselves lighting - design elements. A small room is not necessary to equip the massive crystal chandeliers or other lighting designs of complex configurations. Conspicuous large fancy fixtures will look disharmonious.
It is better to choose a spot lighting and local lighting, which can be beneficial to emphasize this or that area. Good fit into the design space small wall sconces in minimalist style. In the center of the room you can put a small chandelier, it is best to choose a chandelier on the ceiling type. Avoid the suspended structures. The light itself needs to be soft, smooth, dissipating, cold or warm, depending on the conditions selected color gamut.
Cramped quarters on hand to play plenty of natural light, so in the design of windows (or, more likely, the window) it is better to use light textiles loose not too bright colors bright scales and a simple, discreet design curtains. It is important to design the window does not merge with the background. It should clearly allocate window opening, but it is not to focus on it too much attention.
Before proceeding to the embodiment desired, you should consider all the details. It will not work on a small area to place all at once, so before you start the repair you need to clearly understand what and where will be located, what materials are needed, as well as financial needs ideas.
Pay attention to the quality of materials. This is true for any area of ​​the room, if you want to create a nice ergonomic interior that will last long enough. Especially important is this moment in our case, also because the walls and other surfaces are often hurt. Therefore, low-quality material will quickly lose presentable appearance. Should give preference to natural ergonomic and safe materials. Use the construction and inserts for wall made of natural wood. Wallpaper better choose non-woven, paper as quickly worn down in a small room, and vinyl is not very eco-friendly.
Repairs in the bedroom should be started with the complete liberation of the room. Needless to conduct work on the 9 sq. m hruschevke complicated disadvantage area. In such conditions it is impossible to organize a full-fledged workstation: nowhere to place the materials spread out a roll of wallpaper. Not be able to combine the management of the different works.
The walls need to be aligned. Wallpaper joints and coupling walls with floor and ceiling important to perform accurately and carefully, because the admitted defect in a confined space will be at a glance, the poor-quality repair spoil the stylish design.
Even Khrushchev, where the rooms are small they are driving in the narrow confines, you can create a stylish and comfortable interior small bedroom 9 sq. m. This will require the use of knowledge and imagination. General rules are simple: you should choose lighter shades, quality materials, a small set of objects, compact and practical design. Let the photos of successful design ideas will serve as an inspiration to start a repair.
Beautiful design small bedroom 9 sq. m: photo and 5 highlights
Small bedroom with well-chosen colors, furniture and decor elements can be a very cozy and original in many homes under the bedroom is given a small size room, but with the right choice of colors and decorative elements, it can be a beautiful, original, comfortable. When planning the interior for a small bedroom you need to make a lot of effort, because it requires the competent placement of furniture and choice of finishing materials that will help make equip the room visually more spacious and brighter. To stylishly and beautifully arrange a small size bedroom, you need to get rid of all the excess and massive furniture replaced by lighter and more functional variants. In addition, you need to properly plan the placement of furniture so that you can approach the bed on both sides.
The original design of the bedroom 9 sq. m
The design of the room 9 square meters should be as comfortable, functional and can be visually expand the space of a few rooms.
To make beautiful and original bedroom design, before to carry out repairs, you need to take into account such factors as:
Shape of the room;
Dimensions of door and window openings;
Location of the room;
Number of beds;
Stylistic preferences.
To interior bedroom 9 sq looked original, stick to the fact that the room should be a minimum of furniture and bed Pick up not only convenient, but also functional
Bedroom 9 m 2 requires classical minimalism, because it is small and there are many furniture in the room is simply impossible. At arrangement of bedrooms small size should give preference to narrow and tall cabinets, in which the door mirror should be built, which will help more visually enlarge the interior.
When choosing a bed you need to give preference to the most convenient and functional models with drawers designed to hold the required bedding. Instead of bulky bedside tables are best used shelves that can be positioned on either side of the headboard of the bed. Bedroom design should be developed, based on its configuration, so if it is rectangular, it is possible to slightly increase the room using mirrors or light-colored finishes. Furthermore, during the finish may be either masked on one wall with wallpaper image preview or cityscape. This will make a certain sense of continuation of the room.
How to arrange small bedroom 9 sq. m: Particulars of
Modern interior beautiful and stylish bedrooms implies a choice of the most functional items and high-quality finish. All of the furnishings must be chosen so as to rest in the bedroom was the most complete.
The decoration is best to use natural elements, such as in particular:
Particulars of a small bedroom that in finishing it is best to use natural materials
Furnish a bedroom the best furniture made of natural wood, it has a positive effect on the overall condition of the person, which is very important for a good rest. Very interesting is the classic style used in the interior of the small size of the bedroom, because furniture made of solid wood, not only visually expand the interior of a bedroom, but also create a special impression of luxury and refinement.
Particular attention should be paid to accessories, so you can put in the bedroom beautiful plants, due to which the room will be very comfortable. You need to very carefully consider the choice of textiles, because it has to be kept in one selected color. Best of all, if the colors are quite bright, because dark colors will reduce the space of the room and will be deprived of its lightness.
Stylish design bedroom 9 sq. m hruschevke
Many people know that the apartments in the Khrushchev is not very large in size, so the choice of interior design and arrangement of the room should be approached very carefully, because otherwise the space of the room will seem even smaller and it will not be comfortable.
The bedroom in the Khrushchev is different in that it has:
Small size;
Awkward rectangular shape;
Low ceilings.
Quite uncomfortable layout of bedrooms, located in the Khrushchev, requires special competent approach. If the room is decorated in light shades, you can visually enlarge the space, so it is best to use this paint or wallpaper beige, white, yellow tones. If the wallpaper with a pattern, then it should not be a major.
Given that the bedroom in the Khrushchev small size and low ceiling, it is necessary to arrange the room in light colors to visually enlarge the space
To add a space of a small room, it is best to install sliding doors that look very stylish.
Very often in the Khrushchev bedroom can be quite dark because the windows in this room, the small size and lack of natural light. That's why you need to competently perform artificial lighting. For decorating a small bedroom as lighting is best to select a small ceiling, made of frosted glass, diode tape and spotlights.
Since Khrushchev ceilings are not high, the stretch and suspended ceilings quite suitable for decorating the room. Best of all they simply whitewash or paint light paint.
Important! At arrangement of a small bedroom it is best to pre-create a room scheme.
Modern interior of a bedroom 9 sq. m: photo
Bedroom - the room is not just for sleeping, but also for quality recreation. In this room, a person spends a lot of time, so you need to equip it so that it was very comfortable and pleasant rest.
At arrangement of bedrooms 9 meter should choose styles such as:
All of these styles of design space rather laconic, but they are distinguished by a special convenience, functionality, and are able to bring to the interior a feeling of comfort, peace and harmony. Very interesting looks bedroom, made in a minimalist style, because in it there is absolutely no unnecessary details in a room you can relax and have a good rest.
Equipping a small bedroom, you should pay attention to the Art Nouveau style, high-tech, ethno, minimalism and Japanese style
For a small bedroom is perfect for a country style, because it has a distinctive romanticism, cosiness and comfort. As the finish is best to choose natural wood or materials that mimic the color and texture of wood. Curtains and textiles should be light and made from natural tissues. Add color to the decorated interiors help wicker furniture.
Small bedroom should be equipped bed-podium, built-in wardrobe. Instead of dressing table is better to make a shelf, which is located near the ottoman. Thus, it will be possible to save space.
How to equip a small bedroom 9m: interior design, photo
A small bedroom can be quite stylish and beautiful, most importantly, competently approach to the design of this room. At arrangement of a small bedroom it is very important to competently approach to the selection of color combinations that will look harmoniously into the mold space.
When you make a bedroom, you can choose colors such as:
Bedroom small size can be stylish enough, if the right approach to the choice of colors
Because the bedroom should have to sleep and rest, it is best to make out the room in bright colors. When choosing colors for the decoration of the bedroom is necessary to take into account which side leaves the room. If the bedroom is facing north, it is best to choose a warm and bright shades. If the bedroom is located on the south side, you can use in the decoration of the bedroom cool tones.
Intimate design small bedroom 9 sq. M Video)
Bedroom to look more stylish dark can be combined with the light tones of the wallpaper, because it will give the interior a special luxury. View photo being equipped bedrooms real small size, you can make sure that the correct approach it is possible to make the interior unique. A small bedroom can be very stylish and cozy, the most important thing competently approach to the arrangement of the room.