Small florets hook and circuit
Small flowers are very often used for the Irish lace, and get a great product. However, you can knit flowers for decoration decorate, bags, hats. napkins, hats and other items for children. Sometimes you have to search long for the right scheme.
Let's look at some small flowers.
Let's take: Colored thread, "Iris." Hook.
wp - air loop
RLS - bar without sc
CCH - a column with one sc
ss2n - bar with two sc two PRS knit together by a single loop
Chain of 10 Bn connected in a ring.
1st row: ch, 3sbn, pico (4sbn, pico) * repeat 4 times.
2 series: sn, sc, (9vp, sc in the gap between the pico) * repeated 5 times.
3rd row: ch (ps, RLS, 11ssn, RLS, ps) * repeat 5 times.
Row 4: tie petals arches 3vp, passing loop of the previous row.
Chain of 4 Bn connected in a ring. Knit arch of 3 ch for the first series petals
1 Range: 6vp (3 correspond lifting sn sn + 3), (1ssn, 3vp) in a first loop of this row * repeat 5 times, to connect with the third loop initial series. The petals of the first row.
2 series: B (ps, RLS, 3ssn, RLS, ps) * repeat 6 times. Knit arches for the second row of knitting lepestkov.Dlya convenience petals previous row bend your finger down. Bars without knitting knit sc on the loop between the first row of petals.
3rd row: ch (5vp, sc) * repeat 6 times. The pitch of the second row
Row 4: ch (ps, RLS, 6ssn, RLS, ps) * repeat 6 times. Arch for a first series of petals; CLO knit ring.
Chain of 5 sn connected in a ring.
1 row (2 CCH provyazat along one loop, 3 ch) knit in ring * repeated 6 times.
Attention! In the first iteration of RLS replace 3vp.
2 number: (sc, ch, 4ssn, sn, sc) in each arch * repeat 6 times.
Very small flowers hook
Chain of 4 Bn connected in a ring.
1 row (4 ch, ss2n twice 4VP, ss) knit in ring * repeat 5 times.
leaves shape can be changed, provyazyvaya ss2n one loop - the petals are more round.
Decorating and decor objects flowers hook, a lot of different schemes and ways of decorating.
knitting, crocheting, schemes and description
Knitting flowers is very exciting and pleasant experience, and each flower is sure to use as decoration on jacket, purse, hat or girlfriend a surprise. There is picked up a collection of small miniature crocheted flowers with detailed description and knitting patterns.
Flower with layered petals.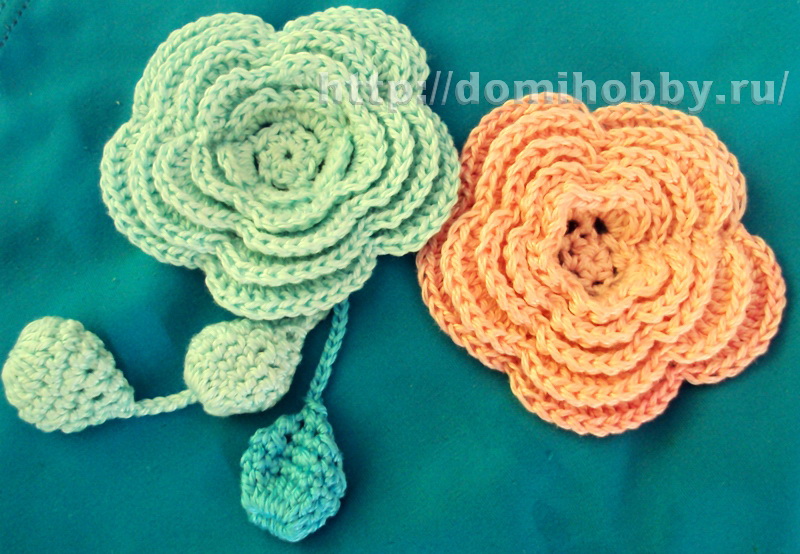 Description crochet flower:
At the beginning of the knitting yarns forming primary ring and a ring knit 1st row:* Art. w / n, polutolbik repeat 5 times, then the ring is contractible well and anchoring yarn end. 2nd row: Knit the first row of arches for the petals, this knit st.b * / n for the column in the first row of arches 3 stitches, and repeat 5 times, finish a number of connecting loops on the first table. Third row: of each knit arochki polustolbik, 3 tbsp s / n, polustolbik between arches do item b / n. 4th row:knit arches for the next series of petals 5 Sports hinges, fixing them provyazyvaya v w / v of the leg. b / n of the previous row (as an embossed concave item b / n). 5th row the pitch of the knit arochek provyazyvaya polustolbik 5 v s / n, polustolbik between arches item b / n. Next knit scheme increasing the number of loops and arches in their tieing a large number of columns s / n.
Flower knitting scheme crocheted: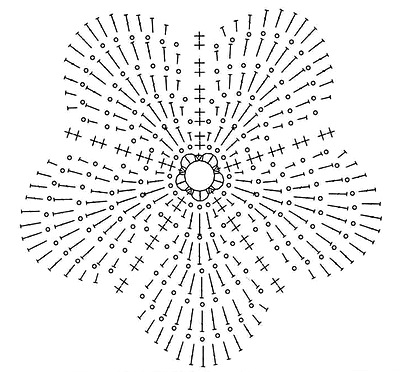 It is worth noting that the use of different types of yarn gives your knitting flower effect. For example, a thin wool thread get soft fluffy flower knitting flower of the cotton stand clear contours of the petals, and mercerized cotton adds extra shine.
The primary air ring 3 knit loops and lift bars 19 with sc, and then pull the ring and fix the thread to make a loop connecting the third Sports. loop hike. Then cut and secure the thread for the knitting of the second row or make 2 Sports. loop and then begin to knit 2nd row, again provyazyvaya the ring * to the initial article. w / n, arches from 4 vozd.petel, Art. b / n in the initial ring 4 through a column of the first row, repeat 5 times, finish a series loop connecting the first column. Third row: Knit pitch arochek polustolbik provyazyvaya of 5 v s / n, polustolbik, item b / n between arochek. 4th row: knit arochki of 5 Sports eyelets, fastening of the article. b / n the leg Art. b / n the previous row. 5th row: knit petals of arochek: polustolbik, Article 9 s / n, polustolbik, Art w / o between arochek.
Driving crochet flowers:
Crocheted flowers acquire a complete image with additional decoration leaf, flourish, bead.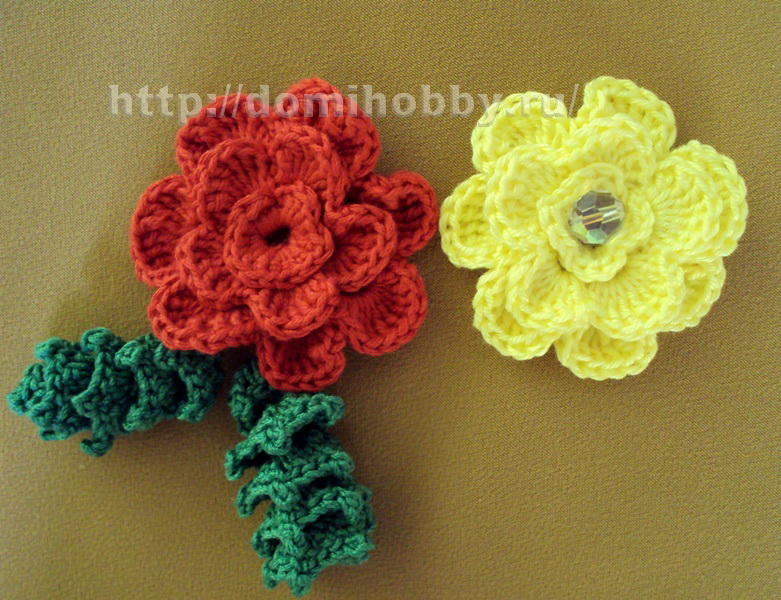 This model increases the number of flower petals, with each next row arochek attach Art. b / n the previous arches evenly adding another arches.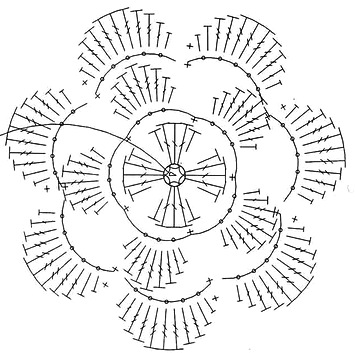 Flat flowers with wavy petals.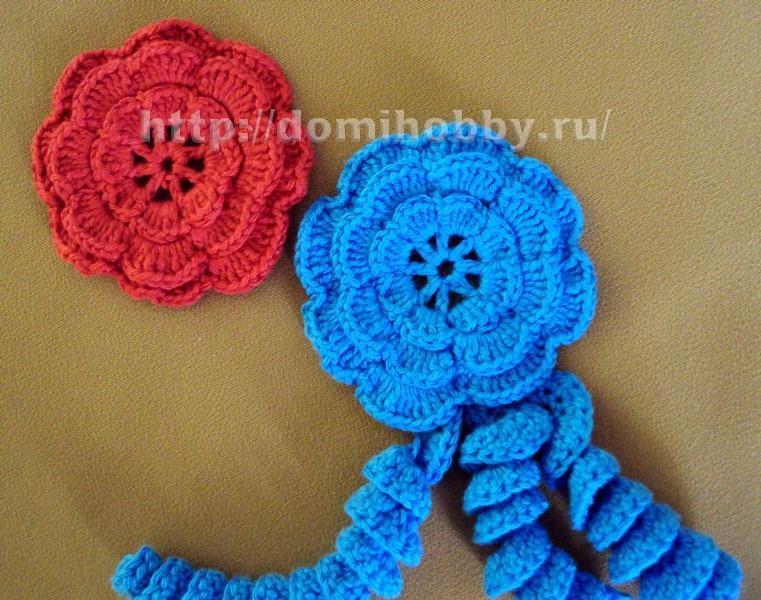 Beautiful wave petals gives a large number of art. s / n from each provyazanyh arches.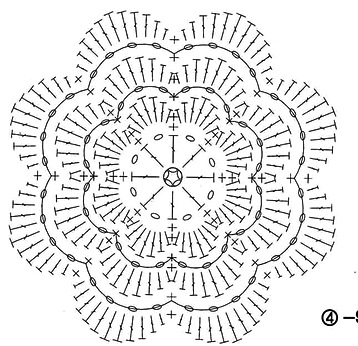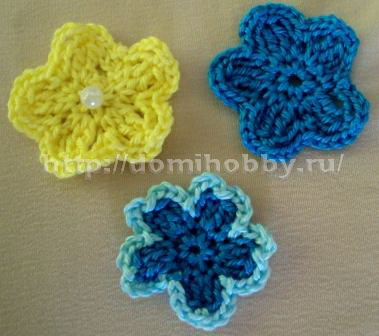 Knit in the initial ring 5 Art. w / n, through one air loop, pull the ring, make a loop connecting the first column and knit petals * 3 Sports. loop 2 with v / n of Sports. loop of the previous row, 3 abstentions. loop connecting loop trail in the column, repeat from * 5 times. In the last row of piping do item b / n, 4 abstentions. loops Art. s / n in the lobe vertex v b / n at the bottom (piping string can be a different color).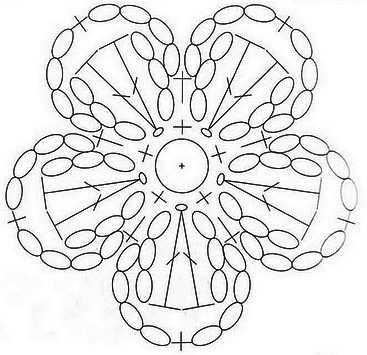 Tiny little flowers look beautiful in a large number of different colors of yarn.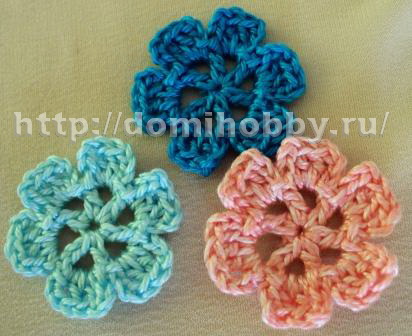 The primary ring 3 Sports knit. lifting loop instead of the 1st item. s / n, 2 Sports. loop further knit 5 v s / n, 2 Sports loops and pull the ring to make the connecting bar 3 rd loop recovery. Further knit petals of arochek: vozd.petli * 3, 2 v s / n, 3 Sports loop fasten their connecting loop knit then coupling of the next column and repeat arochki from * to the end of the row.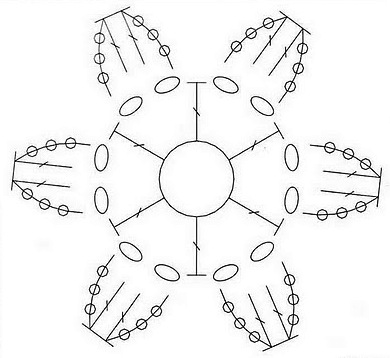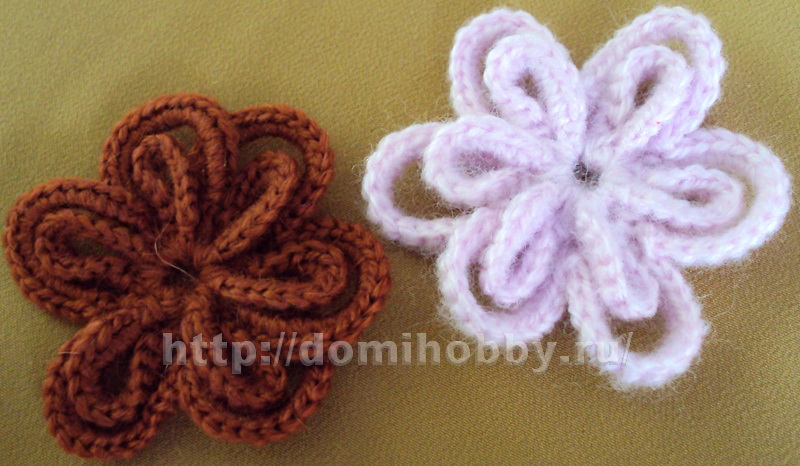 Make 5 air somknite loops and their ring of ringlet knit article. b / n, dial * 10 abstentions. loops, Art w / o. in the ring binds more arches 10 of tabs 10 th item b / n. Finished harness, turn the work and knit the next item b / n in the primary ring, while the resulting petal slightly twisted. Next, repeat from * 5 more times. After finishing the first series petals arochki knit stitches 14 securing their item b / n between the previous petals in the next row do harness formed arochek.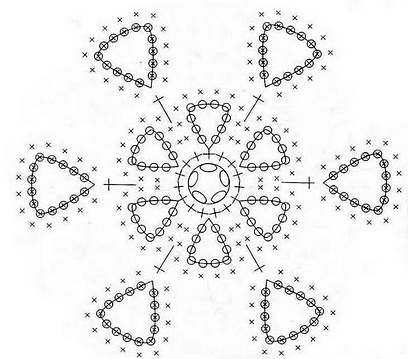 Sew flowers decorating the bead core.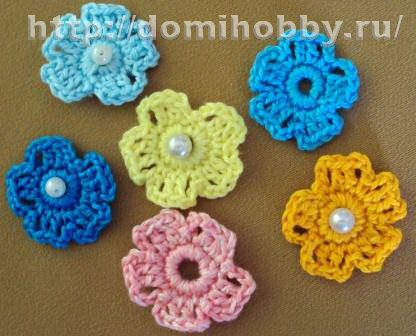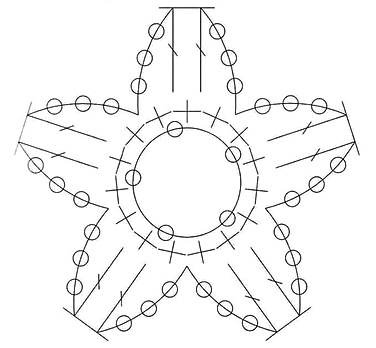 Flowers with separated petals.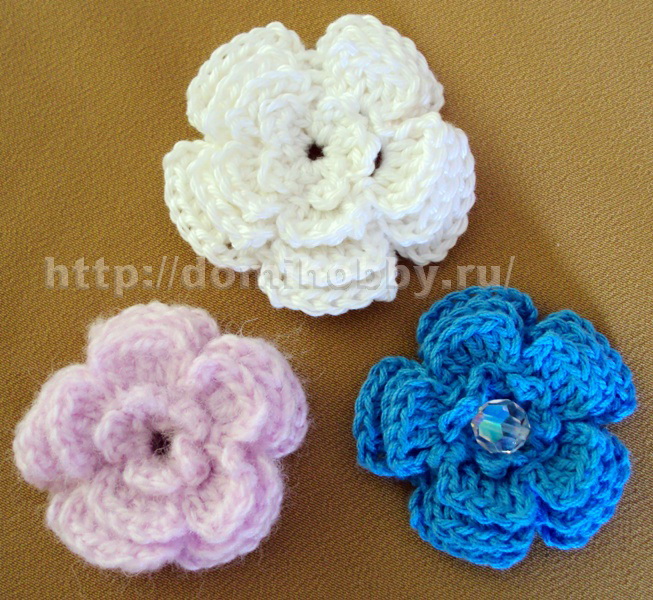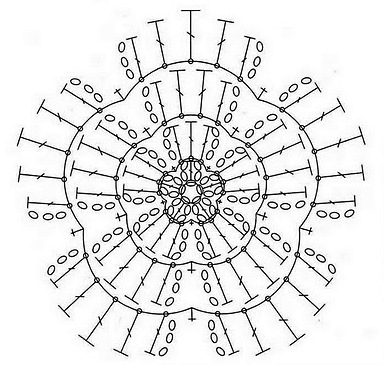 Comments (0)
The visitors who are in group guests, can not leave comments on this publication.
LiveInternetLiveInternet
-Categories
Beads (4)
Beads (12)
embroider (145)
beads (10)
Biskornyu (1)
Biskornyu (7)
vyschivka ribbons (15)
Magazines embroidery (17)
knitting (5333)
mittens (11)
mittens (142)
Collar (21)
Knitting, socks, leggings (719)
Knitting-cap (504)
Jacquard (224)
Women's sweaters (2119)
models for men (59)
Men's hats (25)
handkerchiefs (459)
Dress (41)
Blankets (338)
patterns spokes (1416)
Apron (1)
Aprons (4)
Scarves (243)
Cords (5)
pants (3)
skirt (14)
Knitting for kids (1749)
for boys (43)
blouse (883)
Coat (45)
Dress (315)
Cap (443)
Sewing girls (8)
Crochet-Ireland (124)
knitting-colors (137)
embroidered flowers (8)
inlay (83)
decoupage (53)
to give (19)
to give (20)
for kids (85)
Sewing dresses (2)
Magazines on needlework (368)
Magazines knitting (250)
New Year (153)
Easter (1)
Film (3)
computer right (42)
Candies (11)
cooking (18)
cooking (27)
teddy bears (396)
my work (40)
My photos (4)
My Photos (2)
music (5)
stuffed toy (882)
Amigur (9)
You Need to Know (39)
patchwork (5)
Applications (3)
crafts (526)
Things for the home (20)
papier-mâché (5)
Origami. Master classes. Kvilling (3)
Ppetenie (2)
Topics put together (7)
Felt crafts (79)
Fillets (96)
tatting (3)
cloth hook (435)
The fringe (112)
bags and purses (30)
Embroidery circuit for babies (57)
Embroidery circuit pads (237)
knitting lessons (876)
patterns hook (87)
lessons in sewing and embroidery (45)
Volumetric stitch (8)
Movies (3)
Scarves (1)
Perfect round sleeves
Cabled Pullover by Deborah Newton.
French magazine on knitting
Bouton d'Or 10 https://fotki.yandex.ru/users/alyona-merletto/albu.
-Subscribe by e-mail
Beautiful flowers crochet schemes! Lots of
I gather up a lot of options for color knitting. As always I say that the colors a little does not happen. See how to tie a beautiful crochet flowers schemes. This is not the only scheme, but there are short workshops. I think you'll like)