Materials for exterior finishing of facades of private houses
Appearance of the building plays a very important role, so it is important to choose the right modern materials for the facades of private houses. The perception is influenced by many factors: the color, the texture, the overall architectural style. At the moment, the building materials market to offer a sufficiently large range of materials for facing facade of the house. It is important not to get lost in the variety, to understand what material is better and make the right choice based on aesthetics requirements, heat, security and economy.
Finishing materials do not affect the strength and reliability of the house, but, despite this, they are subject to strict requirements, which should be taken into account in the construction of:
attractive appearance, matching the architectural appearance of the building and surrounding structures;
frost;
durability;
UV resistance;
the ability to withstand wind loads;
possible air permeability, as if to use materials that do not leak air, the building will require additional ventilation system or frequent fortochnoe ventilation that can cause inconvenience;
compliance with the requirements of heat engineering;
resistance to fire as possible.
Materials for facades must be resistant to external influences, durable and attractive
All these requirements are advisory in nature, since no one will check the project or building before delivery, as occurs in an apartment building for a private home.
But they should be taken into account to ensure your own safety and comfortable living conditions. Next, we consider the most common options for the finish, their field of application, advantages and disadvantages.
Enough common variant. It is used to improve the appearance of brick and stone houses. There is a large assortment of plaster mixtures, among which one can choose a suitable options. Furthermore decorative function, is capable of performing additional plaster, such as:
alignment brickwork (rather laborious process which eliminates the small deviations from the vertical wall, material consumption and the cost of plastering thus increase);
insulation, if used modern "warm" compositions;
protection of exterior walls from outside influences;
protection insulation layer.
Plaster - one of the most common materials for facades
Depending on the layer thickness may require additional reinforcement pokrytiya.V plaster reinforcing mesh laying needs mortar layer 40 mm thick.
The advantages of the method may include:
attractive architecture of the building;
suitable for houses in a different style;
resilience;
wide price range mixtures, among which the buyer can choose exactly what you need;
these finishing materials for private houses have a wide range of colors, allowing you to implement any architectural solutions;
the ability to update the facade without major difficulties;
durability.
Disadvantages include high labor intensity of the process. For self finishing require a lot of time and the presence of special skills. Previously handyman had to deal with plaster mortar, would be wise to hire a professional crew, but it will be an extra line in the budget to finish the house facade and construction in general.
finishing process is particularly well suited for buildings in the classical style, but it would be relevant to other concepts.
Wood trim, or "under" the tree
These modern materials are used for cladding facades of houses from virtually any material in a different style. They will also work to create a system of ventilated facades. Such a system is required when mineral wool insulation wall, the surface of which requires constant ventilation to remove condensate and other moisture, reduce insulating characteristics of the material.
This group finish for the facade are:
Last will cost a little more expensive than others, but it will create the illusion of bar-shaped or log home. In addition, this material looks very impressive and presentable, although the cost is higher than that of the siding or lining.
Wall paneling and siding are available and easy to install
Block-house - a modern material that will give the building a unique appearance.
Wall paneling and siding used for a long time and managed to earn popularity in the private house building. In modern construction, they possess two valuable properties: availability and simplicity of the technology. These properties allow this way of finishing confidently take up positions in the niche of the exterior cladding.
The disadvantages include:
sensitivity to moisture;
instability to fire;
for wooden materials tendency to decay;
exposure to aggressive environmental influences.
With these materials outs fighting periodic application to the surface of specific products, which improve the properties of wood. For example, to prevent the defeat of mold, mildew or rot surface is treated with antiseptics. To improve the fire resistance should be used flame retardants.
Block-house more expensive linings and siding, but it will give a unique home
This group of materials suitable for home in country style, Provence and others who set themselves the task as much as possible organically fit into the structure of the rural landscape.
Finishing stone materials or "under a rock"
This group includes methods that are well suited for the lining of the house in the classical style, and the style of Provence, country. Appearance of the building is obtained quite heavy, but it is possible to beat the interesting details. Besides, it all depends on what kind of advanced materials for the facade of the house chosen: melkoformatnye or large format.
This group includes the following types of cladding:
Clinker. The material allows us to give the façade of any home a look that gives the impression that it is built of brick.
A natural stone. It looks very effectively, to protect the house from any external influences, but is characterized by a relatively high cost, which has a negative effect on the overall price of the house.
Ceramic tile. It can be produced as a by brick and stone by.
These materials are suitable for decoration of buildings facade in a different style and will protect the home from external factors. Their undoubted advantage is resistance to rotting and fire.
Natural stone looks very expensive, impressive, but its price is high enough
But there are a number of disadvantages that are important to consider when designing and building a house:
a large mass of cells, which increases the load on the foundation and walls of the house and increases the cost of their construction;
fairly high cost in comparison with other types of cladding;
difficulty of working with the material, labor intensity, which further enhances the impressive weight of individual elements.
These advanced materials for finishing the facade stands out as a separate group because they are in addition to the decorative function assume the thermal insulation of houses. Suitable for the creation of exterior cladding in a different style.
This group includes:
sandwich panels;
facade cassettes;
thermal panels of polyurethane foam.
The presence of a heat-insulating layer in the contemporary material is extremely important, because it allows you to reduce heating costs and reduce the thickness of sten.v amount the owner receives a reduction of costs and the construction, and operation.
Facing the front of the house: what material is best?
The final stage of building a country house - finishing, it includes, among others, work on the facade facing. The range of finishing materials is huge, and for the correct choice We need to consider their characteristics and features application.
What is the lining of the facade of a country house?
Most modern construction materials have excellent insulating properties and high strength, but their appearance is unassuming. Therefore, the project is newly constructed country house lay facing facade.
Modern materials allow build a house in any style, regardless of the wall material. In addition, homeowners often resort to the facade decoration in the restoration and renovation of old buildings - This allows you to give them a new look.
Facing the facade has not only a cosmetic effect, in addition, it protects the wall material from harmful factors: sun, wind, moisture, improves the thermal insulation characteristics of the building. In general, correctly executed wall decoration will extend the service life of the structure.
Perhaps you want to learn how to make sound insulation of the walls in the apartment? Read here.
Types of modern building materials for facades of private houses
Selection of modern cladding materials is diverse, in their selection usually take into account the following factors:
protective and insulating properties;
resistance to external influences and the life;
application area;
the complexity of the finishing works;
price.
All materials used for cladding facades, have their advantages and disadvantages, and the task of the developer - to find the best option for your home.
This popular form of decoration most often used for walls of bricks and building blocks.
well it protects the wall from atmospheric moisture, creates an additional insulating layer;
improves the fire resistance of the walls;
plasterer vapor permeable, providing good removal of moisture from the inside;
the work can be done on their own;
various types of decorative plaster differ in price, easy to find an affordable option;
plaster can be combined with other types of finishes to choose any colors and texture.
Application of rough cast.
The disadvantages rapid disintegration of the plaster layer by incorrect application or use of the building.
mineral plaster on the basis of cement and additives - the easiest and cheapest option. Among its advantages include high strength and moisture resistance. Mineral plasters sold in the form of dry mixtures and has an unattractive gray color, but can be easily colored in any color façade paints. Service life - from 3 to 10 years.
acrylic plaster - ready mix with different decorative textures based resin, it is different ductility and resistance to moisture. Scope acrylic plaster - walls, insulated with polystyrene. period - from 10 to 15 years.
Silicone resin plasters - the most expensive of the analogs, it is of high quality coating durability and resistance to soiling. It does not absorb dust and is not destroyed by exposure to chemical compounds, so silicone plaster can finish the building, located near towns and highways. Serve to finish at least 25 years.
Silicate plaster facade based on liquid glass have good water vapor permeability, they are often used for decoration of houses of gas silicate. It is plastic, easy to apply, allows you to create a variety of texture, is not afraid of dust and dirt, and keeps fresh look 20-25 years.
Designers often use plaster in combination with other surfacing materials: stone, decorative brick and tiles. this technique It allows you to refresh the facade, create accents, such as window openings, columns or corners.
Finishing facades natural or artificial stone
Stone can be used not only for decoration, but also as a self-finish. This type of building is not cheap, but it is durable and It allows us to give the house a rich appearance.
Natural stone - heavy stuff, so they trim the walls of brick or block, able to withstand the weight of the lining. Stone has an irregular shape and requires fitting and grouting.
Alternative natural - artificial stone. It is lighter and much more affordable, It simulates different types of stone, simply mounted on the wall surface. As with natural stone, he It does not burn and is not destroyed by moisture.
Clinker tiles and thermal panels
This type of finish is a ceramic tile, clinker brick mimics (see. The photo). Finishing brick itself is a good way of lining the walls, but it is usually fixed to the stage wall masonry. Paving tiles can be used for the repair and restoration of old buildings, which makes it more versatile.
Clinker thermopanel combine two functions: insulation and finishing. Due to their size, while finishing work is reduced significantly, and the appearance of the house is no different from the building, the finished brick.
Paving tile has a full range of colors from sand to dark brown, it It has a strength and moisture resistance, not burn, does not contribute to the development of mold. This finish is durable, when properly installed will last at least 50 years.
Stoneware tiles - an artificial material, not subject to shrinkage, moisture-proof and durable.
It can be mounted on a special adhesive, as well as decorative stone, but water resistance porcelain stoneware will promote moisture delay inside walls. Therefore stoneware tiles often used in ventilated facades.
Such a method involves finishing fastening to a wall furring of the metal profile, which by means of special fixtures mounted stoneware tiles. Between the tiles and the wall leave ventilated gap or laid layer of fiber insulation, allowing remove moisture from the walls.
The richness of colors and sizes of stoneware tiles make it a popular finishing materials for country houses. Service life - no less than 25 years.
Repair of ventilated facades of granite is very simple: the damaged tile is removed and replaced with a new one.
Siding - plastic or metal building panels used in ventilated facades.
They can be decorate a new home or to restore old built from any material. Vinyl siding has a more natural and muted colors, metal - more vivid. There are varieties of decorative panels that mimic wood or stone. Siding attached to lath from the bar or metal profile.
affordable price;
easy installation;
resistance to atmospheric moisture;
does not require painting, does not rot;
It can be used for the walls of any material.
attaching at the wrong possible thermal deformation;
Vinyl siding is not strong, there can be damaged upon impact;
light shades siding quickly become soiled.
to the contents ↑
wood - most eco-friendly material. With the ability to "breathe" wood finishes available for wooden buildings, and for brick and block houses. As with siding, mount wood trim performed according to the method of the ventilated facade.
The frame is made of bars, which can be laid between the insulation boards. All wooden elements must be treated with antiseptic, a finishing material itself recommended paint or cover with protective means for the timber.
Decorative wood can have different shapes: block house - imitation logs, an imitation of timber, planed facade board.
Advantages of wood finishes:
natural breathable material;
timber can be mounted on any wall, installation does not require any special skills;
tree easily painted in any, including natural shades;
fair price of materials.
Significant disadvantages are:
Low fire;
rotting;
the need for periodic processing.
to the contents ↑
What material is better and cheaper for the exterior finish at home?
Having considered the description of coating materials, it is possible to draw conclusions and make the right choice. For facing the wooden facade of the house is better to use a ventilated facade siding or wood finish. This finish allows the house to "breathe", it not afraid of shrinkage and seasonal strains, in perfect harmony with the style of a wooden house.
To furnish the house of bricks and blocks of great plaster, decorative stone or tile, as well as ventilated facades with any finish.
When using a moisture-proof materials necessary improvement of effective exhaust ventilation in the house, otherwise avoid high humidity, condensation and mold. Over time, this can lead to the destruction of the walls.
Finishing the facade of a private house: instruction
Each type of exterior walls has its own technology, the main stages of which are shown below.
Rules plastering:
Walls before applying the finishing plaster solution was purified by residues embedded and seashell cracks, seams align.
When applied to the plaster on top of the insulation you need to fix it well.
If the intended plaster layer having a thickness of 10 mm, must be secured to the wall the reinforcing mesh.
For smooth coatings exhibit beacons.
The solution was mixed up strictly according to instructions on the package, in the quantities that can be used at a time.
Complete solutions before use must be thoroughly mixed.
Prepared wall primer.
The first layer of plaster is applied by spraying, subsequent leveling layers - spatula and level regulation, and for creating decorative textures figured using spatulas, rollers.
If plaster is applied over the paint layer, the plaster must be well dried and primed recommended for better adhesion and reduce ink consumption.
Installation rules ventilated facade:
Optionally removing from the walls of the old coating, if it provides a strong mounting frame.
The wall is recommended to close vetrovlagozaschitnoy vapor-permeable film.
Frame ventilated facade made of wood or metal profile according to the covering material, fastening it on screws or nails.
Between the frame struts can put a heater.
The facing material is attached to the frame by means of special fasteners or screws, nails.
If necessary, the processing cladding retardants, color scheme and a protective composition.
Terms of stone cladding, clinker and tiles:
Line the walls with cement mortar.
Wall primed to improve adhesion.
Facing stone or tile is placed on a special solution that is suitable for this type of finish.
After drying glue operate grouting.
To improve the appearance and performance of natural stone may be coated with a special varnish. This will provide shine and no white coating of salt.
Facing front ceramic tiles.
Facing the facade of a country house - guarantee of its beauty and durability. Choose your favorite material, the homeowner will be able to realize their ideas and make a home in this cozy family nest, giving it the charm and uniqueness for many years.
I have myself made a siding, but something quite unattractive looks in my opinion ... It is expected that the richer is that it is .... although stoned fast enough
Decorating the house facade with modern materials, its types and photo examples
After the completion of large-scale construction stages need to think about what materials will be used for finishing the external surfaces of the building. The construction market is replete with a variety of proposals, offers a huge variety of decoration. Therefore, the decoration of facades of houses with modern materials which are collected in a photo collection can be done in a completely different style and direction.
Types of facades with modern materials
More recently, the main conditions were reliability, durability finish the house facade. Today, there is a significant increase in the requirements for the materials, the main task of which is considered to be decoration of facades home photos are represented in the collection.
Main operating conditions:
strength - exterior design is not subject to degradation even when a strong gust of wind;
frost - quality materials for the facades of private houses do not crack as a result of external influences;
permeability - the outer layer should not prevent layering excess moisture;
presentable - decoration of facades is able to decorate any residential structure.
Modern materials for finishing the facade of private houses have the ability to counter any negative factors and at the same time perform a decorative function. How to decorate the facade? Consider the most popular varieties of finishing the facade of a private house.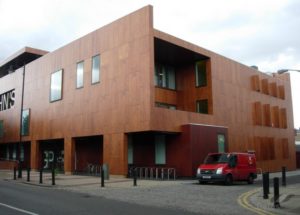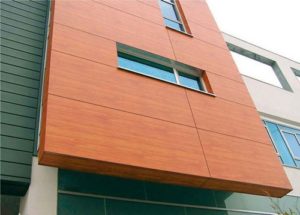 Used as a decorative finish the house facade. Qualified professionals, using a finishing material, create unique relief plane, simulating the natural raw materials.
Exterior decoration plastering the house passes using a cement-sand mortar, it contains special additives to provide excellent surface protection. For the decoration of the facade is necessary arrangement of warmth and waterproofing, which will require a heater.
Increasingly popular in recent years received a bark finish of the facade. The latest finishing technology allows to achieve excellent results in the shortest period of time. To this end, manufacturers are offering to choose a ready-made solution in buckets, dry mix in bags. Decorating a private house facade bark beetle is held in conjunction with insulation of exterior walls. In recent years, finishing the facades of private houses bark gaining popularity.
For decorative treatment of the refreshed surface using various types of paints based on acrylic - it helps to provide maximum protection for the building facade, creating a durable outer coating. Finishing facades of private houses, photo collection includes the most popular forms of plaster.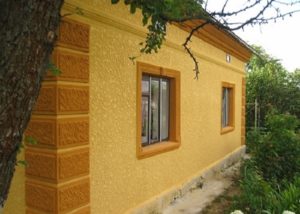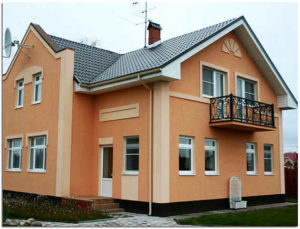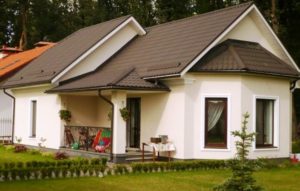 New interior, created from high-melting types of earthen clay. In the manufacturing process the clay is subjected to heat treatment at very high temperatures. Due to this for the facade facing brick becomes strong and durable.
Decorative bricks has a number of positive qualities: heat resistance, environmental friendliness, diversity of forms and ease of care. The surface may be matt, glossy, rough, or have a clearance antique.
Various colors can be used for decorative facade clinker bricks, plinths country houses, combine the frame around the interior or exterior doors, arched openings. Photo clearly demonstrates the finishing brick house.
Clay tiles - small clay plate. Construction materials are of a similar shape, size and number of colors, similarity allows for home decoration ceramic tiles. Ceramic tiles photos which are shown below can be issued façade of any home.
Unique decorative elements can help create the perfect picture at the corners of the walls. The most attractive look facades of single-storey houses, lined with ceramic tiles, photo selection is presented below.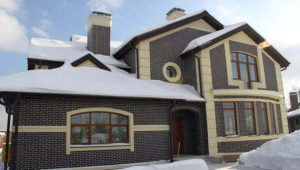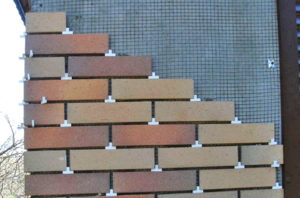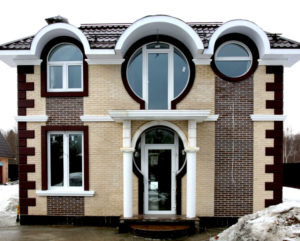 Durable building material is made from synthetic materials by pressing powder of the slurry, followed by firing at higher temperatures. Finish granite facade has become particularly popular thanks to the presence in the fabric of a certain number of positive properties.
Porcelain tiles have a large margin of safety and responds poorly to external mechanical influences.
Good appearance is ideal material for exterior decoration of walls. Cap can have bright colors, iridescence or simulate natural stone, different species of trees.
Finish granite facades of buildings is carried out in two ways:
Vented - plate securely mounted on a frame made of zinc or aluminum extrusions;
"Wet stacking" - granite is fixed to the surface of the walls with special glue.
What a way to choose, everyone decides for themselves.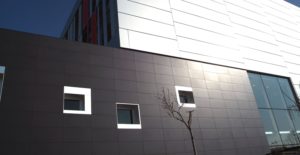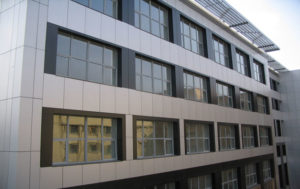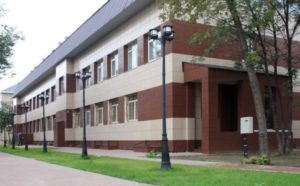 These materials belong to the group facing, through which you can easily transform an apartment building, an office building or a small shopping pavilion. Various materials are suitable for the facades of private houses.
Composite cassettes are finished design with curved edges. When installing the complete covering of the walls is obtained. Durable and reliable material withstands various mechanical stress and negative environmental conditions. Fixing tapes with a façade in different ways can occur. First of all, it depends on which profile will be used. There are two ways of connecting elements: hidden and open.
When a hidden fastener profile top member firmly fixed for the lower profile. This type of assembly allows you to create a sufficiently strong lining for a short period of time.
During the open fastening each finishing tile facade is fixed to the corners of the base plate. This method provides a perfectly smooth continuous coating. Finishing facades of houses with modern materials, a photo gallery of the best design solutions presented below.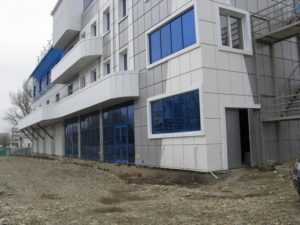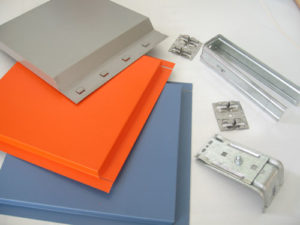 Movement typesetting panels made of vinilopolimernyh materials. The advantages of the material are as follows:
ease of construction;
ease of assembly;
low cost.
Before you finish plinth or wall siding house photo which are listed below, do not need to spend long preparatory work. The façade siding allows you to successfully hide all the bumps and surface roughness.
Qualitative material during use does not undergo deformation, swelling or peeling. On the surface of the mold is not formed, not infest insects. Thanks to these positive qualities of the material finishing wooden house siding facade is considered the most effective solution. The most original version of design home siding, photo presented below.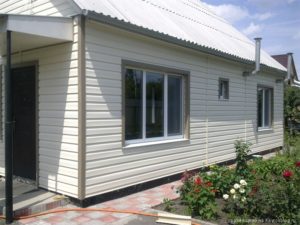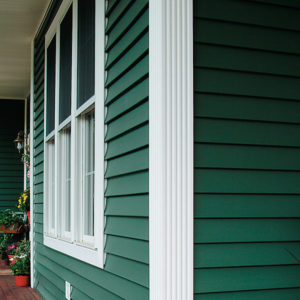 Natural and artificial stone
Stone is considered to be the most reliable type of finishing the external surfaces. For facing the same way and used natural and artificial stone. Decorative tile for facades of natural material creates a strong protective coating, which term operation compared with the period of use of the building. Artificial stone facade is different from its natural counterpart only a relatively low price and a rich selection of textures and colors. Before you choose a stone as the primary finishing material should be aware that he has a lot of weight, so it can not be used to furnish the house with a weak foundation.
Failure to comply with the technology of laying some stones may fall off during operation, so you have to regularly restore the original appearance of the surface. Finishing with stone facade - a complex and time-consuming process, so you should strictly observe all the installation technology and not to disturb the stages of exterior decoration. Original finish facade of the house, photo unique residential buildings.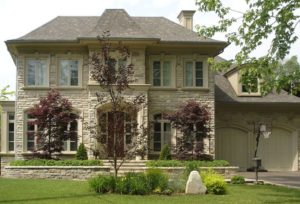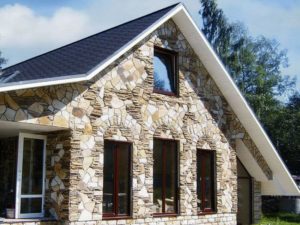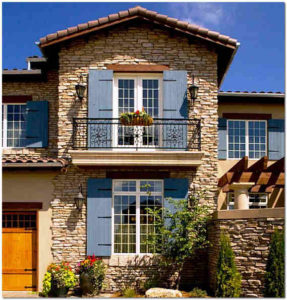 The range of panels is simply amazing for its variety. Some types of decorators use to draw home interiors. Each type has its own front panel design, size and installation method.
The better to decorate the facade? To answer this question we must show the most popular options for panels:
metal - made of galvanized sheet metal, on which a thin layer of polymer coating applied. The polymer layer has a different topography and bright color, it allows, using a profile, to create a unique combined version;
fiber cement - textured surface allows you to perfectly mimic a variety of materials such as decorative plaster, brick and masonry or tile lining. Panels made from cement with the addition of the dissolved cellulose and synthetic fibers. Practically not fade and have a particular strength;
wooden - modern panels are made from wood fibers compressed under high pressure in the material includes polymeric compounds. The selected material has a low weight and excellent surface, decorated with natural veneer. The service life of less than similar models, but they are much cheaper than it used to periodically change the profile and panel;
OSB boards - of the reconstituted panels of OSB include molten paraffin or ceresin. The material is produced in large sheets, so you can cut the appropriate size panels of OSB on the spot;
SIP panel - unique properties the material is a multilayer insulation panel. CIP is composed of insulation, surrounded on both sides of sheets of OSB. The layers are interconnected special polyurethane adhesive. The polystyrene foam is used as insulation.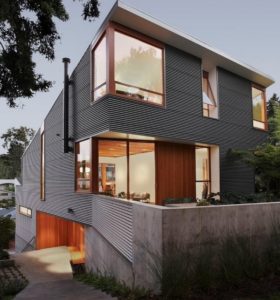 metal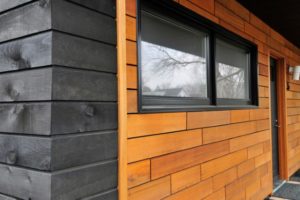 wooden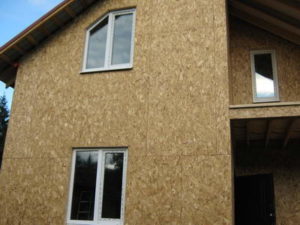 OSB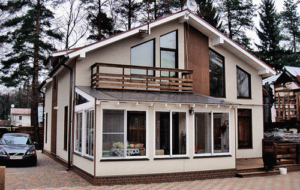 SIP panels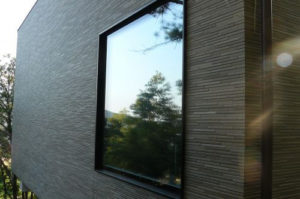 fiber cement
CIP panels are very high degree of thermal insulation, excellent sound insulation. The light weight structure can be used for various CIP panel bases in some cases, sufficiently finely recessed belt. Through the use of CIP panels classic "Canadian" house can be built in a few weeks. SIP panels react poorly to external aggressive environment.
The construction of "wet facade" consists of a number of layers. Layer called adhesive, thermal insulation, armored and protective and decorative, each layer has its purpose.
Facades of this type have a wide range of applications due to the fact that all components are perfectly combined with each other and are able to show excellent results, high frost resistance, water resistance, vapor permeability.
Decorating the house for the type of "wet facade" requires certain skills, so do not spend their own hard work, it is best to contact the experts, but in this case it is possible to achieve excellent results and a long time to extend the service life of the material.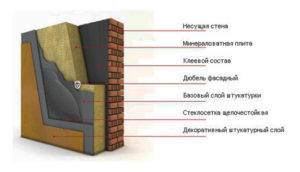 The system of "wet" facade
Recently, wood trim facade is gaining popularity. The outer surface of the building, decorated with the help of the board or beam, has a lot of positive qualities and advantages:
environmental friendliness;
moisture resistance;
durability;
ease of care;
unique design.
The house is finished with natural planks and beams, will last much longer if you choose the right sort of wood. Experts advise to prefer only those trees that grow in your area. This is necessary, because they are better adapted to weather conditions and are much cheaper to foreign samples.
Reduce the impact on the natural material weather and an aggressive environment it is possible by appropriate surface treatment and pretreatment material.
How do I choose and how will be the construction of a residential home? The choice is always the master. Here it is necessary to take into account a lot of nuances, starting with the economic side of the issue, and ending with the technical possibilities of the building. Only taking into account all of these conditions, you can be sure that the exterior decoration of private houses photos which are presented below, will be high-quality and durable.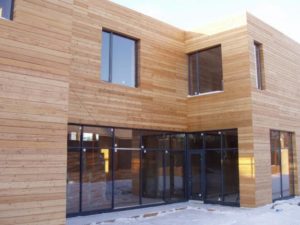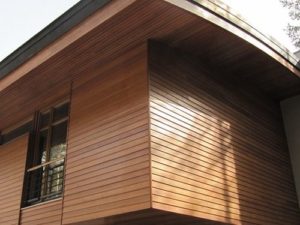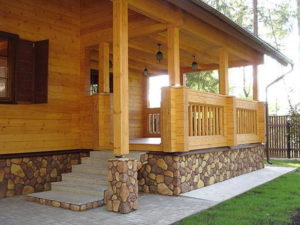 The video features the most popular ways to trim parts of the building facade with modern materials.
Photos facades, decorated with modern materials
The photo collection contains the most successful projects of the facades of buildings.