Transformers in our house. Designed for small apartments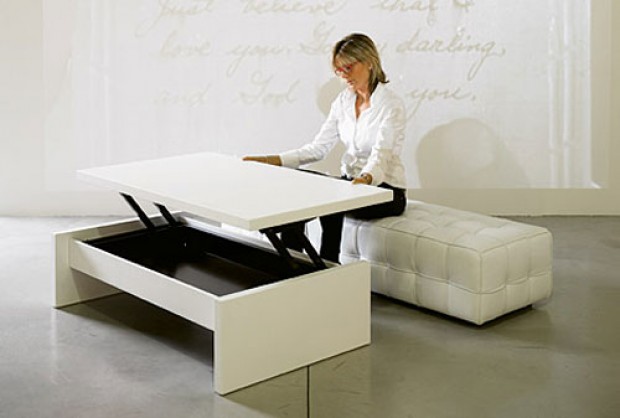 I greet you on the pages of my blog Home-ideas.ru. As the owner of a small-sized apartments, I'm always with great interest to treat various types of folding furniture. I especially like the multi-functional transformers, for example, turning in bed cabinets, sofas in desks and other similar things. It's nice that designers think about us (or they think globally - over-population) and create these pieces of furniture that will "flick of the wrist" for a moment to transform our bedroom 10 square meters in the living room or office.
Today I want to show the most interesting examples of folding furniture. Most of the beds are provided, Transformers, you can buy in TRANSMEB store in Moscow. Let's see pictures as ideas for inspiration. Perhaps some of them are interested in our men, collecting furniture the hands.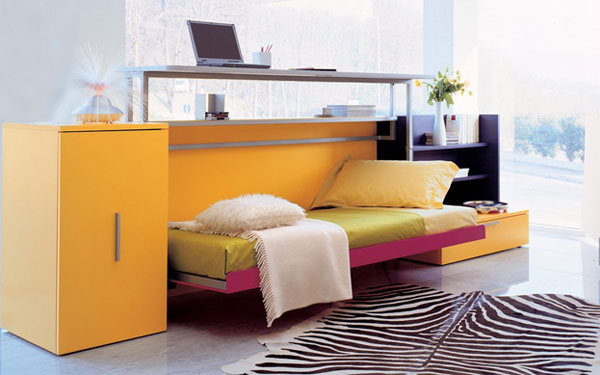 Let's start with the magic wand one-bedroom apartments - the lifting of the bed. This type of furniture is well known in our country. The lifting mechanism allows the press bed to the wall, freeing a free passage. There are many models of these devices, the most interesting look model when the bed (when mounted) is visually merges with the environment, such as in this photo of the room of a teenage boy she turns into a closet.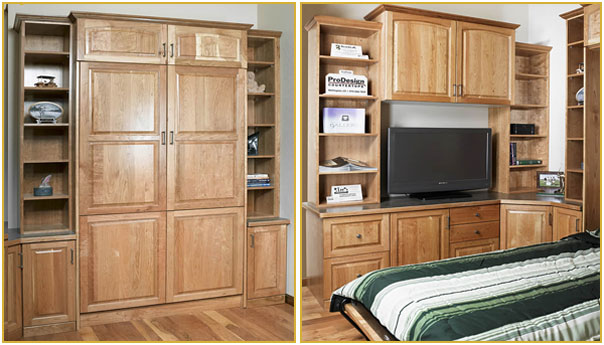 Here is another example of a bed-transformer, obviously cheaper. Suitable for student or student's room in a minimalist style.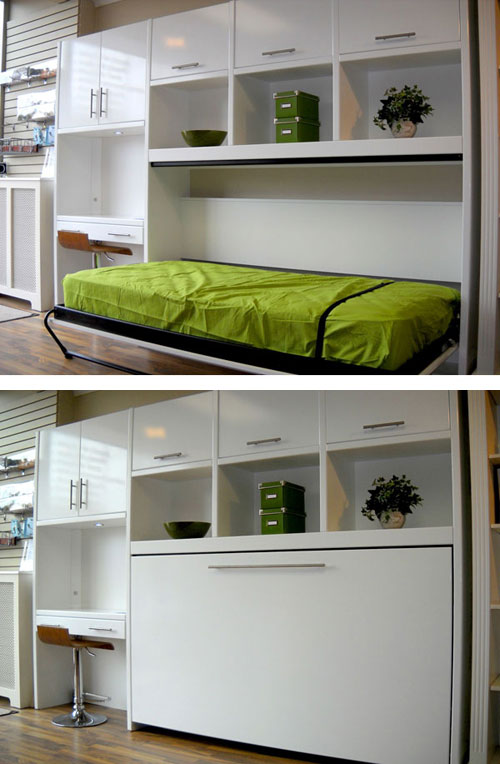 Incidentally, among the folding single beds are quite interesting ideas - for example, this rather cleverly camouflaged under the closed shelf or dresser.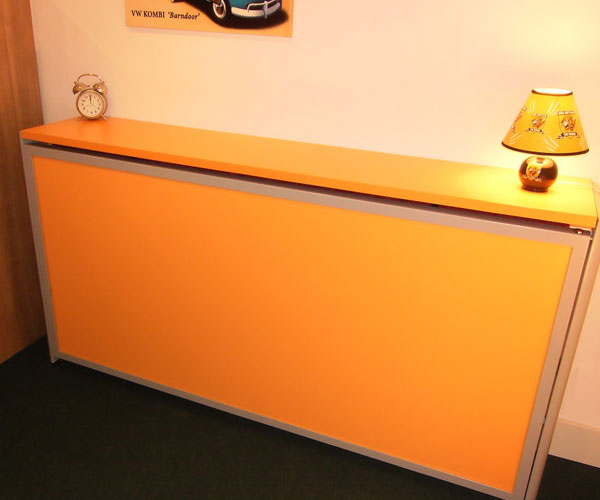 I really like transformers beds for young children's rooms. Look, what a beautiful and practical option for a child in this photo.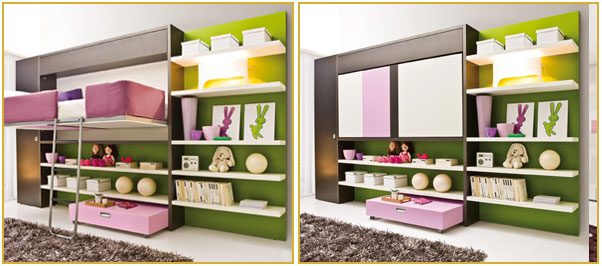 And in this photograph we see a convertible bunk beds, a wonderful invention for small apartments. On top there is a shelf for clothes.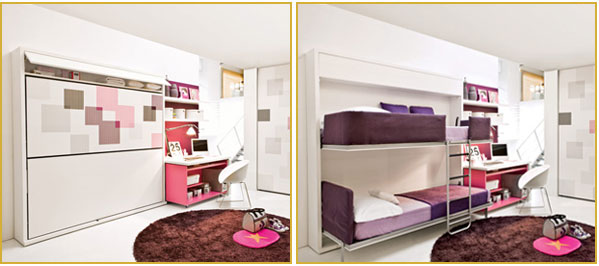 This interior room with lift double bed for adults looks very stylish. It seems here even too much space, wondering what was caused by the need to take just such a bed? Most likely, this studio apartment.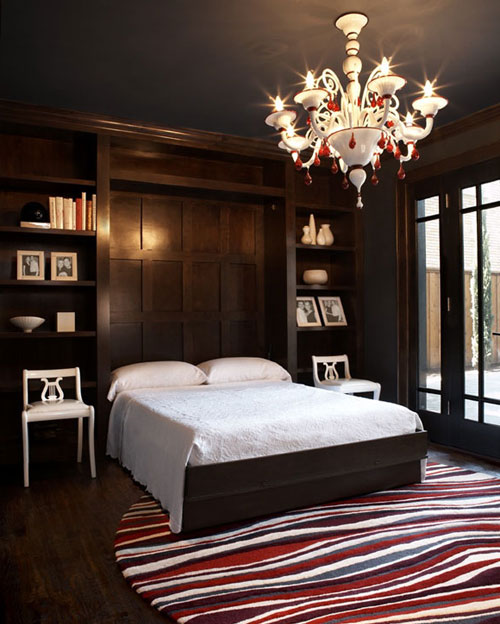 In foreign sources found an alternative embodiment of the lift bed. The bed is not removed to the wall, and on the special guide as the elevator is raised above the head. For small narrow rooms just a great idea! One hopes that this design is also robust.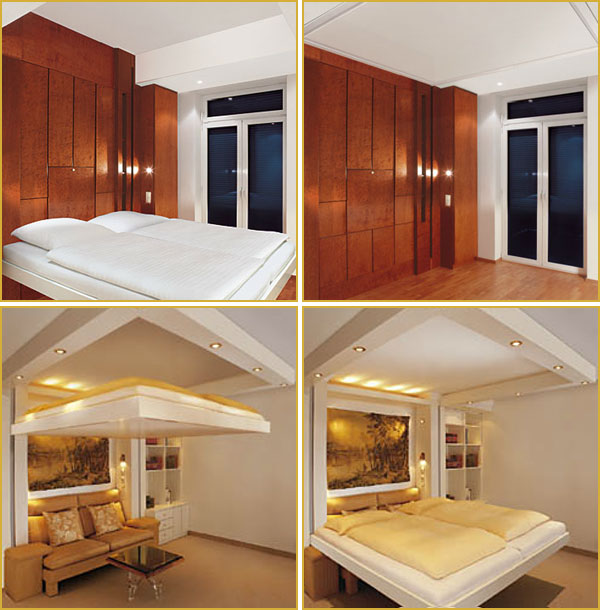 Transformers: bed-desk
An interesting idea for a children's and teen rooms - bed room with workplace. However, some samples are suitable for adults, for example, such as in the photo below: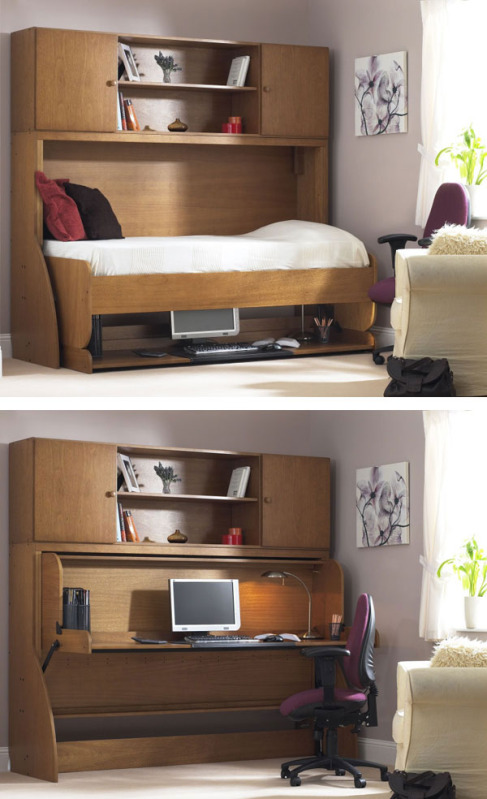 There are several options for the design of such models, remember the yellow bed on the first picture? Its mechanism moves the desktop is not down, but up. And so it looks after transformation, animating the interior saturated pink.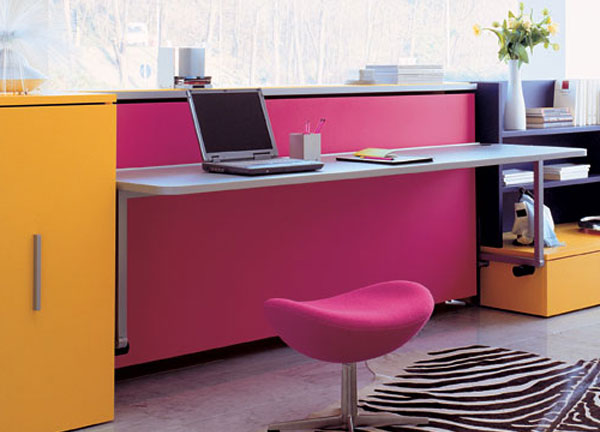 Of course, there are folding beds of similar design and two bedroom sizes.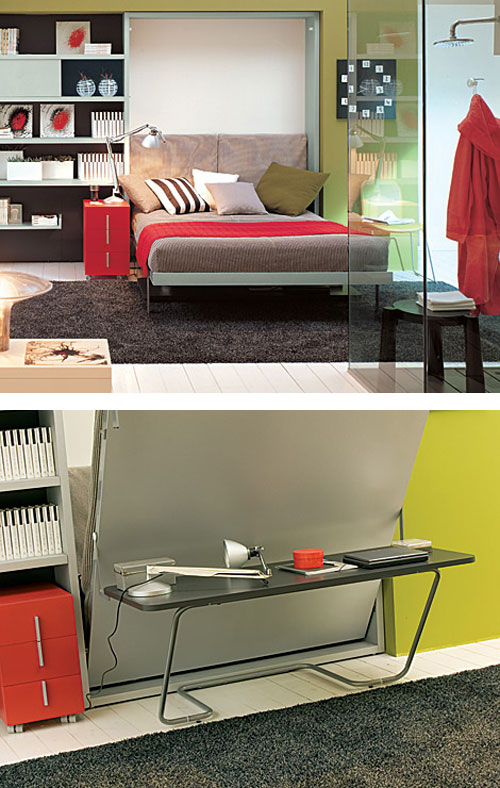 There are transformers that combine a bed and a sofa. It seems there is nothing unusual here - most of the sofas can be unfolded by providing sleeping space. In general, I agree, but when the sofa versed in a bunk bed - it's impressive.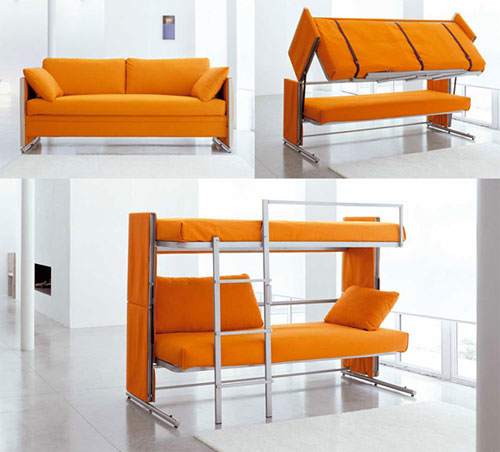 The rest of the Transformers, one of those that I have got more commonplace and designs follow the same idea as the "bed-desk". And yet it seems to me that our small rooms is better not to invent, and to buy a normal sofa. It will cost for sure less than such an invention!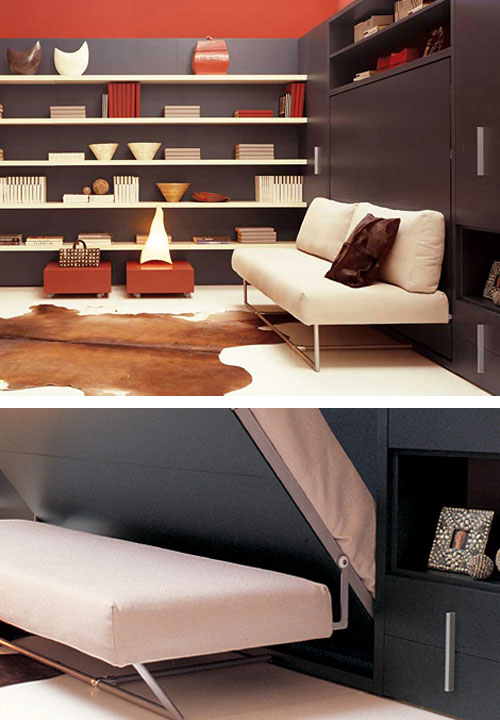 Useful transformers for small apartments
Tired of beds? So do I. But still I would like to tell you about other similar furniture. I will try to short. When I wrote on the topic "Work area in a small apartment. We are looking for the right place ", that resulted in several variants of folding tables. Ideas worthy of attention in this area a lot, but I now limit myself to two examples.
I really liked the idea of ​​a sliding table (I have found it a long time, the blog of overseas ladies), but have not figured out how it works. Why, instead of legs used façade (like all over the place) and how such a long table fit in the cabinet depth of 60 cm for me and remains a mystery. I would be grateful if someone reveals to me the secret.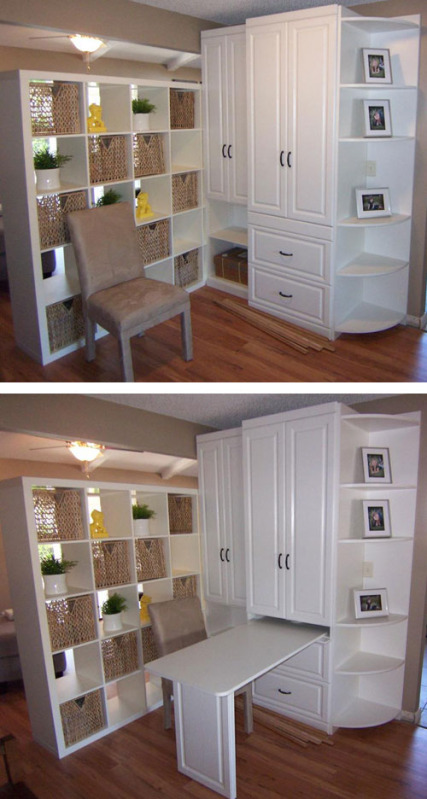 I want to mention another remarkable invention design for small living rooms. This combination in one design coffee and dining table. I myself have long been eyeing to this, but that's the price, in my opinion, in our stores are too high. Although there are quite decent options in online stores, such as here, and at prices 2-3 times lower than in conventional stores.
Lifting (tilting) the bed
To equip the apartment or house so that it is comfortable and beautiful, is not easy. Often it is necessary to deal with the need to use non-standard solutions. Usually, "wise" is necessary in small rooms. The most difficult to build a full-fledged spolnoe place. A good rest - one of the beauty and health components. Output still is. A wall bed. This furniture is also called the lift, a transformer, built-in, built and .t.d.
Beds with lifting mattresses, which are removed in the cupboard, the wall or have the form of shelves, can be of two types: vertical and horizontal. Horizontal - a twin or a queen. They do not occupy the entire height of the cabinet, and you can use the top shelf for storage. Such models are good for children and teenagers, are suitable option for guests.
The difference between the horizontal (right) and vertical (left), folding beds
Vertical folding bed can be any width - from 90 to 210 cm, but require a high ceiling. Think for yourself: a comfortable mattress length - 200-220 cm, plus a place in the frame, on the enclosure frame. Total, the ceiling height of the mattress 200 cm should certainly not less than 220 cm and for longer and even more.
Keep in mind that folding or lifting bed attached to the wall. At the same load bearing capacity of the wall should be sufficient to keep a lot of the stress caused at the time, until the mattress is lowered or raised. Such actions often have to be repeated, so that the wall should be reliable (plasterboard partitions are not suitable as the walls made of aerated concrete).
The folding bed can be a single, a queen, a double. The mattress may be a foam or a spring. Mechanisms are of three types: spring, pneumatic lifts, electric drives with remote control.
When deciding whether or not to buy a folding bed, you must carefully weigh the pros and cons. At first glance, this idea is very attractive: full bed is always good, and if it is also a place to save, as they say in advertising, it's just great. But here is whether there is really saved? It depends on how you look at it.
In place "under the bed" still does not deliver
On the one hand - the raised structure, place freely. So, like, and save. But on the other - you do not put anything here. Is that some kind of mobile furniture, which each time will have to be shifted to the side. It is not happy and is going only in acute shortage of space. In this case, free space can hold a folding / folding table (it is possible - integrated into another cabinet), organizing the working area while the bed is not needed.
The second option of using this space: a small children's room. Raised bed, and on the freed space to play with. Also, folding beds are good if you have to turn the living room into the bedroom for guests. Although this is an expensive option - a clamshell much cheaper. But, it is up to you. In other cases, you can simply rejoice in the fact that the bed does not interfere with walking around the room.
In the room the student can stand folding bed-cupboard-table
There is also another point. Stationary bed is good that they can always sit down or lie down. Loading bed does not provide such an opportunity. Well, if there is a sofa or sofa bed, as a last resort - a chair. If not - wanted to sit or lie down - Spoon. Although there are models - sofa bed, wardrobe, who are deprived of this drawback. About them describe below.
Where better to order and what to look for
Like most of the other furniture, embedded folding bed can be ordered from private owners or factory, a furniture shop. In this case it is best to book, where the production of such furniture is not an isolated and put on stream. The fact that every order is required to pick up their gear. If he is picked up incorrectly, bed, or it will be difficult to raise, or she may rise spontaneously. Both options bring a little joy, but the second is much worse, as it can lead to injury.
The presence of the shelves is not necessary, but makes better use of space
When choosing a manufacturer or buying ready-made option, be interested warranty on the furniture. Normally, when the very furnishing provide a warranty period of not less than 1.5 years and on the mechanism - at least 5 years. Inspect also locking system in the closed position, try how easy working mechanism.
If you choose to lift the bed, built-in wardrobe, pay attention to the appearance of the furniture in the closed state. After all, the day she will be in this form, and it should look good. Also refer to the bed frame was not much more than a mattress. Bed projecting beyond the mattress by 10 cm frame is very inconvenient and threatens permanent bruises.
Rollaway bed: types and characteristics
The desire to sleep on a good bed clear and logical - only allows a comfortable sleep to recuperate quickly. But it is not always possible to put a normal bed. Not only do our apartments do not differ a great area, rooms in them often enough. That has to do multipurpose room (combining living room or office to the bedroom) or a single room to inhabit two or more children. So we have to look for a solution. One of them - folding bed or convertible. There are different types, so that the solution can pick up for any occasion.
Size bed for lifting bed, built-in cupboard, can be anything - from single to full double (EUR). There may be two separate beds. The main thing that was the place where the modular furniture can be installed and secure (do not forget about the need for tight and secure fit).
Two separate beds
There are several ways to give this furniture an attractive appearance. After all, the built-in cupboard bed should look attractive, not only in the spread, but also in the folded state. The first method: the bed is hiding in the closet, behind doors. According to the type of performance door can be hinged or conventional type coupe. Both options are not ideal.
Bed built in wardrobe with hinged doors in the closed state of an almost half-closed. This is not to everyone's taste, and it is not very convenient.
The headboard is covered open doors ... .nekomfortno
The second option - a bed, built-in wardrobe. Here the situation is better - headboard only 30-40 cm is in the closet, which is practically not interfere. But there is another drawback: the adjacent section of the cabinet are blocked door moved away. That is, until the bed is folded, the cabinet can not be used.
This shortcoming deprived only cabinets with triple doors. Three doors, and ride on three tracks. All of them can "drive" on one of the parts. The other two are open. In the case of built-in folding bed is only possible for a rather narrow models. Because the width of the adjacent sections must be slightly wider. That is, the cabinet itself should be a little longer than three times the width of the bed. When a bed width of 120 cm is 380 cm or less. This wardrobe is not anywhere to install, and if the bed is even wider ...
Pushed the door and blocking access to the closet
The third option is the most common. The back of the bed is decorated in such a way that resembles the cabinets standing side by side. The problem is in the legs. They are difficult to hide. Sometimes they stick out like antennae of the bees, which looks unattractive.
Some firms make such legs in the form of peaks that protrude from the cabinet. Someone willing to put up with such a downside, someone categorically is not suitable.
Solid leg looks more attractive, but not perfect
There is another option with the legs-shelves. This is much nicer but also more expensive, as it is - additional mechanisms and stops.
Leg as a shelf or decoration
The problem with the daily rest is solved if a wall bed in the "day" state at the foot of a bed. Such an option is really easy. And during the day there is a place for rest and at night you have a full bed.
Sofa bed, wardrobe - these models are more convenient
The disadvantage of this option - the high price. Bed-wardrobe worth $ 500, and a sofa bed in the bottom of the prices start from about $ 700. But it is worth saying that in such a model makes only double, but they are expensive and just as a wall bed.
Horizontal model (cabinet-bed)
Folding bed with a single or one and a half sleeper may be formed as pedestals. They are called models of horizontal lifting, because the mattress is attached to the frame of the furniture for the long side, with respect to the wall it is located along the horizon. Hence, the "horizontal" growth.
Folding bed in the form of tables - horizontal lifting mechanism
Such models are a bit cheaper, because the mechanism requires less lifting force. And not only due to the smaller size of the bed, but by a smaller force of the shoulder.
Horizontal lifting beds can also be built into a cabinet
Horizontal folding bed can also be built into a cabinet, and can be in the form of a free-standing cabinets. When installing such furniture, it must also be securely, but there are two ways: on the wall or to the floor. Due to the smaller load anchorage is also possible. In this case, you can put the bed-end cabinet to the wall and used as a space divider.
Bunk bed in the closet
There are bunk beds horizontal. They are good for children's rooms with two or more children. Top tier use in another does not, and the bottom can be folded and even table.
You need folding bed or not is up to you. Basically, we have to choose between a sofa bed and a Murphy bed. Having studied the responses, we can say that the people of the old school prefer more conventional sofas. On them because you can sit and lie down, and some models are now quite easy to use, can be made out of mattresses (if it matters), and to deal with them elderly people easier and more familiar.
Young people often tends to embedded beds. They are more progressive, giving more freedom when creating interiors. Below are photos that can give you a boost in the understanding of what kind of bed you want to flip.
Embed bed can be in a furniture wall with a corner cabinet
Making loft-style
Mini-panel with Murphy bed / table for baby
This looks just like a cupboard
Option to wall in a modern style
More concise version, and not once attached table in a small room
Side view, of course, is not impressive ... but do not go for the sake of a good bed
The idea with lighting and shelves is good. But we must advance to bring the wiring
Bed-dresser can serve as room division into zones
How to make a folding single bed
You need a sleeper for guests, but you do not have a separate guest room? You have to place guests on the night in the children's room where another bed would be clearly excessive? Today we'll show you how to make a folding bed. A bed that will not take up much space and will not rush to his eyes in the assembled state it looks like an ordinary wardrobe. You do not need any special equipment or specific skills. Just follow our instructions.
Materials, tools, cutting and bed design
plywood or MDF 12 mm (1 pc.);
boards 2.5 × 30 × 240 cm (3 pcs.);
plaque 2.5 × 20 × 240 cm (1 pc.);
plaque 2.5 × 10 × 240 cm (1 pc.);
plaque 2.5 × 7.5 × 240 cm (1 pc.);
board 5 × 2.5 × 240 cm (3 pcs.);
trims 6 mm thick;
50 mm screws;
50 mm nails;
30 mm nails;
15 mm parquet nails;
glue;
wood putty;
sandpaper;
loop (strong hinges and special hinges for folding beds);
Heavy duty magnetic latch that can keep the bed in a raised position and prevent it from tipping over;
soft closing hinges for slow descent to the horizontal position of the bed.
roulette;
square;
pencil;
Knocker (can be replaced by a gun for driving nails with parquet dobojnika);
protective glasses;
Kreg Jig - means for drilling oblique holes countersunk compound;
drill;
a circular saw;
gun for driving nails parquet;
eccentric sander.
A few general observations:
Work on a clean, flat surface.
Follow proper precautions, use personal protective equipment.
With gon check after each step, if the design angles deviate from 90 degrees.
Use quality undeformed timber.
Before fastening the screws, drilled pilot holes and counterbore them.
Getting to the manufacture of their own hands folding bed, study the drawings presented here.
2.5 × 30 × 199.4 cm (2 pcs.) - side walls
2.5 × 30 × 107.3 cm (1 pc.) - bottom
2.5 × 10 × 107.3 cm (2 pcs.) - rear crossmember
2.5 × 5 × 111.1 cm (1 pc.) - a front cross member
2.5 × 5 × 195.6 cm (2 pcs.) - finishing the front sides of the box, vertical bokovinki
2.5 × 5 × 31.1 cm (2 pcs.) - Finish drawer side walls, the upper portion
2.5 × 5 × 114.9 (1 pc.) - finishing the front sides of the box, the upper part
2.5 × 7.5 × 120.0 cm (1 pc.) - rear "ceiling"
2.5 × 30 × 120.0 cm (1 pc.) - the front portion of the "ceiling"
plywood 6 mm × 102.9 × 191.1 cm (1 pc.) - bottom
2.5 × 20 × 102.9 cm (1 pc.) - the rear wall
2.5 × 20 × 139.7 cm (1 pc.) - side walls (board cut diagonally as shown in the plan in order to obtain two parts)
Finish face side using a 6 mm thick strips at your request
Step 1: Build a box frame.
Using 50 mm screws and the adhesive, attach the sidewalls to the bottom.
Fasten the box cross members located at the top and bottom of its parts. Lower connect not only with the side walls, but also from the bottom. Use 50 mm screws and glue.
Pull the wall box of another crossbar located in the upper part of the front side. For its fastening, you will need 50 mm screws and glue.
Step 4: Finish the drawer front.
Using 50 mm nails and glue, secure the trims on front ends of the side walls. The outer edges should be flush. Additionally, attach the strap to the bottom of the box and the front crossmember.
Step 5: Finish the side walls of the box.
Secure trims the top of the side walls (their upper edges should be flush), using 30 mm nails and glue.
Step 6: Finish the top of the front side.
Attach the top front decorative strip with 30 mm nails and glue. Alignment is carried out on the upper edge. Additionally fasten the bar 50 mm by driving nails through the edges into the sidewalls.
Using 50 mm nails and glue, attach the back of the "ceiling" of the box. The ends of the strips should be evenly protrude beyond the side walls (
2.5 cm), and its trailing edge to be flush with the rear edges of the side walls.
Leaving 2.5 cm overhang at the front and the sides, secure the front of the upper floors, as you did in the previous step.
Construct a box mattress, using glue and screws 50 mm to the rear wall of the compound from 2.5 × 20 cm from the plywood board bottom. Then (again via glue and screws) secure the side walls of the bed made from sawn diagonally cutting boards, plywood to the bottom and rear wall. Drank the side walls, you can use a jigsaw or circular saw.
Consider layout design door (the back side bed) and secure trims 6 mm thick using an adhesive and 15 mm nails without head. Dimensions are for presentation at the template below.
Use a loop for attaching the bed (box mattress) to the near-wall "box", as shown above. Furthermore, it is necessary to establish magnetic catches which prevent a drop "doors" when the bed is in its raised position. You can also use the support pivots to keep the "door" from falling when folding bed.
Fill in all holes from nails and screws for wood filler and sand the surface. You can dye structure and / or cover it with lacquer if desired.
It is necessary to fix the "box", multiple screwing screws into the wall through the upper and lower rear 2.5 × 10 cm crossmember. We also recommend a plywood "door" to attach a wide elastic strap to keep the mattress in place when the door is closed (folded bed).
So you made with your own hands folding bed, designed for standard single mattress 100 × 190 cm. Now you do not have to wrestle with where to place your cramped apartment sat up late friend or mother in law came to stay.