How to make a cloth doll? How to make a doll with his own hands at home
You are looking for a new hobby, or simply decided to try his hand at another form of art? Do you want to learn how to make fabric dolls? The article details the process and given the pattern. Choose the desired option. Sew together with their children. This fascinating process can turn into a pleasant experience everyday.
A hobby for yourself or work with a daughter
Create souvenirs with their hands is always nice. Ability to sew - a useful skill. If you decide to find a new hobby, and tell my daughter how to make a doll with his own hands at home. If the interest of the child, you will be able to spend time together with the use of coming up with different characters and embodying them in tissue.
Materials and tools
To understand how to make a doll with his own hands at home, you should learn what it will take. And you need the following:
Body fabric beige or white color. Better to take a natural material (coarse calico, cotton, satin) or use a nylon tights.
Tea, coffee staining the white cloth, if you can not find the right tone.
Wadding, padding polyester, or other material for stuffing.
Material for clothing.
Paper patterns pencil.
Template.
Thread, needles, pins.
Sewing chalk for drawing contours.
Threads for embroidery of facial features or paint with brushes and PVA glue for the same purpose.
Decorative items for decoration of clothing.
A sewing machine, but you can use hand-stitching.
Number of materials and a list of them will depend on the method of creating products.
How to make a doll with his own hands: manufacturing technology
The whole process can be divided into two stages:
In the first step you need to do the following:
Clothes are made separately, but for interior dolls usually make it permanent. It can be sewn directly to the base or even glue. The most important and responsible - to make the body itself. It is made both for individual parts and make, for example, the head along with the body, the limbs with the body.
When filling parts synthetic padding should take into account that the density of the head should be higher than the feet. If you fill a limb too tight, there will be virtually no flex, because of what the plant does not get a doll. When the neck will be a little full, the head can fall. This should be considered too. If the first time something does not work, should not be upset. All comes with experience.
It is worth noting a small caveat about the performance of the joints. Some stitched by them to cut parts of the flap, and then take up the scissors and very close to the seam bypass circuit. It can be done in the traditional way. On complex curved contours make cuts to the tissue does not contract after screwing and printing element on the front side.
To turn out long and narrow parts of legs and arms, and this is the characteristic feature of the popular interior dolls, difficult. It is worth to use a pencil or stick, with seam allowances do minimal.
Now that you know how to make a doll made of cloth: first make the head, then the rest of the body, the least performing outfit. This is the most interesting, exciting creative phase, but need to go and rest.
How to sew a doll with his own hands: a master class on manufacturing head
Dolls often begin sewing from that element. The head is made of fabric or cut off parts of nylon tights. In the first case the two parts are sewn on the wrong side. Through the hole left by the product turned inside out, filled with synthetic padding. In a second embodiment directly wool stuffed in a nylon "pouch." With the contraction of tissue thread in some places it is possible to form a relief person. If you want a natural, and the volume can even be used as a basis for the bottom of the plastic bottle. To him will be enough to add wool circularity cheeks and chin.
If you decide to make the head of calico or other natural fabrics, but did not find the right shade, take a white material and by staining of tea or coffee with natural pigments create your own desired shade. Coffee gives a darker color.
staining technique consists in the fact that the white cloth is lowered into a hot solution (infusion) of the natural ingredient is held there until it cools down. Pulled out to hang or decomposed on the flat surface to divorce failed to incomplete drying, ironing. After these procedures, you will get the desired shade, which, thanks to the last operation will not be lubricated.
The fabric is better to paint large flaps in the pan for color uniformity, but first should try to do it on a small piece. Tea should always be strained, or by welding spots remain. The infusion can be not only used, but also to boil about 0.5 minutes.
Facial features are usually painted colors. Acrylic suitable. That the pigment does not sink into the fabric, should be primed with the right places with white glue. The second method - embroider eyes, lips, nose shape of the fabric due to packing. You can be stuck purchased plastic eyes. This option is typically used if the doll is made in the form of wildlife character (cat, rabbit).
Hair is made of sewing thread, yarn for knitting or other available material. If you have an old wig unnecessary children's toys, and you can try it. Usually, the hair is first collected in her hair, and then gently attached to the head.
Now you have learned how to make cloth dolls, but still need to decorate them. A certain image is created not only by the facial features, but also due to wear.
The basis of any character can be made using the same template. This will significantly speed up the process. Vary your characters are just clothes. Sew for a sundress for another dress, the third outfit pants and shirt (this will be a doll-boy).
Dresses can be themed, and you can use the traditional costumes. As already mentioned, clothing is usually permanent, so it can even be glued rather than sewn to the base.
If you do interior dolls for your home, look for some general idea, for example, suitable for kitchen povaryata, bedroom - or a fairy princess. In the living room you can arrange the characters in the national costumes. If you sew gifts to friends and family, pick a character according to a certain person occupation, which is a souvenir. So, you get a doll-master, painter, driver, etc. Funny dolls out of fabric in the form of animals.. Cats, dogs, sheep, goats, bears and mice, rabbits.
Characters do and just as cute baby animals without elongated body proportions.

Now you have learned how to make cloth dolls, saw how various ideas can be their registration. You can turn this occupation is not only an interesting hobby for himself, but to begin to make souvenirs for sale.
Now the products in hand-made style is very popular, especially in the interior dolls. They can unobtrusively diversify the room, giving it a unique style and flair. Buyers for its products can be found through the internet on special thematic platforms, social networks, and you can set the items for sale in the gift shop of the city. There are even some stores that specialize in any particular form of products or implement only unique handmade.
You learned how to make cloth dolls. It's easy, if you have a ready sample, several templates of patterns of body parts and clothing. Choose your favorite idea. Turn interesting to do in the family hobby.
How to sew a doll? Doll with his own hands: a pattern, instruction
As of today, you can buy anything in the shops that the child wants. Ranging from rattles and ending with electronic gadgets. But for some reason, children are always attracted to dolls and baby animals, hand made knitwear and furs. They are so attracted to them? This doll can make yourself at home with the child.
How to sew a doll yourself?
Modern needlewoman have the ability and special material for making dolls. This is a special jersey, fillers, accessories for the eyes, eyelashes, yarn hair and thread ready wigs. for needlewomen stores provide everything necessary for creativity. Therefore, many are trying to sew yourself. Making a doll with his own hands (there are some patterns in this article) - it is an interesting hobby that often becomes a fascinating hobby.
You can do embroidery and without going to the store:
just select knitted jersey skin color;
bit syntepon;
a pair of beads;
needle and thread for sewing;
yarn for the hair;
the pattern.
Primitive Rag Doll Charm sewed even our grandmothers and great-grandmothers. Kids love them for the warmth and comfort that these toys they are given. None doll factory, even a very beautiful, would not that toy with which a child will sleep for a long time. Children are guided by feelings: they sleep in touch dolls, and she - plastic, cold. An association is not a doll, and with a machine or a bucket. And this is - wrong. Therefore, the doll should be warm, soft and cozy.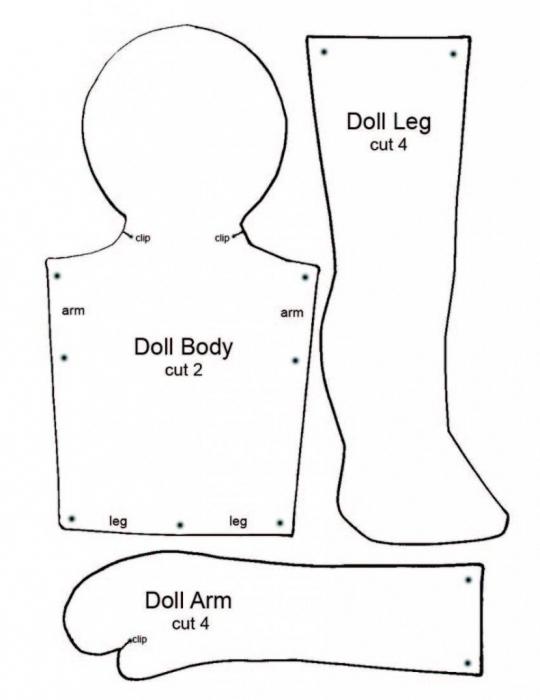 Without thinking twice, and you can make yourself a pattern for sewing. While the child is asleep quickly drawn contour of the torso, head, arms, legs. Transferred all on knitted fabric. Be sure to leave the seam allowances - 5 mm. All this is stuffed with synthetic padding - 80% of the product is ready. It is necessary to think about who it is: a girl or a boy?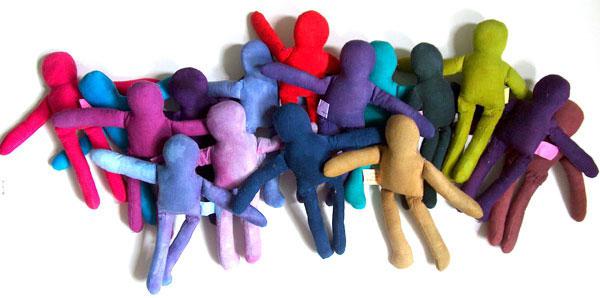 On this depends the clothing, hair length, and the expression on the face. Determine mark on the face of eyes, mouth, nose. The most simple - it's all to embroider. You can use beads or buttons, making out his eyes. But if the child is very small, there is a danger that it can tear or bite off and swallow a bead. Therefore, all embroidered. Made of yarn hair: wound on a piece of cardboard the desired length of the thread in the middle sewn seam "forward needle". On the reverse side - and a cut wig ready. It should sew, trim and braid braids with ribbons. Having understood how to make a doll we need to consider and the clothes for her.
If a woman knows how to knit a little, then this is the best option for the production of clothing for the dolls. Always have a lot of knitters is glomeruli multicolored yarn - it's time to put them in motion. You can make a blouse and skirt. Or coveralls and booties yarn remnants. Beautifully will look and dress of a piece of calico. The cut can be made simple, one-piece. Decorate with lace, lace, ribbons.
It should attach great importance to color, to select one texture fabric. It is desirable that the clothes can be removed and worn. It develops skills in a child, the desire to dress yourself.
All patterns of dolls made of cloth should be transferred to the material, which is not be used once. For this fit the film or transparent paper, vellum. Thus, the pattern should be transferred and sew Waldorf doll. This type of toy appeared in the early twentieth century. the first schools were organized in Germany, where the teaching was conducted by a special program. Toys made with his own hands made of natural materials: wood, cotton fabric, pure camel or sheep wool.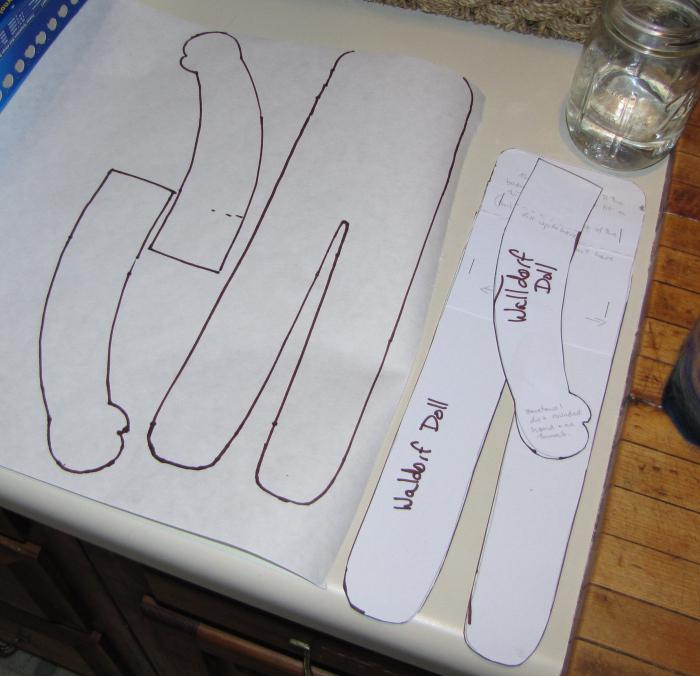 It is the production of rag dolls modeled on Waldorf received wide popularity in the world. This is a common toy of fabric, which is made on the pattern, but only from a special jersey. Feature - in the manufacture of the head.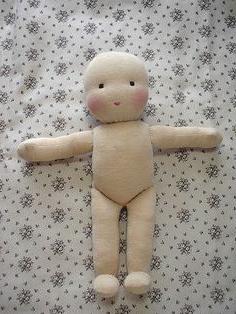 For these dolls is taken a small ball of yarn diameter of 5-6 cm. From a natural wool strip folded in the form of beams, which is embedded in the middle of a ball. Thus obtained ball, which is tensioned elastic bandage or knit sock.
At the base shrinks strong thread - turns the head. She overtighten the thread vertically and horizontally so that it is shaped similar to a child's head. Chosen place for the nose and fixed a small bead or a ball rolled from the wool. And only now stretched upper puppet jersey. It already represent eyes, embroider mouth.
Waldorf rag doll sewn long: most of the time engaged in manufacturing of the head, and most importantly, the hair of the thread. For this taken skein and crochet small cap. It must be close to the head and match the hairline. She then sewn around the perimeter of the head and attached to it already sliced ​​in advance the same pieces of yarn. This process is long, but it turns out a great hairstyle.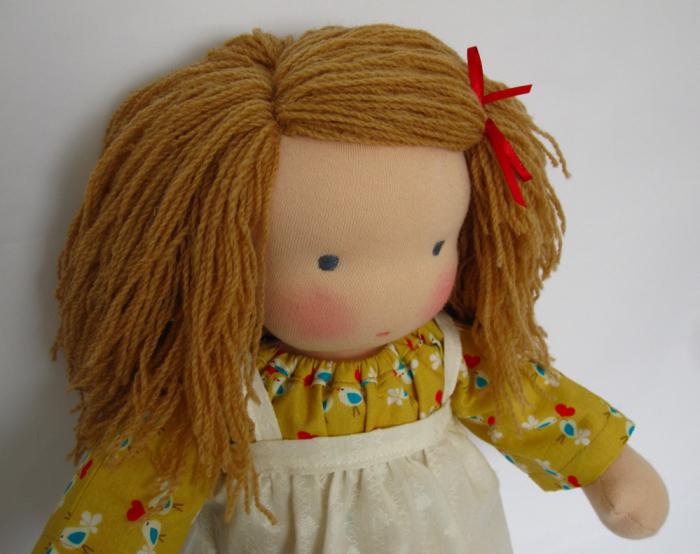 Another way - it is embroidered satin stitch the entire surface of the head. And then to sew one thread length. This way of clearance allows combing hair hairstyles, braiding pigtails or ponytails do.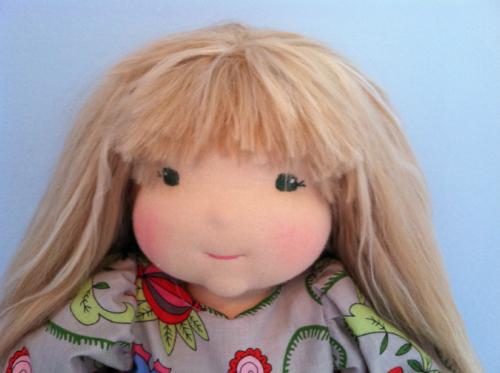 The head must have some form. By the bottom of her hand sewn and well secured. In the pattern of the fabric dolls lower part looks like a jumpsuit. Legs and torso stuffed wool and sewn in the neck area and handles. Lack Coat supplemented through the side openings - the sleeve, and then sutured. On the legs and handles are stitched fingers. But if it does not do - will not be worse: both options are acceptable.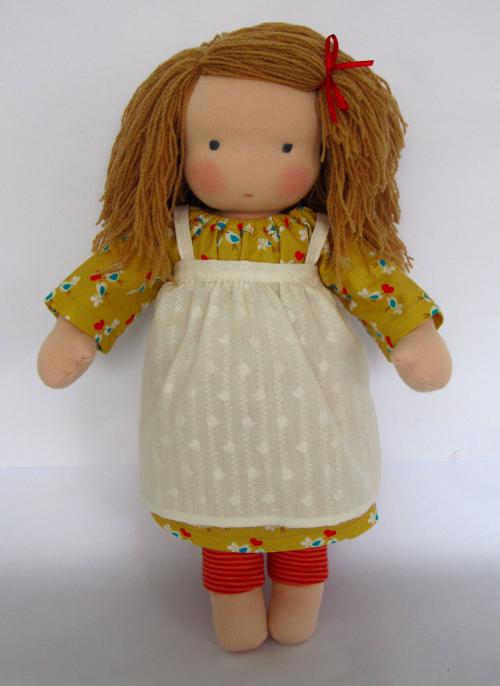 Now you are ready to sew clothes and clearance faces. Clothes can be linked, as in the previous version. Waldorf Doll gives a very soft, without rigid frame and are absolutely safe for the child.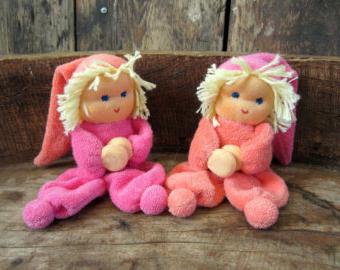 Many needlewoman, beginning with large puppets, gradually moving to a more delicate work: try to sew dolls Tilda. Patterns for them can always be found in the specialized literature. This toy has created a Norwegian artist Tony Finanger. She came up and released into the lives of cats, bears, bunnies: they are all in the same style. But not every pattern is obtained that reflects. How to sew a doll that has such thin arms and legs? Yes, it's not so simple.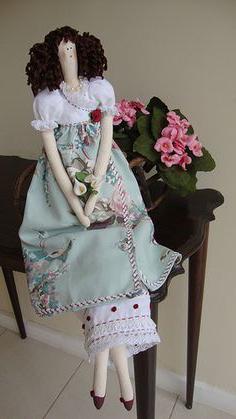 But the difficulty is not in sewing, and getting your it. In such narrow parts badly stuffed wool - it falls unevenly. The hands and feet appear "tsellyulit9raquo ;: six lumps are visible on the surface.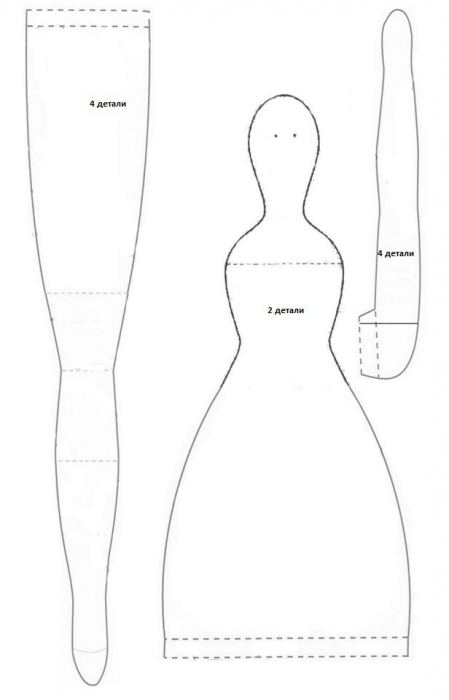 But you should first cut out all the parts and stitch them. Then, using a pencil, gradually fill them. You should not take too big hairballs to knitted surface was smooth. All the parts are assembled. Made wig for Tilda. For such a doll, made with his own hands, the hair can be made from yarn or wool. Yarn is wound on a cardboard the desired width. On the one hand they are sewn, and on the other - cut and sewn to the head.
In the classic version of a doll Tilda no nose, no mouth or ears. She sew beads - eyes, do blush - and all. Hairstyle - is a special part of the item. Her hair should be simply "shikarnye9raquo ;. You can, of course, embroider eyebrow and mouth. But you can not do this. That's the beauty of Tilda dolls.
And clothes to make them very different. For dolls with their own hands, you can make any dress patterns, it is not difficult. Beautiful dresses, robes, pajamas, hats and even shoes - all carved needlewoman themselves. Very simply, you can put the doll ballerina.
Dress Ballerina consists of only two parts - skirts and gathered frill-tape top. Of thin fabric, nylon, e.g., cut tape, 40 cm long and 10 cm wide. Linkable and collected on the wide edge of the thread. Collect pieces sewn to the body like a skirt. Another piece of tape, of a width of 2 cm is collected on a thread over the entire length in the middle. Draped and sewn from shoulder to shoulder. This design makes the doll air, light and look like a ballerina. Accuracy in manufacturing is playing a special role: never should hang thread edge beautifully handled.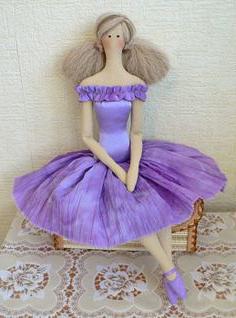 In fact, learning how to sew doll, everyone understands that this is not too difficult. And with some practice - and quite simple. And deal with this hobby can be with their children. Such communication brings parents and children, promotes mutual understanding, develop fine motor skills and imagination. Many typical sew dolls (even pregnant women or very full). Of what could be the people in life. Instead of coming up with outfits for them, and sew clothes.
Pupae with their hands
In this section you will learn how to make puppets with their hands.
Pupae are different: for games and for interior decoration, souvenirs, as well as Russian folk amulets.
The master classes are shown not just dolls, but also clothes for them, accessories, doll houses, food for dolls and much more.
Repeat on our step by step instructions with photos, and you will succeed.
People rag doll-bell Something Spring to us still can not come, snow and snow again. Yes.
Once we have made the Indian amulet Dreamcatcher, time to move on to our Siberian Obere.
Let's remember a little about people's rag doll. We already have a version of Puppet Day-and-night, there are two.
Long time we did not see the work Irina Ma. For example, this oriental beauty by the name of Shirin and her.
Another master class on knitting toys from Anna. Fairy-tale characters always draw their Eng.
Master class for the competition crafts "Easter Gifts" prepared Obabkova Valentina, directs.
Work on competition "premonition of spring" prepared Churilova Oksana, lecturers.
Perhaps, it is difficult to find a knitter, indifferent to knit pupae! Their variety is literally amazing.
Doll "Ryabinka" on the principle of dolls "Grace"
Master class for the competition "Autumn inspiration." Author: Lyubov Kiseleva. Doll "Ryabinka" principle dolls "Grace" dolls Ryabinka value determined magical properties ash, which is primarily increased protection from impure forces and other malice. Therefore, the steel has long been making protective amulets and charms of.
Gifts made with their own hands, always original and memorable. This detailed master class by Natalie offers charming sew textile doll games or interior decoration. How to sew a doll with his own hands Pattern: For the production of this pupal bull used material gabardine stretch. Can.
Doll, crochet, amigurumi technique in
Perhaps, it is difficult to find a knitter, indifferent to knit pupae! Their variety is literally amazing. So today we will knit pretty red-haired doll in a hat by amigurumi. Master class from Anna. For knitting, we need: Yarn beige, pink, black; Hook 1, 75.
The eternal theme - "Dolls and parents." Indeed, sometimes it seems that we are buying the dolls themselves, rather than the child. We buy them, and then another, and dress, and add up the field. So, dear parents, if you have a child and the doll see another master class by Jana in our section "Clothes for dolls." My.
For many of Baba Yaga is associated with evil and terrible witch. But if it is to make "light" way, such a textile toy will become a talisman for the home, the guardian of his hearth. It was good and glamorous get-grandmother ezhka this master-class of Natalie. Her clothes have a neat appearance, the hair removed. In view of the request of the doll.
Many of us remember the restless and mischievous domovenka Kuzyu from the same cartoon. And what if to lodge such a character at home, or give it as a souvenir. This master class by Natalie will make such a toy-ward their own hands. How to sew domovenka Kuzyu To produce this domovenka Kuzi.
Doll pilot Annie crochet (amigurumi)
In technology, you can amigurumi crochet any toys, such pupae: Betty and Annie. Master class with detailed descriptions and diagrams provided by the sponsor of the Easter competition - Publishing House "Eksmo". Annie Doll She has always dreamed of seeing the earth from the cockpit. Doll, crochet technique.
In technology, you can amigurumi crochet any toys, such pupae: Betty and Annie. Master class with detailed descriptions and diagrams from the sponsor of the contest Easter - book publishing house "Eksmo". Betty doll she realized that she wanted to be a chef when received as a gift the first toy kitchen. Doll.
If you are not indifferent to the dolls, love to sew and create interesting characters - this article is for you! How to draw the face of a doll in an interesting way begins with facial expressions. For this article, there is already a clamor harvested for future dolls. On the pattern, sewing and pigs primer can prepare a separate.
To create hair in textile dolls use different materials:. Yarn, goat and sheep hair, wool, fleece, ready tress (natural or synthetic), etc. The latter are used mostly needle women, due to their inexpensive cost and easy to use. It is about how to sew tress textile doll.
Competition! Doll Zhelannitsa from the publishing house "Eksmo"
Express Yourself with a spring mood! Easter contest with Publishing House "Eksmo"! Do you want to remember the Russian folk tradition? Amazing oberezhnye dolls made of cloth give an unforgettable atmosphere of old Russian life and mysterious beliefs. Such a doll, you can create your own hands, repeating a master class from the book Julia.
Here are the dolls of our constant author Olga Arisep. By education I am a philologist (graduated classical university), he worked as a proofreader, editor in various publications. I knit on the needles to 8 years and 9 th grade began to knit custom-made women's clothes. Crochet and sew learned at school. Large items (eg clothes).
Textile interior doll. Master Class
Each needlewoman by making another interior dolls, puts his love and tenderness. Therefore, a handmade gift is always radiates warmth and comfort. Textile interior doll. Master Class For manufacturing the body of the doll textile used gabardine (the segment 30 x 50 mm). It can be used instead.
Folk Doll Kostroma (Maslenitsa)
The author of the master class for the spring competition - Vilyavina Tatiana S., Moscow. Folk Doll "Kostroma (Carnival)" For manufacturing the dolls need (photo 1) 2 Birch wood shelves (one with a hand, and the second - a little less); bast beam; flax tow beam; flap colored fabric on the skirt-long.
Folk dolls: birch bark and doll-twisting
Just two works to the contest "Premonition of spring": a doll and a doll on the bark-twist, made a gift to mum and dad. Author workshops Kamenev Victoria, 6 years. Head (grandmother) Semov Yulia V.. Master-class "National doll" theme of the master class - folk doll. Vick made a doll for my mother as a gift for 8.
Ritual doll "joy of Birds" workshop
Work for the competition "Premonition of spring" prepared Churilova Oksana, a teacher of "creative workshop" Mauke "City House of Culture" GO Kinel. Ritual doll "Bird-joy", a master class for work need: fabric dvunitka white x / cotton fabric, lace, color.
Glove Puppets "Sea captain"
The new master class from our author Fun Rodionova. Doll on hand "Sea captain" for the manufacture of dress up dolls on hand in the form of sea captain is required to prepare such tools and materials: 1. Tailoring scissors; 2. The tracing paper or a transparent film dense; 3. ballpoint pen for.
In recent years, the production of hand-made dolls became very popular form of needlework. Availability of materials, a lot of books, master classes on the Internet has made it possible to create the right houses interesting specimens. Particular attention is paid to such material would be desirable as a polymer clay or plastic. Of this kind.
How to sew a dress for Barbie sock
Barbie - doll fashionista at all times. For her many accessories, she has many friends, and clothes. Always need to buy new clothes for the doll. You can see that the home has an unnecessary, from which it can make an outfit for Barbie with her hands. For example, a conventional knitted sock. In this master class, we'll show you how.
Participant of our contest "Dolls and Toys" Natalia Vorobyova, a teacher of additional education (House of Art of the Kemerovo region TO "Inspiration", Kemerovo) has sent "pohvastushki". These dolls to knit almost the same pattern. Knit begin with the feet. Dress :-.
Princess of plasticine All girls dream of being princesses, princesses buy a toy and give preference to children's products, in which they are depicted. Lesson princess modeling plasticine is especially important for girls. Do not think that the task of an absolutely impossible for those who can not draw or.
Oberegovaya doll Zernovushka. Master Class
The author of the competition "Dolls and Toys": Svetlana Kuznetsova E., teacher of additional education, g.Mtsensk Orel. MBOU g.Mtsenska "Secondary school №3". Oberegovaya doll "Zernovushka". Master Class Doll "Krupenichka" (or "Zernovushka") refers to the traditional oberegovym.
Another master class, how to make a doll house with his own hands, has produced Tatyana Stepanova. "I finished sewing school with honors, and then graduated in another profession. At this time, I do not work). I like to sew (imagining things) and handicrafts (handicrafts), besides a creative child, we create together, my husband helped with the house.
Another workshop on competition "Dolls and Toys" prepared THAT "Inspiration", 11 years of age (Grade 4), House of creativity of the Kemerovo region, Kemerovo. Head: Vorobyova Natalia, a teacher of additional education. "Holy Women Holy Russia" Master-class on making dolls' holy women.
Baba Yaga doll. Master class for the competition, "Dolls and Toys". Author: Trushina Lidia S., age 7. BDOU "Kindergarten № 95" Omsk production materials: fabric white and red fabric color Wat Hessian Twine Flax for sanitary-engineering 3 skewers and branch 25 cm x Thread / b white bucket.
Another doll contest "Dolls and Toys" - by Alina Mishina. Meet! Doll "Kashtanka" dolls made to fit into the decor of the room :). Therefore, it was a definite choice of fabric colors! For work: basic fabric for most dolls, cloth odyozhki, needles, sintepuh, paint on fabric, hair - mohair. 1) According to such.
Master Class. Wedding doll "lovebird"
Author works: Pankrác Svetlana, MBOU Neudachinskaya School, Novosibirsk region, the Tatar village, district Novopervomayskoe. Work on the competition "Dolls and Toys": Wedding doll "lovebirds" This doll I made as a gift for my sister's wedding as the guardian of the family unit. For the manufacture of dolls to us.
Workshops Contest "Dolls and Toys"
It publishes works of the competition "Dolls and Toys", more about the conditions here. To see the step by step instructions for the manufacture of toys, clicking the links - the name of work. Workshops: Doll "Oh How It Hurts" Doll "Policeman," "Cat Choir" Gray hare gloves Dragon Bunny from.
Dress for the "Belle" doll (crochet)
Dress for Princess doll "Belle" (Crochet) Master Class Elizabeth Dranichnikovoy, author doll dresses (hook), "Elsa dress" and "dress Anna" (from the cartoon "The Cold Heart"). Materials: Acrylic Yarn yellow - 50 grams. Band of golden sequins - 20.
Dr. Aibolit (master class on knitting dolls)
Master class on knitting dolls "Dr. Aibolit" our competition "Dolls and Toys" sent Tatyana Mikheeva, additional education teacher, head of the studio "Merry thread" - Municipal budget educational institution of additional children's education center.
Theme of the site and technical support from the top GoodwinPress