repair Alphabet
Building your own home from the foundation to the roof
Design green kitchen. The right combination of colors
What color is the most pleasant and cheerful? Of course, it is green, which is associated with nature, spring greens and a great mood. Kitchen green will help get rid of the fatigue accumulated throughout the day and will give cheerfulness and positive energy.
Secrets of kitchen design in green colors
For registration kitchen design perfect mouthwatering shades of green - a green, grassy, ​​pistachio, olive, color, lime, mint and many others. For example, the dark shades of green can be visually reduce the space of the kitchen, so do not abuse them. The best option would be the use of lighter colors. Consider the most successful uses of green in the kitchen.
1. If the kitchen is small and dark, then finishing is recommended to choose light colors of green. The kitchen filled with sunlight, we can safely "play" with the saturated colors. To issue the kitchen can be different:
paint one wall in bright colors, and the other three - in the dark, or vice versa;
You can use the method of "gradient", that is applied in the design of a wall of various shades of green or divide the surface of several colored panels;
It looks incredibly attractive walls decorated with photo wallpapers, picture or decorative coating, made in shades of green.
The walls are green food. A photo
Green walls in the kitchen. A photo
2. If the green painted furniture kitchen facades, the whole set must conform to it. Coating kitchen fronts can be glossy, matte, plastic timber with photo printing, or some pattern - it all depends on your taste and preferences. In any case, the green color in the interior of the kitchen will look original, fresh and stylish.
kitchen interior in green. A photo
Facades of green food. A photo
Kitchen design in green. A photo
3. Very often, in the formation of the kitchen design used an apron of green - it's part of the wall located between the upper and lower parts of the kitchen units. If you want to make the room notes of green, the apron can be created in a range of bright or saturated colors green when the main color of the room is a white, milky or creamy color. This design is perfectly balanced by a cloth, lamps, curtains, or utensils, similar in color to the apron.
Kitchen apron green. A photo
Apron skinali kitchen. A photo
Beautiful green kitchen apron with backlight
4. The use of high-quality green tiles will make your kitchen a stylish and presentable. The main thing - do not overdo it, otherwise you risk to make the interior of the disharmony.
5. If you make out in the green on the kitchen floor, the walls should be painted in bright colors.
Self-leveling floor in the kitchen green shades. A photo
Beautiful green filler on the kitchen floor. A photo
Green tiles on the floor. A photo
The most successful combination of green in the kitchen design
1. Green and white perfectly match the interior. It looks like a combination of luxurious and lively.
Green and white kitchen. A photo
Refresh white-green range is possible by means of accessories blue, brown or yellow. To create a catchy bright interior, use a pink or red color.
2. The combination of green and yellow create a perfect, festive atmosphere that will look great in the kitchen. Yellow tones can slightly dim the brightness of the green, creating a soft, charming interior. Visually separate the individual elements can be with the help of golden or crimson flowers, which are carried out curtains, tablecloths, various kitchen utensils.
3. Union of green and black looks original, solidly and rigorously. Cheerful shades of green contrasted with sad black, creating a unique contrast. Each of the colors will look impressively, as they perfectly highlight and distinguish each other. In such an interior welcomes the presence of green plants, and in large quantities - it helps to dilute the black.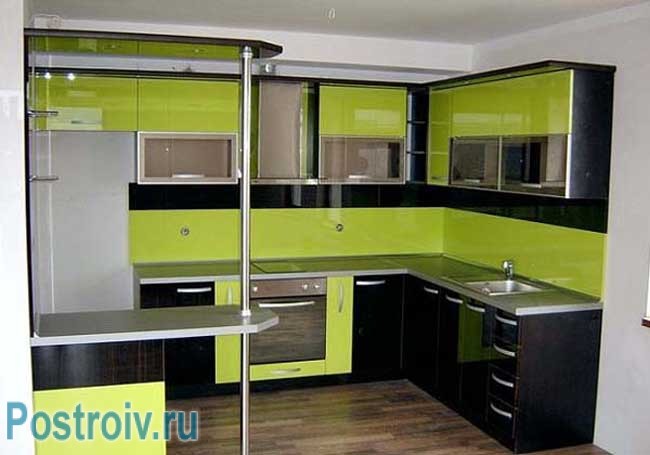 The combination of black and green color in the kitchen. A photo
Kitchen in black and green. A photo
Black and green facades of the kitchen. A photo
4. Green and red color, in general, is the opposite, but because they are so often found in nature, they blend harmoniously and looks pretty interesting. However, try not to overdo it with red tones, it is better to use as accents to complement the interior and refreshing green light. In general, green and red room looks fashionable and creative.
5. The combination of green with brown or beige looks respectable, comfortable and practical. It is used in a variety of styles and directions, from the friendly country to contemporary modernism. Design based on the use of green with brown or beige shades, is a traditional type, so lovers of the classics.
Kitchen beige and green. A photo
Dark green kitchen. A photo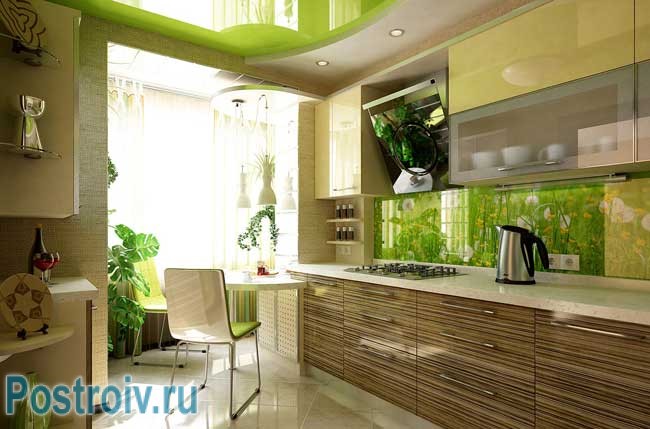 Kitchen Design brown-green
In conclusion, it can be concluded that the green color blends with many shades, creating a beautiful appearance of the kitchen. Of great importance in this case will have coverage, as well as additional tones and follow the above rules.
green kitchen interior
Green - the color of nature. It pulses, grows, blossoms, breathes and lives. 60% of the surface green earth.
It is the color of life itself, and we love to surround us. Perhaps for this reason, so popular in the interior color.
Green is perfect for absolutely all the rooms in the house. Located in the interior of the green kitchen, a person is resting and feels peaceful. This color is relaxing and seen, improves mood.
Optics have discovered that unlike other flowers on a green eye rests. According to the Chinese teachings of Feng Shui, which asserts that color affects mood, green is also considered soothing.
On a photo a green kitchen in a modern style. Simple and clear lines create laconic image of the entire interior.
Kitchen of this color can be very different: in modern and traditional styles, bright colors and pastel. Everyone can find their perfect interior and make it a reality. We offer you various options for design and photo examples of green cuisine.
Green set. Perhaps the most important element to any kitchen design is its furniture. Today we can find and choose a set in any style, from high-tech with high-gloss fronts to romantic Provence with wooden cupboards.
If you have a small kitchen area, better to choose a light, pastel or bright shades of green: olive, salad, pistachio or mint. Furniture in dark colors can look in the kitchen of a small size is too depressing and gloomy.
If you opted for green furniture, the walls should be issued in neutral colors: white, beige, light gray, etc.
Green walls. Nice and impressive look kitchen with green walls.
Now there is a huge selection of different colors of wallpaper, as well as other colors, but are perfect for a green kitchen.
Also you can use a special paint for the kitchen, which is washable and resistant to contamination. Manufacturers of paints offers a huge palette of shades.
If you want to make a striking design, it can be only one accent wall saturated hue.
For such an interior well suited furniture of light colors: white, cream, ivory. harmoniously also looks set texture wood all shades.
You can select a saturated shade and make the apron of the tiles green as an accent in interior design. Color Option and laying tile set.
Interesting and unusual looks like a mosaic in the working area of ​​the kitchen.
It is also a good one for the apron may be made of glass or, as it is called skinali.
Here you can give free rein to your imagination: from monochrome options to all sorts of images of leaves, young grass, bright fruits and flowers.
In nature, there are many beautiful landscapes that complement the interior of your kitchen.
You will not believe it, but it turns out there are more than a hundred shades of green: emerald green, pistachio, olive, lime, mint, mustard, khaki, the color of new grass, lime, artichoke and many others.
Green - this is a transitional color between blue and red, the most extreme colors. It can be both warm tones and cold.
Like other color green looks different depending on the environment.
Next to the yellow he seems sharp and acidic. Next to the orange becomes fragrant. He merges with the blue and looks fresh, combined with blue. On a gray background, it looks bright.
The interior design of green cuisine often use a combination of the following colors:
We offer you a selection of photos of the green kitchen various designs and colors.
White. This neutral and clean colors most often used in conjunction with the green. You can choose absolutely any shade, and he will look harmonious and fresh.
Tree . Well this color blends with all shades of wood. He looks good like with light rocks such as maple, ash, birch, beech. And darker - wenge, rosewood, walnut.
Blue and cyan. Depending on the intensity of blue color may look different in combination with green.
Dark colors create serious environment and a respectable, more bright and vivid bring the interior of the refreshing flavors.
Red. This natural combination of looks bright and contrasting. However, it is best to make small accents of red in order to not make the interior too colorful.
Yellow. It is the color of bright sun and hot summer. Depending on the saturation of colors, this combination can be seen in a variety of interior styles.
Bright colors often found in modern hi-Teke, minimalism, avant-garde and pop art. More muted tones in the colors often used in traditional provence, country and Mediterranean style.
Orange . This combination of colors is associated with the juicy oranges and tangerines. This color scheme makes the design very bright, cheerful and make it homely.
Choose any liked the combination of colors and create your own unique design of the kitchen!
Design green kitchen (real photo)
Every housewife daily basis at the stove for hours. Food - this is life and passion. But in order to achieve the desired effect of the dishes must be set correctly for cooking. And with that it copes environment. Perfect basic tone for the kitchen - is, of course, green.
After all, the green color of the kitchen emphasize all vitality in the house, and the dishes are filled with love and warmth of summer.
So, how did the summer mood, you can achieve in your kitchen? Of course, you can choose something from the internet catalogs, construction companies offers. And it is possible to try to make that not be interesting.
Dilute summer greens with bright colors of the rainbow
How many people in the world, the same number and colors. Thanks to the Russian language on light there were poison-green, bright-green color, and the like. And, accordingly, are born all the more wonderful and amazing designs. Green kitchen will always attract and gaze guests.
But one green - monotonous and boring. And you need to dilute it. How can I do that? It's very simple - decorative elements, glass paste, a variety of patterns can be decisive in the final food supplements image.
That can be used as decorative elements? Conventional jars with spices, chandelier, table. All that can fall under the hand, be sure to play a role in the development of design. Next, we'll talk about what colors really make the kitchen more attractive.
White goes with almost any other color. No exception and green. But how to use it properly?
A few tips on how to properly dilute the green tone of the kitchen:
Floors. White tile will look great with green furniture.
Ceiling. Tensioner white ceiling will emphasize the summer mood and create a three-dimensional kitchen.
wall tiles in white tones emphasize the richness of cuisine.
And, of course, small details, such as decorative tableware (plates, for example), set for spices and many other specialties will create coziness in white.
Tip! Choose shelves in white, and the bottom green. Brown countertop will create the effect of the tree. Thus, a timber among white clouds.
The combination of green and brown colors - a classic. As mentioned above, the brown table top - it's a great option to diversify and improve the design of the kitchen.
Talking about the small details, the variety of pepper mill, halophytes and boards brown shades can complement the whole entourage cuisine. After all, it is the color of nature, which are always free spirit and create the right mood.
Brown table, white and green kitchen floor. Here's what we recommend to buy, if you are tempted to brown. Also, a great color that goes well with green - it's black.
As is the case with white, black color goes well with all colors. Green kitchen can dilute black decorative housewares, small wall tiles and many others.
Excellent will fit in the decor of the black table and chairs. And it does not look bleak, even spectacular.
Dark electronic equipment and will go down in the green surroundings of the kitchen. Black fridge, hob dark, black oven - everything will be in place on the idea of ​​the master.
And, of course, can be divided into kitchen furniture on the black and the green half.
Note that the black chairs with red accents look at an opportune moment. And our next point - this is a red color, and its role in the development of green kitchen design.
Red color is combined not only with green. As mentioned above, a combination of three colors - a winning option. But now let's talk specifically about red and green.
Red Tile - looks spectacular and rich. Also, tiles may be patterned (e.g., coffee beans, cinnamon or other spices) among white tile.
By the way, would look great ceiling or chandelier red. Bright light will fill the room with fiery red tones. And you can decorate the window in the kitchen red tone curtains.
Interested? That's not all. Next we will talk about the gray color and how to apply it in the decoration of green food.
Gray - the color of this metal. And the most successful in the green kitchen appliances will fit in the color of the metal. Just gray corners on furniture will be great to share and emphasize each compartment cuisine.
Also, attributes and utensils gray also merge well with green.
To the purple color does not look ridiculous on a green background, it is necessary to turn to professionals. We can only suggest a few options on how you can beat the purple tone in the green surroundings.
For example, the fine will look wall tiles photo, which depicts a summer landscape with purple tulips. Thus, a plot of a play, which always will delight and inspire the hostess during the preparation of culinary delights.
Speaking of colors, also perfectly complement the design of the kitchen and the fresh purple tulips on the table. Interestingly will tableware such color or light in the violet color.
And, of course, is perfectly integrate into the whole entourage green kitchen table and upholstered chairs with purple seats. Bold and unusual solution will play a key role in the design.