Kitchen in the German style: key features
Germany and pragmatic - almost synonyms! The Germans are very rational people, and this feature is reflected in their interiors. Kitchen in the German style are not clearly defined and recognizable elements, what you'll see, watching our selection of photos.
Interior features a German-style
They can be very different in the eyes do not catch any special details, such as in a "Provence" style.
The only thing that distinguishes them: quality and "eternal" furniture made of natural materials, strict forms, floor mostly made of wood and the availability of cutting-edge technology. Found there are old, unsuitable refrigerators and stoves - virtually impossible.
Forms of furniture - very smooth, without any elaborate carving and curved corners. No ceiling moldings, no "smart" curtains with lambrequins, no glittering chandeliers.
Also, the German interior can not attend the brightest ceiling of plastic, work aprons with photo printing and other details, so common in our kitchens.
In general, the main thing in the German kitchen - convenience and comfort. Every corner of what - what is there and every thing in its place. Well, do not say, perhaps, that the symbol of German cuisine is almost sterile cleanliness. German housewives are famous worldwide for its intolerance of confusion and chaos.
Furniture designed to trifles and it just does not happen awkward drawers, in which there is little fit.
Dishes for cooking, they prefer stainless steel. It is durable, practical, easy to clean, and the cost in this case, is average.
Also very popular tin and pottery in daily use.
But Germans prefer to bake in glass or ceramics, as it is eco-friendly and convenient. If we are talking about holiday sets, it still has no equal in quality porcelain. At the same time, very stylish ornament, not full of brute force "frills" and gold than our sin and Czech dishes.
Perhaps there is no person in the world who has not heard about the brand or Kahla meysonovskom china. Prices of German dishes - high, but they are worth.
Cutlery - mostly stainless steel, and festive occasions - often use silver.
What are the colors in the interior of the kitchen prefer the Germans?
Germans love natural colors. This may be the color of natural wood, or painted wood. When it comes to man-made materials, it is, no flashy colors they have not. White, brown, beige - these are the main colors of the German cuisine.
Neutral shades of the furniture and the walls do not look bored, as their shades textiles, to which the Germans particularly indifferent. Also, almost always present vintage home furnishings in a small amount, which emphasize the flavor of the country.
For example: copper cookware, old irons, kerosene lamps. But all this is not too much, as in the country - style of a different orientation.
Countertops they prefer, or stone, or wood. Plastic is not welcome even in this case, despite the fact that it is quite practical. But also short-lived, what the Germans are well aware.
Stucco in German cuisine
If you want to repair in the German style, do not forget the ceiling. The best option here: a simple painting of white and wooden beams. It is appropriate, of course, if the furniture is chosen with a country twist.
If, however, you have modern furniture, it should be fine and suspended ceilings. The main thing that they were opaque, since the kitchen Germany - is the maximum simplicity, as you remember.
Textiles in the kitchen in a German style
Window decoration here looks very interesting home -. In Germany alone, there are blinds that cover the bottom half of the window, and on top, on the ledge, hung a small pelmet and curtains.
Fabrics for kitchen curtains selected natural shade and preferably a vegetable pattern. More popular cell and exclusively in pastel colors.
The kitchen in the German style is unthinkable without tablecloths and chair covers. They should be in harmony with the curtains. The savings here is misplaced, since the interior will not be as comfortable without these details.
On a more similar style German cuisine
If you look at a German-style cuisine, presented in the photo below, you will see that German cuisine is largely similar to the Scandinavian. One difference here: Scandinavian less demanding on the availability of modern technology and permit the use of old gas stoves, refrigerators and other things.
In general, we can say that German cuisine is appropriate and in the private house and the apartment. At least for large, even for a small area is quite possible to recreate a small corner of Germany. It's a win-win option that does not bother you too quickly.
Typical kitchen features German-style
The interior of the German style show maximum external simplicity behind which the functionality, rationality and the highest quality. food acquisition in this style give maximum space and comfort, and practicality.
Pretentiousness and an abundance of decorative elements are absolutely not welcome, that does not harm the atmosphere of coziness and comfort. A German-style kitchen is most often sustained in a quiet, soft colors, use warm or neutral shades. If desired, you can be found, and more vivid patterns. Subjects inherent in clear geometric shapes, with rigorous and concise inherently furniture manages to look very elegant. Additional structures, different niches, the decor - it's all in German style you will not find. Enliven the interior made with fresh flowers, not the scenery.
Materials and accessories come from the best, reliable and proven. German furniture is often performed for the kitchen is made of solid wood, but you can also purchase kits from:
Furniture facades often remain flat, with gloss. Handles often sorts cabinets are made of chromium or stainless steel. Well, if equipment is picked up a similar.
Maximum functionality and reasoning
A lot of attention is paid to ergonomics. Functionality thought detail. Pieces of furniture suggest this location to all the hostess was at hand: the most convenient to use the furniture, all kinds of technology, the expansion of the places utensils. By the way, the technique should be selected modern, giving preference to new technologies.
Uses the latest engineering solutions. For example, besides conventional cabinets with hinged doors and drawers are commonly used retractable different units and the lower cargo pillars, electrical mechanisms for lifting the upper horizontal lockers. A rational approach is applied, even for the angular elements to all possible space used more fully and conveniently as possible. In general, the built-in designs are very diverse, in order to effectively resolve any issues to ensure maximum comfort. Most fully demonstrates the diverse cuisine of Germany's official website - «Zuchel Kuche».
Needless kitchen area with a spacious furnished obtained. It is convenient to bother the hostess, as well as accommodate all members of the household, without interfering with each other. The room itself is a more thought-out space. It is perfectly suited for a comfortable communicating with your family at dinner or talking heart to heart with her friend over a cup of tea: all that we got, that the kitchen seemed intended to communicate.
German quality surpasses even the strictest European standards, ensuring reliability and durability, as well as the continued attractiveness for many years of service of such furniture.
Kitchen in German style
What do we know about the lifestyle of modern German citizens? First of all, the fact that for many years the formation of their culture, way of life, customs and traditions have remained unchanged and timeless. The Germans are pragmatic, necessarily, like order and can not spend a minute of your time in vain. But all these qualities does not make them boring, because the Germans are purely a sense of humor, a healthy life optimism and the desire to improve their lives and the lives of others. We, of course, it is difficult to imagine our life, flowing in the same way. But even if you take from every nation all the best, the cost of the Germans to adopt their ability to convert and organize space for maximum benefit. About the design of the kitchen in the style of German and will be discussed in this article.
The basic principles of kitchen design "in nemetski9raquo;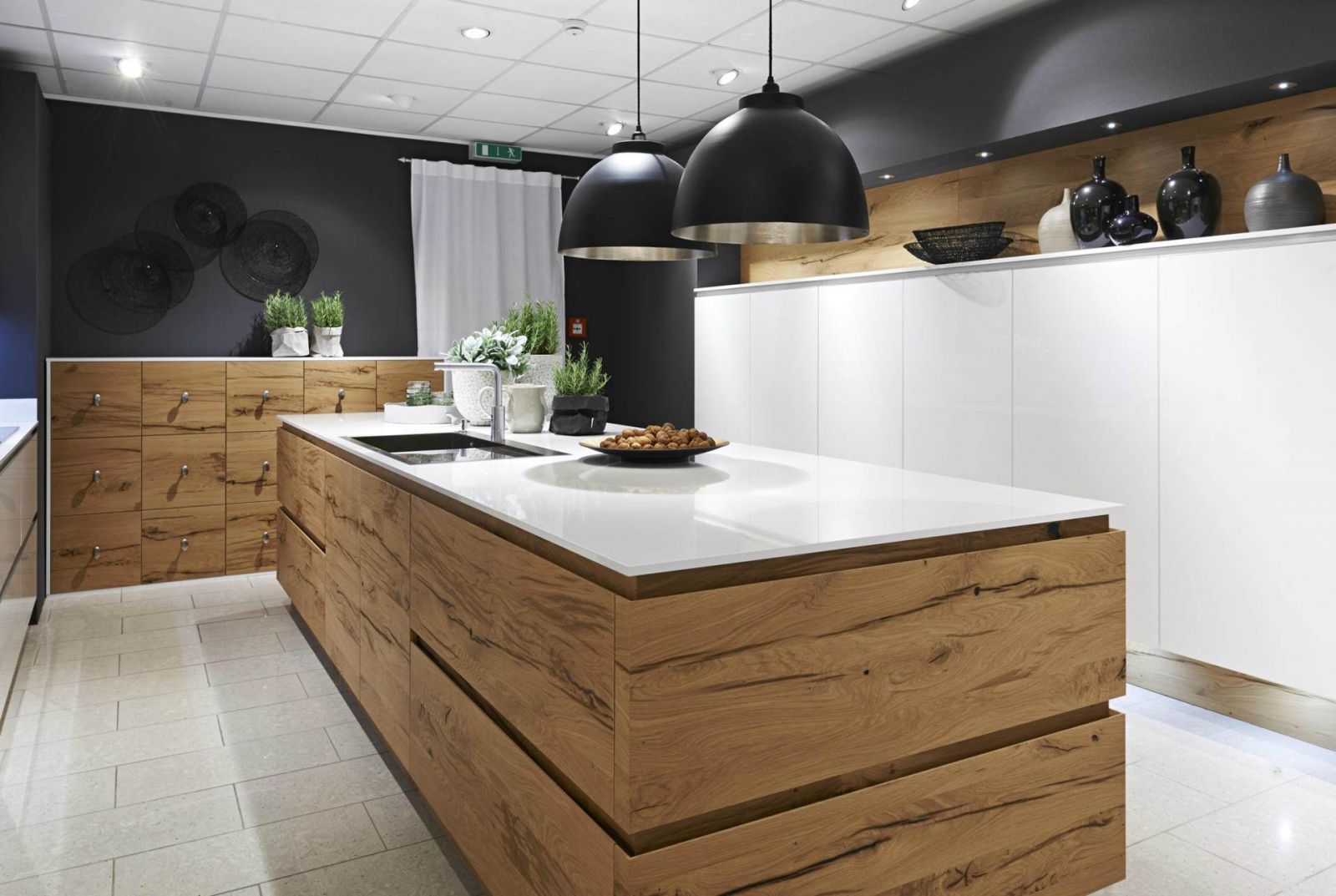 A German-style kitchen
Kitchen Design in the German style is ideal for processing large, spacious, and for a small room. This style is very simple and unassuming, but in order to achieve maximum effect, it is worth remembering that the German style is:
the use of light colors visually expanding space;
Plain nevychurnaya furniture made necessarily of high quality material;
multifunctionality;
convenient and rational layout;
use of environmentally friendly materials;
the presence of flowers.
That is the concept of "funktsionalnost9raquo; It is the key to the reconstruction of the German interior. Every item in the kitchen has to fulfill also a useful function. For example, plants and fresh flowers not only decorate the room, but the space is saturated with oxygen, give the kitchen atmosphere of ease and naturalness.
Every housewife dreams of the kitchen, which would be enough space for culinary experimentation. That German style gives a feeling of freedom and lightness, which is so often lacking.
How to choose the furniture?
Furniture and equipment are the foundation of the kitchen interior. Selection of set of furniture and household appliances must be carried out, depending on several factors:
free space;
the presence or absence of a dining area;
room layout.
If space allows, you can use a large suite of furniture, with the presence of a plurality of lockers, compartments and shelves. But if the kitchen area is not so great, the modest kitchen area, or islet may also be advantageous to look.
Furniture, chosen for the kitchen design in German must comply with certain parameters:
precise geometry in the lines;
glossy facade, not painted and decorated with different inlays;
practicality;
multifunctionality;
use of quality materials.
Windows often does not require any additional processing, although permitting the interior, you can use the thin curtains or roman blinds.
To cover the floor do not use carpets and rugs, linoleum, too, is rarely used. The most commonly used flooring tile is used because it is very practical. Tiles can be easily cleaned, poorly amenable to the negative impact, and even years, if properly cared for, is capable of not losing the old luster.
What shades accentuate the style «Deutsch9rdquo ;?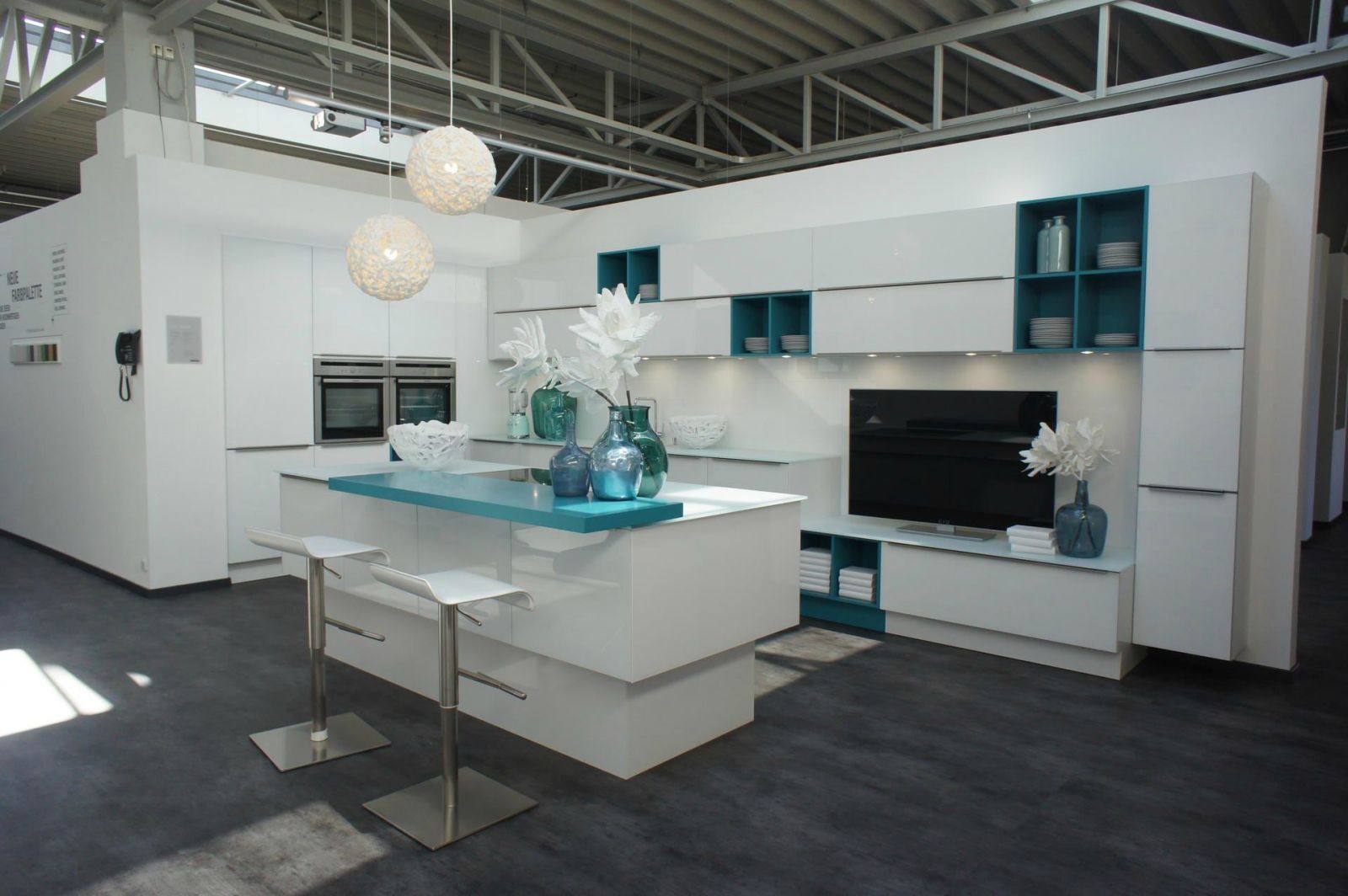 Question kitchen design makes the heart beat faster of many designers. You can find lots of photos cuisine German style and all of them will overlap with each other. Most often, using such shades:
black, chocolate, brown;
cream, beige;
burgundy, purple;
white;
the color of natural wood (in all colors).
The main thing - to colors harmoniously looked not "davila9raquo ;, visually make the room a low or narrow. Plenty of room - one of the main differences between German cuisine. Even if the room is quite small, the Germans necessarily execute and equip it so that it was spacious, comfortable and practical.
The use of black color in the interior - a fairly common phenomenon. But it does not inhibit the atmosphere, as it might seem at first glance, but on the contrary, creates an interesting contrast which favorably shades all the details.
What is the plan in German?
Placement of furniture and household appliances, primarily based on comfort and convenience. If possible, the furniture is placed in such a way to get around was enough space and you can get the necessary thing without difficulty. Technology is often built to save space as much as possible.
There are several variations of the standard layout:
Planning in a row. All furniture and appliances are located in the same parallel, often along one wall.
Parallel layout. In this case, the furniture is placed in duplicate. For example, kitchen with stove and refrigerator is located along one of the walls, and cabinets, sink and dishwasher - along the other.
Using the island or peninsula. This is a good solution if the kitchen is not planned placement of the dining area. In this case, the island can accommodate part of household appliances, and construction itself is used as a working surface.
Hostess certainly appreciate the versatility and practicality of German cuisine, and all the inhabitants of the house and guests will appreciate the modern and stylish interior.