How to buy the best electric grinder
For the cooking of high quality minced using electric grinder, which must be chosen not only on functionality but also on the basis of the manufacturer's status and its place in the ranking. Time-tested companies offer to buy a modern grinder equipped with additional nozzles, tools. Little-known manufacturers also sell inexpensive electric models or hand-held device.
What is in the electric mincer
The design grinder isolated main parts and elements Optional:
Key: a plastic or metal housing, an electric motor myasopriemnik, tray, pusher, a screw shaft, a knife, grid, or perforated lid locking disc for stuffing.
Additional: gratings with different diameter holes, extra blades, grater attachment for fruit and vegetable processing, forming the dough, tamping sausages or sausages. Different models use their heads.
The principle of operation is to go through a meat grinder meat through the screw shaft. The pieces are placed in a hole myasopriemnika, pusher help them get into the shaft. Passing through the auger, the meat is pressed to the lattice cut surface of a sliding knife. Inside myasopriemnika have ribs that help to cut off too big pieces of meat pieces smaller. Process chopping vegetables and meat takes place continuously, in contrast to hand-grinder.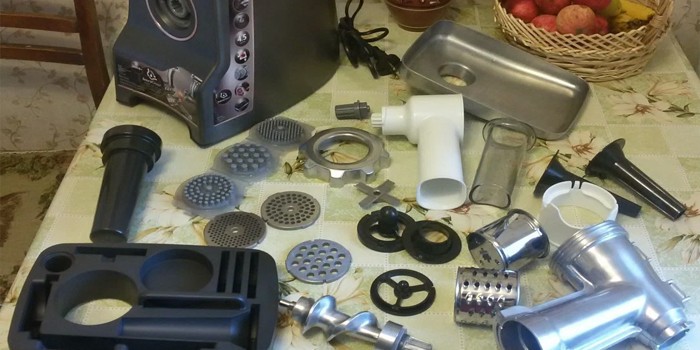 Learn how to choose an electric grinder, based on the ranking of manufacturers and customer reviews. Popular brands offer a powerful grinder that quickly processed 12 kg of meat per minute. Proven firms make housing appliances from a safe food grade plastic, measure possible load, safety for humans. For a universal working should buy an inexpensive electric tool with additional features.
It is a powerful reliable mechanical grinder with high performance. Capable of processing the meat to 2.7 kg per minute, is easily stored, it has a compartment for molding knives and rubber feet:
model name: Bosch MFW 45020;
price: 6389 p .;
characteristics: nominal power of 500 W, 2 nozzle hole diameter of 4.5 mm and 8 mm;
pros: is reverse, Storage compartment for accessories, rubberized feet, tip for making sausages, carrying handle;
cons: housing and tray are made of plastic.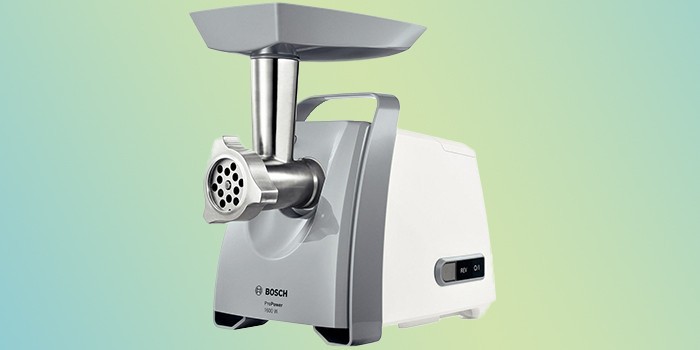 Powerful reliable electric grinder provides fast high quality results. Performance is up to 4.3 kg / m:
model name: Bosch MFW 68660;
price: 11129 p .;
Features: can make the stuffing, form sausages and kebbe, chop vegetables, grate cheese, chop the nuts, pressing the juice; power 800 W, 10 nozzles, the diameter of the lattice holes of 5 mm, the dimensions 32.8 * 39.8 cm;
advantages: there is a compartment for storing knives carrying handle, reverse, thermal shutdown, metal housing and the tray, a compartment for the cord;
Cons: weight 7 kg.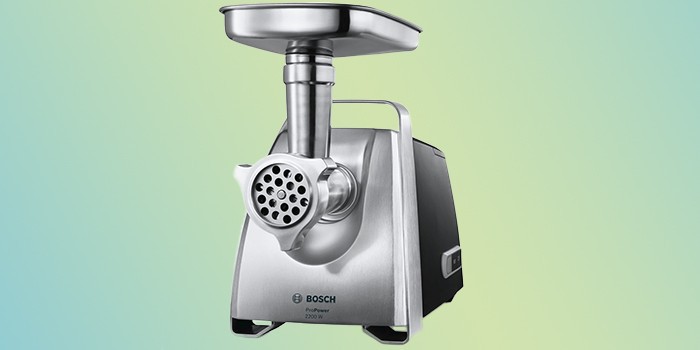 This simple to operate, yet powerful electric meat grinder is characterized by high productivity, thoughtful ergonomic body. Productivity 1.7 kg / min to grind meat any density:
model name: Moulinex ME 105 830;
price: 3390 p .;
characteristics: power 1400 W, Disc 2 for stuffing 4.7 and 7.5 mm, 10 minutes of continuous operation, the cord length of 1.2 m, weight 3 kg;
Pros: High build quality, dimensionally body materials, there is a reversal system, a nozzle for making sausages;
Cons: plastic case and tray, no motor overload protection, cap-graters and shredders.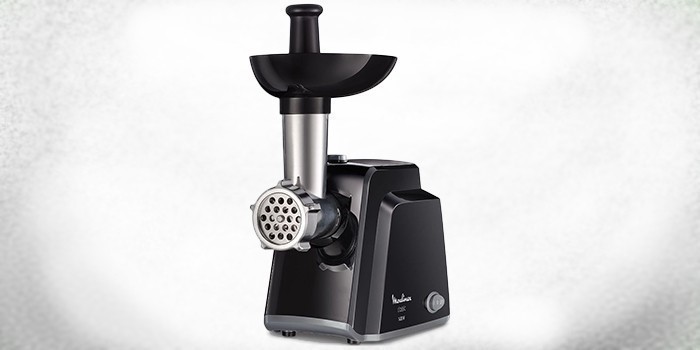 Compact electrical machine with many functions for cooking meat, has a powerful motor, ergonomic design. Included with the Food processors are special-slicer attachment to shred food strips or cubes:
model name: Moulinex ME 4581;
price: 9990 p .;
characteristics: power 2000 W capacity of 2.3 kg / min, 3 lattice stainless high-quality steel 3, 4.7 and 8 mm;
pros: European plug-socket, removable parts are allowed to be cleaned in the dishwasher;
Cons: Tray material - plastic.
Russian brand Axion offers the best for a multifunctional device, equipped with the necessary attachments and tools:
model name: Axion M 41;
price: 4199 p .;
characteristics: Noise level 82 dB, power 1700 W, capacity 2 kg / min, 4 of the nozzle 5 and 7 mm, column length of 1.5 mm, the dimensions 24 * 17 * 35 cm;
pros: is reverse, a grater, a nozzle for kebbe, juicing, shredding, thermal shutdown, the pusher in the set, the cord compartment and baits, rubberized feet for carrying handle, the aluminum screw, steel knife, continuous operation - half hour;
Cons: plastic housing, the tray, the weight of 5 kg.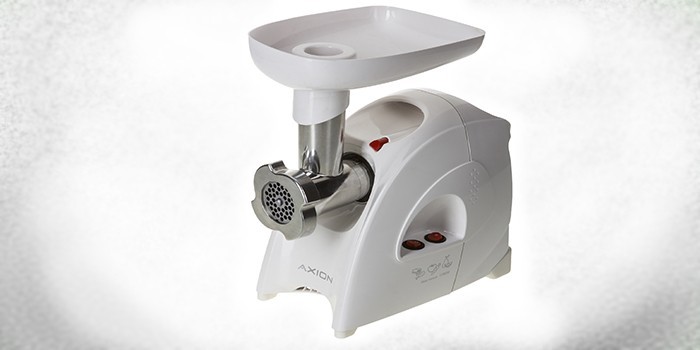 More affordable meat grinder is the following budget model of the same Russian manufacturer. It is distinguished by reduced power, light weight:
model name: Axion Emsh-30/160;
price: 2690 p .;
specifications: 500 W, productivity of 30 kg / hour, 3.5 kg weight, 2 lattice 5 and 7 mm;
pros: saber knife edge, is additionally equipped with a vegetable cutter, juicer;
Cons: The plastic material of manufacture.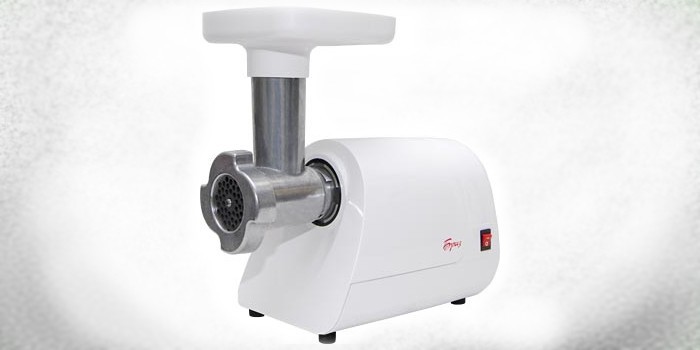 Simple to use and equipped with a minimal set of nozzles and blades is the following e-chopper:
model name: REDMOND RMG-1233;
price: 2638 p .;
characteristics: power 350 W, the performance of 1.6 kg / min, 2 disc for stuffing;
pros: is reverse, overload protection;
Cons: plastic casing, the paper tray.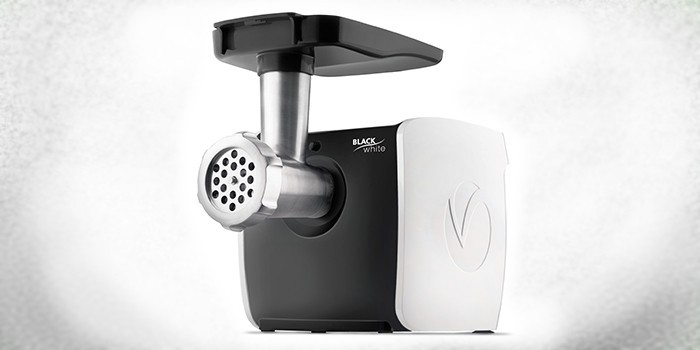 Next Grinder is made in the modern technological trends. grinder unit is securely attached to the engine compartment with the retaining ring:
model name: REDMOND RMG-1209;
price: 3500 p .;
characteristics: power 400 W, the performance of 0.75 kg / m 3 for stuffing disc, nozzle kebbe and sausages, weight 3 kg, dimensions 39 * 22 * ​​19 cm;
pros: overheat protection, reverse function, steel metal tray and a knife, complete pusher electric mode switching button;
Cons: plastic housing.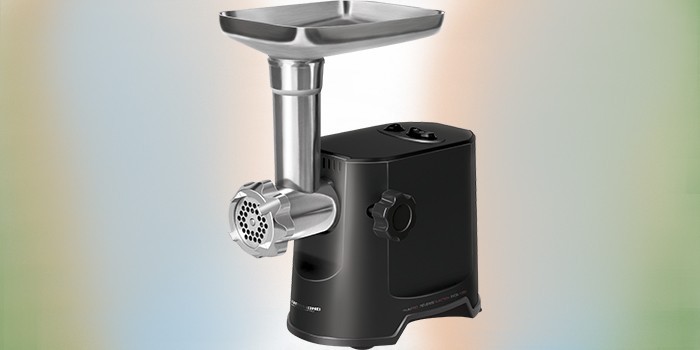 Polish manufacturer of electrical appliances offers the following meat grinder, affordable and equipped with wheels for stuffing and sausages for attachment:
model name: Zelmer 687.5;
price: 3500 p .;
characteristics: power 500 W, the performance of 1.2 kg / min, 2 disc 4 and 8 mm;
pros: a packing for the preparation of sausages, affordable device;
Cons: plastic housing.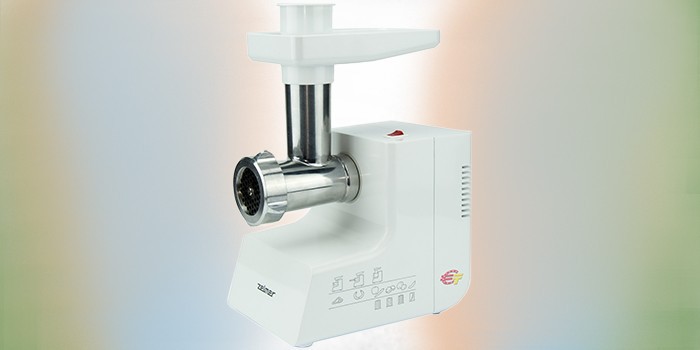 This Grinder Polish producer has a classic design and original colors of the body. Rubberized feet firmly fix the device on the table:
model name: Zelmer MM1200.89;
price: 7000 p .;
characteristics: power 650 W, the performance of 2.3 kg / min, 3 lattice 2,7, 4 and 8 mm;
pros: Engine lock in case of overheating, the button-lock attachment for making sausage, diced slicing, chopping vegetables, three kinds of floats, a pusher for a funnel;
Cons: loading tray made of plastic, the weight of 5 kg.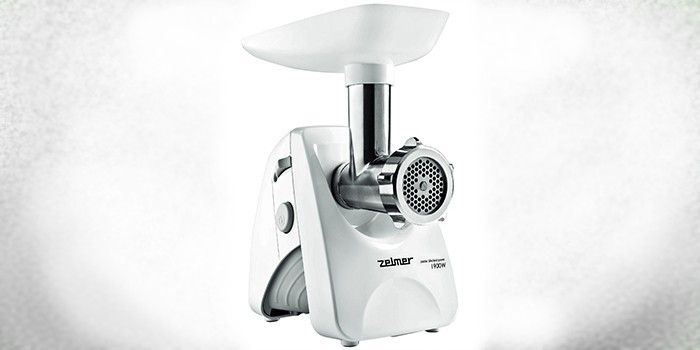 Good performance and maximum hygiene is characterized by an electrical device known brand. It features a built InsertClean system, which helps to quickly and easily clean the mechanism of meat residue:
model name: Philips HR2723 / 20;
price: 7500 p .;
characteristics: productivity 2.3 kg / min, 500 W, 3 grating 3, 5 and 8 mm cord length 1 m, frequency 50 Hz;
pluses: Automatic adjustment of the blade and the screw, the additional chamber for cutting vegetables into slices, a nozzle for sausage making household 12 and 22 mm, the innovative design of the chamber for supplying meat sided accessory to clean, durable metal elements of stainless steel;
Cons: The main body is made of plastic.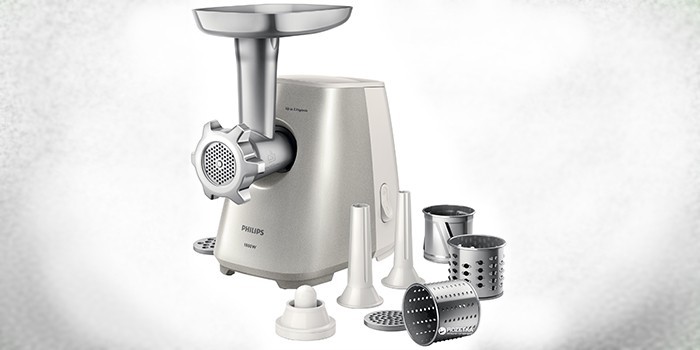 This Grinder with high performance capable of processing large portions of meat due to the powerful motor:
model name: Philips HR2721;
price: 8990 p .;
characteristics: productivity 2.3 kg / m 2 of the lattice 5 and 8 mm, 2 a nozzle for sausage 12 and 22 mm, a nozzle for kebbe maximum power of 500 W, weight of 5 kg, the cord 1 m, frequency 50 Hz;
pros: Metal screws, connectors, built-in cleaning system, resistance to heavy loads, easy assembly and installation, automatic adjustment of the knife and screw, included is a nozzle for cutting and chopping;
Cons: plastic tray for meat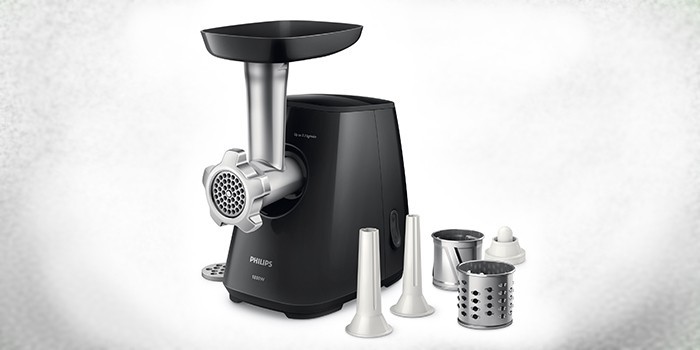 This little-known brand offers innovative cheap electric grinder with convenient amenities:
model name: UNIT UGR 459;
price: 4890 p .;
characteristics: power 1500 W, a nozzle for sausage disc 2 with different diameter apertures;
pluses: control the display, reverse system 6 velocities, enlarged diameter working chamber, molded crescent knife, easy cleaning, preventing the locking operation, the pusher in the set;
Cons: plastic housing.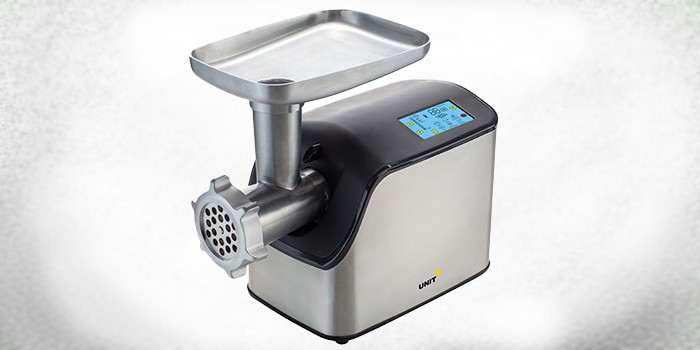 How to choose an electric meat grinder
When buying a grinder for grinding meat, minced meat and produce shredders should take into account its characteristics. How to choose the right grinder, and what to look for:
Power. It affects the ability of the processing of any product per minute. The higher the power, the easier it is to turn the meat, even if it is tough and stringy. Optimal variant 1000-1500 watts. Powerful model produces more noise.
producing electric appliance material - plastic, light alloy or steel. Much more important is that the internal parts, knives, screws, bars were metal. screw motion transmission mechanism is also better to choose from metal.
Useful reversing function, if it is, helps facilitate the work in the event of a jam in the device core. Clicking on the button, you can easily reach it indiscriminately kitchen appliances.
Several modes of operation - at least two, to save energy and reduce noise emitted.
Protecting the motor from overheating. It extends the life of your unit.
Functional additions simplify the work. Included are: grater, juicer, sausage horns.
Reviews
I wanted to buy a grinder in the online store inexpensive, because in the usual departments did not suit me electronics options. The choice fell on suits me Redmond. I'm from Moscow, so arrange delivery by courier. At a cost of purchase cost me cheap even considering shipping. Powerful device came to taste my home.
Mama instructed me to find out how much electric grinder to buy cheap, but quality equipment. I have studied the range of a few home appliances and stopped at Zelmer. I liked that it is equipped with additional attachments. Buying online store St. Petersburg cost me 4,500 rubles.
Ekaterina, 33 years old
Buy an electric grinder husband advised me. I often cook products from minced meat, buy it ready-made, but it is cheaper to buy meat and its own twist. By mail I ordered a unit of Russian production of Axion. It was an action, therefore, on sale, I bought it at a discount, just for 3000 rubles. I was pleased with the technology functions.
Alexander, 37 years old
Wife asked to buy a meat grinder Bosch, because her old manual model has ceased to arrange. After learning how much Grinder of this brand, I was pleasantly surprised, I thought that expensive. I took heaped - complete grater, shredder, a nozzle for sausages and juicer. To surprise his wife, electric grinder her happy.
How to choose a meat grinder: what to look for when buying a grinder
About the purpose of this instrument speaks his name - he has to cut the meat. But now everything has changed, and his grandmother's hand-grinder, who served faithfully over the decades, have given way to more powerful and convenient instrument for crushing not only the meat. How to choose an electric grinder, which will make the stuffing, and homemade noodles and biscuits, and sausage will cook?
Modern Grinder - a device that can perform a variety of tasks
If you want to buy a meat grinder, you must decide what you will be cooking with the help of this device. Indeed, the presence of additional nozzles increases the price and makes the ordinary grinder into a multifunctional device that will replace both the mill and juicer.
Modern grinder easy to operate. If these high-quality components are used, such wear-resistant tools. The only negative aspect can be considered noise when operating the device. But a kind of compensation for this will be the comfort of use and speed of cooking.
Choosing an electric meat grinder: the device power ↑
Among the myriad of models is not easy to choose the most appropriate
The more power grinder, the better the performance, and the better the device will process the meat tough. If the power of your chosen meat grinder of 400-700 watts, then an inexpensive model, which is suitable for use in the home. Typically, the low-end models have one or two speeds.
efficiency of the device depends on the performance of power. The greater the power, the faster the processed meat, but the more power will have to spend, and the more noise will be during operation. Most of the grinder can be processed in a minute and a half kilograms of meat.
When choosing a grinder, pay attention to indicators such as the time of continuous operation. It can vary depending on the mode of treatment and the quality of products. Typically, raw meat can be ground for 10-15 minutes.
continuous operation time limit without exception manufacturers. Thus, the grinder can grind Braun solid grains in just 10 seconds. But any time limit operation of the electric grinder should not be considered a serious fault. After all, it is not recommended to cook stuffing in store, as in a piece of meat is better retains its taste.
The good meat grinder provides the reverse mode - when the auger rotates in the opposite direction, so that the meat is milled in several stages, and the engine at the same time be protected from unnecessary congestion. Some manufacturers equip electric meat grinder motor protection from overheating.
The material and shape of the grinder housing ↑
Grinder with metal housing - is the most common option
The housing may be made of food grade plastic, but the parts inside (blades and lattice) must necessarily be made of metal because they account for the main load. Moreover, the housing can be made of stainless steel and other light alloys. casing material must be resistant to food acids. To one year did not have to buy a new device, you need resistance to corrosion.
Housing material affects not only the hygienic quality, but also on the weight and appearance of the meat grinder. The design and dimensions of the body affect the ease of use, safety, shelf-life of the device.
It is advisable to grinder body has a form that will allow close crockery set for finished meat. If the casing is convex or flat, pieces of minced meat can fall past the dishes.
Pay attention to the shape and height of the neck. Height must be greater than the length of your fingers. Of course, a complete set of modern meat grinders are special pushers for meat and other foods, but better to be insured against any accidental circumstances. In most models inlet height -. 11 to 15 cm in the sale is mincer with a foldable housing, the outlet of which is located higher than the devices with a solid body. The folding body, mincer dimensions are reduced to a minimum, so you will be easy to find a place for her in the kitchen cupboard. The presence of the storage adapters and compartment for the cord increases the convenience store grinder.
Well, if the tray is fixed on the neck of your grinder. In it you will put the products prepared for the grind. The trays come in different shapes and sizes, can be plastic or metal. Well, if the tray is roomy and deep, of course, metal trays are more hygienic and durable than plastic. plastic color changes with time, scratches may appear on it.
Acquisition of modern grinder ↑
Mincer Zelmer provided with different nozzles, which can significantly expand the scope of its application
The screw - a spiral shaped piece grinder. On it are mounted blades and nozzles. During rotation of the screw pushes the meat from the inlet to the outlet. Modern grinder often equipped with not one but two screws, one (metallic) for meat, second (plastic) - for the test or vegetables.
Knives. They should be sure to pay attention to when choosing a grinder. After all, this is one of the most important parts. The blades must be made of stainless steel. Sometimes these parts require sharpening, it is better to contact the service center or a special workshop. In a very high-quality self-sharpening knives, meat grinders.
Lattice provide the necessary consistency of the processed product. As a rule, meat grinder equipped with bars in three varieties: with small, medium and large holes. The smaller the hole diameter, the finer Shinko meat. The fine grating suitable for the preparation of minced chicken, pate and baby food. Large holes are necessary for chopping vegetables and fruit, chopped cutlets.
The tray is necessary for the convenience of the product flow into the throat. Is metal or plastic.
Pusher need for easy loading of products and user safety. Typically pushers are made of plastic.
Reverse helps when wires are wound on the screw axis in the mounting location with four-blade. It is necessary to stop the motor and hold down the "reverse". Then the worm starts to rotate in the opposite direction, and the conductor will be outside. Unfortunately, this useful function is not equipped with all the meat grinder. The most powerful model does not require the reverse, because they can grind core.
Additional nozzles, which are equipped with modern grinder designed for the preparation of a vegetable slicing, mashed potatoes, sausages.
Nozzle for making hollow tubes and stuffed sausages called "kebbe". In some meat grinder has a citrus juicer, grater, shredder, vegetable cutter. These tips provide an opportunity to get a plate of vegetables and chips of different sizes. With nozzle for cookies can make curly sausage dough. The kit may include a nozzle for macaroni and spaghetti, homemade noodles.
The package grinder and some manufacturers include molds for hamburgers that make the same size patties.
Consider whether you need a full set of nozzles. If you purchase a meat grinder exclusively for the processing of raw meat, possibly on the nozzle does not make sense to spend money.
Which is better to buy a meat grinder: the budget or branded ↑
Budget chopper copes with its main function, but its capabilities are somewhat limited
Before heading to the store and make your choice, consider the innovations that are embodied in modern electric meat grinder. If you only need a chopper to sometimes cook mince for meatballs, ravioli or Zrazy, choose low domestic models. They will approach you and if your kitchen has a place of honor handsome processor, but you are not satisfied with the quality of meat, which is prepared with it.
If you are used to good technique, choose electric meat grinder from Moulinex. Thus, the model Moulinex DRA is considered the most simple, but come standard and grille with large holes and attachment "kebbe". For a small family to buy a meat grinder with a lower capacity, such as Moulinex E12. If you need a more powerful model that will be able to process a minute and a half kilograms of meat, pay attention to the meat grinder Moulinex DR7. It has an additional nozzle for patterned cookies.
If you're a fan of German quality, choose a powerful but simple meat grinder from Braun (model Braun G1300K). It is equipped with bars, knives and attachment "kebbe".
If you have already decided on the grids and nozzles, you go to the store for purchase. It is important to assess the state of the device and the quality of the items before you make a payment.
Check how compact grinder and how to organize the storage of additional instrument tips. There are models with a box for storage of accessories. See if the outlet is located conveniently. If the output is too low or very high, perhaps as soon as is necessary to get a special container for the finished meat. Of course, it is believed that the chopper is more convenient than the above is the outlet. But if you managed to find a model that suits your features, design and price, there is no reason to abandon it due to low located outlet. It is better to buy a special tray for the finished meat.
Of course, before you buy you must check whether the device is able to work. You can scare the noise of the engine operation. But all the meat grinder works like this. Let the noise level does not alienate you from the planned purchase. After all, you have to include a meat grinder for no more than two minutes.
Meat grinders quite heavy. This is necessary in order to prevent a fall during motor operation. Pay attention to the feet. They should be rubberized, so as not to scratch the surface of the kitchen table.
How do I choose a meat grinder or food processor ↑
Combine with the meat grinder attachment, may perform functions grinder, but many prefer to have in your kitchen, both devices
There are arguments in favor of the combine, and in favor of the meat grinder. Thus, the advantage is the availability of food processor working bowls, blender, graters and various nozzles. In addition, the processors are easier to clean after use. But electric meat grinder gives more opportunities for processing meat.
If you do not need a mixer, juicer, blender, and you only need to cut and grate vegetables and chop the meat, it is better to give preference grinder (by the way, if you wish, you can find a model grinder with all additional functions - vegetable slicers, juicers, graters). Mincer always cope with vegetables, but meat processor can not handle. This was confirmed by many housewives who are not satisfied with the quality of the food processor mince.
You can purchase a harvester with a screw in the form of a meat grinder attachment (for example, Bosch MUM 4655EU), but it will cost as two or even three grinder.
When making a choice between the processor and the electric meat grinder, focuses primarily on the needs of their families. If you enjoy a variety of meat dishes in your kitchen grinder to be used more often, so it is necessary to buy. If you're more like the vegetable dishes are often willing to smoothies, cakes and mashed potatoes, you will approach combines more. I want to get everything at once, and you're not strapped for cash? An ideal option in this case would be the food processor with a meat grinder attachment.
By the way, grinder manufacturers have taken care of your young family members - kids aged from six months to four years. For them, have come up with a mini-mill - younger sister grinder. Grinder is useful for the preparation of children's meals. Notice of Moulinex devices. There are models with grinding and mixing functions, there are those who in addition to this is added the possibility of whipping. A model D81 Minipro looks like a small food processor mini grinder rubs, mixes, crushes, whips.
This kitchen appliance Americans invented back in the 80s of the last century. It is a home replacement set for a picnic. Food is cooked.
How to choose a good aerogrill: what to look for when buying
Many housewives fryer is associated with a not very good for health food: French fries, nuggets, chips and other "delights" of fast food. Themes.
Home fryer: what to look for when choosing a model
The emergence of convenient, powerful, multifunctional kitchen appliances made adjustments in a person's life: there are more opportunities for cooking.
Ovens for baking: what to look for when choosing a
Long and carefully chose a meat grinder. And like a shredder and a grinder and a juicer for tomatoes) Selects stood between Moulinex and Selmer. The consultant advised to take 10 measurements Selmer. And not a bit sorry .. Great Chops, rubs, stuffing great. Work in the kitchen is now faster and more pleasant. In general, the car super.
I was about 7 years ago chopper Zelmer, when broken, bought Brown. Brown's in my opinion a little more power, while Zelmer's quieter running. Bosch's sister, well, all this beast takes all.
The sister chopper as part of a food processor, grind the meat tasted it, much worse than it makes my MFW68660. She is in her shaky some, weak, although I realize that the whole thing in a food processor, it is possible if the processor itself was more qualitative, and the chopper was not so, but that is what it is. And my boshik also cuts, shreds, rubs, squeezes juice, for this you just need to change nozzles.
I have a grinder of the Belarusian producer, it is already 10 years reinstall your name, I do not remember. "Assistant" like. Melita with a bang, but the noise well. Power 1000 Watts. Melita even frozen meat. Included are various nozzles, to be honest, they have not enjoyed. The only thing that I happened: cracked plastic levers with which to fasten a metal part to the main (by the way plastic) body. and a pusher for meat cracked (plastic, too). But the fact that knives and grills must be made of metal will not even write. Take or notebook! It will grind as it should!
Thank you for a valid, article.
Of course, the top producers of electric meat grinder is very relative, because each of them has the best and worst model. Also, when choosing to be guided by the price you can afford. For example, a popular budget option is a domestic firm Axion is not ranked in the list of the best grinder. You can choose and buy this appliance manufacturer for 1500 rubles and above.
How to choose the right grinder for the house and what better
Gone are the days when meat or vegetables have to be ground by hand. Modern electric meat grinder completely replaced its predecessors. They allow you to quickly and effectively grind not only meat, but other foods, not putting in the process of physical effort. The range of these devices is huge right now, and they all differ in their characteristics. Therefore, the aim of this article is to consider the question - which is better to choose grinder for home use.
Parameters grinder selection
To purchase a grinder, fully suitable to your needs, should focus their attention on the main characteristics of the device. In this case, you will be able to effectively perform the operations that you need. Let us consider how to select an electric grinder for home.
The above stated power device, the better able to cope with chopper milling hard meat comprising cartilage and veins. Conventionally, all grinder can be divided into 3 groups:
Low-power, 800 watts. These are the simplest devices for grinding of soft meat, vegetables and fruit. They are selected, if the grinder is to be used only intermittently, for a good quality of meat;
The average power of 800 to 1500 watts. If you do not know what to choose an electric grinder for home, then this option is ideal. Such apparatus is capable of coping with any job (s sinewy meat, cartilage etc.) and can process the order of one minute and a half kilograms of meat;
High power, more than 1500 watts. This choice of grinder is not rational because of the high cost of products as well as a large power consumption. Especially in the home it is unlikely it will be possible to use the full potential of such a device.
It is desirable to choose a power margin, the device does not overheat, and it is able to process more solids. The power device performance depends directly. On powerful grinder per time unit can be processed more of meat, rather than the low power device.
Tip: Pay attention to uptime grinder. Typically, grinding meat enough for 12-15 minutes. If this parameter is specified smaller, the motor so weak grinder.

The housing is made of metal, plastics, as well as combinations thereof. How to choose an electric grinder, knowing the material of manufacture? grinders manufacturers use for housing quality food grade plastic, moreover, shockproof. This reduces the cost price of the products. Housing more expensive models are made of metal, are therefore considered more durable. When combining metal and plastic model obtained an average price range, it is reliable and durable.
Note: If you are considering a model of a reputable manufacturer, the product quality is up to par. Even the plastic housing, in this case, will last much longer than the engine grinder.
Internal parts grinder (knife, grid, screw neck) must be metal. The only plastic part located within the housing, the washer is placed over the auger. It distinguishes between the auger housing and mincing.
Any model grinder has additional features that enhance comfort and safety of its use. What you should choose grinder it to have maximum functionality? List of possible additions:
The presence of the reverse. The screw can be rotated in the opposite direction when switching the mode. It protects the motor against overload, if it is necessary smalyvat very tough meat. And the meat itself is milled in several stages;
Motor protection. In case of overheating the engine is automatically switched off. This function is not available in low-cost models;
Emergency stop. It triggered when the interior grinder hits a solid object, which can cause a stop screw. The motor is not burned, it turns off;
How to choose an electric grinder, knowing its packaging?
The standard unit includes:
The neck, which has a mounting for connection to the motor. all other components are inserted into the bottom of the neck;
Screw, spiral-shaped part on which are mounted knives and grills. Included can be a plastic screw for additional work with the test;
The lattice of holes. Typically there are 3 lattice with holes of different diameters. They are needed for the preparation of products of different sizes of grinding;
Metal knife. It is better if the knife is self-sharpening. Then he will not have to regularly sharpen specialists. At home, a grinding produce is almost impossible due to the complexity of the technology and strength of metal;
The tray insert into the neck of the grinder. Designed for ease of twisting products. It can be a plastic or metal;
Plastic pusher designed to push the product into the neck.
Components of the electric mincer
In addition, the grinder can be equipped with additional nozzles:
for the preparation of homemade sausages;
citrus juicer;
disk to form a pasta;
paste biscuit manufacturing. Outgoing cookies can have the most unexpected forms, depending on the cut-out pattern in the inset;
for vegetable and fruit slicing;
for the manufacture of mash;
for pastes;
nozzle for chips and plates of fruit and vegetables;
molds for the production of cutlets;
nozzle "kebbe" for the manufacture of hollow tubes of dough or meat. Subsequently, these rolls stuffed with the right product.
Note: The presence of additional nozzles makes the cost of products higher. If you do not need them, then perhaps it is not necessary for them to overpay.
Tips for choosing a grinder
If you need Grinder - how to choose it, will prompt tips listed below:
By purchasing a meat grinder, you have to imagine for what purpose it will be used. If you only need to twist the meat stuffing, we can neglect the additional nozzles. If you think to use the device as a multifunction machine, on the contrary, make sure to buy a model with a plurality of orifices;
If you buy a meat grinder in the store, immediately assess the level of its noise. Many of the units emit a noise that stay close to them is not very comfortable. And keep in mind that the device is quieter at idle. But after inserting of a meat noise is usually amplified. Also, compare several models of noise;
Grinder having a solid weight inspires confidence greater than a light model. This product comes with metal parts, which increases its reliability and functionality;
Mincer must stand stably on a solid surface. It is desirable that it be fitted with rubber feet;
Typically, models of famous manufacturers is relatively expensive. But the quality and have proven, and service is always the place to be. you risk to buy a model with parameters that are not always apply when purchasing the grinder manufacturer unknown. In case of breakage of the unit, you can not pass it on to a specialized repair service.
Taking into account the above recommendations, you can simply purchase a home for high-quality and functional grinder.
In deciding how to select an electric grinder for use at home, reviews of their owners can be very useful. Here are some of them.
"Grinder Bosch MFW 68640 choose from several models as needed Powerful. Happy choice, easily scroll on it even sinewy beef, chicken and turkey are all on hurray. Several attachments allow you to specify the desired size of the stuffing outlet. Reliable, main parts are made of metal. The rubber feet do not give a slide on the table. With such a power it was not very noisy. Minced leaves a smooth flow without splashing in different directions. After use, all can be easily disassembled. My dishwasher, all perfectly laundered. A good supplement were more nozzles for chopping vegetables, cooking has become increasingly various pureed vegetables, salads and burgers. I use several times a week, for six months, no malfunction is identified. I recommend to everyone."
"Mincer MOULINEX ME 209 - very good grinder for a small price, copes with the veins on the meat. Excellent chopping meat stuffing, tert vegetables, cheese and nuts. Easy going, very easy to wash. Easy to use. Excellent value for the price - quality ".
Tatiana Romanova, Serov
"Acquired recently a meat grinder Moulinex ME 6201, really want to share their impressions! After a manual grinder, which last a lifetime, this is heaven and earth, of course. Twist the meat very quickly, 2 kg - about two minutes, if faster at the touch of a button. A lot of knives have a tip to make kebabs, sausages filled with minced meat. In a word, has never let me down, cope with everything on hurray. Wash very easily, versed in the two accounts. Of the minuses - quite large and heavy, and very loud, even the neighbors knocking on batteries, when I twist stuffing. But these are trifles. Overall a very recommended! "