A method of finishing walls under stone (marble, malachite, jasper or granite) called Venetian stucco. This refined and very elegant technique can be used in any home and in any method of decoration of premises. Perfectly combined it with even the most modern styles, such as for example the high-tech and techno. However, in this case for finishing is better to choose light pastel shades or almost white.

A solution for Venetian stucco
Since the time of ancient Rome in its art, little has changed: in the composition of the solution is also introduced slaked lime (it can be replaced by acrylic filler), stone powder and pigments. At the end of the work surface covered with a layer of natural wax. Expensive wax if desired, can be replaced with a conventional colorless varnish.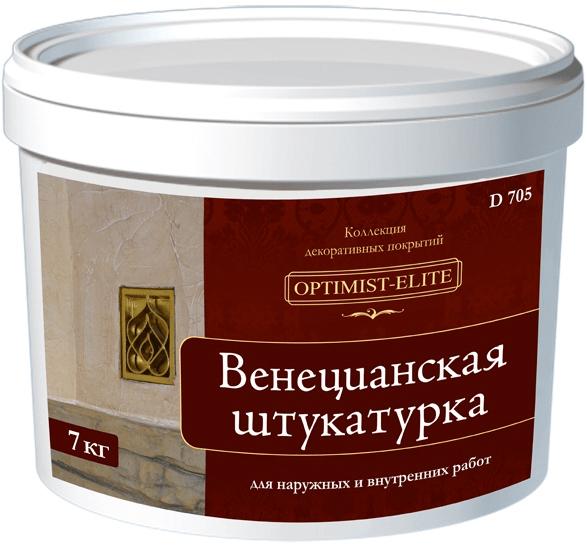 Before finishing the walls should be carefully prepared: putty and sanded. The surface must be perfectly flat - in fact it will be seen tiny bumps, holes and roughness. Skilled craftsmen before starting work, cover the walls with glass or wallpaper for painting. To obtain a smooth surface, the seams before it leveled.
Working with the Venetian - quite laborious and time-consuming activity: 1 square. m experienced master spends five to six times longer than using a traditional plaster. To get the hand, to develop this technique is better with small sections of the wall or the individual elements of the decor: paintings, murals and frescoes.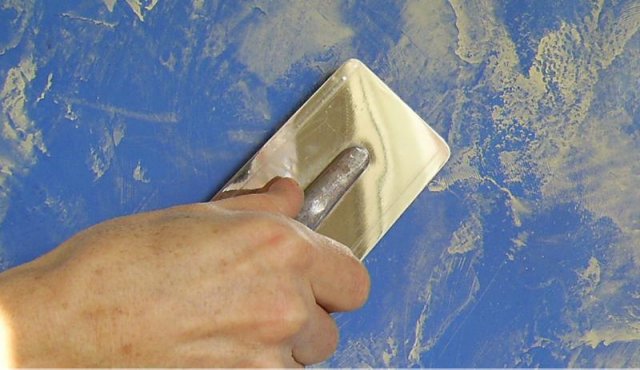 Each layer may have a different shade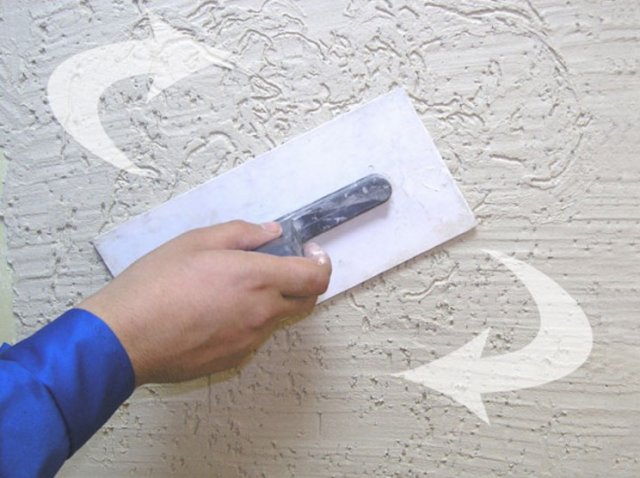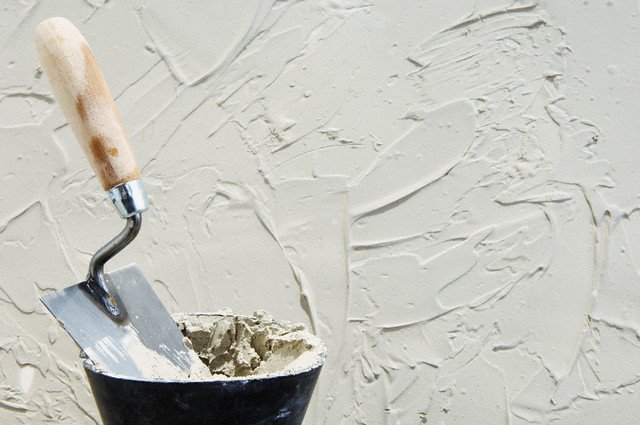 Plaster randomly distributed over the surface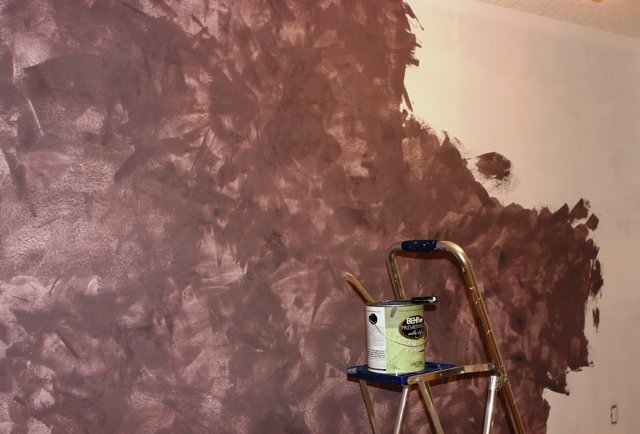 Colors are selected depending on the desired result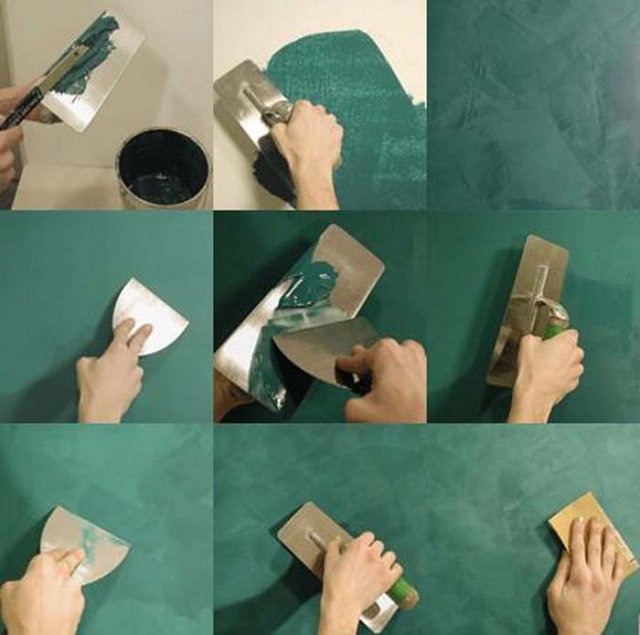 The main stages of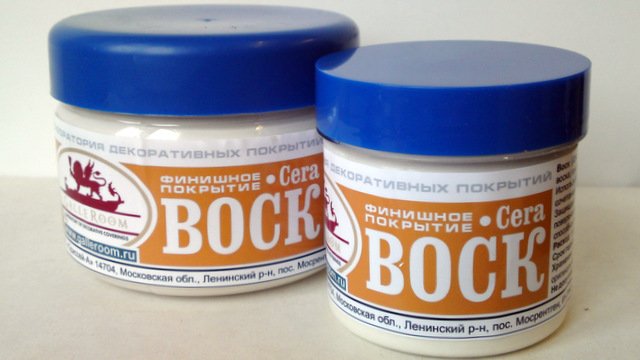 Wax for Venetian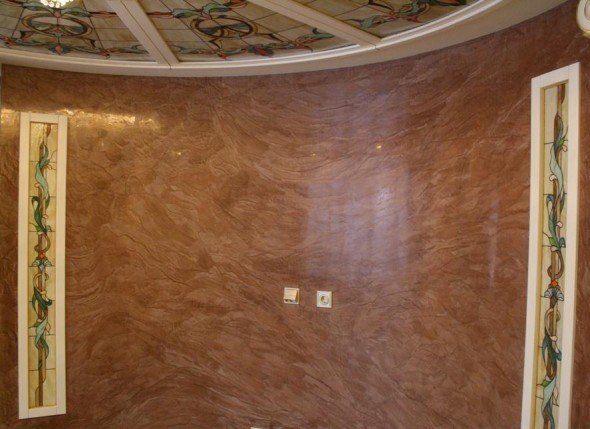 Venetian plaster is not only attractive, but very durable coating
Exterior surface depends on the solution composition and methods of its application. Venetian plaster techniques set.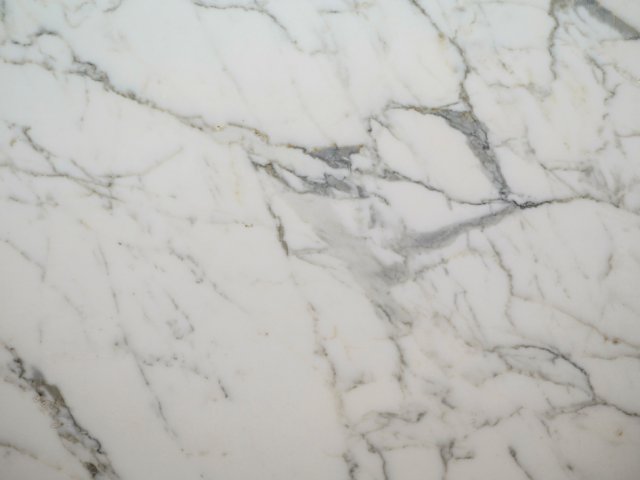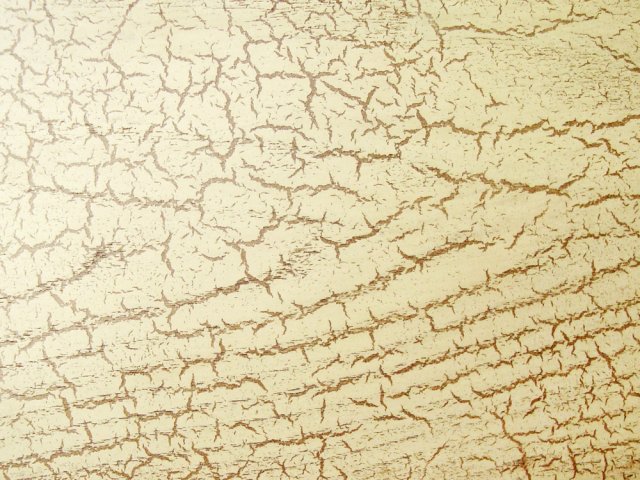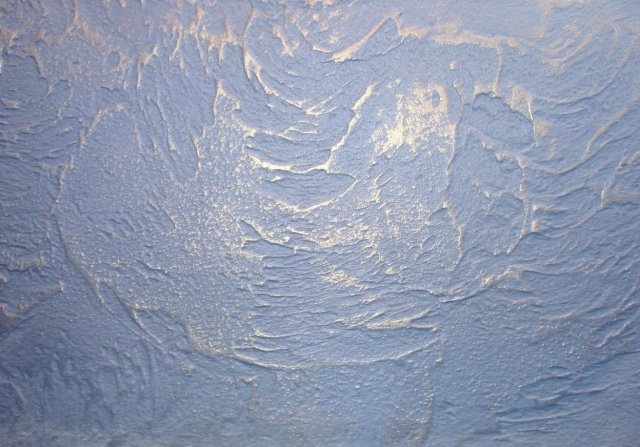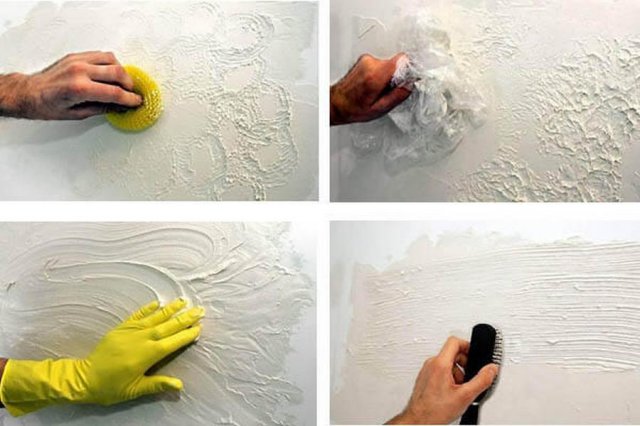 Imitation Venetian stucco with a sponge, brush or package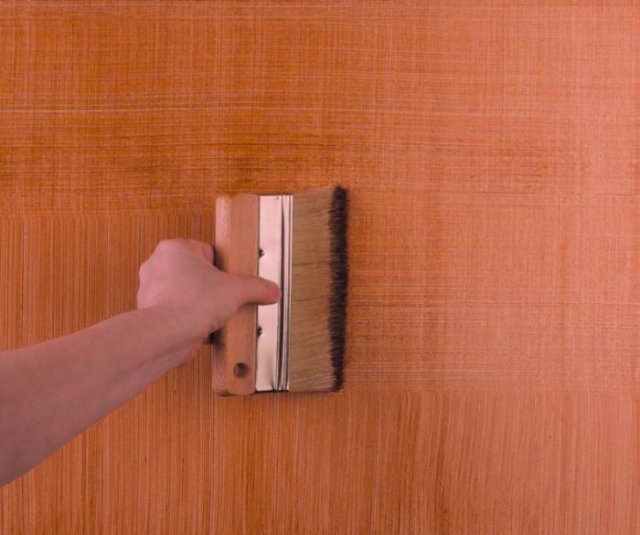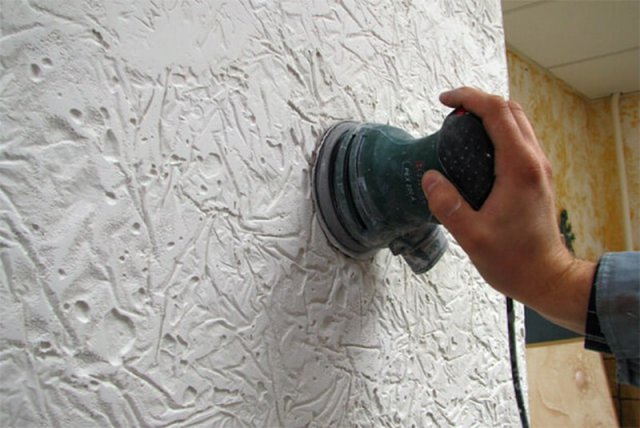 Create chaotic patterns on the wall and you can with the help of special printing
How to apply the Venetian plaster marble with his own hands
Select the material for the walls is not easy. It is necessary for it to be beautiful, practical, durable, and preferably inexpensive. Venetian plaster meets almost all of these requirements. She's beautiful - similar to natural marble, it is practical - coated wax surface can be washed repeatedly, it is durable - if not scratch specifically, it is not damaged, it can be applied to any surface - smooth, curvilinear. Just the perfect finishing material. But as usual there is a "but." She is expensive. This is the first minus. The second - to put her own hands difficult. Or rather, to put simply, is difficult without experience get a beautiful surface. But you can try and hire a wizard. But before you enter into a contract, ask for customer contacts. If it is possible - look at the work themselves, or call and ask about their impressions.
What is Venetian plaster and composition
If the wall in appearance resembles marble surface, but it has no seams, it is decorated with Venetian plaster. This finishing material was invented centuries ago in ancient Rome. When someone came up with mix marble dust and slaked lime. The result was a flexible structure, which is on the walls looked like natural marble. For a clearer picture to the mixture was added natural dyes.
Venetian plaster is applied to the walls, ceiling, column
The most popular was the clay. The walls had a pinkish or reddish (depending on the color of clay) stains, which gave a finishing great similarity to natural marble. The coating is durable, the rendered surface coated with wax, which is then polished. The walls were not distinguished from marble. Only there was no seams.
It was only centuries later, during the Renaissance, Venetian plaster came in Venice, where it began to be used instead of the marble slabs. Technology of its application has not been easy, but the work with Venetian plaster is much easier than trimming and polishing of marble slabs. Because this kind of finish has become very popular. She trimmed walls, ceilings, columns in the palaces. The finish was beautiful and durable, weakly react to changes in humidity and temperature, high humidity Venetian canals led literally to the rampant use of this material. It contributed to the popularity and the fact that the marble dust to bring easier, and it costs less. The remaining components were added in place extracted. The fame of the beautiful decoration materials distributed by merchants to quickly, and called it the Venetian plaster. Since then, and has become a tradition.
Italian Decorative plaster may be of a light color or saturated
The above-described composition Venetian stucco - marble dust, slaked lime and coloring additives - used up to now. Absolutely natural finish. But there are compounds in which add synthetic colors (acrylic) or modern communication is used instead of lime. Another may be the juice of rubber trees, pounded granite. All or some of the additives contain - depending on the manufacturer, but the name of this material, too, Venetian plaster, as the main component - marble dust - remains the same.
Applying Venetian plaster with your hands - a complicated matter. The problem is that it is a creative process and the methods of applying mass. From the various movements receive different in appearance to the surface. Without the experience to anticipate what you get is not possible. Learn how the movement will lead to any result, you can only experiment, that is, we must try. But. Venetian plaster is worth very expensive, so the experience turns costly. Although learning how it is necessary ...
application techniques are different, kind of get a very, very diverse
The only thing that can advise plaster piece of plywood measuring at least one of a square, and preferably 2, sanded and a primer coat applied to try Venetian stucco on that surface, polishing technique. Proceed immediately to the finish is not recommended. Most likely, it will have to be removed and re-remake, that is insulting, costly, long time. If you are lucky, you can get to the dealers who are trained to work with Venetian plaster. They provide material and stand for, show how to do it. However, this rarely happens.
The base on which is applied Venetian stucco should be perfectly flat. His pre shpaklyuyut to dub and absolute smoothness. Use latex putty. If you put structure on an uneven wall, it will only emphasize the shortcomings and increase the consumption of Venetian. It is possible to carry out the alignment of the base layer, but the cost is very expensive alignment.
That's such a wall, you can get
A flat cover wall primer deep penetration. It is desirable in two layers. This will ensure good adhesion of finishes, will remove any dust that remains after grinding plaster, will prevent the development of fungi. Once the wall is dry, you can begin work.
Venetian plaster is sold in buckets, the view is pasty. The basic version is white, the color is added to obtain color schemes for different effects there are decorative additions - pearl, glitter, etc. Zakolerovat composition can be in a store or on their own.
For self-tinting will need a drill with an attachment for mixing. In some cases, the Venetian plaster is covered with a layer of water - to prevent it from drying out. In this case, prior to use or tinting, water is drained. Then, by using the nozzle on the drill, the composition was stirred until homogeneous. Only thereafter poured dye, stirred for a few minutes (5-10) using a drill and the nozzle.
It is necessary to mix well until a uniform color. By the time it takes 10-20 minutes
While stirring, beware: next to the bucket wall structure is often not painted. After removing the packing, take a clean wooden block of a small section, slide it along the walls. Most likely, there are places where the dye is not ranked. Several times swipe bar, along the walls, having achieved so that the walls had been painted with the material. Re-mix composition of the drill until uniform in color. This procedure can be repeated once again - just to make sure. There is one more thing: some manufacturers recommend that after staining to wait 12 hours.
With self-tinting is necessary to remember that in some compositions by drying the color change (not all). Because to determine the future color of the sample needs to be done: to put a couple of strokes and wait until dry. According to the results, or to add a dye or - nezakolerovany composition.
Also keep in mind that repeat the same color will not be possible with manual tinting. The new party will be different. Because it is necessary to color the material in greater numbers than expected consumption: it is better that something will be, than not enough.
The layers of the substrate Venetian stucco may be from two to ten. It all depends on the desired result. And the corresponding "desired result" and real - this thing as time experience.
That's the beauty of this can be done by hand ... if in front of this train
The layers are applied in different ways, but each of them is leveled and polished to smoothness, each should be allow to dry. Only after the last application and drying, the surface can be coated with wax - beeswax or synthetic. Depending on the type of wax or a glossy surface is obtained (beeswax) or matt (synthetic based). Surface synthetic preservative walls are also waterproof and moisture resistant, so if you want to decorate the walls in the bathroom with Venetian plaster, wax take synthetic.
First layer - base. It is applied evenly on the rules of application of conventional plaster - it is necessary to make it smooth. It can be colored, it is possible - not. It depends on what kind of background you want to have - white or color. If applied are 2-3 layers of material, it will shine through. If the layers 5 and more than likely, it will not see (again, still depends on the composition of the type).
On the trowel to apply a small amount of the composition and pounded on the wall
To determine exactly read the manufacturer's recommendations, or see workshops on ways of applying Venetian plaster. And to see the difference, try on a piece of plywood to do so, and so. It is more reliable.
The second layer of Venetian plaster, and all subsequent, applied chaotic strokes. Composition take on a flexible thin metal spatula or trowel special Venetian. The composition is applied to the edge of the spatula / trowel, small strokes in different directions are applied on the wall. In this case, you should try to not visible trace of the first contact surface of the tool. Subsequent stroke, as it were, covers, lubricates this place. Moreover, it is not necessary to achieve uniformity. The whole essence - in chaotic directions, shapes, lines, curves. also about how in natural marble.
Applying a second layer - or chaotic in one direction - depends on the willingness
Dries Venetian stucco 1-10 hours - depending, composition, manufacturer, temperature and humidity. The exact time looking at the packaging. After drying, a dry surface is overwritten with a trowel. Thus smoothed all variations which remain after application of the layer. On the cleaned surface of the next layer is applied, dried, smoothed. And so until then, until you get the desired result. The result - usually a - through thin layers of translucent darker band in areas where, during application, the composition of lay more tightly. The depth and brightness, which "shine" bandwidth depends on the number of coats applied.
The last layer of plaster is applied to a Venetian necessarily thin metal spatula. Technique called "stripping on" and turns almost transparent layer. On spatula take slightly composition is applied to the wall, tightly holding the blade structure is collected from the wall back. Thus the wall is very thin layer of material. Here at this stage it is necessary to try to ensure the surface is flat. Minor irregularities will be removed when grout, but we must try.
It is a tool for applying Venetian plaster - a special trowel
Last thin layer Venetian stucco finally dried not to end. 20-50 minutes after start cement surface. Please note that some compounds have to iron a small area. Venetian plaster was applied to a small area (about half a square meter), jammed. Other vendors allow a longer period of time. Similarly, we must look on the packaging or ask the manufacturer.
Zheleznenija process itself - a floating dry clean metal surface. Take a clean, without stripping, scratches or other defects Venetian trowel and smooth down the surface in a circular motion. In the process of drawing is shown, there is gloss, Venetian plaster gradually acquires a "depth" and bedding, which is different and natural marble.
After zheleznenija shown drawing, the wall becomes like a marble, it has a light silky shine
When cement Venetian plaster should be closely monitored to ensure that no scratches were formed, stripping. For this purpose, Kelme should be grains, grains of material, etc. It should also be ironed wall plane trowel without affecting its edges. Treat at one time a small area when the tread pattern on it, to move to another site, do not forget to pay attention to the borders of the two sites.
Venetian plaster with cement may be the last step. In this state, you can leave the wall or ceiling in a room. For corridors, bathrooms, kitchens, require protective wax coating.
The wax is applied after completely dry Venetian stucco. To be sure, better to wait a day. The wax is applied a thin layer of a wide spatula "to tearing." A thick layer starts to flake off and eventually peel off, so leave at least the wall.
After applying beeswax wall becomes glossy
After about 30-50 minutes after application, starting polishing wax. For this fit fleecy attachment on a drill or grinder. Worth nozzle should be short and soft, does not crumble. Turnovers are putting no more than 3000 rev / min. At higher speeds the wax is erased, not polished. Polishing continues until until you get the desired gloss level (depending on the type of wax).
If needed dim matt protective layer, use synthetic wax
Complete drying wax - about two weeks. Only after this time you can wipe / wash / rub. When it comes to the bathroom, it is best not too exploit it (if possible).
Independently fill the cones with the case of Venetian plaster - it is expensive. At the same time understand the description of what and how to do it is practically impossible as overlay strokes - is unclear, the phrase "in a chaotic manner" does not explain precisely nothing, because complete chaos anyway. There is some kind of order or the application of bias. So, to make it easier to find your way to tell what angle to cause strokes in each layer. So chances are that after a couple of samples "on fanerku" self-laid Venetian stucco will please you.
The bathroom looks great Venetian
Method one: figure is not too bright, not very clearly expressed, flowing lines, seamlessly. Apply layers as follows:
Base - can be untinted, white composition evenly, good leveling surface. Flow rate - 500-600 mg / m2.
Second layer - Coloring material. Tilting motion of the trowel - about 30 °. May be more dark and light stripes. Consumption of 220-250 mg / m2.
Third layer - tinting. Pretreat edge trowel small Venetian sandpaper grain 600, to remove the dirt. Apply the composition at 45 ° of the trowel. Consumption of 80-100 g / m2.
After 20-30 minutes, hold cement, wax and polish applied if necessary.
Venetian plaster in any interior looks rich
A good option with good effect. Not too heavy machinery gives hope that the Venetian plaster will look normal, even if it is applied without a beginner skills. But all the pre-test to "fanerku".
Method two: with a colored base, multidirectional strokes in each layer. The order of application is as follows:
Base - even layer, color tint in the main material flow - 500-600 mg / m2.
The first layer. The composition of the same color. Smears thin, virtually "on stripping", alternately in three directions - vertical, horizontal, obliquely. By alternating the direction of gradually thin strokes fill surface.
The second layer. Another color of the material, can be a little lighter. Multidirectional strokes, too, but a little smaller in scale.
Spend with cement, wax wipe.
Venetian plaster in the kitchen must be protected synthetic wax
This method is also good, if you can master the multi-directional movement. We should not forget that the swabs must be thin. In general, we try.
Venetian plaster with your hands
Despite its antiquity, decoration of residential and public buildings with plaster is still very popular. This is explained and practical advantages of this wall design, and extremely attractive appearance. You want to make your home more beautiful, without resorting to third-party masters? Then the Venetian plaster with your hands for you is one of the most preferred options.
Venetian plaster with your hands
The story of Venetian plaster
Venetian plaster itself has been around for a couple of thousand years and has appeared before its present name. Even in ancient Rome, the builders have noticed that the waste quarries in the form of dust and small debris can be used for making the finishing mixture, which at a certain application technique of their appearance is not inferior to the normal marble.
Subsequently, this recipe plaster has become very popular in Venice during the Renaissance, and from there, and bears its current name, which sounds like the original stucco veneziano. Now we look at what kind of decoration material and what it consists of.
Venetian plaster in the interior space
The main component of Venetian plaster - a very fine stone chippings. And it can be not only marble but also onyx, malachite, granite, quartz and other minerals. Among themselves, this stone chippings bound by means of slaked lime. However lime recently become replaced with a synthetic component - acrylic. Such Venetian plaster in appearance is not inferior to the "classical" composition, but it is much easier to work with. Complement mixture different dyes, referred to as Kohler. They attach particular shade of Venetian plaster, needed owner gets off the premises.
Important! If desired, and the availability of time, Venetian plaster can not only cause, but also prepare yourself. To do this you need a stone crumb, which is available in the studio, working with marble and granite. Slaked lime can be found in the construction supermarket and Colera - in stores that sell paint and plaster. But remember that the factory compounds have already weathered the formulation and determination of properties.
This plaster can be prepared with their own hands
Venetian plaster - pros and cons
We should also consider the advantages and disadvantages of Venetian plaster as a material for decoration. Of the advantages are the following.
Texture simulating many kinds of natural stone (depending on the technique applied plasters-master).
Decorative Venetian plaster
The effect of "inner glow" due to the high light reflectivity of the material and applying a coating of wax.
Resistance to mechanical loads and temperature changes.
Long service life of not less than 25 years (with proper technology plastering).
No seams and joints in the walls and other surfaces.
Color retention over time due to coating of wax.
Resistance to water - Venetian plaster can be safely used in the bath or in the baths.
In the photo - examples of wall decoration with various compositions using different techniques of decorating
As for the disadvantages of Venetian plaster, then to them belongs the high cost of the material, the complexity of decoration and high demands on the basecoat - it must be perfectly smooth and well leveled, without irregularities and defects. Without the last factor you may encounter a problem when all the disadvantages of the wall will be seen after the finish.
Marble decorative plaster
Wall finished with plaster, depending on the type of material may have a different texture, color, look modest and discreet, or, conversely, very expensive. Marble decorative plaster - a type of decorative surface finishes. It is used for various purposes, including for the facades.
Tools for work with Venetian plaster
Before proceeding to the description of the technician applying Venetian plaster with your hands, see a list of tools needed for the job.
Table. Venetian plaster with their own hands - a list of tools.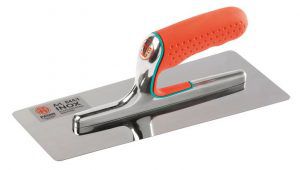 Capacity of small and medium-sized
Dry and clean rags
Bulgarian with a nozzle for polishing
Drill with paddle-mixer
Video - Venetian plaster from A to Z
Applying Venetian plaster with your hands
From the description of Venetian plaster, its features, advantages and disadvantages of turning to the basic techniques of drawing. But before that, read the how to prepare the wall for painting and decorating and how to get their own part of a certain color.
Important! As mentioned above, the walls and other surfaces with the help of Venetian plaster is a complex process that requires some experience and skills. Because before proceeding to the construction works, take a small amount of the composition and work out in the white and smooth MDF panels. It is desirable to try a few different techniques and applying the plaster to experiment with several colors.
EXAMPLE white and smooth MDF panels suitable for applying training techniques Venetian stucco
Successful application of Venetian stucco in two tones on the sample for training
Surface preparation for Venetian plaster
All work related to plastering, begins with the preparation of the walls. If the walls there any old finish (paint, wallpaper or something else) - delete it completely and as thoroughly as possible. Also, the walls are cleaned of involuntary traces of repair in the form of spots and construction dust.
Dismantling of old paint on the wall
After removal of the previous finishes begin to correct the large wall defects. Cracks and potholes seal the cement mixture, the projections remove the grinder, rough places powertrowel sandpaper. As a result, you should have a relatively smooth surface without any defects suitable for further finishing.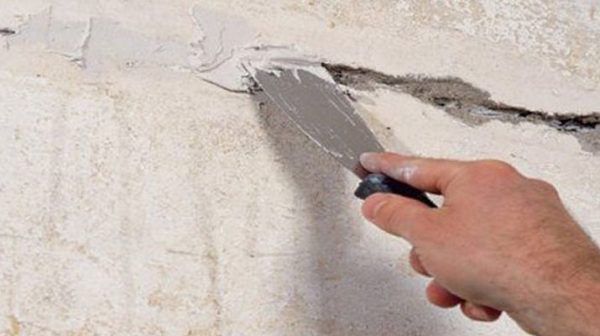 Cutting protrusion grinding wheel
Next, on the surface, apply a primer sequentially, starting and finishing plaster. After polishing the last sandpaper you should turn out perfectly flat wall, devoid of any flaws. Remember that all the surface defects after the finish of Venetian plaster are very visible.
Complete training walls under the Venetian plaster applying two (and in some cases three) layers of a primer. Moreover, its color must be a neutral white or similar in tone to the future finish.
Tinting Venetian plaster
Before proceeding to finish the landlord or master performing work for him, should match the color of the future of Venetian plaster and "cook" it, using a basic white mixture and several different colors. This process is known as tinting, and from the step by step instructions provided in this section, you can see how it happens.
Step 1. Select the appropriate shade of Venetian plaster. In this case, use Coloranting fan. It applied not only primary colors but also their colors, the total number of which may reach several tens or even hundreds.
Step 2. Prepare tools for tinting - a blank sheet of thick paper, which can be viewed, whether cooked Venetian plaster chosen shade, a small container for mixing the composition, narrow spatula and a set of dyes.
Preparation of all necessary
Step 3. Zagotovte small number of Venetian plaster neutral-white color. Select the appropriate dyes. In this case, the wizard will seek a dark red hue with a shift to brown. For this purpose, basic red, reddish brown, brown and black colors. The latter is needed to reduce the brightness of Venetian plaster and make it more similarity to natural marble.
Preparation of plaster neutral-white
Step 4. Select a container with a basic dye (in this case red), stir it and add in a lot of the white plaster.
Adding base dye
Step 5. Narrow spatula stir the plaster and color to purchase a uniform color composition.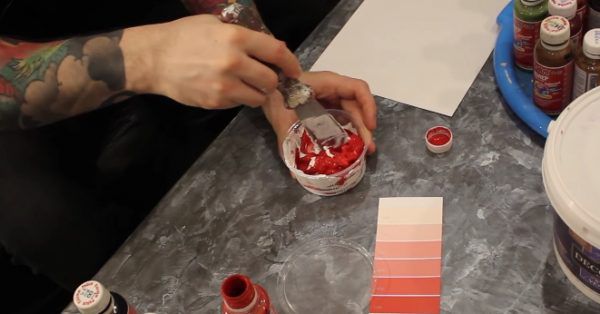 Next, you need to mix the plaster and color
Step 6. Narrow spatula put on a white sheet of paper a small strip of plaster, mixed with the basic color scheme. Compare it with the desired hue on the color fan and determine which dyes and how much to add. All in the process of tinting is done several such tests, with the help of which you can gradually achieve the same color, and which was originally conceived.
Plaster is applied on a white sheet
Step 7. Add to plaster a second color, which will shift its tone to a pre-selected. In this case we are talking about a red-brown color. As in the last time, stir until smooth plaster, apply the mixture on a small strip of paper, and match with the selected color tint on the fan.
Adding a second kolera
Important! Attaching plaster color, keep in mind that after drying it is lighter than currently, one and sometimes two-tone.
Step 8. Add to the plaster just a few drops of black color scheme to give greater consistency to natural stone and a decrease in brightness, which for this finish will be unnecessary.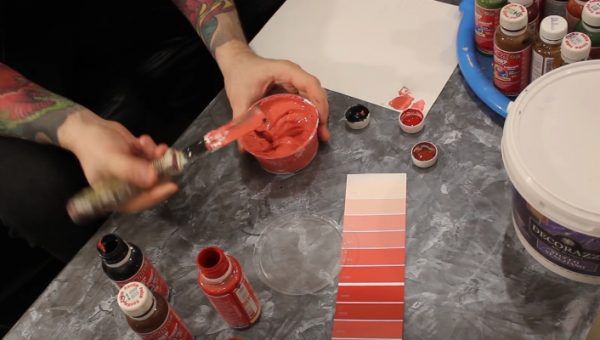 Step 9. Apply a strip of plaster on paper and map with the selected color. Adjust dye mixture to the point where it has reached the desired appearance. After that tinting can be considered complete - then you're ready Venetian plaster on the same principle, but on a larger scale to be applied to the wall.
Application of classical Venetian plaster
We begin by considering the basic application techniques Venetian stucco. It is called the classical and requires a mixture of only one shade. In this case, will be applied Venetian plaster color of milk chocolate.
Step 1. With tinting prepare a certain number of a certain shade of plaster and choose the location where it will be applied. Note that the "Venetian" dries quickly, so work with small sections of about 1 m 2. Different places have little overlap.
The example uses a training canvas
Important! If the Venetian plaster is applied to two different people, then they must periodically change places - everyone has their own way of working, but it is necessary to achieve about the same appearance of the walls and their parts.
Step 2. Rounded smooth movements with a spatula apply a first layer Venetian stucco. It eliminates invisible defects in the wall, and aligns it is the link for the subsequent layers of finishing. Remember that you need to apply a small amount of plaster and a thin layer. At this stage, the presence of small bald spots permitted.
Depositing a first layer
Step 3. Wait 60 minutes until the moment when the first deposited layer Venetian stucco has dried.
Next, you need to wait about 60 minutes
Step 4. Using a trowel, apply the second layer Venetian stucco. It should be as thin as the previous one, but it is here that the veins and other elements, which in the future will be "drawing" on the wall, imitating natural marble or any other stone.
Applying a second layer of plaster
Step 5. Apply third coat Venetian stucco, which is the classical technique called "rubbing". For this operation, use the Japanese spatula, while it needs to be pressed to the wall with considerable effort. With this tool, a small amount of plaster is applied over the second layer, and then produce the movement for removing the surplus.
The application of the third layer
Plot Venetian stucco after application and partial drying of the third layer. One can notice the specific pattern which is the main feature of this type of finish
Step 6. Without waiting for complete drying (but not immediately after the application), a third layer proshlifuyte Venetian stucco abrasive sponge or very fine sandpaper. Shake off the treated area with walls formed during this operation, dust.
Grinding third layer of plaster
Step 7. After drying, the finish plaster coat treat it with wax. A small amount on a spatula to apply the same principle that has been in the previous step - first part is on the wall, then forcefully removed its surplus. The wax will make Venetian plaster on a darker tone, giving it shine and protect against abrasion and moisture.
Step 8. After 20 minutes after application of wax wall portion trims Venetian stucco, and wiped dry with a clean cloth. Before that, you can "grind" it once again the Japanese trowel, removing excess wax.
The surface is wiped clean with a cloth
It is ready for coating on the canvas for training - self-colored Venetian plaster, applied by the classical technique
Applying Venetian plaster in two colors
Now let's look a little more sophisticated technique applying Venetian plaster - there is work with mixtures of the same color, but different tones - one lighter and one darker.
Step 1. With the help of a certain amount of tinting you prepare the plaster of the same color but in different capacities and with different shades. As already mentioned above, the first composition is lighter, darker second. Also, define an area of ​​1 m 2, from which to start drawing of the Venetian stucco on this technique.
Prepared plaster two shades
Step 2. As in the previous technique, apply a first layer Venetian stucco Japanese rounded spatula movements with average pressure and without special removing surpluses. When using this mixture of light tone.
Depositing a first layer
Step 3. Wait until the first layer dries, and start the second application. He will be responsible for the texture of the walls Venetian plaster finishes. The main part of the second layer, apply a light tone, painting small veins, and other elements in height. Then the Japanese spatula, take a small amount of dark shades of plaster, and leave on the surface of small spots and stripes. Thus, a certain pattern, imitating a real gem.
Half of the light of the second layer of plaster is applied
Spotting spots dark Venetian plaster. They are marked with red arrows
Turnkey second layer Venetian stucco with elements of both tones and patterned
Step 4. Apply a third layer of light-colored plaster. At the same time work with a spatula with a serious effort, semi-circular movements, "on stripping" just plastering. These sites then polish. The process is similar to what occurs in the description of the previous art finishes.
The application of the third layer
Step 5. Wait until the third layer of the plaster dries and treat the wall portion (or, as in this case, the training canvas) emery cloth or sponge.
Surface treatment sponge
Step 6. Erase dust remaining on the plaster wall portion after use of abrasive sponges, and apply a layer of wax. Once it is dry - wipe everything clean and dry cloth. After this part of the wall can be considered successful Plastered "Venetian" in two tones.
Ready Training canvas coated with Venetian plaster in two colors. You may notice a special design created with a difference in shades
Important! Apply plaster coating technique in two tones with the magnitude of a finished area. If it is large, the difference between shades should be minimal - otherwise the wall will "dazzle" and more likely to irritate than to cause positive emotions. But for small sites allowed to use plaster with a difference of a few tones.
Applying Venetian plaster imitating marble
And finally, a look at the third technique of applying Venetian plaster - with an imitation of this marble. Note that this is quite a complex finishing option, which requires a certain experience in this field.
Step 1. Prepare plaster base color (in this case, the red, which was discussed in the subsection on tinting), as well as black and white mixture with which the imitation marble, and will be executed. Apply the first coat "Venetian" using the composition of the base hue. In this case, put the plaster on the surface diagonally from right to left, leaving the characteristic bands.
Depositing a first layer
Step 2. Wait until the first coat is dry, a spatula and put on a large number of primary color plaster, add thereto a quantity of a mixture of white and lightly mix. Then, supplement the black. EXAMPLE applying plaster trowel on three shades can be seen in the photograph below.
EXAMPLE applying plaster trowel on three shades
Step 3. Apply the mixture of three different colors renders the second layer. In this case, lead spatula diagonally from right to left, painting streak streaked.
Application of the resulting mixture
Step 4. Using instructions from the previous step, continue applying different color mixtures plasters until complete formation of the second layer. Let it dry.
The second layer must be dry
Step 5. Deal with Venetian stucco sandpaper fine grain. Wipe off any dust that has formed in the course of work.
plaster processing nazhdachkoy
Step 6. Apply Japanese spatula wax layer which protects the plaster coating and give luster.
Application of wax layer
Step 7. After drying, the wax wipe the surface clean with a cloth or special attachment for the grinder.
At the end of a good surface is wiped
The finished coating Venetian stucco on the training canvas
Now you know about the basic methods of work with Venetian plaster. Try this kind of finish as soon as possible - the difficulties of working with him, wrapped in a stunning result.
5
4
3
2
1
(7 votes, average: 5 out of 5)
on the facades Encyclopedia from A to Z
© 2016 Copying of materials is prohibited without installing an active link to the site.