Decoupage from napkins with their hands, the rules and features of
In this article we will talk about what is decoupage with their hands out napkins and how to decoupage of napkins.
In Decoupage use different materials, including simple three-layer napkins. They are made from thin perforated paper, making them an indispensable material in the technique of decoupage. Irregularities of the cloth that product with application of tissue requires only 1-2 layers of lacquer, unlike other variants of decoupage.
Since cloth is very thin material, the lacquer can be used instead of a simple adhesive. It perfectly protects the image from the external environment. This may be a special glue for decoupage and simple clerical PVA glue. Dilute the glue when working with a napkin need half with water.
Typically used Decoupage napkin topsheet. This may be the whole cloth, or only fragments of her figure. It is cut or torn, despite what effect you want to achieve. If you plan to align the edge of the track on the product to make a uniform background, it is best to figure snatch. If you need a clear outline of the figure, the fragment must be carefully cut. The top layer of tissue is very thin, so it's best to do this manicure scissors. Fragment to be imposed on the product, to understand how the picture will look. When applying napkin on the dark surface it will shine, and color pattern will change. If you are using only a fragment of cloth, the pattern element you want to cut very carefully, exactly following the contour of the scissors. If we impose a napkin on a white surface, the picture will look much brighter. In this case we can not observe the orderly pattern when cutting contours already be clear.
To remove the top layer of napkins, you need a toothpick to pick it up and separated from the lower layers. This should be done immediately before the operation, otherwise there will be complexities. If you do not, then you can lubricate the glue fingers and taking a tissue from both sides, separate the layers.
When you select a picture, you need to lubricate the surface of the article to which you will paste a fragment of cloth, glue. Sell ​​special adhesives that would avoid hunching wipes, keeping the surface smooth. In addition, they serve and finishing materials. Once the cloth is stuck, you need to top again lubricate the glue. Brush need to drive from the center to the edge. In order that the surface is flat, you can spend on it iron, pre-bed on top of product tracing.
To wipe not torn during application it on the product, you can use the following methods.
Bonding tissues using a file
This is the easiest way to work with cloth. To work needed just a thin file, PVA glue, varnish, water and napkins to decoupage. Face-down put the napkin on the file. Pour the mixture of a little water and adhesive (adhesive should be 10%). Then well moisten napkin in the resultant solution so that the napkin has been completely in water. Then you need to carefully spread all folds and creases. Thereafter, the water is drained and the tissue glue with a file to the product. Wet towel can easily be rotated to achieve the desired position. At the end delete the file with a swipe.
How to glue the napkin using iron
Such an embodiment with a cloth suitable for wooden flat surface. Here, in addition to the need to stock up on tissues and parchment glue with non-stick coating. Before the work is necessary to lubricate the surface of the primer. After the wood is dry, put on him PVA glue. You need to wait a bit to the edge of the product has dried up, and the middle of yet. At this point, the product impose a napkin, put on top of the parchment and ironing. The result is a perfectly smooth surface.
Glue napkin with a brush in the form of a fan
This method is relevant when small fragments adhered napkins. To work need glue, water and fan-shaped brush.
To start put the fragment of cloth face up. Pour directly on it a mixture of water and a very small amount of glue. Gradually add water using a brush, with a little stretch cloth. Fan brush very gently spreads all irregularities and removes air.
Here it should be noted that if you choose the background color is not white, and the other, the color of a fragment of tissue may vary. This should be considered when working, or the result you may not like.
For information on how to make decoupage of wipes, you can see in this video.
As you can see, from decoupage napkins - a very exciting experience. Creative you success!
With other embodiments of the napkin decoupage, you can see in the video:
Napkins for decoupage: turn-based technique of decorating
Of the variety of decorative art it has been and remains a popular technique decoupage. Needlework is based on the use of three-layer paper napkins to decoupage, that bear an interesting pattern, bright picture. As a result, even the most ordinary everyday object becomes a true masterpiece of design ideas. How to do this, read the article below.
decoupage technique successfully replaces the artistic painting. Decorating occurs by sticking the pattern on the surface of household items. For this purpose, special decoupage or paper napkin that bear an interesting print. Decoupage napkins involves the use of wooden objects, do well on old furniture. Often dekupiruyutsya candles, glass bottles, ceramic dishes, napkin holders, holders for pens and much more.
How to decoupage of napkins
Decoupage - a kind of application. All you need to do - it is the desire to make beautiful decor and a little perseverance. The sequence of execution of work is simple. To do this:
Napkins, special decoupage paper or pictures printed on thin paper.
The subject of decorating. You can work on any surface.
Scissors. Using conventional, but better - with rounded ends.
PVA glue. On sale there are special adhesives.
Varnish matte or glossy.
Flat brush to paste the image and smoothes wrinkles.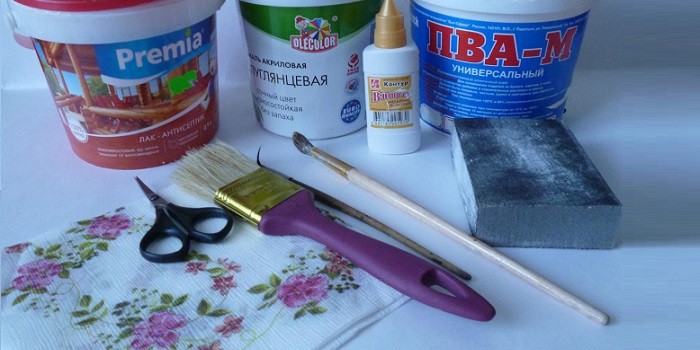 Ways of sticking a lot of napkins. Combines them all one rule is pasted only one layer, the upper. It gently thin layer, separated from the napkins. It should be done cautiously. If you paste more than two layers, there is a high probability to leave unglued place, which after drying will strongly stand - these places will look whitish.
A common technique of decoupage napkins - file. A file is placed face-down pattern. All richly moistened with water. The excess liquid to drain. The image file is applied to the application surface. All at once aligned. After removing the film this is not possible without repeating the process from the beginning. Coat with adhesive from the middle, free space is not skipped.
Napkins used for applying glue stick and iron. The method is only suitable for flat surfaces. Initially, the foundation must be lubricated with glue and let it dry. Prepared for put the napkin size 33x33, it - baking paper. All ironed iron. Next, the surface once again smeared with glue. The downside is that everything is done very carefully, because iron can leave creases on the paper.
For gluing various tissue motifs on concave or convex object used equipment fan brush. Method can be called in different ways, but the principle is the same: Figure prepared is placed on the subject. The background color is not important. The center is filled with water and a soft brush is stretched to the sides. Plus the fact that everything is easily laid on an uneven surface. Minus - all folds have smooth hands, and it is very hard work.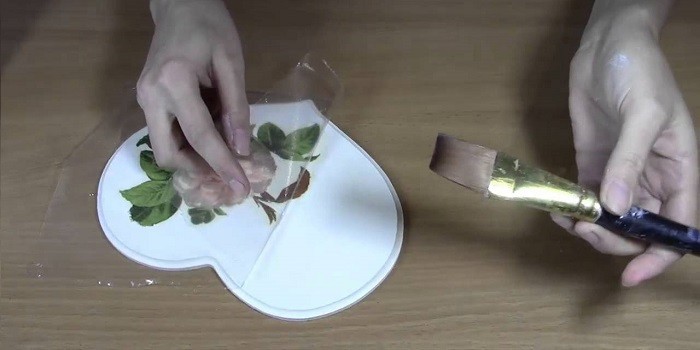 How to paste cloth without folds
To the final work looked impressive, pleasing to the eye, it should be very carefully smooth out wrinkles on the wet paper. Decoupage napkins, which are applied to three-dimensional surface with special glue, bound to be a darts-folds. However, they also need to be able to accurately cut and make invisible. Here are some ways:
Using a spray of water. Before bonding doily preliminarily sprinkled water. This is done directly on the object to be decorated. Paper should be dry and take the form of a surface. This saves on the tears. Glue pattern on the substrate in any convenient manner, but more suitable equipment fan brush.
For sticking to glass, the foundation must be pre-lubricated with glue. This will prevent the paper from sliding. If there are indentations in them accurate butting hammered wet cloth. Brush should be kept in the wet glue, so as not to tear the paper. All covered with several layers of lacquer.
The metal surface to be treated with medium-sized sandpaper for better grip. Fastened all using PVAc and flat brushes. Periodically, it should lift the edge to remove the air. If after drying yet formed wrinkles, they need a little treat very small, zero, sandpaper. It is important here not to rub as damaged drawing and all have to start again. It may take a whole stack of paper.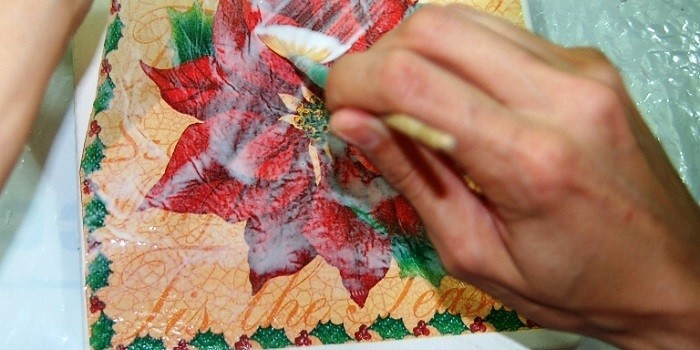 Where to buy napkins for decoupage
Acquire material for creativity can now be not only in a specialty store. It is always possible to buy napkins for decoupage online store. In this case, the piece can be ordered as a commodity like to buy large quantity. Fans go shopping can not only see the product firsthand, but also make the personal order. Printing pattern is carried on a thin special paper.
The choice of napkins for needlework depends not only on their quality but also the cost. Someone takes into account what the manufacturer, some prefer the cheaper option. The table lists examples of kits for decoupage Moscow region:
Napkins 35 * 50 rice 12
Paper napkins and Craft Premier Gzhel. Tea ceremony. 282h384 mm
Paper for decoupage rice 282h384 mm Chebbi ROSE
Three-layer 33h33sm '' Julietta '' Paw
Three-layer 33h33sm '' Color Red ''
Three-layer 33 * 33cm '' Merlot ''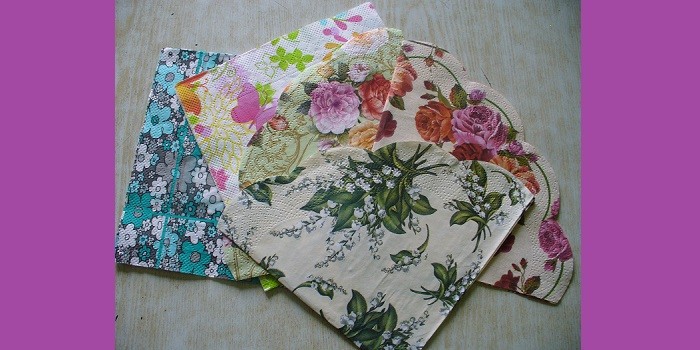 How to choose the napkins for decoupage
A popular material for decoupage wipes remain, the main difference from conventional - presence interesting pattern of bright and memorable. On sale there are also special samples in several layers. It is important that the top layer on which the coated image was as thin as possible. On this depends the illusion of hand-drawn images. Here are some tips of their choice:
By purchasing a few pieces of cloth or with a pattern, similar in style, with the same background, it can be set.
Sandwich desirable to select sets with large picture. They are well-decorated vases, flower pots, small chairs. Of the usual three-layer napkins obtained interesting boxes and shelves for towels in the bathroom.
Single-ply napkins are used in the decoration of flat objects.
For dekupirovaniya glass, plastic, metal is rice samples.
Reviews
I decided to experiment creatively. Itself is not very friendly with the art. Were old jars in the kitchen for loose items. I bought a set and decided to decorate them a little bit. Happened. However, over the first jar I had to work hard for a long time. I used the method of a fan brush. photo made. Friends liked.
Once I walked and went into the store for needlework. What is there just no! Naturally, I wanted to "create". Paint itself can not, but really like the painted things. The seller suggested that it would be good to start with decoupage. Advised swipe, chose a special glue. Home beginning with fining cutting board. Made with the help I've found, and water.
I really like the items decorated with decoupage. Constantly I am using this technique. I made sets in the bathroom, in the nursery. And in the children's room to do together with children, and they loved it, and diverted from the computer. Once started with simple shapes, and now even make to order. Paper buy any, the main thing that was with an unusual pattern.
Decoupage of napkins: how to make your own hands
It's no secret that things (gifts, interior items, clothing) are handmade in our time are appreciated and are a lot more things factory production. And the varieties and techniques of performing a great variety of handmade products. Let's try at home of what is at hand, to create something original and refined by selecting the one of these techniques - decoupage technique, namely decoupage of napkins.
What we need to work
So, first make yourself comfortable in a room with enough light and has a large table - it will be your work surface.
One of the highlights will be the preparation of a choice of decoration object. Take a look around. Let's choose something wooden, for example, a kitchen cutting board. Its surface is more or less flat and smooth, and paper napkins are well grasped with the wood surfaces with an adhesive.
To decoupage with their hands out napkins turned out bright and colorful, we will need the same bright and colorful tissue paper or conventional white napkins with a color pattern on them. is now quite easy to find such wipes in any department store, and probably in your home after the holidays is a few pieces of "prazdnichnyh9raquo; napkins with flowers, hearts, etc.
Experienced Master tissue decoupage used for connecting elements and the ornament object decorating special adhesives, varnishes and respective compositions. We are also at home it is quite suitable conventional PVA glue, which can be quite a bit diluted with water to liquefy consistency.
Glue will be applied with a brush, so just prepare it in advance.
If drawing on napkins that you plan to carry on the decoration object, small enough, you may need nail clippers. Although there is a certain diligence and accuracy, we can do without them - to break the pattern by hand, which in the future will create the effect of blurry edges.
Our final step is to acquire a coating of varnish. Perhaps this is the only thing that may not be in your home and will need to simply buy in the store for needlework. Ask the seller about the lacquer, which is suitable for decoupage of napkins. For a more even application of varnish is better to buy in the can-spray.
When training is completed, and everything you need is already on our working surfaces define a sequence of how to make decoupage of napkins.
Separating from our napkins upper layer with a pattern.
Carefully cut or bursts through our hand-drawing.
On the surface of the object to apply the adhesive dressing.
Impose carved pattern on the adhesive surface and gently straighten all wrinkles and bubbles formed. Remove excess adhesive residues napkins.
When all the elements of the ornament you conceived glued and the glue has dried, cover the entire surface with lacquer decoration of the object. It is desirable to apply the varnish in the layer 2 with a certain time interval for drying.
Tips for needlewomen
Do not forget that a lot of use decoupage technique depends precisely on you, on your accuracy, perseverance and imagination. If desired, you can create an entire picture with scenes and use this as the objects decorating a variety of wooden items, textiles, metal, plastic, cardboard, ceramics and other materials.
So now you know how to use napkins to decoupage, to create a truly unique, unique and exquisite handmade thing, giving a second life is quite ordinary homely household items.
Use of this site is possible only with the direct active link to the site of female Diana