Air mattress for sleeping
The visit of the guests, and now sleeps at all lacking. When traveling out of town with a tent and they did not. There is a solution - to buy an inflatable mattress, which is easy to spread and can always take with you, because it is very compact. It remains only to purchase a suitable option, but it needs to examine the range, which offer manufacturers.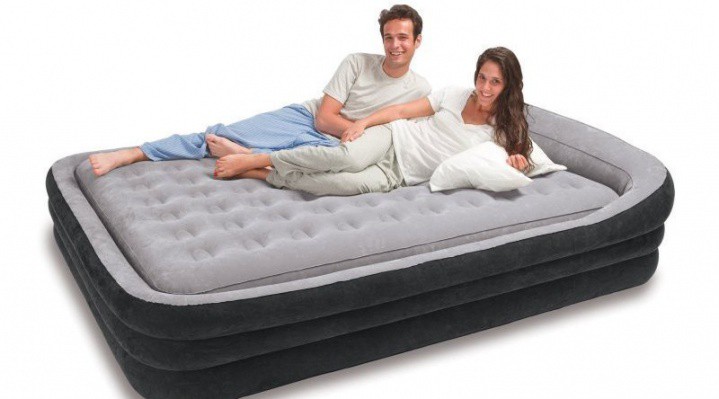 The first classification of inflatable mattresses to sleep separates them from the presence of the pump. There are also such equipment in which this element is missing. Increasingly, they still come with a built-in electric pump. They can be for 2-3 minutes without any effort to inflate the mattress or return to the folded state. Another variation - a manual or foot pump. So pumped air will be more difficult. There are models and entirely without the pump, ie. E. To inflate need to buy this item separately.
This variant is more budget, but if we add to the cost of the mattress pump price, which in any case have to buy, the cost to be not less. One of the advantages of these types is that the inflation tool can be used by anyone. You buy a mattress separately, and then pick up the pump: electric, hand or foot. In addition, this equipment allows the product to be even more compact and have less weight, because there is no built-in parts.
inflatable sleeping mattresses with pump
Air mattress with pump is convenient because you do not have further to go shopping in search of this important detail. When you purchase a set at once it consists of everything you need for inflation. It remains only to select the type of pump which may be as follows:
Electric. It can be integrated or separate with battery included. Due to the fact that such a pump operates only from the power outlet, it will not be used outdoors. If you buy an inflatable mattress for the house, then this option is ideal. Although there are special electric pumps powered from the cigarette lighter, so this limitation is conditional.
Hand or foot. It is more universal, because independent of the mains. The only negative is that before going to sleep for a long time have to work with your hands or foot, by which they are very tired, so increasing and inflation while.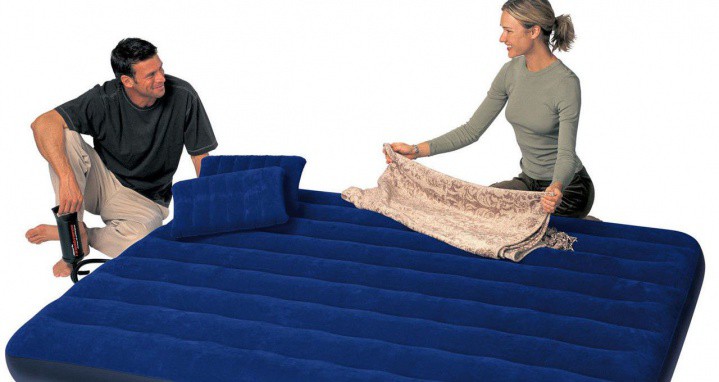 We should also highlight the self-inflating mattress that you just need to spread and to wait until he is filled with air. This happens due to the fact that product design consists of 2 layers. One of them - a porous polyurethane foam, and the second - a shell from polyester. Filler blown from the air mattress at the expansion and loosening of a special valve. Then enveloping material closes the air path of the masses, whereby the shape of the article and held.
Classified air mattresses for sleeping, not only the presence or absence of the pump. When buying pay attention to some important nuances. Choose what air mattress is better, it is necessary with regard to the number of beds needed. In addition, there are orthopedic models that are suitable for those who have back problems. In addition, manufacturers offer consumers a special version called the mattress bed. Features of these types of you can study in the instructions described below.
As well as beds, mattresses are made in different sizes. One type offers customers 2 extra beds. This type should be selected if expected arrival of guests so you are somehow able to place them. Double inflatable mattress has dimensions 152h203 cm, so it can easily sleep people with high growth.
The smallest size mattress dimensions are considered 76h190 see. This option is suitable only for an overnight stay per person. The advantage is that it can fit in terms of a small apartment, and used to swim in the sea or produce solar treatments on the beach. The only exceptions are models with built-in pump, because they can not be used in water.
As mentioned above, people with diseases of the spine is not recommended to purchase ordinary airbeds. Substandard products gradually blown away, because of which the load is distributed correctly. This inflatable orthopedic mattress for sleep has a higher price. All because of manufacturing technology, because the product gives a wavy shape. She provides orthopedic effect: the body load is distributed evenly over the entire area, thereby preserves the anatomical shape of the spine and full rest at night.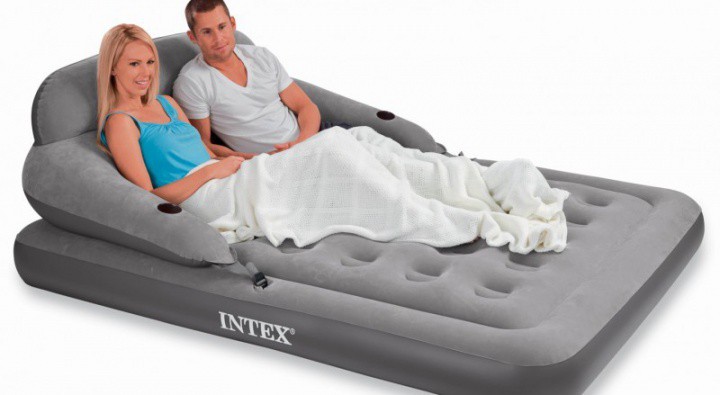 We should also highlight the air mattress bed. This suite for sleep is not as thin. It is distinguished by additional components that are included in the package goods. It can be a canopy or legs with pads. In addition, their design is developed more thoroughly, and taking into account the particular style of interior. Most of these models are equipped with orthopedic layer. Still there are variants with recessed beds, so that you will feel more comfortable, especially if you like to sleep, buried in something nose.
How to choose an inflatable mattress to sleep
A wide range of inflatable mattresses has led to the problem of choosing a particular type. As for the ranking of manufacturers, the popular today are camping, Tramp, High Peak, Bestway and Intex. The latter acts leading sales and consumer preferences. The important point is to choose the type of attachment. Depending on this, mattresses for sleeping may be:
with continuous fastening, ie, longitudinal strips, which are considered more durable..;
with a point, ie, in the form of dimples -.. they are less durable but more aesthetically pleasing.
As for the color, the more commonly used blue or green shades. Brighter for children can only be an inflatable mattress to sleep. In addition to the brand and the type of attachment, you need to take into account other important nuances, among which are:
design;
number of beds;
reliability;
mobility;
the presence of the pump;
quality of the material;
price category.
For one person, and often take one and a half option, the size of which a little more. They constitute 100h200 cm, so you or the visitor it will be more comfortable. Between a half and a double model, there is another. Its dimensions are 137h193 cm. In this it is possible to fit together, if you try. Dimensions of single- and double mattress mentioned above. Selection of specific size depends on what area you have, because the product has to fit on the floor of your apartment or in a tent.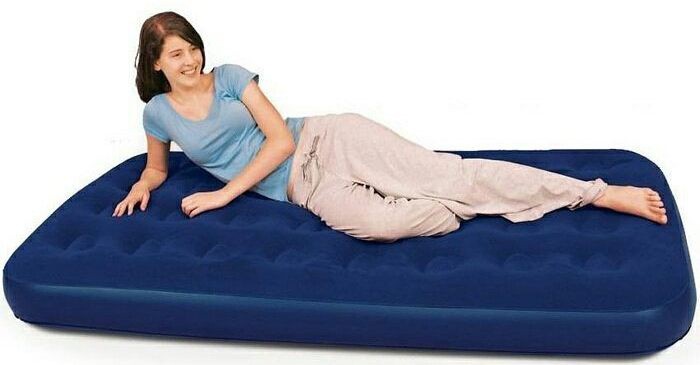 What made inflatable mattress
If affect the subject materials of construction for the inflatable mattress, the main of them is PVC. On top of almost all models have a velvety coating of textile or vinyl. It provides the convenience of swimming in the water and antislip effect on the sheet, because lying is not so nice on the rubber surface. In addition, it has become hot property. For aesthetes there coating of viscose. Pragmatists also give their preference jacquard.
To buy an air mattress to sleep can be a large supermarket, market or online store. As for the specific value, it is an inexpensive single. It is within the price range of 700-1000 p. King-size model will be more expensive and will cost about 2-2,5 thousand. P. Bed mattress of the entire line of bedroom furniture is the most expensive one. It will cost 3-4 thousand. P. At the same price sold mattresses transformers, which are converted into one or another piece of furniture.
Reviews
Acquired the largest company Intex mattress. Included was a pump, and even pillows. It costs 2,300 p. We were so pleased, in fact went around the city, while this option is found. Sleep on it simply excellent. At first they thought that the dimples will only hinder, but they are very comfortable. The main thing - do not let into the room cats. Our first day was pierced pads.
Alexander, 34 years old
My family and I love to go fishing in the summer, and also not averse to go for a swim. We decided that in addition to tents, we need another and a mattress, and a very large size, climbed to all. Friends advised Bestway brand and jacquard material, because it is more durable. This we purchased. We did not regret it: they began to go on the nature more often.
8 types of top inflatable mattresses
Inflatable mattress should be strong to withstand the weight of a person for a long time, and compact to minimize and remove for storage. Current models can be used daily and combine the functions of bed with a sofa or chair, replacing the usual soft furnishings in the interior of the apartment.
When choosing an inflatable mattress, pay attention to the specific parameters of each model, depending on the destination. Determine whether the product is used continuously or occasionally as a guest bed. Inflatable furniture is not recommended for use in areas with pets. If you need a mattress for camping or the beach, it also affect the choice of the correct model.
Size surface. Inflatable mattresses, as conventional, produce various sizes. Selected based on the human dimensions, sleep on it, and the space for its placement.
Height. High mattress is suitable for daily use and give the feeling of a traditional bed. If you intend to transport, choose a low mat for camping or thin mat for hikers.
Material. Inflatable bed should be made of thick high quality material that will create a feeling that you are sleeping on a standard mattress.
Surface coating. Flocked mattresses are pleasant to the touch velor surface that holds the bedding from slipping. A similar coating the bottom side will prevent the product from sliding on the floor of the room.
Pump. Some models are equipped with built-in electric pump or an external mechanical pump. Built-in pump must be easily accessible, it is simple to operate and does not overheat when in use. If the pump is used to inflate a third party, keep in mind that the pump power required to match the size of the product.

Additional functions. Sometimes inflatable furniture equipped with LED-lamp, USB-port for charging smartphones, cup holders, and even a remote control. These functions are determined by personal preference and inflate the cost of the product.
Elevated headboard. Ideal for people who prefer to sleep on a low pillow, but in general it does not matter when using the usual pillow.
Smell. As a rule, the new models are not strong smell of rubber or plastic, which disappears after the first few days of use.
Inflatable mattresses are available in different heights. The disadvantage due high mattress large dimensions in packaged form. Low mattress smaller and cheaper, but it hard to climb, which is difficult for guests aged.
Depending on the purpose of use for different types of mattresses has specific requirements for maximum product functionality.
On every day. If you plan to permanent use of an inflatable mattress as a bed, look for the product made of solid material - it adds resistance to punctures and burst under the weight of the body. Such models are called inflatable beds, air chamber therein coated with layers of latex or polyurethane foam.
Orthopedic. It proved that sleep on an inflatable mattress makes it easier to back pain. Therefore, people with bad backs should pay attention to orthopedic inflatable beds. Often, such a design is equipped with an adjustable level of rigidity, which is changed by pressing a button.
Children. For children from 3 years old is allowed to organize their own bed, using an inflatable mattress special design. For infants inflatable products can not be used.
Tourist. For camping or hiking require compact inflatable pad as an alternative or in addition to the sleeping bag. This bed can easily fit in the tent in the morning and easily rolled up and fit in your backpack.
Beach. Mattresses for swimming and relaxing by the water should be light and at the same time stable, to avoid turning the use of such products in the pond.
Sofa mattress. Air mattresses are not only used as a bed for sleeping, but also as a sofa. This sofa for the night unfolds in bed for two, and in the day time is going and takes up less space.
With the pump. Models that are inflated external mechanical pump, cheaper equipped with a built-in electric pump. In addition, mechanical pump have to work with your hands or feet, while the electric pump itself will do the work for inflating and deflating air.
The best air mattress for sleeping
Intex Supreme Air-Flow Bed - inflatable bed for daily use. Bed frame consists of a plurality of internal chambers with partitions made of polyester fibers. Stiffeners add stability and are located across the bed length.
Special design gives elasticity and reliably withstand the weight of a person. The fabric covering the frame comfortable to touch and protect against puncture.
Elasticity is regulated by a built-in electric pump power of 90 watts, which inflates and deflates the bed without physical effort on the part of the owner. If source of electricity is not available, it is permissible to use a mechanical pump to inflate the mattress through a specially provided opening in the valve.
Size surface semi: 1.52 x 2.03 m.
Height: 51 cm.
Weight: 16.5 kg.
Carrying force: 273 kg.
inflating time: 2.5 minutes.

Height, like a full-fledged bed.
Bed linen non-slip due to a special design.
Built-in electric pump.
Permissible inflation mechanical pump.
Bag for storage.
Self-adhesive patch for restoration.
Rapid inflation and sinking.
With continued use is required to pump up to the desired elasticity.
The best air mattress for swimming
Neon mattress with handles Bestway It made of a fluorescent vinyl, which is clearly visible in the water. It equipped with a two-chamber airbag in the head and safety valve to prevent air deflating.
Durable handle comfortable to hold in the water mattress or get it out of the water. The model comes in three bright colors: blue, pink and green.
surface size: 1.83 x 0.69 m.
Height: 10 cm.
Three color options.

Fluorescent noticeable color.
Pillow under his head.
Handles to climb on the mattress and held it.
Self-adhesive patch for restoration.
No color selection indication on the packaging - colors chosen at random.
The best air mattress with pump
Relax High Raised Luxe Air Bed Twin - semi-inflatable bed, equipped with an electric pump. Made of a waterproof PVC coated with flocked velyuropodobnym.
The perimeter extends a raised rim which prevents a sleeping person from rolling off the surface. The bed consists of the upper and lower chambers, the upper chamber is adjustable elasticity pump, allowing to choose a comfortable rigidity.
With the electric pump operating on line 220, it is inflated for 3-4 minutes. The pump is automatically switched off in case of overheating, ensuring the safety of use. If there is no access to a power source, the bed inflates mechanical pump.
surface size: 1.96 x 0.97 m.
Height: 47 cm.
Weight: 4.7 kg.
Carrying force: 270 kg.
inflating time: 3-4 minutes.
Dimensions in assembled form: 35 x 42 x 17 cm.

Built-in electric pump.
Height, like a full-fledged bed.
The rim around the perimeter for easy use.
Permissible inflation mechanical pump.
Bag for storage and transport.
Self-adhesive patch for restoration.
With continued use is required to pump up to the desired elasticity.
Best beach inflatable mattress
Intex Mattress-chaise longue for swimming - the model is made of vinyl, and comprises two inner chambers. Contoured design makes it comfortable to stay in reclining at rest.
A thick layer of a vinyl coating reduces the likelihood of puncture of the product. Chaise longue can be used on water, due to the special design, it will not sink even in the case of puncture of one of the chambers.
Size: 1.88 × 1 m.
Coating thickness: 0.4 mm.
Weight: 3.1 kg.
Carrying force: 215 kg.

You can use both on land and on water.
Comfortable lounge chairs design.
A built-in cup holder.
The pump is required to be purchased separately.
Intex Pull-Out Sofa - sofa-transformer, which is suitable to accommodate two people at a time. Made of flocked PVC vinyl waterproof coating. Quickly deflates and inflates due to the special design of the valve, which is equipped with extra wide opening.
The design provides a comfortable support for the back and arms. The armrests are provided holders on each side. Sofa converts into a double bed.
Size: 1.93 x 2.21 x 0.66 m.
Dimensions in assembled form: 37 x 23 x 46 cm.
Sustained load: 200 kg.
Weight: 9.35 kg.

Dual functionality: sofa design allows you to sit and lie down.
Comfortable armrests and backrest.
Built-in cup holders.
Bag for storage.
The pump is required to be purchased separately.
With continued use is required to pump up to the desired elasticity.
Best orthopedic inflatable mattress
Pillow Top Mattress Intex - double dark gray model of waterproof vinyl. The side and the upper surface of the article coated with the flocked layer, through which the sheet does not slide from the surface.
The internal structure is divided into a plurality of partitions, which provide resilience and reduce product prodavlivaemost surface.
surface size: 1.52 x 2.03 m.
Height: 23 cm.
Dimensions in assembled form: 12 x 34 x 41 cm.
Carrying force: 273 kg.
Weight: 5.92 kg.

Orthopedic effect.
Bag for storage.
The pump must be purchased separately.
Best Tourist inflatable mattress
Tramp Standard - self-inflating mat made of PVC with a plastic flap. When the valve is opened mat is automatically inflated. Thermal insulating properties of the wet mat uberegut and cold ground during hiking and durable material will withstand bumps and pits on the rough surface.
The construction consists of vertical air channels. There are buttons for sostegivaniya few rugs in a single surface. Mat rolled coils by tightening belts and placed in a fabric cover, which comes complete and is easy to attach to a backpack.
Size: 1.88 × 0.66 m.
Height: 5 cm.
Weight: 1.9 kg.
Dimensions in assembled form: 18 x 66 cm.
Sustained load: 130 kg.

Compact dimensions.
It does not require a pump to inflate.
Cloth bag for transportation.
Rug needed to blow off manually.
Best Children's inflatable mattress
Intex Kidz Travel Bed Set - a model made of waterproof vinyl and equipped with a hand pump. Flocked upper layer is pleasant to touch and hold the sheet from slipping. Suitable for children aged 3 to 8 years.
The design consists of two parts: a frame and an inflatable mattress. The frame is made with walls that do not allow the child to fall out of bed during sleep. Removable mattress is easy to clean, it can be used for the organization of an additional child bed.
Most air mattresses on the customers reviews
The problem of finding additional bed house is easily solved - buy an inflatable mattress. Such products can serve as a perfect replacement in sofas and beds, as it provides enough comfort and convenience for travelers. However, they do not take up space: as soon as the night, the mattress can be blown off and clean up the evening in a closet. The storage and transport, they also unpretentious. Universal models of mattresses can be used not only indoors, but also to take with you on vacation out of the city, in tourist travel and hiking. About that, what is the difference between inflatable furniture for sleeping and camping, you will learn from our collection. We will consider the best products in both categories, as well as tell you about the advantages and disadvantages of each.
Inflatable mattress which company to choose
Unfortunately, the selection of companies that are engaged in the production of inflatable mattress is not as extensive as we would like. From a small number of units of a company can be identified that are really worthy of attention. But all of these brands have a large enough range of goods. Their line designed for different user needs.
The main and undisputed leader in the market is the company Intex. It is a leading manufacturer of inflatable furniture of different price segment.
More can be distinguished brand Bestway, Relax and Campingaz. The high quality of their products not only won the love and confidence of Russian consumers and customers around the world. It is worth noting that the model series of these competing marks are similar. If you liked the product is expensive, try looking for an alternative to the other company.
Today, there are a few decent companies in the production of inflatable furniture:
Represented companies are trying to keep up with the times, offering customers products for different occasions. Inflatable mattresses, beds, chairs, sofas - this is an incomplete list of what they can afford to choose from. Despite the fact that some firms products are manufactured in Asian countries, as it is not reflected. Multiple certificates and licenses is confirmed.
Most air mattresses for camping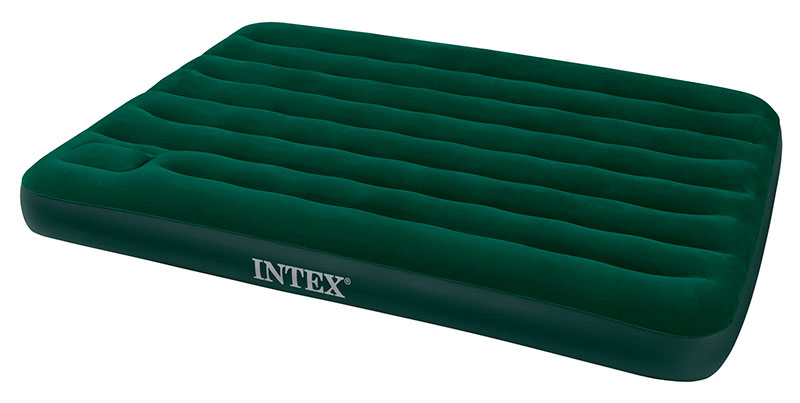 Outdoor Downy Bed Queen - another model of an inflatable mattress from famous company Intex. This Full size mattress, like the previous one, is designed for camping. It is also made of high quality PVC. The product has a very pleasant to the touch fleecy coating (flocked) of dark green color, which allows the laundry does not slip. When pollution it is easy to clean using conventional brushes. The mattress is realized Wave Beam construction - an undulating surface. Thanks to it, is reduced to a minimum the risk of indenting, and the shape is preserved for a long time of operation.
The model has an integrated foot pump. He is able to inflate the mattress in a matter of minutes. possible to use any other pump if necessary. Bed gives convenience and comfort during outdoor activities. It also can be used as an extra bed in the room. Folded Outdoor Downy Bed Queen is very compact, but it weighs a lot.
withstand a load up to 273 kg;
waterproof material;
a built-in foot pump;
type valve "two one";
It comes in a box with carrying handle.
Campingaz Quickbed Double Plus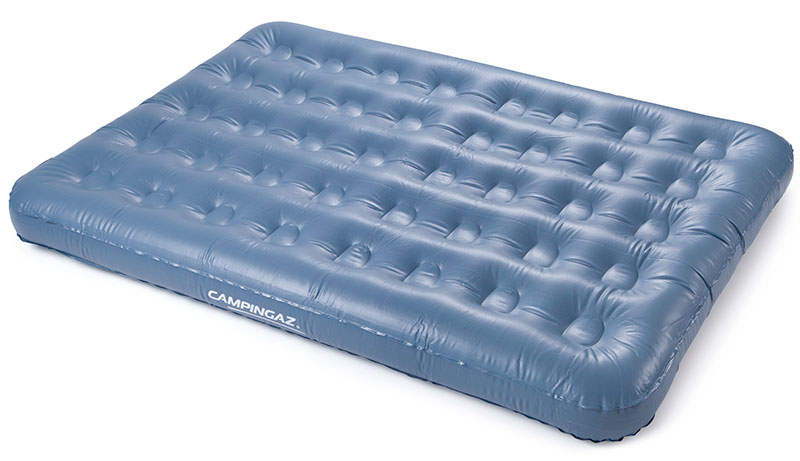 The last in this category is represented by tourism inflatable mattress Quickbed Double Plus Campingaz manufactured. This model is perfect for camping, and relax in the room, whether cottage or apartment. Double mattress is able to serve as a great place for two people. Its design can withstand fairly heavy load. Top-slip velor coating has a pleasant tactile feel, recalling the home comfort. Model equipped with a sheet of removable polycotton. It can be washed in an automatic car.
Quickbed Double Plus is made of durable reinforced PVC, which makes the model a durable and reliable in use. In the case of small mechanical damage, you can use the quick repair kit that is sold together with a mattress. A special valve system is designed so as to prevent undesirable sinking air and ensure high tightness. To pump, you can use any standard pump types.
withstand a load up to 200 kg;
the sheet is equipped with a removable and repair kit;
double;
high tightness;
weight - 2.9 kg.
Most air mattresses to sleep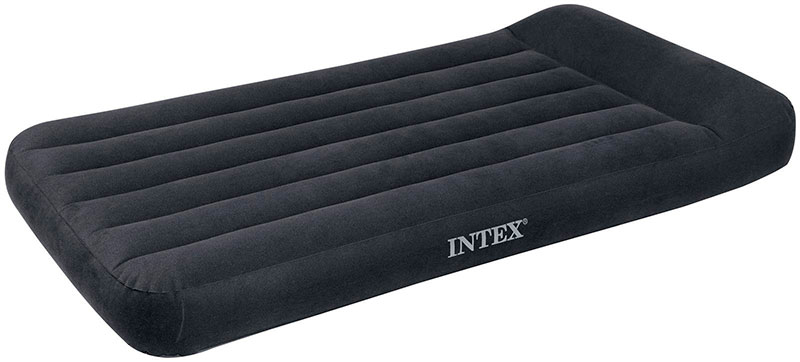 Single inflatable mattress Pillow Rest Classic by Intex is a great place to sleep and is able to replace a normal bed. This model will be a welcome addition to your furniture as able to provide rest some of the guests. After sleep, to save space, the product can be compactly folded and stored in a conventional cabinet. The mattress is of particular strength, since made of quality PVC. Its surface has a velor soft coating that is not only pleasant to the touch, but does not allow the sheets to slide.
Model at the head slightly elevated for greater convenience. The system of "three in one" valves allows a short time to pump up the mattress, while providing an excellent level of sealing. Furniture during operation is protected from unwanted deflating air. Pillow Rest Classic is resistant to moisture, easily amenable to treatment and care. Due to the classic gray and black mattress will look great in any interior. Wavy design will provide the desired level of comfort during sleep.
maximum load - 136 kg;
weight - 3 kg;
good tightness;
durability and reliability;
price;
the kit includes a handy carrying bag.
the first time after purchase is present smell of chemicals.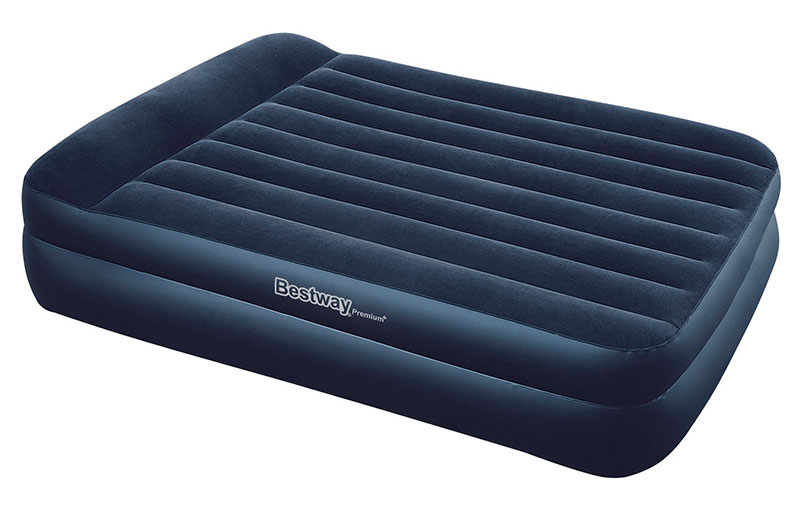 A popular model is firm Bestway inflatable double mattress - 67345N. It can easily replace the bed, have an extra bed or used for recreation, for example, in a country house. Made of PVC, equipped with an integrated mattress pad that plays the role of the head restraint and creates additional convenience. The design model is reinforced and has a special relief, providing comfort to the body. Sufficient rigidity prevents deformation and ensures the necessary support to the skeleton.
The surface of the flocked vinyl coating has dirt- and water-repellent properties, so will not cause trouble in the maintenance. The mattress is equipped with a powerful electric pump. In just two minutes, he will fill the product with air. Integrity, which has this model, will not in use to go to the outside air. The mattress has an optimal height, it is slightly larger than that of many other classic products.
withstand a load up to 270 kg;
reinforced construction;
resistance to soiling and deformations;
built-in electric pump;
Carry bag included.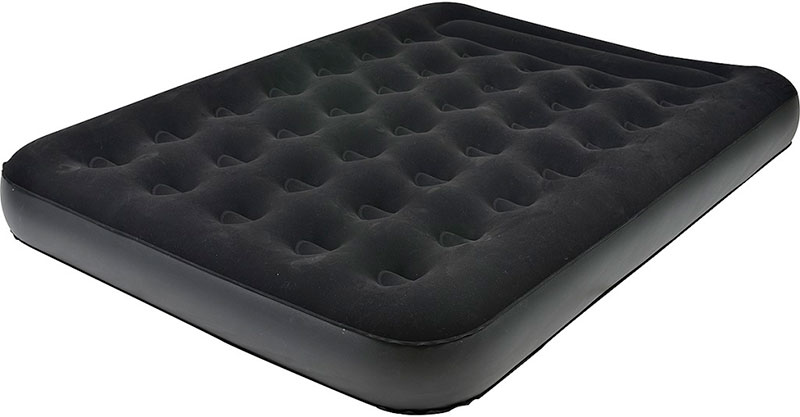 Another model of the inflatable mattress to sleep - Flocked Air Bed Twin Relax by the company. He, like the previous one, equipped with a built-in electric pump, so save your time and effort. Compressor fills it with air for only 1 - 3 minutes. The bed has dimensions - 191 x 101 x 22cm, so it's completely free can fit two people. In this case, they will feel comfortable and will not interfere with each other. Mattress height is 22 cm, which is enough for comfortable operation. During storage it does not take up much room, folding compact.
Product design has a special relief, providing the necessary rigidity. Thanks to her, he did not sags under the weight of the user and keeps excellent shape without undergoing deformation. Made of PVC, the mattress has a coating of a combination of vinyl and soft flock. This surface is very pleasant to the touch and allows bedclothes held in place without sliding. Choice of several noble colors and discreet design allows the mattress to fit perfectly in a variety of existing interiors.
maximum load - 230 kg;
weight - 3 kg;
built-in electric pump;
dimensions sufficient to rest two people;
flocked coating repels water and impurities;
It comes with self-adhesive patch.
difficult to remove from the surface of the crumbs.
1. Those who are looking for a wider bed for camping, it is necessary to pay attention to Outdoor Downy Bed Queen from all of the same brand Intex. This Full size mattress will ensure a comfortable stay. His material is also waterproof.
2. Quickbed Double Plus Campingaz manufactured - versatile model. Such an inflatable mattress will provide an excellent alternative to a full bed and a seating area in the tourist and other trips.
3. Pillow Rest Classic from Intex should interest people who want to buy a one-bedroom high quality inflatable mattress for relatively little money. This model can be an excellent additional vacation spot in your apartment.
4. An inflatable mattress to sleep on Bestway company can advise users who prefer spacious beds, high quality and considerable comfort. All these characteristics model has 67345N. If you do not care the price tag, it is without a doubt, buy it.
5. Flocked Air Bed Twin - model is an inflatable mattress that can replace a double bed either temporarily or permanently. The company tried to Relax by the example of the articles demonstrate excellent value for money.