Learn cross stitching
A variety of needlework techniques have become nowadays a favorite hobby of people of different ages. Our tips tell you how to learn to embroider a cross, but for beginners we have prepared a statement which shows the steps of embroidery machines. Cross Stitch is now at the peak of popularity. This kind of creativity is known since ancient times. Many people have long used this kind of needlework to decorate clothing and household items. Modern designers have used the product with embroidery for their projects. Experienced masters in this technique can perform true works of art. Pictures embroidered with a cross can decorate any interior.
You should start by choosing a motif or an image that is more like it. It is better to start with simple pictures. On sale a lot of sets for beginners handy people. The kit includes everything you need: canvas, needle, scheme thread. This kit can make your own.
Let's talk about the main components of the details:
figure scheme It can be represented on paper. it is color, or color can be designated symbols. For the first job is better to choose image, images directly on the fabric. In this case, the embroidery is done directly on the colored squares. In the variant with paper scheme it will be necessary to calculate the cell and correctly identify the start of work. In this case it is necessary to mark areas on the finished paper pattern and carefully start counting while continuing to work.
Cross Stitch is performed on special fabric. We use counting cotton cloth with a uniform weave. it is called canvas. This canvas is clearly visible for the needle holes.
Canvas can be of different colors. For a solid figure is better to use the fabric beduyu. For partial embroidery is possible to work on a color canvas. The web can be secure in the frame. You can embroider without fixing. Produced canvas using a special impregnation. Dressed canvas It is impregnated with a special compound. As a result, it holds its shape well, does not warp, it is more resistant to wear.
threads - the most important element embroidery. Their quality depends on the quality of the work. Threads do not fade, fade, should be evenly woven. Embroidery threads are called floss. 6 individual threads of a woven hanks. In commercially available floss all sorts of colors and shades. color number affixed on the packaging of thread.

If you purchased a set of embroidery, the thread already selected color. It remains only to prepare them for work. For the work you need to take a cut of the three thread length of 50-60 cm. For convenience, you can cut the thread and parse them by color. Do not use string of questionable quality. Bumps and nodules make the product untidy. If a string of sheds, work will be ruined.
Embroidery needle is performed. Needle Embroidery It has a rounded tip. The needle eye must accommodate multiple threads of the floss.
After preparing all the necessary, you are ready to go.
Canvas need to neaten, that the edges do not sprinkle. In some sets the canvas edge has been processed.
Now determines which part of the drawing start the embroidery. For beginners needlewomen better to choose a canvas patterned, then start may be any portion. If the canvas without drawing a few options you can use:
We start with the upper edge;
We define the middle of the picture and do center calculation on the canvas.
It is desirable to mark cells in Scheme waste.
The first thing you need to fasten thread on the canvas.
How to perform a cross right
The main element is the embroidery cross.
When the whole picture is embroidered, you need to hold final event to get the final product appearance. All embroidery is possible extend hand in warm water. When the canvas was original drawing, then you need to wash in cold water without soap. twist finished embroidery is prohibited. With a towel gently squeeze finished work. iron a damp cloth on the back side.
The finished work of anchoring cardboard-based. Can glue the fabric edge or secure the edges thread, so you can use a stapler.
Now you need to decide on the frame. Small picture can decorate a birthday card. Suitable in shape and size Frame will be shutdown. Now you can decorate with embroidery, cushion or bag.
Master class: cross stitch for beginners (video)
Skilled workers with experience can do embroidery on clothes, without the use of canvas. We hope that our recommendations will help you learn how to embroider a cross novice masters, and step by step instructions will work embroidery techniques.
As cross stitching properly, step by step photos. Cross stitch - video and diagrams for beginners
Needlework is becoming popular among young people - particularly cross-stitch. In this way it is easy to decorate shoes, clothing, accessories, or simply to create a picture that can be hung on the wall. On the Internet a lot of recommendations and lessons, how to learn to embroider a cross. It only needs the tools and schemes. You do not know where to start? Follow the instructions below to learn how to embroider a cross from scratch.
What are the materials and tools needed
Technological progress allows you to learn about this ancient art, as embroidery cross, not only from the mother or grandmother, but also video tutorials using photos on the Internet schemes. Before proceeding to needlework, understand what materials will be needed. The first thing you need - a canvas. It is the fabric, which is itself embroidery. There are several options how to choose:
Canvas pattern. Suitable for those who are just beginning to get acquainted with the technique of embroidery, as a ready outline easier to create a picture. In addition, a set of often already include a thread that will be required for the entire process. On this canvas is easier to learn to embroider.
Clean canvas. This fabric is a weave with small holes therebetween. Canvas thus has certain characteristics - the coefficient showing the amount of future crosses. From them will depend on the how much yarn you embroider.
Uniform canvas. Used by these masters, because the crosses on the fabric is almost imperceptible, and she is a continuous web.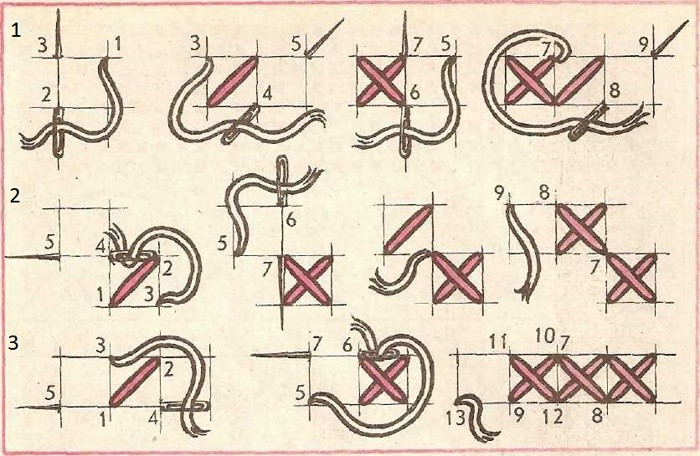 The second thing that is required - this thread. Used embroidery floss are called, and they can be:
Cotton - recommended for embroidery cross. These do not fade or lose color over time do not form pellets and not tangled.
Woolen - are used less often, are less practical because, although their color is much brighter.
Next an indispensable tool for embroidery - needle. There is less requirement - it should have a rounded tip so as not to pierce the fabric, and the ear, which will include several threads. Next, you need to purchase the hoop - round or square tool, leveling the canvas. 2 consists of plastic or wood parts - the external and internal. Between them and the clamped tissue.
Advanced embroidery hoop masters do not use, but for beginners it will be a good helper. Crosses are more neat and tidy. In addition to these tools require circuits that you want to embroider, and a pair of scissors to cut the thread. First, you can buy in the store, found in magazines or on the Internet.
Determine with embroidery scheme initially give preference to simple embodiments with fewer colors. Start with a convenient place or recommended upper-left corner or the center of the image. Coverage of sectors on the scheme a little paint in order not to get confused. An important step - is to fix the thread correctly. It is not recommended to do the nodules, because beauty is important not only to the front side, but also wrong - she speaks about skill level. To fix the thread, you can choose one of the following ways:
loop method. The easiest and most cost-effective, but is only possible when working with multiple threads. Take a single thread of great length, fold it in half and cut ends, insert the needle. Enter into the fabric, leaving the wrong side of the loop. Make a stitch on the wrong side of the pass the thread into a loop, and continue to tighten the embroidery.
Under stitches. Simply pull the thread in a couple of stitches.
Small stitches. Make small stitches where they will then be covered with embroidery.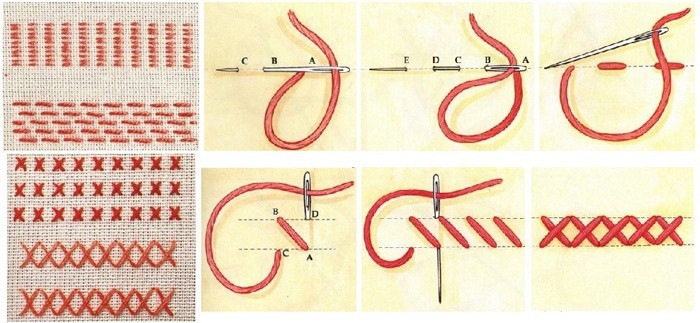 Next, use the simple instructions on how to quickly learn how to embroider a cross:
Preparation. Lay on your desktop all the tools needed, provide good lighting. Embroidery is a constant strain.
Measurement of tissue. Using the diagram specify the number of crosses horizontally and vertically - is pattern dimensions. Add to them by 10 cm on both sides to figure fit completely on the fabric.
Choice of the embroidery. As mentioned above, it is better to start from the top left corner to the ranks were in order, and embroidery - from left to right.
Securing the fabric. Take the hoop and clamp it in place of the canvas on which to start your embroidery.
The choice of style. Use the traditional method, or Danish. The first is called in English and frequently used for vertical rows - it assumes that each cross is done separately. The second method, on the contrary, consists in executing multiple successive lower stitches, and then laying them on the upper place. It is more suitable for horizontal rows.
Embroidery. Insert the thread into the eye of a needle, leave the tail on the wrong side. Insert the needle in the lower left corner cross future, pass it on a diagonal to the upper right corner. With the underside insert the needle into the right lower corner. Then finish the cross threading a thread in the upper left edge of an imaginary square. In Danish method does not finish the cross, and repeat several slanted stitches, and then return in the same way back needle threading in opposite corners.
Securing thread. Leave a long tail, make a couple of small stitches under the future embroidery, or stretch the thread under the existing crosses.

A simple cross-stitch is often supplemented by a few other types of stitches. They are used to make the original product. On the whole, are the following types of stitches:
Cross. 2 is a crossed stitch imposed one on another.
Polukrestik or painting. Bilateral seam performed in 2 stages. Forward laid stitches that are inclined in the same direction. Back fill the gaps, fulfilling the stitches, which are inclined in the opposite direction.
Quadruple stitch. It is half of a diagonal cross. It is used more often when sewing small pieces of curved pattern. To perform it, you need to insert the needle into the upper left corner, and plug in the center square - so get 1 of 4 feet from the "X".
Three-quarter cross. It is also used to draw the picture detail. He represents the whole of the diagonal cross and half more. For its implementation needs to be done half cross stitch and quadruple.
Reverse stitch. It is used for fine embroidery pattern or design to contour of the finished drawing. To make such a stitch, you need to withdraw the needle from the wrong side and stick it in the hole, located on the right. Then hold the needle through the hole on the left of the initial stretch and through the inside out. Get a straight line.
Video tutorial for cross stitching for beginners
Never too late to learn any handicraft, especially if the hand is the scheme and step by step instructions, as well as what you need to perform. Beautiful pictures obtained with serious motives that can complement your decor. It can be a vase of flowers, such as roses and heart on Valentine's Day or even icons for religious people. Not inferior to the beauty and stitch for children. Your child will be glad to any cute baby animals. To perform this or that motive, look useful video with steps below, how to learn to embroider beautiful cross.
Detailed master class for beginners
Fixing threads at the beginning and at the end of
Where to start and how to work with the diagram
Simple scheme for embroidery on the cell
If no figure is not hit you like, then you need to use a special program for its breakdown, or divided into small squares own, moving picture on graph paper. For beginners, it is advisable to choose the scheme for embroidery easier, not to be disappointed in this art. In addition, you should pay attention to the number of colors - they, too, should be a little bit, because the novice is easy to get lost in the skin. Starting with simple images, you quickly natreniruetes and go to a more complex patterns, even with the use of beads.
Cross stitching for beginners step by step: 5 basic rules
Cross-stitch is a favorite pastime among both experienced handy, as well as beginners embroidered cross-stitch kits at all times relevant. With their help, you can create a special comfort in the house, to complement the interior of beautiful handmade products to emphasize the exquisite taste of the owners. If you are just starting to embroider a cross, it is useful to familiarize themselves with the necessary materials and tools, as well as ask technology and the secrets of embroidery.
Basics for beginners cross stitch: stitch species
The success of the work depends on the circuit. They come in color or black and white. Each character is caused to a certain color of thread. Each square on the chart - one stitch.
Schemes may be black and white or color, which are more convenient for beginners
Fractional cross;
Full cross;
half-cross;
Complex cross;
French knot;
Stalked stitch;
Stitch "forward needle" and "back needle".
The diagrams of any kind of stitches are indicated by clear and simple.
Stick to clear rules for the implementation of stitches, so that they all lie in the same direction - is a basis to work properly.
Cross Stitch for Beginners: Secrets
Skilled embroiderers recommend starting training with simple circuits. They use a minimal number of parts and not more than 5 colors of thread.
If you decide to do embroidery for the first time, then it is better choose a simple circuit with a simple pattern
The embroidery nodules are not done, the thread is fixed in a special way;
Border transfer of thread color directly affects the quality of work;
The materials must be of high quality and durable.
These nuances can be corrected stitch "back needle", as well as the same way to fix the thread at the end of work.
Ideally beautiful embroidery should be neat both the front side and the reverse side.
Standard set for embroidery cross for beginners
If you are a beginner, you can buy ready-made set, which is all you need for work. Such kits are easy to buy in the departments for needlework or ordered online store.
Finished embroidery kits, which are sold in the shop, already include everything you need for work
The kit is for embroidery:
Canvas. Canvas for embroidery, which has a different density and color. Due to the special weave distinct cell formed with the free openings for the needle. The most demanded - Aida.
Needles. Special needle for embroidery with a wide eye and unsharp rounded tip. Each has its size depending on the fabric, which will embroider.
Thread. More often found floss - 100% cotton of different lengths. Skein consists of 6 individual strands. The diagrams each color or hue is designated a special number.
Scheme. Said cell in the diagram corresponds to the cross embroidered on the canvas.
Thimble. He needs to work on thick canvas.
Hoop. With them, the canvas is stretched and does not allow it to deform.
Some sets include a marker for tissue, scissors and measuring tape. If these tools are not, they can be purchased separately.
Before you get started make sure to check the thread shed or not.
Instructions and rules for cross stitching beginners
To get on the wrong side of the vertical straight line, and on the face - a classic cross, it is necessary to adhere to the established rules. Instruction for beginners is a good helper in this matter. Just observing them, you can get a nice and neat embroidery.
Be sure to use the instructions for beginners at first embroidery products
The basic rules of counted cross for beginners:
In nature, there are only three directions stitches;
Sewing work only need a needle in an upright position relative to the canvas;
Upper stitches to be performed in one direction;
Stitches sewn in two stages: from the lower stitch embroider line, and then finish the top stitches crosses;
Embroidering a separate series, each cross must be fully implemented immediately.
Try to fix the thread and quietly leave nodes on embroidery
If you want to skip a few cells, the thread must be pulled from the inside of the cell to the right and continue embroidering.
Never make knots in the embroidery, there are many ways to fix the thread quickly.
Master class: cross-stitch for beginners needlewomen
Step by step to learn to cross stitch, you can use the master class.
Master class for beginners:
Perform the first stitch. Stretch the needle with the wrong side on the front side and introduce it into the bottom right hole location. Output the needle from the top right of the square and introduce it into the bottom left corner on the diagonal. Our stitch ready.
To save time, you can use another method of performing a cross. Embroidery should start at the left margin. We perform a number of stitches inclined from top left to bottom right, and after moving back.
Before securing the 1st stitch is necessary to fix the thread on the wrong side of the canvas. To do this, put the tail in the buttonhole thread and tighten it.
Master class on embroidery - is a great way to learn how to embroider beautiful and original products
In carrying out the stitches, do not pull the thread too tight.
For beginners it is recommended to embroider 2 or 3 threads. Thus filaments will go tightly to each other, and visual pattern will be more voluminous.
Simple embroidery technology cross for beginners
Having started to cross stitch, do not be afraid of difficulties. to study embroidery technology is not overly complex and lends itself even to the beginner. To begin learning how to carry out the stitches, without it ever get to do embroidery nice and tidy.
Cross stitch as follows:
Top down;
Down up;
Rows performed vertically, horizontally and diagonally.
Embroider a cross and create a beautiful picture may even a beginner, the main thing to be patient and learn simple sewing technology
Cross stitch two stitches - upper and lower. First, all the lower stitches are sewn in the desired colors. This can be done from the bottom up or top down. Sometimes you need to perform one or a few rows of individual crosses, in this case, just embroider them entirely.
When several cells need to skip the thread should be carried out on the wrong side.
How to start cross stitch: incremental steps
There was a desire to embroider something, but do not know where to start it?
Start embroidery should be step by step:
To find a suitable for beginners with a simple circuit. This set is all you need.
Prepare a place to work. It is advisable to stay in a well lit area.
Prepare the fabric for embroidery. It should be a pre-wash and iron the iron through a cheesecloth.
Process the edge of the canvas with glue and wait until it dries.
Select a point on the canvas for the first cross. And, accordingly, it should be done in the diagram. In this process, the main thing is not to make mistakes and precisely define them in the same place. This point will be the start for your embroidery.
In order to proceed with the embroidery, choose a simple circuit and be sure to prepare the workplace
Save time and floss can turn embroidering crosses one shade, located close to each other without cutting the thread.
To avoid confusion in the scheme already made crosses crossed out in pencil.
Cross stitch for beginners children: tips for parents
At first, no one thinks that the cross-stitch can grow into a hobby now, can unite the whole family. Such passion is equally well suited for both adults and children.
Tips for parents of children embroidery beginners:
To begin with the child go and buy everything you need for embroidery;
Allow fumes to choose a favorite image;
Prior to joining prepare a place, material and tools;
Embroider work together, the child will be fascinated by the process and embroidery he does not get bored quickly.
Choose tools and charts for embroidery, given the age and preferences of the child
By purchasing a set of ready-made embroidery individually or materials, please consult with the seller, that you have proposed scheme in accordance with the age of the child.
It is necessary to closely monitor and see to it that the child in the process does not hurt, and did not lose a needle.
Children's embroidery is a beautiful decoration for any room in the house.
Cross Stitch for Beginners: the correction of errors in the work
Correctly embroidered means avoiding mistakes. If mistakes are made, they should be sure to fix it. Otherwise visually common type of embroidery will be spoiled and the correction is necessary.
Errors can be divided into two categories:
Nonessential. This subtle flaws that are not directly spoil the embroidery look. Often in the process of moving yarns of different shades of confused a crosshair. In this case, it is unnecessary to correct anything.
Essential. These are the errors that are visually noticeable. In this case, one way out - to dissolve and start to work embroidery again. In some cases, this happens: a) location in different directions of the upper cross stitch; b) unsuccessful selection of thread colors that need to be flashy to embroider items such as people's faces.
Beautiful embroidered cross-stitch and error-free picture is a sign of excellence needlewoman
Sometimes it happens when in completing the work over the canvas. In this case it is necessary to cut off an additional section of tissue and apply it to the basic 5 crosses. Then baste her joint "back needle" using a sharp needle.
Joining pieces of canvas, it is important to follow the coincidence squares. Superimposed on top of the embroidery hide the seam place.
Cross Stitch Tips novice needle women
The initial set of embroidery should be like and certainly like it, then the work will move faster and more fun.
Tips for beginners embroiderers:
Do not buy a large complex embroidery, for a start will be enough simple design with a minimum number of colors.
If you liked some circuits difficult to make a choice, compare the composition of the material and the color of thread.
Prefer simple and straightforward schemes, they are easier to read and easier to work.
Pay attention to the color and density of the canvas. The best option for beginners will outline №14.
For ease of use, use the hoop, they come in different sizes and shapes. Pick the ones that will be more comfortable.
Embroidery process to bring you only pleasure, choose a simple scheme with a beautiful pattern
Also excellent assistants will be sharp scissors nitkovdevatel and needles. Use a few needles at the same time, t. To. You can not change the thread each time.
The best option for the first embroidery work is not a size 25x25 cm.
Cross Stitch for Beginners step by step (video)
If you are just learning to embroider a cross, it is very important to master the process gradually. Friendly master-class is a kind of guide for beginners. Instruction for beginners can serve as a magazine or book on cross stitching in Russian.
© 2017, homeli.ru. Copying is allowed only with a link back to the source
Copying is allowed only with a link back to the source