Valentine with your own hands
The approach of Valentine's Day awakens in our hearts romantic notes that we may try and muffle. After pragmatism of the world puts us at a practical approach to life. But in spite of all its commercialism on the eve of Valentine's Day, we suddenly begin to enthusiastically search for a gift for a loved one, to come up with touching words of congratulations and even tinkering valentine with your own hands. And who will say that it's not perfect?
With the help of dies and watercolors can make such cards on the 14th of February.
This custom came to us even from the Middle Ages, when lovers began sending their favorite cute otkrytochku Valentine's Day. It all began with a note sent in 1415 from a London prison, to be exact - from the Tower, the Duke Charles of Orleans to his wife. It is recognized in the world as the first Valentine greeting otkrytka-. And Valentine's Day to today still give each other Valentine heart-shaped, on which are written heartfelt declarations of love, marriage proposal, and sometimes just a joke. The Italians besides all this February day was referred to as sweet a day when lovers exchange gifts in the form of sweets and chocolates. But they, too, valentines are sent by mail to the pink envelope without a return address. But the Danes decided to send each other dried white flowers. For the Spanish crown of the passion - a love letter sent to the carrier pigeons. Interestingly, this day is celebrated in Japan, where to give chocolates, referred to as "official chocolate" (or "giri-choco") for the Day of Lovers opened to all male co-workers. This custom has appeared somewhere in the seventies of the past, when a box of chocolates donated by a man compared with a declaration of love. And in recent years, Japanese women came to buy such a ritual candy Valentine's Day gift in itself or girlfriend. New custom called "chocolate friendship" (or "Tomo-Choco"), and another - "Chocolate for itself" (or "dzibun-Choco").
We already wrote about how to make Valentine of buttons.
Before Valentine's time to master the art of quilling.
Our loving couple decided to give it in the form of hearts card. Today it is fashionable to do very beautiful valentine with your own hands. It's enough to have the desire - and all you get. You will not stop any scarcity of material or lack of skills: all this should be in the very minimal amount. And if you are, moreover, able to do anything artistically, so much the better: fashioned from wood heart, if you have experience with this material, sew the fabric, if you can just keep the needle in his hand, bake the dough if you love to cook. The custom of giving valentines never let anyone limit in selecting the type of card, the main thing - honesty and diligence, and then all you get!
Probably everyone will be happy to receive such a wonderful postcard-envelope.
Cardboard, rhinestones, beads and paper, you can make a card-valentine.
And here is a detailed master class.
Most good Valentine - Valentine edible. Make a box for it, guided by a master class given below.
For example, a funny Valentine miracle can be done from an ordinary matchbox. This method allows you to leave inside the box a secret message of love that can give the dear person a lot of positive emotions and smiles. It is in this day so want as a gift from a loved one to receive such a testimony of love. And most like to give your sweetheart something to remember, that would warm his heart and simple - do something nice. For the manufacture of our Valentine need, of course, a box from under the matches, as well as the sheet of thick colored paper to decorate boxes, paper for most greetings, knife (stationery), scissors, pencils and crayons, ruler, glue and decorations for dekorativaniya valentine . There are several ways, how to make a valentine with your own hands in the form of a matchbox. First - pasted ready matchbox sheet of bright colored paper, decorate with colorful ribbons, homemade flowers pugovichkami, beads, hearts and other cute trinkets. The second - to first make boxes fit the mold: Move to the hard circuit board color (A4) and cut out the pattern for future cards valentines. Then, using a ruler should bend parts of fold lines and fold the box, brushing glue flaps inside the box and inserting them into the cracks that appeared after folding the sides of the box. Now just need to decorate Valentine. And in the end - it is small: to find what to put inside the box. For example, you can make a booklet. The simplest option would be to book two pages. You can make an accordion of several pages, which are printed any pictures or lettering Valentines Day. Another option - an eight-page booklet. How to fill it? Believe me, the heart will tell!
On a black cardboard can be glued white circles and in the end to get the perfect Valentine.
But so is the box-heart on Valentine's Day.
The simplest and most touching Valentine.
To make a booklet, you need to print the pattern of heavy paper. The color selected according to your taste, or is in the tone of valentines. Then, from the individual sheets need to make a little book, a ruler align all edges and folds valentine. It is also important to be able to tastefully decorate a message: paint the cute hearts, flowers, decorate the elegant outline in, write a greeting, and give this wonderful valentine man who really love.
Still pack gifts in the shop? Forget about it. Download the template, print and make a heart gift on February 14.
How to make a valentine with your own hands
You can make original valentine with your own hands, using many other ways unpretentious. So you can use double-sided thick paper or thin cardboard. Initially, the preform is cut by a standard postcard size, e.g., 14 × 20 cm and folded in the middle. On heavy paper or cardboard is pre-embossed on the future site of the folds using an empty pen and a ruler. To decorate valentines cut blank in the inside of the card. Its form, of course - in the form of a heart. But inside, it also made an incision, echoing the shape of the base. After that, along the lines of the folds is embossed. Performed folds, which valves and small heart facing inward are obtained, and a little heart can attach the same, but from a different paper color. The valves are lubricated by the adhesive. The workpiece is attached so that it coincided Sredina folded cards. To do this, you just need to put it in the center and press those areas where the valves are located, smeared with glue. And, of course, golf valentine necessary to issue at will. Such an option can vary: some make such bulk opening of hearts inside the card, decorate them with lace, tinsel and other tricks. You can use the electronic elements with a touching melody. It is also appropriate to make the strings in the form of small ribbons of bright tape. It is interesting to look and cardboard or leather "strap" to close the card. In general -prostor for imagination just limitless!
And for a valentine should master the technique of quilling.
Prepare strips of paper.
Scalloped scissors cut the heart.
Office knife cut midway.
Twist the paper strips on a toothpick and place them inside the heart.
Now fasten the adhesive composition. Surplus dab a napkin.
Now give our Valentines dry.
Decorate composition gold ribbon.
Through the Internet, you can choose another method of making an original valentine with your own hands, which is a master class with step by step instructions and photographs illustrating the help in the process. Of course, more convenient - the video in full gear progress on the postcard. So first is the blank under the valentine made of paper and cut out the desired color. the size of the inside of the card - 14 by 28 centimeters. Horizontal line patterns need to spend so that it was exactly in the middle of the workpiece. The inscription "I love you" in English after the cutting of the side contours (and hearts - precipitating the central part) will play on the background of the entire opening valentine. By the way: the word "love" and the dot on "i" in the text replaced by hearts. A part of the fallen can be used when decorating valentines or other gift packaging design. Upon completion of the cutting insert is necessary to lay down on a pre-embossed handle empty lines. The result is a kind of clamshell, such as children's books: open card and drawing becomes volume. But it produced only half the internal cards. It will need more glue onto the base cover, which is taken for a colored sheet of paper or cardboard the size of 32 by 16 centimeters. And the board can take any color, but it is important to consider that it is through the carved inscription will show through. The inner part is attached to the cover by adhesive or double-sided adhesive tape. It is also important to make sure that exactly matched the average fold, or later card will be poorly disclosed. The fields remaining on the edges, can be nicely cut using scissors curved, so they will look more original. As to the cover and the inside of the valentine, they can decorate as you like, depending largely on the person to whom it is intended.
But such valentines, envelopes suitable for a dinner party and just to give their loved ones.
Cut out the pattern more envelopes made of red cardboard.
Glue and do not forget to write a few warm words.
Fancy valentine with your own hands
To make non-standard Heart-valentine with your own hands, you can even use the springs, which are mounted on a cute fluttering wings. For this Valentine will need: construction paper for the base card, a flexible wire with a diameter of half a millimeter, adhesive tape (double-sided) with a foam base and colored cardboard. Initially drawn pattern based on future cards. White cardboard A4 cut wings and red cardboard - heart. A handle rod wire is wound to create a spring, middle which is rectified for mounting in a postcard. Then the wings are attached to the ends of the wire by means of an adhesive tape pieces. The protective film thus should not be removed. On the basis of two pieces of carton size of 3 to 1.5 centimeters formed Valentine: tape mounted on cardboard, on it - again tape, then a spring with wings on it - adhesive tape, adhesive tape and the cardboard again. Then the film is removed at the rear half and adhered on the basis of cards. Removed film also on the front half and attached heart. This gives a heart slightly elevated above the cards and decorated wings on shaky spring. Such an article may well become an ornament to the passenger compartment if it is to hang on invisible fishing line, and during the ride will be heart touching "fly" on the white wings.
This unusual valentine perhaps even a pendant.
It can be made of paper or plastic.
It turns out unusual valentine with your own hands can make a child. One of these cards made of cardboard as the base card, a piece of newspaper or glossy magazine pages, lace tape, a piece of felt and colored paper. At the same time on a cardboard base glued-postcard backdrop of colored paper on him - a newspaper box, decorated with lace and heart. Another creative way - card with hearts of different color and shape buttons, decorated with an inscription reminiscent of embroidery with the remainder of the thread end. But the heart of the wax can be in the form of silicone (for baking cakes) from children's wax crayons which crumble into a mold and melted at a high temperature. After cooling down hearts Valentine is considered finished.
If among your relatives there are those that read the old-fashioned book, we could have done such a wonderful leather bookmark.
To begin, cut out the pattern. Fold the paper in half.
Draw in a corner of the heart and cut.
Now we have a ready-made template.
Now transfer the pattern on a piece of leather or imitation leather.
It remains to glue the corner and sew machine.
Very cute gift received.
Very funny looks panels made from coffee beans. It runs it is very simple, but if you do it carefully, and even supplement a successful outline in, you get a very original Valentine. At the beginning of the cardboard cut out heart, whose size is not limited, but perhaps it should not be more than a tea saucer. By paperboard uniform layer, 3.5 mm thick, is laid black or brown clay, to which are attached coffee grains. Of course, you can use the glue gun, which is much easier to work. Stack of grain to start with the edges: so they will lie flatter and will cover the edge of cardboard. After that, the seeds are laid out in a spiral toward the center. The preform is required for 20 minutes to be placed in a refrigerator, whereby the hardened clay. The finished adhesive when heart assistance mounted on cardboard, and it is better to use a material with a texture, rather than a smooth surface, and the finished panel is inserted into the frame. In this declaration of love, you can decorate the kitchen or other room, and the meaning of it will remain relevant for the entire year.
Who said that Valentine may be made of paper. Here, for example, so you can decorate a white dish for a romantic evening. Mix 3 tablespoons powdered sugar, 1 teaspoon of water and 2 drops of liquid food dye.
Thin nature will appreciate the gift.
Heart cut out of beautiful colored paper with a floral pattern and superimposed on each other, glued volume valentine with your own hands. Many people like the book, the heart, the page where you can fill a verse or a gentle acceptance. No less interesting are the baskets in the shape of hearts, filled with small candies. Cardboard is better for them to take a two-sided, and side inner stenochki hearts should fix a ribbon to hang the baskets on the foundation and fill pills or nuts in chocolate. If a little tricky, it can be a wonderful enclosed box-heart with candy. It is better in its manufacture to use silver or gold paper. And can be a simple cardboard cover brilliant spray, and then decorate the box ribbon soft blue. For every lover such painstaking efforts would have been evidence of a great and sincere love.
Valentine, postcards, paintings, caskets - all this is very appropriate in the Valentine's Day. The main thing is to preserve the feelings that prompted you to manufacture a touching souvenir in the form of his own heart.
How to make original valentines. Many ideas
How to make a valentine with your own hands.
Traditionally, the preparation for the celebration of the storming of Valentine's Day, many of us started about five days in to the holiday date. During this period, so much needs to be done to take care of gifts, decorations place where you want to spend a romantic evening, as well as the purchase or production of heart valentine. Variations garlands of hearts, we have shown in this review, you can adopt, well today we want to tell, and demonstrate how to make the original valentines.
Valentine is often red or pink card to a heart within which lies a romantic holiday greeting or ardent declaration of love.
► valentine made of cardboard and wool threads.
Traditional valentines is no surprise, then whether the case unusual fluffy instance. For the production of which must of cardboard cut the heart, and then remove the inner part, so that the side portions are approximately 1-2 cm in width. Then take a woolen thread, the best curly and always red, and begin to methodically winding paperboard blank. The result is a very beautiful heart, attach the pin-stud piece of paper with a declaration of love, your significant other will be impressed with the work done.

How to make a valentine with your own hands out of paper.
Cut from paper a big heart, you can immediately to him to write a love letter. Further buckle side portions inwardly (see. Pictured below), turn the acute part upwards, bends down, then bends the upper lid portion and garnish tab crystals.

Cut the cardboard two identical heart, then the length of the side circumferences prepare two strip width of 8 mm. Are immediately glued to the side portions of one of Valentine, then sticking the remaining top Valentine pre handwritten greeting.

Method № 3. Volumetric Valentine box.
Redraw the template shown below on a tight pink paper, cut out and folded along the marked lines in the right places with white glue sizing. On top of the product can be decorated with a bow or rhinestones.

Method № 4. Beautiful Valentine volume of roses.
Cut the ring blank paperboard as a heart. Then proceed to the creation of roses, for this purpose on a red double-sided colored paper, draw a spiral, which is then cut with scissors and screw with the outer ends of skewers, thereby forming bud roses as soon as you remove the winding from the skewers bud takes shape. By this scheme, we are creating the necessary amount of buds and glue them close to each other on a cardboard workpiece in a heart. In the center of each bud can be glued beads or rhinestones.

Method № 5. Braided Valentine.
According to the pattern shown below, cut two strips stamped in the center, bend each of them in the middle and create a slit with scissors. Then proceed to weaving, simply alternate contrasting stripes. The result is a wicker heart.

Take a beautiful scrapbooking paper, folded in half, to get the basics, then cut from orange paper rectangle and glue to the center of the workpiece, cut flowers, bird and heart, and also glue all the details to the surface of the card (templates are provided below, you can redraw). we tie ribbon and also attached to the surface card, write a love letter inside of the satin tape.

Method № 7. Beautiful volumetric heart origami.
In detail how to create such a beautiful heart is shown in the photo below.

Probably many childhood books were panoramki, this heart is just out of the opera. Overcame all stages of its creation below, there find the primary template for redrawing. In short, redraw the pattern on paper, cut with a sharp knife only on the marked lines, bend just above the top, thus raising construction. Close the card.

Method № 9. Valentine with carnation flowers of paper.
Fold the red paper in half, cut out the heart, but do not cut through to the end on the one hand, to get the effect of opening cards. From pink stripes paper cut length of 10 cm, a width of about 8 mm, cut into each of them on top of the fringe, is then wound on the skewer, thereby forming a flower bud. Finished flowers glued to the surface of the valentine, and the product can be decorated with ornaments in quilling style or add rhinestones.

Method № 10. Valentine boat.
Fold paper boat (boat stages of creation presented in the photo below), the center of the glue the match of skewers, and instead sail and flag hearts with love messages.

► How do the original valentines of staples.
An ordinary sheet of paper with the message of love can be decorated with valentines hearts created of red paper clips. To do this, take a paperclip and long bends the edge upwards, pictured below. It turns seemingly gibberish, but putting it on paper, you will see a pretty heart.

► How to make a valentine with your own hands from poluzhemchuzhin and cardboard.
Cut the cardboard 2, the same heart, one of them reserve integer, a second cut in the form of a ring of the heart, so that the middle was empty. Pasted it over the whole heart, and inside the glue beads poluzhemchuzhiny. On the back of the ribbon sticking, which can also be glued between valentines, threading the ribbon on the key, and we give the words "this is for you the key to my heart."

Take a wooden clothespin on her marker write "a message to you." At the end part, where the clip is created paint colors envelope. Next, take a tiny rectangular paper, writing on it "I love you", and glue it to the back of the clothespin. When pressing on the upper part of the pegs, it will show a love letter.

Cut the cardboard heart and glue it to the buds of roses on short cropped legs. The result is a very beautiful live Valentine.

Red felt cut two equal-sized heart and white heart felt one smaller obmetochnoy stitch sew a white heart in the center red and then sew the two red.

On the street you can look for stones in the shape of hearts, which can then be painted red emulsion paint.

► Valentine wire and thread.
Of wire necessary to form a heart, which is then abundantly wrap red thread. The result is a very nice product, especially considering all the ease of its manufacturing.

Cut from paper a big heart, write on it a declaration of love and holiday greeting, then fold the heart tube, insert a message in the bottle neck, tie the ribbon and the surprises of the second half.

Ephemeral surprise, so you need to give immediately after removing from the refrigerator. Make the heart of this easy, in the form of plastic in the form of hearts stacked viburnum twigs or bud roses, pour water and put in the refrigerator until complete solidification. Then, take out from the refrigerator and drop shape for a short time in a bowl with hot water, ice and heart podplava bit can be pulled out easily. Different variations of products from ice to decorate the winter garden plot can be viewed here.
How to make original valentines.
Dear readers, now you know how to make the valentine, we are sure of in this review the ideas you will be able to choose a suitable, and your significant other will be genuinely surprised to be a surprise. Some of valentines from the above presented list is quite possible to decorate the house for February 14, in particular a festive table with a romantic meal, well, I like to use these hearts you come up with yourself, the important thing is that you now know how to make the original Valentine, who also absolutely not difficult to make.
Website "Dekorol" offers to subscribe to the news, the form of subscription to news of the site is located in the sidebar.
3 comments on the article
Great ideas! especially liked Valentine, decorated with flowers. I will try tinkering))))
All wonderful ideas, but personally, I seized the idea of ​​a valentine in a bottle, I think it's very original.
Irina, thank you for your review, we are glad that you have enjoyed it.
The best ideas valentines with their hands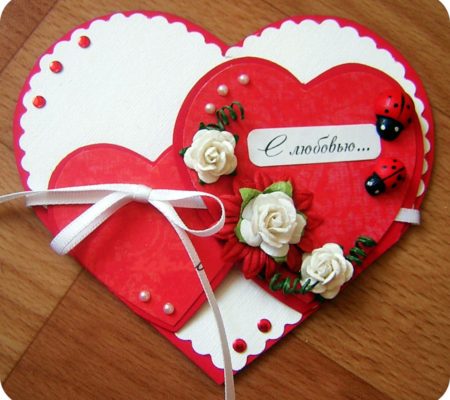 Get inspired and create colorful greeting cards to their relatives, friends and loved ones on February 14!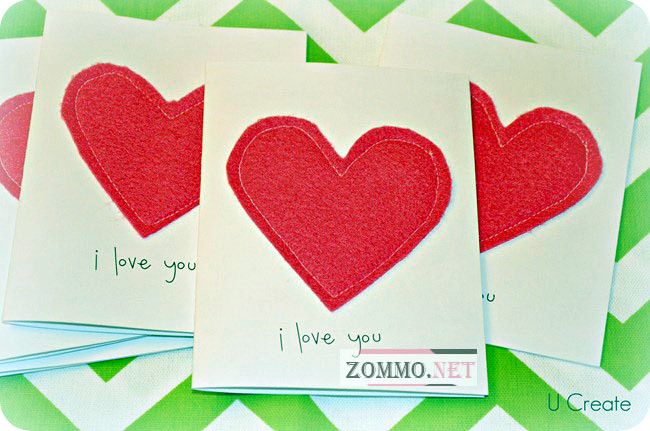 Cards valentine with your own hands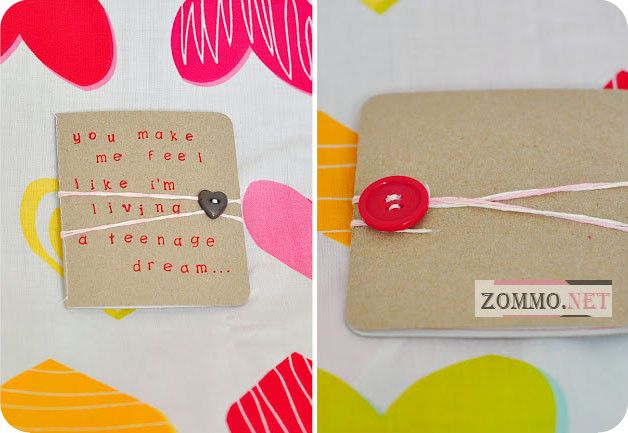 Cut a rectangle out of a gift box.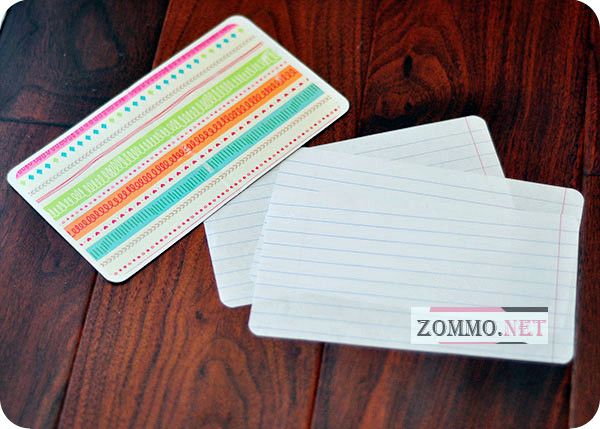 From notebooks cut a few leaves, a little less than the size of the cardboard, round off the corners.

A sewing machine stitched by midway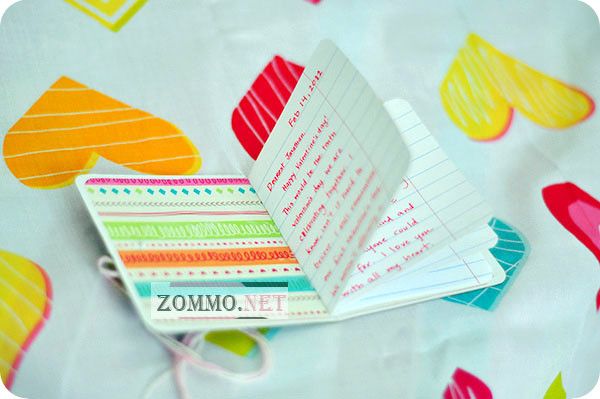 Write a love letter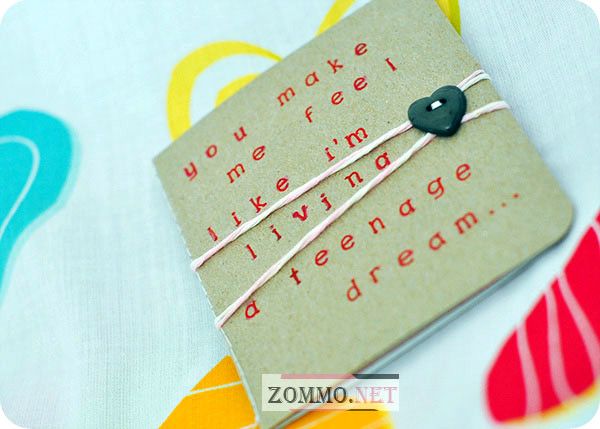 Sew buttons of the front and back side of the cover write the text of your favorite song (or something else, we have chosen the text of the song Katy Perry - Teenage Dream), tighten thread.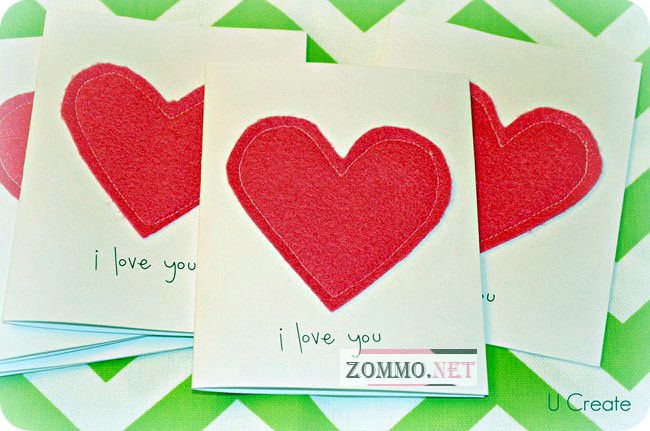 Bend a piece of cardboard. Fabric cut out heart. Sew it to the cardboard. Handle sign.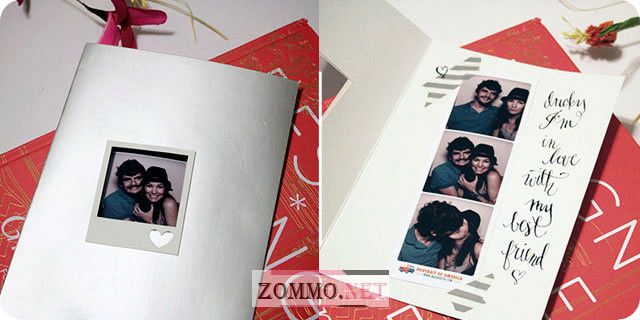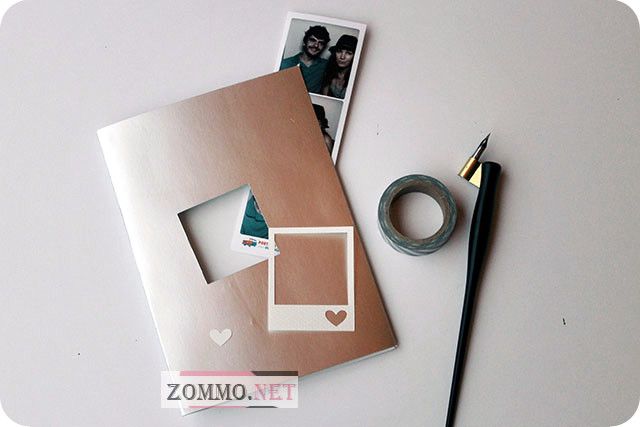 1) cardboard sheet with a cut window
2) Polaroid photographs in her heart cut out, or a sheet of paper: make a photograph of it and cut out the heart
3) A series of photos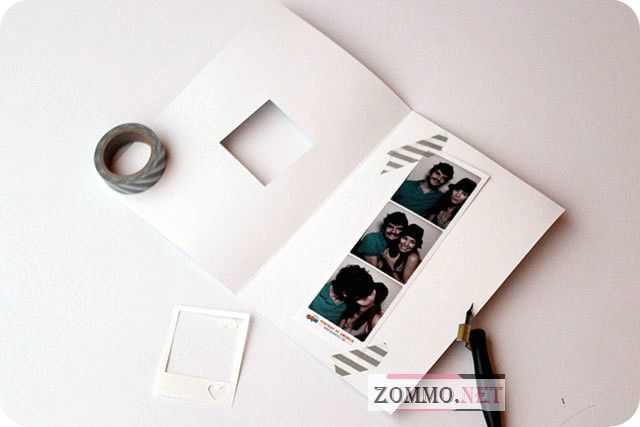 Paste it into the photo card with adhesive tape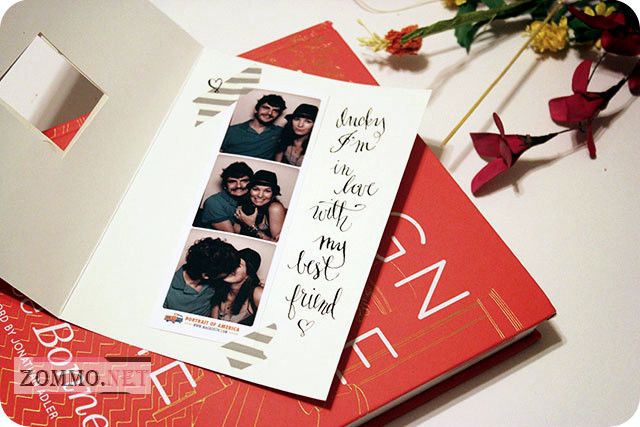 Polaroid photograph is pasted on the first page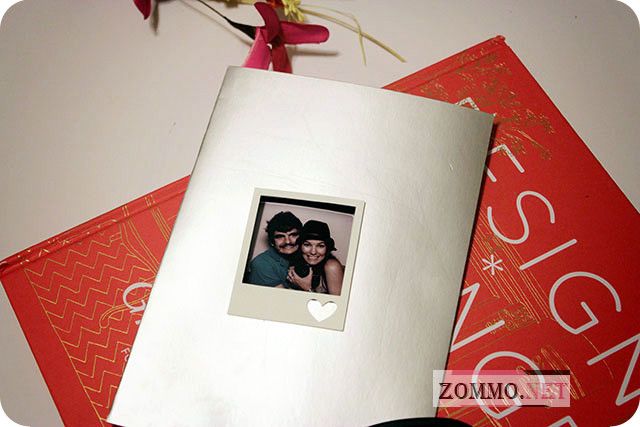 Valentine card made of paper and sewing thread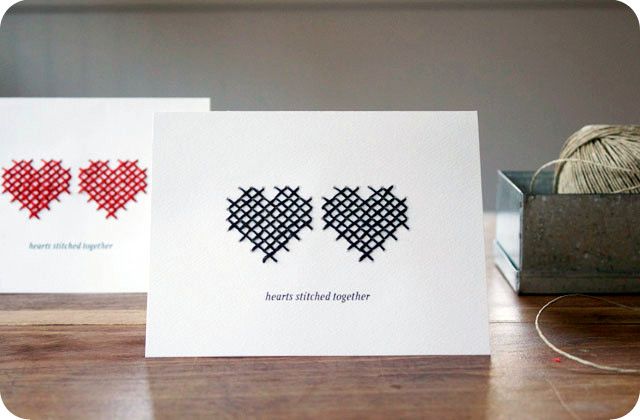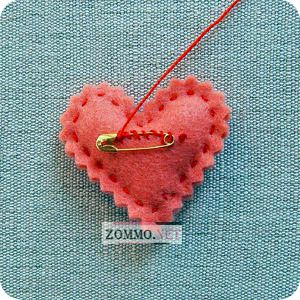 1) is printed hearts pattern. Cut it.
2) applied to a piece of felt, encircle the handle. Cut. (Need 2 identical heart)
3) stuffed with cotton or synthetic padding and sutured.
4) attached pin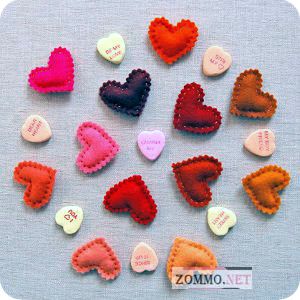 Valentine of buttons and thread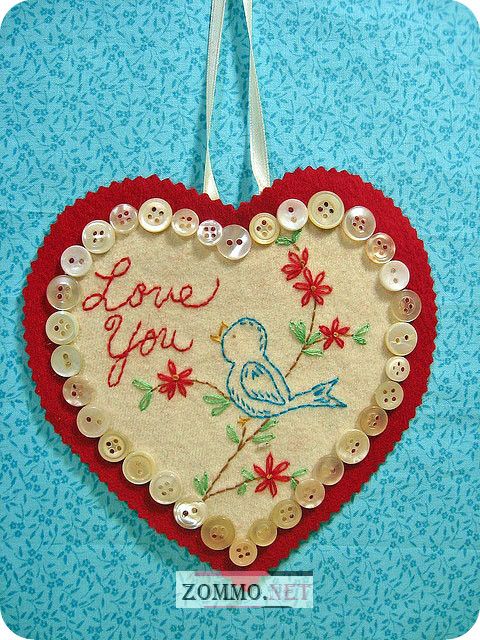 Pixel heart necklace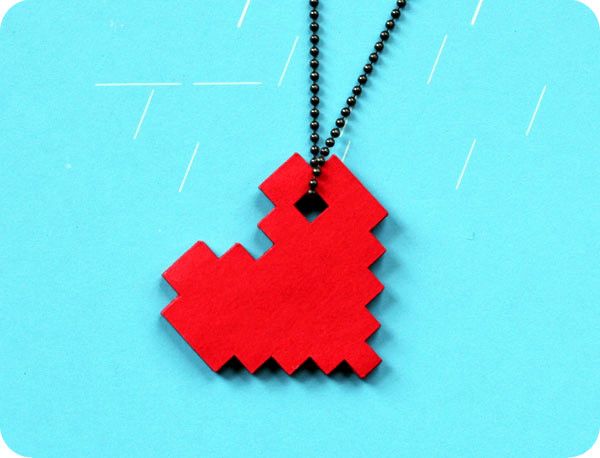 If you do not cling to the chain, then it will do for Valentine 🙂
Valentine heart shaped chocolates filled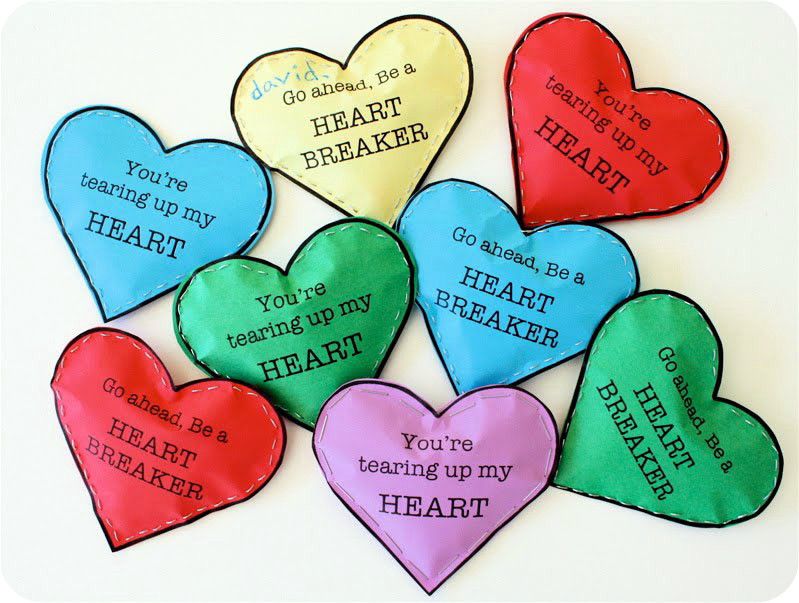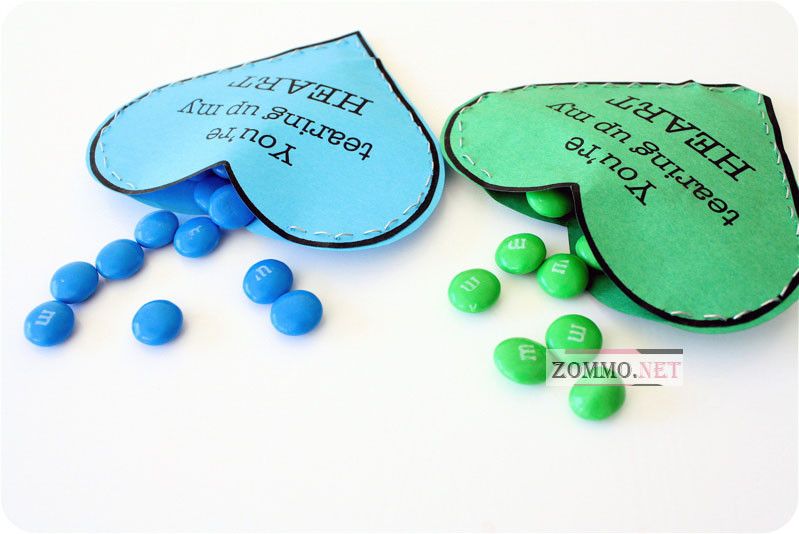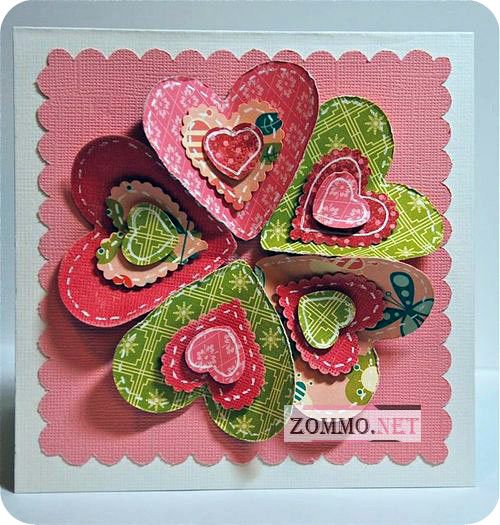 1) From a beautiful cut paper hearts 3 sizes (large, medium, small)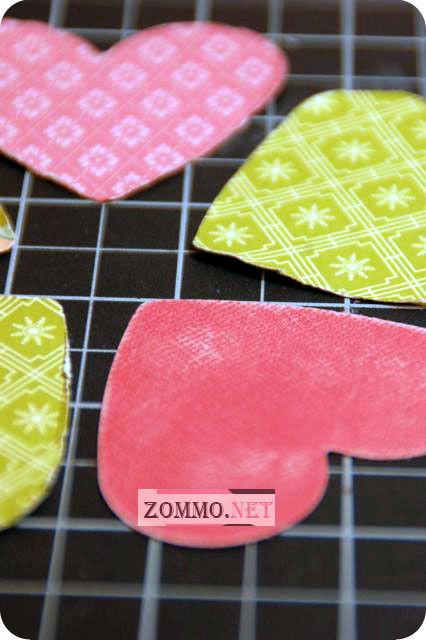 2) To make the heart little sophistication, the edges of draw line (pen, pencil or chalk)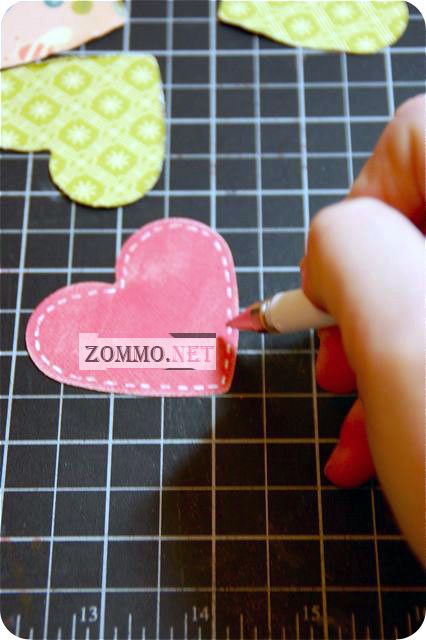 3) To give a general bulk heart, hearts are fastened with adhesive foam.
4) Fold the corners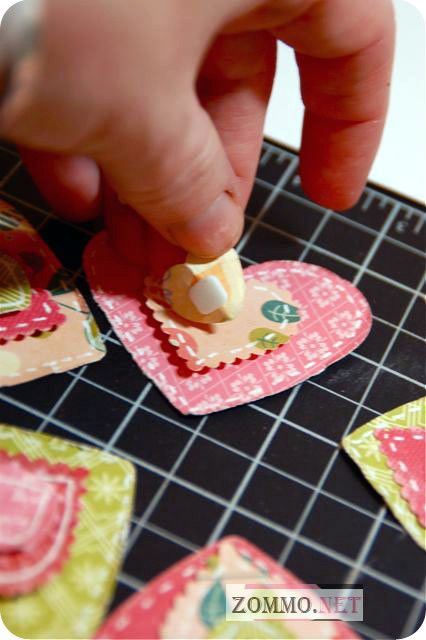 5) You can leave it, but you can make a general appliqué like the first picture
Scrapbooking: Valentine card with a secret
Valentine with his own hands the volume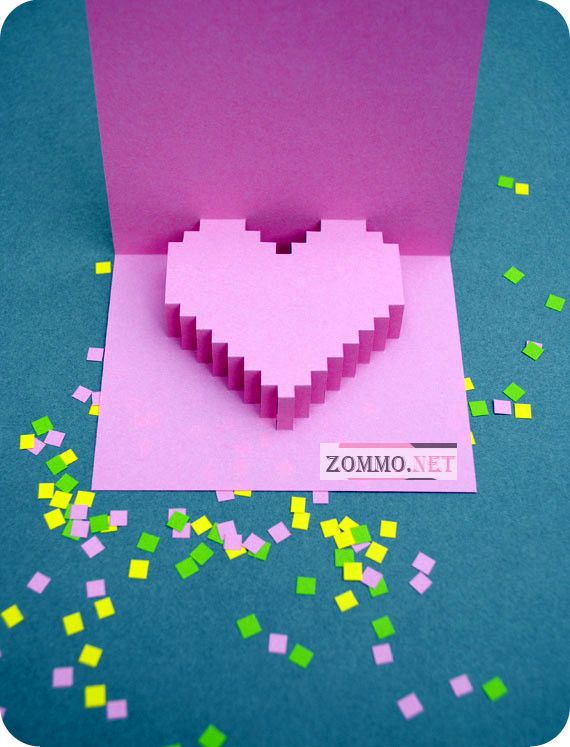 They are made very simply, we spend no more than 20 minutes (it all together: confetti, envelopes themselves valentines)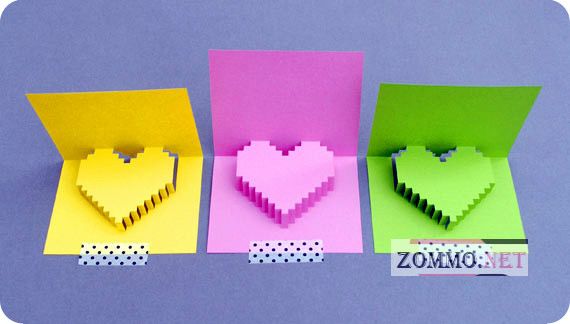 Let us make a little kofetti for a festive look
Full instructions and templates below!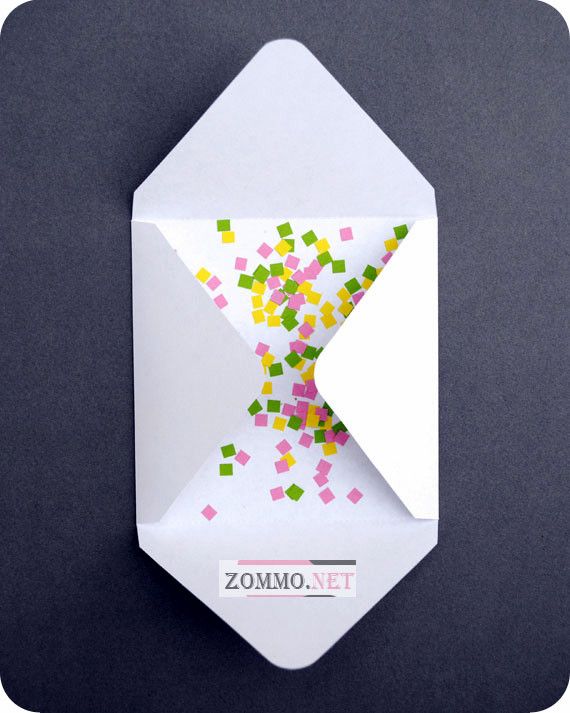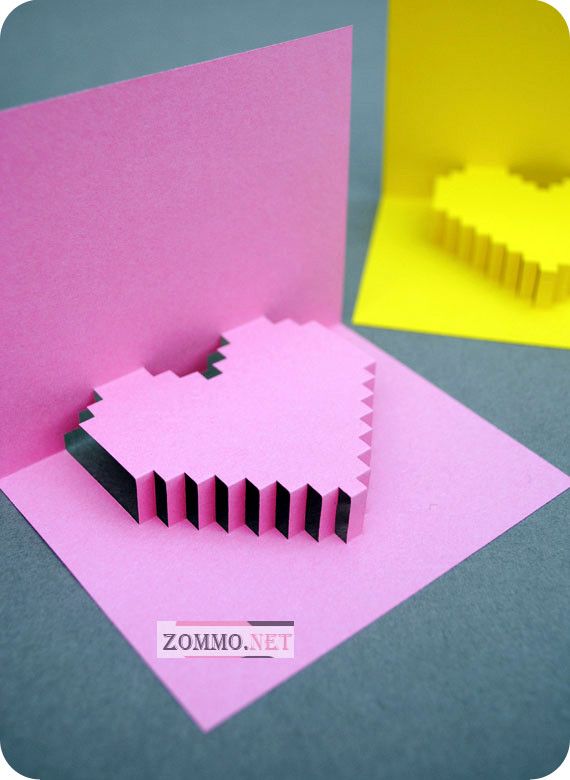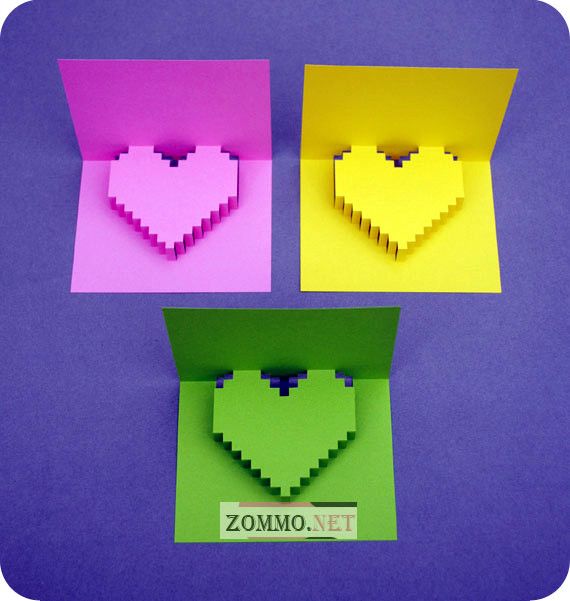 1) Download the template and print. You can use plain colored paper.
2) Use a knife or scissors make cuts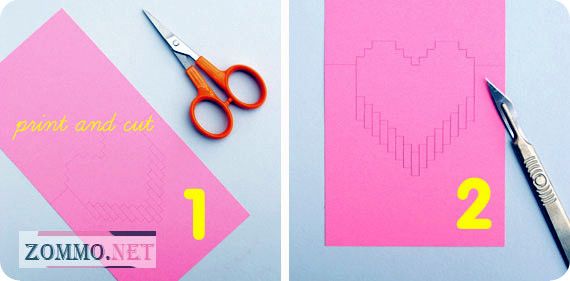 Making the cuts only on the yellow lines
3) Making folds and bend the sheet (bending lines are indicated in Figure 3 by yellow lines)
4) Try to slowly bend the sheet (adhesive tape attached to the table is not necessary, we have done this in order to make it easier to remove)
5) Fold Valentine completely smooth and
6) To Valentine was denser, sticking on the back of a sheet of paper, we had 9,5smh19sm size and then folded in half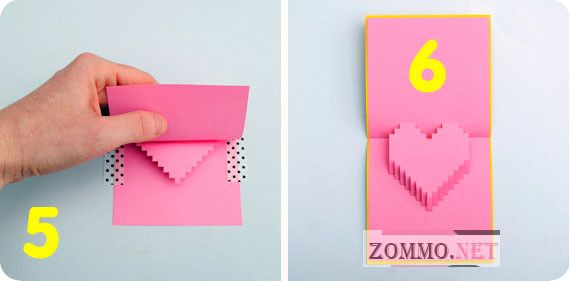 7) Download the template and print the envelope. After the bend and glue
8) Put a Valentine in an envelope and add a bit of confetti (optional)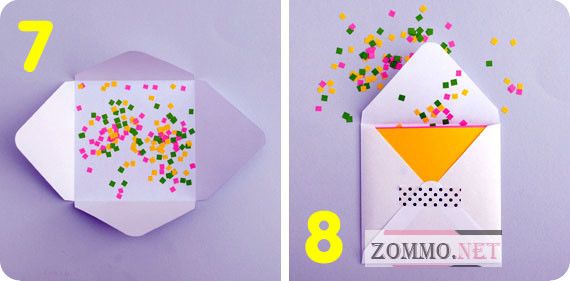 The volume of paper heart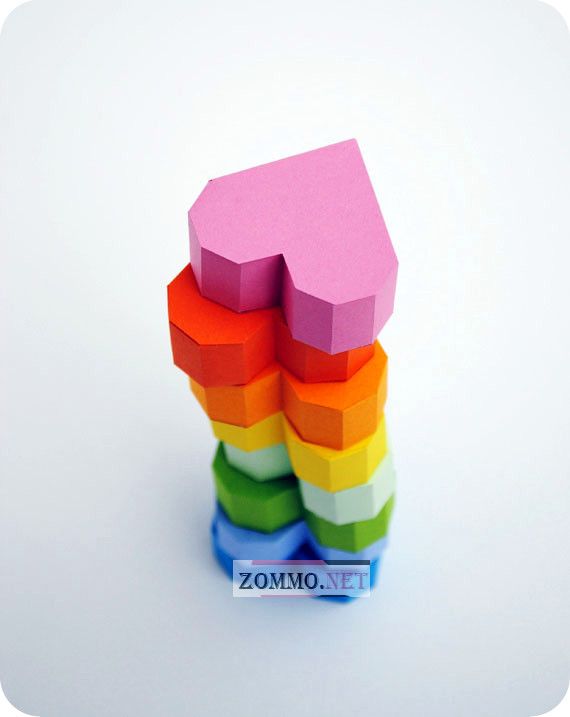 You can make the hearts of all colors of the rainbow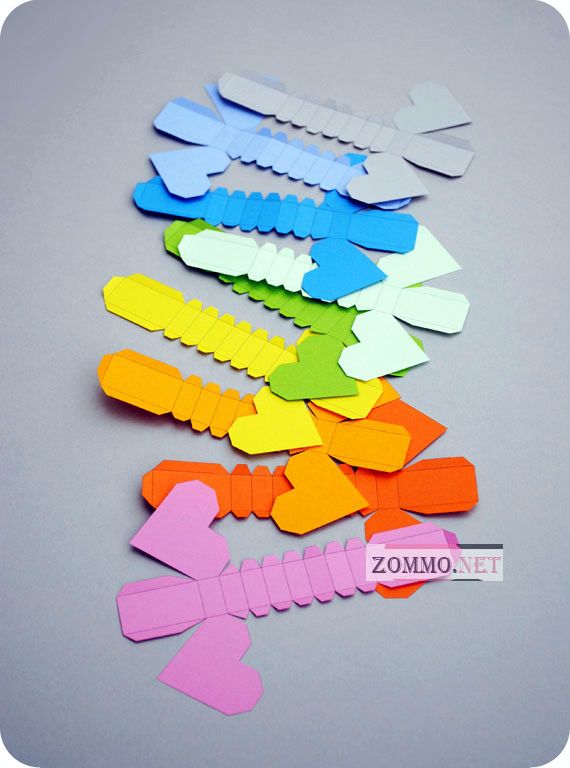 There is a small box in which you can pack our hearts (one box holds 2 hearts)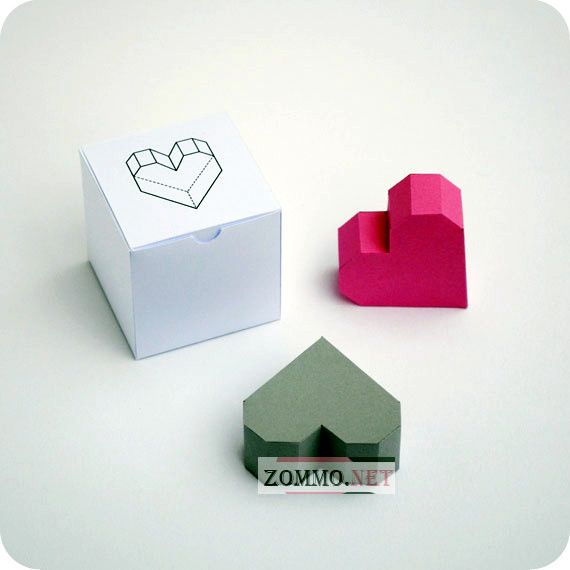 Download the template box and hearts pattern, print and fold (guided by the pictures below)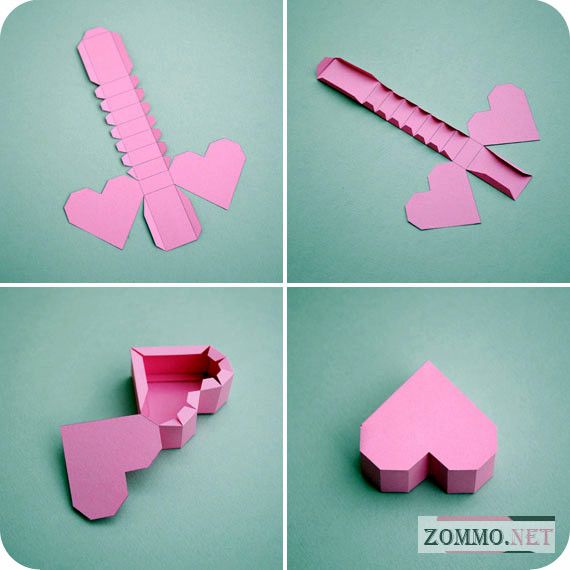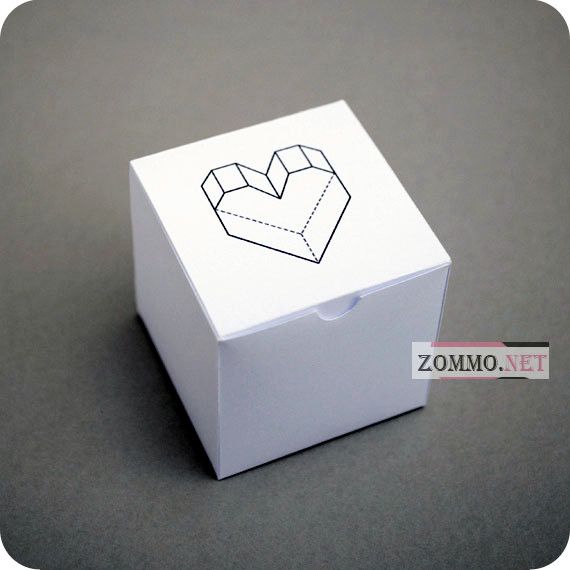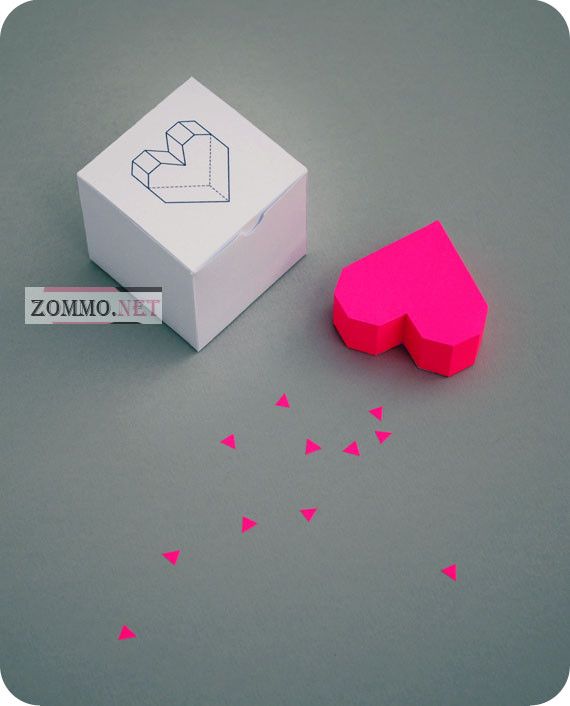 Bulk Valentine "Geometric Heart"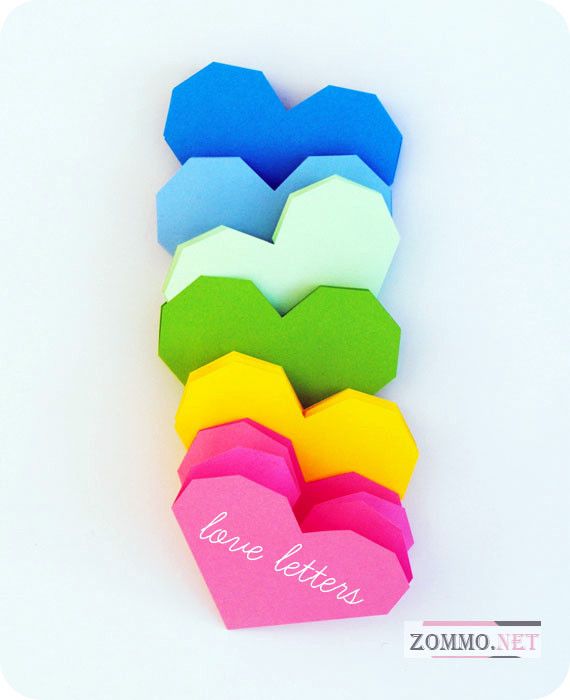 Valentine with your own hands quilling
Beautiful Valentine by quilling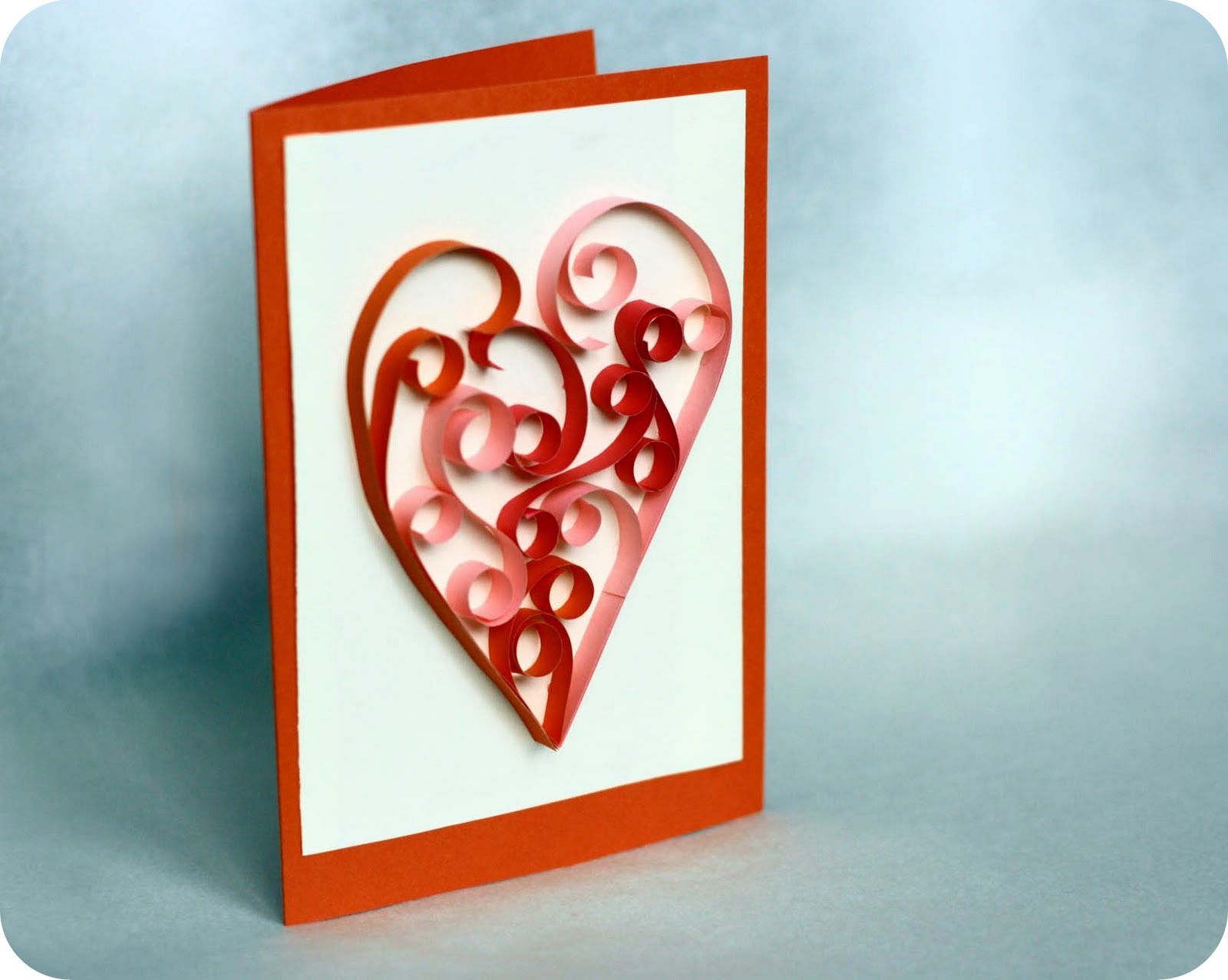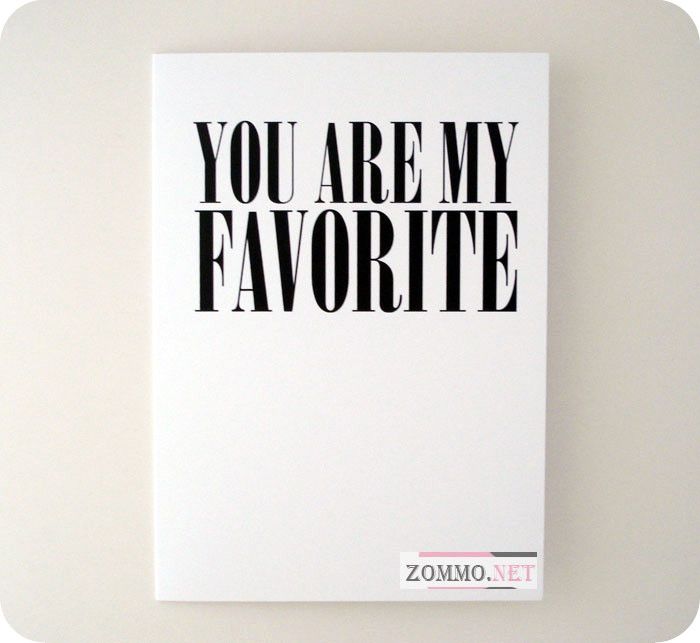 Beautiful valentine with your own hands
Valentine prediction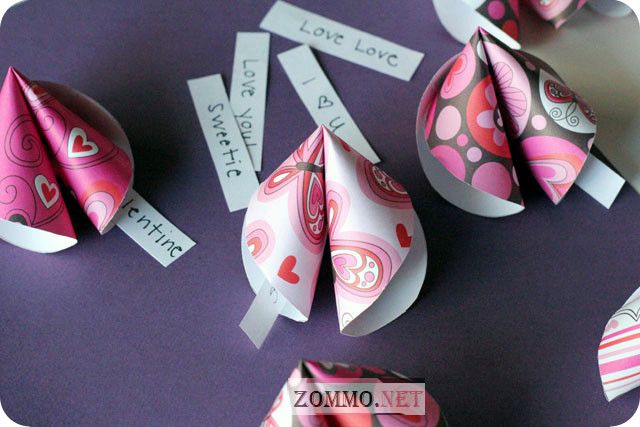 1) cardboard or colored paper (can be printed colorful patterns)
2) glue stick
3) scissors
4) White Paper
5) Handle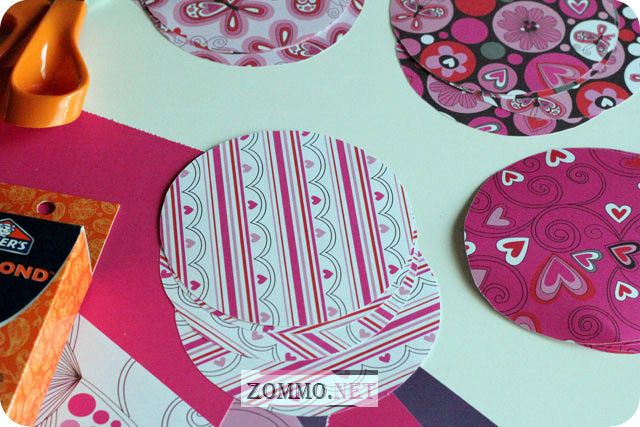 1. Cut the colored circles (so that they obtain flat, put the cup down on a piece of paper, draw out, cut).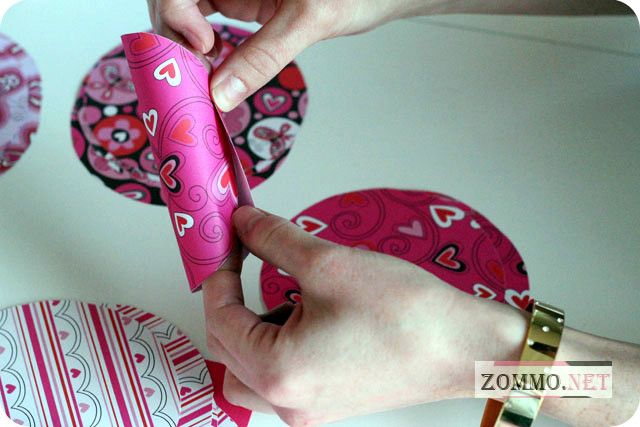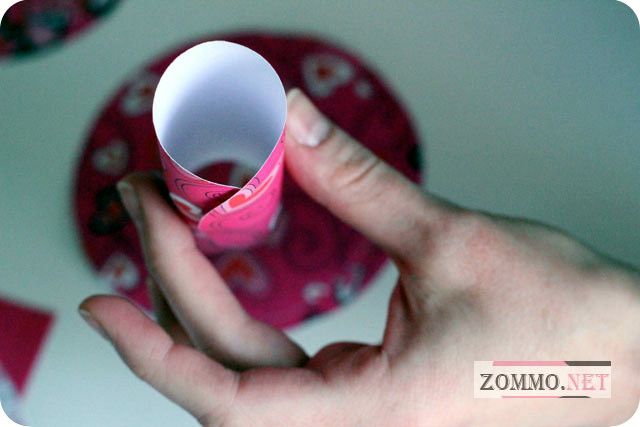 2. Carefully add up your circle in half so that one end slightly overlapping the other. Apply the glue that circle is not broken up.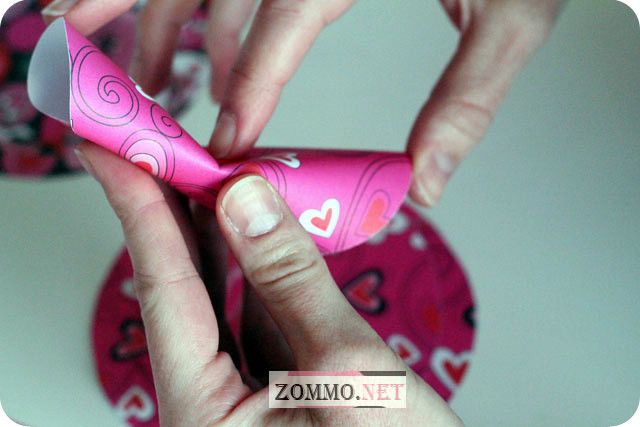 3. Find the center of the opposite end and fold so that the paper top and bottom touch.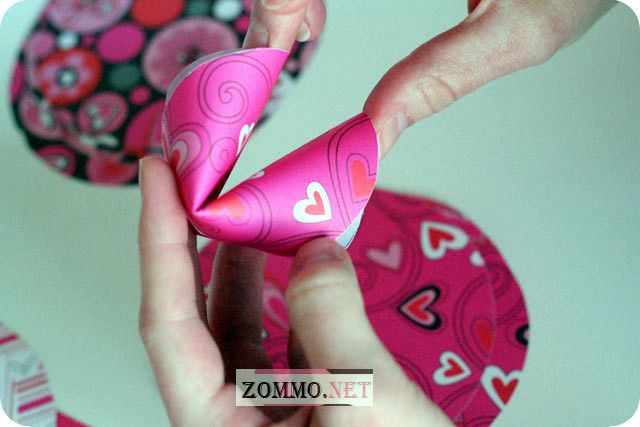 4. Connect the sharp ends together until Valentine will not look like a fortune cookie.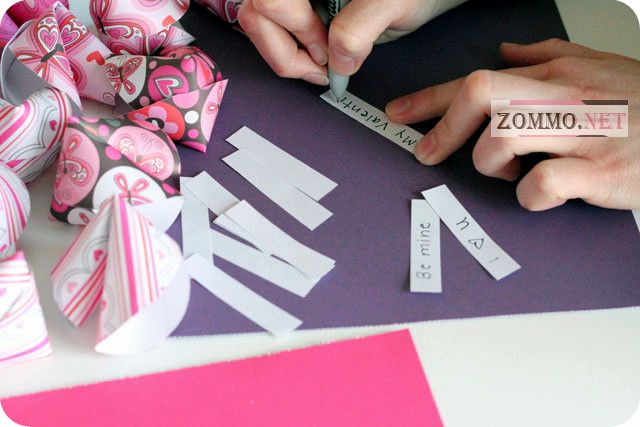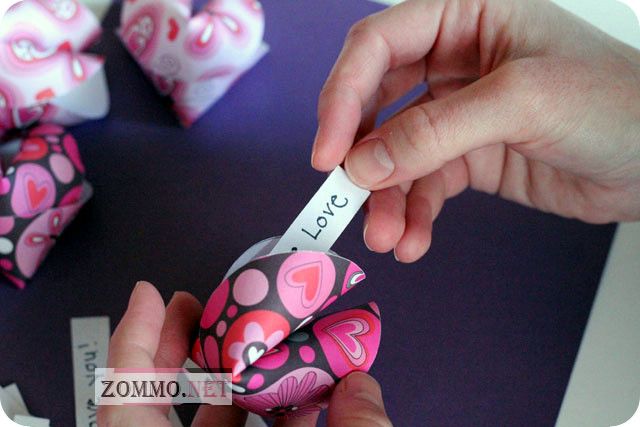 5. Writing wishes on Valentine's Day and put into our valentines. One things is not enough, therefore, we go to step 2 and continue to do as much as is needed.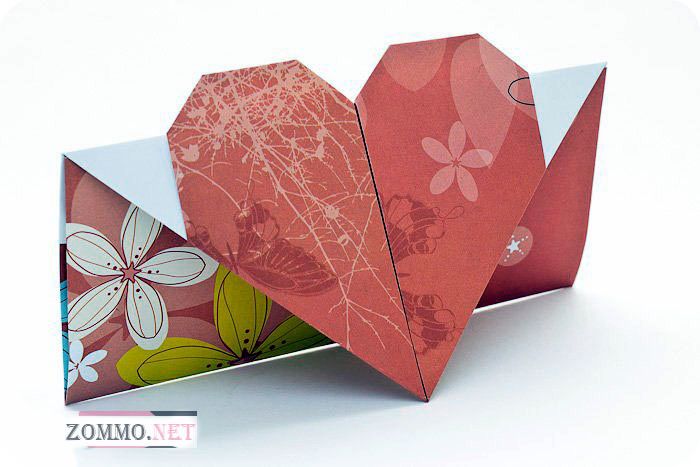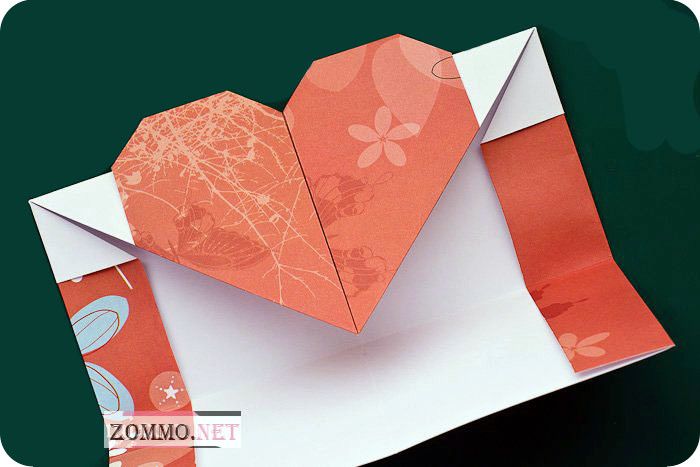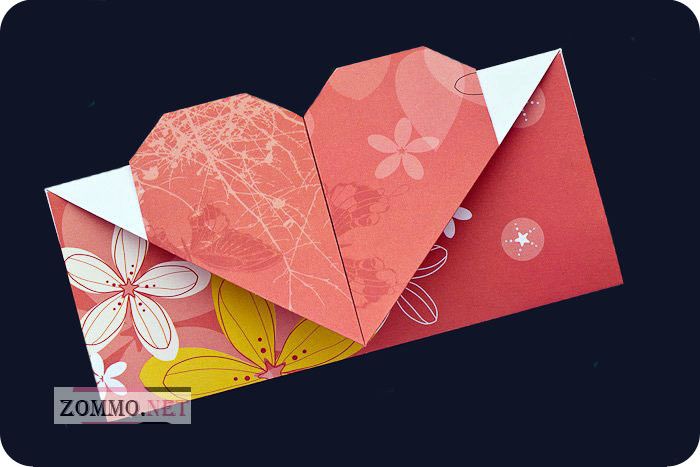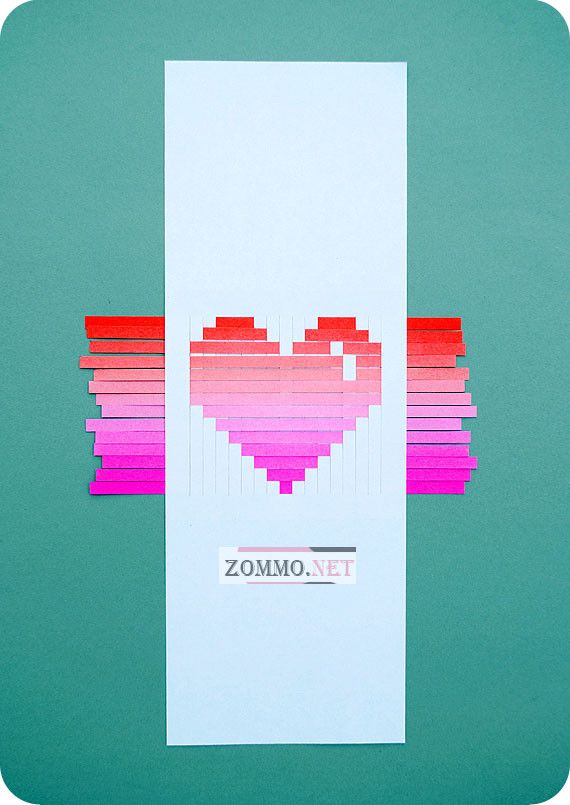 Colored strips of paper 5 mm wide
A4 paper and envelope valentine
Scissors
Knife
Glue
Duct tape or sticky tape
The circuit diagram of a paper heart and envelope paper (download Heart Pattern and envelope pattern)
1) Print paper hearts pattern. We used plain paper is white, but you can use any color paper. Cut it with scissors or a knife.
2) 14 Cut paper strips 5 mm wide.
3) That the heart does not bunch up, use masking tape
4) Trim excess
5) Print the template for an envelope. Cut it and glue. Of the remaining paper can be made confetti.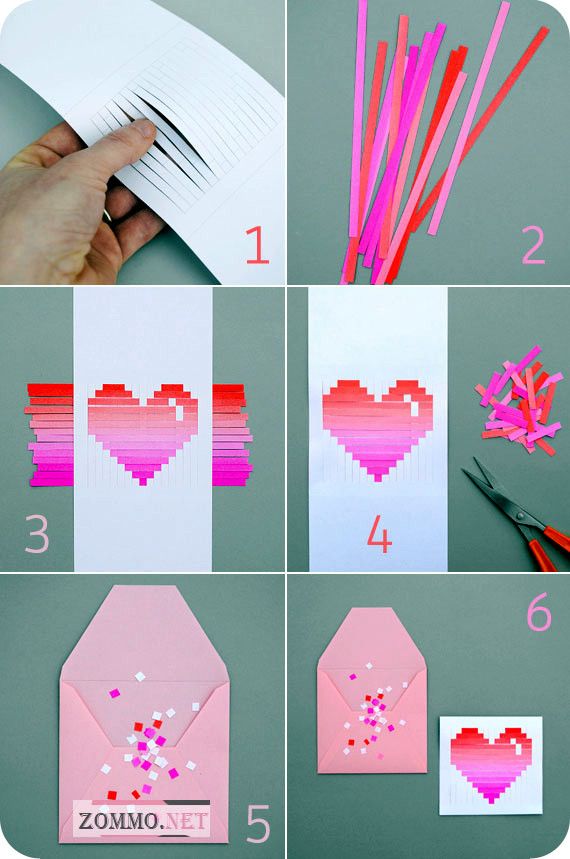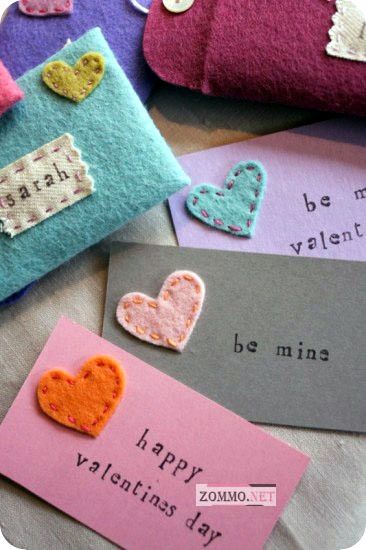 1) On a piece of cardboard cut around credit card, cut base
2) Cut out paper heart, to attach it to a piece of felt, cut around the handle, cut
3) Sew heart to the base via a needle and thread
4) Write nice things
Fancy valentine with your own hands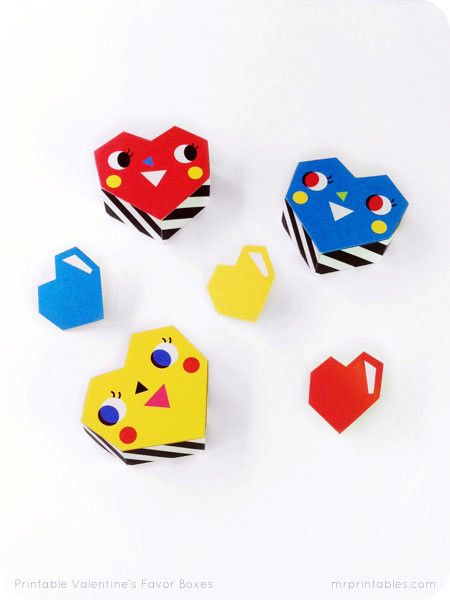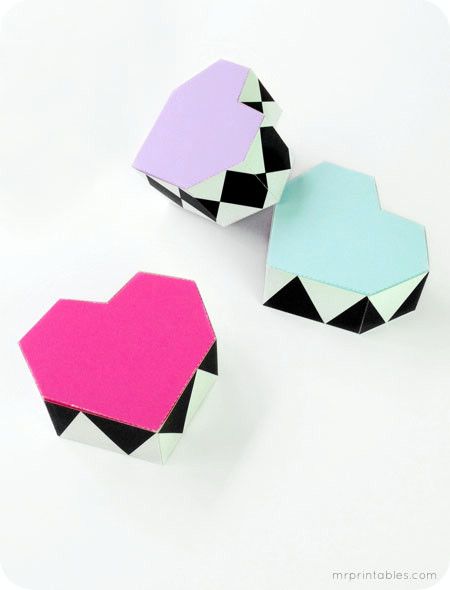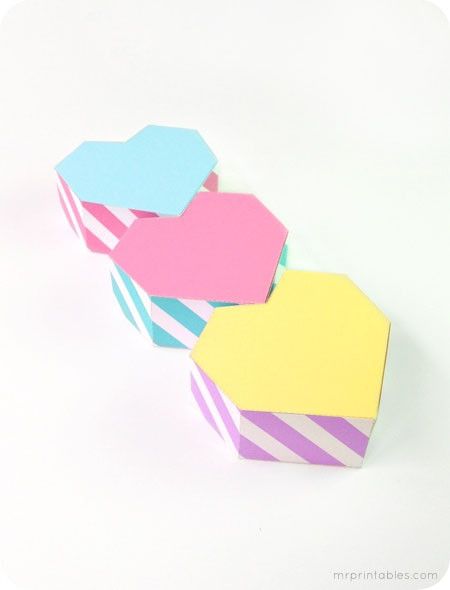 We can say 2 to 1, and Valentine, and can be put inside a present (some snacks, for example).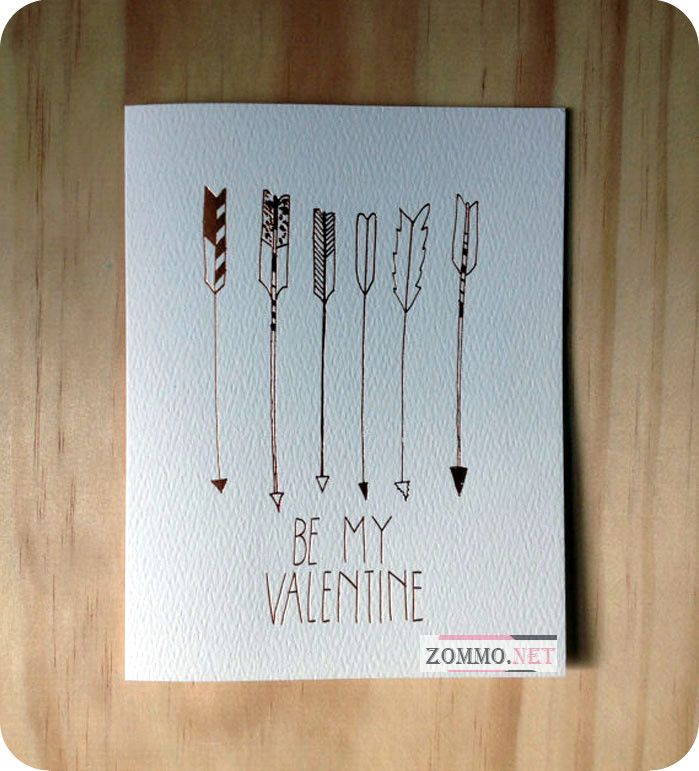 Men's Valentine for a loved one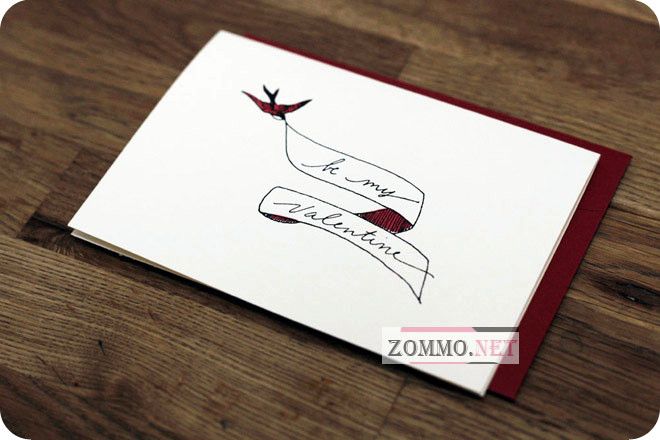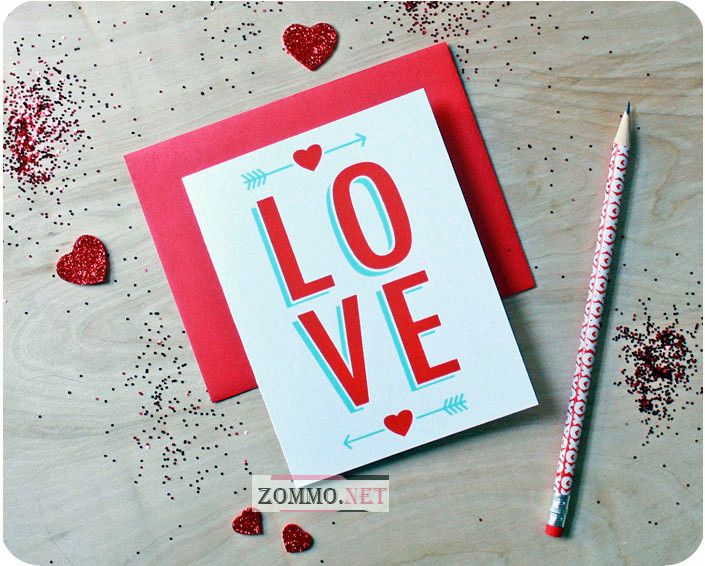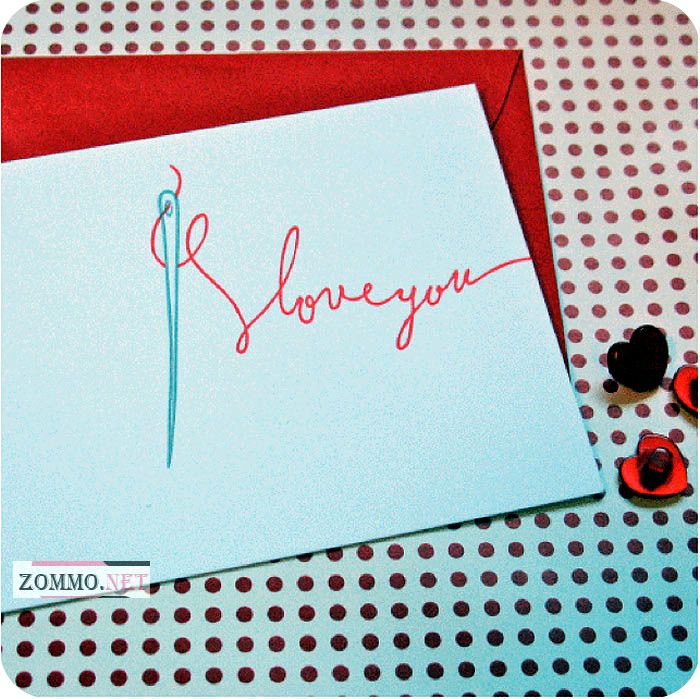 Valentine "Happy Valentine's Day"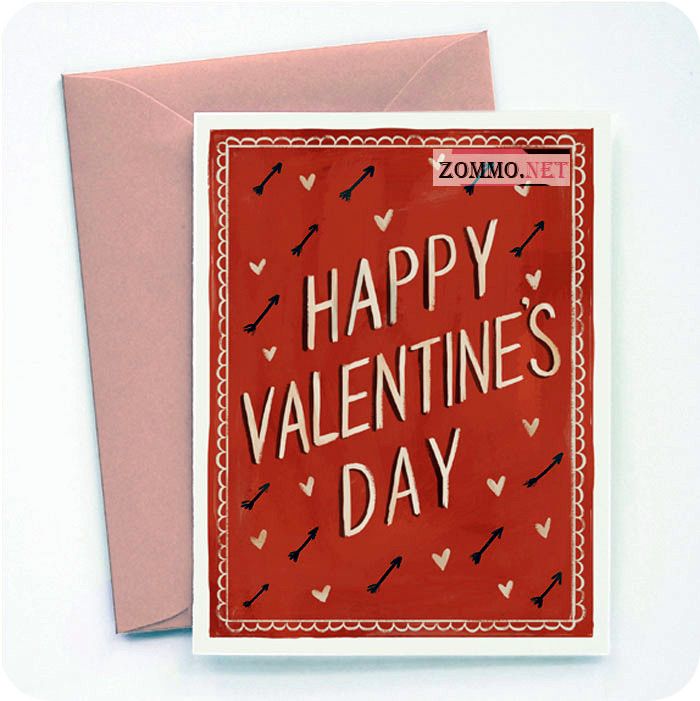 Simple Valentine's card with buttons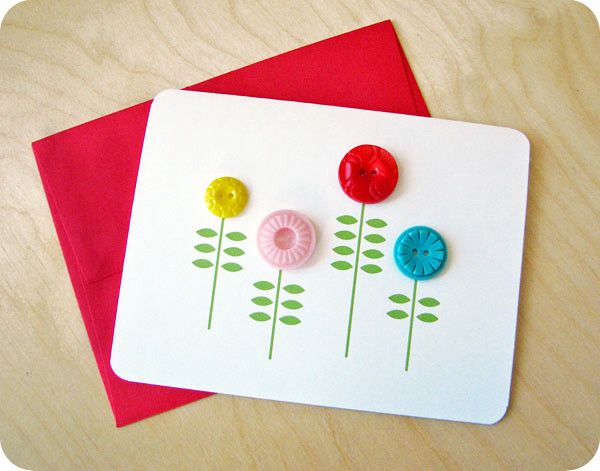 Valentine boy with his hands
Origami hearts for Valentine's Day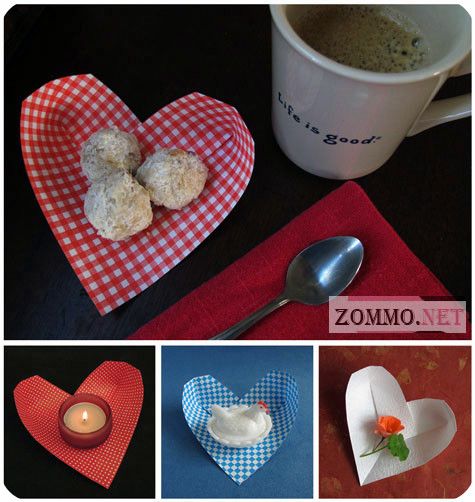 Such a heart perfectly decorate banquet tables, show your love and give a romantic atmosphere.
Valentines his hands video
Valentine card in the style of scrapbooking
Valentine origami on a stand
Create a romantic atmosphere will help the tree valentines with their own hands.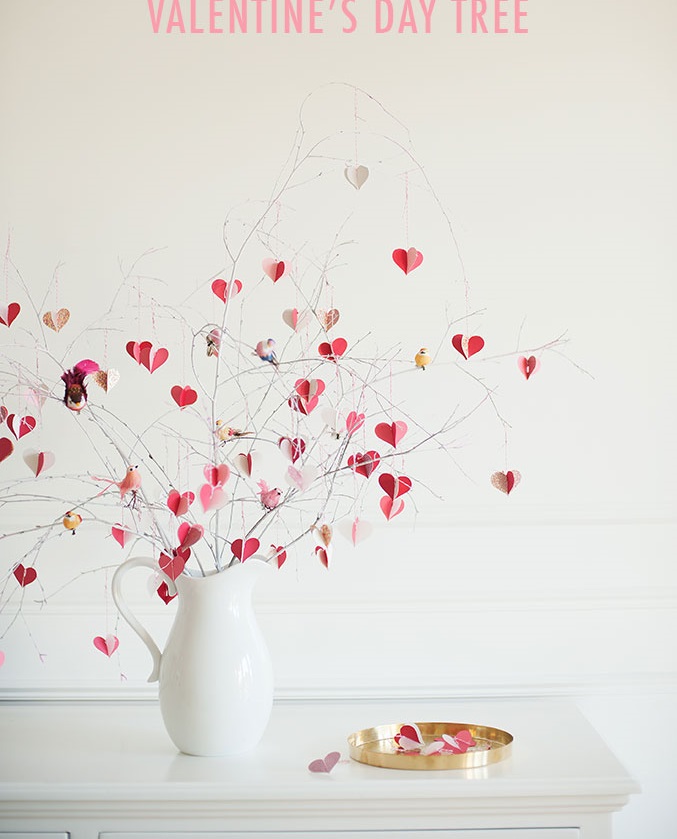 For the manufacture of such a tree, we need:
pink paper
shiny ribbons
birds (sold in all stores for creativity)
branches
white spray paint or acrylic
White jug or vase
first you need to collect a bunch of several branches (not one or two, namely a few because too few branches on our tree will look not very attractive and), cut the branches to the same length
cover branches paint - or spray or acrylic
We spread the branches on the birds and their anchoring or pegs (often sold as a set with birds), or tie closure band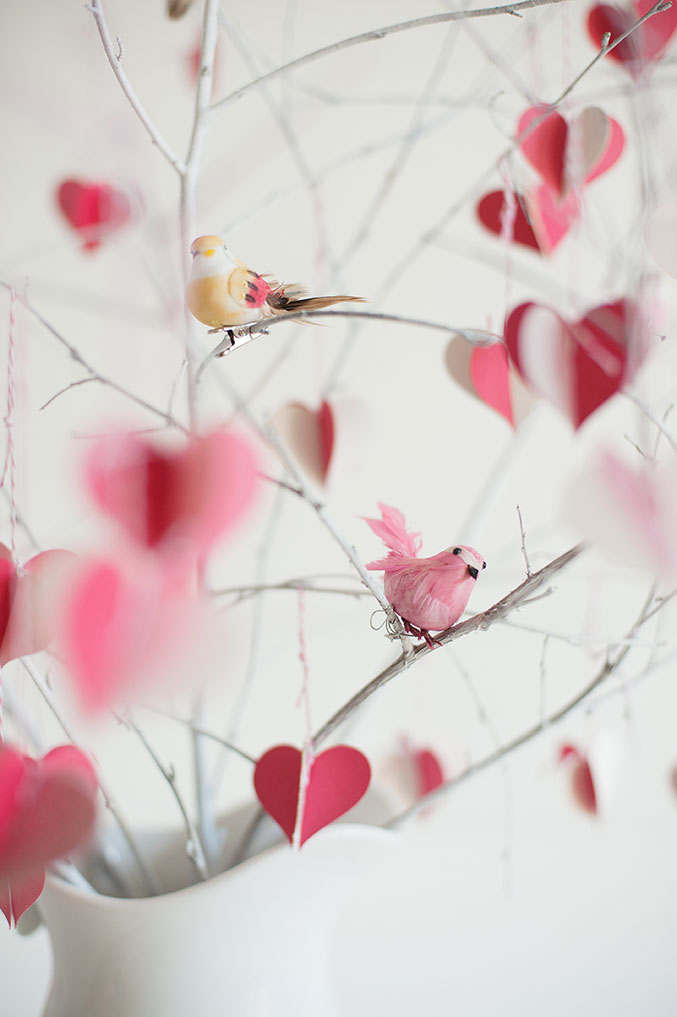 for Valentine 3D, we need carved out of pink paper hearts, are cut as follows: one to the middle of the top, the other to the middle of the bottom. Then insert the hearts each other through these slits, stretch elastics - 3D hearts ready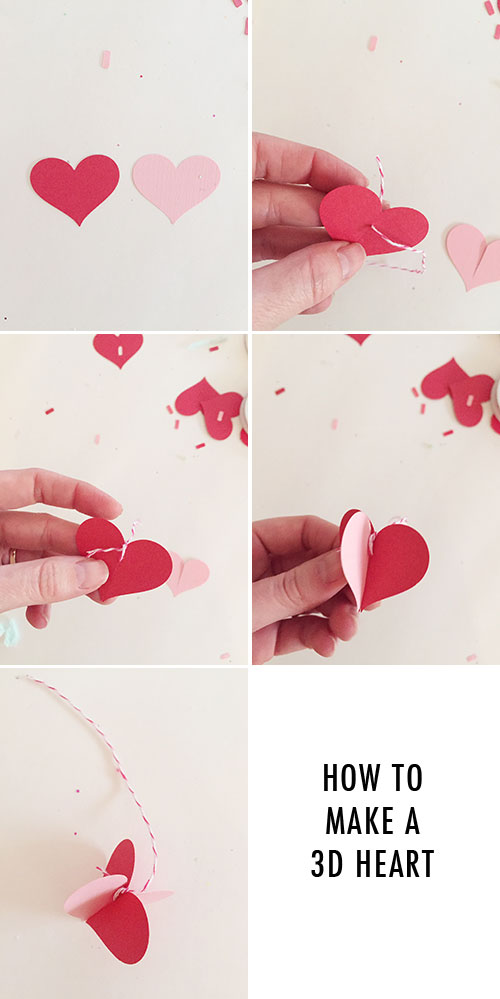 Valentine hangs evenly on all twigs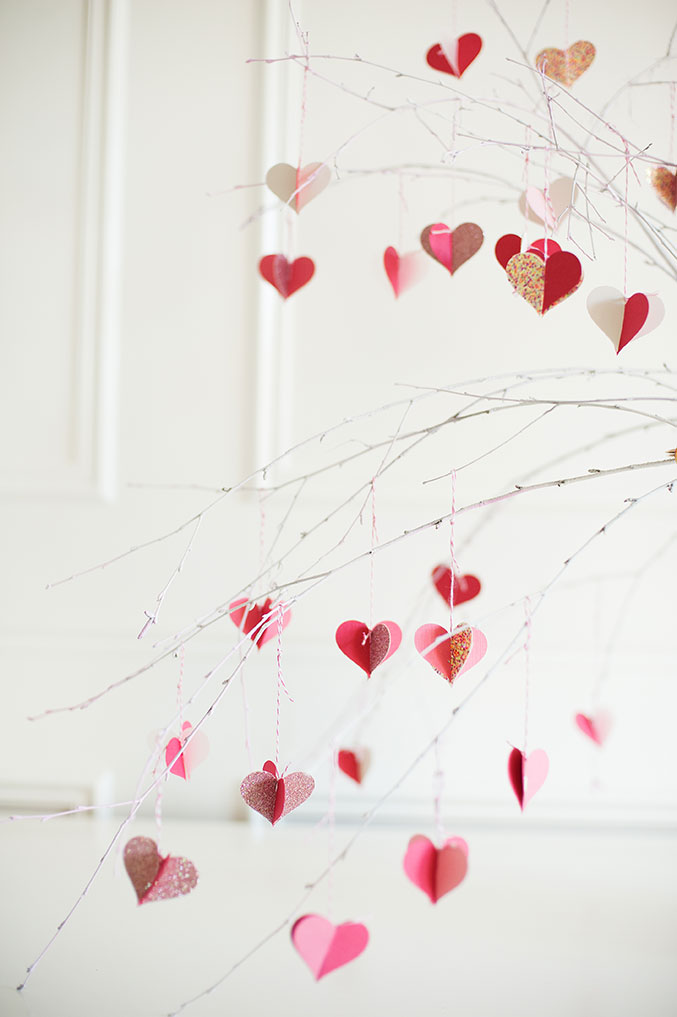 Valentine "Envelope with a secret"
Another interesting option - "Envelope with a secret." It seems to be a regular envelope, but no: it turns out, is the heart. Unusually touching valentine with your own hands can not help but make the heart beat stronger second half. Folded in a special way can serve as a Valentine message of dear person, or ... well ... like a box of donated jewelry.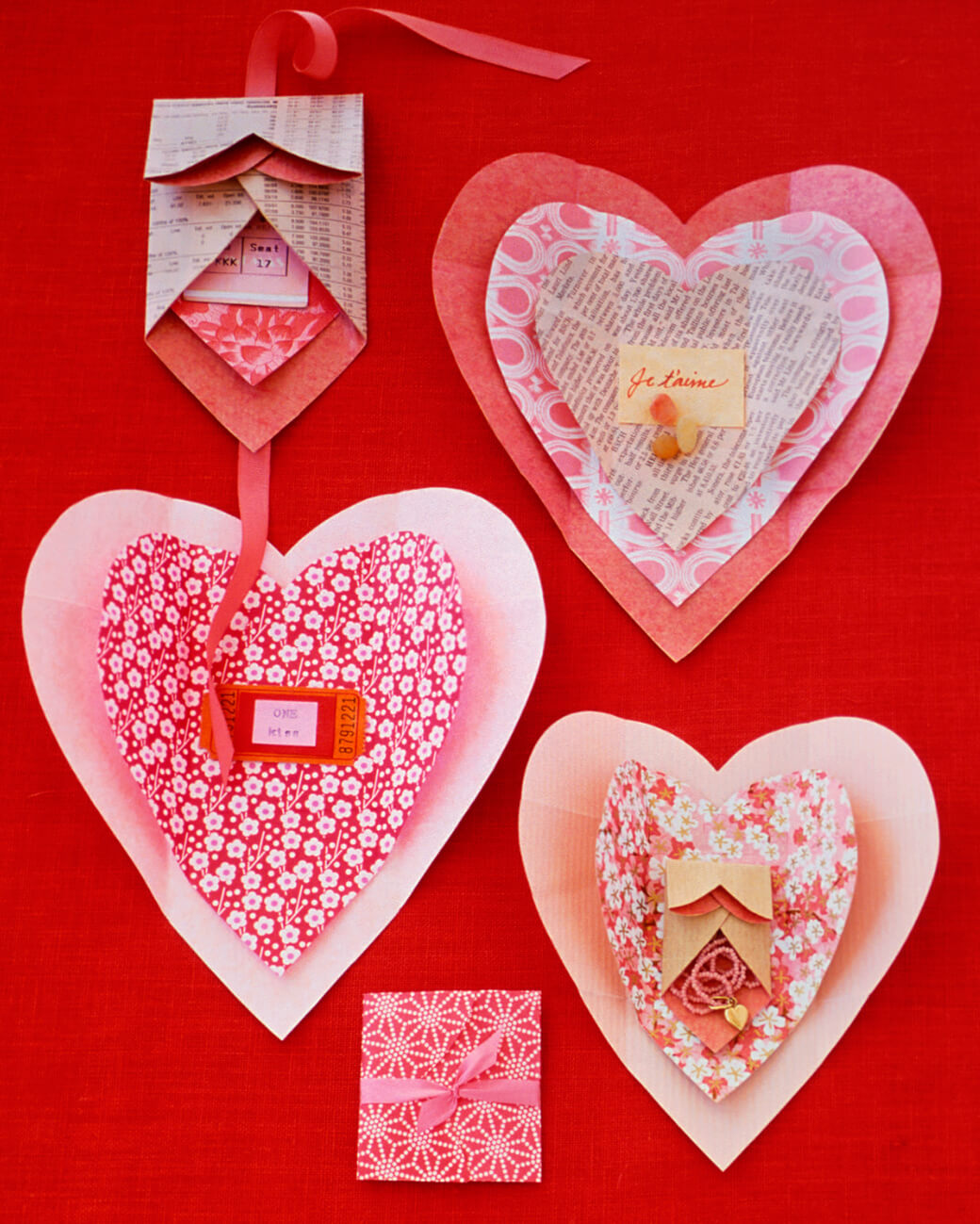 Thus, for an envelope with a secret, we need:
How to make a valentine with your own hands
Cut out the pattern - the heart of the plain white paper, put on his layout as shown in the first photo. A pattern cut out the heart of pink paper. We apply the template to a pink heart and the markup is pressed something hard line, which will add an envelope. Do this in order to line markings were not visible on our Valentine.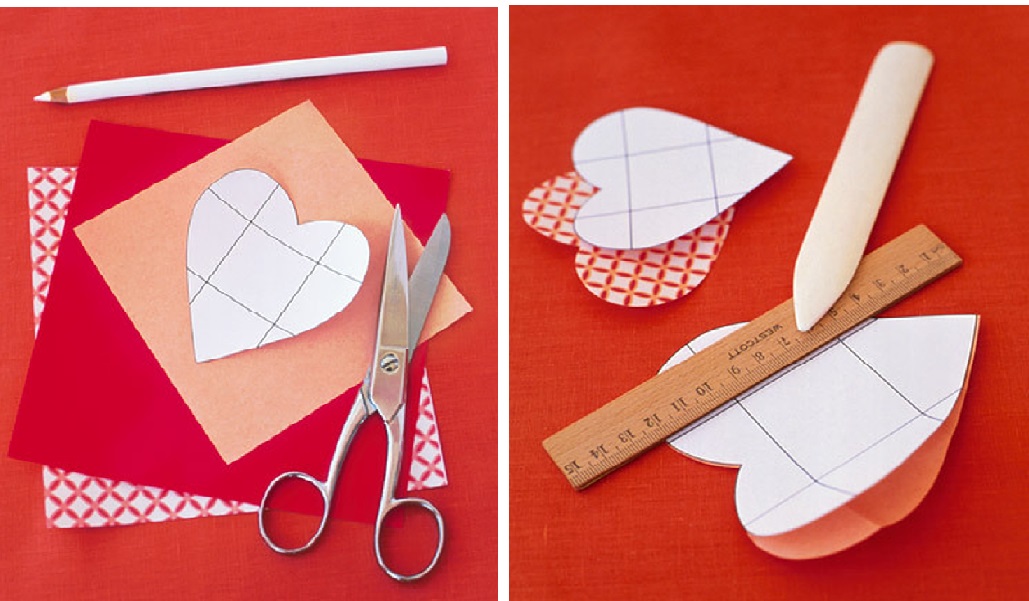 Making the folds of the markup, we add up the envelope. As an option - you can stick the braid and tie a bow.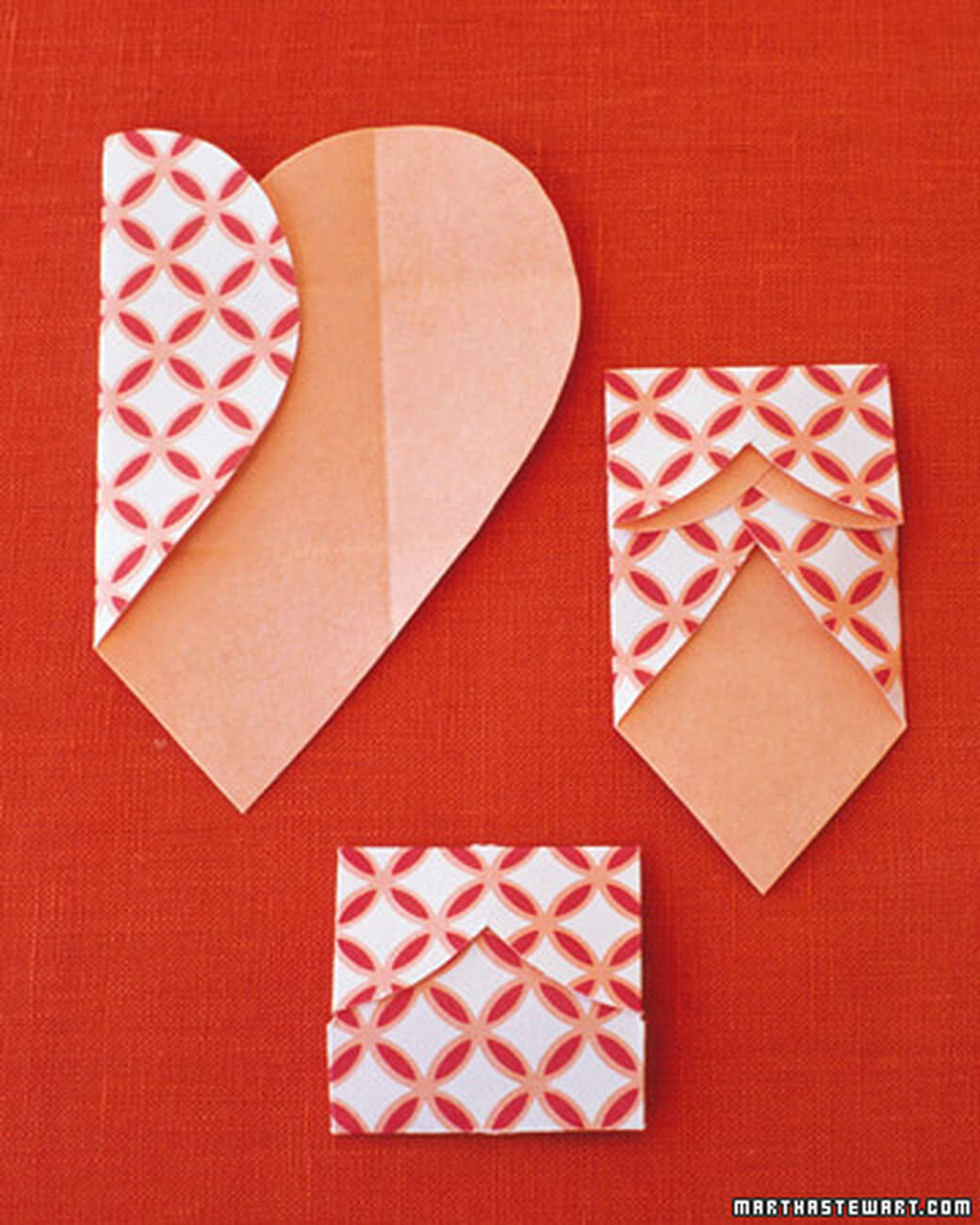 It remains the case for small - to put in the message envelope or small but nice gift.
To make this valentine with your own hands, you will have some work to do, but in fact for the sake of pleasant moments with your loved ones do not mind neither the time nor the energy. Thanks a loved one is worth all the effort.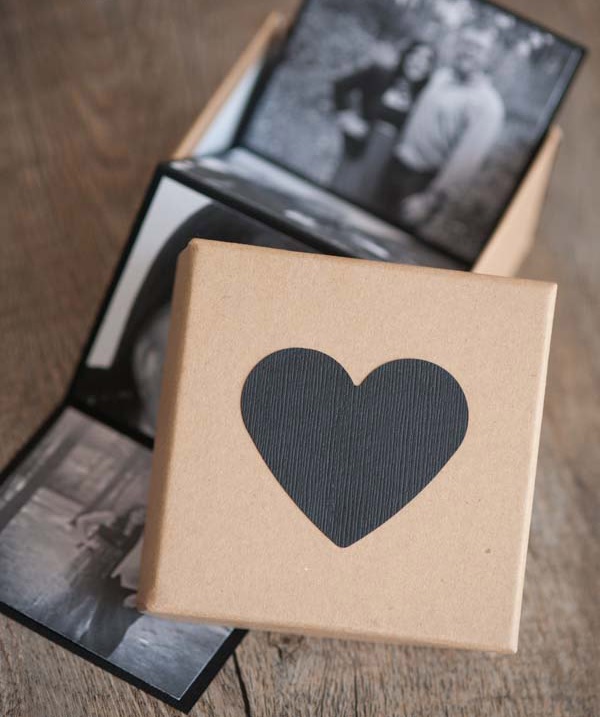 Kraft cardboard box
thick black paper or double-sided cardboard
Photo
double sided tape
ruler, scissors
chocolate candy or sweets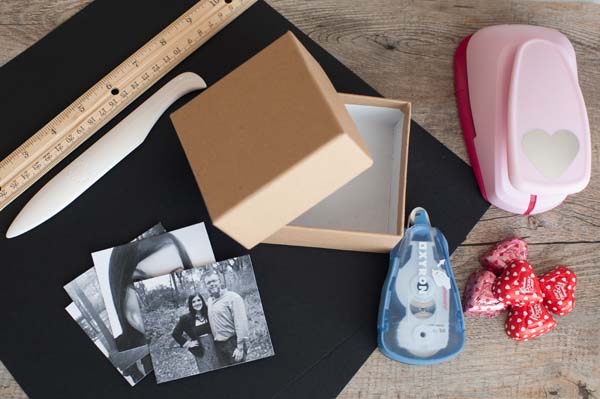 How to make a Valentine photo album with your own hands
Cut a strip of black paper width equal to the width of the pictures. Then the strip to bend a few times so as to obtain an accordion. To fold was smooth, we envisage it in any pointed object.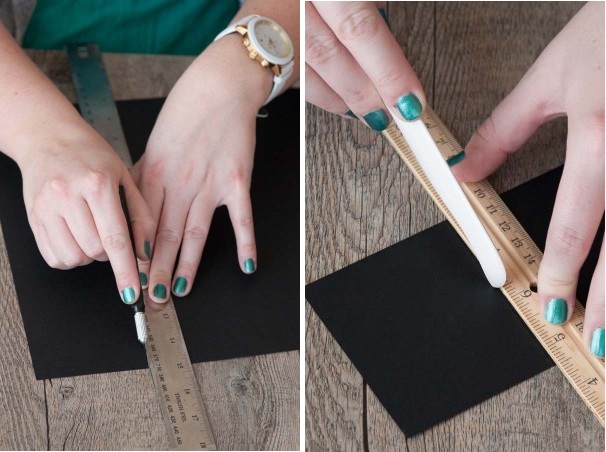 2. Glue a harmonica pictures. To compose better to use black-and-white photos.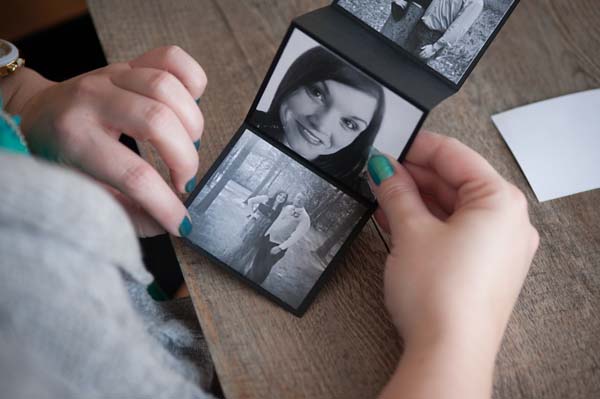 3. Cut out the heart and glue to the lid of the box. Fill a box of sweet hearts. Top - photos.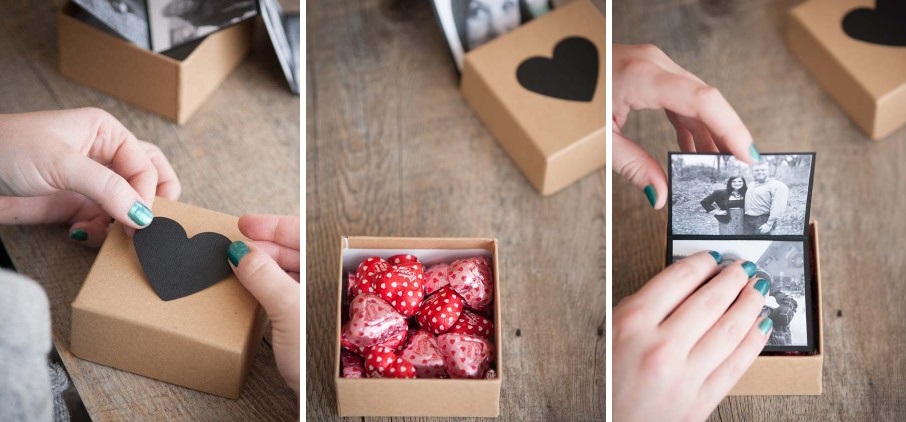 Sweet gift for Valentine's Day is ready!
Valentine "Fulfill my desire"
Remember, each of us in childhood folded "fortune tellers" of paper. Over time, of course, it is forgotten. Let's remember together! Especially something which as such exclusivity in the store just do not buy. Valentine fortuneteller great way to kindly make fun of her boyfriend!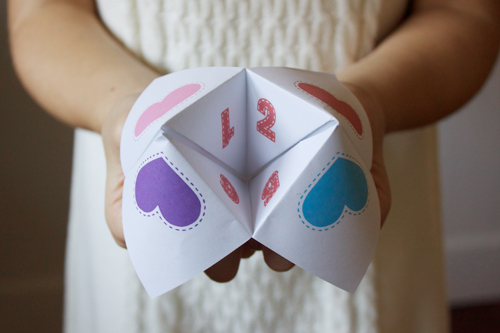 Valentine's card with his hands only requires the following materials:
How to make the valentine-fortune-teller
Simply-simple: pass the link above, printed on paper (preferably in a color printer) and folded in a special way.

Bend angles to the center, turn over

Again bend angles to the center and turn over

Bend crosswise. Valentine is ready!

Now we have to write under each digit comic (or serious) and the desire to spend time in a good mood!
Delicate Valentine as a supplement to the present and to express romantic feelings. Valentine's card with his hands necessarily vskolyhnot affection of the second half. And it is not necessary to wait for February 14 to express their feelings. Enclose a note card with warm words for a loved one. You'll see, it will be moved.
For valentines need the following materials:
thick kraft paper pink shades
white cardboard
red cardboard
double sided tape
scissors
sewing machine
Fold in half the sheet of white cardboard - this is the foundation of our valentines
Cut out hearts - 2 of each color is distributed over the surface of the outer side of the sheet is pasted accurately using double-sided tape
Now came the turn of the second heart: sew them on a typewriter to the places where the glued first. If you do a few lines in the opposite direction, there is no need to fix the ends of the thread - just cut them
On the inside spread glue cardboard red
Voila! Card for a loved one is ready!
Ta-da there. We present you the first calendar countdown of valentines. Let this funny and a little naive idea will make you with your boyfriend even closer.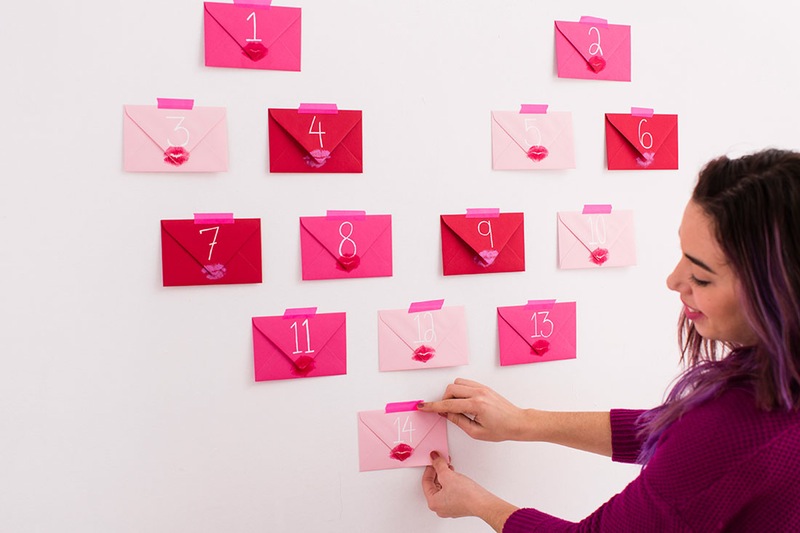 For calendar, we need:
sheets of white paper
Envelopes in various shades of red and pink
markers in various shades of pink + black
white pen
pink tape
several lipsticks
Well, the main tool - your lips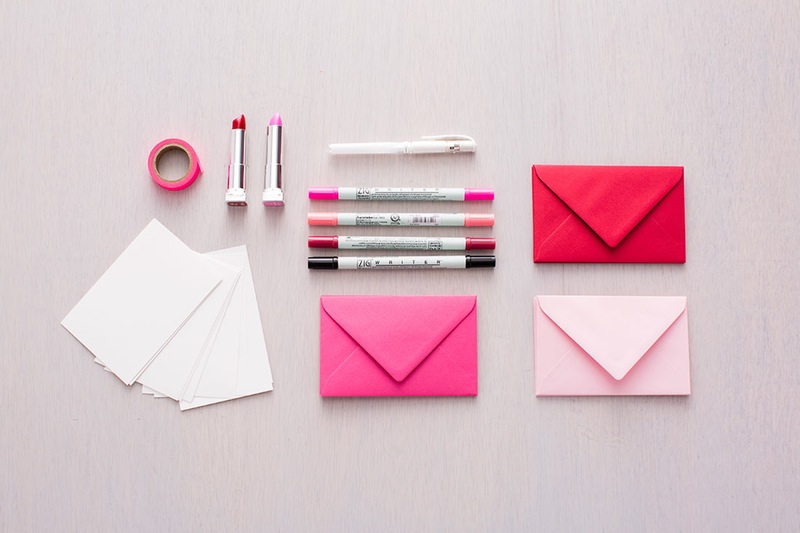 Getting to the creation of the calendar
forming inserts into envelopes: a sheet of paper write all sorts of amenities, declarations of love and wishes. Here is a simple little valentine with your own hands. But with meaning!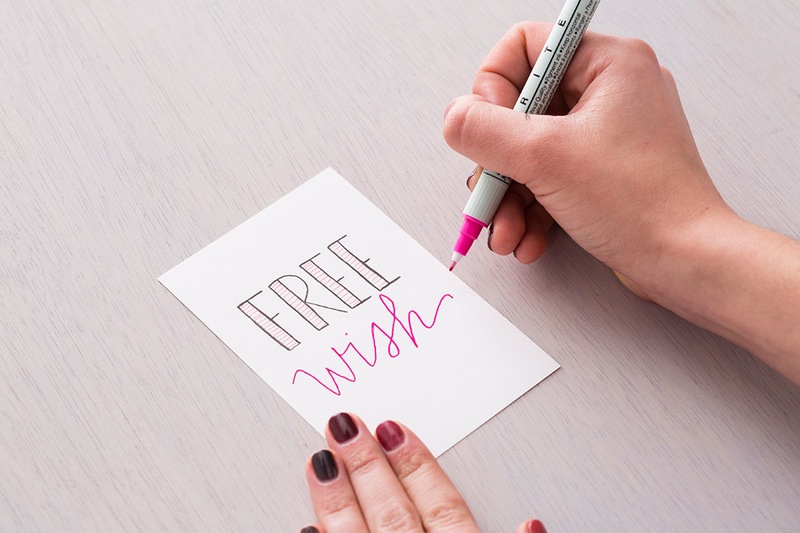 All we need 14 of these inserts.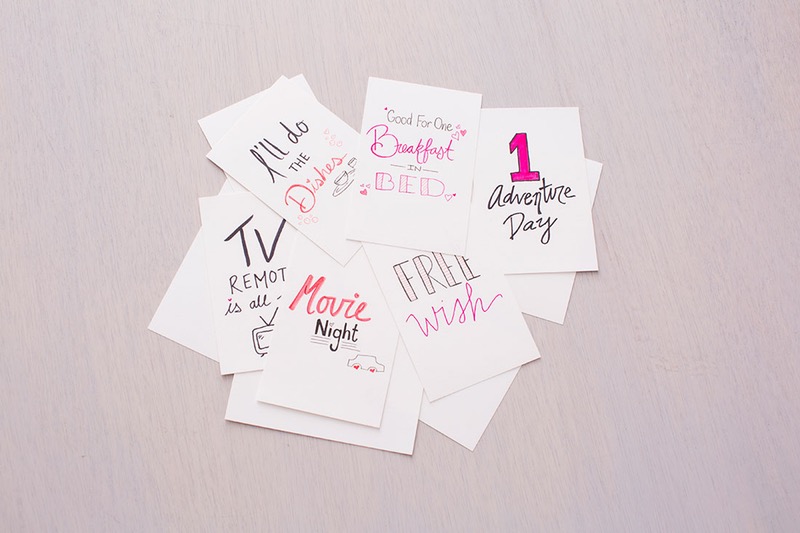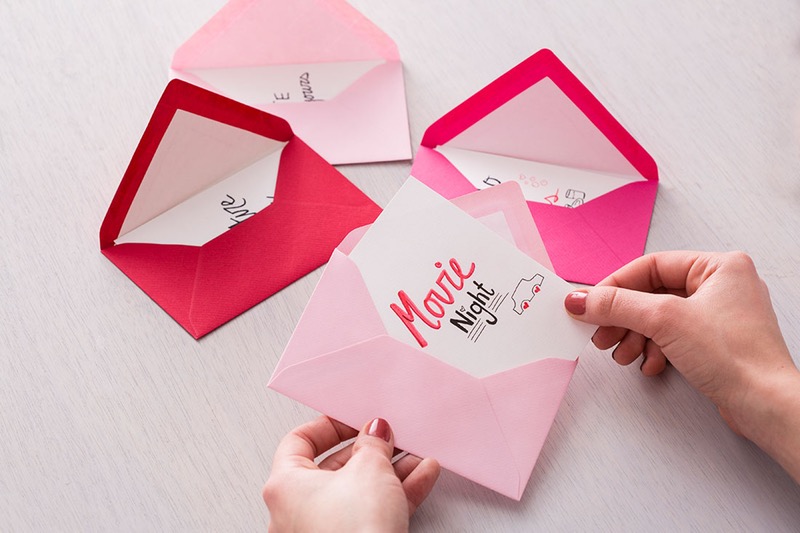 Sign numbers - it dates from the 1st to the 14th of February. Paints her lips bright lipstick and leave a mark on the envelope.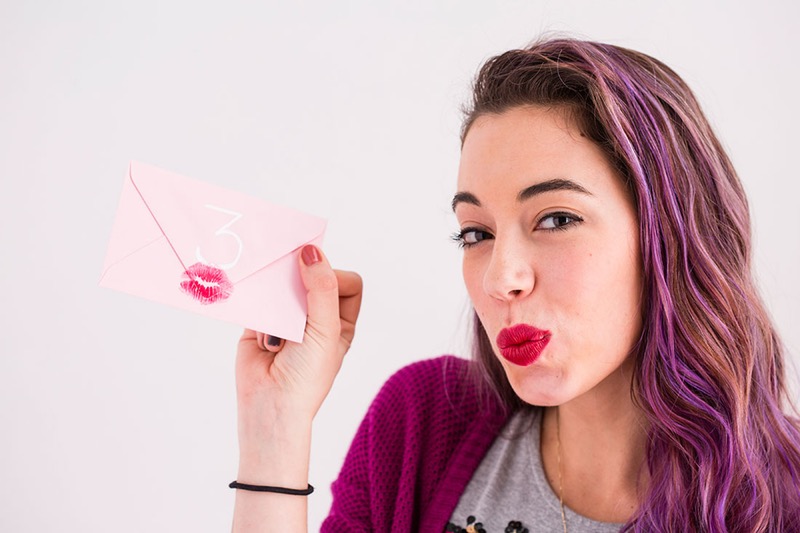 It remains to attach the envelope to the wall, laying out their hearts.
Now, every day for two weeks only until February 14 your young people will get the message ... and the last insert something special! Only, mind you, do not open all at once!
Romantic atmosphere at home, champagne and of course sweets-hearts. Yes, valentines can be edible. Let's understand what can be done valentine with your own hands to treat their loved one.
Edible valentine breakfast
That is so simple and at the same time unusual breakfast you can please a young man early in the morning. And you have to do nothing at all - a piece of toast, eggs and a little ketchup.
Recipe pastry for their preparation, each girl chooses to your taste, decorate, too - many options cooking cookies can be found on the Internet. The main inspiration and do not be lazy!