Boxes for storage
Often in the house accumulated a lot of small things that need somewhere to place. Typically, cabinets and shelves for this is not enough, because they are all already occupied by a variety of household appliances, or article of clothing. Therefore, we have to find a way out of this situation. For this purpose, suitable boxes for storage of things that you need to either buy or make your own hands.
Even in ancient times, our ancestors used to store various trifles chests, which were decorated and painted. Now, a beautifully decorated box - is not just a stylish accessory, but an object, decorate the interior. What kinds of boxes exist and how to make the subject their own hands?
Kinds of boxes for storage
Boxes differ in shape, size and manufacturing material (cardboard, plastic, vine) and decor. Such one another household items may differ in style. For example, they can be:
Vintage - with metallic stripes and stones;
Stringent monochromatic upholstered cloth or paper;
Romantic, using romantic gadgets for decorating;
Glamorous - rings trimmed with rhinestones.
Storage tanks are huge or compact size. The presence of the cover - an optional condition for this interior.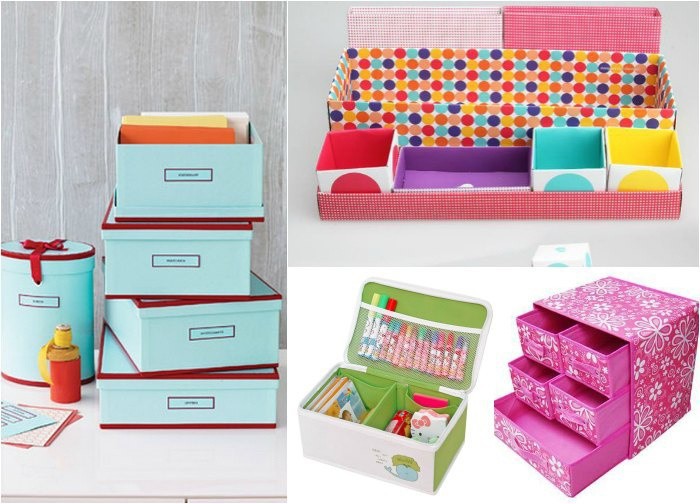 For production of boxes in most cases, use cardboard. It can be colored or monochromatic. So it is advisable to paste over the box and decorate to give it a sophisticated look.
There are standard and corrugated containers for storage. If you intend to store in them heavy and fragile items (crockery and antiques), for this purpose it is better to use corrugated boxes. They are reliable, denser and harder, because made of several layers of corrugated cardboard. In such containers are often stacked valuables, because it is almost not subject to deformation. Standard capacity (as pictured below) - thinner and weaker, so they are best kept light objects.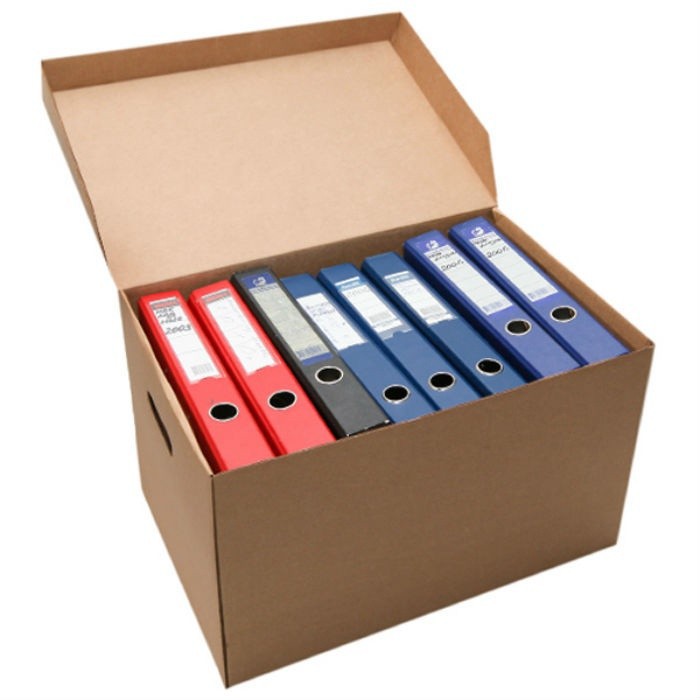 Wicker box for storage represent baskets or boxes. This handmade objects made of wicker or basket of newspaper tubes. They come in different sizes and colors. These baskets will decorate your apartment and will be the same piece of furniture. They contain fruit and vegetables, trinkets, jewelry, as well as clean or dirty laundry. Another successful and interesting looks set of boxes from the vine. This kit will make a special style to your home decor.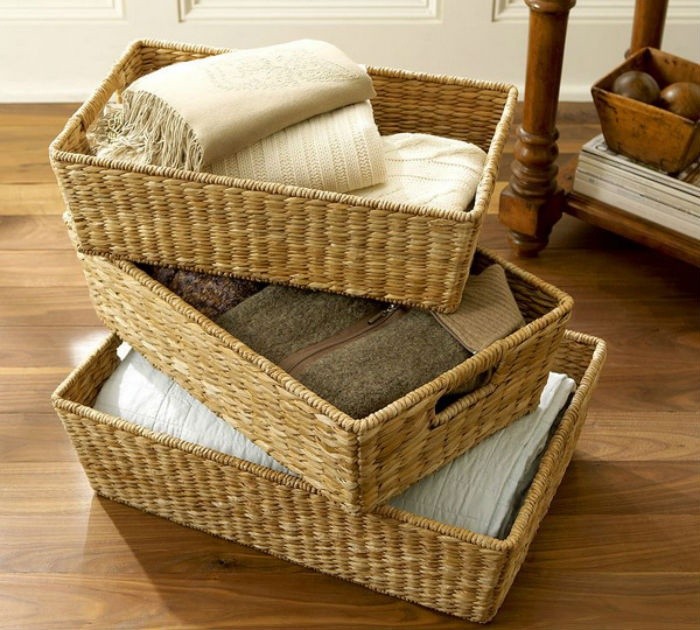 Plastic boxes are mostly used for food storage. They also store seeds, clothes, sewing, knitting tools. They are also called plastic boxes. Environmentally friendly plastic will not harm your health, if it is the subject of food storage. These boxes come in different sizes, with and without cover. Also, in some of them have wheels and handles for ease of use.
Appearance of plastic boxes for example, as in the photo below is impressive bright colors and design. They are delicate and woven, easy to clean and durable in use.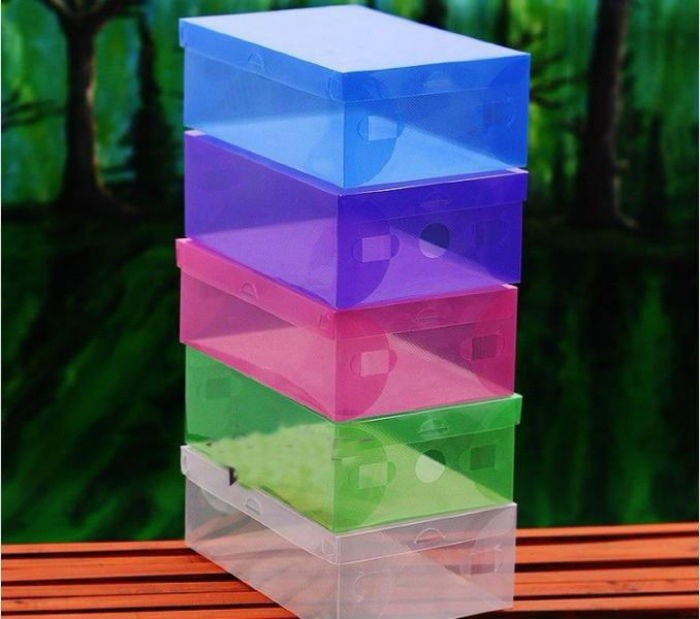 Boxes for toys have a special appearance. They are bright and colorful, they can be painted children's favorite cartoon and book characters, as in the photo below. This box motivates the child to put toys in their own special "house". use safe materials for the manufacture of such containers: cardboard or plastic, so that the child during the game is not injured.
In most cases, when moving or during repairs using cardboard boxes. They pack a variety of things. Depending on what you are going to put in these tanks, they are divided into large, medium and small.
On the strength they also differ. Standard less durable. They better put things easy, and corrugated - stronger. In these boxes, add up the valuable items, which have a heavy weight. They are not damaged, even if you place them one on one. And the precious cargo will not be damaged.
There are boxes in which there is a special hanger for easy travel clothes. This is useful when moving, especially if things badly rumpled.
Tip: when you move pay attention to the width of the doorway. The width of the box must match the width of the opening. For a more narrow apertures choose cardboard object narrower.
things represent storage shelves, including shelves and hangers, and are intended for the storage of various materials and objects. For example, it can be stacked shelves for shoes and clothing or special niches in which are stored the boxes and drawers for storage (as in the photo below).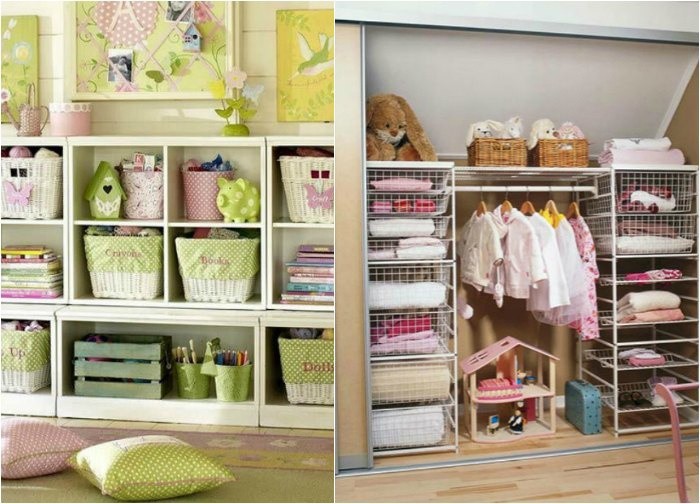 If you have a lot of things, and your main goal - to increase the space, then this will help you vacuum bags. Due to the tightness of their packaging, things are reduced three times. Such packages will keep things in the integrity for a long time, protect items from moisture and moths.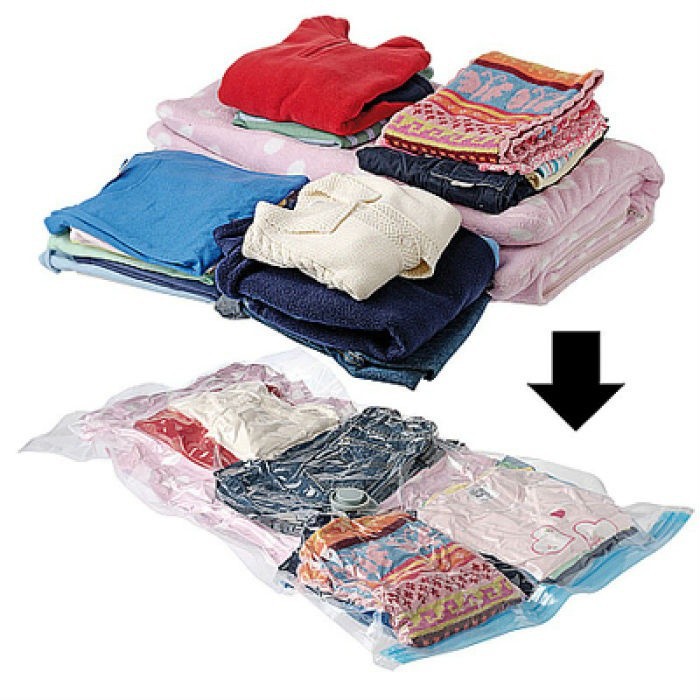 To preserve the freshness of products use vacuum containers. They allow you to keep the perishables at times longer due to the valves built into the lid. Containers keep fresh taste, aroma and beneficial properties of the products.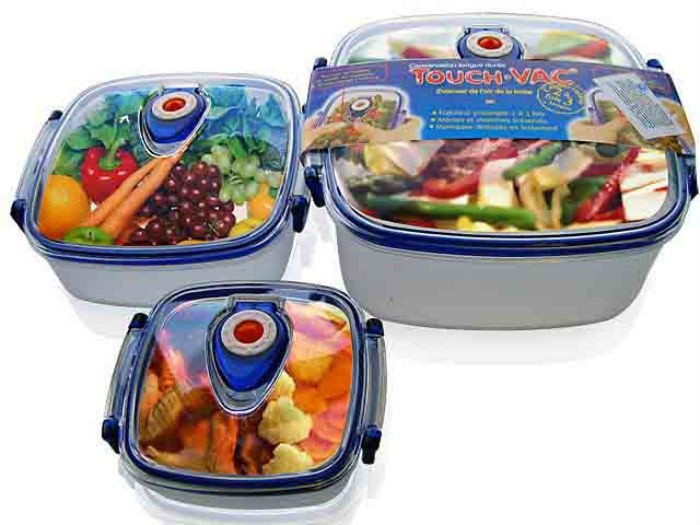 Boxes for storing your own hands
Especially valuable are the boxes for storage, hand made. For this purpose, take a ready-made shoe box container of household appliances, or glue it on their own out of cardboard. For registration you will need glue, scissors, a brush and decorative materials. Their selection is great. This may be wrapping paper, fabric, sequins, fringes, ribbons, beads and more.
Recommendation for wrapping paper or cloth is better to use a thin layer of PVA glue, and for bonding decorative elements suitable hot glue.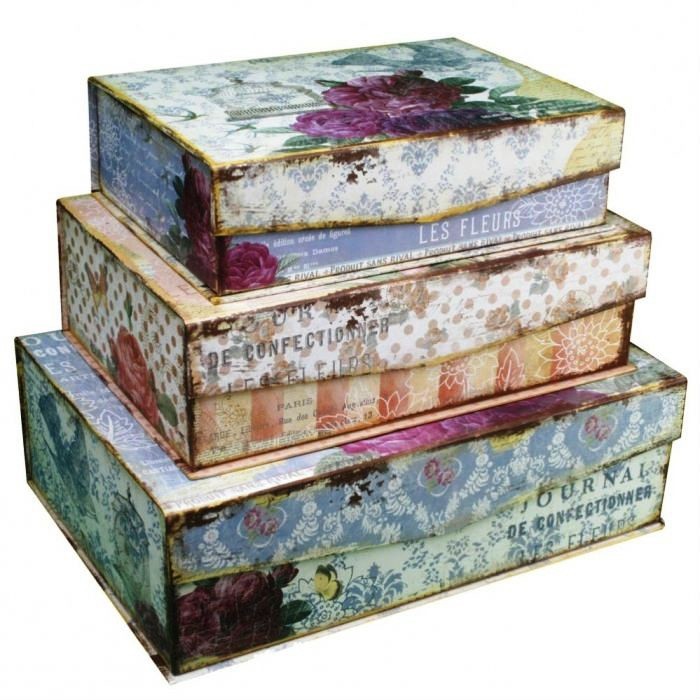 How you arrange and decorate the container for storage, look at this video master class:
If our information was useful to you, leave a review at the bottom of the article. You can share some interesting design storage tanks in the comments.
Doing their own hands a box for storage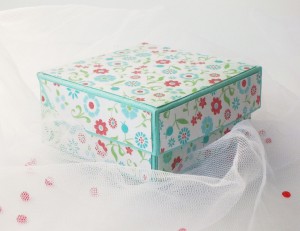 No woman on earth that would not have faced with the mess in the closet, or the guy who does not know how to organize the order in the garage, the problem of storage, and is familiar to parents of children toys which in constant chaos. Decorative boxes or drawers to store things of different sizes and shapes, can be found on supermarket shelves. But be prepared to pay is not a small amount of the product of such a plan. Or you can make decorative boxes for storage. A variety of materials and accessories to them has no limits. It all depends on your preferences, skills and imagination, because their hands do such a thing for storage of small things very simple.
The most popular box storage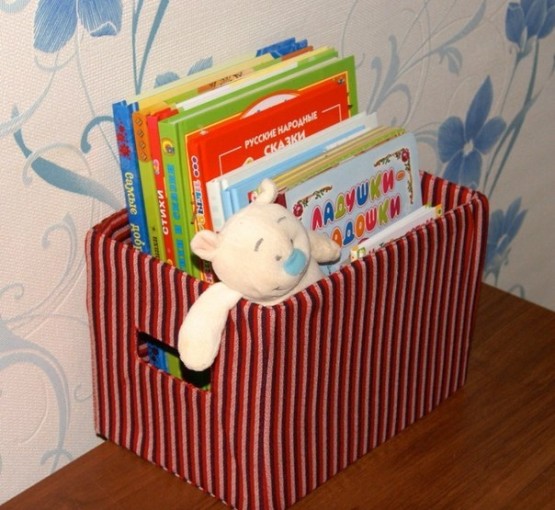 First, you must determine the size you want;
Second, find an old box or boxes from under the kettle, iron or blender;
Third, the stock segment you liked fabric glue point and sewing accessories.
Instructions for the production of: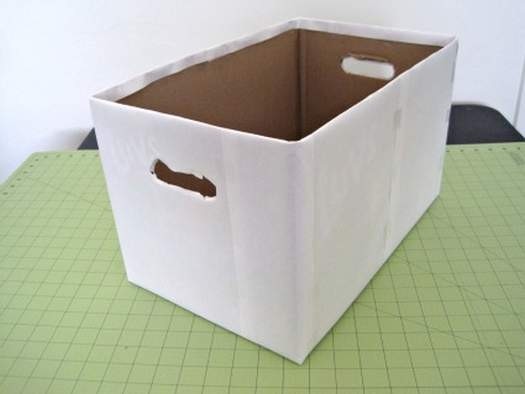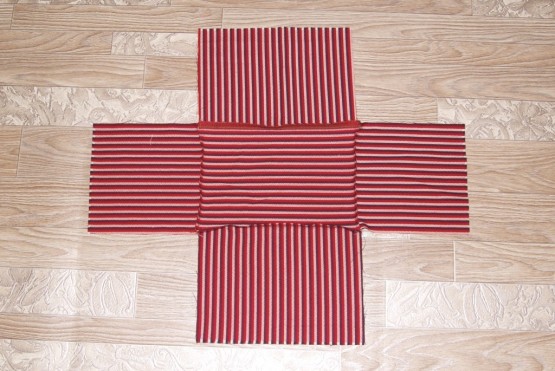 Unique brush for cleaning windows! It will save you time and money! Our readers are advised!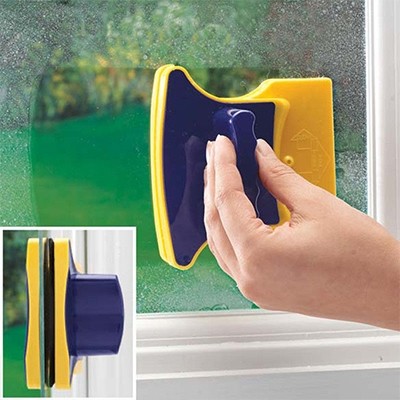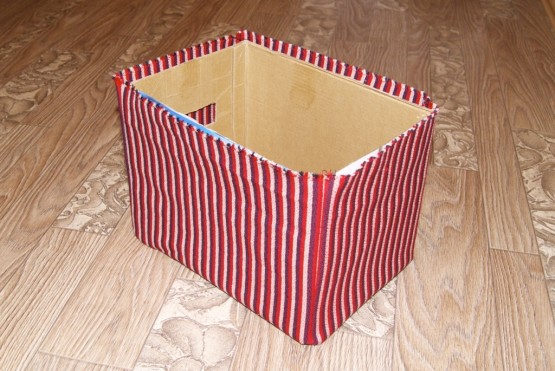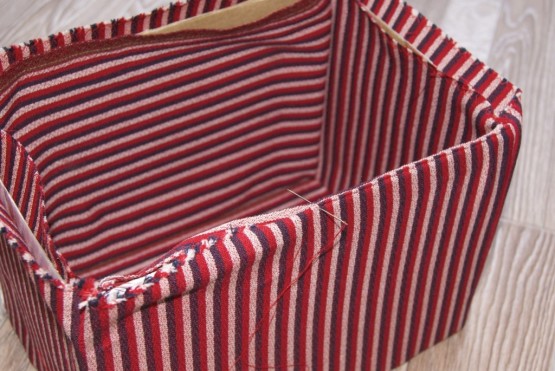 Cut off the top of the box lid for things and glue the corners with tape;
Cut slits on the sides of the box for easy access;
Make measurements of each side of the box and its bottom, and from these data cutting out two cut tissue (for inside and outside the box). The fabric may be the same or different colors;
Promazhte all sides with glue and carefully place the fabric as if to envelop her box;
After drying, connect the inner and outer sides, sewing up them together;
A slot on the tissues to the point where your pen. The seams can be sewn or decorate their fringe. Now you have a decorative box made with your own hands.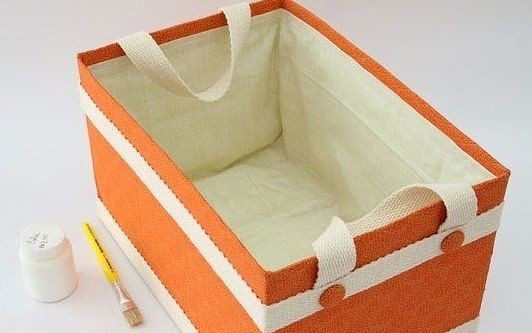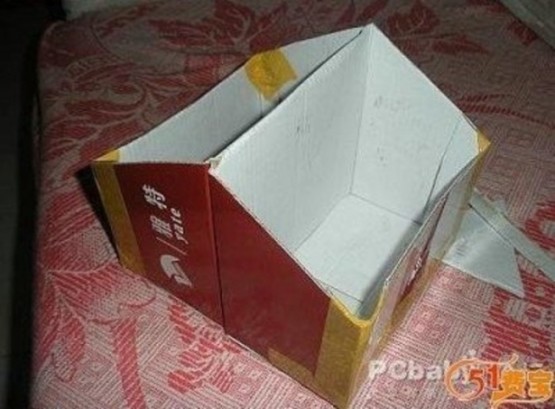 Such a box for things you can use in the kitchen, bathroom or other room decor for the room with his hands.
Scotch;
box from under the shoe or boxes;
glue;
cloth or adhesive paper and accessories for framing.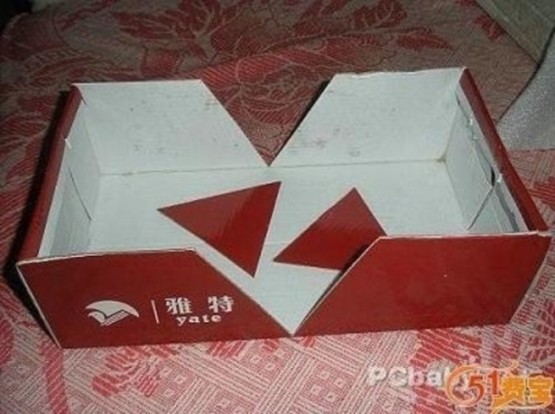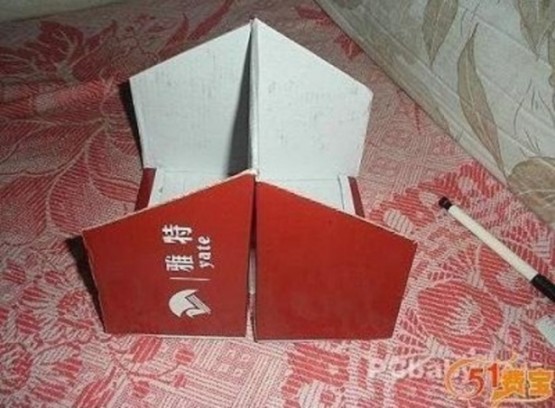 Cut two identical triangles in the center of the box of the shoe;
On the tops of the triangle and draw a straight cut in a box that you do with your hands, in half;
Combine 2 parts as if you broke the box in half;
Fluff these parts and to glue them together;
Make a box or cloth pasted adhesive paper, it will replace your storage container.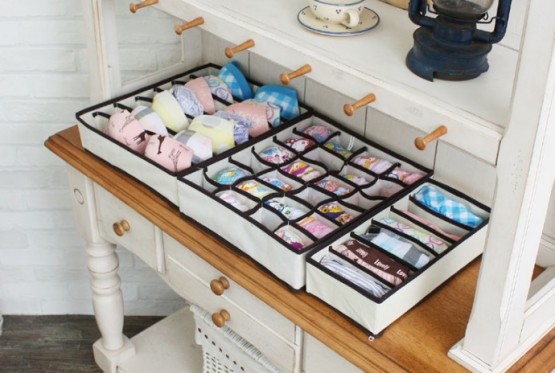 big box or basket, which fit underwear;
Contrasting fabric;
cardboard;
PVA glue and sewing kits or paper clips;
adhesive paper.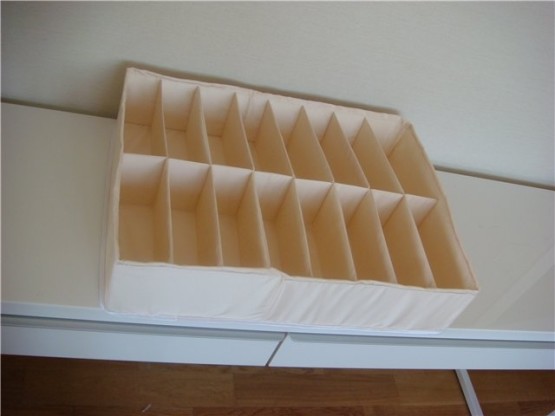 By selecting the box for decoration, wrap it in a cloth and sew all around. If such a process takes a long time, you think you can just fix the fabric on the box using the clips.
Cut the partition that will fit the size of your box or basket. Wrap in a cloth partition, paste or adhesive paper.
We are making incisions on the partition walls, so they can be fasten to each other. After folding you should get decorative boxes in a drawer.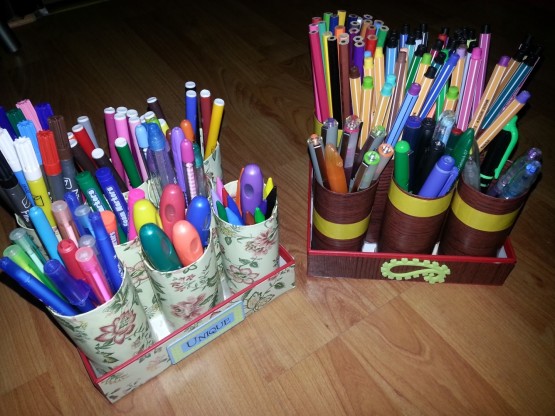 Kind of a box made with their own hands, perfect for storing jewelry and costume jewelry.
5 pots (size may be different, preferably the presence of a wide neck, do not take deep jar);
Contrasting fabric or adhesive paper;
Accessories for decoration;
Cardboard box or separate pieces of cardboard;
Glue "Moment";
Sewing kit or paper clips.
How to make a box with your hands?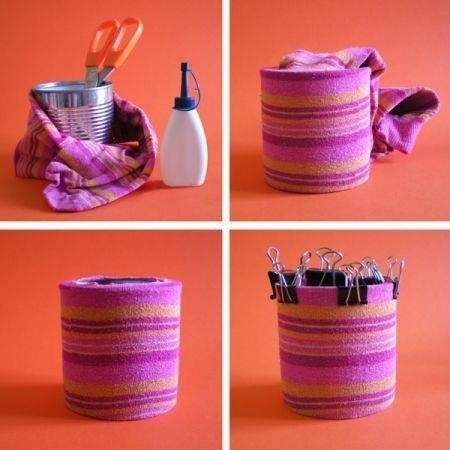 Rectangular cloth cover the entire outer and inner part of jars.
Cut 10 laps per jar 2, the diameter of the circle of tissue must match the diameter of parison.
Seal the inner and outer part of the bottom cans.
Cut out two cardboard circle. The diameter of each should hold itself to 5 cans.
Customize 2 range in size and make them a connecting box. The height of the rectangle should match the size of the jar. Put all 3 parts on the fabric, leaving space between each, no more than 6 mm, and glue cardboard figures on the fabric.
So did the interior of the parts, you can use cloth or adhesive paper.
Further, on one of the circles, glued cloth, we expose our jars, and then paste them.
The entire selection of fabrics, materials, shapes of parts and accessories is very individual. It is not necessary to follow only one algorithm. Experiment patents and their beautiful boxes for storage. This process can captivate anyone, and the result is sure to surprise you. Boxes that you have made with their own hands, can give any room elegance and style.
You may be interested
Recommended related articles
You can leave the first to comment
Updates on the site
© 2015-2018 - All rights reserved
When copying materials active and indexed links to your website, the source obligatory.
How to make and decorate a box to store their own hands
In any home, even in the most accurate mistress temporarily accumulated on tables or shelves of the right things, which are used very often. To neatly hide and at the same time, place them close, it is worth to make beautiful storage box with his hands. These objects are not only functional. They can be an excellent addition to any interior.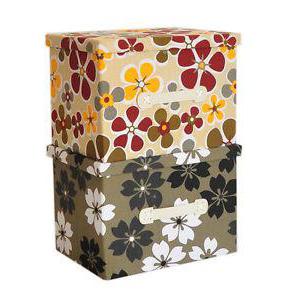 Boxes for storing their own hands: production versions
If you decide to make a comfortable and beautiful thing, which can remove all the necessary little things or just keep it in the closet shoes for your home, you have two options:
Make the box with registration from scratch.
Decorate ready-made objects.
The choice depends on the material that you have, and the amount of time available to work. When the first method, you can choose absolutely any design both in terms of shape, size and texture, surface color. The second method allows you to quickly get a lot of beautiful frames, but here you will be limited to the appearance of an existing piece.
To make not only beautiful, but also easy to use the box to store their own hands (pictured above), determine what you need them. If such a thing is going to be in a visible place and contain office or sewing supplies, it is sufficient size in the range of 20-30 cm in length and width. To conveniently placed in a box of children's toys or shoes require high resolution. In addition, it is necessary to measure the compartment or cabinet shelf, where it is supposed to keep the box so that it is clearly consistent with the dimensions of the furniture.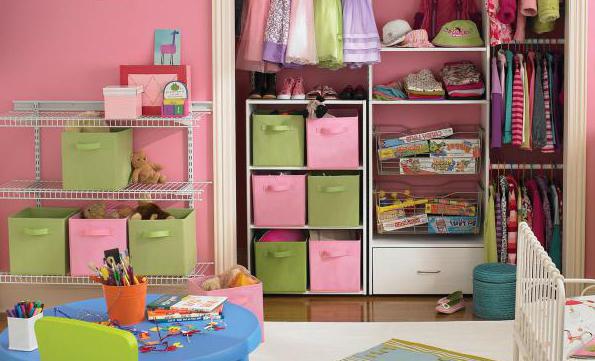 The height of the box should not be more than 10 cm, otherwise they would be awkward to use. If you are not going to part from them to extract things, but, for example, will store seasonal shoes in the closet, then the height can be any. Choose, dream, creative approach to solving the problem, but do not forget about usability.
To make a box for storage of your hands, you need the following:
Basis (finished product or cardboard).
Pencil.
Line.
Knife and scissors.
PVA glue.
Fabric, decorative paper finishes, materials for decoupage.
Elements of decoration surfaces.
This is a list of the necessary structures for the creation and giving it a beautiful look. It limits the imagination and perfection does not have, so you can decorate the box in different ways. Depending on the selected method will be required, and additional materials: decoupage - cloth or special paper and varnish; if the design quilling technique - a tool (or a toothpick, needle) for twisting paper strips. When working on a method of scrapbooking good use curly hole punch and specific decor.
Before you get involved in selection of jewelry, it is worth remembering that you make with your own hands the box to store things, and therefore the product must be durable and comfortable.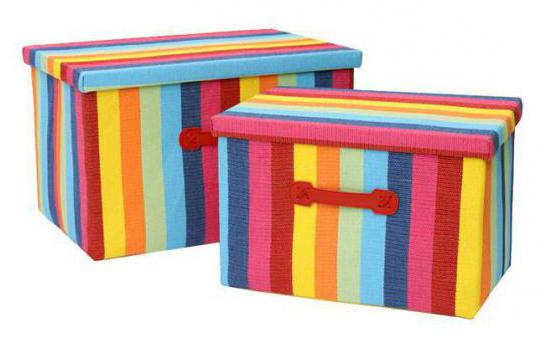 If you are making a box from scratch, it is necessary to take a thick cardboard (2-3 mm), the best non-corrugated. Available finished packaging products to be strengthened further, the second inner layer paste or making stiffeners in the form of strips along the perimeter inside the box or even performing partitions which divide the container even several compartments.
To make the storage box with his hands nice and tidy, it is important to select the right décor. The easiest way to paste over with a cloth or paper design. They are simply attached with adhesive on the outside of the box. Usually decorated and the inner side. This is especially true bottoms, as it closes the inner folds of paper or cloth. If you need a box to a greater extent in terms of functionality, you can restrict ourselves to these methods.
If you want to create the decor for the interior, a masterpiece of craftsmanship, have patience and time. The surface can be pasted buttons, stones, paint with acrylic paints, pre-setting primer paste decoupage napkin with beautiful pictures followed by coating with lacquer.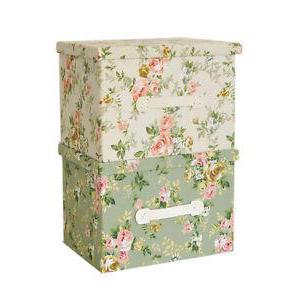 Effectively will look pattern of twisted in the art quilling parts. Suitable as satin ribbons, flowers kanzashi style. You can make a spectacular decor is decorated with pictures of albums for scrapbooking techniques. Originally it will look like a box with a lid in the style of an old suitcase or braided boxes. And weaving can be made from newspaper tubes.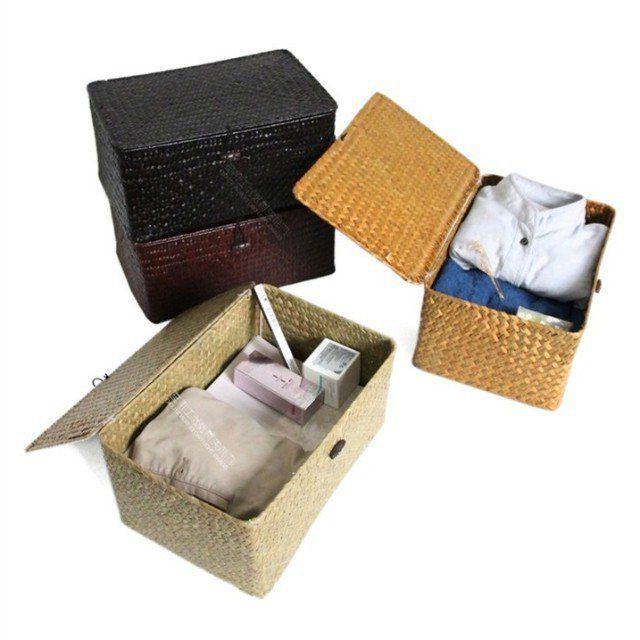 In short, the options are many. With practice, you will be able to create not just a functional item, but a complete souvenir or gift.
Multi-section box for shoes, toys, clothes
Product Design you can do different, even in objects made of the same mold. Consider how to make complex boxes for storing things with their own hands (photo below). Having mastered this job, just a box for small items you exactly what to do.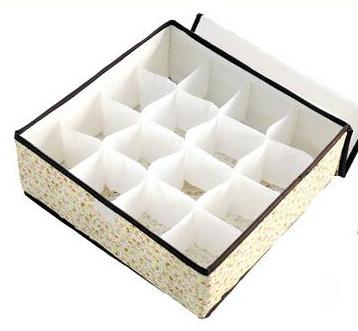 Thus, the execution sequence is as follows:
Determine the size of the future product.
Cut off the excess height of 10 cm, if you're working with a finished frame and high altitude you do not need. By the way, you can not cut, but simply fold the excess glue inside and wall structure of two layers. In order to smoothly perform a bend, should draw a line on the rail and hold it along the unsharp knife nepishuschim pencil or pen.
Make a sweep and individual components (walls, handles) if you are working without a workpiece.
Obkleyte cloth elements (not forget to leave a bend allowances material) and connect together.
Pattern the surface additional elements.
Your product is ready for use.
You have seen how easy it is to make a box for storage of their own hands. Using any of the above ideas, you can create a spectacular and functional interior decoration.