House for Barbie own hands: to meet the desires of princesses!
In today's toy stores you can find a lot of houses for dolls - for every taste and color. But parents often make these houses on their own, showing his creative imagination and ingenuity. After all, in fact, to make a house for Barbie with your hands is not so difficult.
To start, decide - what place you can dedicate to the house. From this construction it will largely depend on:
A two-storey house, standing against the wall
The horizontal arrangement of the house on the floor
House is open on all sides, is on the stand
There are two options for how to make a house of Barbie with her hands. Origin - simpler - production house from scrap materials (boxes old bookshelf, etc...). The second - more complex - the production house from scratch. Consider both options.
But above all - have a look in the pantry. Surely you (or your friends) after repairs were some materials: pieces of laminate scraps of wallpaper. All this is perfect for the production house. You can also use scraps of rags, wooden sticks (eg, ice cream), details from the designer and more.
Production dollhouse from scrap materials
Option quite simple and easy to deal with him. We will need one or more cardboard boxes or a couple of old wooden shelves. Glue boxes, decorate with traditional wallpaper, fabric pieces or simply paint.
For horizontal embodiment, we need a flat box (e.g., from a TV) from which the top cover must be cut. Of the cut cover makes the partition, which is glued to the walls.
Making a dollhouse from scratch
In this version, you can come up with your own layout of the house. Then all the details you need to cut it out of plywood or cut out of cardboard and glue.
Consider, for example, the manufacturing process of such a house here:
Plywood Scrollsaw details (be careful, the size in inches, 1 inch = 2.54 cm, however, you can take your size, preserving the aspect ratio.)
Do not forget about the children's safety! All items should be carefully handle with sandpaper, so that the child does not hurt himself.
We collect items according to plan.
The rear wall (A), two side walls (D), front wall (E) attached to the top of the base (B). Window size of about 9 inches by 6.25 than triangular window having the same width. Its height and shape of the long side must match the angle of the roof (see. Drawing picture detail). The windows are cut jigsaw.
small finishing nails and a hammer will be needed to build the house. If between the parts will be formed cracks, then they should be to cover the primer.
Painting the house in the right colors.
From inside a dollhouse for Barbie you can paste over wallpaper or the remnants of self-adhesive film.
On the floor laid a piece of carpeting, fleece or felt. And maybe there is laminate?
Furnishing Your Home furniture and invite your favorite doll to the housewarming!
In addition, the house for Barbie can do open the door:
Or backlighting (using the usual Christmas tree garlands).
A few more ideas for dollhouse for Barbie:
"Cross" guarantees creative take-off for the whole year! 🙂
Add a comment cancel reply
Categories
cross-stitch and other needlework
Placing site materials on other sites is prohibited!
By submitting any form on the site, you agree to
House for Barbie with his hands on the joy beloved daughter
What girl has not dreamed as a child of the dollhouse? Many childhood and passed in dreams, because not all parents could select a round sum from the family budget to buy such an expensive toy. But there were those who took the house for Barbie tinkering with his own hands.
So, where do you start? What materials are best to do a house, how to choose and design in the doll house was properly distributed? From the materials you can use whatever is available: it may be plywood, cardboard boxes and even foam. And most importantly - it is involved in the process of constructing the child, for who can know better how to look perfect home for Barbie. His hands can do everything: walls, furniture, and textiles for the home of the puppet. How exactly? Let's deal together.
The frame for the house
As a frame for the house is perfect unnecessary shelf or bookcase. How to build a house for Barbie, if there are none? In this case, design can be made of cardboard or plywood. Here are some ways on how to build a frame:
House for Barbie with their hands out of cardboard boxes. For multi-level house need to pick up a few boxes of the same size, and placing them on each other, to fix. The main thing is to choose the right size of the boxes to the doll in the house accommodates a full-length, and on her head was a space at least 10 centimeters.
Adhering to the same dimensions, you can build a house from plywood. This will require planochki: 4 pcs for each floor about 40 cm in height, 4 units of width to house the first floor, 2 pieces for subsequent floors. From bars strays frame, and the bottom, side and rear walls and the construction of the top sewn with plywood, which is nailed to the studs with small strips. By the same token made piers.
The simplest version of the doll house - a book type partitions, they are made of cardboard and pasted wallpaper or fabric sheathed. In fact, it is connected by a sheet of cardboard, which are placed on the floor, forming the piers for the dollhouse. As a child, my home for Barbie looked that way. The advantage of this house is that it is spread only on the game, and folded easily fits in a box of toys.
When a frame figured out, you can go to the planning and decorating. Windows and doors in the house to cut optional, will be sufficient to choose the appropriate image, and by printing, sticking them to the wall frame. By the way, this option would make a gorgeous view from the window. Will be the perfect complement curtains from fabric remnants.
Walls and ceiling can paste over wallpaper or paint remnants of water-based paint, and the floors are paved with carpets of pieces of fur. The final stage - the placement of furniture that can be purchased or made his own, but that's a separate issue.
In fact, a house for Barbie to make their own hands is not so difficult, the main thing - to include fantasy and to listen to the little counselor, which accurately tell what and how it should look.
How to make a house for Barbie photos and step by step ideas
You are the owner of a small little girl? Then our article is for you. Now every girl has a variety of exhibits, among which there is at least one Barbie, and some little girl did not dream about your own doll house? Of course, in our time there are no problems with the purchase of this design. Each children's shop you will find a wide variety of houses for dolls, different size, color or shape.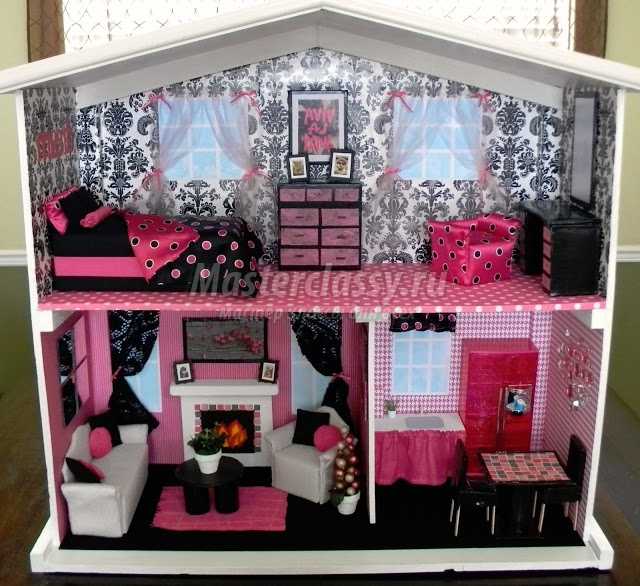 However, we advise you not to rush. Why not spend money to buy small items that can easily do a lot yourself. We will teach you how to make a house for Barbie quickly and fun with the whole family. Dad can build a structure, mom to do "repair of housing," and my daughter will cope with design decor and design furniture manufacturer. Just imagine how interesting it would be your baby the most invent all sorts of details. With some pride I can then show your creation girlfriends.
How to make a house for Barbie - ideas
It all depends on your imagination. There are different ideas. House can be made from almost anything: cardboard boxes of shoes or household appliances, veneer sheets, plastic. You can build it from the old cabinet or bookshelf. Any useful logs, the remnants of wallpaper, pieces of decorative foil, toothpicks, ice-cream sticks, sponges, matchboxes, in short everything you can find in the house can be used to furnish our home.
So, how to make a house for Barbie - a master class.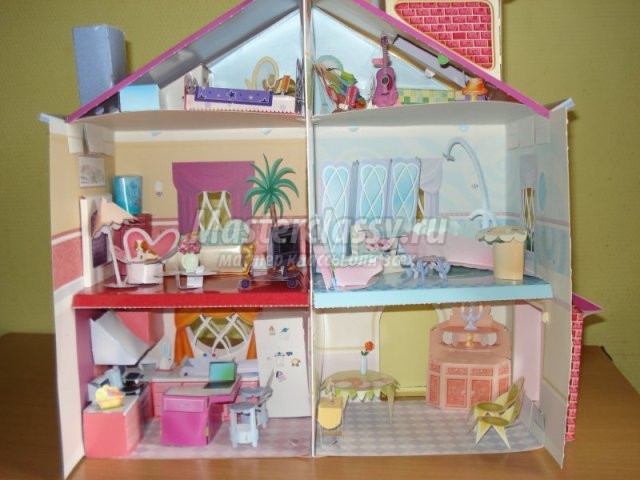 We choose for example the easiest and cheapest option. Prepare to build our product out of ordinary cardboard boxes. To start, think of what it will be: big or small, how many floors it will be if it steps and balconies. Jot down on paper a simple sketch, so it will be much easier to cope with the work.
And begin to start prepare all the necessary material:
- cartons 2 - 4 or 6 pieces (depending on how many floors you count);
- Office knife (in order to cut out windows and doors);
- Scotch (simple and double sided);
- a pair of brushes (for paints and adhesives);
- a pencil, a ruler;
- colored paper, pieces of wallpaper, stickers, postcards, beads and any other small items that you can decorate our "dream home".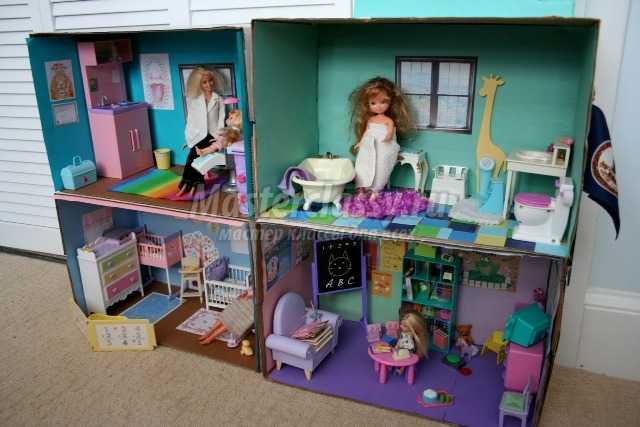 TOak to make a house for Barbie - photo and job description.
Step one. The first step is to glue all of the boxes between a hollow sides. Two below and two above, let our house is two-story. If you want three floors - two more glue on top, and so on..
Step Two. Take the simple pencil with a ruler, draw a side door, window and doorway to the balcony. Paste them cut from strips of white paper, simulating frame. Of food film or covers for notebooks can be cut and pull on the window glass.
Step Three. Next, we begin to make the step. To do this, cut a zigzag two strips of corrugated cardboard, then cut into small rectangles and seal them, these two strips of projections - that's all. We attach our ladder to where we will pass to the second floor.
Step Four. Making balcony, this cardboard cut balcony platform, rectangular in shape, made of the same material is cut into the rail and the fastening is all interconnected toothpicks or cut skewers for snacks, more partitions can be used for cotton swabs (cotton having removed from them).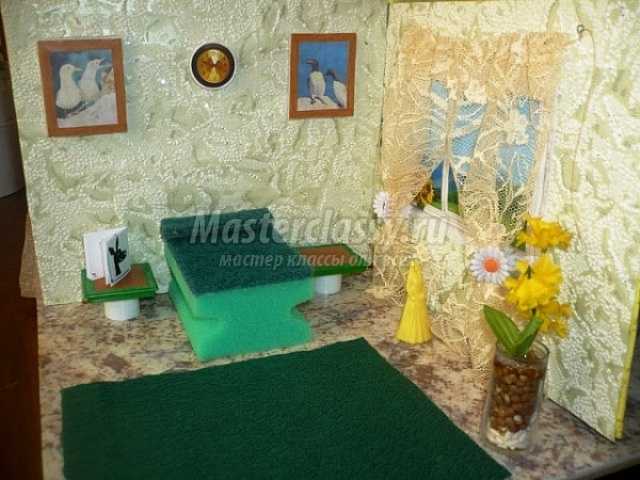 Step Five. It's time to break out of your imagination. We can decorate the walls of paints, wallpaper paste in the rooms. On the floor lay a piece of lint can matter, you get a very handsome carpet. Fashioned from wire and beaded chandelier to hang pictures cut from magazines and postcards. On the windows hang homemade curtains. They are easy to soshit of any matter, and pull on the fishing line or thread. Improvise - all you get. Furniture for our "nest" just buy a ready-made or make from polymer clay. More used salt dough modeling. It is necessary to dazzle the product, dry it in the oven, and then paint in the required color.
Our house is ready! You can begin to move his little friends to your little girl.
If you have an old unnecessary mounted kitchen cupboard or shelf for books, it can also be turned into a beautiful accommodation for a doll. This house is easy to hang on the wall, which is very handy for games and will not take up much space, especially if you live in a studio apartment. Decorate a house not too hard, come up and the stuff that we advised above, the cardboard house. Be smart. Very good if there is a locker door. Outside, they can decorate with applique, decorate with stickers or paint different fun designs. Windows and doors, draw on paper, paint the door and stick on, will also be very interesting.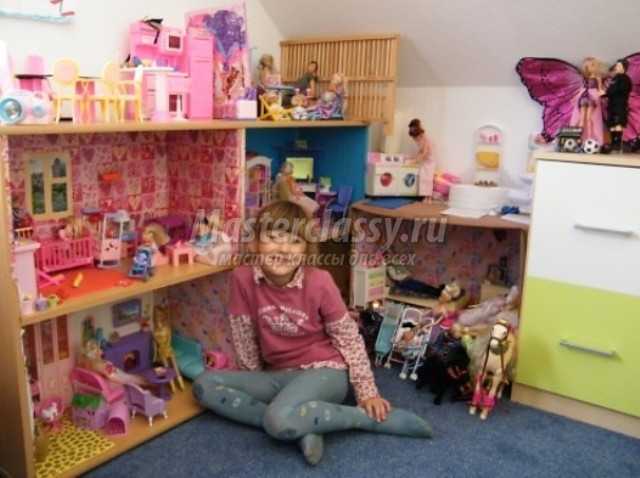 It is also possible to produce soft Dolls. For this obtyanite cardboard sheets, foam or wool, and the top nasheyte "cases" from any matter, after which connect all parts together using staple gun. If there is a thread of wool, it is possible to fasten parts of them, stitching them in some interesting stitch. It will look pretty original. As you can see, most importantly make the box itself, and then - Unleash your imagination. Beautifully will look at the soft house sewn beads, colorful buttons and in general, any small "treasures" that can be found in any small hostess.
We strongly recommend to make one of these houses on their own, as a family. This is a great opportunity for a joint recreation of parents with a child. Just imagine how your baby will be happy. These classes, among other things, a good influence on children's development. Not to mention how many positive emotions you will experience together.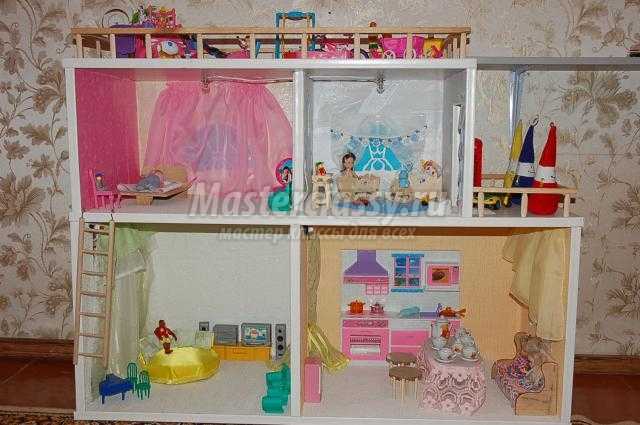 Do not forget about safety. Notice or your stable artifact, whether sharp edges are not treated, so that the game did not turn misfortune.
In addition to the house, you will be also interesting to make sobsvennoruchno clothes for dolls, how to do this can be found on our website.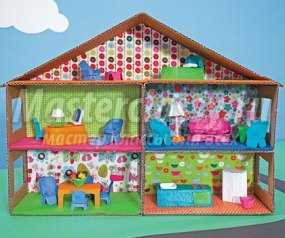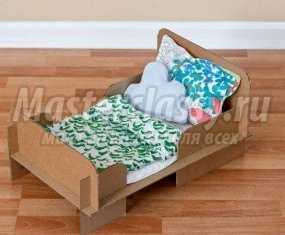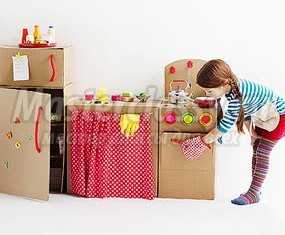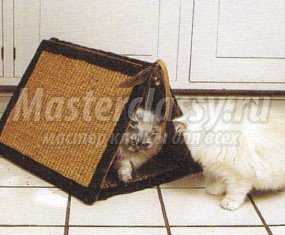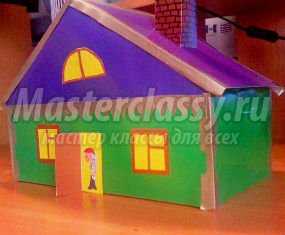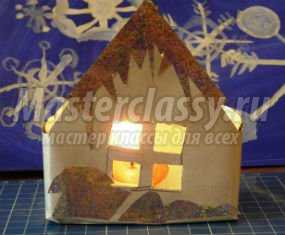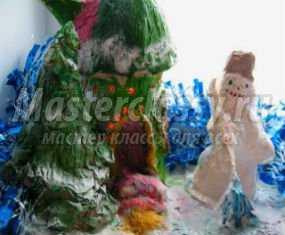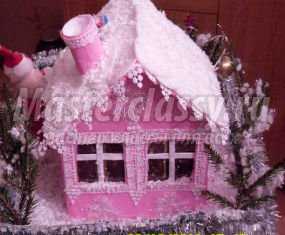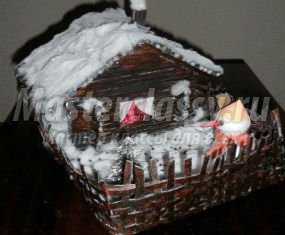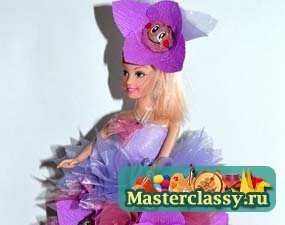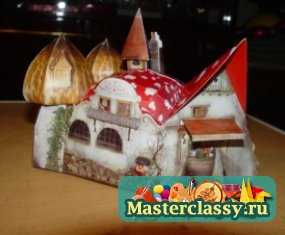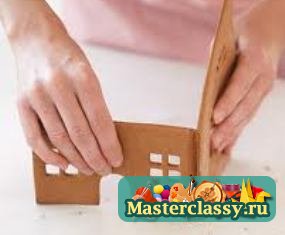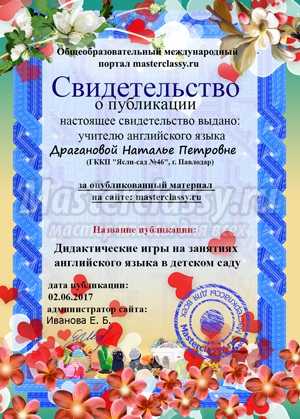 Get your certificate from Masterclassy.ru site!
For more information, please refer to our