How to get brown from gouaches
You started to paint in gouache and learn color mixing, and want to specifically identify a brown shade. Unfortunately, complete sets of colors are often limited to certain colors.
But thanks to this, you can learn how to get those or other tones.
Things to remember when mixed
Familiar with the color wheel, he vividly shows what shades can be obtained by combining them. It is worth noting that the colors, which are located in relatively close proximity to each other can easily be mixed without formation of porridge. When two tones of a circle obtained secondary color, already when added - tertiary.
When you want to make some shade darker, you can not add to a lot of black. Also using white to connect to other tones are obtained components that are too cold.
We must not forget the most important thing that brightens gouache after drying, and the color will always be different from the originally applied to the canvas. This paint even divided into groups of light-fastness.
Nameshivat do not need a lot of colors that will not work, it is best not more than three. If fluorescent gouache mixed with conventional, it will lose brightness. Examine the use of the technique of callers. Select a basic color for work, spread them in separate containers, make a preliminary strokes. When they are dry, you will see if you fit the resulting shade. It is advisable to make half a dozen such callers, and connecting them to obtain intermediate colors.
What are the colors brown leaves
There are three main colors that can not be obtained any other way, it's blue, yellow and red. If you mix these three colors in equal proportions, you'll have a ready-brown.
Also for removing brown classic color used:
Red with green. If there is a second color, it can be obtained by combining blue and yellow and then red to make to make the right tone.
Blue and orange. Respectively, to create the last color is mixed in more red with a bit of yellow. After that, little by little are bringing blue.
Yellow with purple. Procedure does not change, purple obtained by combining red and blue, and then added to the yellow. Do not forget to stir the paint when mixed.
Orange and gray. The first color bring a second. To get gray, you need to add a bit of white to black.
Purple, orange and yellow. The above describes how to get the data tones.
Purple, orange and green. Again collect secondary colors according to the color circle.
Indiscriminate mixing of blue, yellow and red. Select any two of the three hue, and connect them to the same degree, and then adding the latter little by little to obtain a chocolate brown or otherwise.
Connect all the primary colors. In this case, in equal proportions with respect to each of the resulting mass gradually mixed all colors except the last. Initially are blue and green, and then added to them black and red track. At the end of the yellow hue, it optionally introduce an equal amount, the main produce the desired brown.
It is important to know that this color has a large number of shades, depending on the proportions of mixing the various components. When large quantities of yellow ocher succeed. Red gives chestnut tone or red-brown color, blue brings brightness, contrast and creates.
If we want to get blackout shades, the colors like yellow, red and orange, add quite a bit of black. And to produce a dark brown mix yellow with red, then black and white.
For the preparation of a light brown or golden-brown White usually added to an already prepared texture.
Learn how to find a middle ground when working with different components.
What are the names of shades of brown has already finished gouache
Specialized art shops often sell the harvested material. It is composed of natural dyes, and they may be suitable for you. It is not always possible to obtain by mixing one or another color, it happens that out completely faded Kohler said. Ready-brown shades have names such as: Natural umber (natural) or umber (dark brown with a green tint), and the dark brown mars; natural sienna and burnt; ocher, including golden.
Do brown mixing other
Brown, though not bright, but quite popular. It is used in the repair of apartments, for painting interior items, while drawing acrylics and other paints and gouache, with hair coloring, as well as other actions. To obtain a brown mixing technique used. Color take both dark and bright, and some just know that later in the article.
How to get classic brown
One of the main and easiest ways to do is to mix brown green and red dyeI. These colors have in any color palette, from building up designed to draw on the paper web. The use of dark green and dark red is not allowed, otherwise we will get close to the black coloring, but it does not dark brown.
Another method is mixing three dyes: red, blue and yellow. This method comes from the foregoing, instead of using green blue and yellow, which when combined give the green, in the end we get the color formula described above. This combination of colors well when the palette is ended green.
Another way to do is a mix of brown, orange and gray or orange and blue, which is more important for the usual palette of paints.
The last way to get classic brown - connect magenta, and yellow inks. Instead, you can use the purple violet. This option is less popular because it is difficult to control the resulting color mixing, the slightest overdose and hue is not the same.
Methods for producing Browns
We do shades of brown
Traditional palette is good, but not always necessary to use it, for example, painting the walls in the hallway is appropriate to a lighter tone, and to give a realistic picture of colors, depicting the earth, usually take the dark paint. The following instructions how to make that Brown was a darker or lighter:
How to obtain a dark brown color? Let's not reinvent the wheel and offer the most effective method - is the addition of a black composing. We recommend mixing in small drops, otherwise the resulting risk to spoil the paint and will have to throw it. After adding a small dose of black, mix thoroughly until smooth, only after the decision to take any more need to darken.
How to get a light brown color? Here also we tasted go path and offer a method of use of white or white pigments. Adding brightens can be done more intensively in comparison with blackout. This is due to the fact that if you re clarified brown, you can always go back for a couple of shades darker. The main advocates of white white paint, except it can be used yellow - that will give shade of ocher, red - give shades of rust and blue make deeper and more contrasting.
For art lovers together with Olga Bazanova prepared a video tutorial on mixing brown other:
The pros and cons of a brown mixing
Strange as it may sound, but do brown paint with your hands is not always the best idea. Let's look at where profitable mix, and when it is better to buy ready-dye:
Paint with acrylic paints on canvas - you can do here, and brown shades in any quantities and pro portions of colors;
Make repairs and stayed extra colors from which you can get brown conceived for use in the design;
Do anything but shop performance color palette is not correct;
If the design of the room provided brown walls, it is not necessary to buy other colors to mix them in DIY stores enough colors of brown to choose the right;
If you dye your hair, do not mix different components, even the same color, if it is not provided in the Regulations;
If you are not sure in advance that it will use brown.
Browns
To make a beautiful brown paint using the exact proportions.
If you achieve the desired tone, then add color "diluent" for a bit, or else run the risk of ruining everything.
Try to test the resulting dye stained on a small portion, because the color of the bank and on the surface may vary.
When working with the picture, the connection can be carried out paints directly on the canvas, thereby achieve an interesting effect.
Before connecting to other colors, read the instructions, the color of dried paint can only differ from the damage, should take this into account.
Methods for producing browns and plenty of shade, they can be used in any painting work, but should focus on the feasibility of mixing or purchase ready-made. In addition to the base mixture can make many shades ranging from light to dark, by contrast to the deep. Do not be afraid to experiment, because all the famous masterpieces of interior, painting and fashion stuff there as a result of a large number of samples. Tell us in the comments, and what colors you use to make your brown dye?
Stencils and templates for decoration do with their hands, manual labor in decorating and creativity are always evaluated positively. Work hand made (in translation: hand made) in this period.
All the chips of how the mixing of paints to get purple color Every person has ever thought about how to get this or that color from the artist. In fact, many shades are obtained.
What a way to get the red color by mixing paint Everyone knows that combining three primary colors (red, yellow and blue), you can achieve any color. This theory is still in.
Eight ways to cook black matte paint for different surfaces
The black paint is a necessary material in the household. It can be obtained from a specialist shop or ...
I did not even know that mixing these colors, you can get brown. Excellent article useful.
In fact, the easiest to get brown, is to mix red and green. But honey agaric, as it all depends on the dye, if it is not then the quality and the color will not particularly good.
Wow. I never thought that there are so many ways to get brown. Very useful information. Personally, I have many times faced with the fact that she could not find the right shade. But you can get it yourself.
Very interesting article, is particularly useful about acrylic paints for painting on canvas paper Thank you!
Even in elementary school, we were taught to mix colors and get the desired color. I still remember that you need to mix red and green that would get brown. I did not even know that there are other options for mixing, to obtain brown. Now let's examine a little boy all the options!
I remember that we still taught in school how to get brown, but about mixing magenta and yellow can hear the first time as a try. This is probably still applies to ordinary paints, hair dye should choose without mixing.
I was once very useful to such knowledge when the husband painted a weekend house did not have about 300-500 grams, have traveled a lot of shops, warehouses, workshops, markets and so on, all asking the exact name of the catalog.
The exact name of it was not, and selection by hand, in the studio, cost too much, we had to learn by the tinted paint. It turned out to learn the power of everyone.
Needed a shade of brown, first tried to achieve the desired color, simply adding in a brown paint or light or dark paint, not that did not happen.
For those found on the internet right material, and all the miraculous happened, almost from the first time. Thank you.
How to get brown from gouache paint, what colors should be mixed?
What do I need to create a beautiful painting or drawing? In addition to the ability to draw, even coloring skills. One of the most common means for that is gouache. But the classic palette of colors is not too rich. So, beginning to work, it is necessary to explore the colors blending technology, in particular, how to get the brown color of gouaches.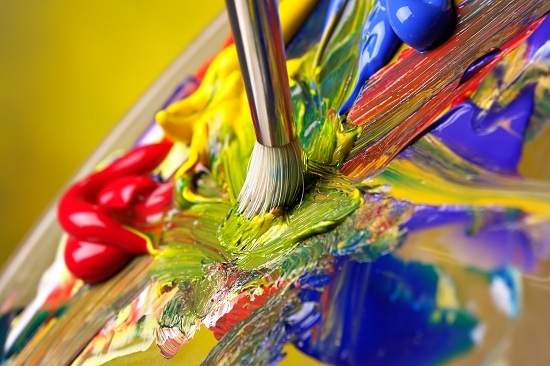 Good to be an artist with experience: you know the ins and outs of mixing colors to produce the most intricate nuances. But newcomers are long puzzled what colors to mix to get brown or any other color that is not in the traditional set. However, do not despair: the aid will come color wheel. The sets gouache good quality packaging is always given a table describing the components to be mixed. After examining it, we can breathe a sigh of relief, because to get a nice brown color by mixing colors can be, and even a number of ways.
It would seem that complicated: combine two or three colors, stir. The result was really very dark color - add white paint too bright - slipped black gouache. Meanwhile, mix colors - a much more complex process that requires certain skills. But you can cope with and without experience, if you follow such recommendations and take note of the following:
if we connect two pitch circle of the panel, it is called a secondary, and if the resulting mixture is added to the other shades, then the result is already a tertiary;
to obtain a brown tone (and all the others too) it is not necessary nameshivat more than 3 colors;
too much black to darken simply "sest9raquo; the shade that you need;
adding white, it is worth considering that the tone turns cold. In the event of a brown it can do a disservice, as he refers to the color palette of warm colors;
working with gouache, we must not forget that after 5-7 minutes after applying the color much lighter. So, combining shades, you need to do a little darker tone that originally conceived;
before color mixing, it is necessary to dissolve the selected tone and combine in smears - then it will be possible to evaluate the result of the mixture;
to obtain a beautiful smooth paint needed shade should not mix different types of gouache. For example, normal and one in which fluorescent pigments are added as the final shade will very dim.
7 and 1, method "smasterit9raquo; brown gouache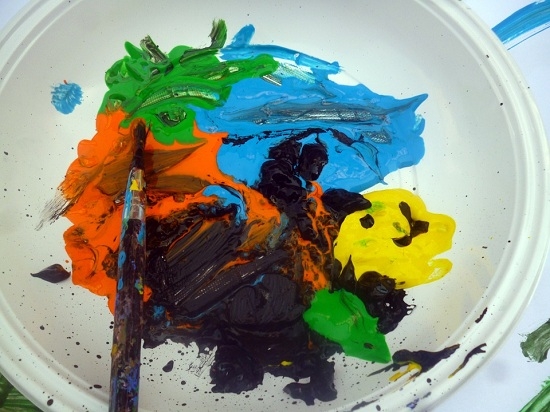 Our life - a series of black and white stripes, and accompanies us in all forms of existence. And in colors to paint these colors are always present. Also, in the color palette has three shades, which can be done by mixing. This sky blue, bright yellow and red or red. All other colors can be created on this basis. And the easiest way to get brown - Mix three basic colors.
But what if you need not just brown, and its undertones? To do this, you need to not only change the set framework, but also to monitor the proportions of: adding a little more or a little less, you can get not what they wanted.
Mix green and red. And here the question arises: where do we get the green, if it is not based? In fact, everything is very simple: you have to combine the blue and yellow. Then, mixing in the red, we get tertiary output brown.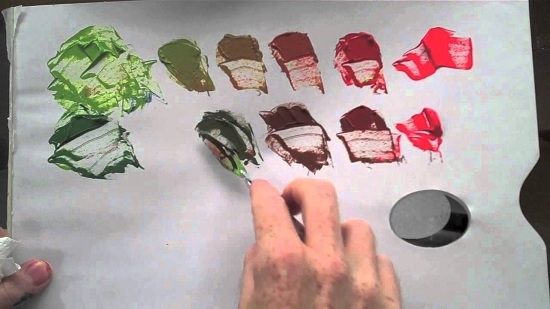 Add the orange-blue paint. In order to be available to Orange, you need to mix red and a little yellow. brown blue to produce beautiful shades adds a little bit.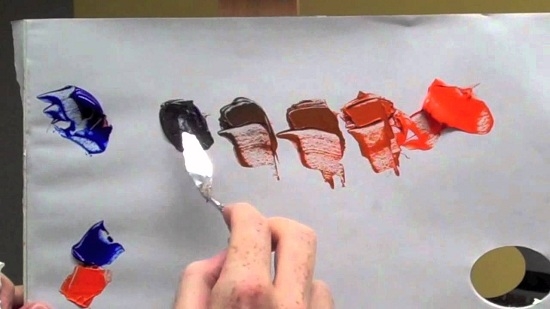 Putting red shade with blue and purple get. Now it remains to add yellow paint - and noble brown ready.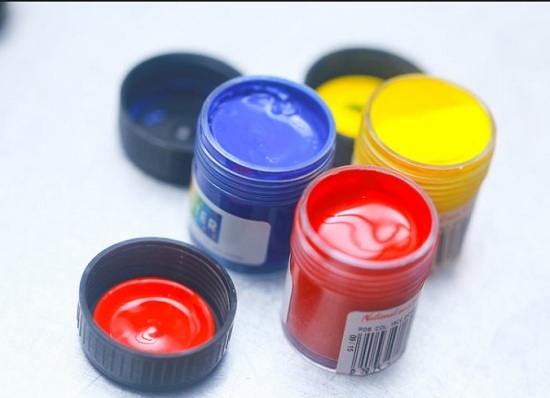 This embodiment is the creation of a deep brown multistage. To implement it will need to mix the two secondary colors - gray and orange. The first is obtained by mixing the classic white and blue-black, and the second - scarlet and bright yellow.
Coffee-brown with tints obtained by mixing violet paint with muted yellow and acid orange. Combining the tone for the base, making sure that they are not pale, otherwise the desired tone is too blurred.
To attach the orange light green and bright purple. This is a fairly laborious way to create the desired shade, but the finished result - slightly shaded brown - is worth the effort.
This option will appeal to those who enjoy the creative process in the mosaic. Mix will have blue, yellow and red. But not all at once, but to start a two-tone (any), and then gradually add the remaining third tone.
Mix greens with blue. Then we introduce severe black, red and at the end - a saturated yellow. That last component is responsible for the color.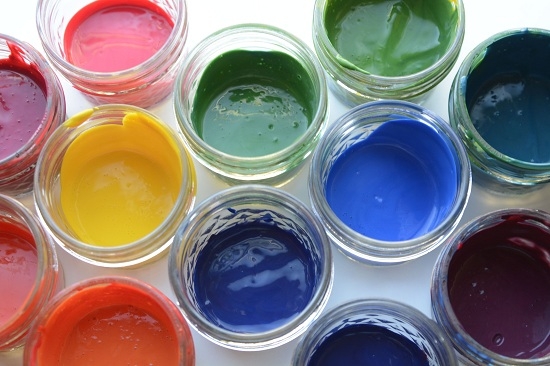 One description of what colors to mix to get dark, light, pale or bright brown, will not be enough. It is necessary to specify which colors we have in various combinations:
the more active is mixed into the yellow, the more the color will look like ocher;
to give a brown tint in red, yellow, orange add black color;
dark brown to lecture by mixing yellow with red and black and white;
Light semitone - is the result of adding a prepared mixture of white paint.
Drawing, especially paints, relaxing, fun. Of the large number of ways to tell how to get brown from gouache, it is not necessary to choose only one: each of them is worthy to try it. And then the paintings palette and patterns sparkle with new interesting tones and semitones.

Dear readers, we are pleased to accept your gratitude, as well as criticism and any comments. Together we make this website better.