Master-class on the production table for dolls
Favorite activity of young girls - playing with dolls. If they have a house, you need to think about how to make a table for dolls and other furniture to dollhouse bought this kind of dwelling. Furnish a house for dolls with their own hands - occupation is very exciting not only for girls but also for her mother. And sometimes in this process involved even the pope.
From what we can make doll furniture?
If dad who knows how to wield a conventional or an electric jigsaw, will be able to engage in the construction environment for the doll house, then this toy will be my daughter's favorite and most beautiful. Better than the pricey store bought plastic houses. But the cause may take, and one mother or grandmother who has more time than the working parents.
The easiest way to make furniture for the house made of cardboard and paper. It does not require any special skills. All you need is imagination and the necessary materials and tools: sharp scissors, glue (excellent, if the glue gun), paint.
The different rooms of the dollhouse will need different pieces of furniture. For dolls need a desk cabinet. It is also necessary, if the daughter's favorite - not adult Barbie and little schoolgirl.
How to make the dolls with their own hands desk? It turns out that simple. You can use the box from under the children's shoes. Need to get out of the box was cardboard.
Cut one long lateral side. Half the work is already done. As boxes can be adjusted "family" matchboxes. There may be several, 2 on each side. Either can be done with one hand drawer, and on the other - the nightstand. Her side cover and door cut out of cardboard or a shoe cover from the cardboard pieces that we cut from the box.
But the pasted object doll furniture will be more solid and stable.
As handles for drawers and doors can be used beads from my mother's broken or simply out of fashion necklaces. And still fit just glued to the drawers and the door is bent by the letter "n" pieces of paper, folded and glued in 2 layers.
If you need a writing table for a small pupa, then the problem is even more simplified. It can be glued together from 8 conventional matchboxes. Box 3 on each side to form side cover, they are the same tables. 2 box adhered to the sidewalls and bonded to each other to form a worktop.
That our hack was stronger and, more importantly, to make it look pretty, it is necessary to paste over all sides of the paper.
The same principle (Matchbox bonding) can be used when it is necessary to make a dressing table for the dolls.
But in this case, in addition to boxes for doll accessories need also a mirror.
You can take a small mirror from an old powder box and paste it on a rectangular piece of cardboard. You can take a piece of cardboard on the table size, and you can make him smaller.
And one way to make a dressing table more beautiful and elegant - it is cut out for the mirror curly frame. Necessarily involve for this dad with plywood and a jigsaw. Can be on the same cardboard to paint "thread" darkening "holes", and the edge of the frame to crop figured.
Toy doll living room tables
Build a toy coffee table is as simple as a dining table.
Coffee tables come in different shapes. How to make a coffee table for dolls, so much so that it was a round shape?
In this case too, you can use the cardboard. And it is possible to take cover from plastic jars (e.g., from under preserves). It needs to be thoroughly washed and dried, to no more fish odor.
On the cover can be glued fabric, foil, other material. The table top is ready. Now you need to make the legs. Beautifully will look stand in the form of shaped tripod. It cut out of cardboard, glue the 3 parts in one stand. It must be in harmony with the worktop. Therefore tripod papered suitable material or simply painted in the desired color.
You can build a toy coffee table in the style of hi-tech. It is sufficient to take a small plastic bottle (preferably 0.5 L), carefully cut bedplate and an upper portion turned to the cylinder. To him as carefully glue transparent circular, rectangular or oval plastic cover. Such a table and chairs can be made from plastic bottles.
The dining table can make out of cardboard on paper feet. If you use coated paper pages of glossy magazines, rolled into tubes, one obtains a sufficiently strong legs. Edge tubes, of course, need to glue to the legs is not untwisted. The countertop is best cut of thick laminated cardboard. You can cover it with non-removable cloth of fabric or paper, and the edges to make a beautiful frill of fabric or wide ribbon for packaging colors.
In short, the mother can always find a way to make the dining table for dolls, as well as other beautiful and original furniture in the toy house.
Rate this article:
(1 votes, average score: 5.00 of 5)
How to make a table for dolls with their own hands: the ideas, materials, step by step instructions, photos and video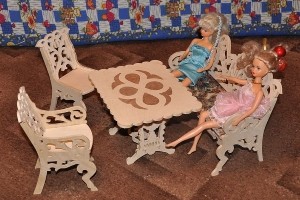 girls love play dolls, using all the space of the room and minions objects as furniture.
Now children's shops can be acquire a dollhouse, but it is such a pleasure not cheap. making toy furniture the hands - the budget alternative with purchased options. make table for dolls just enough.
From what we can make a table for dolls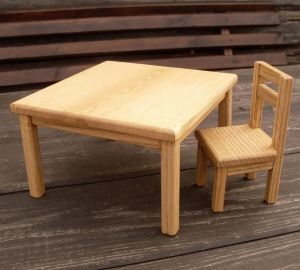 Most often, for the manufacture of doll furniture come from any available materials: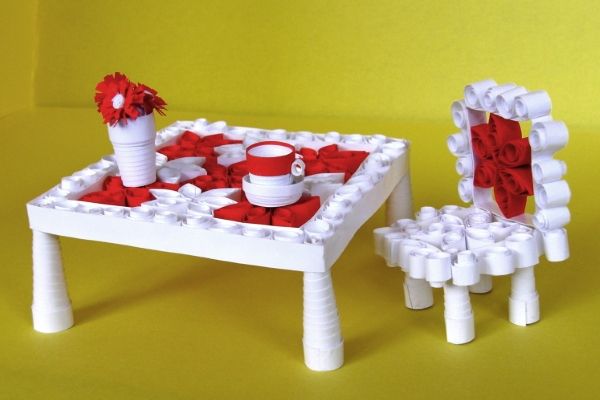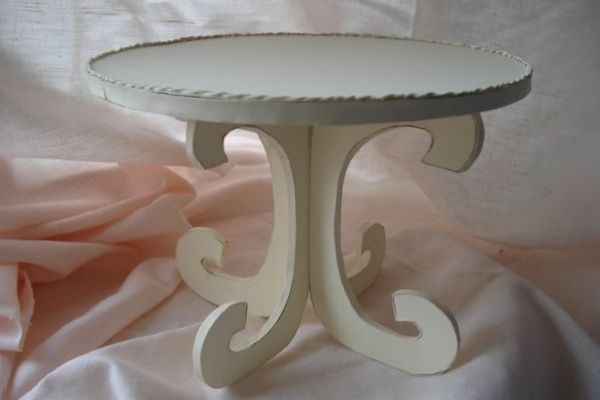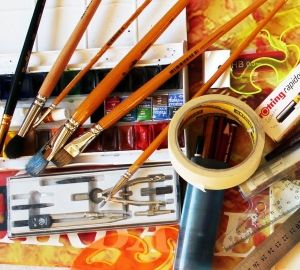 For the manufacture of dolls tables we need the following instruments: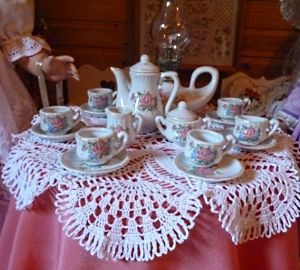 We will not consider plain table toys, consisting of four legs and countertops. Make it easier.
Also, we are not going to do a chic table with carved legs, cut that - very thin and painstaking work that requires skill.
Consider the production of round table with extra bed (small shelves).
The amount of material depends on the size future furniture for the dolls.
materials needed to make round toy table:
Step 1. Rascherchivaem all details table according to the scheme (2 table surface, the legs 4, 4 additional parts which are placed between the surfaces).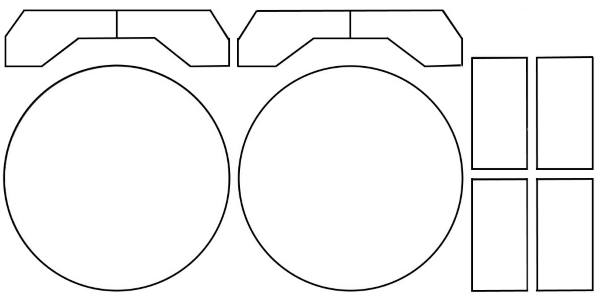 Step 2. Cut parts and treat them with sandpaper.
Step 3. glue additional Details as shown in the figure.
Step 4. Between the tops can be glued tough rings made of cardboard or any other material. Glue on top of the first round surface. Good be dried received the item.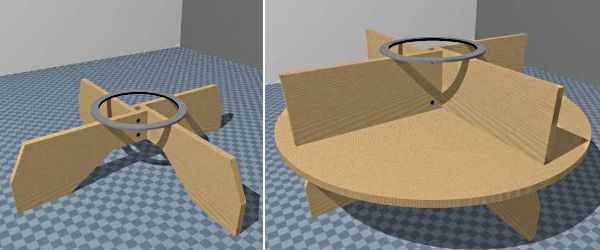 Step 5. the round surface 4 glue additional parts (in the same manner as before). glue greased the top and bottom parts, and then put reinforcing structure circle and the second surface is adhered. The entire table must be dried no less days.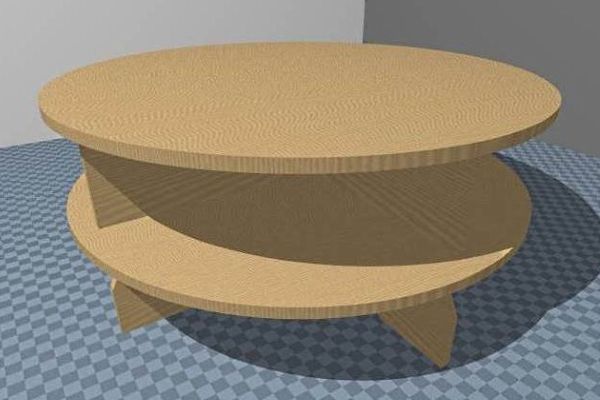 Step 6. Table should be covered with 1-2 layers impregnation for wood and dry well. Top cause ink fixing layer or varnish wood.
If you allow the size of the table, all mounting is possible not only to glue, but also attach to each other with the help of small nails. table can decorate in different techniques to sew for him or small tablecloth.
Dining area of ​​linen clothespins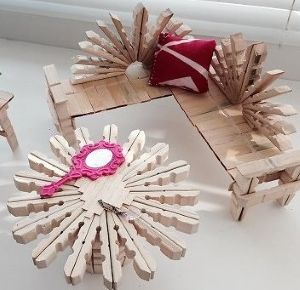 For the manufacture of this unusual dining area dolls, we will need wood clothespins:
Just need about 100 pcs linen clothespins.
If the chairs will be a few, should be respectively increase and the number of pegs.
Step 2. With glue collect Seats for chairs (several halves glued to each other) and the sofa (sidushka its longer than that of a chair). sushim their.
Step 3. produce legs for all the furniture. For chairs and settee enough glue 2 parts pegs. For the table between the two halves of the need to glue the clothespin third, pre turning it more thick party.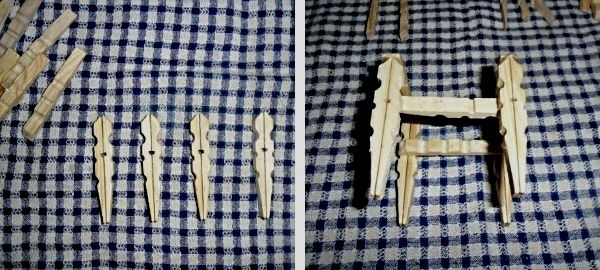 Step 4. After drying for two legs of the chair and sofa bond additional transverse part clothespins (middle leg).
Step 5. Gently begin to collect the backs of chairs and surface table. Since the middle of the chair, in a different direction from the collecting portions prischepok "Peacock's tail". Also glue the clothespin on circle (For countertops).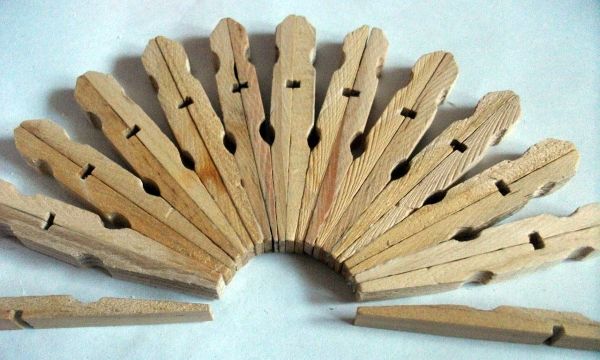 Step 6. Glue on top of connected legs armrest. Dry them.
Step 7. Holds everything together to get the parts together. To preserve desirable to treat wood impregnated.
In the same way, you can make sofa. Here's a turn Puppet kitchen: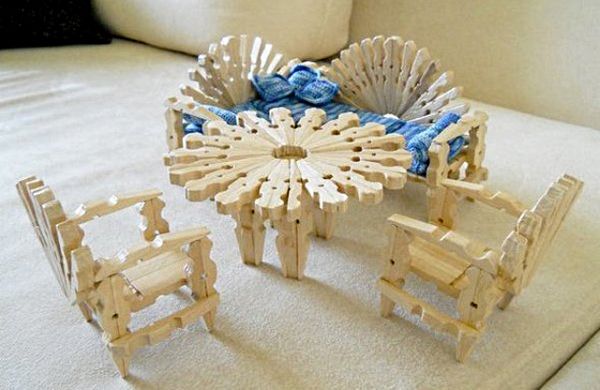 Table of pegs with rectangular worktop: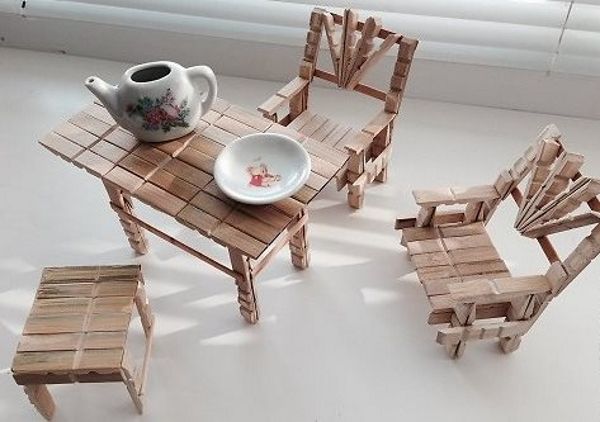 How to make a comfortable and beautiful highchair baby, you can learn here.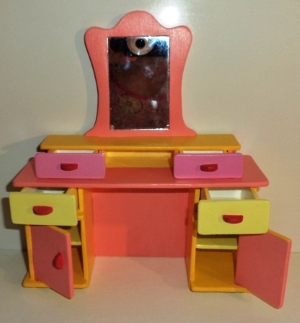 This table can be make of different materials. The easiest to manufacture makeshift table made cardboard boxes, using foil and decoration painting. table get stronger from plywood.
details dressing table:
basic part (With space for a mirror) - 1 pc .;
worktop - 1 PC.;
top shelf (A mirror) - 1 pc .;
the outer wall upper boxes (holder upper shelf simple) - 2 units .;
internal wall upper boxes (upper shelf holder mounts to the base) - 2 units .;
sidewall cabinets - 2 pcs .;
shelf in the nightstand - 2 pcs .;
bottom tables - 2 pcs .;
door Bedside table with handles - 2 pcs .;
2-x small boxes 4 sidewalls, the rear wall 2, the bottom 2, two front walls, two handles;
for large boxes (in the tables): a side wall 4, rear wall 2, the bottom 2, two front walls, two handles.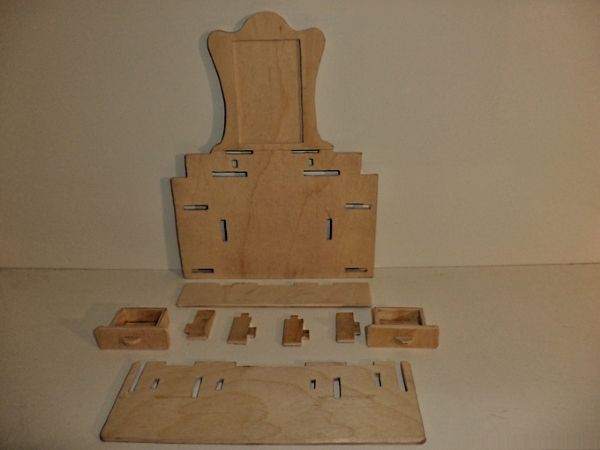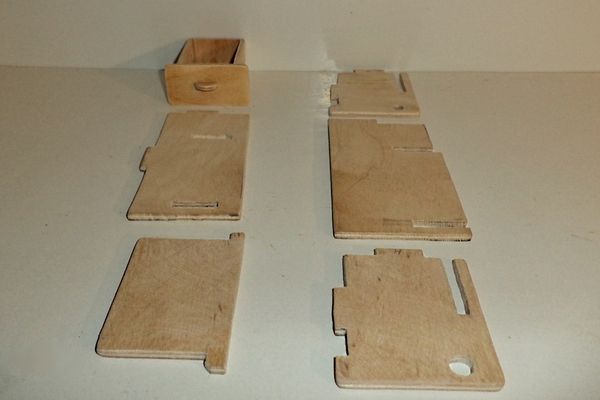 Step 1. To start and rascherchivaem cut out jigsaw all the details of the dressing table, as shown in the picture. nightstands mirrored!
Step 2. First collect both curbstones. Please note that at the bottom of cabinets and on the shelf should be round holes door.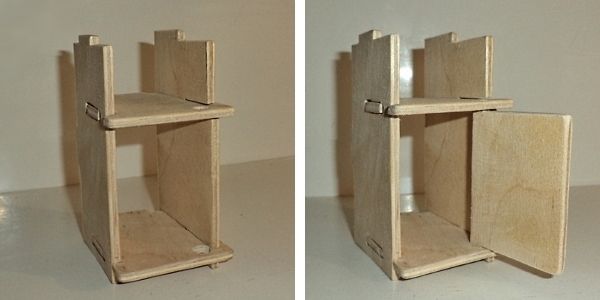 Step 3. We connect tables with rear table wall.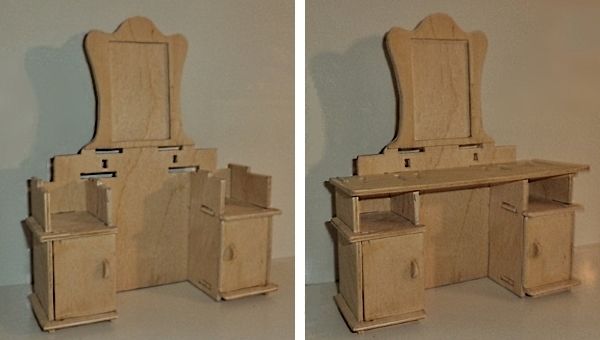 Step 5. Fasten all four walls top boxes.
Step 6. Join the top shelf under the mirror.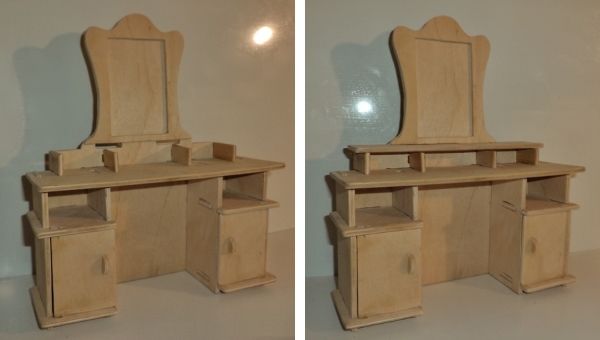 Step 7. Glue and dry boxes. We put them in the right places.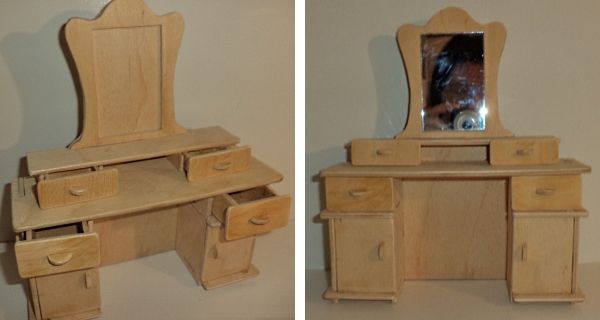 Now you can paint our dressing table and decorate.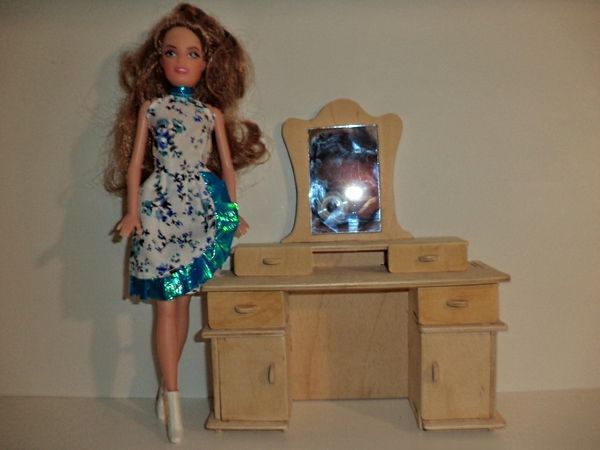 Like this? Subscribe to site updates by RSS, or stay tuned VKontakte, Odnoklassniki, Facebook, Twitter or Google Plus.
How to make a table for dolls quickly and easily
Playing with dolls, girls are trying to copy the behavior of adults and carry it in your game.
Dolls live in big houses, with beautiful surroundings, wear fancy clothes, drive a car. In general, everything in life.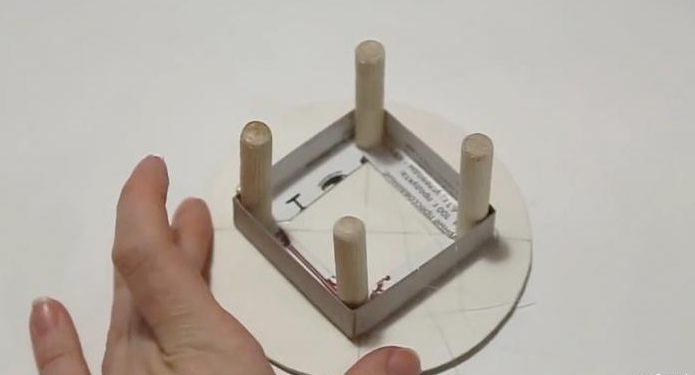 Sometimes it is quite hard to get some furniture for the dolls. Table, though not one of the rare furniture pieces, but not everyone can come to the environment and to satisfy the aesthetic needs of the players.
The materials needed to create a puppet stage
How to make a table in the home of dolls without any special skills? It's very simple. Prepare in advance the following tools and materials:
colored cardboard or heavy paper;
unnecessary disk;
roll out of toilet paper;
colored paper (or white);
line;
compass;
glue.
That's all you'll need a hundred, to make a table of cardboard dolls.
How to make round-table on their own
Now you can start to work.
Take a drive, circle it twice on colored cardboard or paper.
Cut out the circle and the resulting obkleyte they drive on both sides. The result was a table top.
On cardboard using a compass draw two circles to be twice smaller in diameter than the diameter of the disc.
Cut the resulting circle. Optionally, you can paste over it with colored paper, or initially cut out of cardboard the same color as the table itself. If the board is not thick enough, use two or three laps, then to glue them together.
It is also necessary to make a table leg. To this end, a roll of toilet paper attach to the paper, and make a note of its width. Cut a strip of paper (this is approximately one third of A4 paper) of the sheet width. Obkleyte this strip roll.
He waited until all of the future is dry, glue them with glue. Large and small circles of glue to the roll from both sides. Table ready.
If you want, you can paint the table, depicting some patterns that will remind thread. Here's how to make a table for dolls with their own hands.
Everything you need for a square table
There are many interesting ways of how to make the main subject kitchen interior. To help you to choose from, let's look at another way of how to make a table for the dolls. This time it will be a rectangular table with four legs.
To do this you will need:
Rectangular table with 4 feet for dolls
So, look, how to make a table for dolls with their own hands.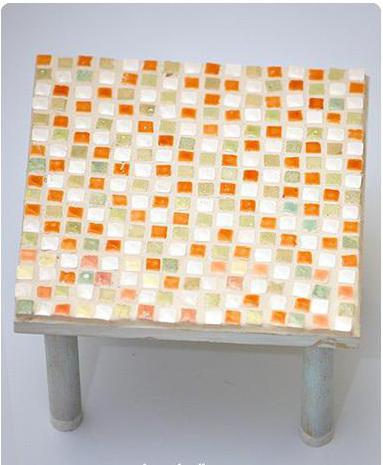 Cut out a cardboard box and obkleyte its white paper. Use a glue stick.
Twist the paper cone, using Kisochka. The bottom of the resulting cone cut. Make three more of the same cone.
Paper two or more colors, cut small squares, resembling a tile.
Grease a rectangular tabletop with glue, glue the squares, alternating colors. Wait a few minutes and lubricate the surface of the table again with glue.
Cut four strips of cardboard, two of them should be slightly longer length of the table surface, the other two - width.
This glue strip section underside of the C-gun using glue.
Now move on to the legs of fixation. They will be located strictly in the corners of the existing structure, and with small cardboard strips prop up the cones, so they were in the little triangles.
That's it, now you know how to make a table for the dolls. With this method, you can make a square-shaped interior. But if you decide to make a table, you will need to solve a problem with chairs. After all, the dolls should be on something to sit on.
How to make chairs for the resulting table
For the manufacture of chairs, you will need the same materials that you used to create a dining table.
Draw on the cardboard and then cut out the shape of the seat.
Carefully obkleyte its white paper on both sides.
Make two cones, which are the legs.
Cut four small strips of cardboard to attach them to the underside of the seat.
Draw and cut out a long rectangle of cardboard and obkleyte its white paper.
Now connect all components. Glue the legs to the front edge of the chair, secure long rectangle in the back, which will simultaneously back and hind legs.
Decorate the chair at its discretion. You can make a pillow out of colored paper, or draw patterns.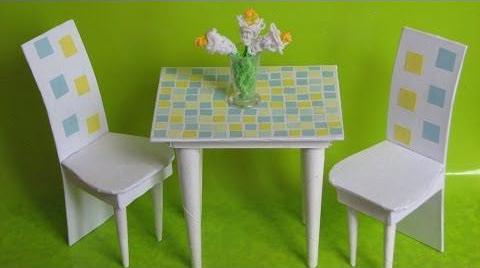 Make as many seats as you want. Now your doll - the owners of the full set of kitchen: table and chairs to sit on him. You can also experiment with the table design, do it the way you want it. Stay doll designer kitchen, and give free rein to their imagination. It's so fun and exciting! Children will be delighted!