Flowers from beads with your hands
Bead feature is that in addition to standard jewelery of these small beads can create almost any composition up to the bouquet or the whole of the original flower basket. They will be a great gift for any occasion. In addition to the materials for this class need instructions on how to weave flowers of beads, which you will find below.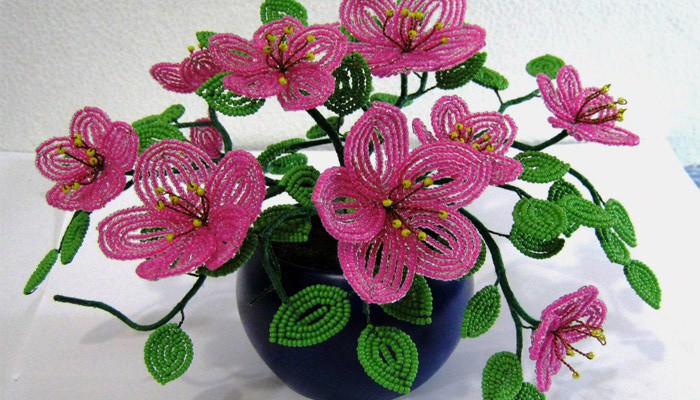 To learn how to weave flowers from beads with your hands, it is recommended to develop only 2 techniques such craft that are used more frequently. One of them is called parallel and is more popular, but it takes patience. By resorting to such a technique of performing small parts, including colors, such as bells, spring lilies or sunflowers. The second technique is called the French. It is more suitable for beginners weaving.
How to make a flower bead - weaving schemes for beginners
The diagrams in parallel by weaving depict only the even-numbered rows, odd because they are an exact repetition. When the French technique completely shows how to weave beaded flowers for beginners. Another scheme can be found in the legend t. E. Color description, the size and number of beads. To create original crafts will need:
Beads, sequins, if necessary;
thin wire or monofilament;
A special needle;
scissors, nippers.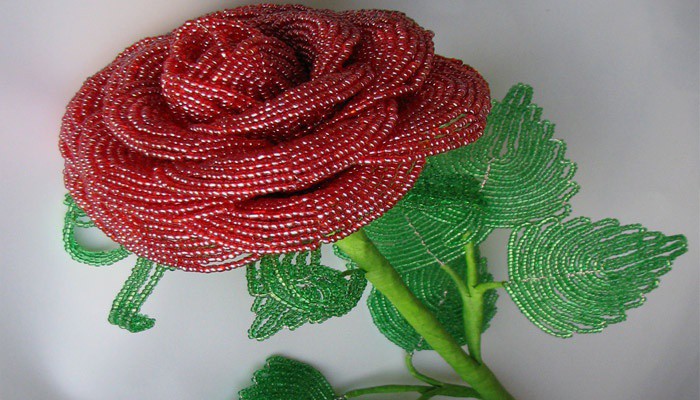 A master class in weaving roses requires the preparation of the following materials:
Beads 0.4 mm green and yellow for the petals and buds;
copper wire 0.3 mm thick;
wooden skewers.
Instead of yellow to work, you can choose any depending on the desired product shade. on weaving procedure is as follows:
Cut a piece of wire 30 cm long, fold it in half and nanizhite 1 bead.
Then pass both the wire end after 2 beads.
Braid so on. When you get to 4 beads begin to gradually reduce the number 2.
The ends of the wire tie knot - is supposed to be a petal.
Make 6 more of these leaflets.
Following 3 weave of 11 rows, and the maximum number of beads should be 6.
By a similar technique weave start of flower petals, but take the wire has a length of 60 cm is first bead 1, and then only do the series of even number -. Reach so to 14 pieces.
After 9 series to both the wire end wear beads 9 and pass them through the first. Tie a knot - Get the rose petal.
Weave has 5 petals.
The following 4 petals weave, reaching up to 16 beads in the last row, and use for edging on each side has 10 pieces.
Give each petal rounded shape with a simple marker, with a little more bend big.
Connect the first two small petals, their twisting together the wire.
Similarly, create the entire bud, and then his reason to fix all the little petals.
For stem wrap wire wooden stick, while adding large leaves.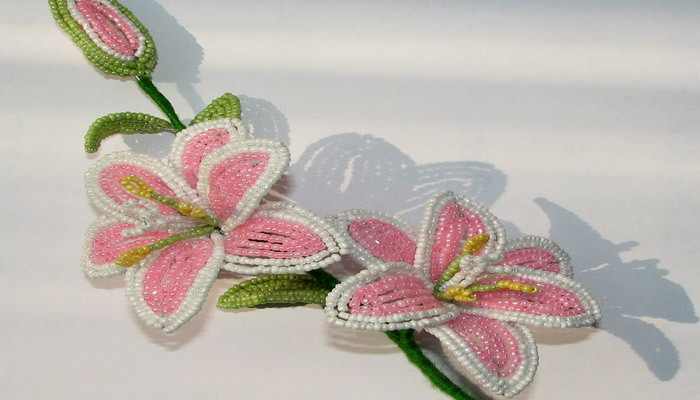 To weave the next least beautiful flower, in this case, lily, require such materials:
beads of white or beige;
gold beads;
bamboo skewers;
Tape floral green;
wire thickness of 0.3 mm and 1 mm.
The technique is used French. Step by step instructions on weaving as follows:
Take a piece of wire 40 cm long, fold it and start to twist in the middle. Short piece should be about 4-5 cm.
On a small tip nanizhite 15 white beads, and long - 19.
Again twist the wire ends together.
On a longer tail again put 19 pieces, screw it to the main wire.
A similar technique shape of 3 rows on both sides, stringing first 24 and then 32 beads.
Spread the resulting tab and make 6 more of the same.
For midway cut piece of wire 30 cm long, 21 nanizhite it beige 1 gold bead and bead.
One end of the wire thread only through the beads, twisted.
Next, in the long portion repeat steps as in paragraph 7.
Weave 3 has stamens.
Fasten the first 4 petals, stamens then connect to them and add the remaining elements.
Wire lock on a wooden skewer, decorate the flower stem with tape.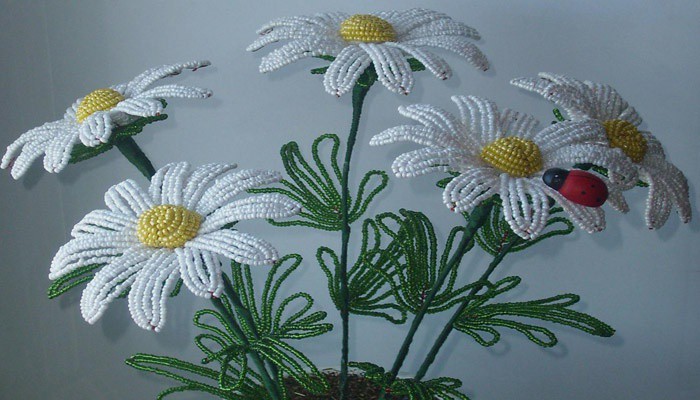 One of the simple colors of beads, created by the hands, is a daisy. Colors of the base material is required such as yellow, green and white. Weave a daisy can be easily according to the following instructions:
On the tail of wire 25 cm long nanizhite 15 white beads, bend it in half - one end need to be put through the whole series, skipping only the first bead.
Already both the tail put on 17 beads. Then pass the wire through the very first bead and tighten.
Repeat step 2, but use for 19 beads. All rows are arranged in the same plane - turned petal.
Form another 6-8 such petals.
Cuts on the wire 30 cm in length make a loop, put 3 yellow beads, leave the working part and twist one more loop.
On the free tail nanizhite beads 5, pressing firmly their previous and twist the wire.
Repeat step 6, but on the other side of the main series.
Weave has 4 rows, stringing beads for 8, 4 and 10 - should get a volume figure.
Twist the wire tails ready for the middle of a flower.
For cup put on the wire many green beads, then twist several loops of approximately 1.5 cm.
Connect all the daisy petals and yellow center insert core.
From below, attach the green cup.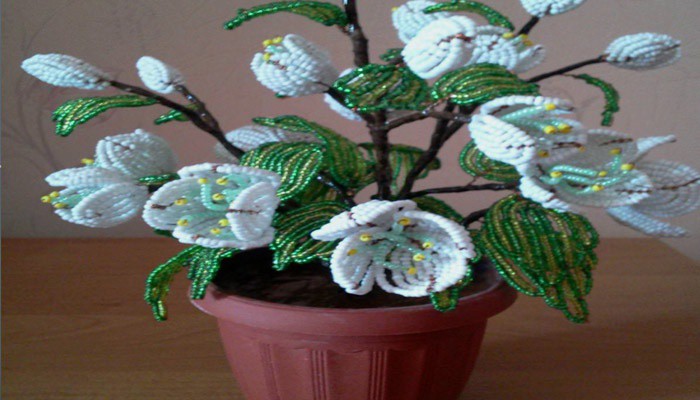 To weave the form of colors of beads with your hands, you need to stock up on such shades of this material as white, yellow, and dark and light green. on weaving procedure is as follows:
Parallel method weave half-lobe, starting with 3 beads and adding the following two rows in another 2.
In the 4th row, add only 1 bead - as a result of the maximum amount will be equal to 8.
Since the maximum number of beads still do 4 rows, then reduce the number twice on first piece 1, and hereinafter, only 2.
Begin to weave one more a half, only further rattling her to the first - get 1 petal.
Make 4 leaf, only, starting at 8 rows, each rattling of the previous.
Weave schemes 8-10 stamens, 1 pistil and sepal 4.
Connect elements.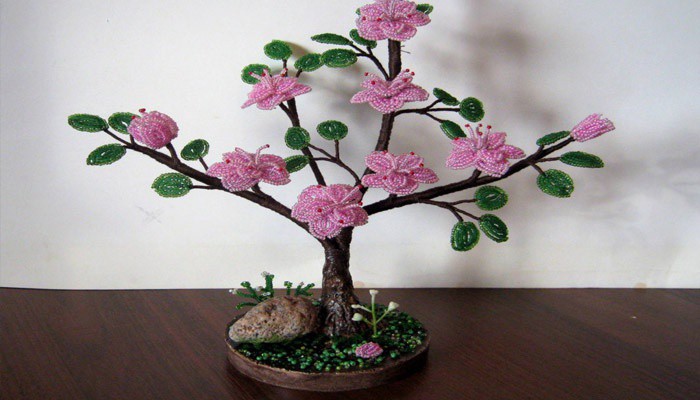 The following colors of beads with their hands frequently spin on French technology. This elegant apartment Magnolia. Instructions for the production of the following:
The wire take about 25 cm and bend it to get two parts - 5 and 15 cm.
Twist it to form loops.
A short tail nanizhite 8 beige beads, and long - 10.
Twist between a tip and two long wear beads 10 again.
Make a circle around the central core, nanizhite for about 17 beads and repeat the arc.
Secure the wire tail and cut unnecessary.
Form 5 more of these petals.
For the formation of stamens take another wire, pass it through the 12 beads brown hue do loop.
Repeat steps until 6 stamens in the center, insert the large bead between them.
On the principle of creating a weave stamens sepals.
Connect elements.
How to weave beaded flower - carnation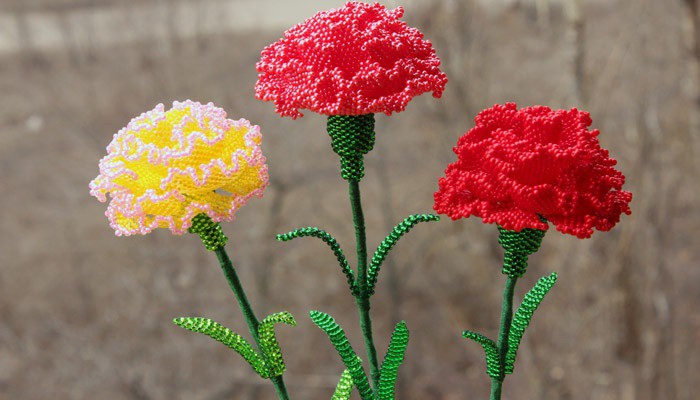 on weaving carnations master class is based on the following steps:
To make the entry level 3 of 5 tabs red beads.
To create a second level, 6 petals weave, which will consist of 2 loops already - one contains 5 beads, and the other as long as necessary for the rounding of the first.
The third and fourth level weave on similar technology, making each hinge 1 more.
For a number of petals 4 do not 6 and 8 blanks, wherein each on a separate wire.
Connect consistently at all levels, starting with small petals and wire tails on the last slide of 11 green beads.
Fold the ends of each other, twisted.
Video Tutorials: How to make flower arrangements of beads
When the weather does not allow to enjoy flowers in the garden, you can try to create your bouquet. For he will virtually free compared to the in-store prices. In addition to pictures with the schemes on weaving flowers, help and videos, which are shown in detail each of the manufacturing steps. Below you will find some of these useful object lessons, which can be not only one plant, and the whole bush or tree.
How to weave beaded flowers: drawings, photos for beginners. How to weave beaded trees and flowers?
Very nice look in the windows flowers in pots, a variety of delightful trinkets adorn the shelves, cabinets, niches of the walls. Without decorative elements it seems devastated house, uninhabited. It can be photos in frames, toy collection, flowers in vases, figurines and infinitely enumerated list of possible objects. It all depends on the tastes and interests of owners.
But still left nobody indifferent products from beads by painstaking handy people. For the manufacture of jewelery for the interior takes a long time. Therefore, if you decide to do one of them, start to learn with simple to master the basic principles of how to weave beaded flowers. You can gradually move to more complex options of colors in pots, trees to create comfort in the house. You will be able to give their loved ones, and the "hand stuffed", possibly making jewelry to order and sell. Now this kind of business is popular.
So what to do first and how to weave beaded flowers? For beginners there is a lot of information on the web. It can be learned, and the skills and experience are given only to those who work on their improvement. Try to make pretty flowers from beads - chamomile. Scheme (how to weave) is very simple, this version will teach you the basics of craftsmanship. Also on the window sill in a vase flowers will delight even in winter.
Before weaving beaded flowers must be reserved for binding materials. For each product selected the appropriate color, the size of beads and wire. Usually in the schemes for weaving indicate the required number of, colors. Detailed descriptions of modern workshops to help newcomers, and you will not make any difficulties in the future to master even the most complicated technology, the main thing to start! By the way, everything you need is on sale in specialized stores for needlework. So, you will need:
wire (preferably green);
beads yellow, matt white and green leaves for (one packet);
Floral paper, which is used for wrapping the stems, but you can replace it and thread, or do without it, if the wire is green, too, looks good;
scissors and some tools, which in this case is not needed, but the future will be useful special cutters and small pliers with thin ends to be folded and biting a wire folded into several layers.
weaving machinery
Cut about two feet of wire from the roll and start to bead on her 25 white beads. It is important that there were an odd number. They need to make petals.
Leave about 5 cm of wire on the one hand, and the second bend along with the beads, making a loop. petal ends, twist a few turns. You can make the sheets in two layers, and can be a little bit fancier, creating an additional turnover of beads.
At the long end again, type 25 beads and do the same as before. Repeat, depending on the desired amount of petals, but usually limited to 7-8 pieces.
Connect between parts resulting twisting method can pliers. Spread sheets evenly to left chamomile. To your flower was the most similar to the present, you need to make beads from the middle of a yellow.
More clearly show how to weave flowers of beads, photo on the main stages of stringing and twisting.
Yellow box for the stamens done separately. To do this, take a 15 cm wire, make a loop at the edge, reaching the edge of a few beads for fixing. About 30 beads strung and twist around the workpiece, giving it a circular shape.
The remaining free end of the wire must be secured and made vdet in the middle of a daisy. Now, like a real flower. How to weave beads chamomile flowers, now you know, weave a few more pieces to get a beautiful bouquet. Will only add to the greenery of the composition, and assume that your first job is done!
Leaves lagging a little more complicated - the Christmas tree. It is possible, in principle, to create them, and as fast way as the petals, but they will not look as true to the same for you it will be a new lesson for the development of skills.
Take a 45 cm long wire and wear 8 beads green. One end of the need to expand and pass through all the beads, except the first. At the free ends alternately dial 4 beads and again return the wire back. Connect the two branches twisted and repeat the procedure described above, several more times. At its discretion, you can weave many branches of greenery in this way. This technique can adjust the number of thin sheets, which are characteristic of these daisies.
The important point! Collecting flowers from beads, evenly distributes the weight around. If on the one hand there will be more weight, the design may be unstable.
For more reliable fixing can be filled with plaster container. Reconstitute the dry powder with water. You can use putty and any other freezes the mixture, which is in the economy, not to spend money specifically for pouring. Lock bouquet in a flowerpot, by pouring into it until the middle of pebbles, and add a solution (it should not be liquid).
Pick a small pot. Sometimes use even beautiful ceramic cups with chipped handles. In place of the former one handle stick flower beaded silicone adhesive, and a mug for a long time serve as decor.
Now you will become clear how to weave beaded flowers, schemes can be used for other species, varying number of petals, playing with colors and sizes, the number of component parts, and so on. D. Manufacturing processes are quite similar, and these skills can be applied to more complexity; options. In the same way you learn how to weave beaded trees and flowers.
Try it the next time to do a sprig of lilac with their hands, and, possibly, a small tree, which will resemble the approach of spring.
You will need a lot of purple and green beads. For small trees need to prepare 7-15 lilac twigs and three times as many leaves. The principle of operation is about the same as with the daisies, but instead of flowers - small florets.
The segments of the wire must be 40 cm. Beads have to dial 8 pc., Passed through the first three and tighten. At the ends of the back to put on the beads 7 and skip through the first, pull up.
Thus, working on everything inflorescence (photos will help you understand what to do), gradually increasing the number of beads to the bottom to the top of the flowers have turned triangular shape. By the way, you can use several shades to lilac was more picturesque.
Leaves for decoration inflorescence falls three pieces for each, will have to work hard, this is not a one-night or day. Lots of greenery looks much better, therefore, if we can weave more, extra, they just will not.
25 cm wire worn beads rows in the following order. Start with the middle row, for this type of beads 5-7, go through the one on the free ends of the slide for more than 2 pieces. Attach the end and continue until the leaf will not work as in the photo. By the way, they can be made in different sizes, because in nature all the leaves on the trees are the same.
It remains to combine all the elements, as previously described. Per inflorescence screw on the three leaves and form 7-15 sprigs. Each stalk wrap green floral thread or ribbon.
The finishing stage is to connect all the branches. Taken a brush to the middle, it will be the highest point of the tree. On the sides just below the need to arrange four branches, others attach more below, it all depends on the number of parts, pomp, there is already decide at its discretion.
Spread all the leaves, the wire is very flexible, and can be placed sprigs believable. Pick up the pot and fill with your new wood plaster for stability.
How to make a flower of beads. Weaving for Beginners.
Bead Crafts They were always relevant and things look very beautiful, I believe that you can even use such things as a gift to my mother, grandmother, especially if it is something wonderful flowers. Today I want to show how easy it is to weave flower beaded by hand. Look at two versions of the petals of execution:
1.Berom the line. At first, stringing beads three, two of them are threaded through the two ends of the wire, as shown in the photo.
Further three beads threaded both ends, then four and five. Then we go to reduce to two beads.
Spun wire and first petal ready. Do five of these petals, connect them with wire, and our hack from flower beads completed.
2.The second option - how to weave petal beads:
Recruit 8 beads:
Connect wire 2, in the second well 8 stringing beads.
tying:
Doing more layers:
Anchoring, petal ready.
3. Blooming tree:
Twist the flowers and all the bends (so there was virtually no visible wires)
We make a few branches and the trunk.
Blooming Tree Bead ready!
See how to do a master class palm tree with bananas from the beads.
Creative imagination, experiment with colors of beads and you will get an excellent crafts beads!
See also MK flowers - kanzashi.
11 comment:
Very great site very useful thanks to all
Cool. I tried, easily and beautifully.
very beautiful. but she did not undertake pokaka but always try to create something. very fond of different crafts.
Way out there are no words
All this is easy to do to make a basket of roses 100 I zatratela 1:00
Klassno.Spasibo all very necessary master class.
it's very cool, I create one for 3:00 1.000 pieces